Summer is our favorite season for a reason. It let us enjoy and relax with all the freedom of going in the outdoors, beaches, trips, and camping as well. Even if you are at home you can enjoy the fun summer crafts and for a huge range of DIY ideas, we have these 50 DIY Summer Crafts For Tweens. You want to enjoy a rainy day by staying inside or you want to soak the sun on a shiny day in the garden, these summer crafts are here to get your hands on. This round-up of fun summer crafts have projects for the adults and also some cute craft ideas for the kids.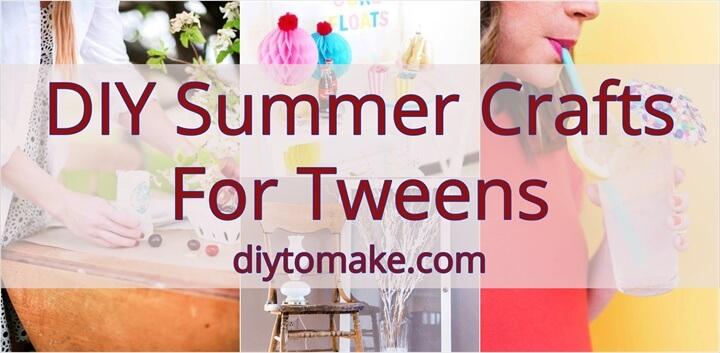 First of all change your decor for this fun and cheerful season using the yarn wall hangings, floral garlands, and the wreaths. As we have lots of parties in the summer so you are going to find a lot of ideas to spruce up the fun of your parties. Making gorgeous serving trays, fruity themed party utensil holders, piñatas and centerpieces are surely going to rock your summer parties. Kids are going to love the puffy paint projects, playing with the handmade kaleidoscopes, making some money with ice-cream and lime stand. You are also going to find ideas for some fun summer jewelry and makeover of your shoes and dresses. Check out all these summer crafts with tutorials below!
You May Also Like:
Summer Flip Flops Sign At Crafts Unleashed: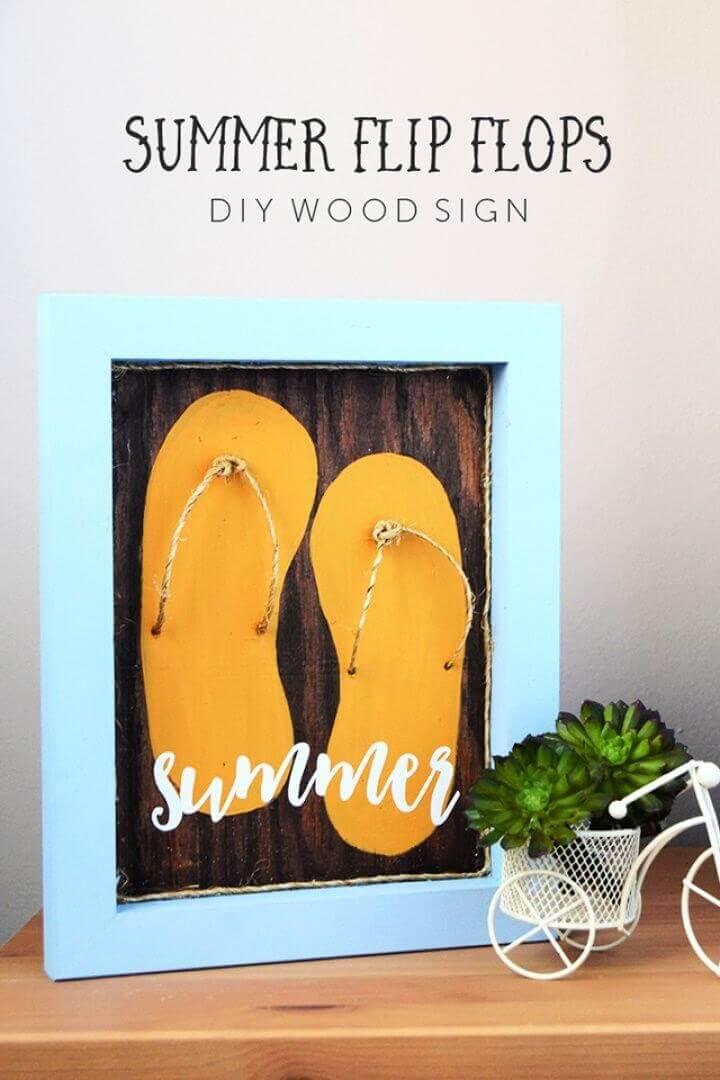 Summers can be marked with so many things we love and adore about the summers just like our beach flip flops. So using a wooden rustic frame you can create a flip flop sign on it with vibrant paintwork. Drill the holes and create the flip flop strips with the burlap yarn for a really realistic and cool look.
Tutorial: mintedstrawberry
Make A DIY Flamingo Wrap: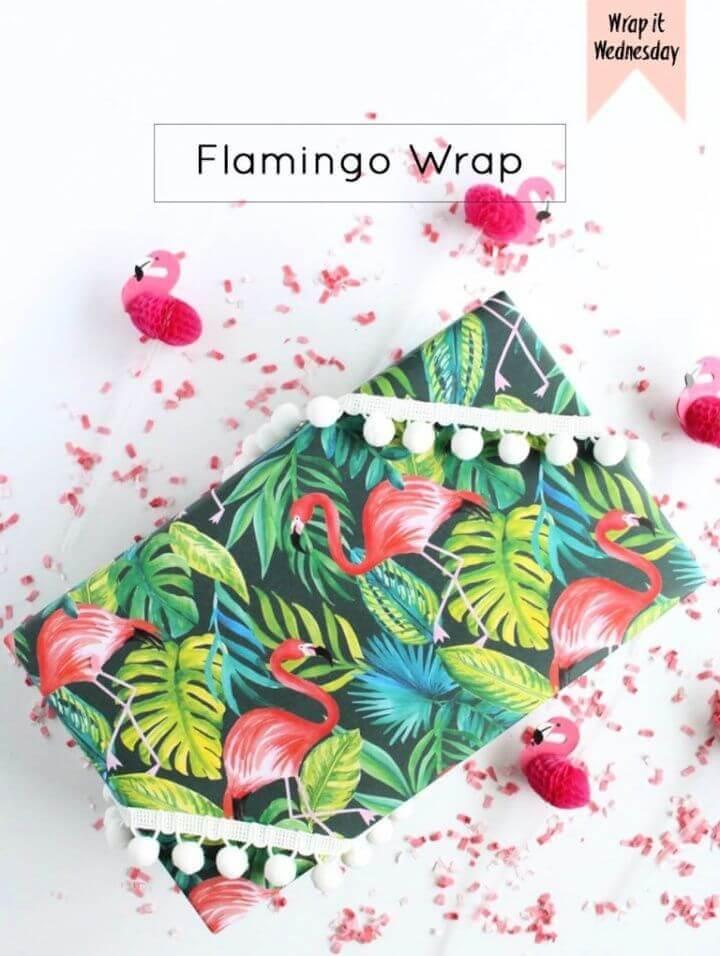 Everything can be interesting and fun when you are a fun crafty person just like your mailing with this flamingo wrap. Yes, you can take some cute and colorfully vibrant flamingo paper and jazz it up with the colorful pom pom trims. This project of flamingo wrap is perfect for the summer craft fun. Details here!
Tutorial: goldstandardworkshop
Farmer's Market Tote Bag: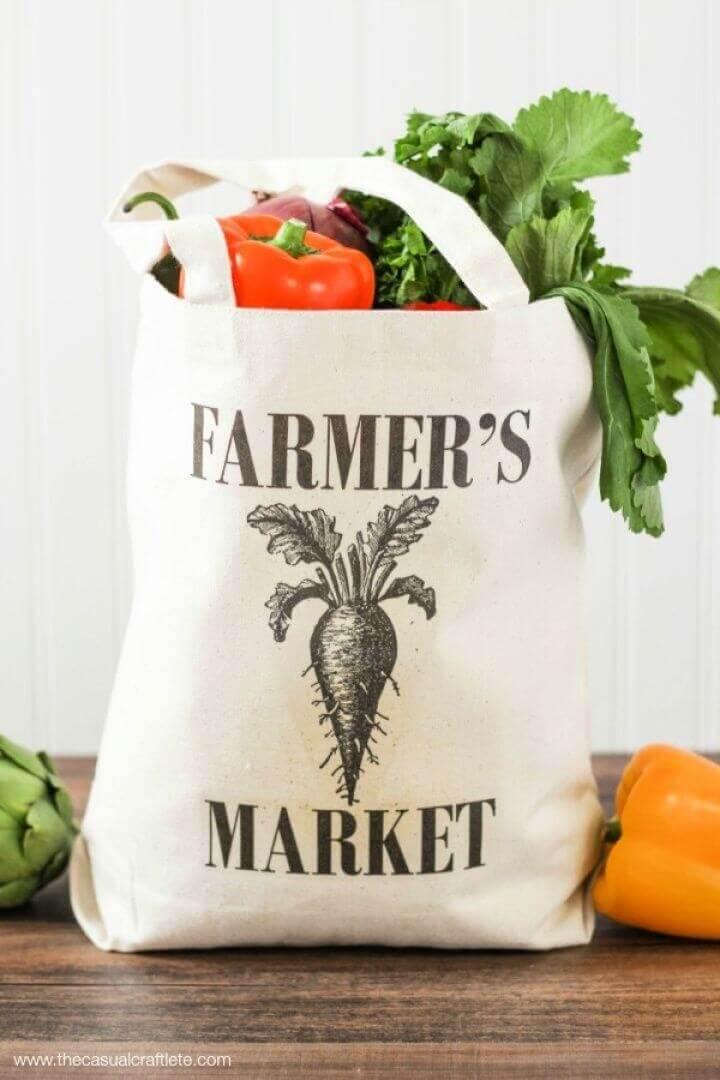 A custom market or shopping tote bag is the dream of every homey lady. So ladies now you can make this farmer's market tote bag on your own with the perfect prints of images and words. Not only for your self You can make some to use as the perfect gifts for your lovely ladies too. Tutorial here!
Tutorial: purelykatie
How To Make Your Own Summer Belt: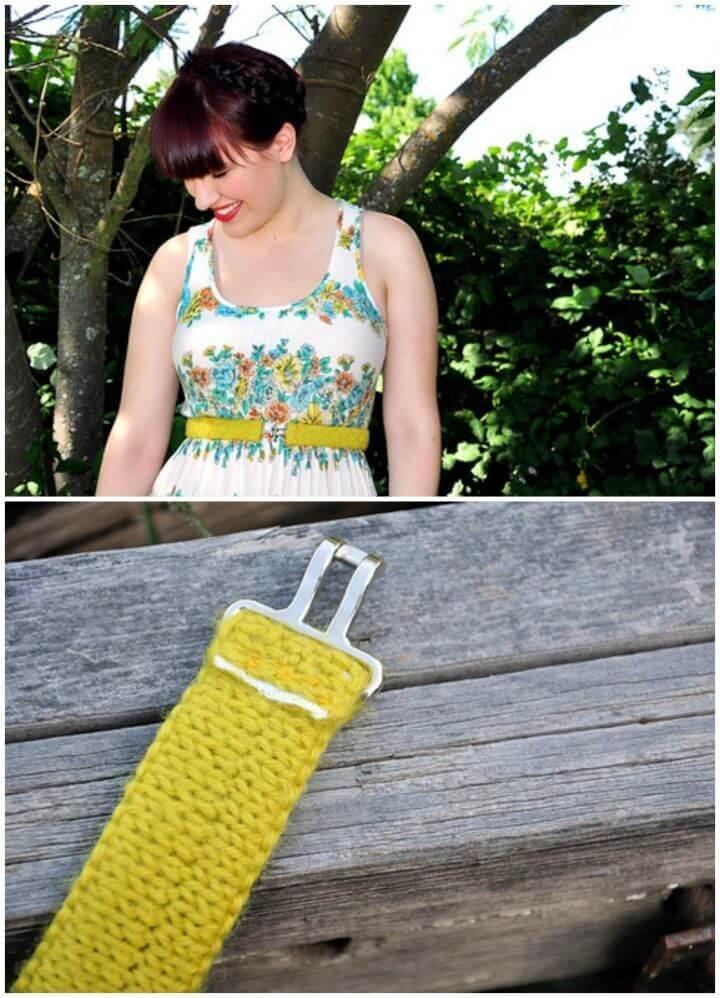 There are so many ways to style up your dressing for a fun summer day and here is the idea of making your own cute summer belt. Using some cotton DK yarn you can easily and quickly crochet up this super cute and simple belt to adorn your long maxi dresses. Check out the pattern here!
Tutorial: untangling
Watermelon Fruit Pizza: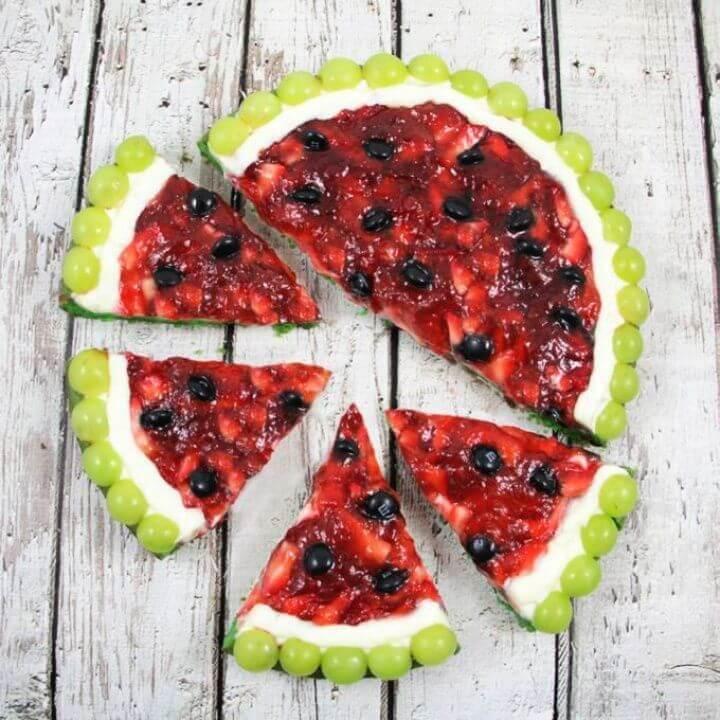 Summers bring us so much tasty and yummy fruits and watermelon is our favorite from them. Here is this lovely watermelon fruit pizza to make and enjoy your favorite fruits in the most exciting and fun way. This watermelon fruit pizza is going to be a huge hit for the parties and for the kids too. Recipe here!
Tutorial: handmadecharlotte
Easy DIY S'mores Kit For Summer: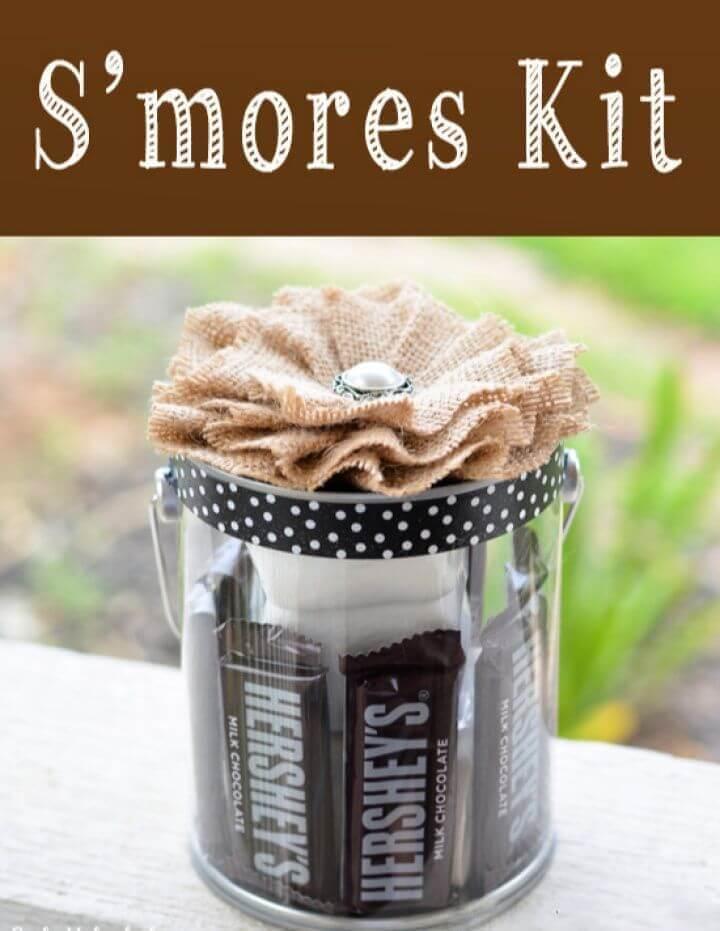 Make the best hostess gifts for the summers with these easy DIY S'mores kit for the summer. You can easily make this super impressive gift and that too on cheaper rates. Get a pail and fill it with the things like crackers, Hershey's bars, and the marshmallows. Decorate the pail with burlap and buttons. More here!
Tutorial: consumercrafts
DIY Floral Plate Chargers: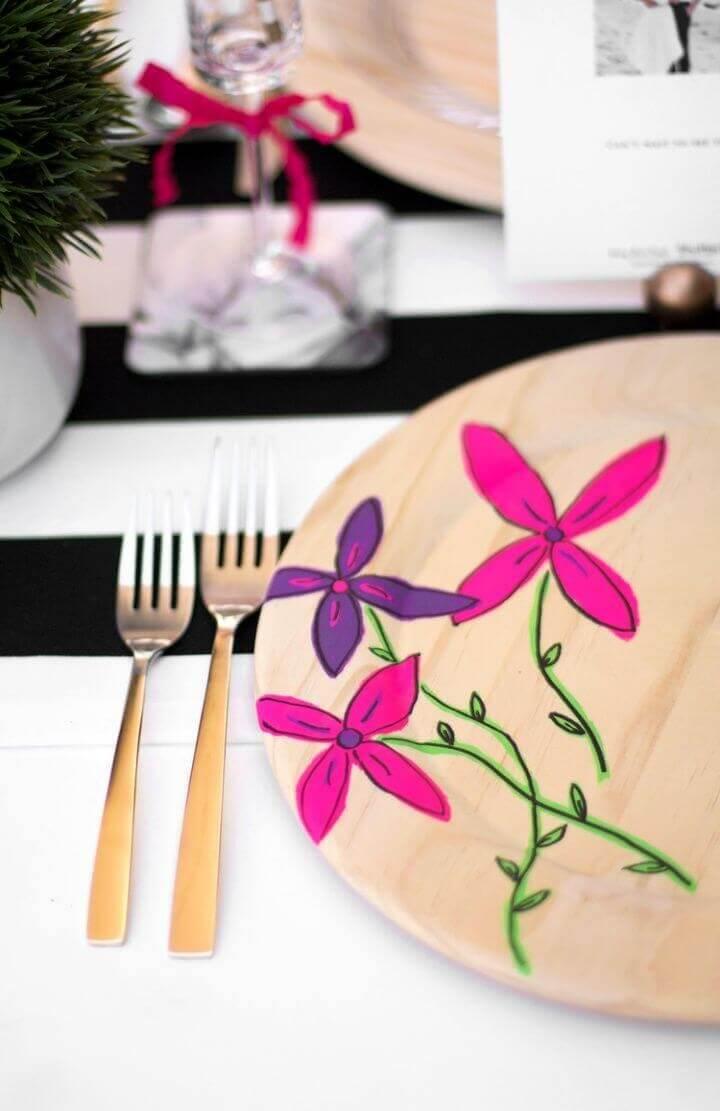 Your summer outdoor time is going to be more enjoyable and fun with this DIY floral plate charger project. The lovely wooden round plates have been decorated with floral designs using the acrylic paint and the sharpie markers. You can use them as gifts too. More details here!
Tutorial: kristimurphy
Summer Centerpiece, Beachy Style: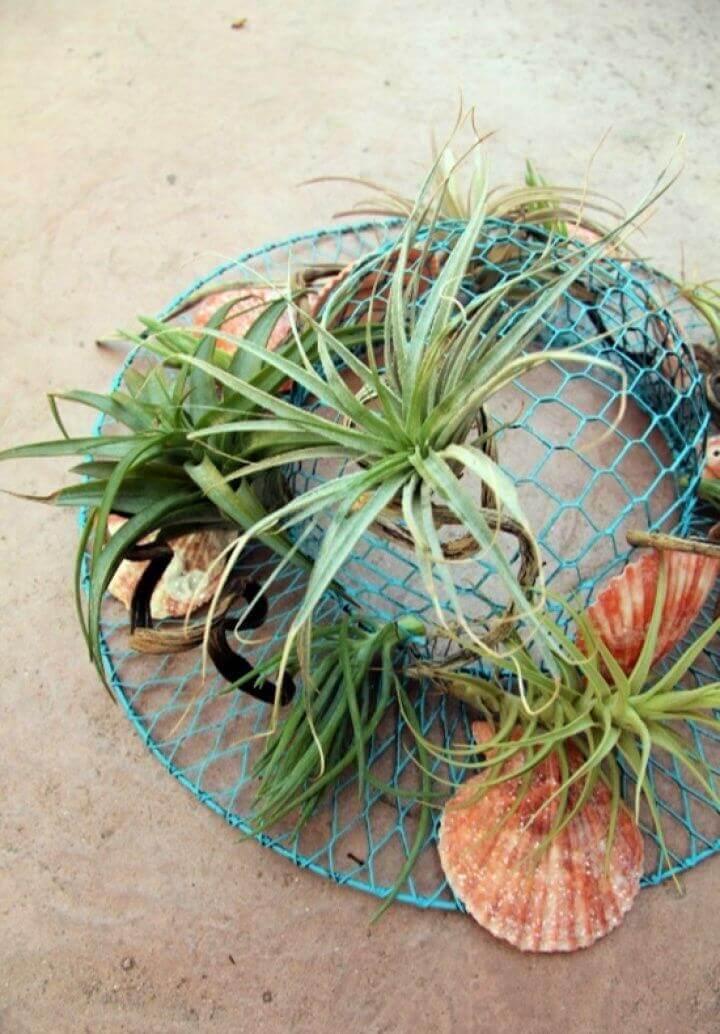 Make your summer parties more fun with these gorgeous summer centerpiece for your outdoor decor. The lovely beach styled centerpiece is made out of the wire basket, succulents and the seashells to look so pretty and chic for your decor. Learn to make it easily here!
Tutorial: joyusgarden
Tissue Paper Tassels: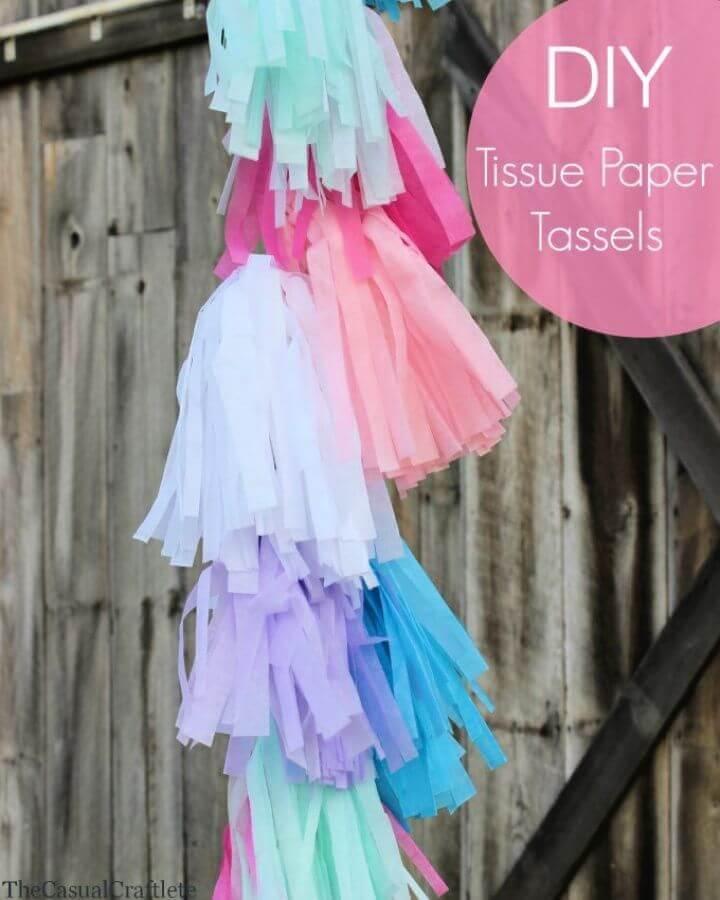 A lovely and cute tassel can add some life and delight to anything in the home decor. So this gorgeous bunch of the tissue paper tassels can make a great party decor piece for your summer fun. You would need tissue papers in all the pretty rainbow hues and cut them like tassels with long fringes. Details here!
Tutorial: purelykatie
DIY S'mores Summer Camping Party: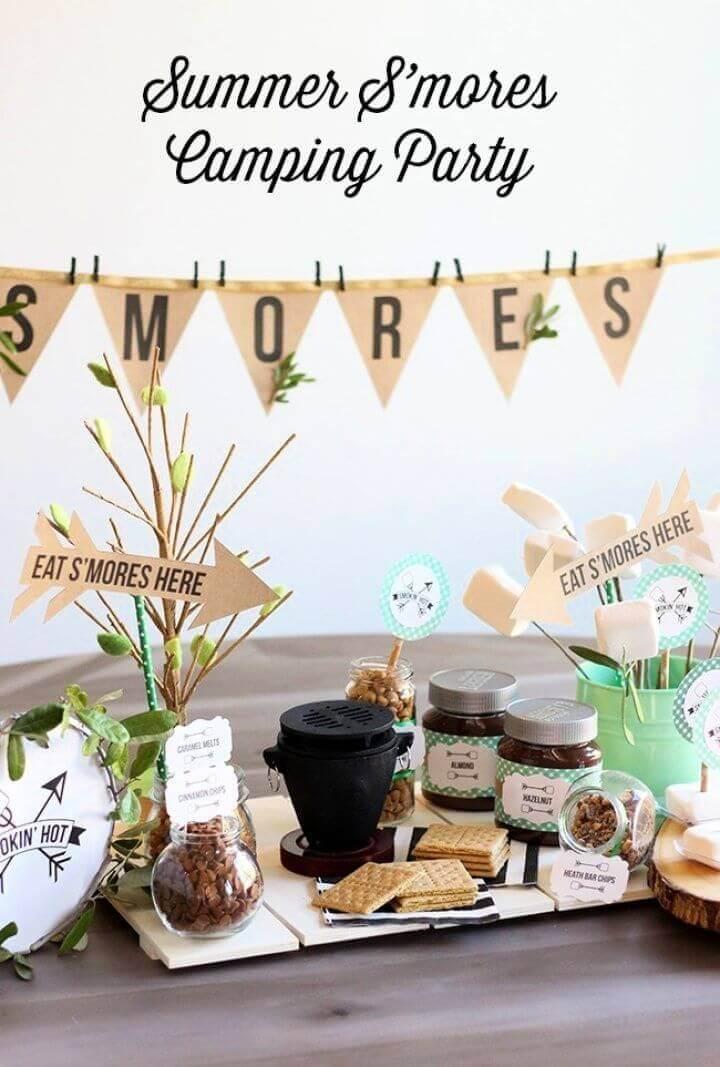 Now you can enjoy the fun of camping in your indoors with the summer camping party theme. So get your hands on this idea of DIY S'mores summer camping food and decor project to make your camping party a huge hit. Tutorial here!
Tutorial: printablecrush
Tiny Fruit Garland: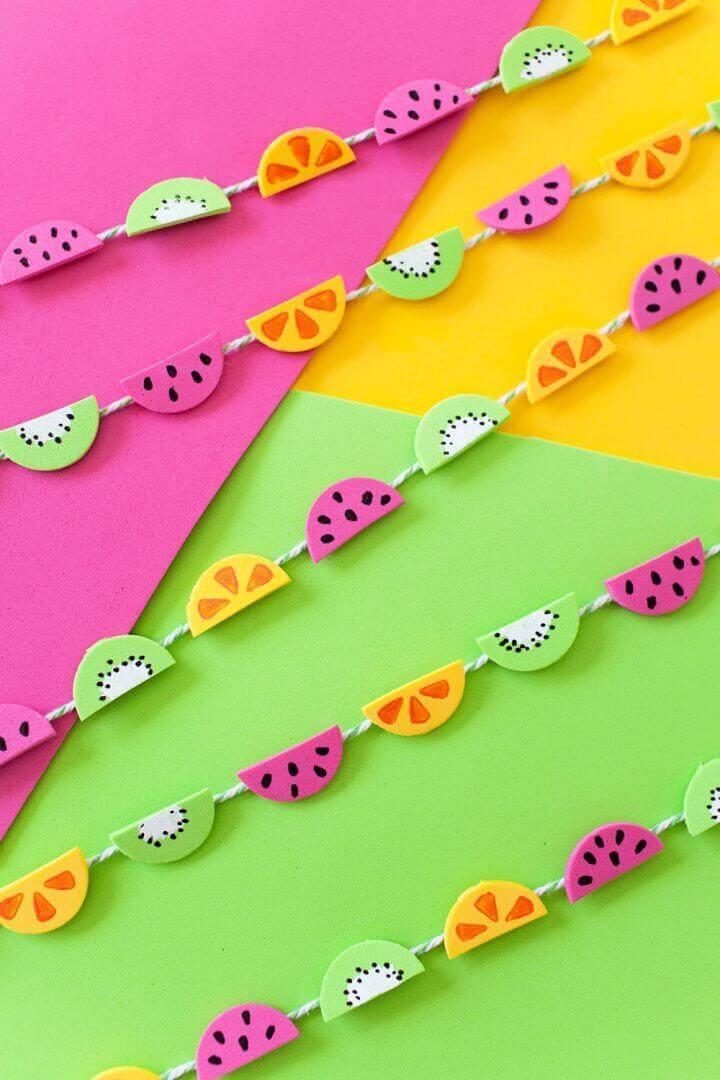 Garlands at the party table or the walls add the perfect party vibes to the decor and for a summer party, this tiny fruity garland is so perfect. To make this pretty and adorable fruit garland you need colored foam sheets, acrylic paint, and the sharpie pencils. Check out the details here!
Tutorial: tellloveandparty
Fruit Kabobs And Dip With DIY Washi Tape Toothpicks: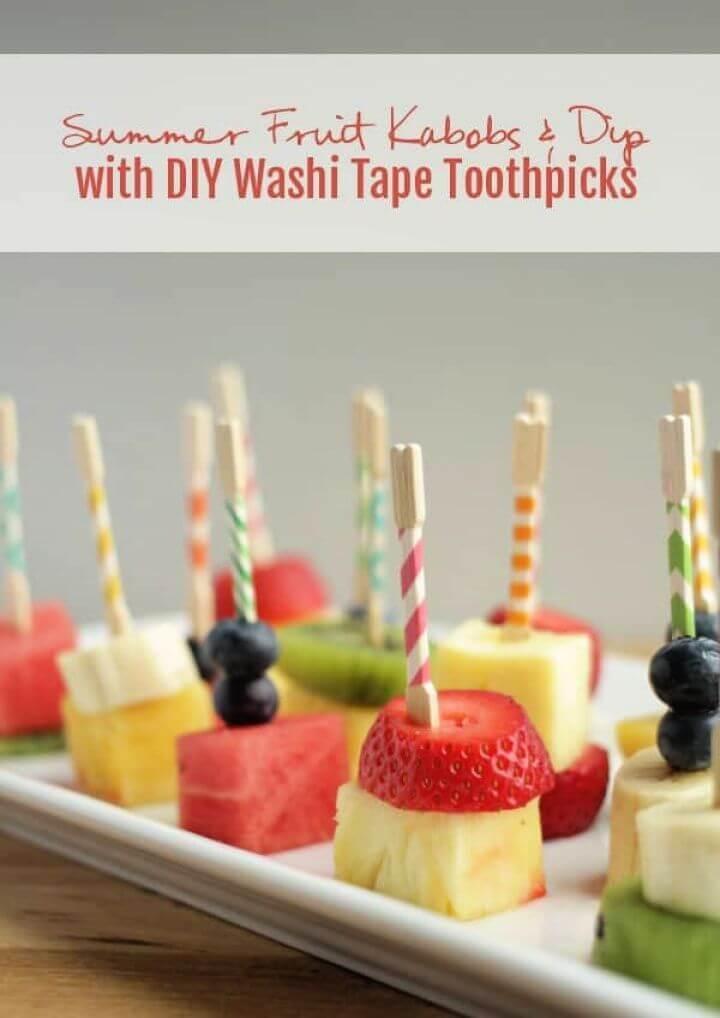 The way you serve your food at a party can really create a big impact on your guests. So for a fruity summer party, this idea of fruit kebobs and the dip with the washi tape toothpicks are just so fun and adorable to get your hands on. Grab the details of this idea here!
Tutorial: diycandy
Winter Decor with Vases: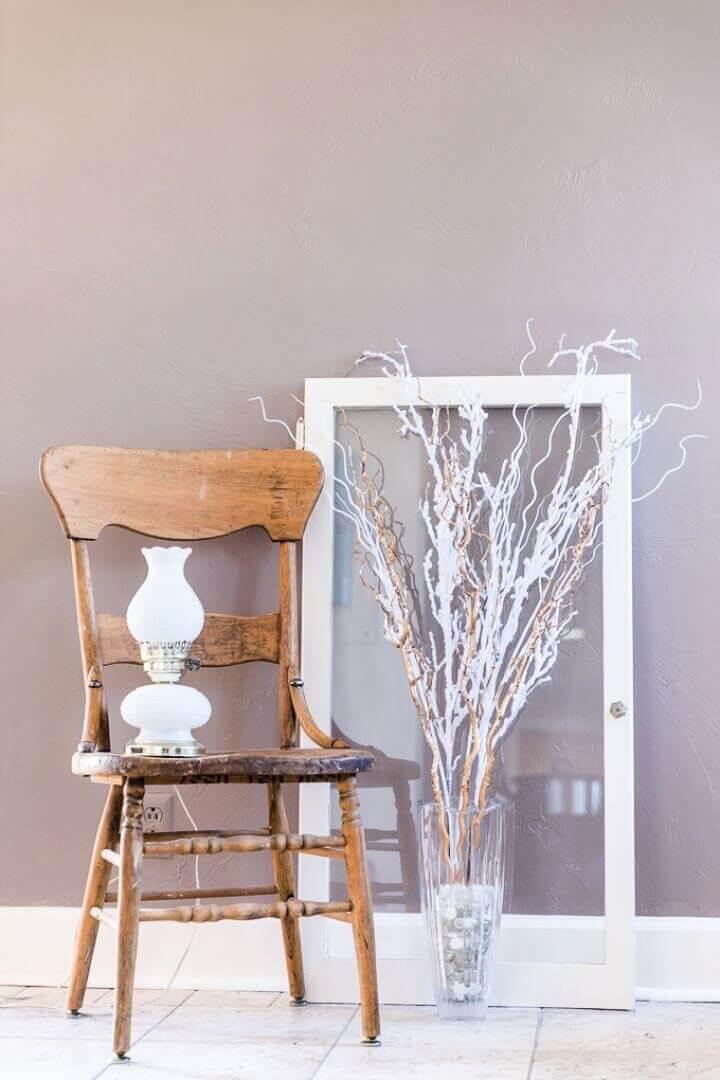 This lovely all-white vase is the best thing to make for your winter home decor. The glass vase is filled with white gems and stones and then filled in with white branches. You can take inspiration from this project to create a summer vase with blue stones in the jar and some lovely flowers. Details here!
Tutorial: getinspiredeveryday
DIY Citrus Stamped Favor Bags: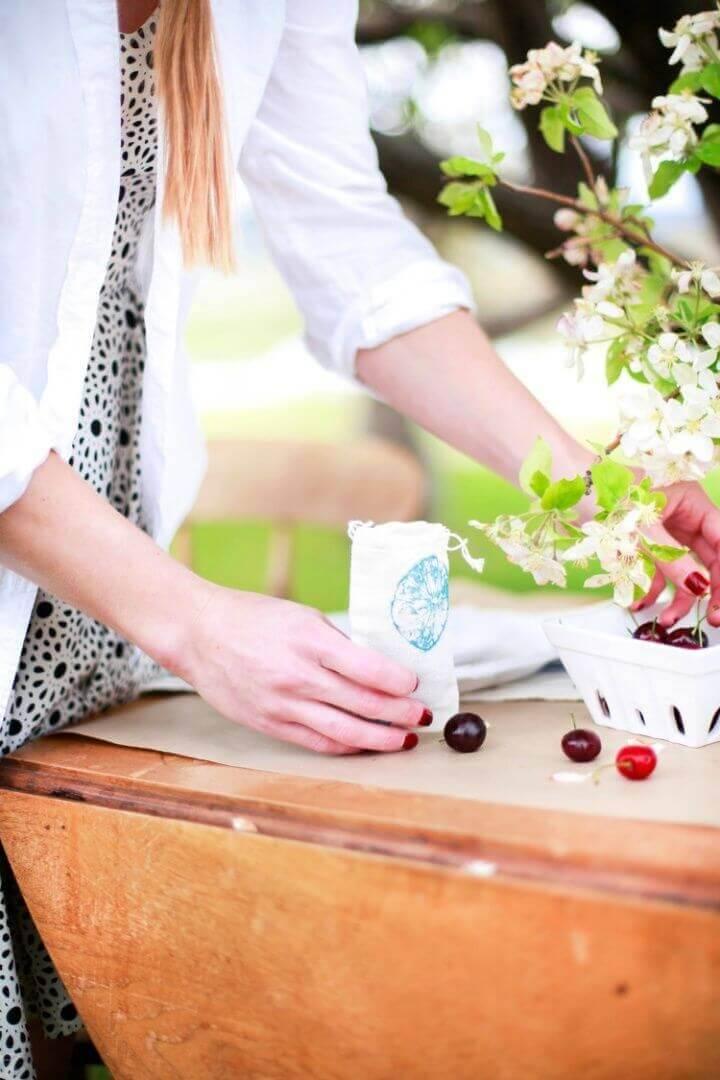 After watermelons limes and lemons are the other favorite summer delights and you can get inspired by them for your crafting. Making these DIY citrus stamped favor bags for your summer party would be so much fun and easy. You need just citrus fruit, stamp pad and the muslin fabric bags for this project.
Tutorial: boxwoodavenue
Confetti Drink Umbrella: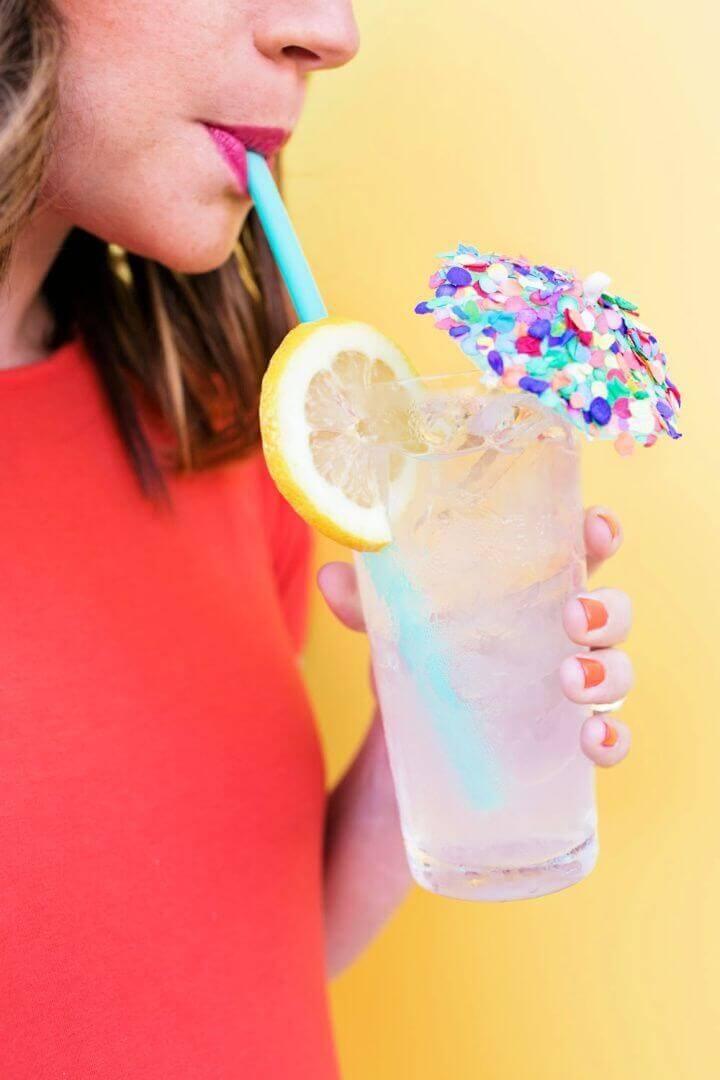 Pamper yourself and the guests at the house in summer with this super cute and fun looking confetti drink umbrella. Yes, those mini umbrellas that we use in our drinks are like a custom to have and now you can personalize them on your own. Just cover them with a lot of confetti mixture and they are ready to rock your drinks.
Tutorial: tellloveandparty
Ice Cream Stand Awning For Your Party: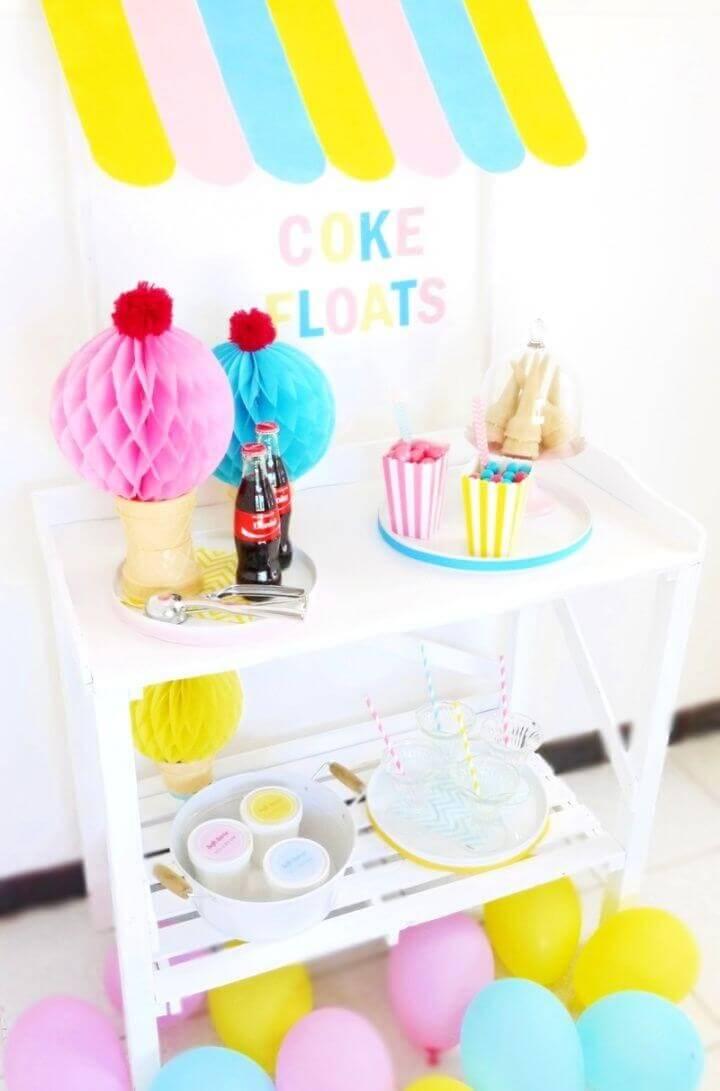 Another fun theme for a summer party is surely the ice cream and that is why this ice cream stand awning project is right here for you. With the gorgeously bright hues of the awning, you can instantly create this lovely ice cream stand with a cute tent and make it look fuller of summer beauty. How to here!
Tutorial: blog.birdsparty
Painted Mason Jar Herb Garden: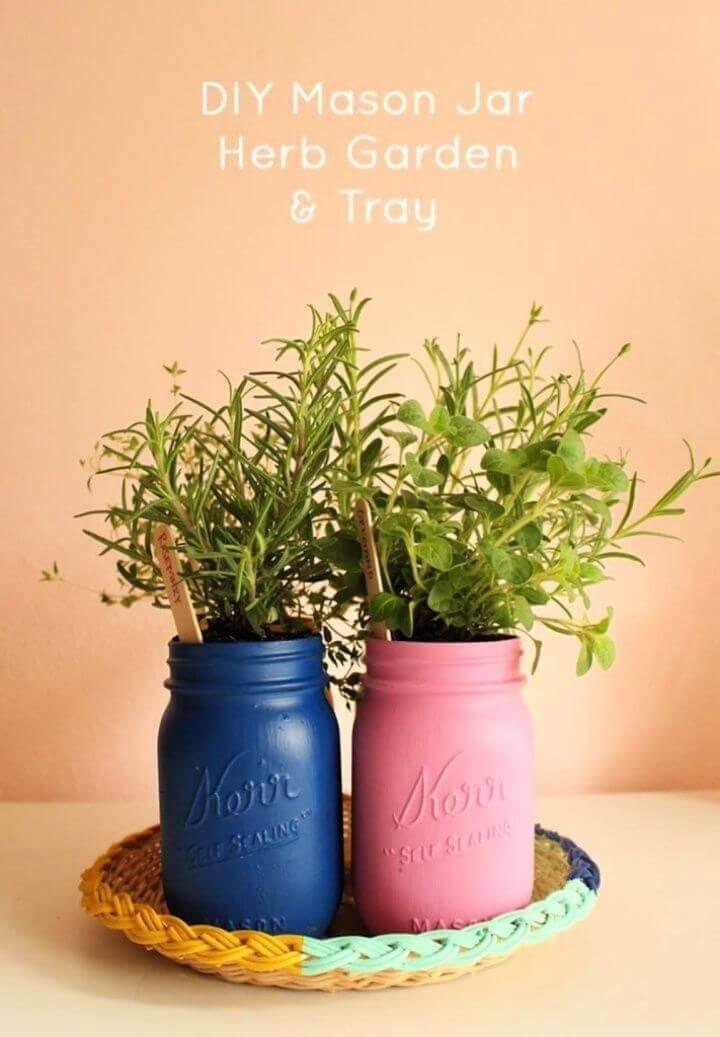 Summer is not only the season of crafting and fun but also perfect to enjoy your love for the gardening. So with this project of painted Mason jar herb garden, you can not only enjoy your favorite herbs growing at your place but also add some perks of decor in the home glam too. Details here!
Tutorial: goldstandardworkshop
How To Make Watermelon Piñatas: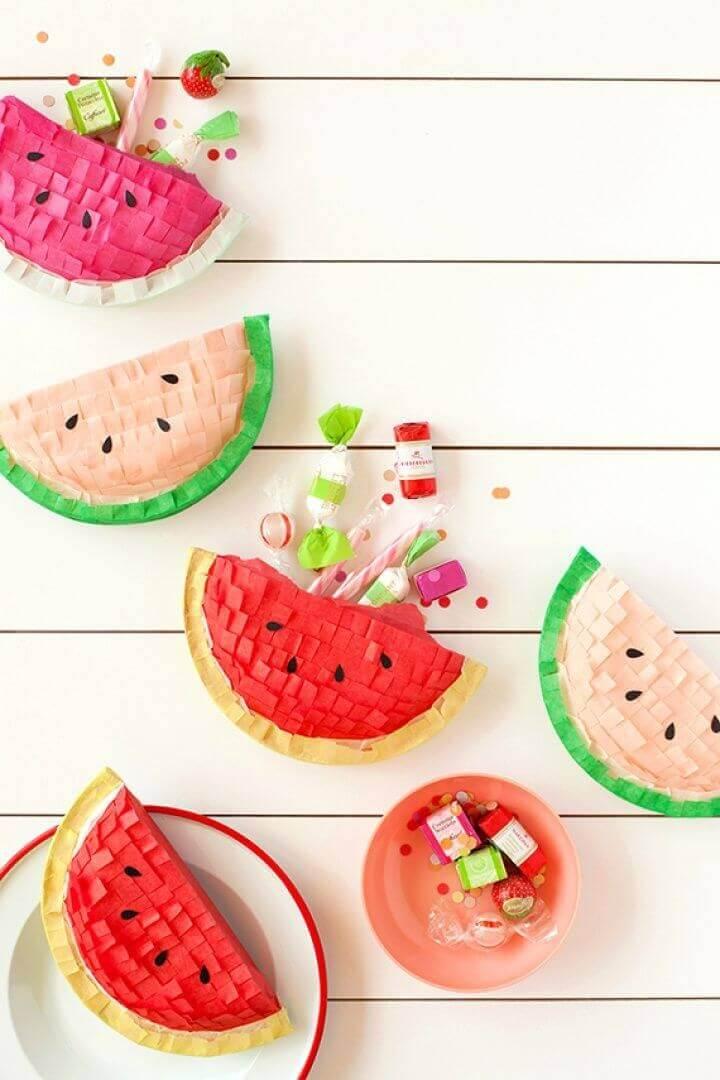 We love to have fun with the fruity themes for the summer parties and for the kids, this watermelon piñata is going to be so exciting. Using the paper plates and the tissue papers in the watermelon hues you can easily shape up these adorable watermelon piñatas and fill them with some yummy and sweet candies.
Tutorial: minted
DIY Gold Foil Glasses And Tray: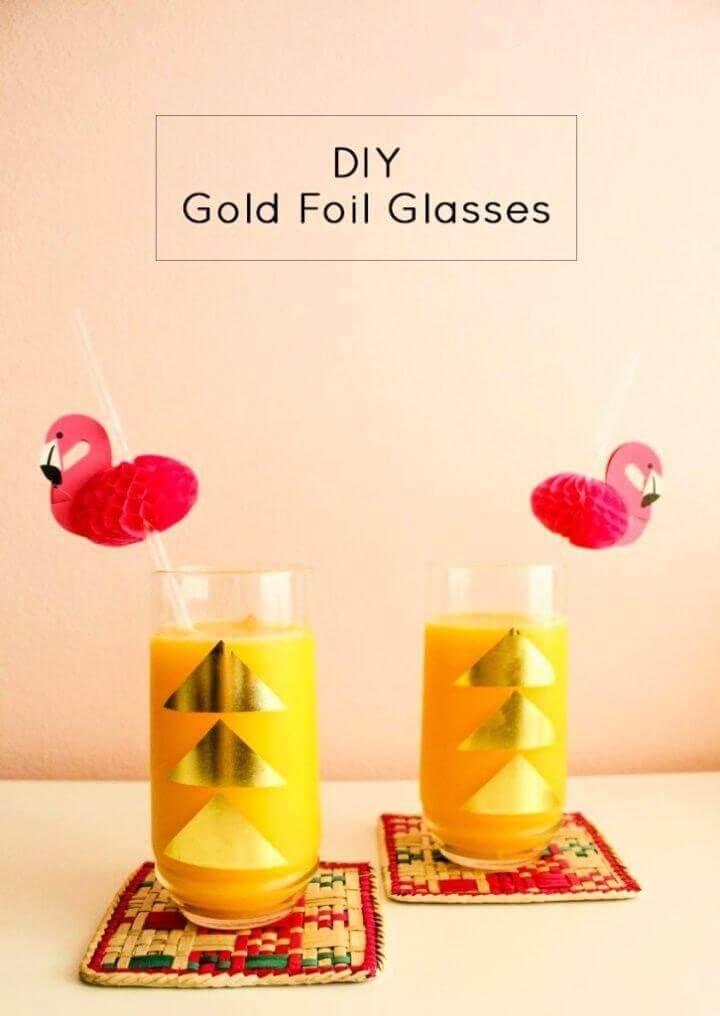 Impress your guests with your crafting ability on your next summer party with these hand adorned DIY gold foil glasses and trays. These sparkly gold foil party serving utensils are surely going to charm up the vibes of your party and charge up the moods of the guests. Just cut out golf foil transgender and add them to the glasses and trays.
Tutorial: goldstandardworkshop
Make A Summer Bag: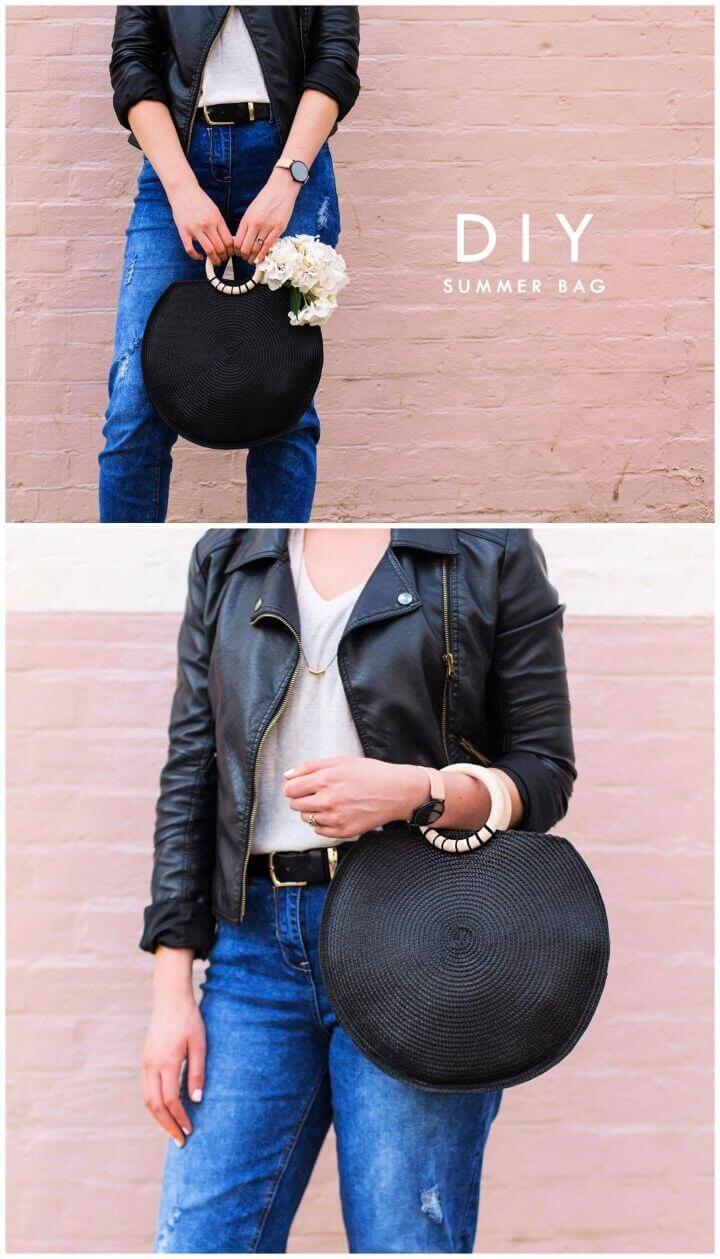 Summers bring out the fashion dive inside us and now you can satisfy this fashion diva with the handmade things.  Here is the sample of this lovely summer bag that you can easily make on your own using two round woven placemats in black. Complete tutorial here!
Tutorial: thelovelydrawer
DIY Lavender Sachets: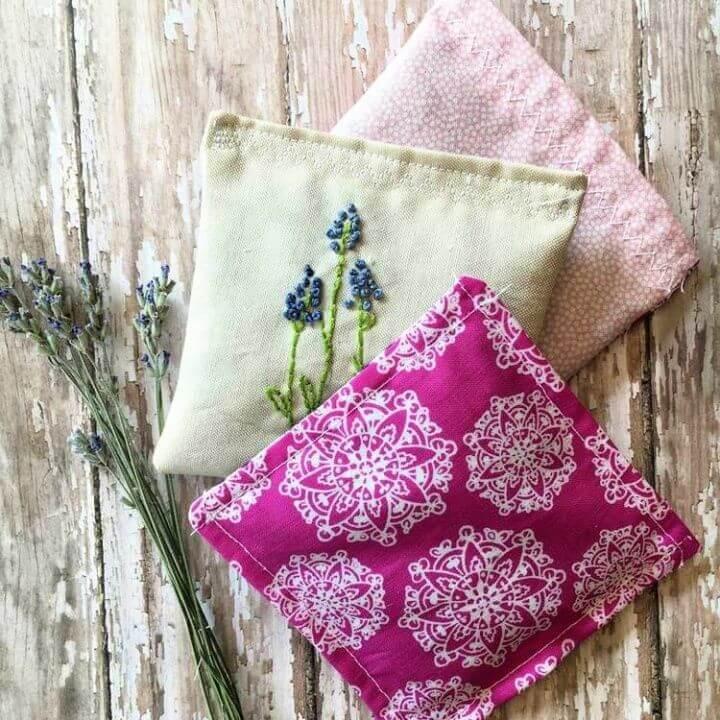 Now your summer home is going to smell like the lavender with these DIY lavender sachets. Using the colorful fabric squares and the lavender buds from the dry lavender stems you can easily shape up these sachets. You can use these in your closets and corner or give away as the gifts too.
Tutorial: pamashdesigns
Lantern from a Recycled Can: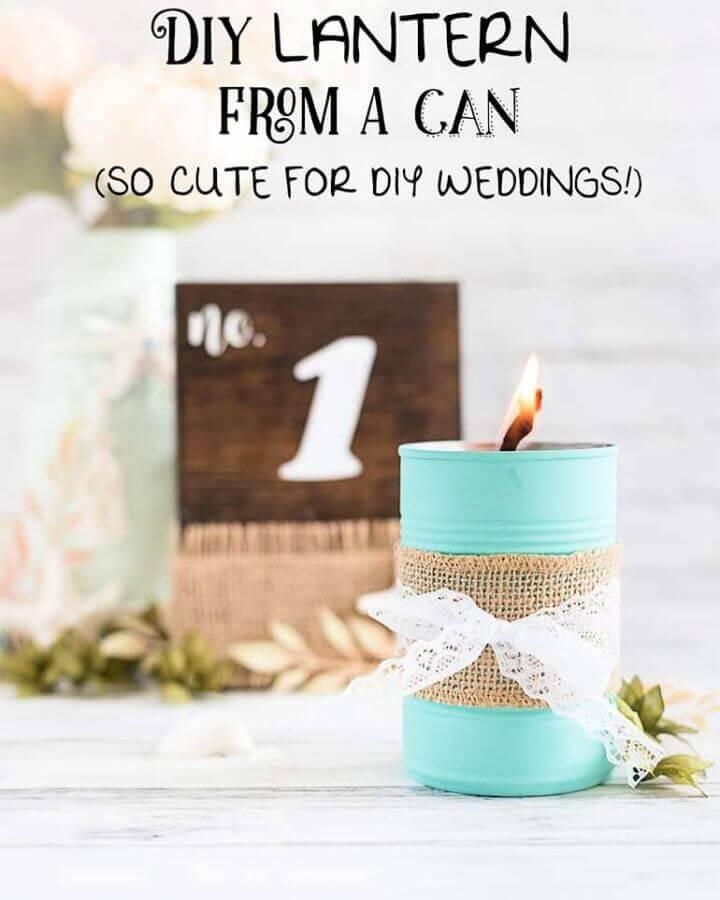 Make a lovely lantern form a recycled can and spruce up the beauty and decor of your summer home with it. The empty tin is painted in the gorgeous blue color and then adorned with burlap and lace. You can either use on your porch or the patio to enjoy some cute and fun looking lantern.
Tutorial: natashalh
Driftwood Art With A Starfish: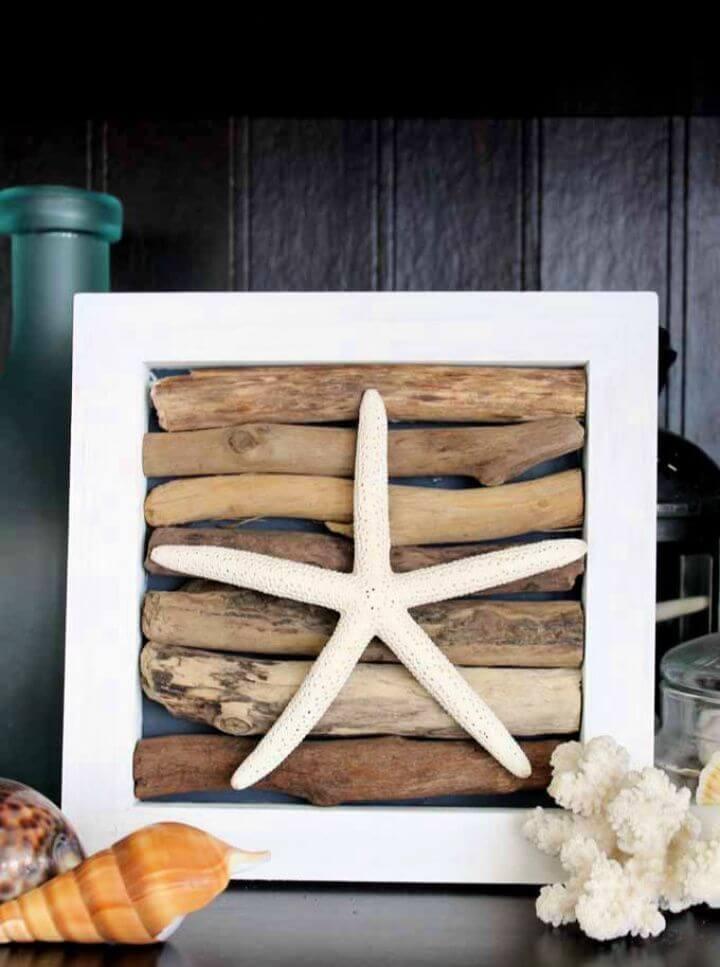 If you also have collected some driftwood from your recent visit to the beach then it's time to use the wood for some chic home decor. Here is this driftwood art with the starfish on a white frame to look just so beachy and fun for your summer home decor and style. Easy details here!
Tutorial: craftsbyamanda
DIY Long Necklace with Tutorial: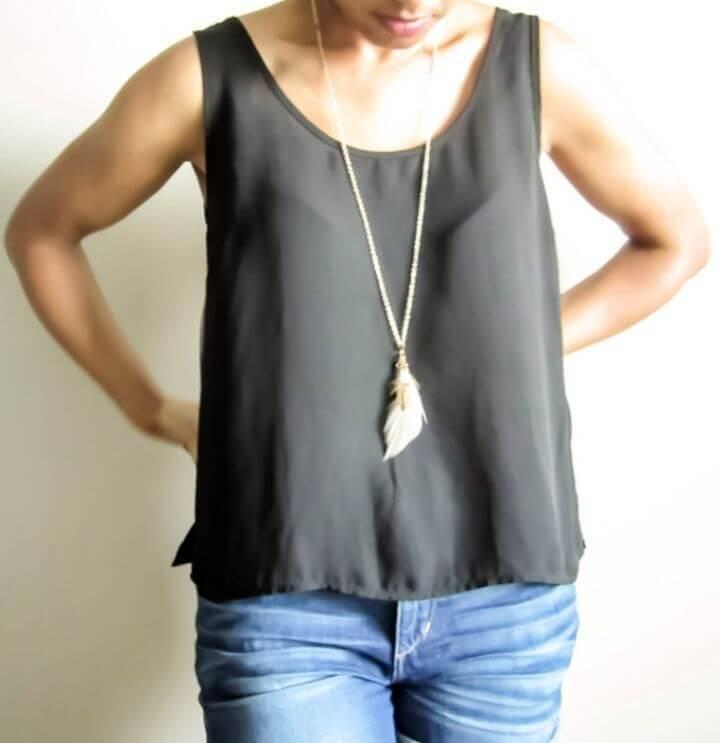 Charm up your casual summer look with some DIY jewelry ideas just like this lovely long necklace. You can instantly uplift the look of your summer tops and tanks with such a lovely long necklace. You can add any pendant to a long chain be it a feather, big stone or the gem. Learn the details here!
Tutorial: tealarrowdesign
Coolest Lemonade Stand: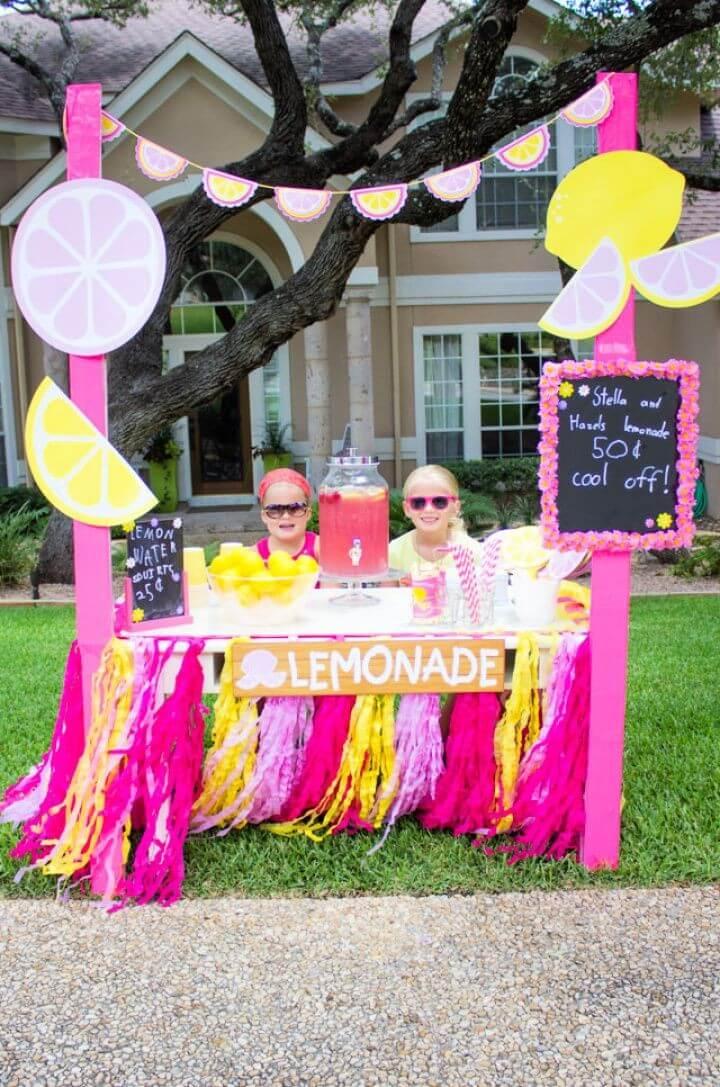 Add more to the fun of your kids during the summer holidays with the ideas like this lovely and coolest lemonade stand. The gorgeous stand has the theme decor in the colors of pink and yellow from the embellishment to the boards and the utensils. You can follow this whole smart idea here!
Tutorial: designimprovised
Painted Bottles: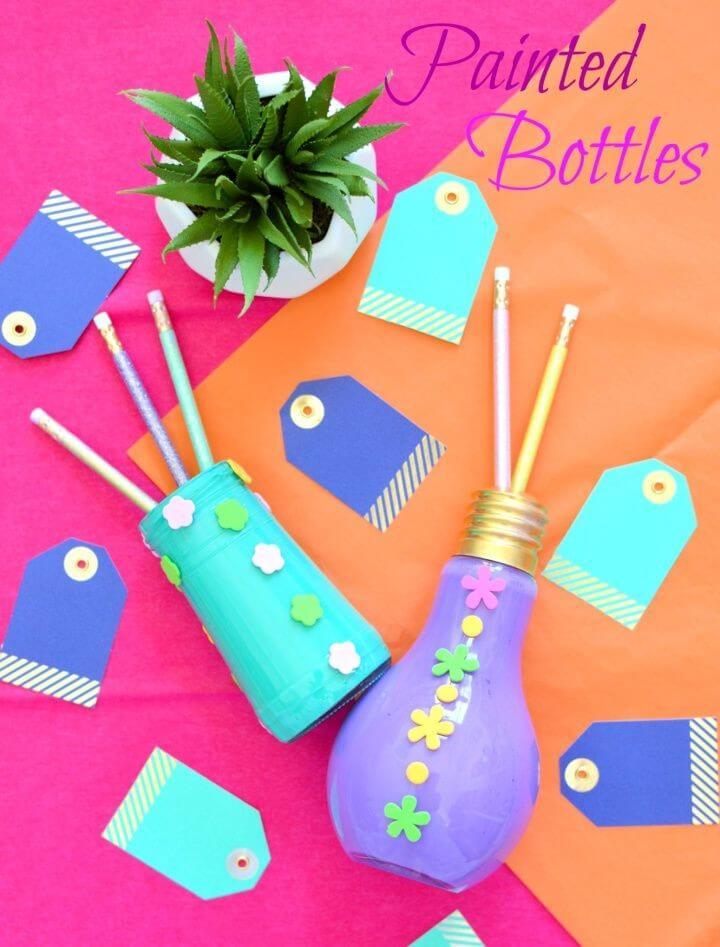 Here is this super fun painted bottle craft for your summer craft fun to make and enjoy. Just any of the empty glass bottles you like and paint them with the lovely and vibrant colors. Lastly, add some felt or leather cut tiny flowers in any shape and enjoy these pretty bottles as vases or the organizers.
Tutorial: deliciousanddiy
Fabric Glasses Case: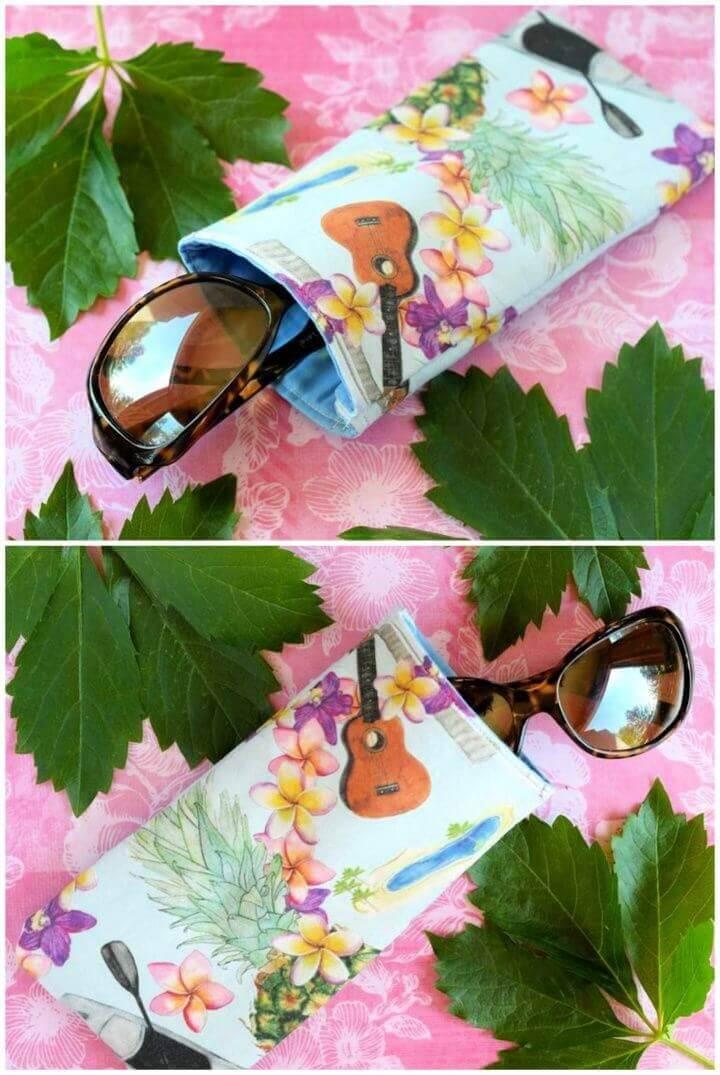 Do not let the fabric scrap go wasted when you can make some really fun and functional things like this fabric glasses case out of them. With a piece of simple fabric and some really basic sewing skills, you can easily shape up these pretty and cute glasses cases to use them as gifts too.
Tutorial: pamashdesigns
Watermelon Utensil Holders From Terracotta Pots: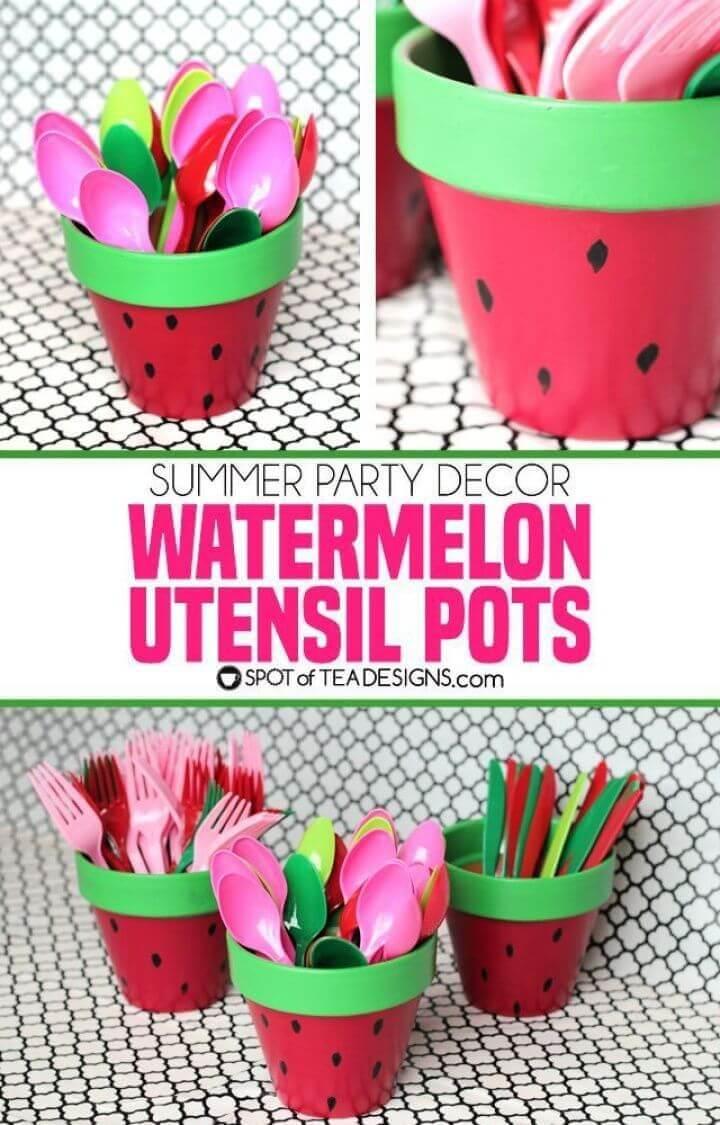 One of the reasons that we love summers is also the juicy and yummy watermelons to keep us all fresh and healthy. So here is this lovely watermelon inspired utensil holder for your summer parties and they are super easy to make. Using the red and black paint you can easily turn the terracotta pots into watermelons.
Tutorial: spotofteadesigns
DIY Striped Nautical Tote Bag with Cricut Explore: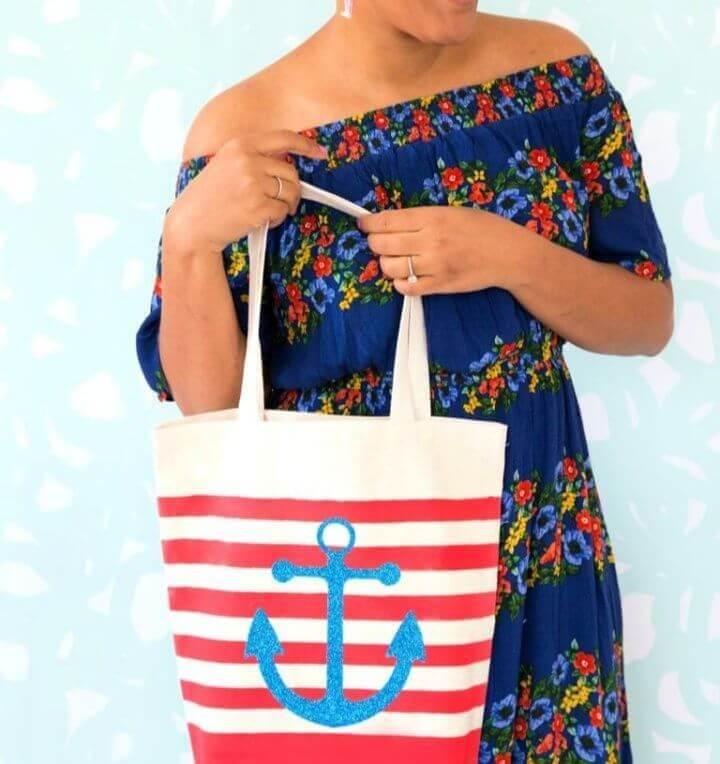 Summer crafts are so undone without the nautical-inspired projects in the to-do list. So here is the idea of making this lovely DIY striped nautical tote bag with the circuit explore and enjoy the coolest tote bag for the whole summers. The white bag with red stripes and the blue nautical sign looks really patriotic too.
Tutorial: damasklove
Cactus Clay Ring Holder: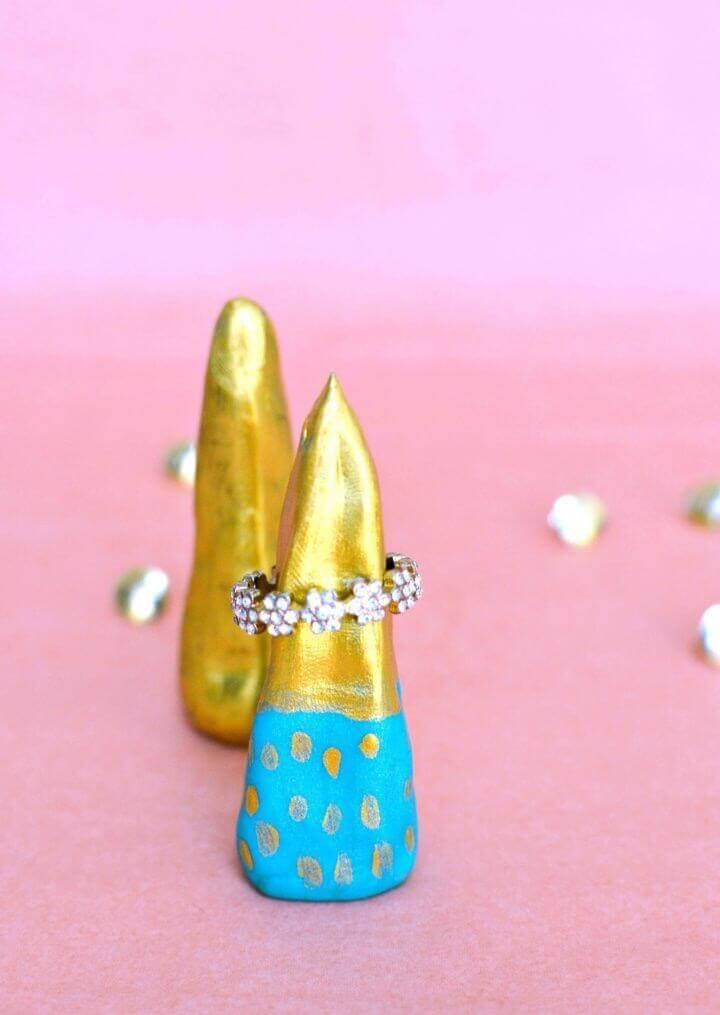 Now you can never lose your rings because you have this cactus clay ring holder to gorgeously and safely hold your rings on. Using the clay you can shape up the clay-like a cactus planter and then paint it with the lovely and sparkly gold hues for that perfectly catchy and decorative look. How to here!
Tutorial: deliciousanddiy
DIY Custom Summer Sun Hats: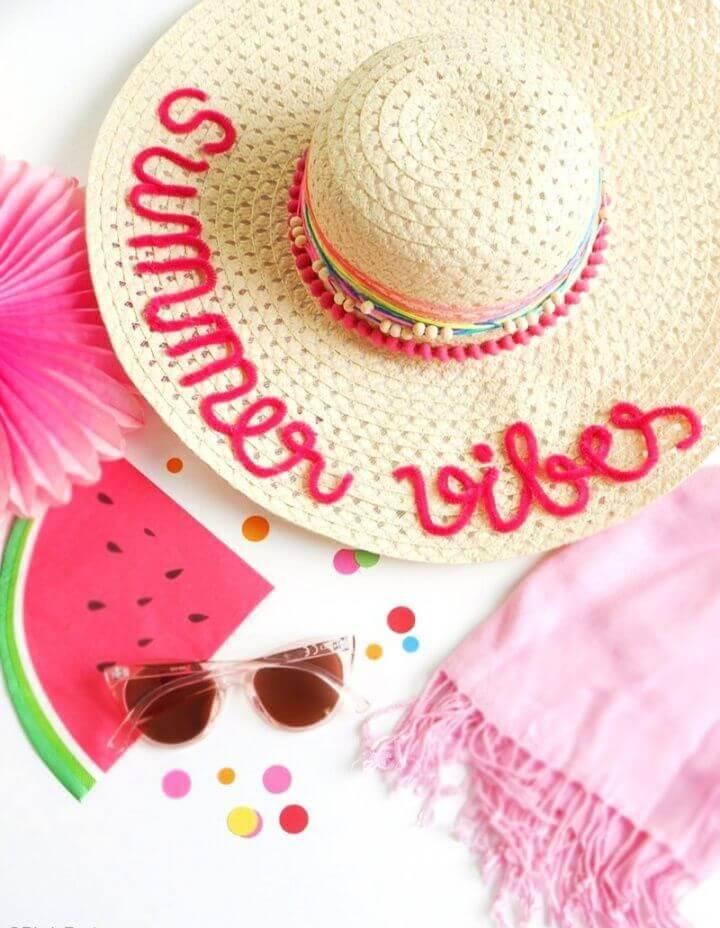 It's time to rock the looks of your fun summer sun hats with the simplest of the items and the cheaper ones too. So using the glue and the colorful pipe cleaner you can write some catchy summer fun words on the hats like Summer Vibes. Also, add some pom pom lace ribbons to make it look more quirky.
Tutorial: blog.birdsparty
Best Trunk Table: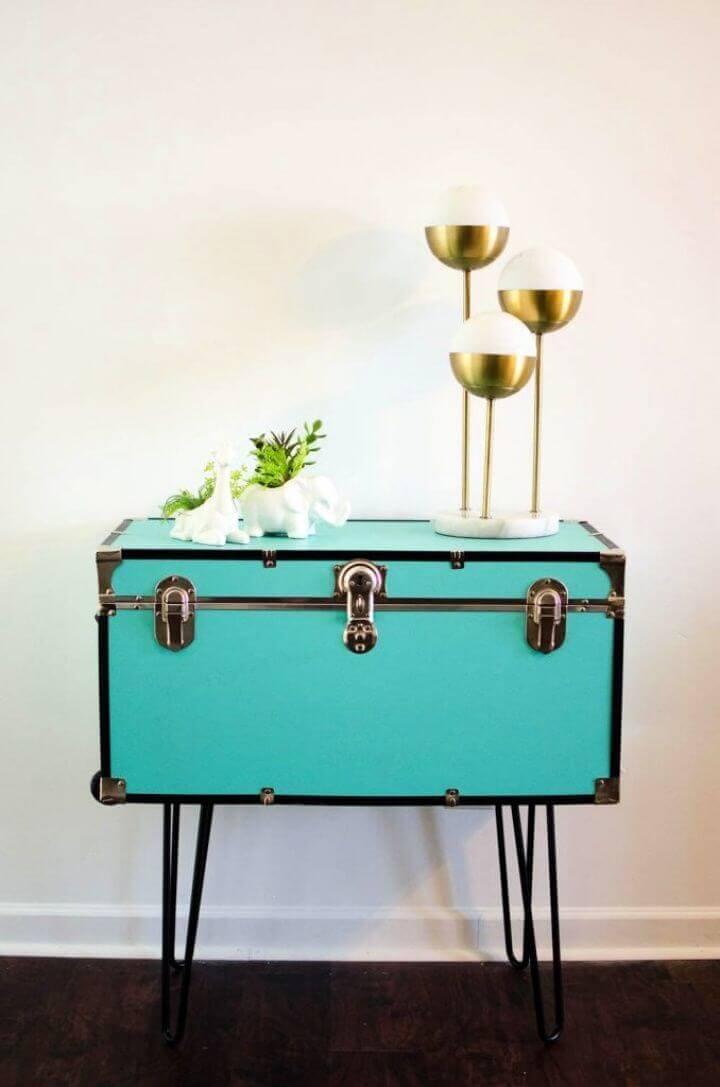 It's time to add some chic factor to the beauty and decor of your foyer space sand this trunk table is a great idea for the purpose. All you need to do is just add four hairpin legs to the table and its ready. You can use it to display your vases and artifacts. Details here!
Tutorial: alittlecraftinyourday
Make Your Own DIY Bow Flip Flops: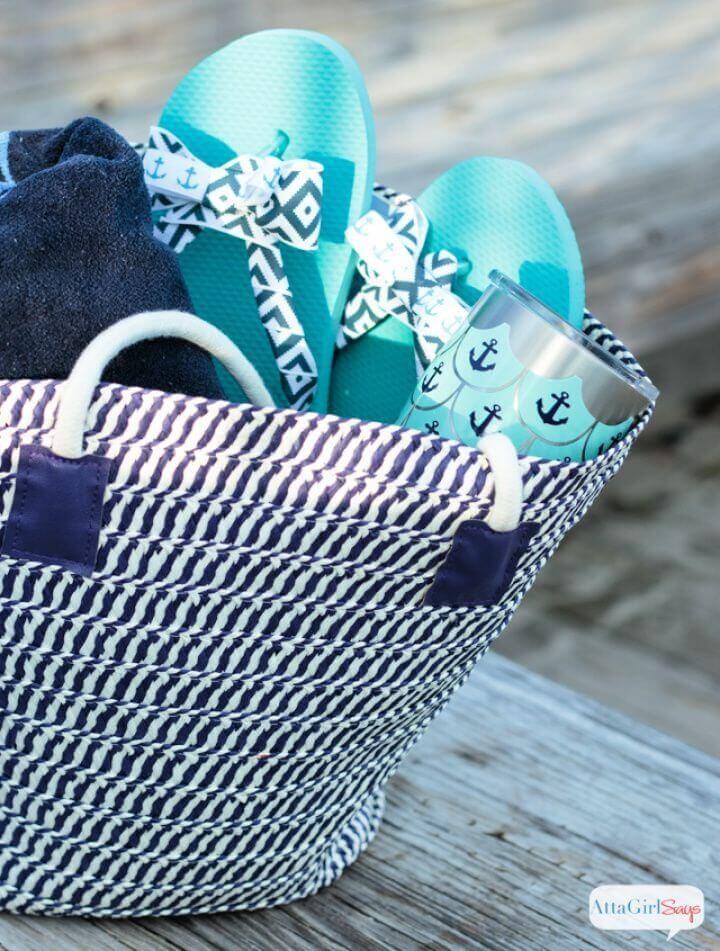 A beach trip packing is incomplete without the fun pair of the flip flops and here is how you can make yourself a flip flop for your beach trip. Just grab some cute ribbon and add it over the straps of your flip flops with a bow on the top. You can use custom colors of the ribbon for a personalized possession.
Tutorial: attagirlsays
DIY Easy Fern & Daisy Summer Wreath: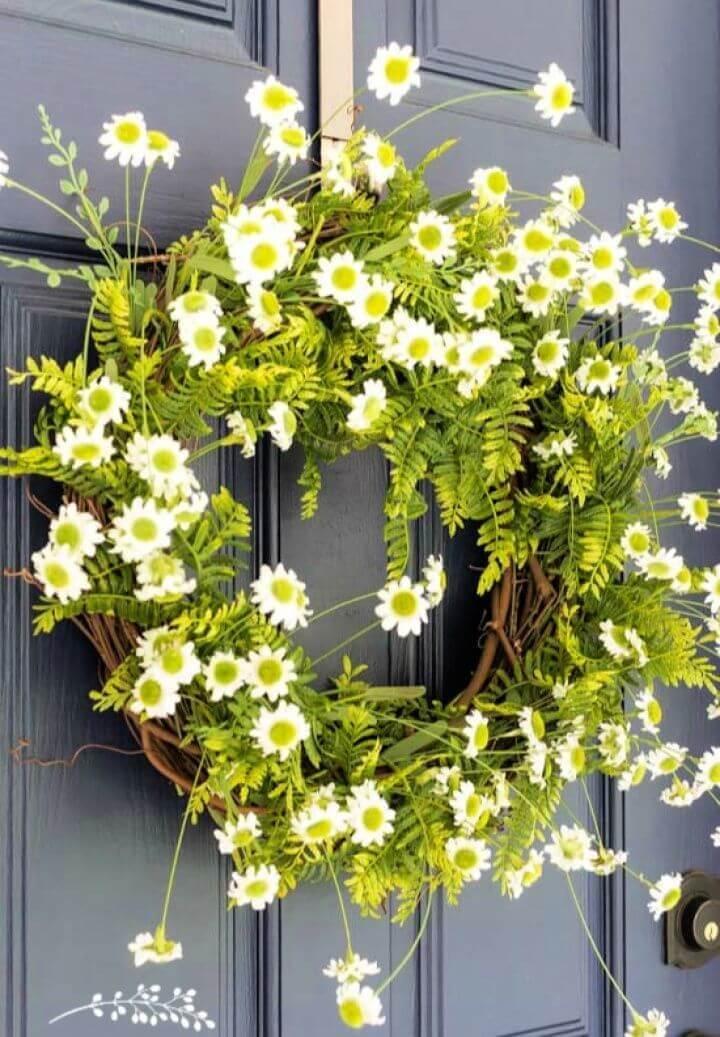 Give the summers a pure elegant and warm welcome with this DIY easy fern and daisy summer wreath. So grab some faux daisy flowers and a lot of fern leaves to adorn the wreath ring with. This lovely summer is going to look super cute and simple over your walls. Details here!
Tutorial: onsuttonplace
DIY Summer Welcome Mat: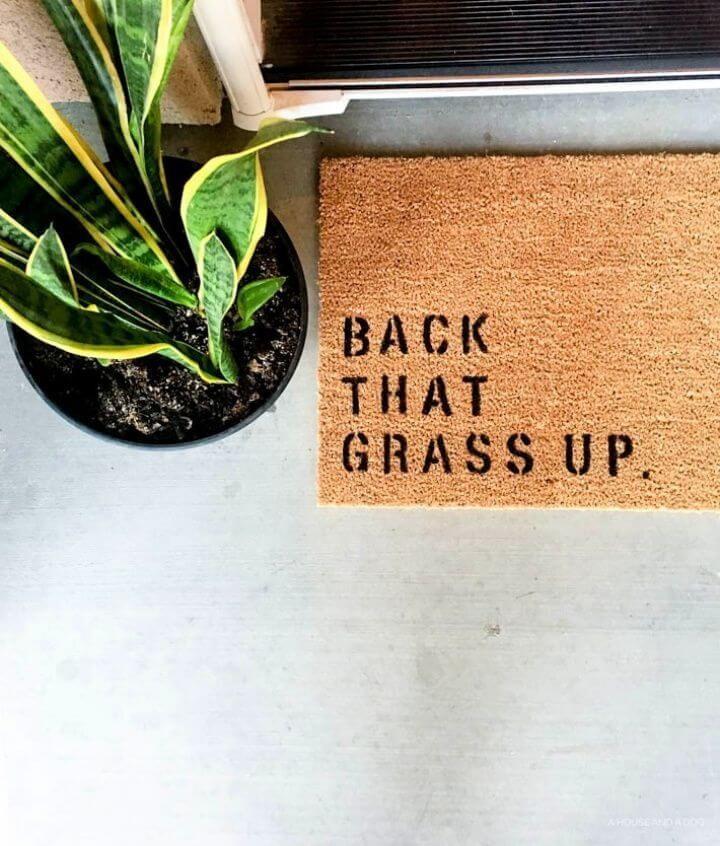 The floor mats that we buy from the market are so plain and simple but you can spice them up. Here is this DIY summer welcome mat to make your mat look somewhat exciting and fun for the summers. Using the letter stenciling you can write any fun summer related quote on your mats and it's done.
Tutorial: designedsimple
DIY Hanging Planter Using A Wood Slice: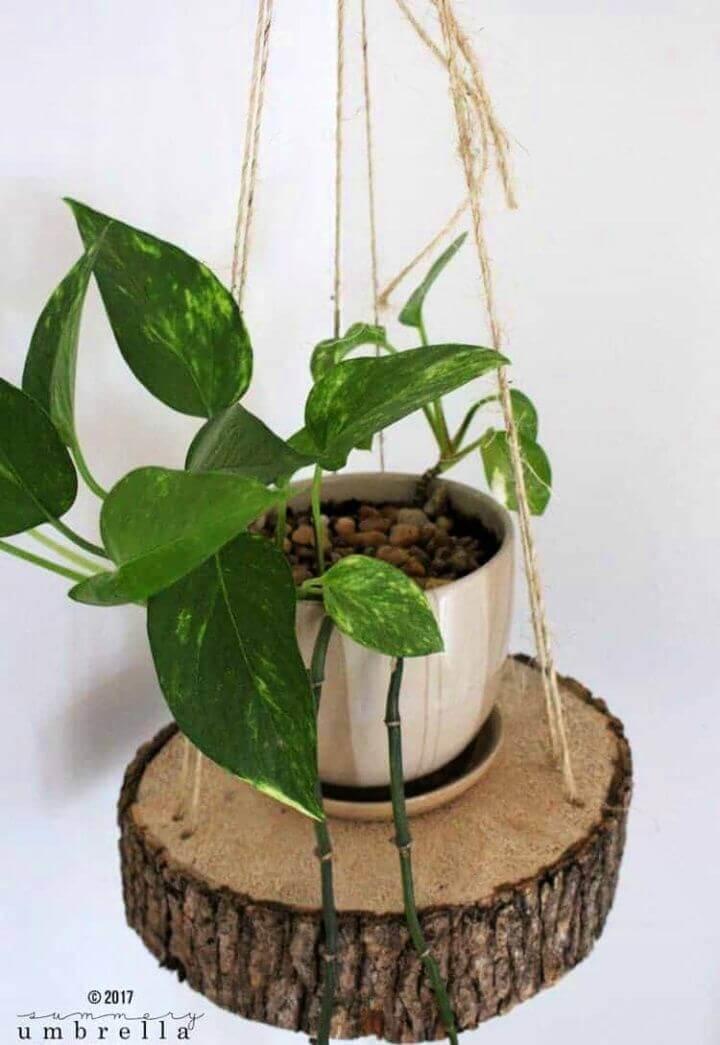 Hanging planters have their own kind of beauty and charm than the regular ones. So here is the idea of this DIY hanging planter using a wood slice. Yes with a wooden slice and some rope you can easily make this lovely planter to charm up your nooks and corners. Details here!
Tutorial: thesummeryumbrella
DIY Summer Flower Garland: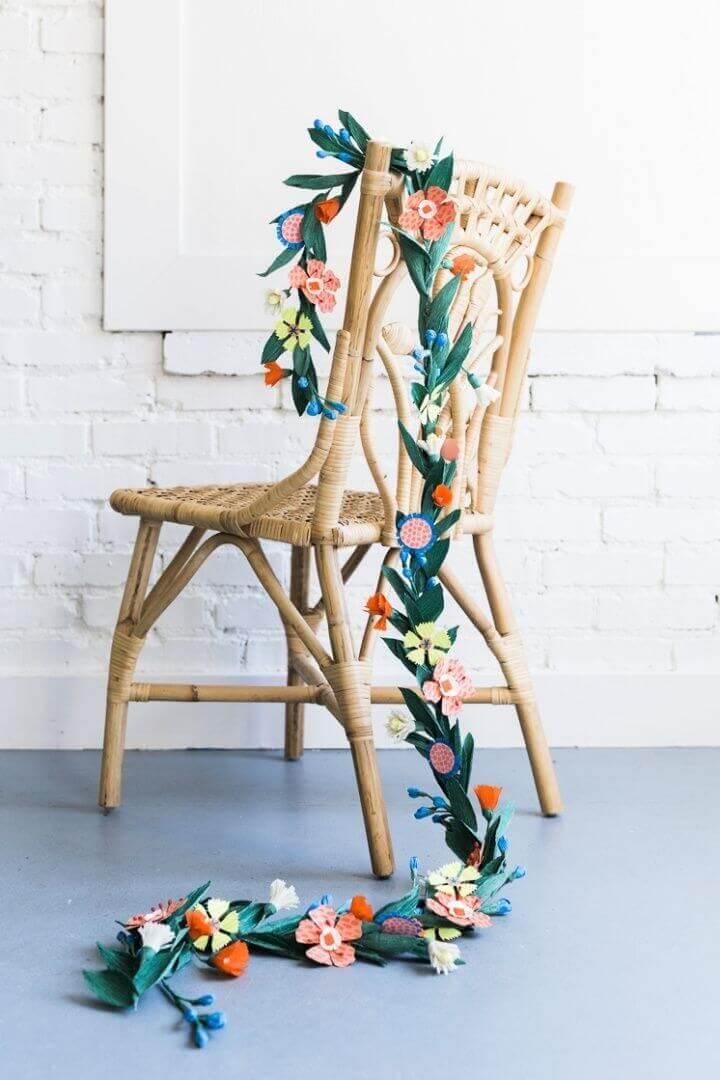 Garlands are the must part of every summer home decor for the celebrations. This gorgeous and accentuated DIY summer flower garland is the best thing to make this summer and jazz up the decor with. Using the scrap paper, cardstock and some acrylic paint you can easily shape up this flower garland with the leaves and flowers.
Tutorial: thehousethatlarsbuilt
Old Drawers into Porch Planters: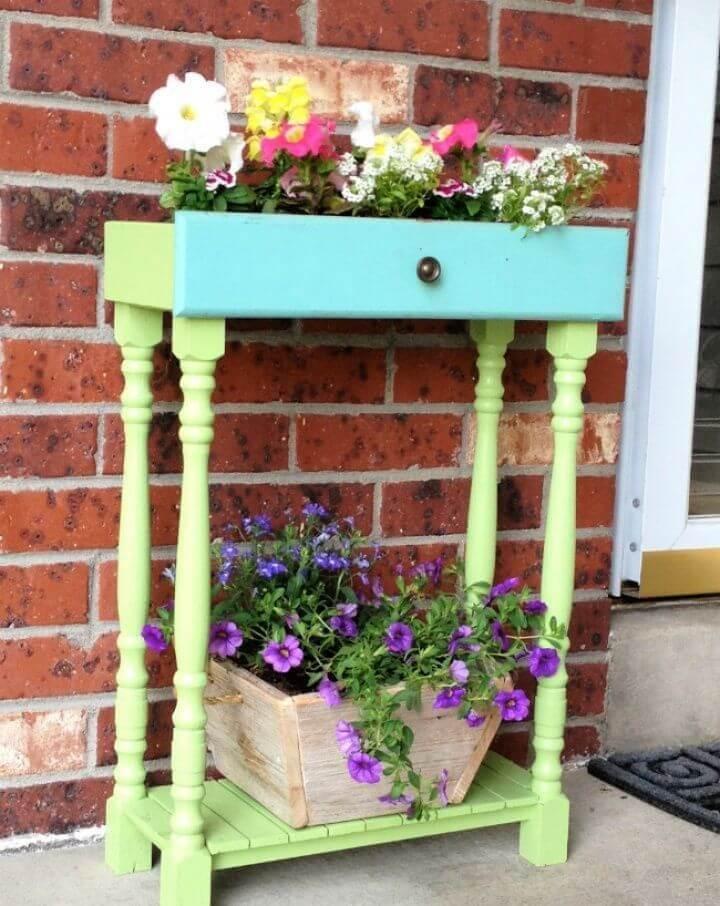 Summers are all about the gorgeous hues and the flowers and these old drawers into the porch planters are going to bring the both for you. The drawers have been cut into these gorgeous planter boxes of different designs. The green and blue hues of the paint are adding more charm to these planters!
Tutorial: mylove2create
Custom Raised Garden Boxes: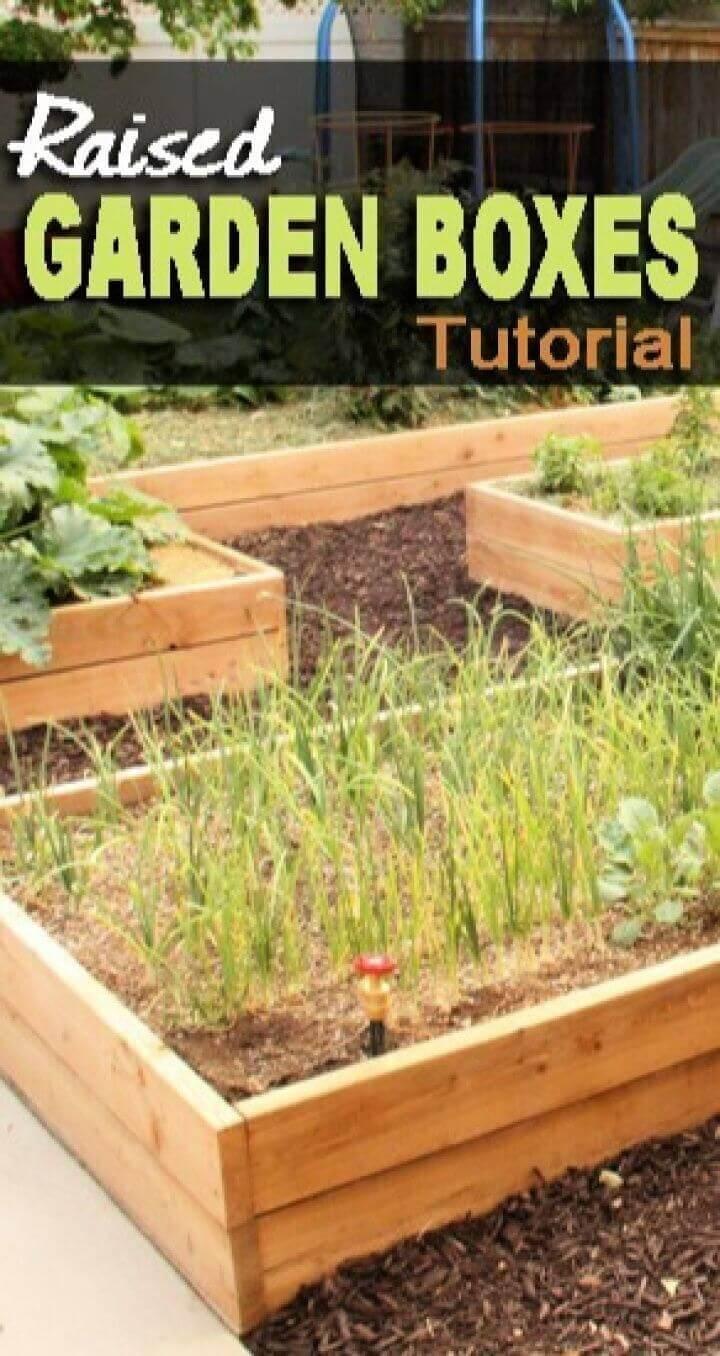 Summers are here with a lot of fruity and veggie plants to enjoy and entertain your health in a delicious way. So make these custom raised garden boxes with the salvaged pallet wood and exercise your green thumb in the most fun and exciting way. Tutorial here!
Tutorial: remodelaholic
Unicorn Body Glitter For Summer Festivals & Parties: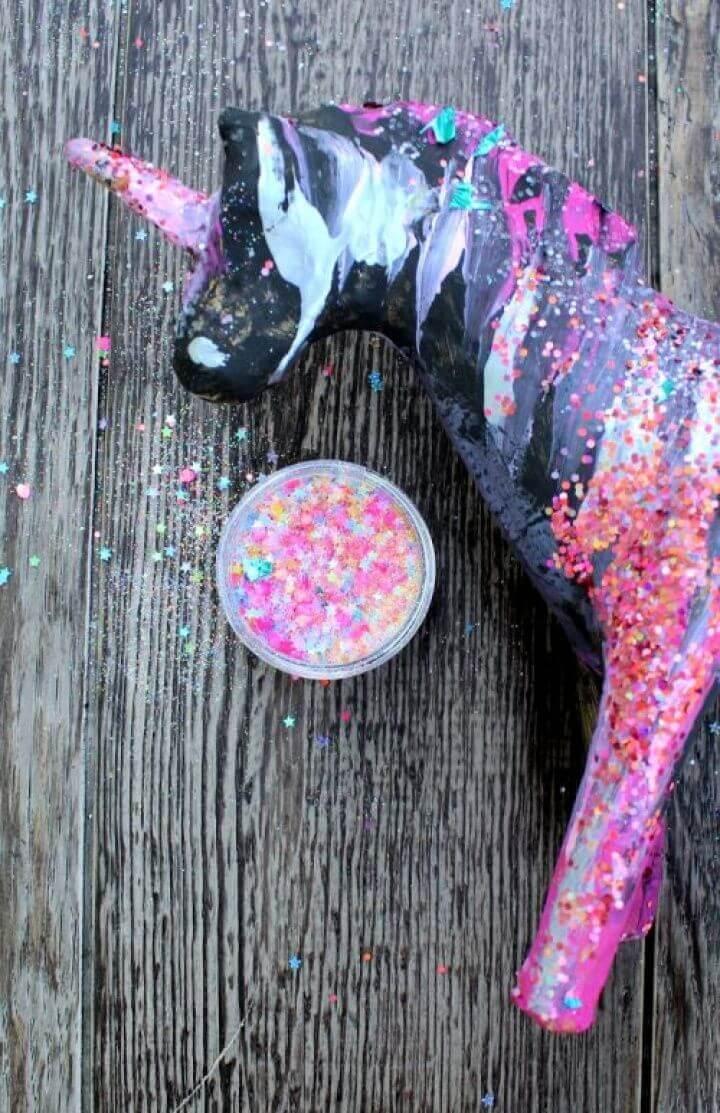 Rock your look for the summer parties and festivals with this lovely unicorn body glitter which is super easy to make at home. Using the packs of spangles and glitter and then combining them you can easily create this magical looking unicorn body glitter on your own. Check out the details here!
Tutorial: soapdelinews
DIY Artwork Bookmarks: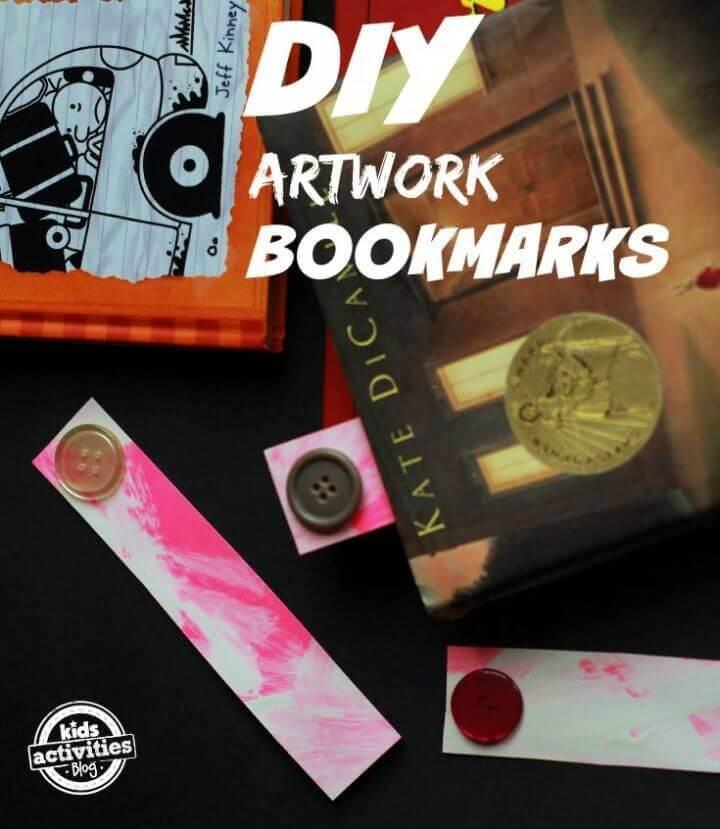 Make these easy DIY artwork bookmarks to gift around to the near and dear ones. Using the pink poster paper and cut it into the strips and paint it with the white paint. Lastly, add buttons and your lovely artwork inspired bookmark is ready to use as give away. How to here!
Tutorial: kidsactivitiesblog
Kaleidoscope For Kids: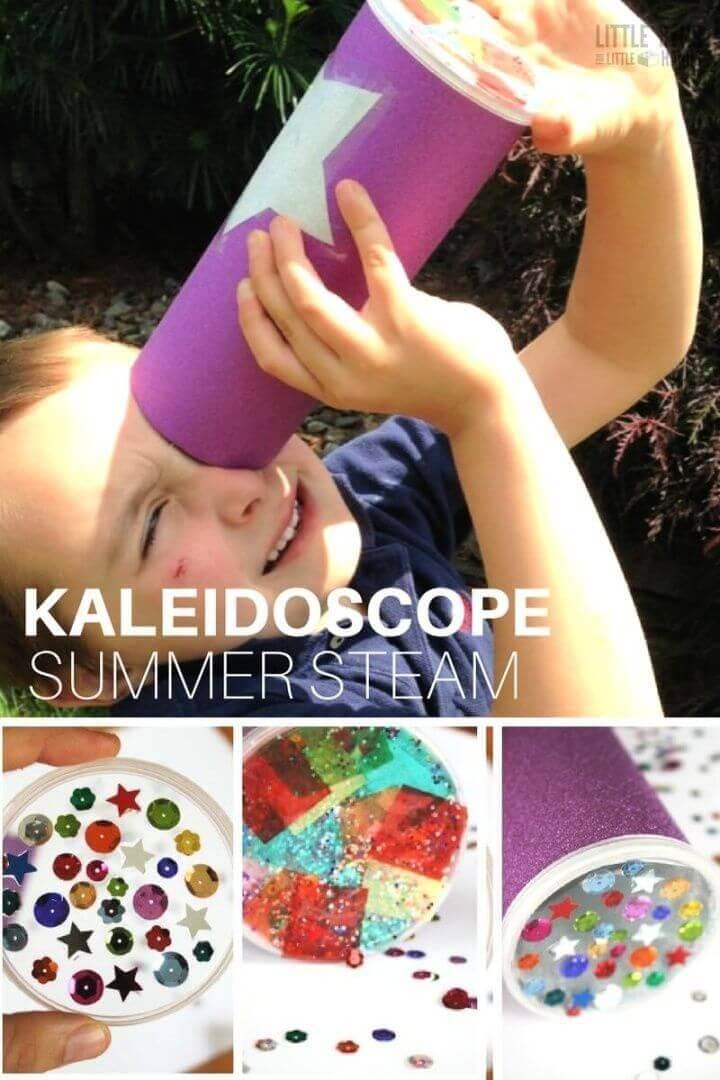 A fun summer day out for the kids is so undone without the kaleidoscope to explore the sky with. Using a pringle can, some shimmery scrapbook paper along with some glitter and the sequins you can easily make this super fun and colorful kaleidoscope for your kids. Details here!
Tutorial: littlebinsforlittlehands
DIY Trendy Burlap Tote: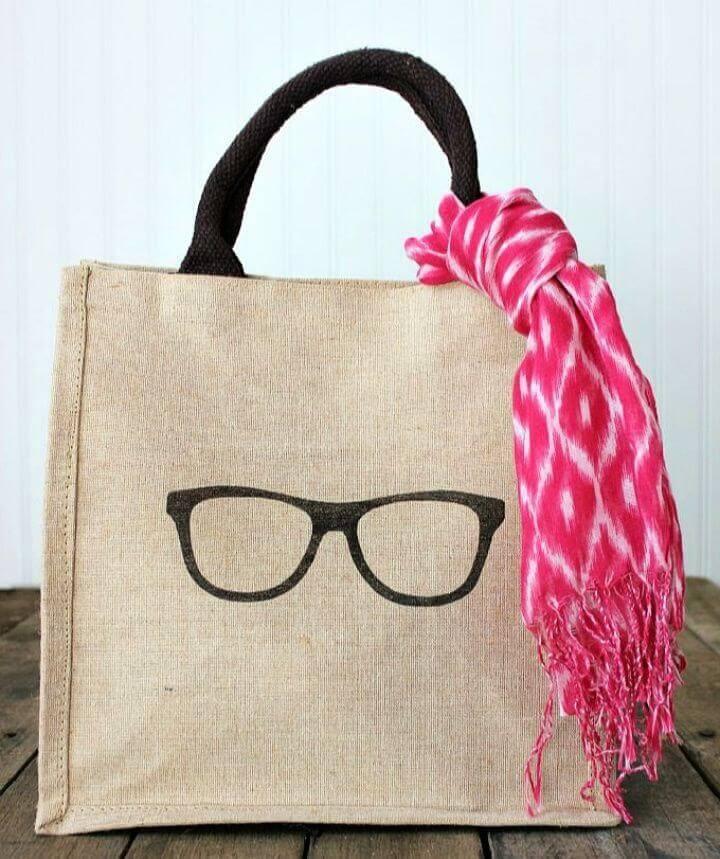 Make your simple burlap bag look just so gorgeous and tempting with this DIY trendy burlap tote bag. You can transfer an image of the glasses to the burlap tote and add so much elegance and glam to its simple look. You can check out the details right here!
Tutorial: purelykatie
Tassel Cable Portable Charger: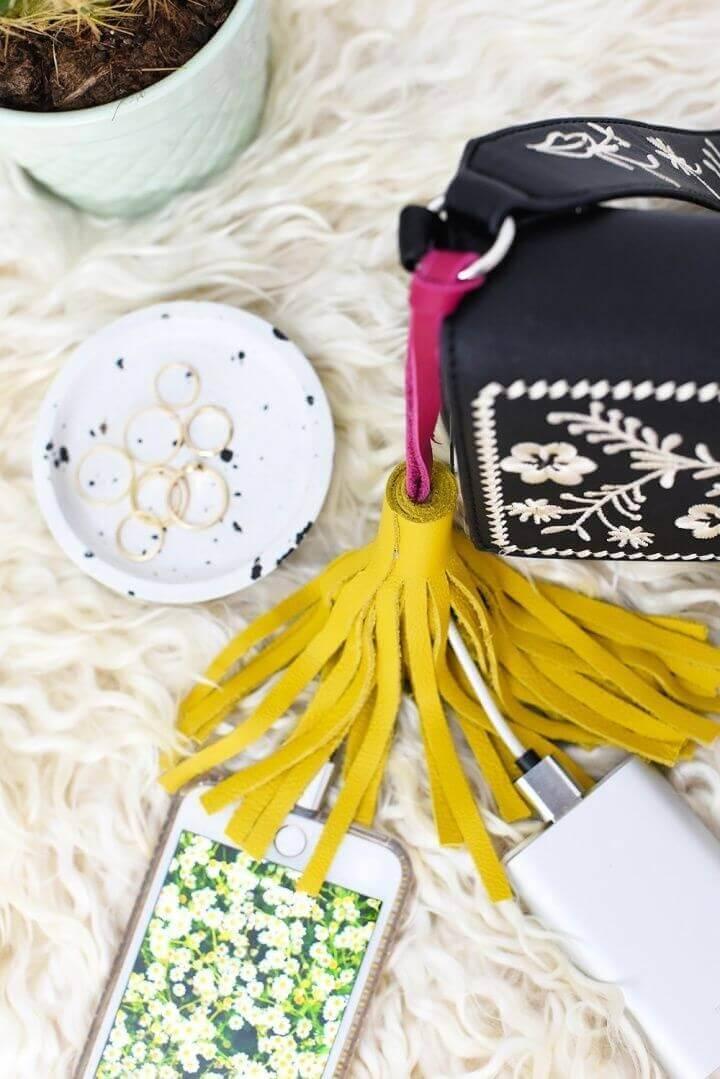 Have some leather scrap lying around? Now you can make this lovely tassel cable portable charger out of the leather scrap. This cute tassel cable portable charger would not only look beautiful standing on your tables but will change your charging experience too. Details here!
Tutorial: enthrallinggumption
DIY Sneaker Revamp: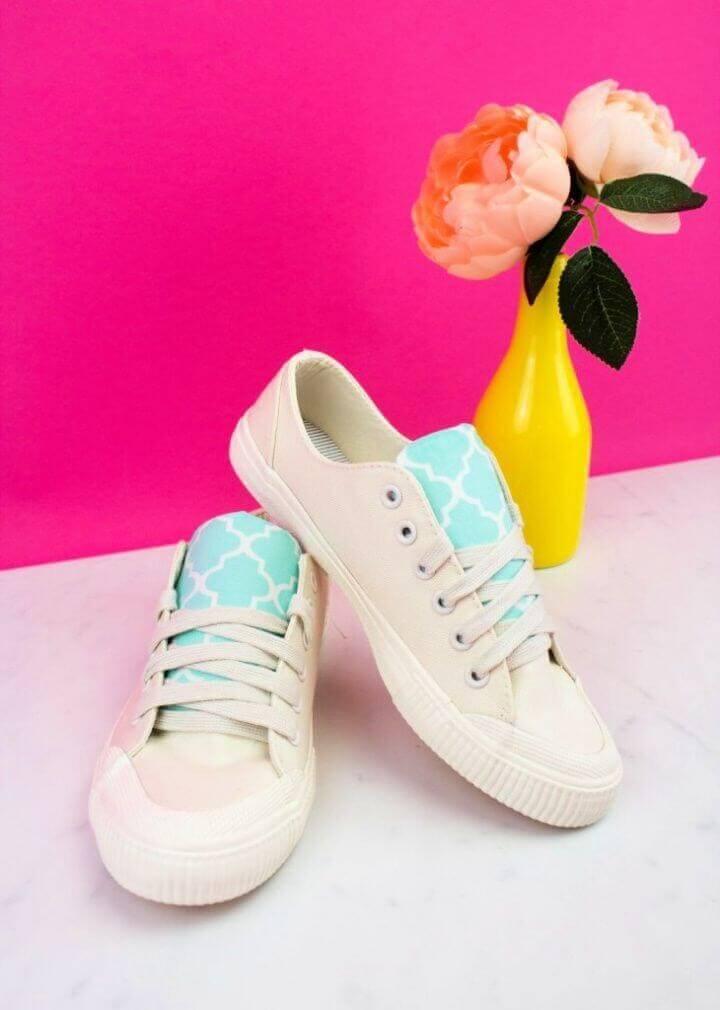 It's time to give your sneakers another chance to live on your feet. So get your hands on this DIY sneaker revamp idea which is quite simple and easy to work on. Using some white paint and the fabric you can easily work up this lovely project on your own. Details here!
Tutorial: alittlecraftinyourday
Puffy Sidewalk Paint: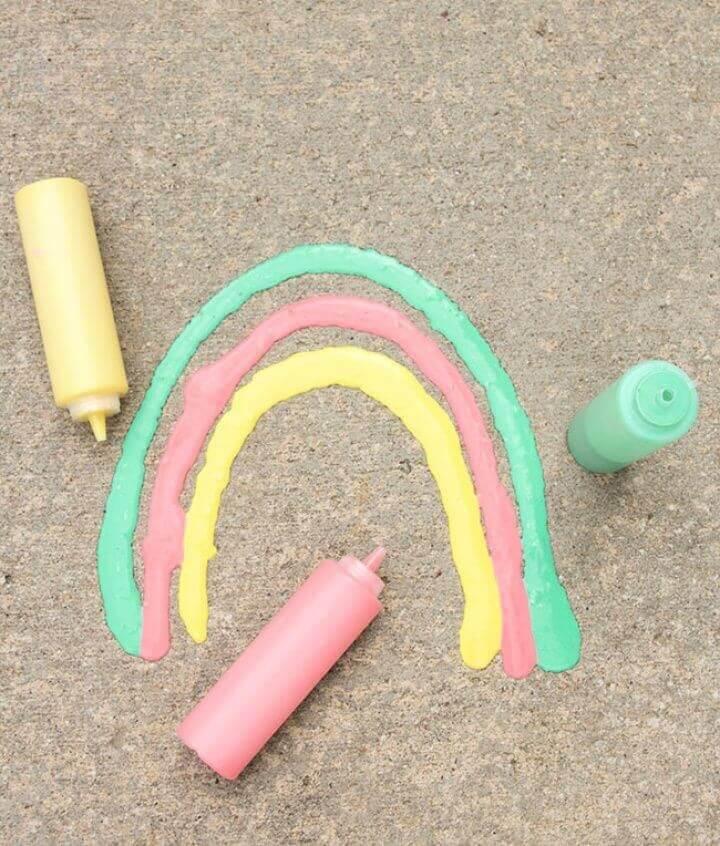 Let your kids have some fun in the outdoors with this project of puffy sidewalk paint. Just bring them some bottles of colorful puffy paint and let them create some lovely designs on the sides of the side path. How to here!
Tutorial: thebestideasforkids
Cricut Vinyl Decal Notebooks: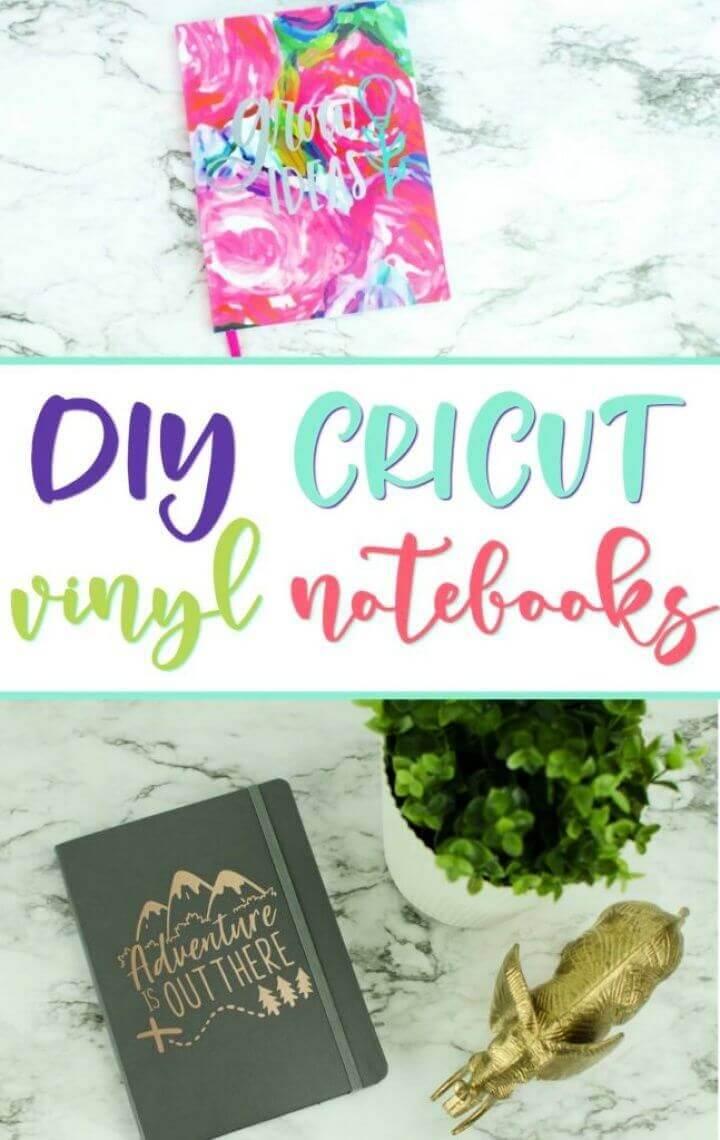 If you also love working with the circuit then making this lovely circuit vinyl decal notebook is the best thing to make. Not only the notebook has a gorgeous combination of floral patterns and hues but also some lovely words are written on the notebook to make it look more special. Tutorial here!
Tutorial: alittlecraftinyourday
Easiest Canvas Tote Bag: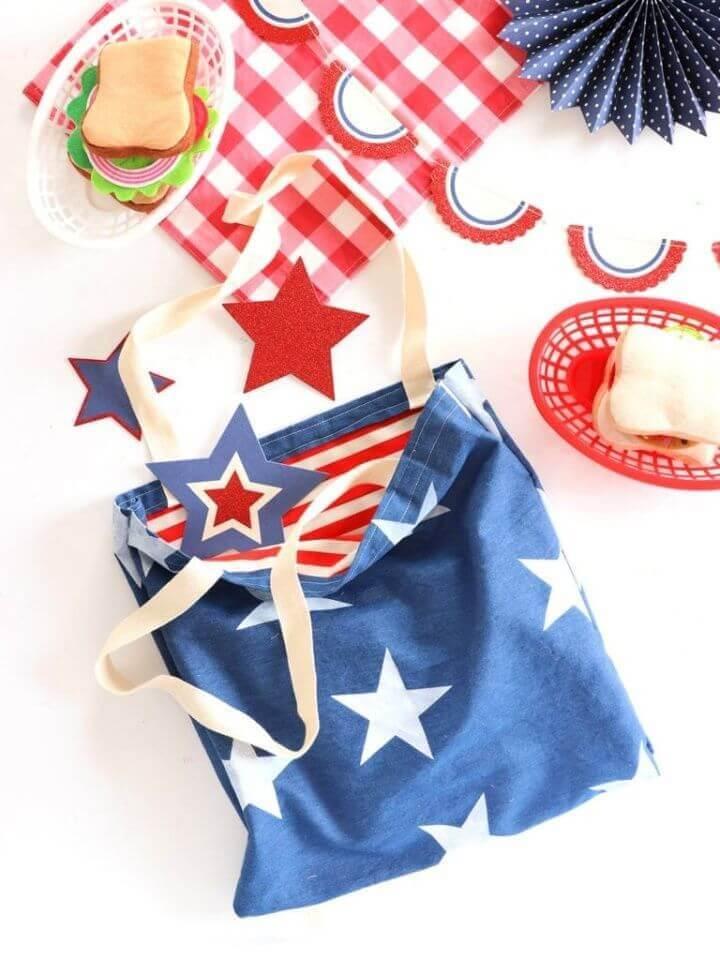 Make your summer home look beautiful this summer with this easiest canvass tote bag. Using white star and stripy printed fabric you can shape up this lovely flag-inspired tote bag. This lovely easiest canvas is the perfect thing to make and make your summers a little fun and feasible. Tutorial here!
How To Make A DIY Yarn Wall Hanging: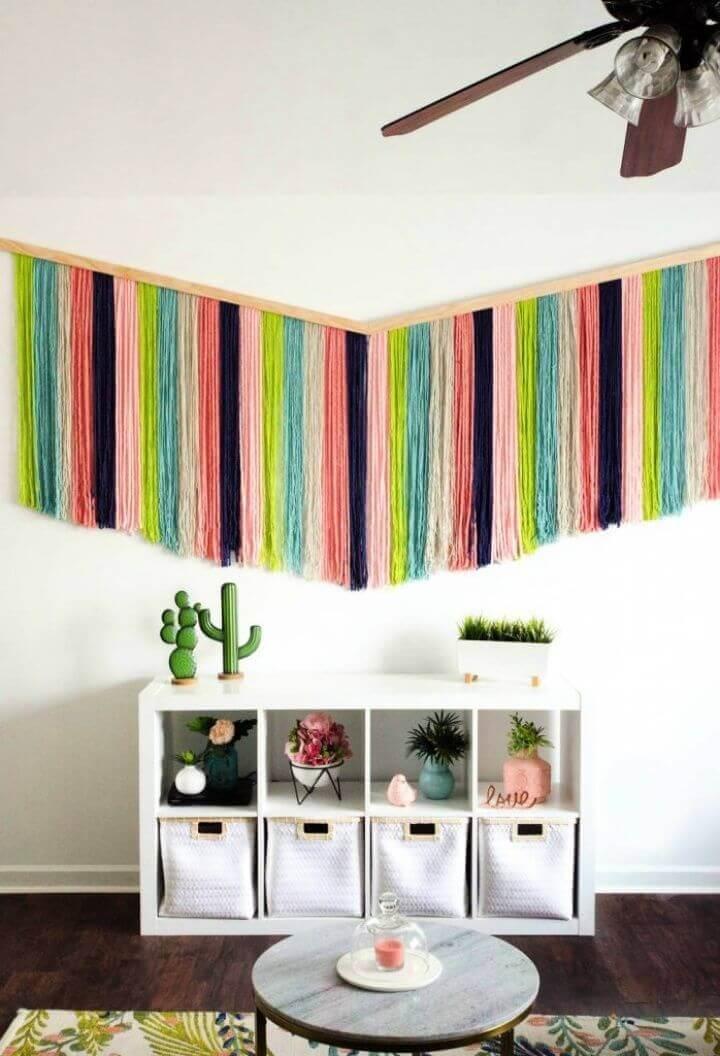 Make your summer homes beautiful with this lovely DIY yarn wall hanging. Using multiple hues of the yarn and some wooden pieces you can easily shape up this lovely DIY yarn hanging for any of your rooms. The yarn wall hanging would look nice on your living room decor the most. Details here!
Tutorial: alittlecraftinyourday
Outdoor Serving Tray Makeover: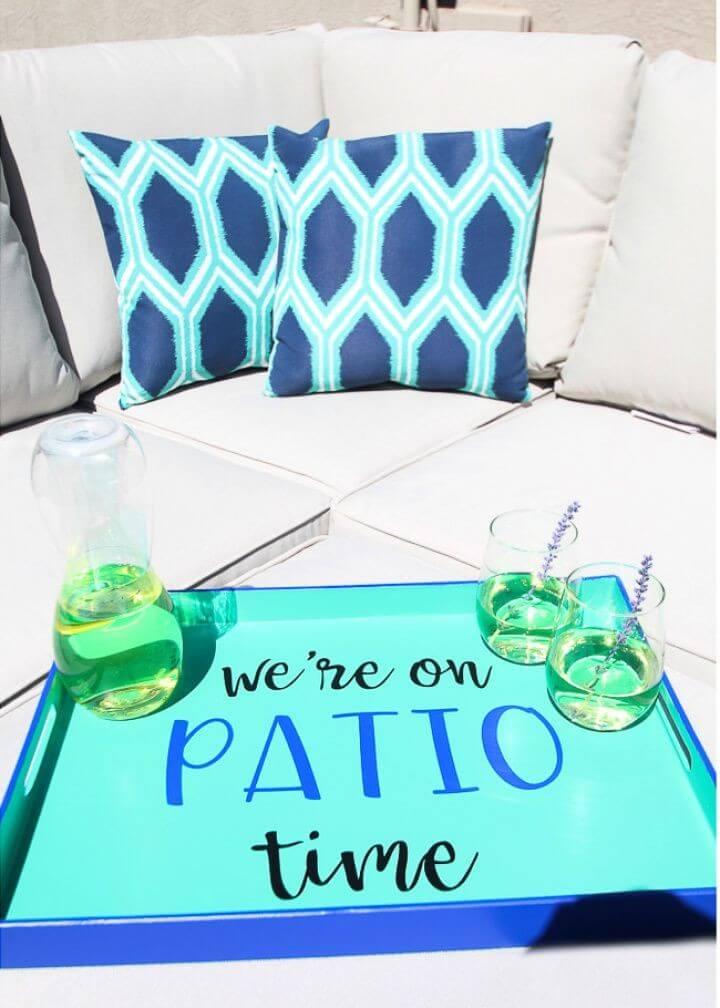 Make your summers more special with these outdoor serving tray makeover having so much vibrancy and boho charm in it. Using blue and turquoise hues of the paint you can easily shape up this lovely serving tray with written words We 'are on Patio Time. You can check out the details here!
Tutorial: lydioutloud