One of the best things that every crafty person enjoys the most making at home is the bracelets. They are super easy, quick and so much fun to work on that is why everyone loves to work on the bracelet projects. So if you are also looking for some funky and fun friendship bracelet ideas then here we have with a delight round up of the ideas. Yes, check out these 24 DIY Friendship Bracelet Patterns to make the most amazing bracelets to enjoy for summer fashion. The bracelets are titled as the friendship bracelets but you can not only make them for your friends but for your family and for your own self too.
These bracelets show off plenty of cool and funky ideas to create some super chic and boho kinds of bracelets for everyone from elder ladies to the teens and the little girls too. There are simple yarn braided bracelets for the simple style lovers and the spiked and the colorful bracelets for the trendy fashion lovers. Also, there are bracelets which are your love for your friends and also to spice up your summer fashion. Check out each bracelet tutorial by clicking on the links combinations of the chains, yarn, stones, and the more. These lovely bracelets make the best gifts to show provided.
Easy DIY Friendship Bracelets You Can Make Today: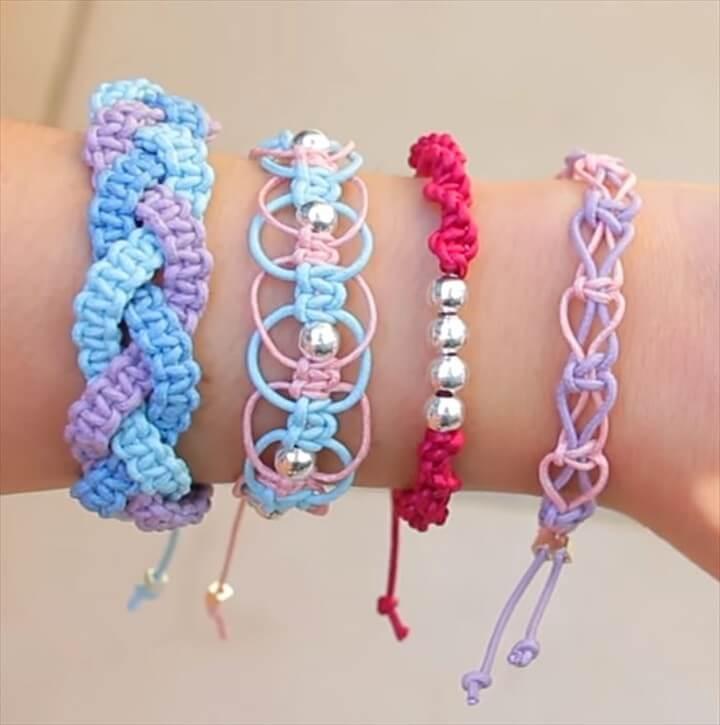 Bracelets are till date the best gifts for the friends and now you can easily make some at home. Here are these four DIY friendship bracelets with different designs and patterns for each of your special friends. Grab some soft and cute summer yarn hues to shape them up. Tutorial here!
Tutorial: kimspireddiy
How To Make Jewelry Com Friendship Bracelets: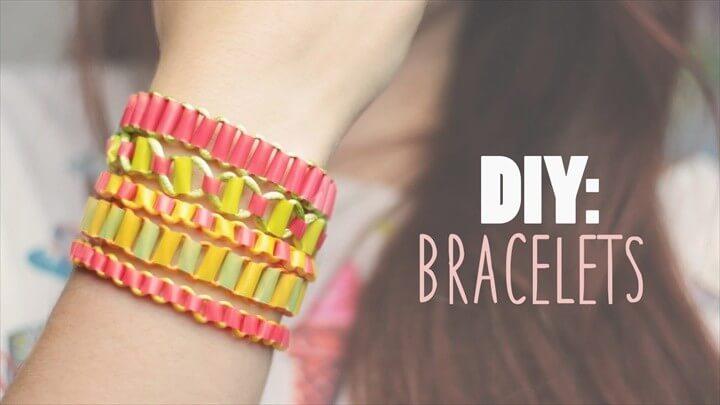 Make these super cute and funky bracelets and adorn your wrists for a cool summer fashion. Not only can you shape up this jewelry like bracelets for your own self but for your little girls and the elder girls around you too. Check out the details here!
Tutorial: hashdron
Knitting Patterns Funny DIY Friendship Bracelets: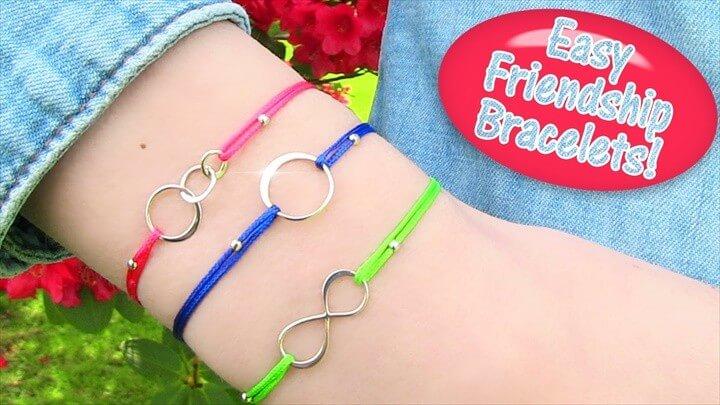 These simple yet gorgeous looking friendship bracelets are surely going to make everyone around you go wow.  The bright yarn hues and the minimalist designs are just so damn cool and perfect for the summer fashion. You can use any metal appeal in the center of the bracelets. Details here!
Tutorial: awesomediyprojects
Easy Square Knot Flower Bracelet: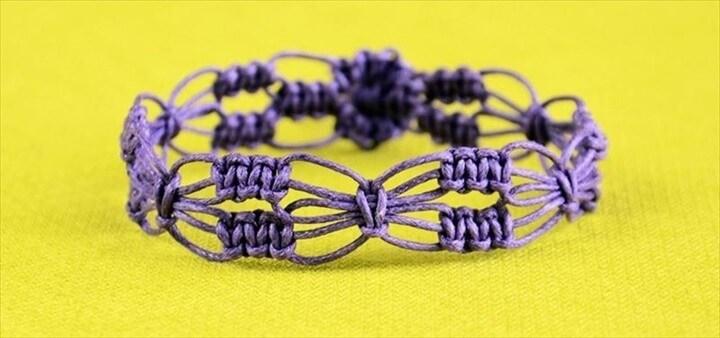 Are you bored with your old bracelets? If yes then it's time to make these super cute square knot flower bracelets. Using the cords in your favorite hues you can easily make these adorable and cute bracelets. All you need to learn is the square knotting method which is given here in detail.
Tutorial: jewelry-crafts
3 Easy DIY Bracelets Project: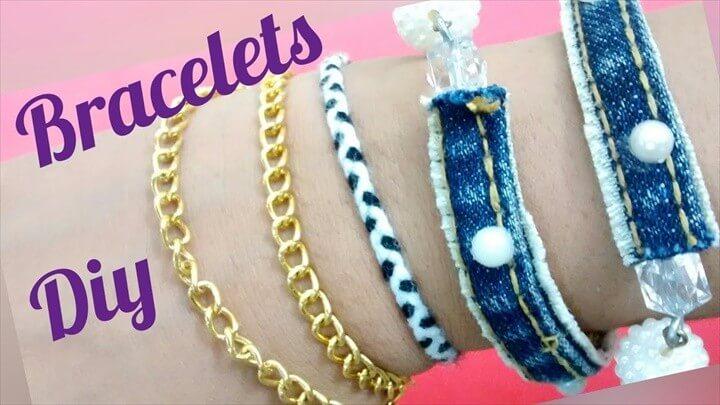 Bracelets can add so much to the style and personality of yours and here is this project with 3 easy DIY bracelet ideas. Yes, you can learn to make three differently cute and gorgeous bracelets in one go and adorn them on your arms. Also, you can use them to use as gifts around too.
Tutorial: mycrafts
Heart Friendship Bracelets: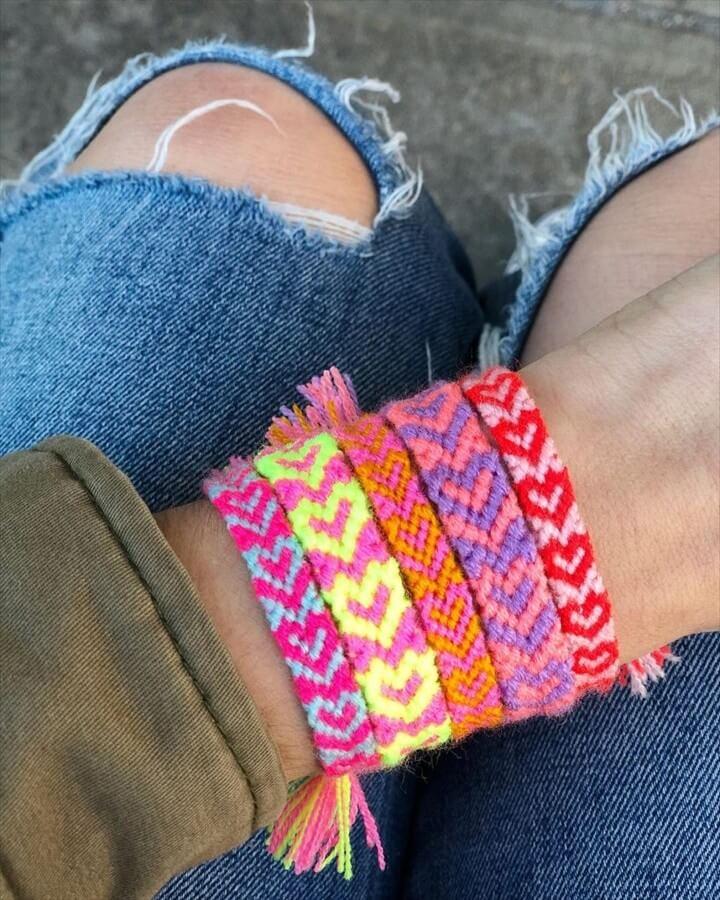 Send your love to your friends with these gorgeous and warming heart friendship bracelets. These cute and colorful friendship bracelets are made out of the omega cry yarn that too in multiple hues. So grab your supplies and tools and get the making method here!
Tutorial: theneonteaparty
Easy String Friendship Bracelet: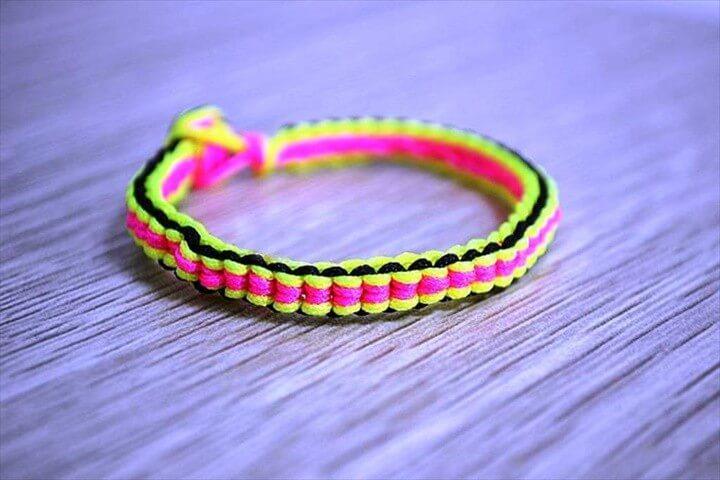 Make your friendship stronger by gifting these gorgeous and easy to make string friendship bracelets to the friends. You can choose any of the yarn and any of the colors to shape this super cute and tiny minimalist bracelet easily at home. Check out the details here!
Tutorial: rusticgardenweddings
Gorgeous DIY Friendship Bracelets: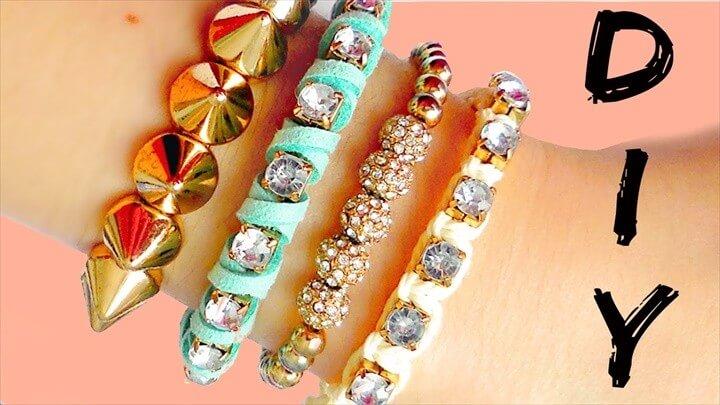 Make your friends the best of the gifts with this gorgeous DIY friendship bracelet. The bracelet is easy to make with the cords, beads, and the rhinestones. The stones really make the bracelets look so elegant and exquisite for the formal styling too. You can change the color of the cord to get the bracelets matching with the dresses too.
Tutorial: youtube
Cute Summer Friendship Bracelets: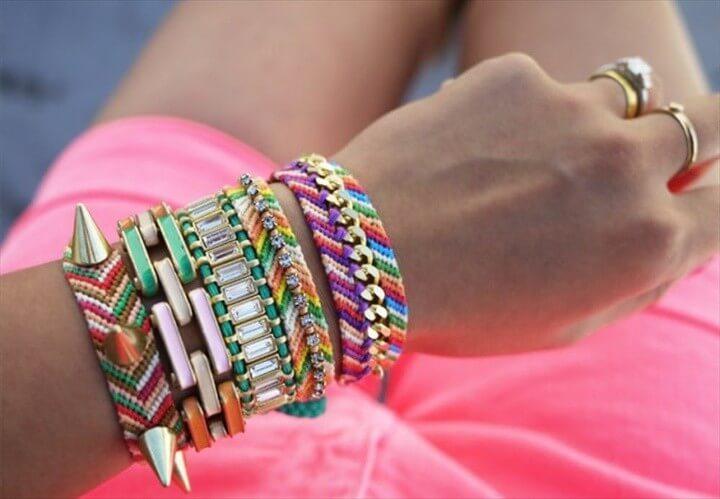 You can look more chic and fun with these cute summer friendship bracelets especially when you pair them up with your metal bracelets too. So get some embroidery floss with multiple hues to shape these simple bands like bracelets. Add some stones and spikes for a more quirky look.
Tutorial: honestlywtf
Ultra-Easy Friendship Bracelets: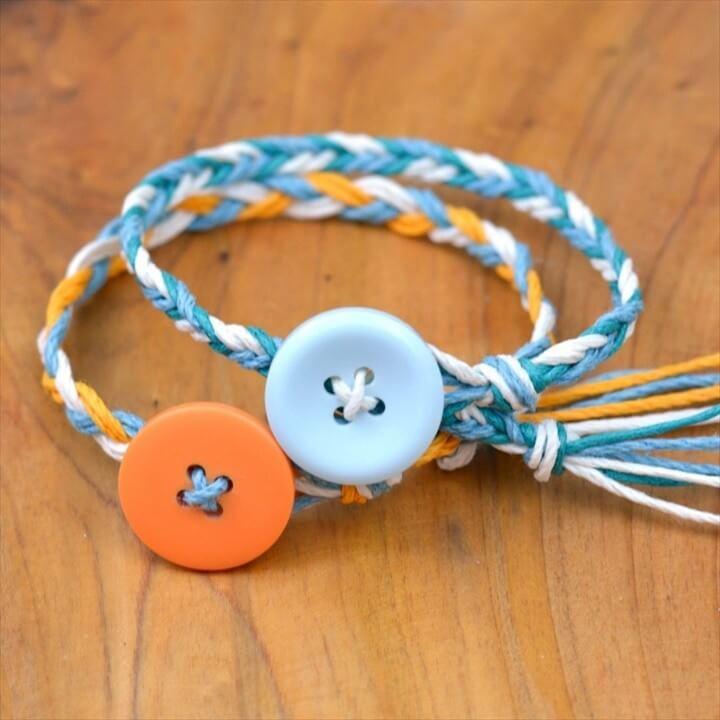 These braided bracelets with big buttons look just so perfect and cute to be on your wrists and jazz up your summer fashion look. You can easily carry them with your tops and tanks and even some cute summer dresses. Also, they are going to make great gifts too. Check out the details here!
Tutorial: happyhourprojects
Simple To Make Friendship Bracelets: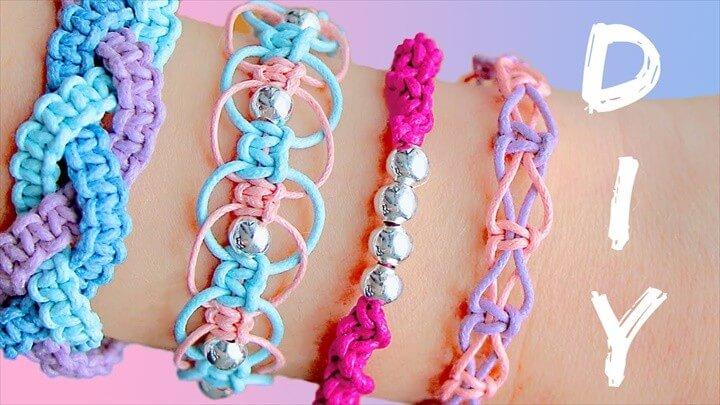 Bracelets are so easy and fun to make at home and enjoy some cool and boho bracelets for the summers. By just varying the arrangements of the strings yarn or the cords you can totally change the look of your bracelets. Here is this project with four types of bracelets to easily make.
Tutorial: youtube
Friendship Bracelet With Rhinestones And Tassel: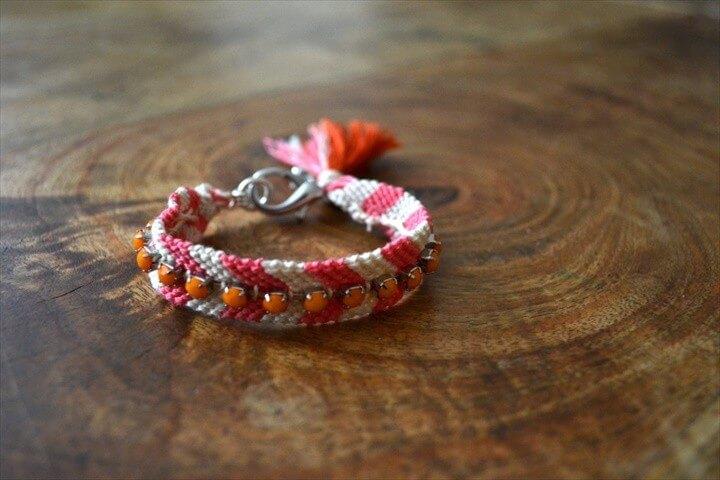 The simple yarn bracelets are so easy and fun to make and if you want to spice them up then this idea is right for you. Yes with the addition of the rhinestones and the tassel this lovely bracelet is so easy and fun to make. You can make them for any of your favorite girls around too.
Tutorial: goodinthesimple
Friendship Bracelets For Adults (DIY Tutorial)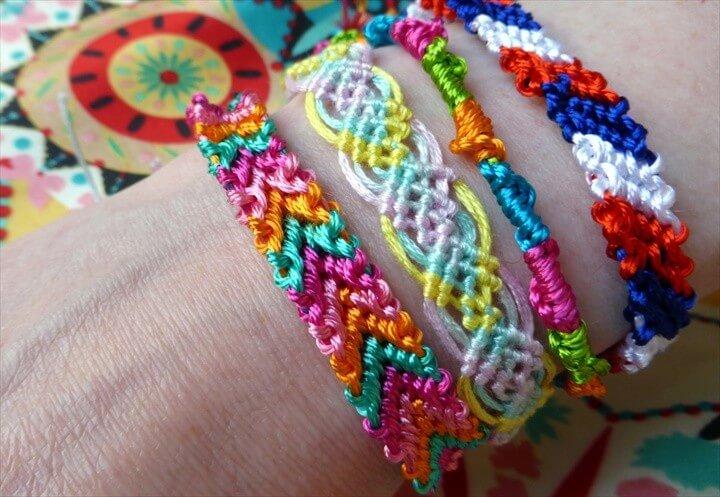 These lovely friendship bracelets easily catch your sight for being so bright and colorful. The same features make them perfect to carry with your cool summer dresses. You can easily make a variety of them by just changing the knotting and knitting method a bit. DIY tutorial here!
Tutorial: hobbycraft
Neon Tea Party DIY Embellished Friendship Bracelets: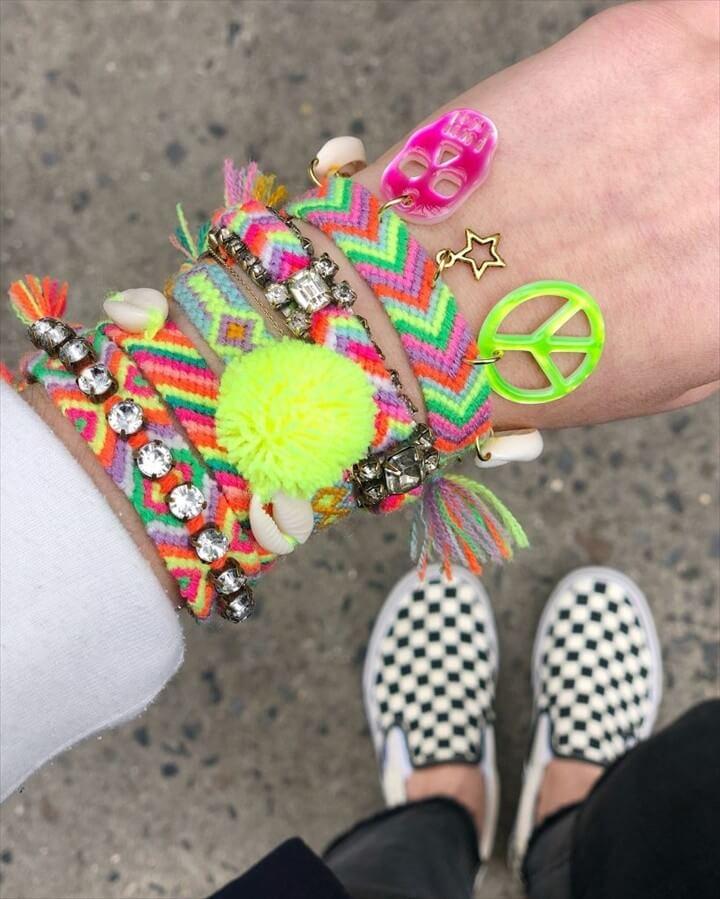 If you have some colorful yarn bracelets lying around then you can easily charm them up with some cute embellishing. Grab some chains, stones, and the stars to add to your bracelets and instantly spruce up their beauty and the style. Get easy details of the idea here!
Tutorial: theneonteaparty
How To Make DIY Friendship Bracelet Your Bestie: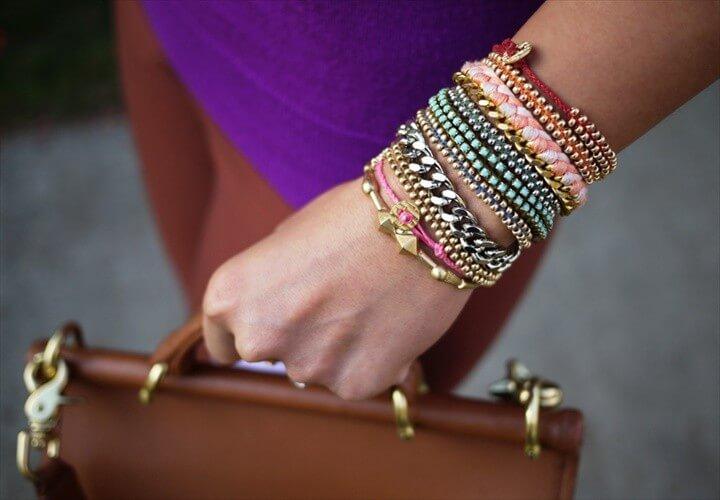 If you also love to stack the friendship bracelets in your wrist then this lovely friendship bracelet idea is right for you. The bracelet is quite thin and super cute with the colorful linen cord and the seed beads. You can change the colors of the cords and the beads to create a variety of them for a stack-up look.
Tutorial: honestlywtf
Heart Friendship Bracelets: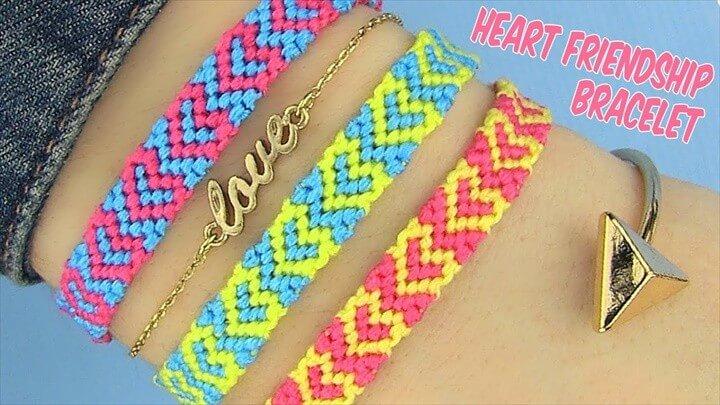 Using neon colors in the yarn you can shape up these pretty cute and simple sets of the bracelets. The lovely bracelets have mini hearts in the pattern to make them look more heartwarming. You can stack them up with the metal bracelets to look just so boho and chic. Details here!
Tutorial: youtube
DIY Friendship Bracelets – Easy Stackable Arm Candy Projects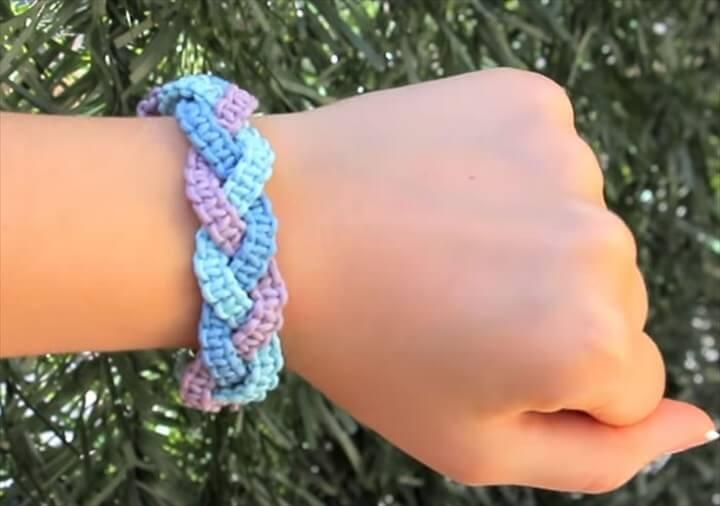 This simple and cute bracelet has the yummy colors of the candies. So make your friends super sweet with these DIY friendship bracelets which easy and fun to make at home. Just make two thin bracelets with knots in different colors and then braid them up for a lovely bracelet possession.
Tutorial: kimspireddiy
Fabulous Friendship Bracelet: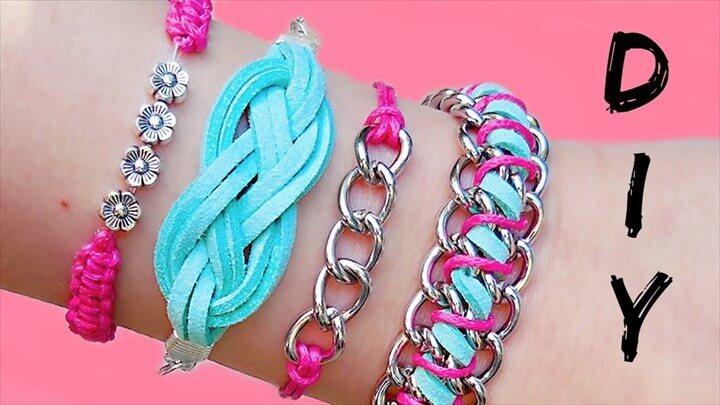 Make this gorgeous stack of the bracelets for your own self and look just so fantastic and cool wearing them around your wrist. There is a big bracelet with sailor knot in the center and the smaller ones with chains and stones on the left and right of it. Either make this stack for yourself or use it as a friendship gift. Details here!
Tutorial: youtube
Friendship Bracelets -Fishtail Braid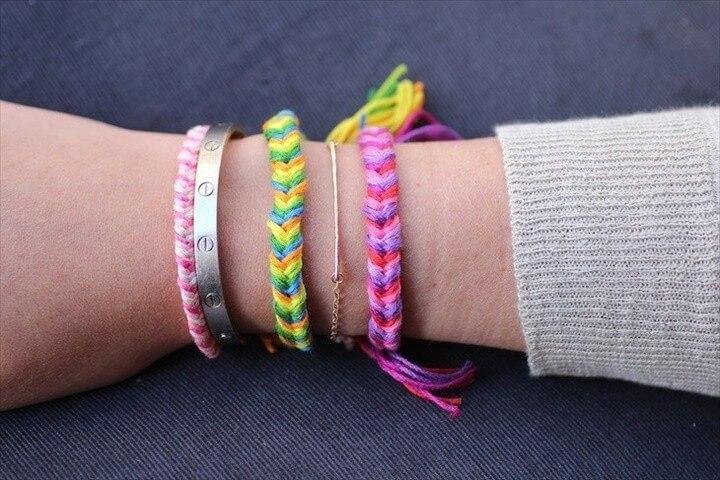 We love trying the fishtail design on our hair and now you can do it with your yarn bracelets too. Yes, using the yarn strings in multiple colors you can easily shape up these super cute bracelets just like you made your fishtail hair braid. Make more than one stash them with your other wrist beauties.
Tutorial: thestripe
Easy Braided Friendship Bracelet Tutorials: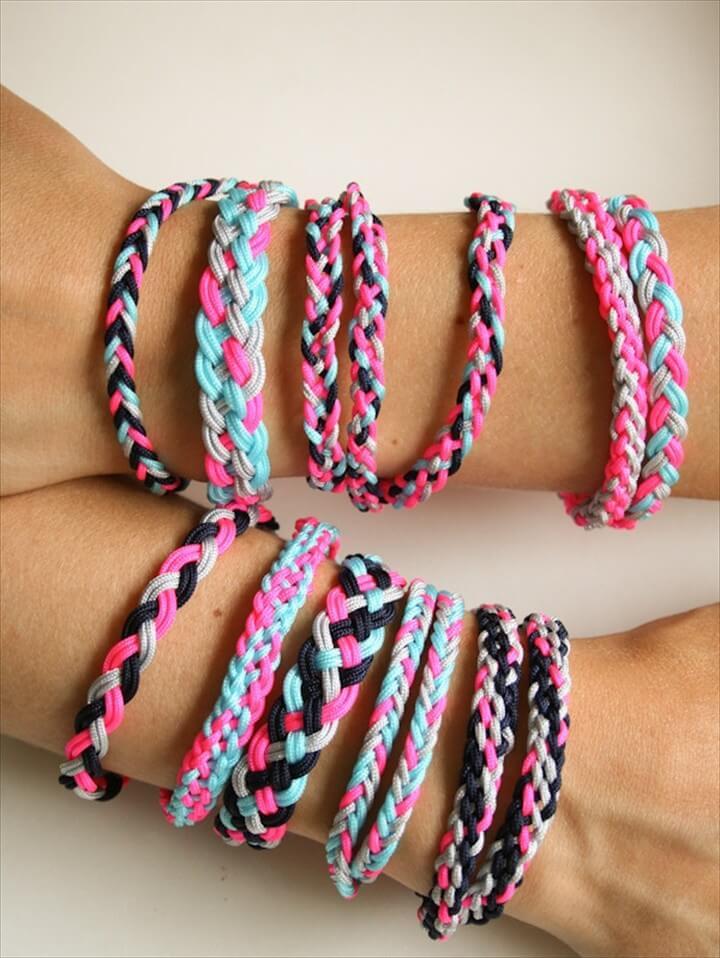 Here is this super cute and colorful bunch of the bracelet to make and give away as the best token of friendship. You can easily create them all as they are made out of some differently styled braids. Single braid, double-strand braid, dovetail braid, and more to know here in detail!
Tutorial: truebluemeandyou
Five Easy Friendship Bracelets: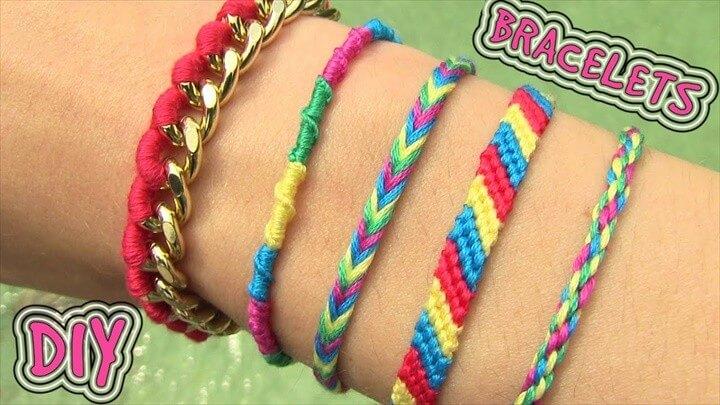 The best thing about the handmade bracelets is that they are super cute and easily customizable according to our needs and desires. Here is this super cute stack of the five easy friendship bracelets to make and jazz up your summer look with. Knots, braids, and wrapping all bracelet techniques' are used here!
Tutorial: youtube
DIY Boho Summer Bracelets: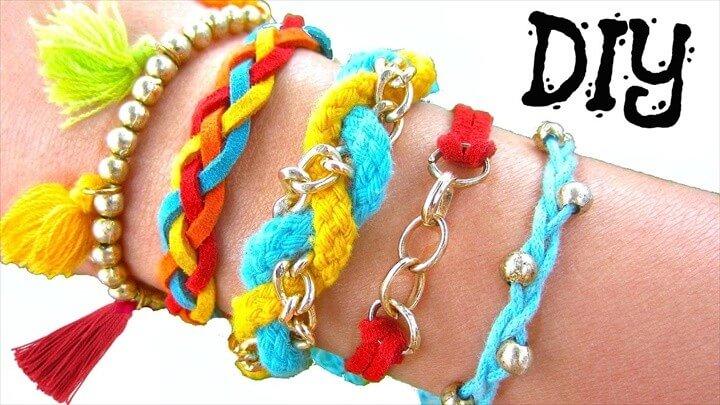 These DIY boho summer bracelets are just perfect to be a part of your fashion and jazz up your style statement. The bright hues of yarn and the different designs of the bracelets really make them look so cool and boho. Yarn, leather cords, beads, and chains have been used to shape up this bunch of adorable bracelets.
Tutorial: cxbots
Boho Arm Candy Wrap Friendship Bracelets: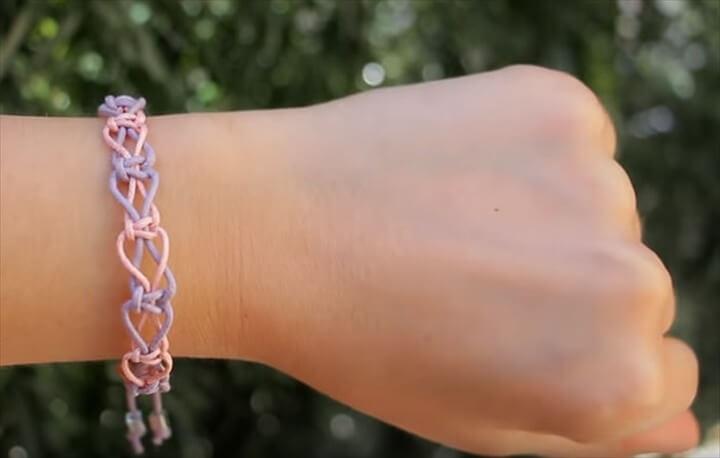 Be it young girls or the elderly ladies, all are in huge love with the bracelets. Some like the bracelets with knots and braids while others with chains and stones. Here are these boho army candy wrap friendship bracelets with all of these varieties. You can make them as single pieces or you can stash them together too.
Tutorial: kimspireddiy
Chain Friendship Bracelets: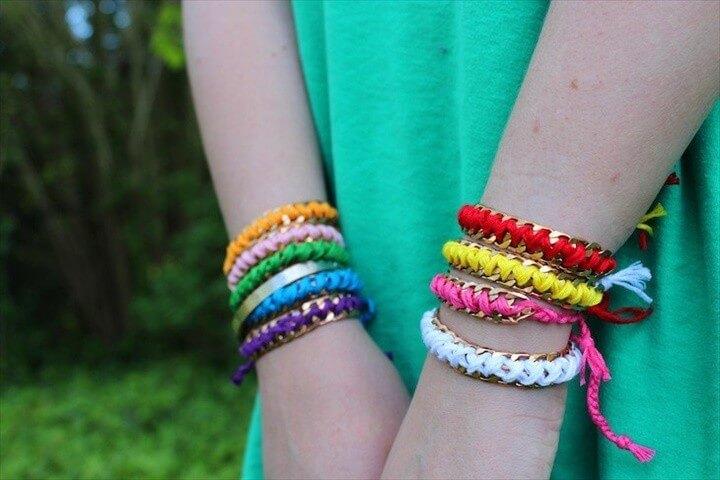 If you want to add some lively touch to the summer style of yours then making these chain friendship bracelets is a perfect idea to get your hands on. You need brightly colorful yarn hues and the metal chains to shape up these pure bracelet beauties. Check out the tutorial here!
Tutorial: thestripe