Jewelry is the biggest fascination for the girls and that too all around the world. But ladies you do not need to buy those expensive diamond rings, gold earrings, and the hefty priced stone necklaces when you can make some amazing jewelry pieces at home. How about some pretty earrings to make at home and adorn yourself in the most amazing way? If yes then you are going to love these Fabolous & Beautiful DIY Earrings Tutorial to try your hands at making some lovely earrings at home. The earring tutorials are super easy and fun to make so you can make not only for yourself but for your beloved ladies too.
There is a variety of things that you can use to make these adorable earrings on your own. There are yarn tassel earrings in three colors, paper clip earrings with the colorful round sequins and the ones with washi tape fringes quite cool too. Another famous earring shape is the teardrop and also the most common and the easy one to get your hands dirty with. You can use beads in various hues, leather and any other of your favorite items to make the pretty earrings. All these handmade earrings are going to look so cute and comfy with your casual and semi-formal looks so dry them all.
You May Also Like These:
10 Hairstyle For Toddlers Girls – Easy Hairstyles
Three Layer Of Tassel Earrings: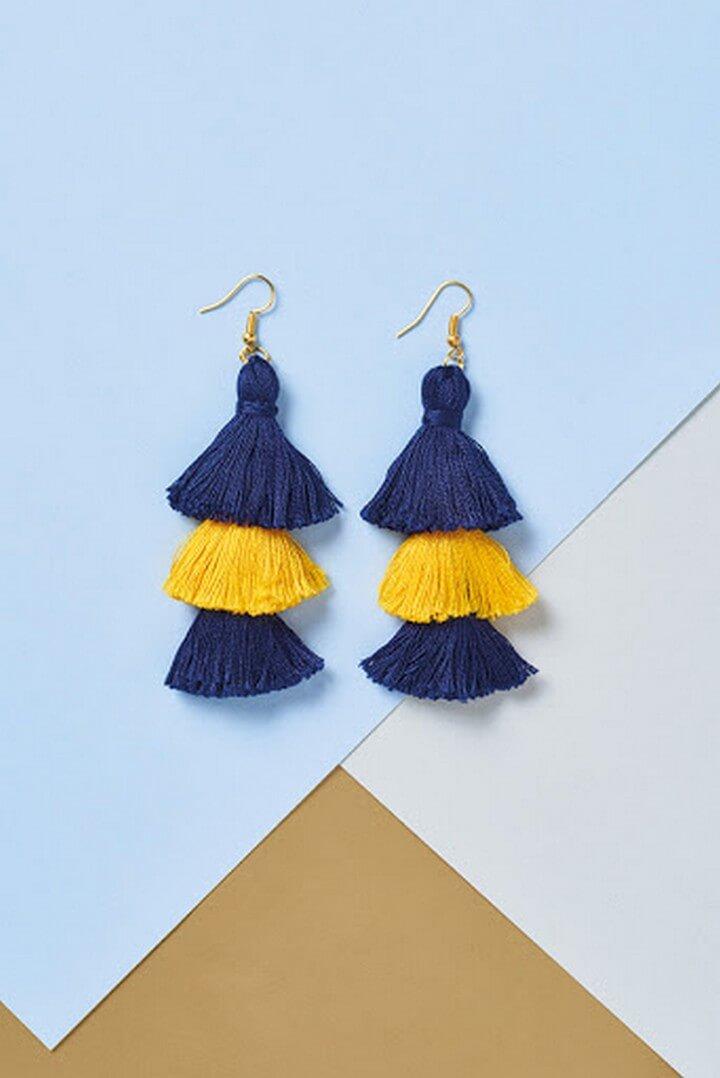 These gorgeous tassel earrings are the prettiest to make at home this weekend. They are super cute to pair with your lovely crop tops and shirts. There are blue tassels on the top and bottom with a yellow one in the center. You can choose your favorite yarn hues to get the most custom and cute tassel earrings.
Tutorial: molliemakes
Teardrop Beaded  Earrings Tutorial: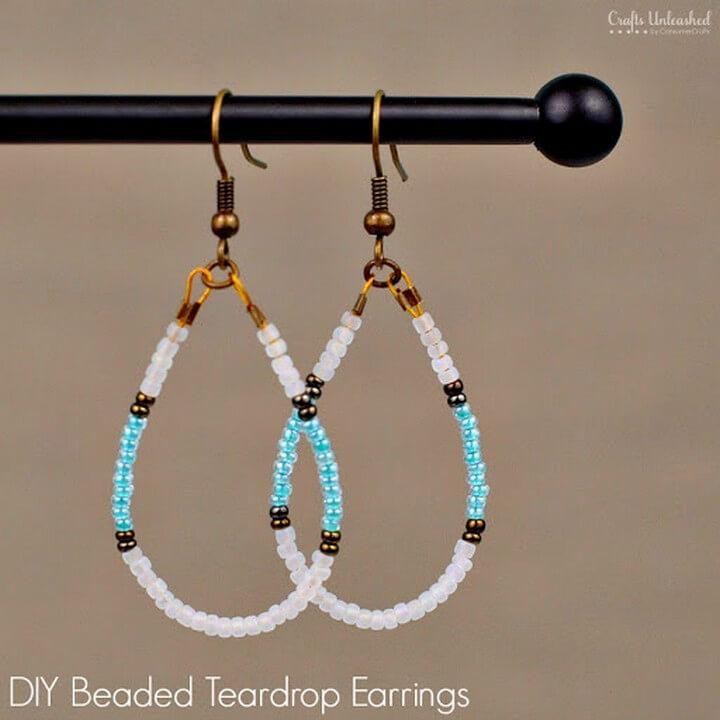 Teardrop is one of the favorite shapes when it comes to making handmade ear-rings. These gorgeous and simply cute teardrop beaded earrings are going to your favorite. The small size beads in multiple hues have really blended in well to create this awesome teardrop beaded earrings. You can check out the details here!
Tutorial: youtube
Amazing Washi Tape Fringe Earrings: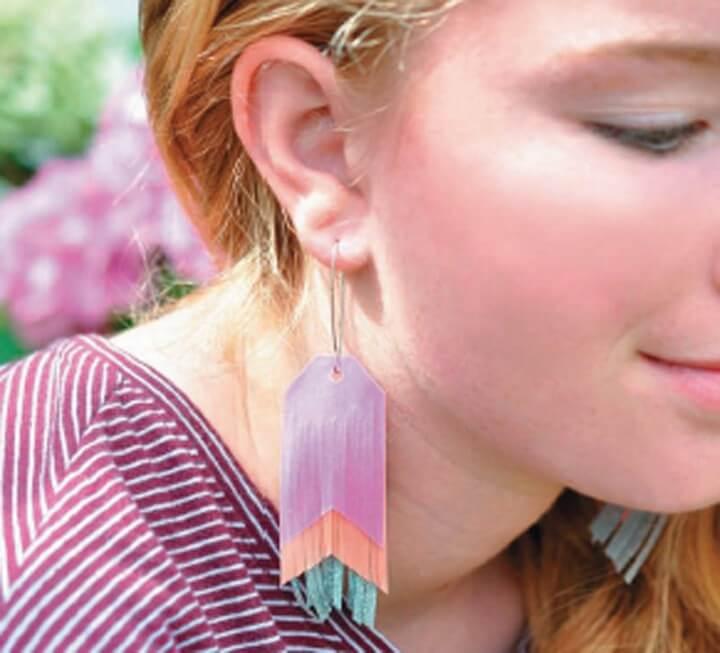 These amazing and gorgeous washi tape earrings are super cute and fun to make and that too at the cost of just a few pennies. So grab washi tapes in three colors and create this awesome pair of the fringe earrings to pair up with your lovely tops and tanks in the summers. Details here!
Tutorial: quartoknows
Handmade Reverse Teardrop Leather Earrings: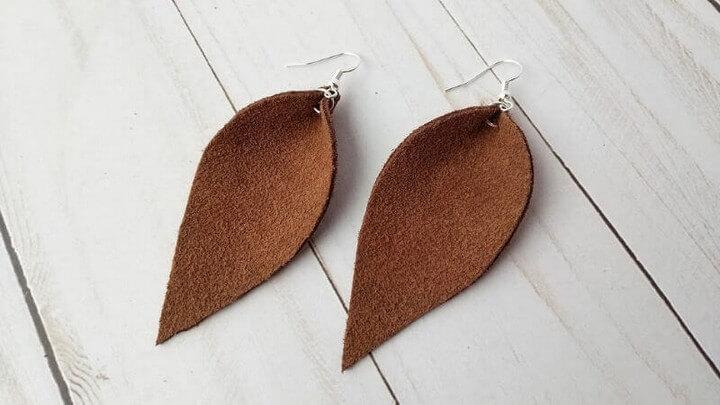 These are the simplest yet the most enchanting earrings to make at home ever. Using the leather you need to cut out the teardrop shape but in reverse. It kind of looks like a leaf and just add your earrings hooks and they are ready to rock your look for a fun day out with friends of your partner. Details here!
Tutorial: savvyathomemom
Paperclip Earrings Tutorial: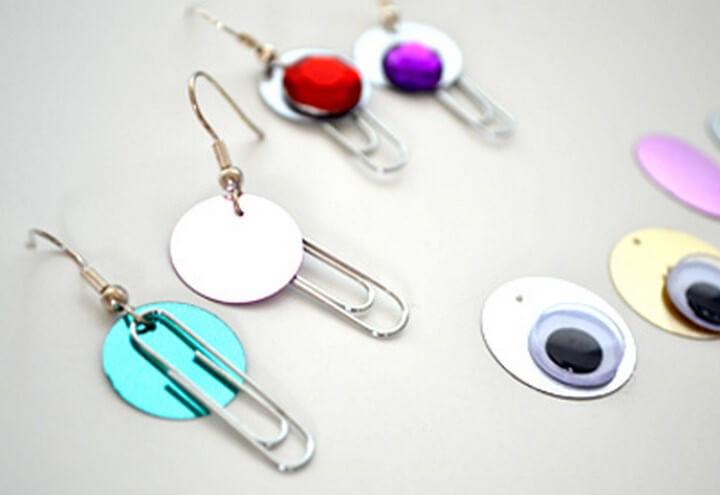 If you are a lover of the funky jewelry and other such accessories then you are really going to love these paper clip earrings tutorials. Using some paper clips, ear-ring hooks and some colorful sequins you can make these super cute and colorful earrings to pair them up with your chic dresses. Details here!
Tutorial: momfilter