This piece of writing along with the pictures here will surely amaze you about the fact that how you can make an impossible amount of DIY crafts with strings. I am sure you have never imagined doing so much creativity with the string till today.
The first idea here is the DIY string art banner which you can make easily with some macramé strings or thick colorful threads. This can be a decorative item for either your front door or any other door of the house. The next here is a DIY string art star that is made with jute strings, on a wooden plank. Another shamrock string art is here for you to decorate any of the walls of your houses. This adorable mickey string art is so adorable that you will definitely want to try soon on your canvas sheets. This is a string heart design done on a wooden plank with a very little effort and a lot of love for someone you are making it for. Also, you can make numbers with the help of strings for either at a wedding or for the front doors of your houses.
Next, is the rain cloud and raindrop string art done beautifully with different colors? The next is a sting art done to make a cross. You can also do some animal string art like you can see over here an own string art. Here is a rainbow string art for you done beautifully in all the rainbow colors. A dandelion flower string art is something unique and interesting too. Also, you can make for your walls, some fonts with the DIY string art. Besides all these, there are string art elephant ideas, string art balls idea, sweet home string art pattern, string tree, a hello note string art, and much more.
All these 20 Easy Handmade DIY String Ideas have been done only with the help of strings and nails and a base for which we can either use canvas or wooden plank as it depends on our choices desires.
String Art Banner: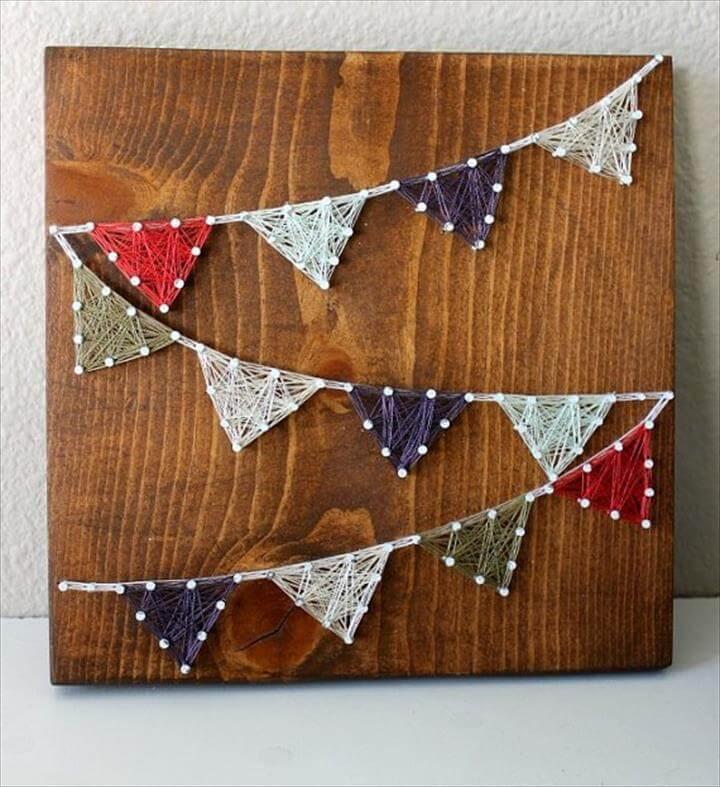 If you have been longing to get your hands dirty with the string art then make this pretty and cute string art banner. Using a wooden board, some nails, and colorful yarn you can easily create this lovely string art with cute triangle-shaped buntings forming a banner. This string art banner is going to bring festive vibes to your spaces all the time.
Image: thesprucecrafts
String Art Star

: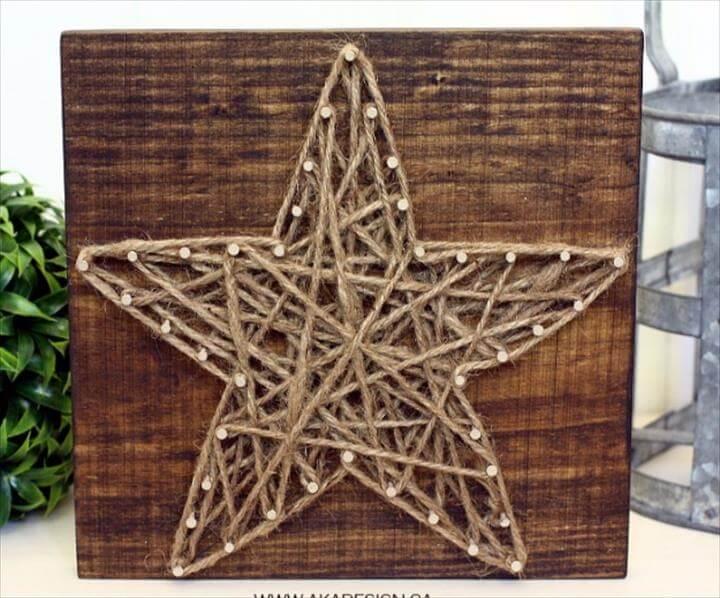 If you love doing art and craft at home then it's time to make this super cute and rusticated string art star this time. Grab a rustic wooden board to serve as the perfect canvas for your string art. Create a star template on this board using the nail. Then grab the jute twine or rope to weave up this star through the back and forth of the nails. Easy and fun details here!
Image: tatertotsandjello
DIY String Heart Art: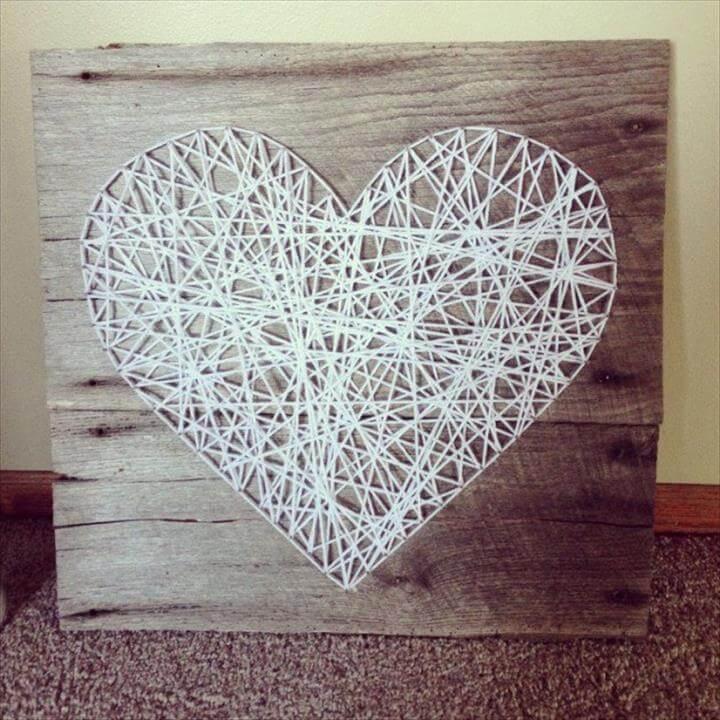 Need to fill up your homey walls with some fun and fantastic wall art pieces? How about creating this lovely DIY string heart art as it is super easy and cheap to be easily worked up at home? So get some square-shaped wooden board, a pack of the nails, and any colored yarn to create the heart by weaving through the nails. The white heart art looks super dainty here!
Image: divaofdiy
Mickey String Art

: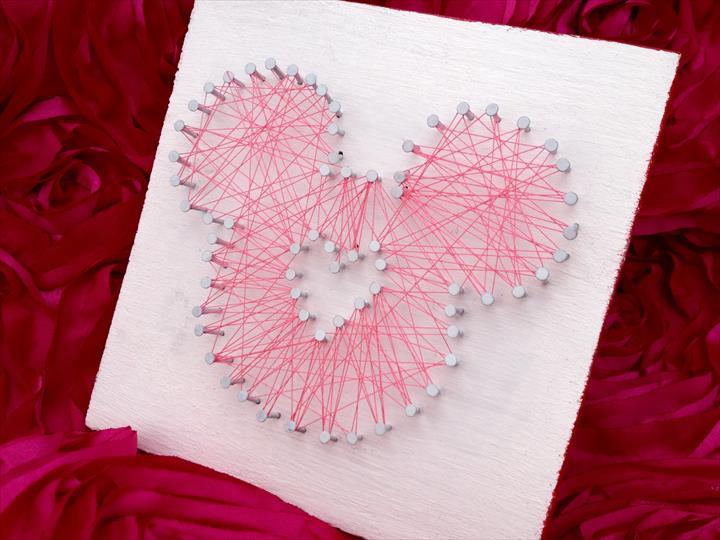 String art is a fun activity to get involved in with your kids. Here is this Mickey string art to get your hands on to have some fun with your kids at the weekend. First using the nails and hammer draw the sketch of the Mickey on a wooden board. Then start joining these nails with the string of your favorite color like the cute pink here!
Image: thisfairytalelife
String Heart Design: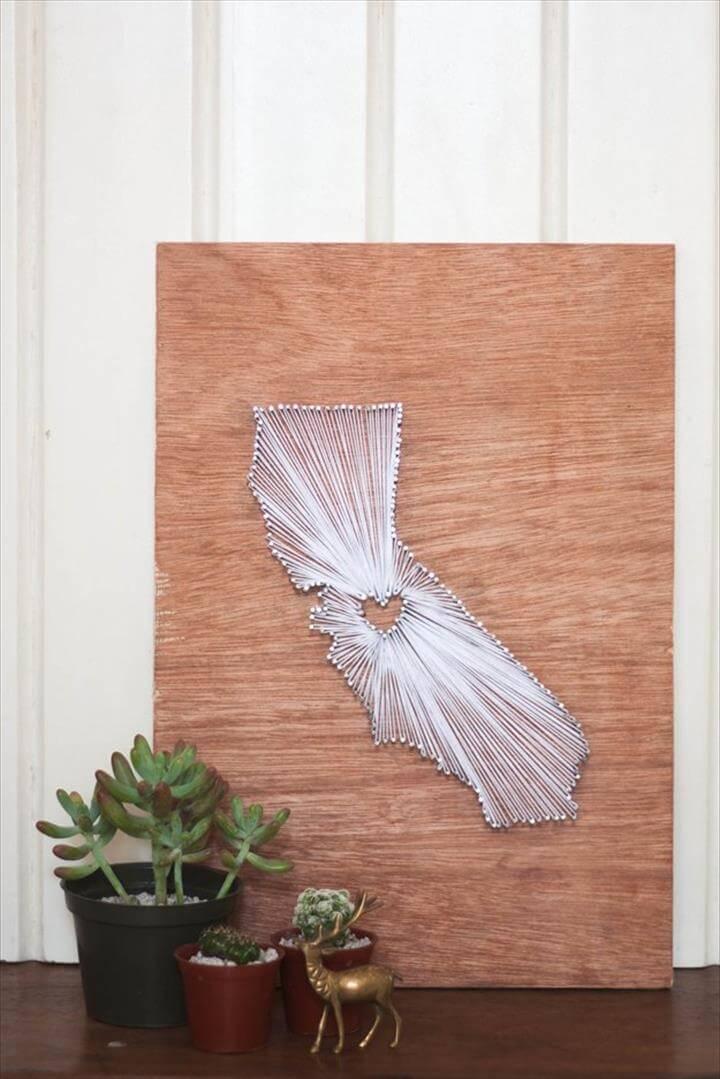 Bring some perfectly custom and cute look to your display tabletops with this string heart design. The cute mini heart in the center of the has feather-like an extension on both sides and looks like a flying heart. So get your hands on things like wooden boards, white string, and the nails to make this perfectly cute table art.
Image: diyprojects
Table Numbers: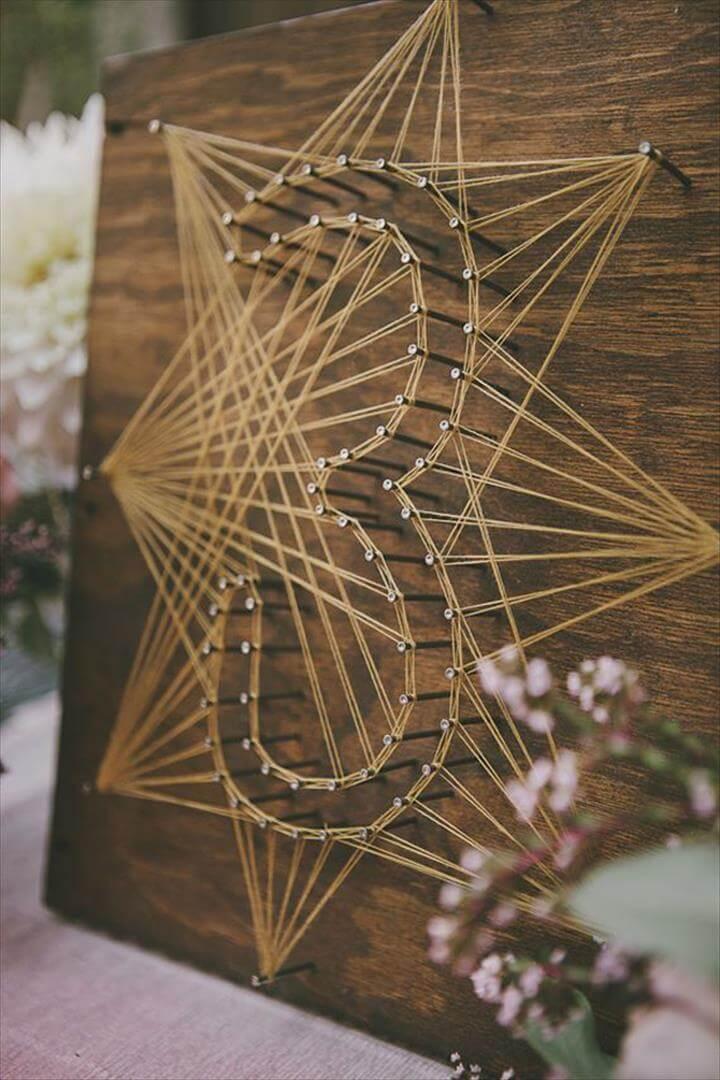 If you are a person who would love to decorate at your wedding then you must consider this table number idea with the string art. This gorgeous number string art with the brown yarn or string is perfect to incorporate in a rustic theme wedding. Things needed are wooden boards, nails, and string. Details here!
Image: bridalpulse
Rain Cloud Nail & String Art

: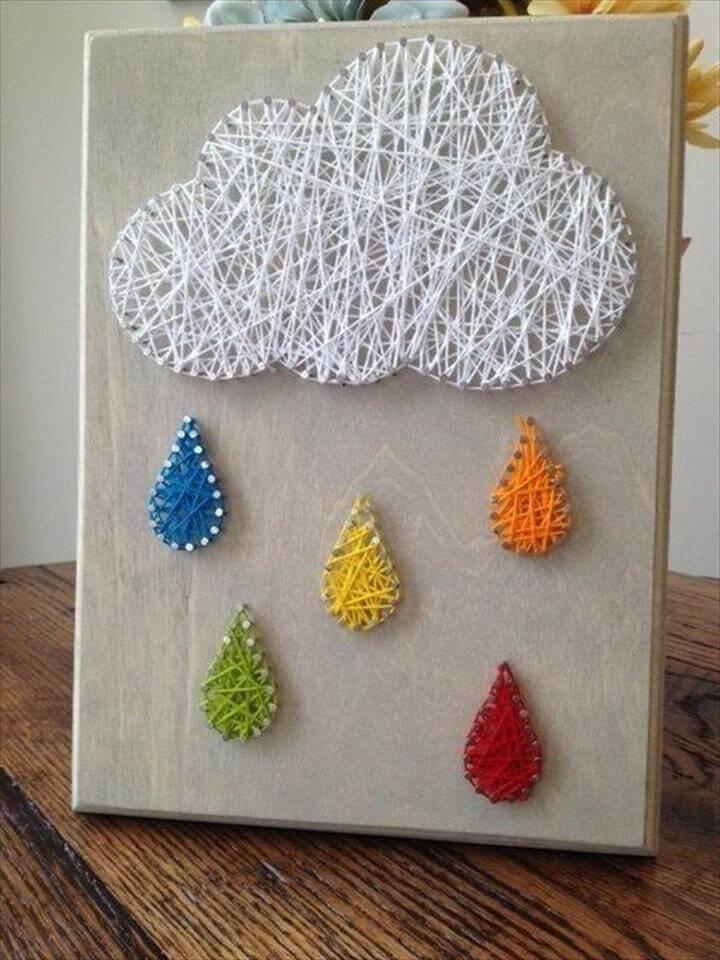 Rainbow and clouds are the centers of our art and craft during the summer. So this time take your art level up with this rain cloud nail and string art. So, shape up a cloud and the raindrops on a wooden board using the nail. Then grab the white yarn to fill up the cloud and the rainbow-hued yarn to fill in the drops. Kids would indulge in this fun art.
Image: fluxdecor
Owl String Art: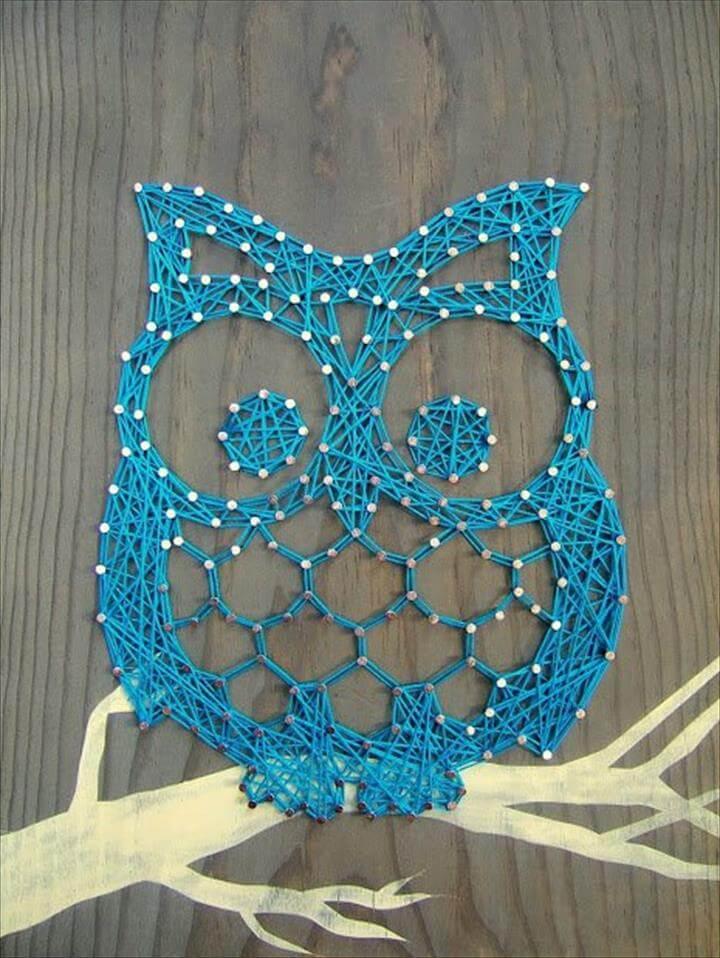 This owl string art is mind-blowing for being so impressive and unique. Owls are a part of our décor during the fall and Halloween. So this time you can make this owl string art to give your home décor a more powerful impact. Grab wooden board, some paint to create the branch for the owl to sit, nails, and the blue yarn. Follow the details here!
Image: ninered.blogspot
Thread Heart String Art: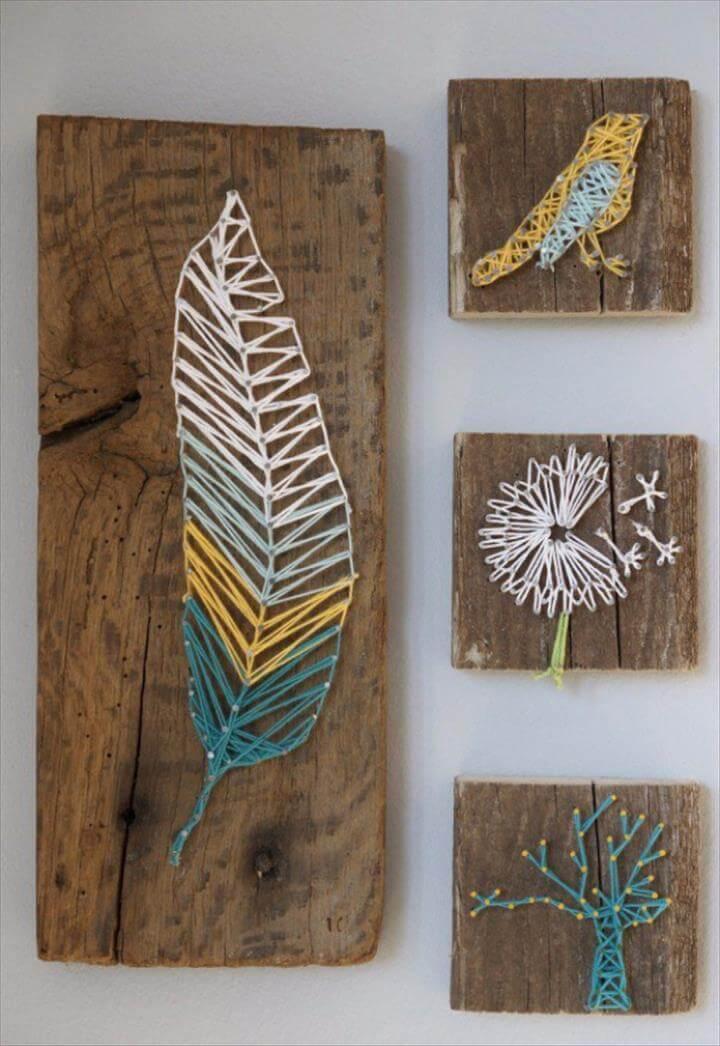 If you have some salvaged wood pieces lying around then grab them to turn them into these gorgeous thread heart string art. Either big or small wooden boards you can use them all to make the pretty cute wall arts of your desire. Create a heartstring art, tree or leaf string art or anything that you love and adore and that too using your favorite string hues.
Image: handmadekultur, youtube
Rainbow String Art: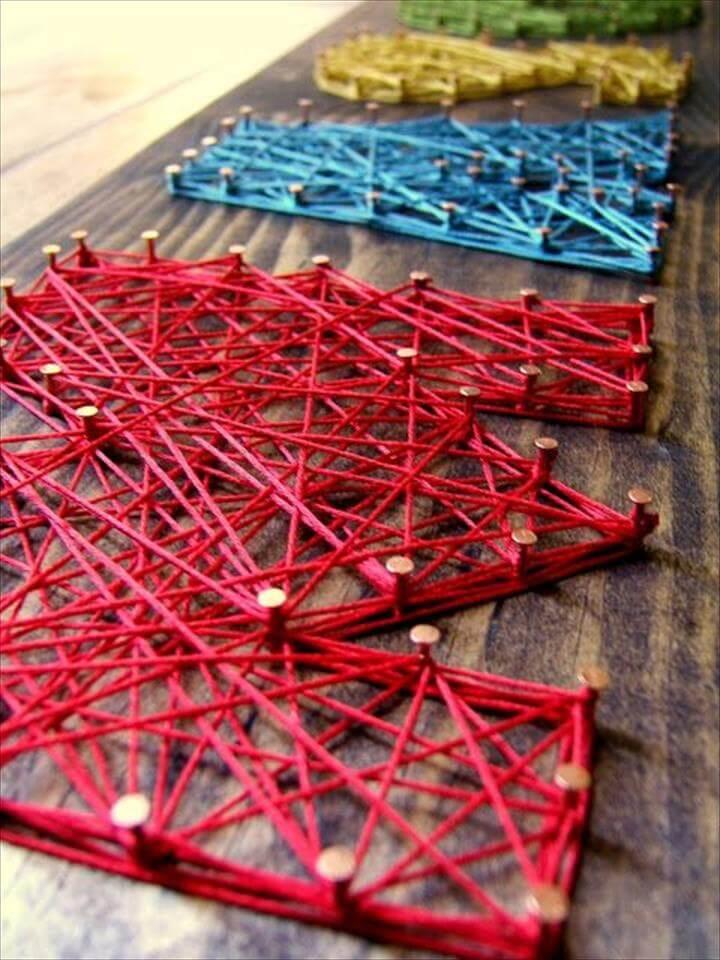 Summers are so much fun with the rainbow crafts and now you can go artistic with the rainbow by working up this rainbow string art. You can spell your name or your kids' name using the nails on the wooden board and then weave them through using the rainbow-hued yarn or string. Check out the details here!
Image: ninered.blogspot
Heart String Art

: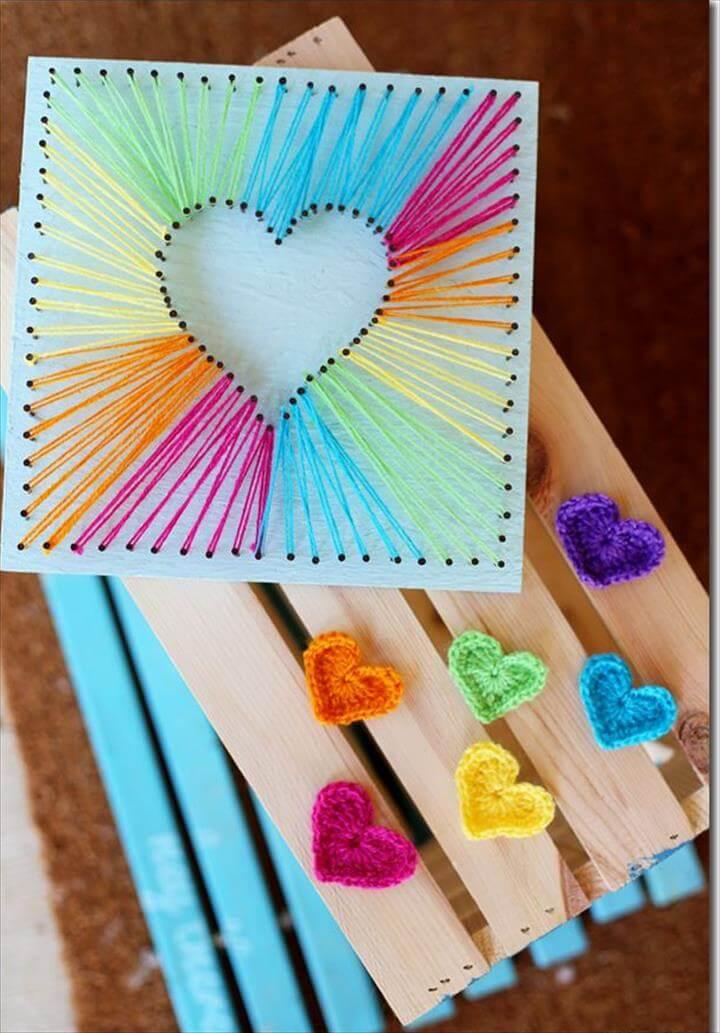 Create a lovely heart string art to adorn your tabletops, mantle spaces, and the shelves with. You need bright and summer gorgeous yarn hues, flathead nails, and a wooden board to create this lovely heart string art. This would be a great way to add oodles of charm and style to a dull and boring space. Details here!
Image: sugarbeecrafts
New String Art Fonts

– Wall Art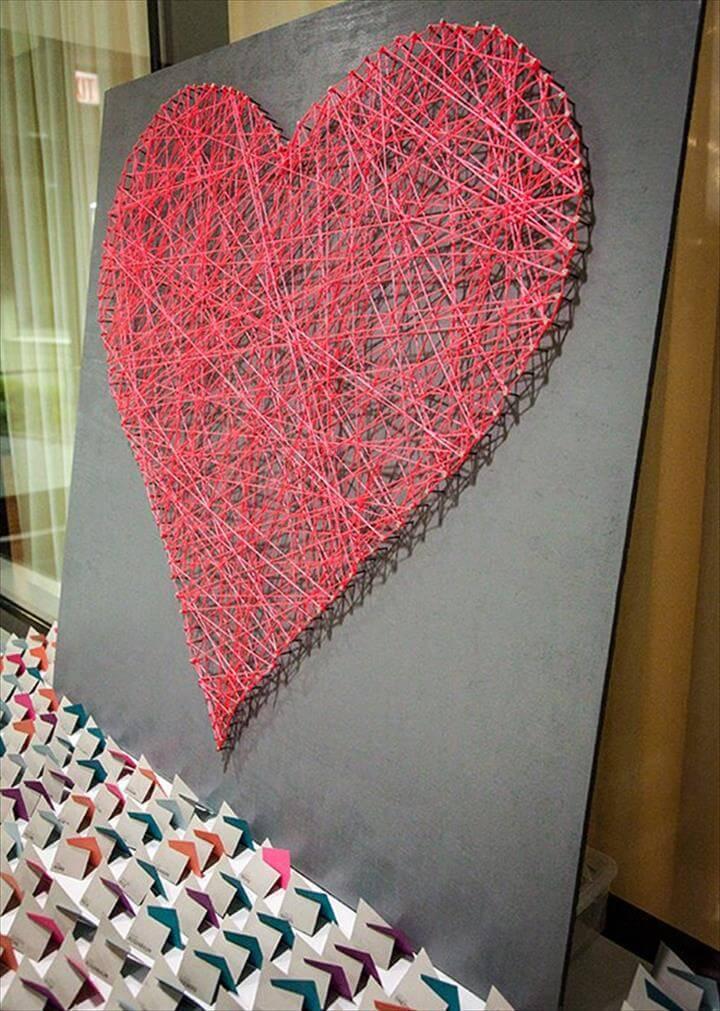 Now you can take the string wall art to a whole new level with this new string art. Yes on a big wooden wall of your outdoors you can create this lovely wall art saying Love Is in the Air. This would make a gorgeous backdrop of your wedding or engagement if you are doing it in the home. Follow the details here!
Image: bridalpulse
Elephant/Love String Art

: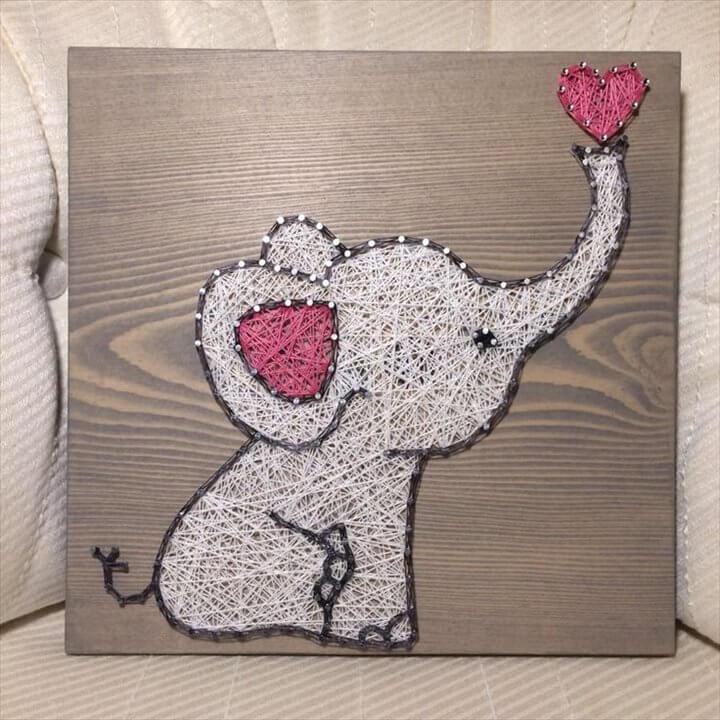 Make some cute and lovely animal arts with your kids and this cute elephant loves string art. This lovely elephant art is going to be the best project for you and your kids to be busy at the weekend. So you need a lot of yarn, nails, and a wooden board to shape up this cute and fun elephant via string art. Details here!
Image: youtube
String Ball Idea

: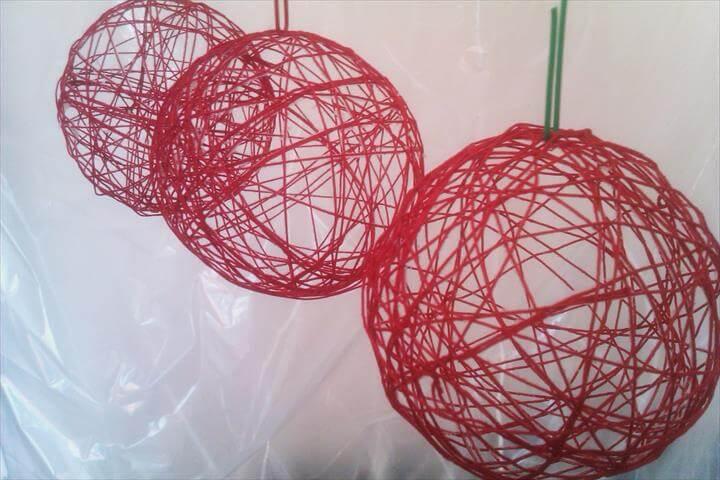 Now you can make the perfect string balls for your next party décor. You need fabric stiffener, yarn in your favorite color, round balloon, and the Vaseline to make these lovely string balls. You can add lights to them and create a lovely night ambiance for you indoor as well as outdoor space. Details here! Details here!
Image: youtube, lightyourcreativesparks
Sweet Home String Art

: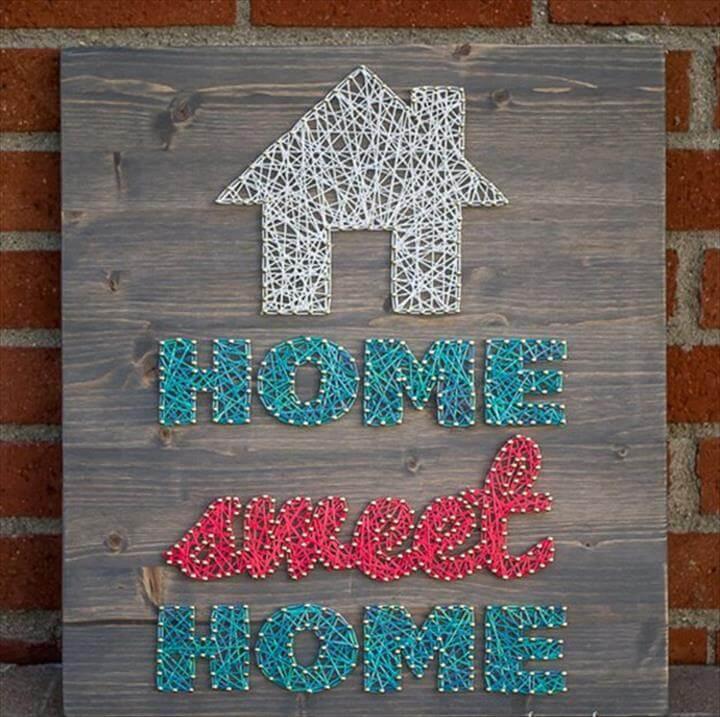 Home décor is incomplete without showing some love to the home and this sweet home string art is perfect. Using the home template and the fonts, you can easily create the string home with the Home Sweet Home quote under it. This would make a great house warming gift idea too. Follow the details here!
Image: infarrantlycreative.net
"Hello" DIY String Art

: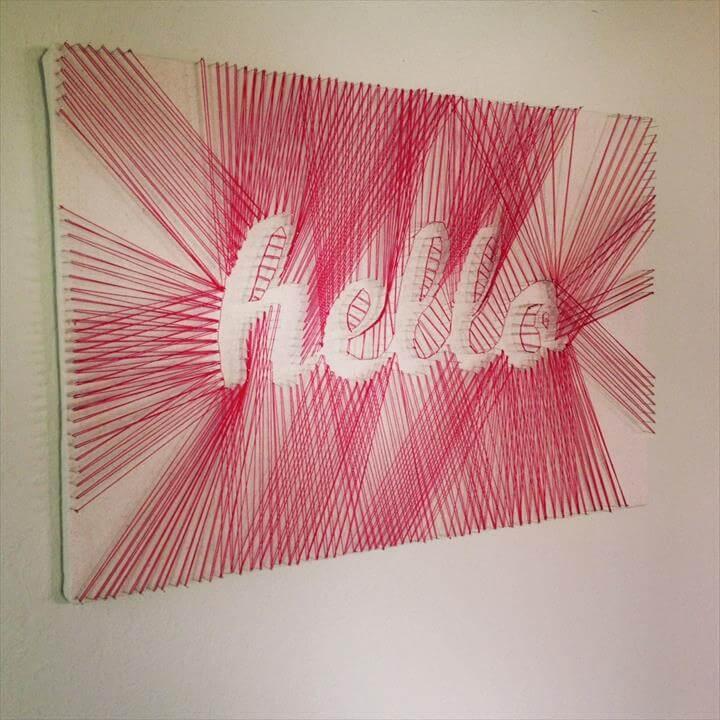 Make your foyer spaces more welcoming with this lovely Hellow DIY string art. This cute Hello string art is going to make every visitor feel warmly welcomed to your space. So grab a canvas, some flat head nails, and the string in some bright and bold color to work up this easy and fun Hello string art. Details here!
Image: make-haus
String Tree: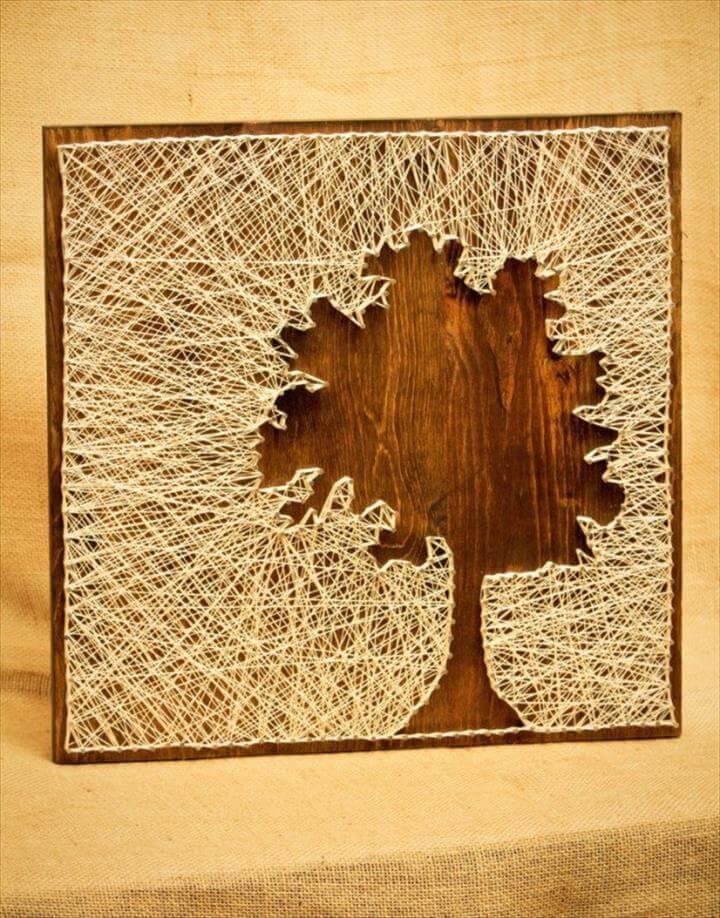 Here is a lovely string art with a twist. The string art is made with a tree image on it. But the unique thing is that the tree created via nails is weaved out on the canvas instead of getting weaving in. Thus you get a lovely hollow tree art to grace up your walls with. The easy details of the string tree project are given here!
Image: musely