The creative minds are always fond of giving their creative work a touch of lightning and this has been made too easy and quick with the help of string lights as they simply need a connection and they can add a lot of beauty to your creative structures, room decors, wall hangings and much more. Before these string lights were made common, it was not so easy to create this lightning effect to all of this above-mentioned artwork.
I remember that I first saw this idea, where someone used these 12 Gorgeous & Cheap String Light Ideas around their dressing table mirror and it gave the mirror a magnificent look. But now these lights can be used in many more unimaginable ways possible. Using these string lights behind the curtains is one of my favorite ideas. We can make our wall art look fabulous by placing these lights behind our canvas arts to enhance their presence in the room and on the wall.
Above all these beautiful strings can also be used all alone to decorate something or someplace without hiding them under or behind something as they look pretty but hiding them also creates an ambiance that no other idea can create. In this article, you can see these lights being used under seashells which is quite a rare thought and can look amazingly beautiful in gardens, backyards, and also on the door sides depending on your idea of placing them.
You can also hang them on the windows in different arrangement fashion either horizontally or vertically. Here we have also shown pictures of how you can use them inside the fishbowls and add some mosses and colorful stones to create a nice decoration piece to put on a writing table or our computer desks with some artificial plants beside them.
String Light Backlit Canvas Art: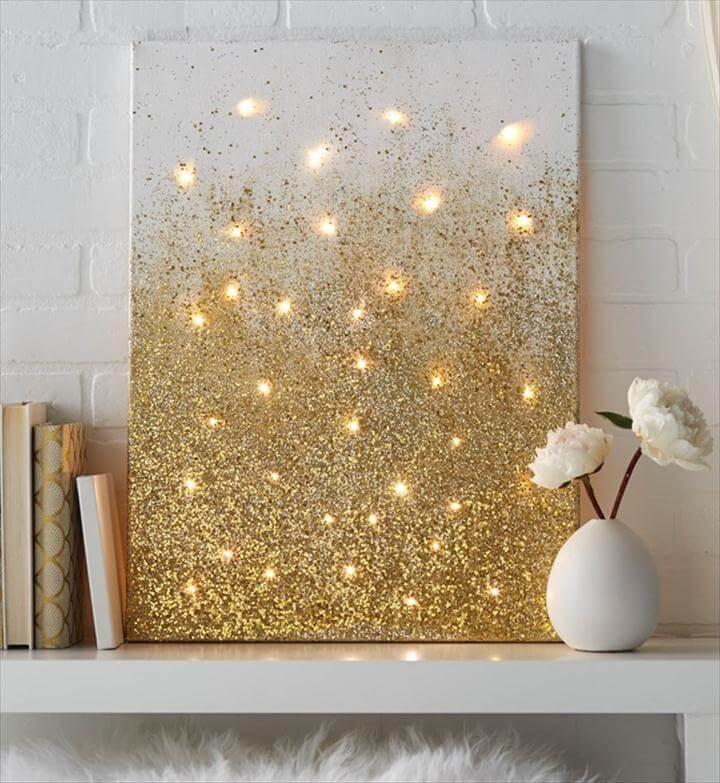 Bring a glittery and sparkly appeal to your home décor with this adorable and gorgeous string light backlit canvas art. Yes grab a canvas in white and load it up with the gold glitter all over. Then add some string lights at the back of this canvas and make it place over your tables or the mantles for a fancy look.
Image: youtube, diyhowto.org
Magical DIY String Lights

: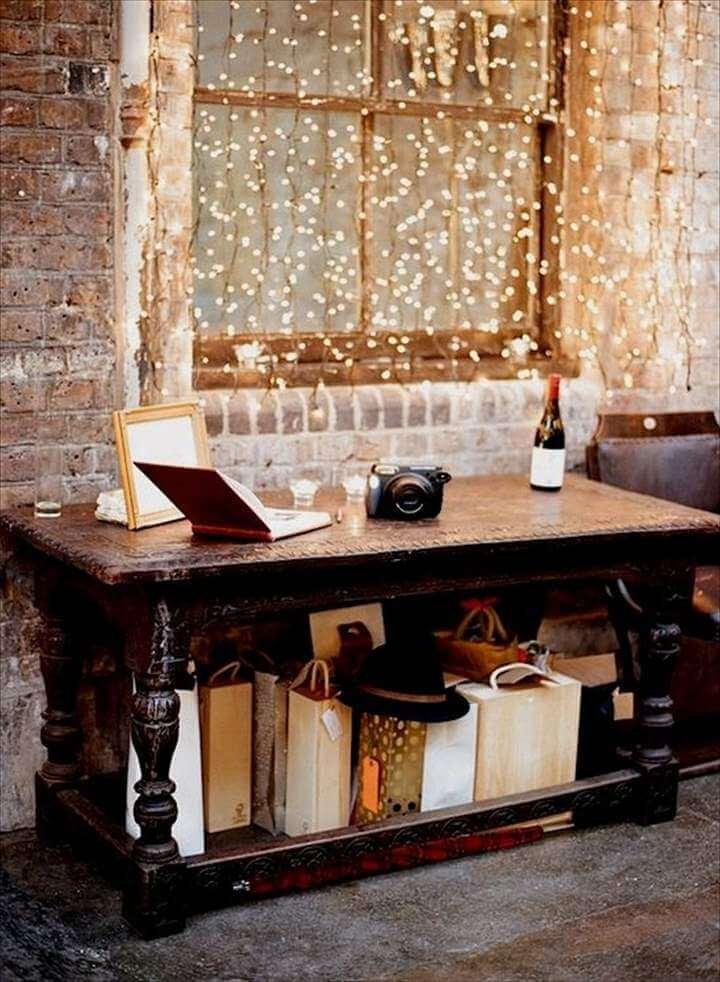 Give your tables a lovely backdrop with this magical DIY string light project. So grab a bunch of the string lights with tiny lights and pour them behind the wall of your table. The more string lights the more backdrop is going to look super stunning and fun. Follow the easy details and instructions of the idea right here!
Image: youtube
String Light Wall Decor: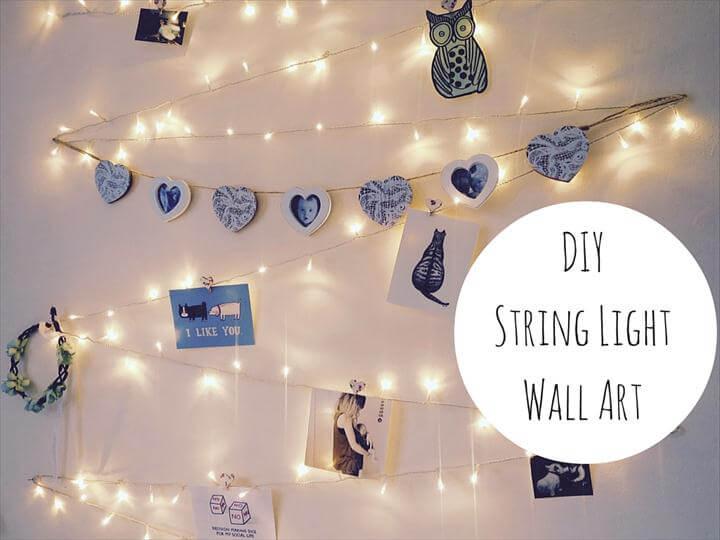 Give your walls a totally dramatic and magical look with this string light wall décor idea. Yes, grab a big string with lights to create a lovely zigzag pattern on the walls. You can hang so many things on this string including pictures, cards, and some other handmade crafts so that your wall décor looks more awesome. Find more details here!
Image: kaffysoo.blogspot
Best Seashell String Lights: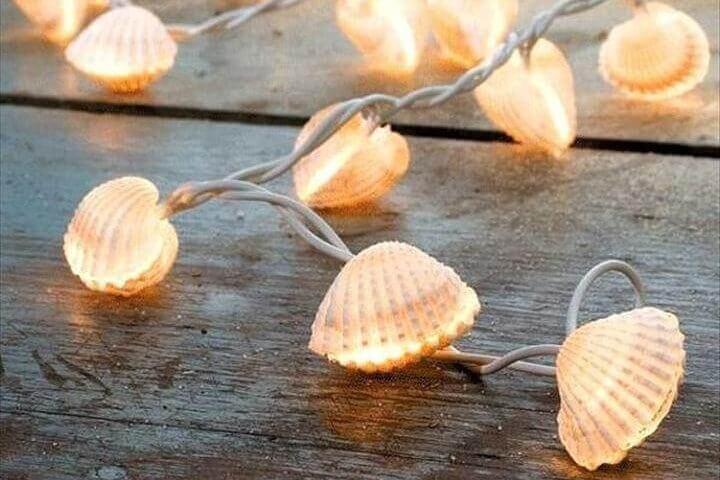 String lights are the must-haves for a party décor or you just simply want to bring romantic vibes in your places. So now you can turn your simple string lights to look super decorative and fun by adding faux seashells to each light. Use these seashell string lights for your outdoors to enjoy the summer nights under.
Image: seatailshop
Ceiling Lamps

With String Lights: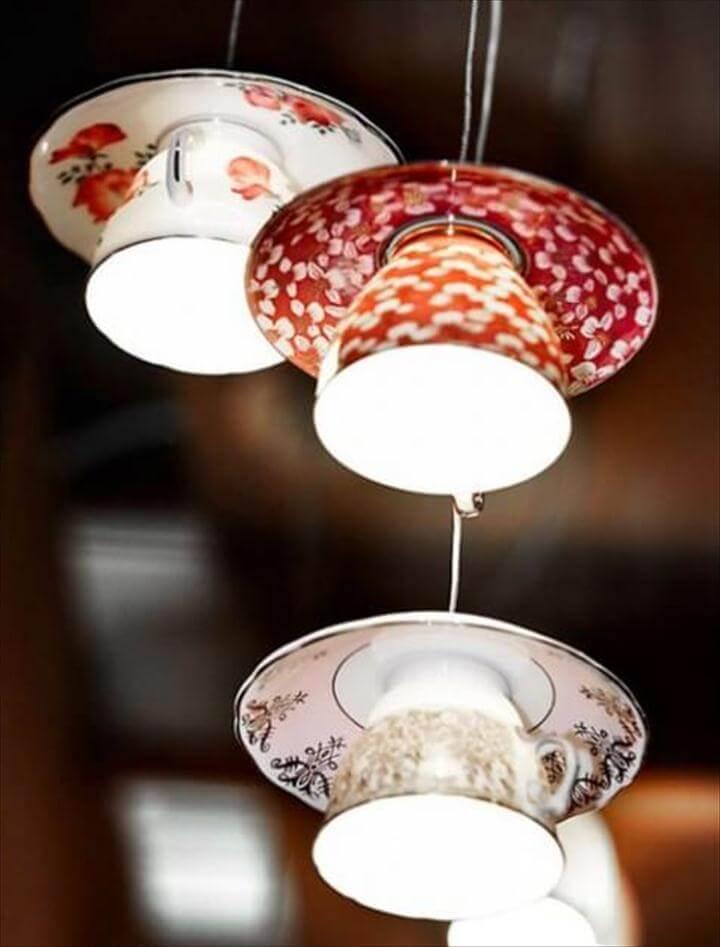 This DIY ceiling lamp with string lights and the teacups looks super awesome and unique. You can easily install this quirky lamp on your own at home and light up any of the space you want. You need some pretty designed teacups and plates with drilled holes to let them go through the string lights. Details here!
Image: greenmoxie
Firefly Battery Powered String Lights

: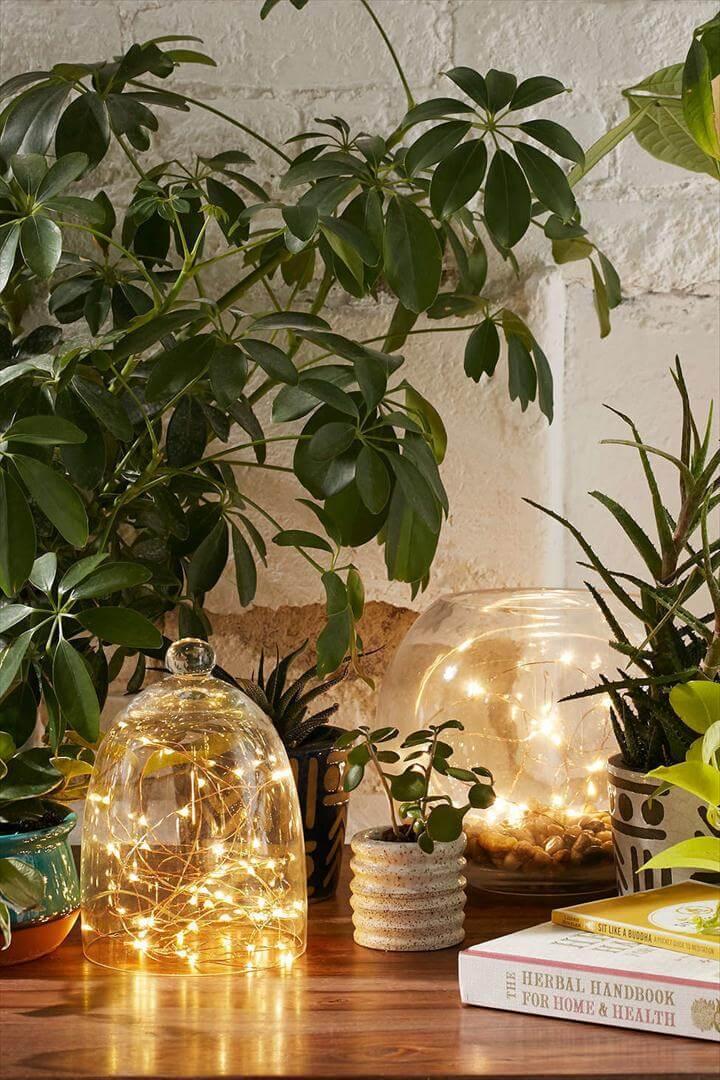 These firefly battery powered string lights seem like a glass jar filled with real fireflies is lighting up your space. Not only have these string lights are going to bring a romantic and enchanting glow to your space also added oodles of charm to the décor too. You need firefly string lights and the glass domes to work up this fantasy string light project.
Image: gardentherapy.ca
Illuminated Canvas

: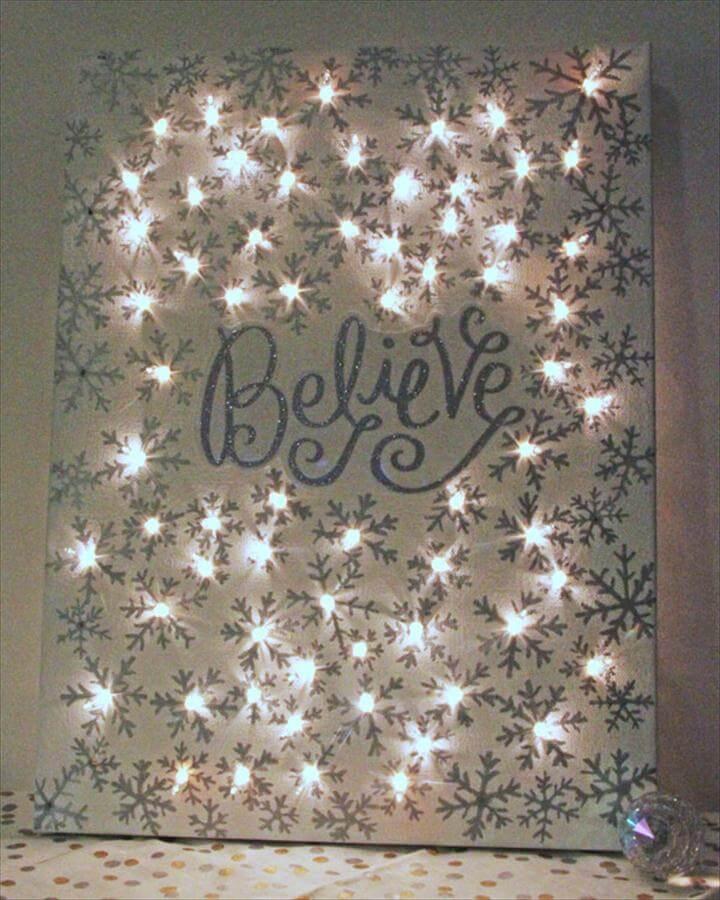 Make your winter home look more warm and cozy with projects like this illuminated canvas. Yes, the white canvas has been worked up with the silver glitter to create snowflakes all over it. Then take the mini string lights and add them at the back of the canvas. The light of this illuminated canvass along with the decorative appeal is really going to warm up your house.
Image: rhapsodyinrooms
Paper Doily Wreath Lights

: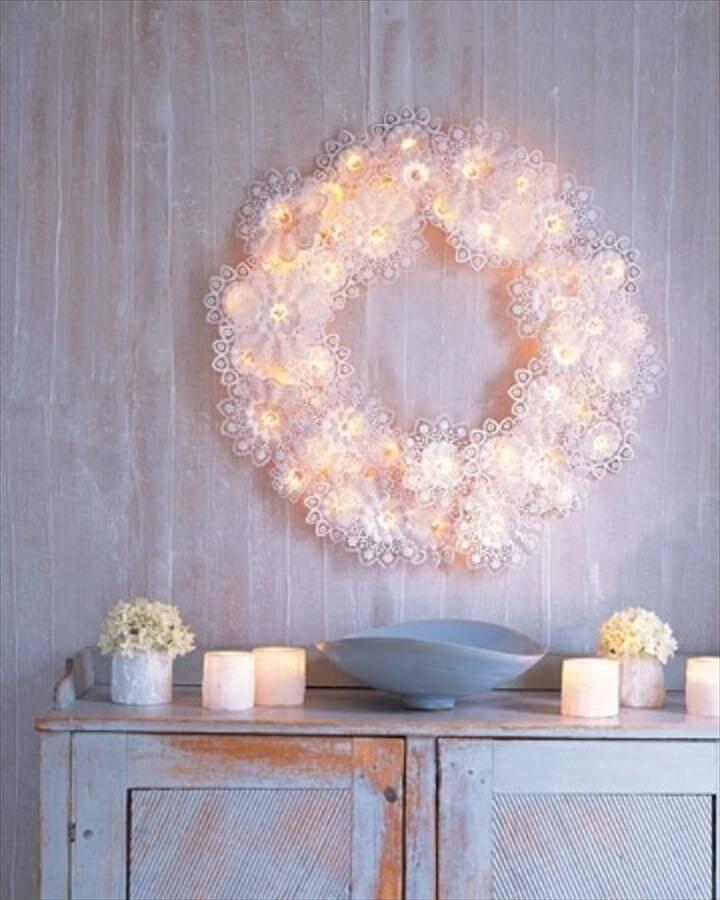 Bring the most exquisite and heartwarming piece of wall décor to your home with this paper doily wreath lights. The gorgeous white paper doilies have a lovely effect of glowing lights under them and create a perfect snowy appeal in your home décor. Learn to make this elegant wreath with lights here!s
Image: marthastewart
Heart String Lights: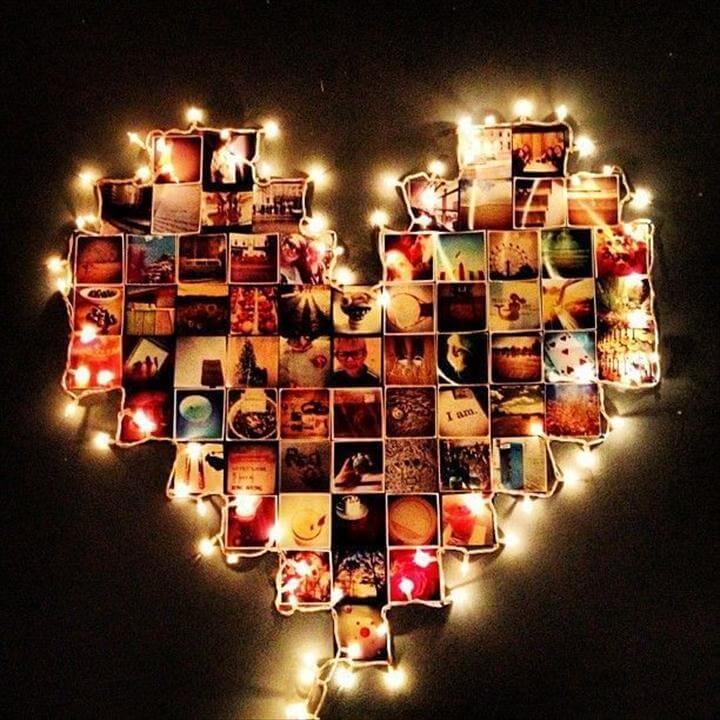 Your walls are going to look so full of life and fun with this heartstring light project. The big and gorgeous heart has been created with the lovely pictures and then added with string lights all over the edges of this heart. This will make a great backdrop idea for someone's birthday or the anniversary. Details here!
Image: weheartit
Magical DIY String Lights

: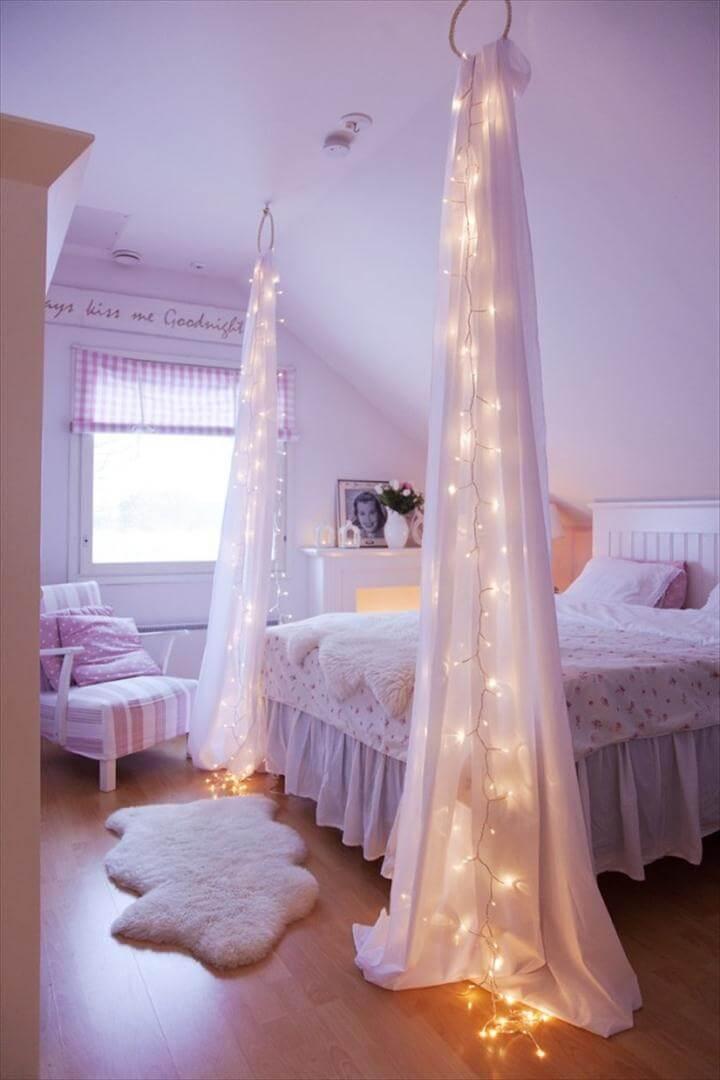 Give your bedroom a fairy-like charm and beauty with this project of the magical DIY string lights. So, add a white canopy around your bed and to make it look super enchanting and fun you can add string lights to the canopy. The lovely and dim glow of the string lights is really going to bring the fairy vibes in your bedroom for sure. This is surely a fun DIY for girls.
Image: youtube
String Lights Made With Ping Pong Balls

: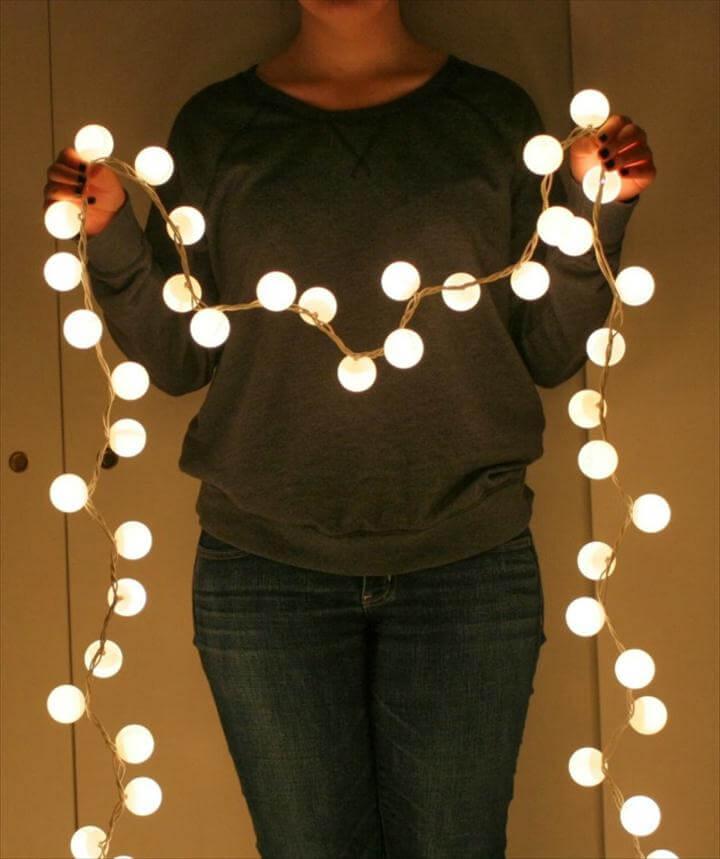 The string lights have very tiny sized lights attached to the rings and now you can make them look prominent and gorgeous for your home décor. Here are these lovely string lights made with ping pong balls to look so eye-catching, cool and modish for your modern home décor. They are fun to use for summer outdoor décor for a party or dinner.
Image: thesurznickcommonroom
String Light Lettering: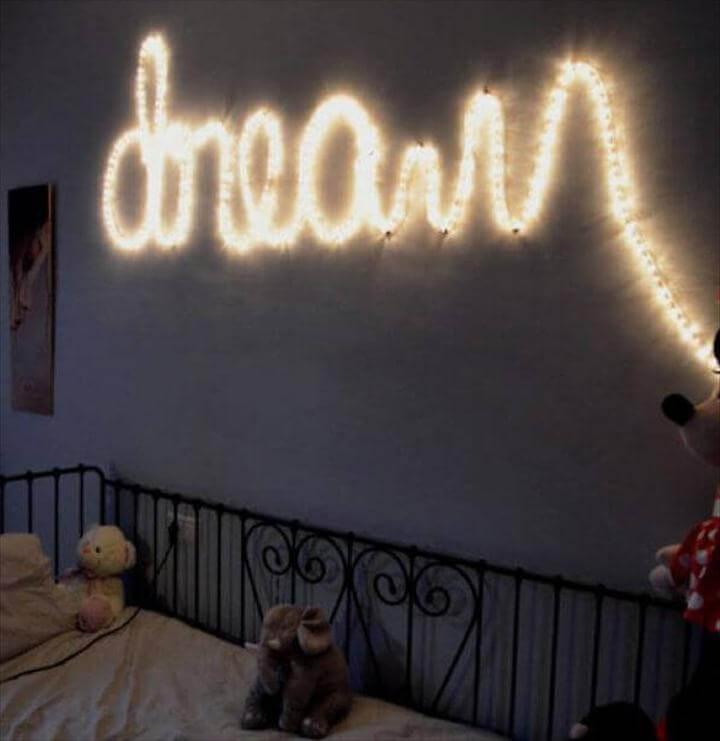 One of the best ways to add charm and décor to a room would be creating this lovely string light lettering art. You can grab a big string of lights and make it say anything on your bedroom walls like this one is saying Dream. This string light lettering is a cool and fun way to spice up the decor of your kid's room.
Image: prettyhandygirl