There are a variety of creative ideas that can be done with the seashells and here are some of a little bit time consuming but the end result of these pieces are worth it.
These 12 DIY Magic Seashell Project Ideas are a few unique and interesting creative hacks done with the sea shells that you can either collect from the sea shore or gardens. Sea shells are a naturally painted material and can be easily used for decorative purposes without any modification.
We can make jewelry pieces out of these shells to add to your jewellery collection .These pieces look so unique and can be easily made with help of ribbons and these naturally obtained substances look gorgeous on either your neck or ears in form of a lovely necklace or earrings. You can make amazing candle holders when you combine cane and sea shells together and arrange it in a cylindrical shape to make a candle holder. Similarly you can also make plant holder by sticking all same shaped and sized shells together and giving them a shape of a cylindrical plant pot.
We can also make spoons for decorative purpose out of the sea shells. The large shells can also be spray painted in golden and silver colors to turn then into a center piece to be placed in drawing rooms and formal rooms.
The groovy shells that have a depression in their center can also be turned into candles and can be put anywhere for decoration. The small snail shells can also be used a small planters for mosses and other small plants and can either be placed in the gardens or can be arranged in order to make a wall hanging for the walls of garden.
Similarly there are other various ideas to be done with the snail shells as well as with the sea shells that can actually show how creative one can be with these natural decorative substances.
Seashell Craft Candle Holder: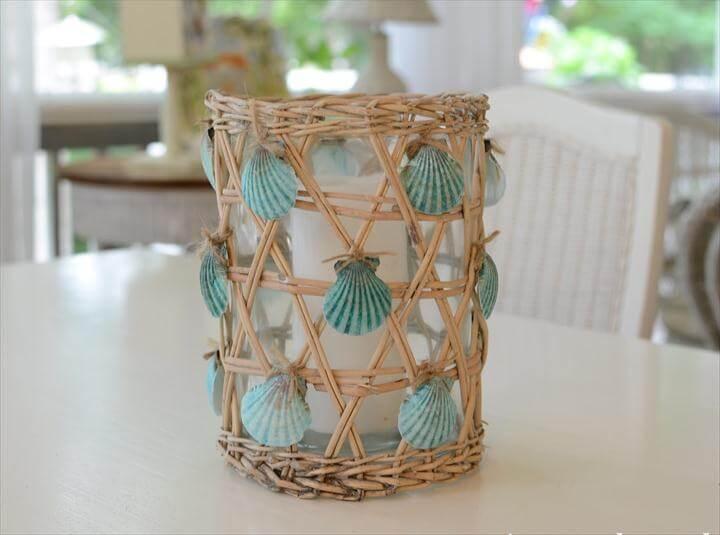 You can make you outdoors look perfect with some thematic summer décor projects like this seashell craft candle holder. A jar has been wrapped up with the jute twine and the blue-tinted seashells just like a weaved pattern. You can use this gorgeous seashell jar as the vase or the candle holder too.
Image: betweennapsontheporch.net
Seashell Necklace: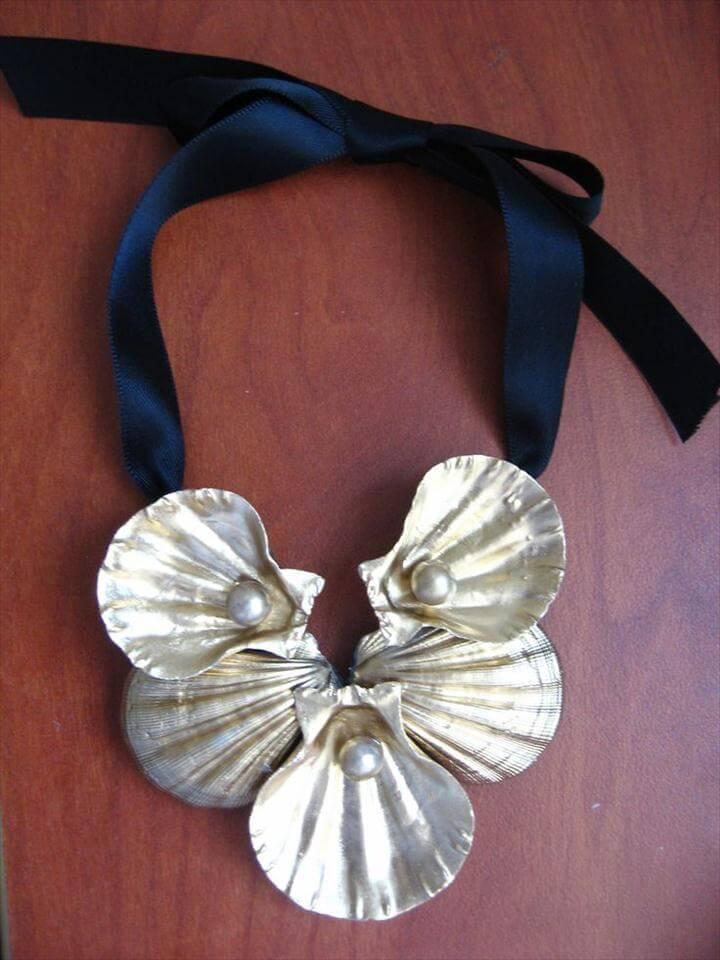 Make yourself this lovely necklace and look totally stand out with this cute and quirky seashell necklace. So grab a bunch of the seashells and the beads to paint them with metallic gold and then arrange on a foam sheet to cut out with your favorite design. So make one to charm up your simple dresses with.
Image: wordpress
Seashell Spoons

: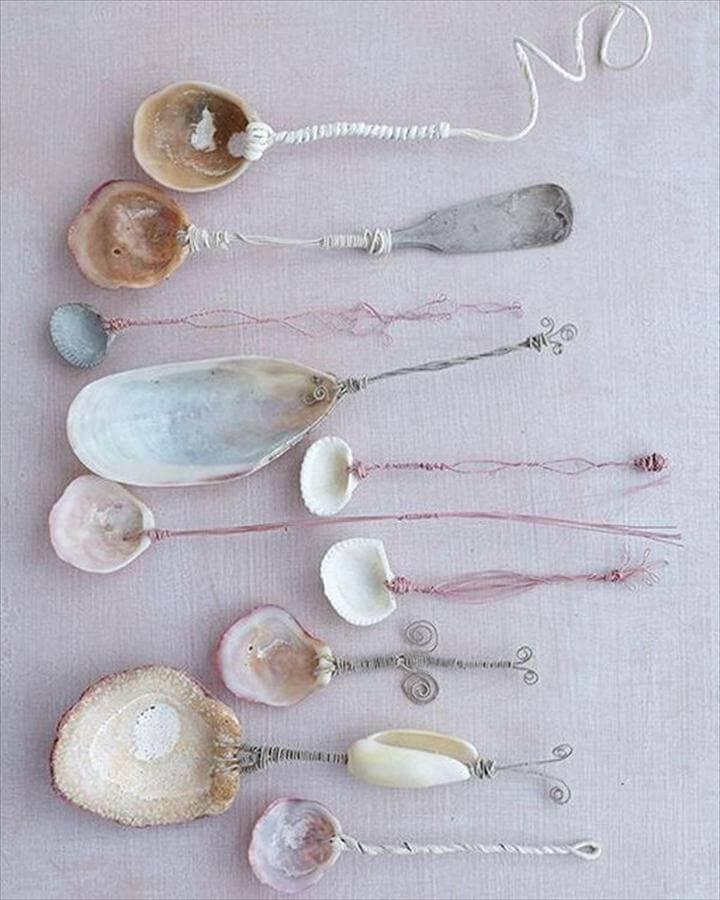 This is the coolest seashell spoon project to get your hands on. These cute seashell spoons are going to be a super quirky and fun addition to the kitchen. Just grab some wire to use as the handles of these spoon shaped shells. Also, you would need a drill to create a hole in the seashells too.
Image: sweetpaulmag
Seashell Planter

: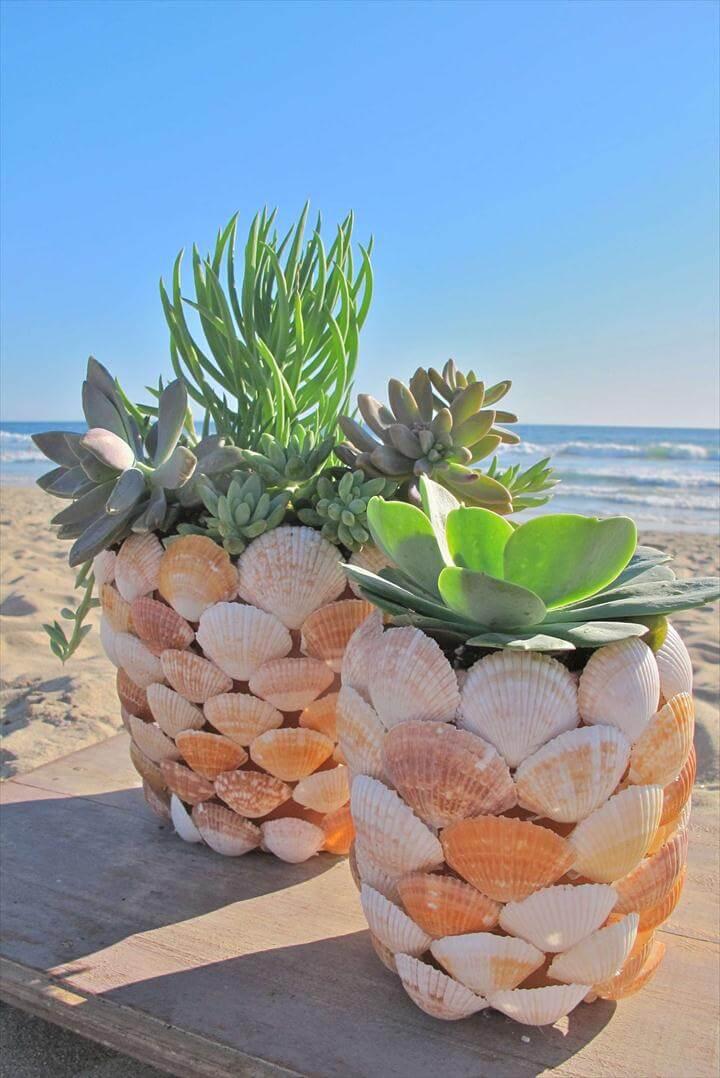 Nothing can beat this idea of the sea shell planters to bring the refreshing planter vibes in your indoor home décor. All you need to do is just grab a big pack of the seashells, glue sticks, and the glue gun. Just add the glue sticks to the seashells and cover the terracotta pots with them all over.
Image: billabong
Seashell Flower

: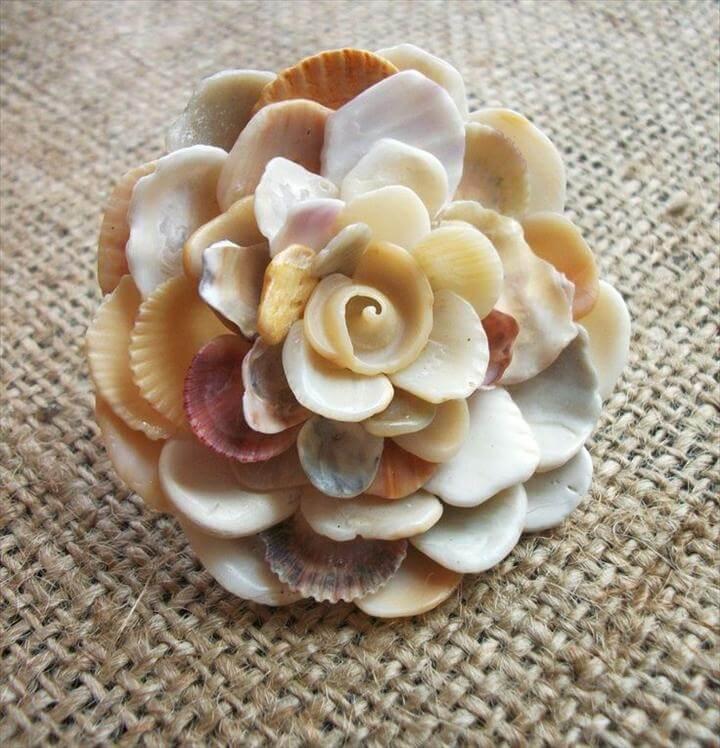 There are so many ways to bring the sea shell beauty in your spaces and this seashell flower is the best thing to make. This gorgeous seashell flower would make a pretty centerpiece for your coffee table, window spot, or the shelves too. So get your hands on the pink seashells, beaded chains, and the tools.
Image: debisdesigndiary, etsy
Seashell Necklace: DIY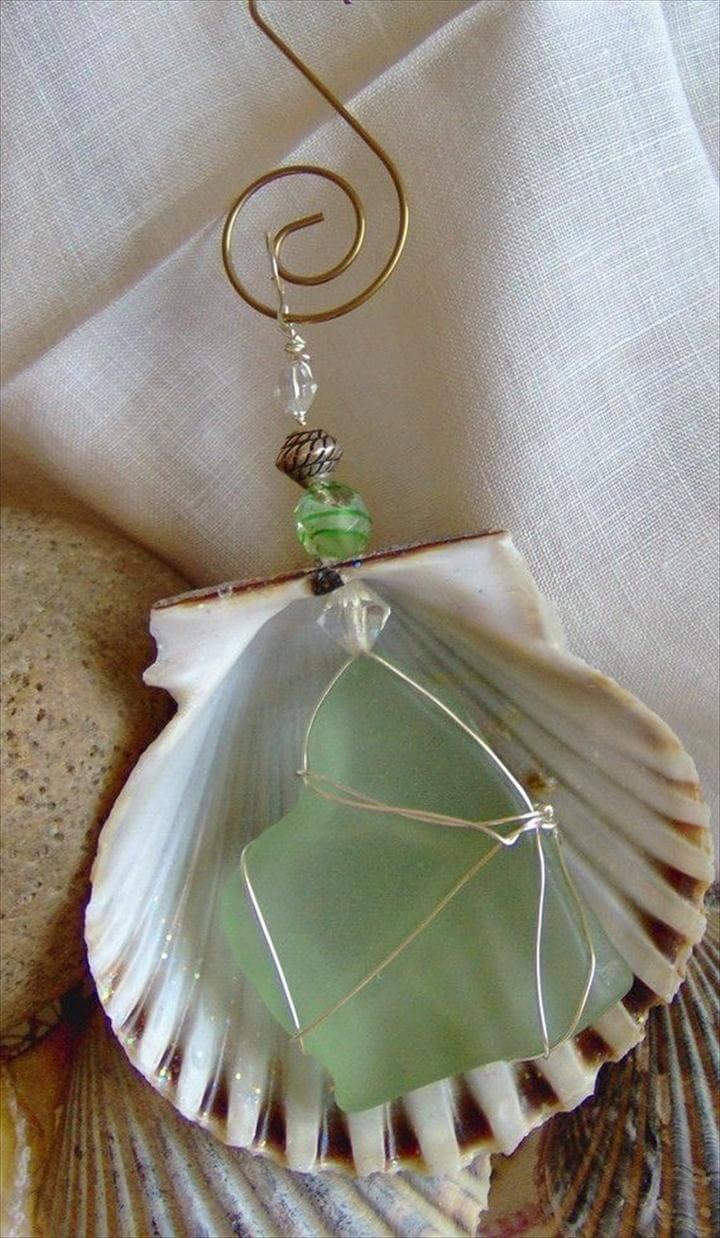 Let the summer fun reflect from your fashion with this seashell necklace DIY. Using the seashell that can be tinted, and some stones and the beads you can easily work up this love seashell necklace. You can make and adorn this seashell necklace one you are back from your beach trip.
Image: kidsactivitiesblog
Cross From Seashells: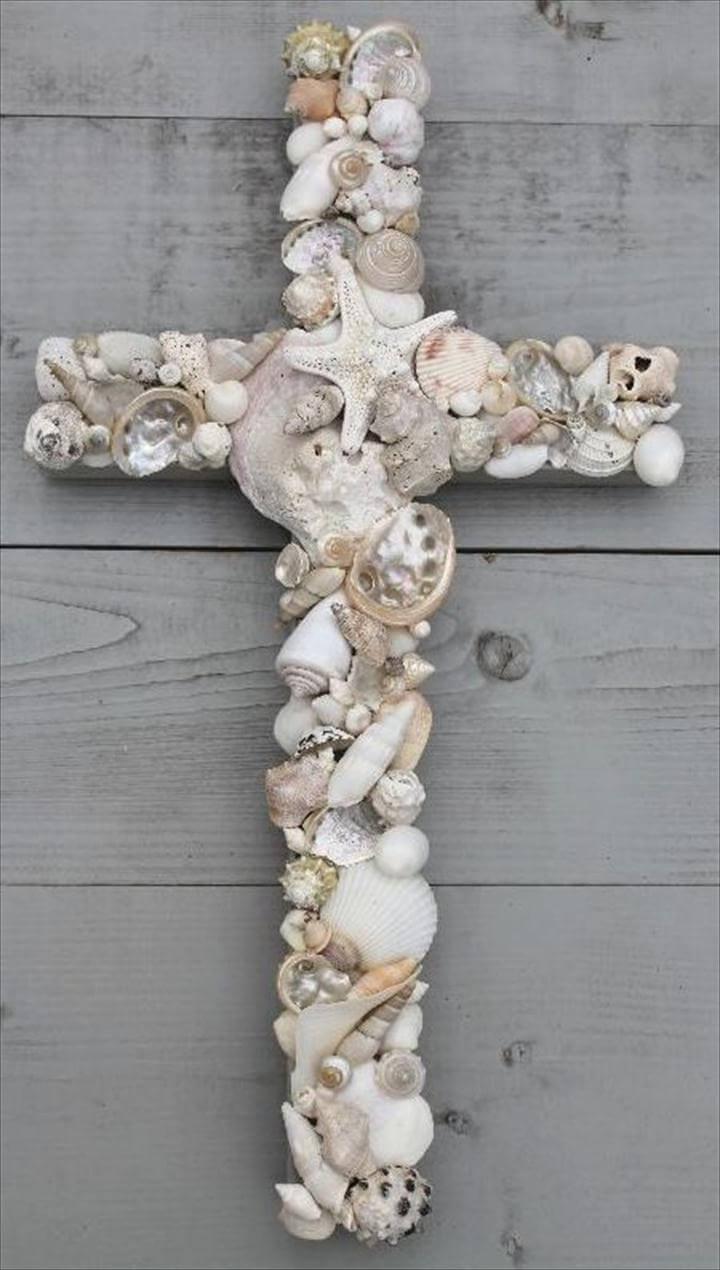 We all have the Holy cross in our homes to stay and feel blessed all the time. Now you can decorate this cross and that too using your favorite summer beach seashells. Here is this lovely cross having been poured with seashells, pearls, and the corals to look just so enchanting and cute. You can hang it over your walls or the doors.
Image: elegantshells
Golden Shell Centerpiece

:

Metallic Shell Candle Holder: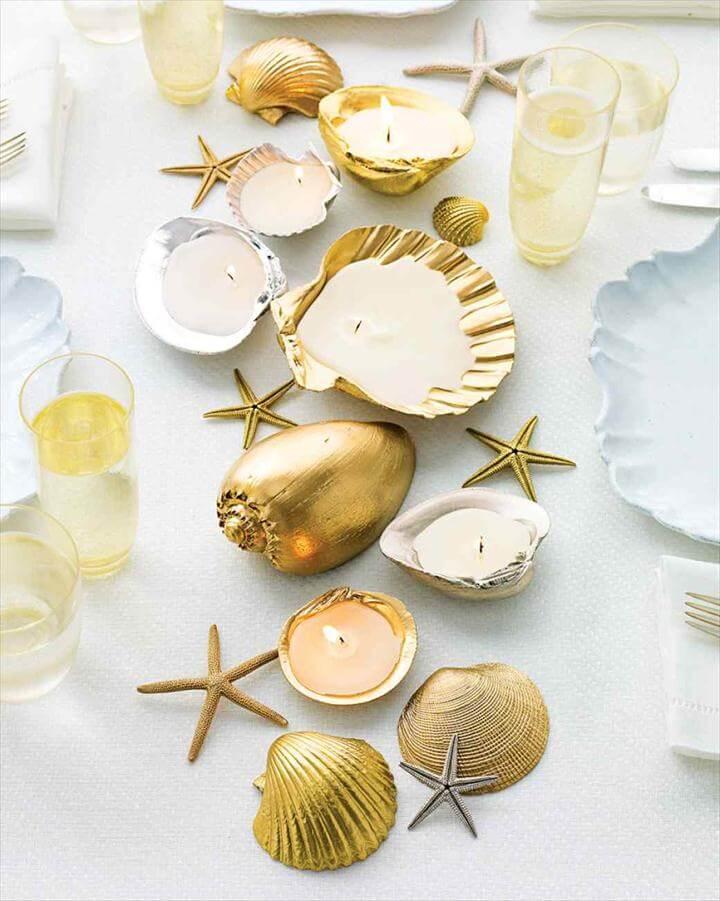 Give everyone a big jaw a drop to the next dinner party with these golden seashell metallic candle holder centerpieces. The gorgeous big seashells have been painted with metallic spray paint. Then fill them with paraffin wax and the wick and you got the most tempting and intimidating lights ever.
Image: hellolidy
Seashell Beeswax Tealights

: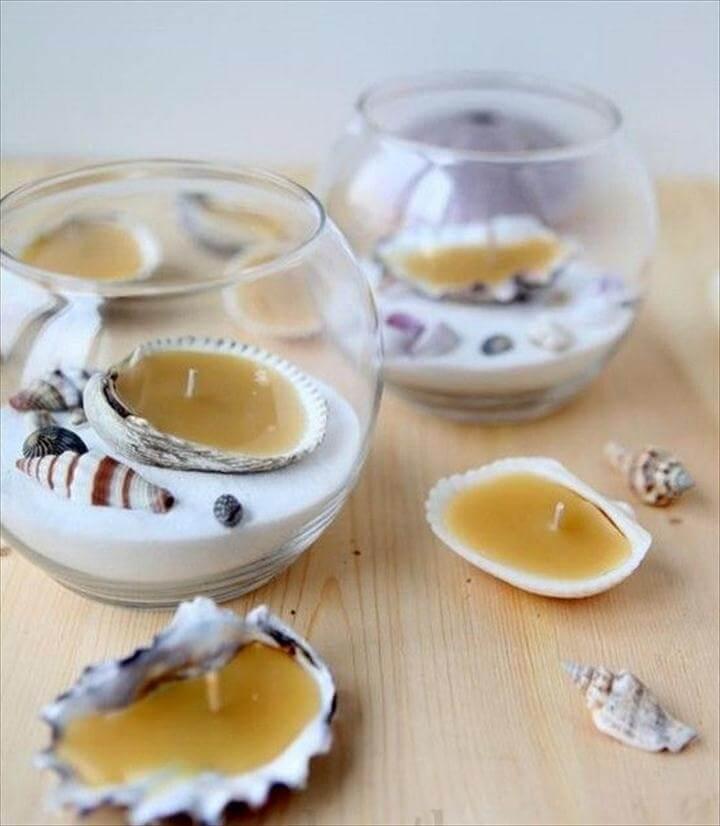 Candles and tea lights are the part and parcel of every décor no matter what is the occasion. For your summer celebrations, you can get your hands on these seashell beeswax tea lights and they are so simple and quick to make as well. Just fill the shells with beeswax, add a wick and they are ready to lighten up.
Image: gardentherapy.ca
Snail Shell Planter: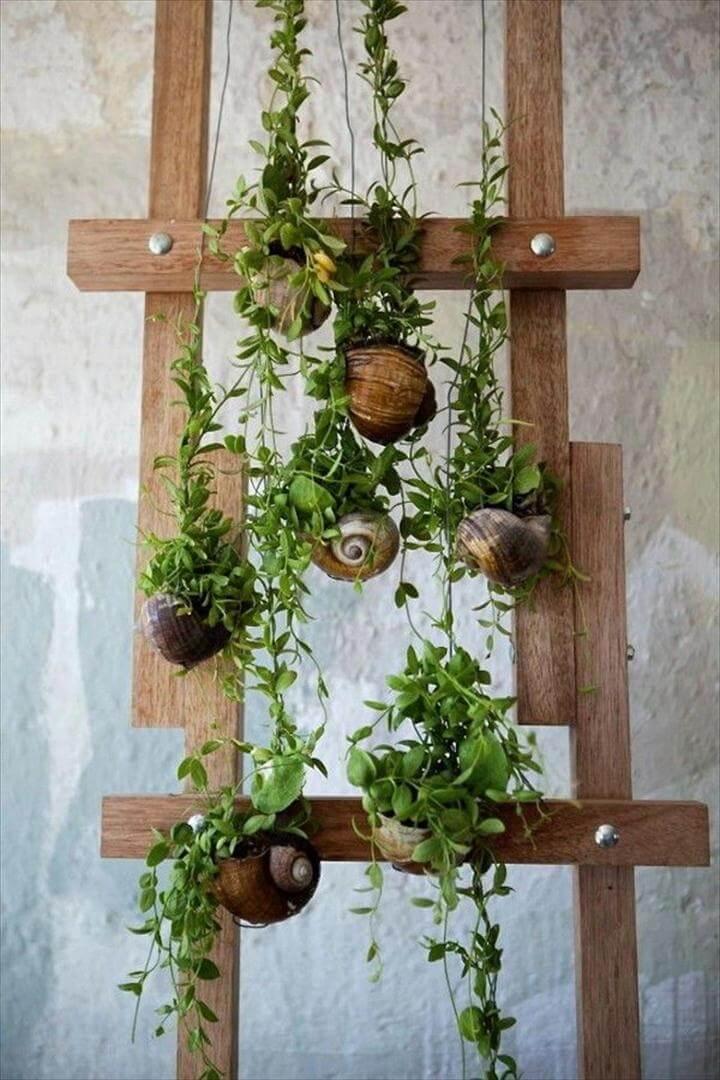 These snail shell planters are the cutest things you are going to witness on the internet today. So the sea snail shells that you can have collected from your previous beach trip, would make this gorgeous home décor statement. So grab some tiny plants and use these snail shells as their cute mini houses.
Image: 1001gardens.org
Beach Seashell Tree: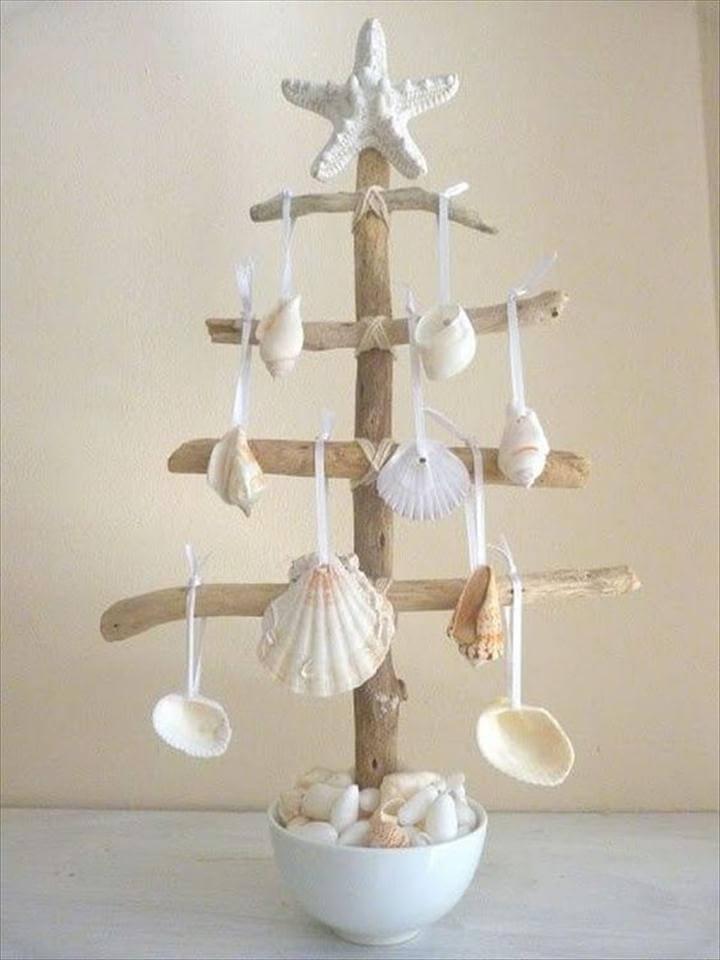 Christmas tree is for the winter holidays and this beach seashell tree would make the lovely summer holiday décor. So you need some wooden sticks to shape up a tree-like structure and then add seashells as the perfect summer embellishments. This beach seashell tree is the best décor for your summer home.
Image: youtube
Beach Glass Jars Thread Seashells: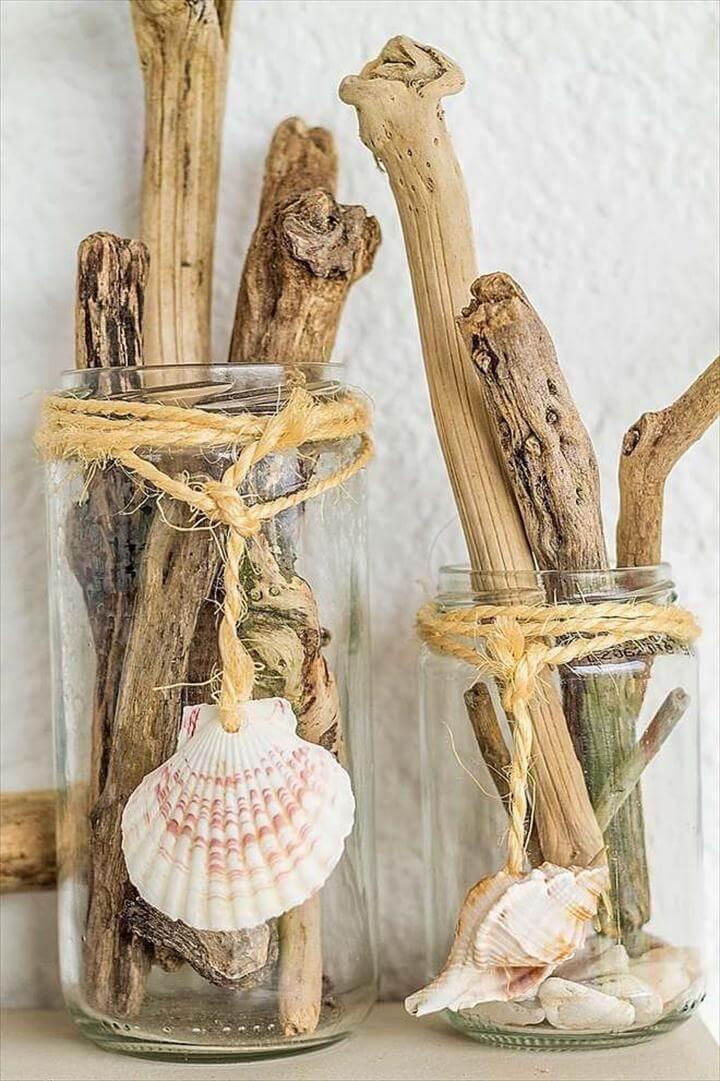 Here is how you can make the most out of your beach collected seashells with this lovely beach glass jar thread seashell project. To make this nautical beach glass jar you need big jars to be filled with some rustic wooden pieces. Adding seashells and decorating the outer side with rope and shells is the final appeal.
Image: itallstartedwithpaint