Another fun reason to fall in love with the summers is the plantation. There is so much greenery around to keep us feel all fresh and happy. The gorgeous summer flowers and plants just add so much to our home décor and the overall good and healthy vibes. And for the obvious reason, we need planters for the plantation especially of some cute small plants like the succulents. So here we have brought to you these 10 Magical DIY Easy Planter Ideas For Summer to exercise your green thumb with. The gorgeous planter ideas are really going to add a lot to your home décor and beauty.
The ideas suggest making a variety of planters and most of them focus on interior beauty. There are ideas to make some new and unique planters like that from cement, stones, clay, and wood. Also, there are planter projects suggesting you recycle some home lying supplies and get the most amazing planters out of them. So grab the tin cans and the jars and treat them with paint to be the next table and shelf décor items. Also, you can treat your regular terracotta pots with a lot of fun themes like painting them as a cute blue chick and the whimsical white unicorn. Check out each planter ideas right below with details!
Ruler Planter Gift For Teachers: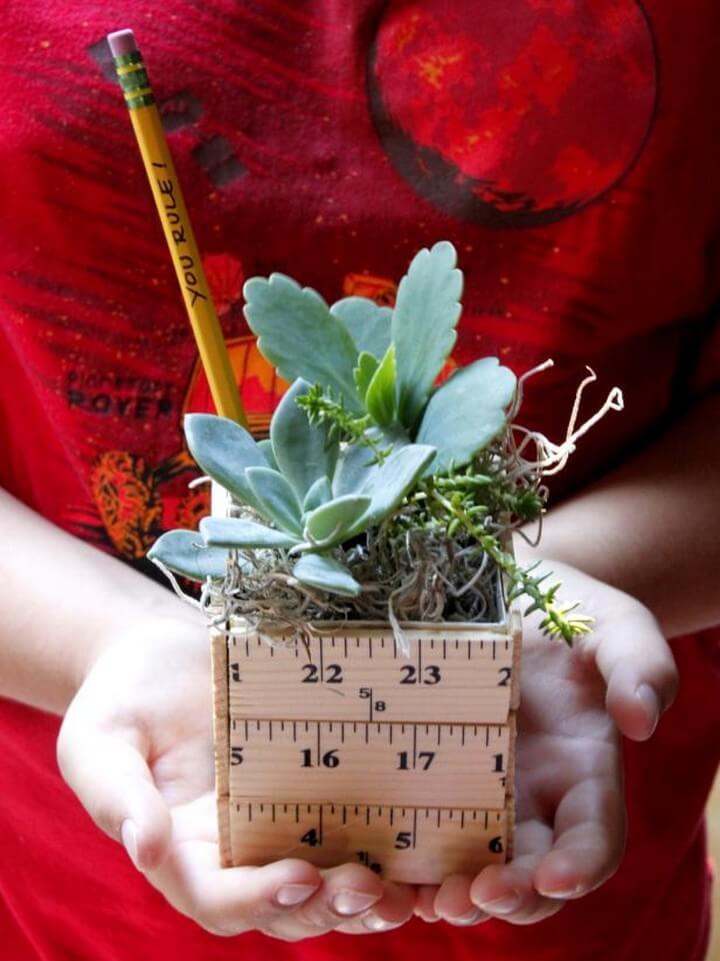 Need a back to school gift idea? How about making this super cute ruler planter gift for the teachers? Yes, you can break your ruler into smaller pieces and then built a cute little cube planter out of it. Add some soil and the succulent and the gift is ready to be in the hands of your favorite teacher. Details here!
Tutorial: hgtv
Spring Chick Succulent Planter: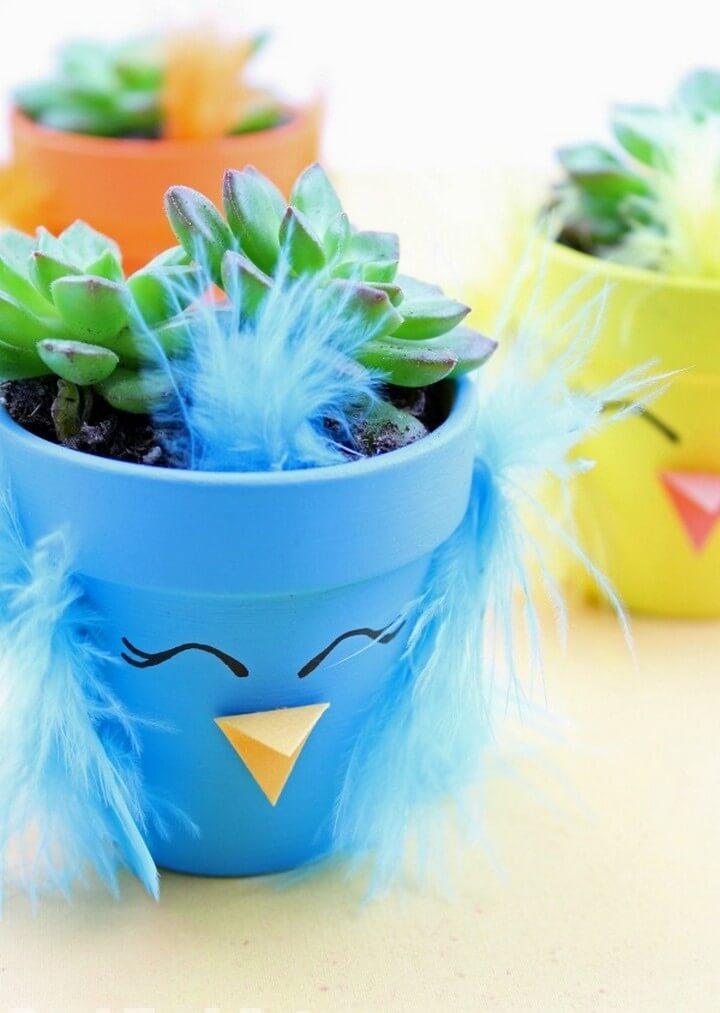 Bring some gorgeous and lovely hued vibes in the spring home with this super cute and adorable chick succulent planter. The planter here has been turned into a cute little chick with the furry feathers, paper nose, and the painted eyes. The blue color is really making this chick planter look super exciting.
Tutorial: easypeasyandfun
Unicorn Planter – Magical DIY Succulent Plant Pot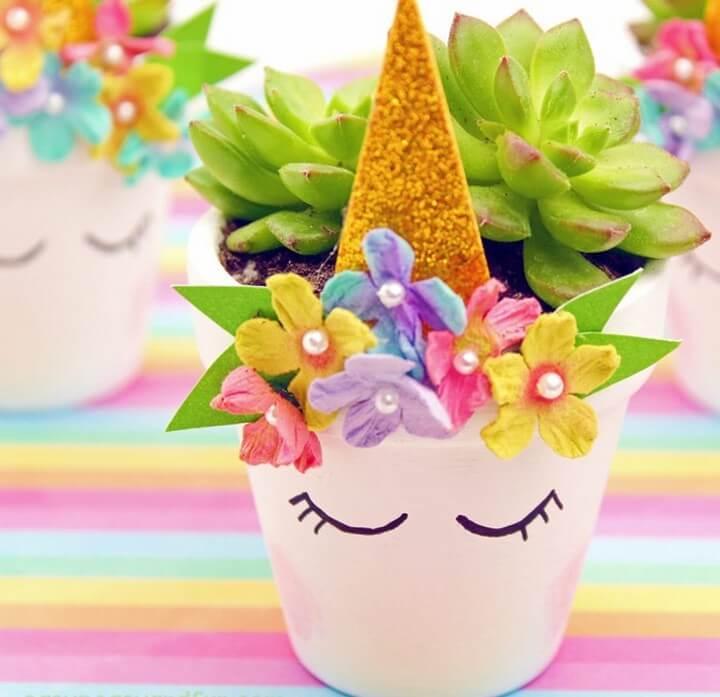 Unicorns are our favorite thing for the craft inspiration and now you can make these pretty unicorn planters to bring some whimsical beauty touches in the home décor. The planter pot is painted in white and then added with the features of the unicorn using paint along with that floral headband. Details here!
Tutorial: easypeasyandfun
Chalkboard Flower Pots For Mother's Day: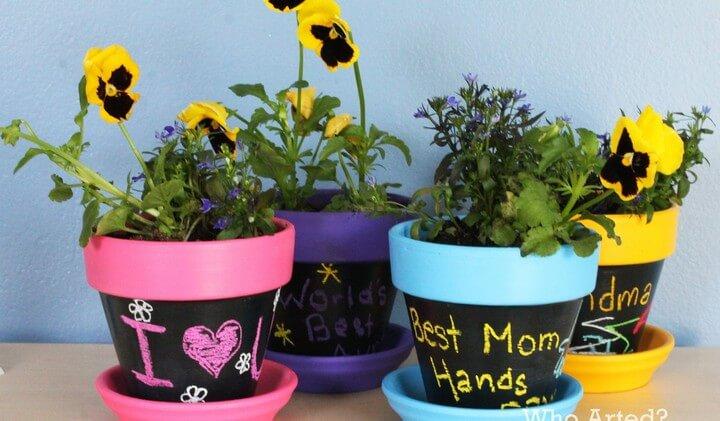 These gorgeous and colorful chalkboard flower pots are making the best gifts for Mother's Day. The center of each pot is painted with chalkboard paint to write some fun Mother Day quotes on. The edges and the bottoms are done with some bright and eye-catching paint hues of pink, purple, green, and yellow. Details here!
Tutorial: who-arted
Unique DIY Planter Idea Using An Unlikely Material: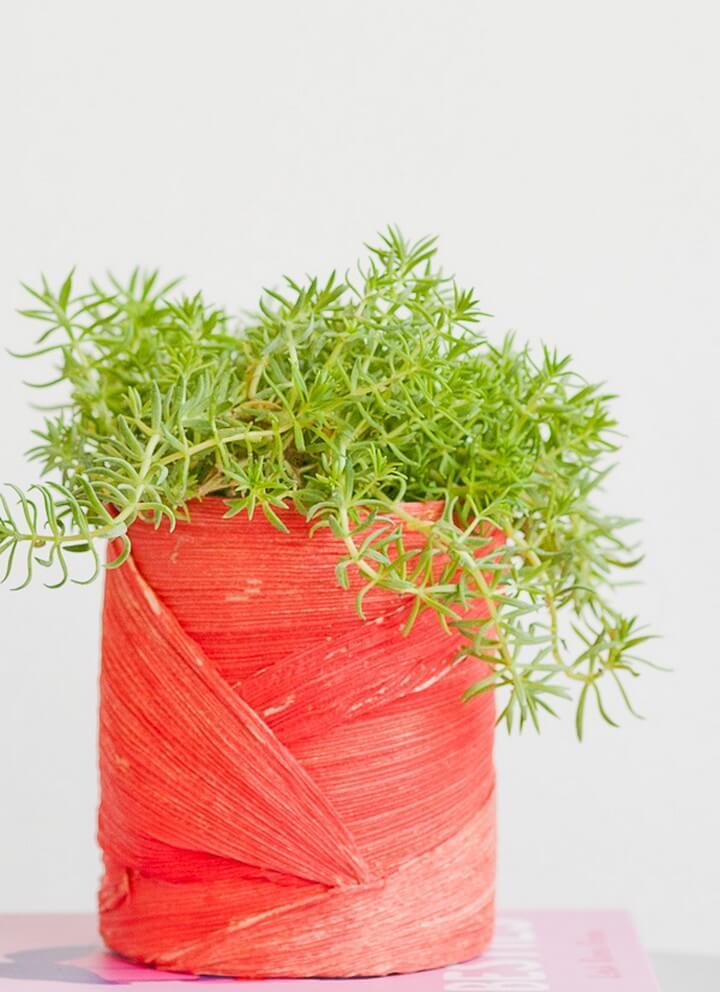 This gorgeous planter is made out of an old tin can and the old husk and nobody is going to believe you for that. The gorgeous textured red planter is the best thing to make with the painted husk being wrapped and glued around a tin can. You can use this idea right at the weekend to create some unique planters.
Tutorial: papernstitchblog
Step-by-Step DIY To Create Cement Planter with Old Towel: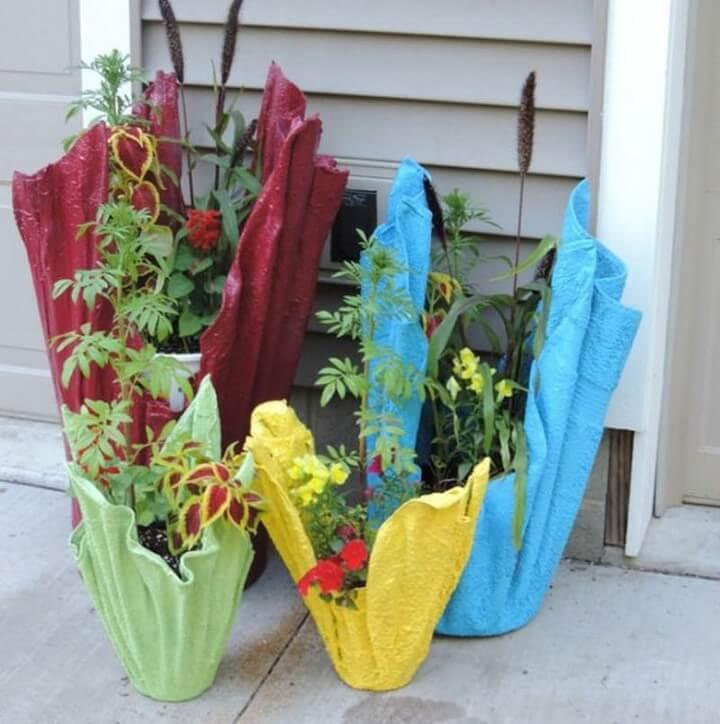 These gorgeous and colorful cemented planters are going to bring a sure fun in your outdoor space for being so unique and fun. They are made out of the old towels being dropped in the cemented mixture and then dried over the planter bottoms. You can use any other cloth and any other shape you want.
Tutorial: homecrux
DIY Geometric Concrete Planter: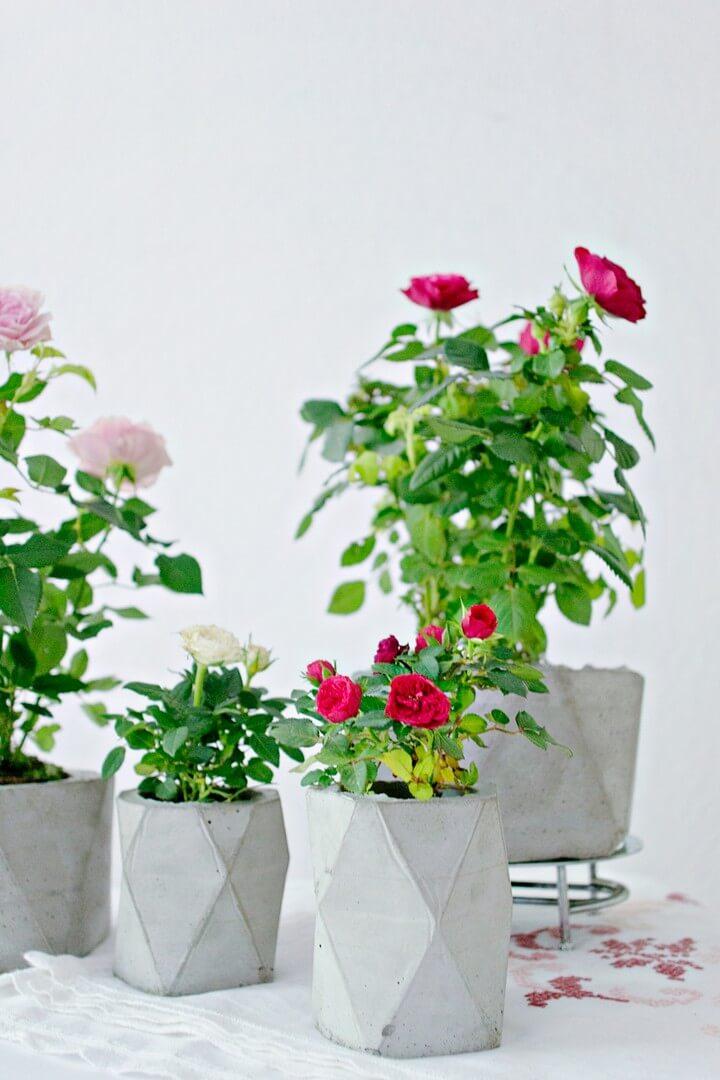 Bring some custom vibes to your home décor with these DIY geometric concrete planters.  Firstly a geometrically shaped mold is made out of the cardboard to be filled with the cemented mixture and use as the perfect handmade planter around the house. You can paint them as well for a more catchy and cute look.
Tutorial: lanaredstudio
DIY Planter Boxes For Herbs – How To Make A Planter Box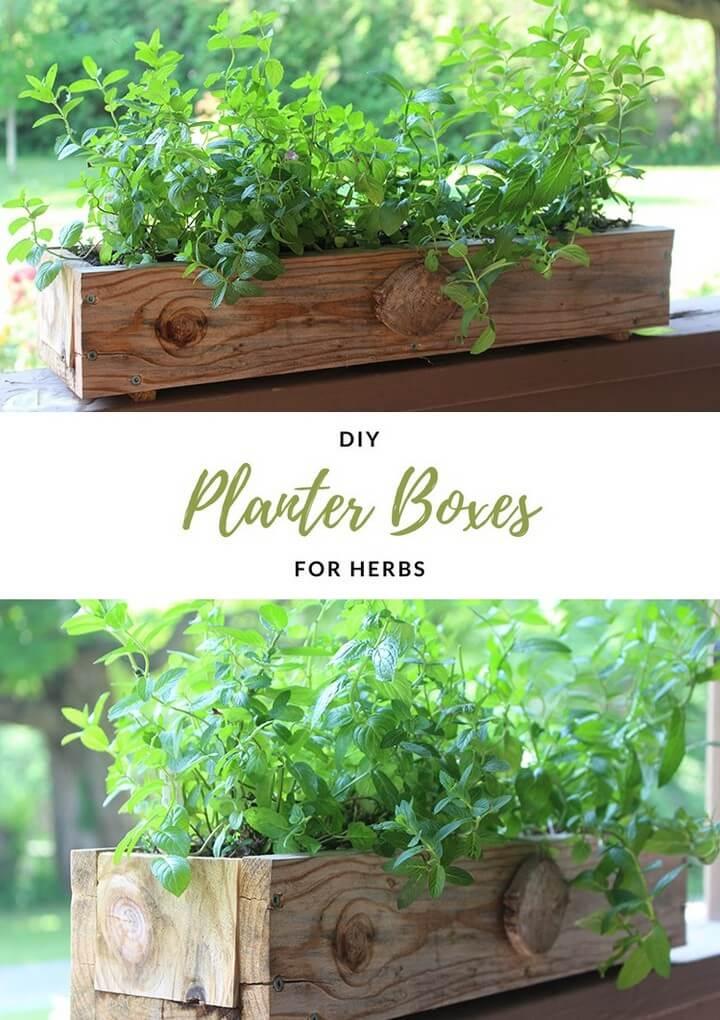 Now enjoy growing herbs right in your home and this DIY planter boxes would help. Using some wooden pieces you can create a lovely rectangle box to grow your favorite herbs in. The natural wood texture and the appeal of the wood are surely going to add in your indoor décor. Details here!
Tutorial: thediydreamer
DIY Terrazzo Planter With Oven Bake Clay: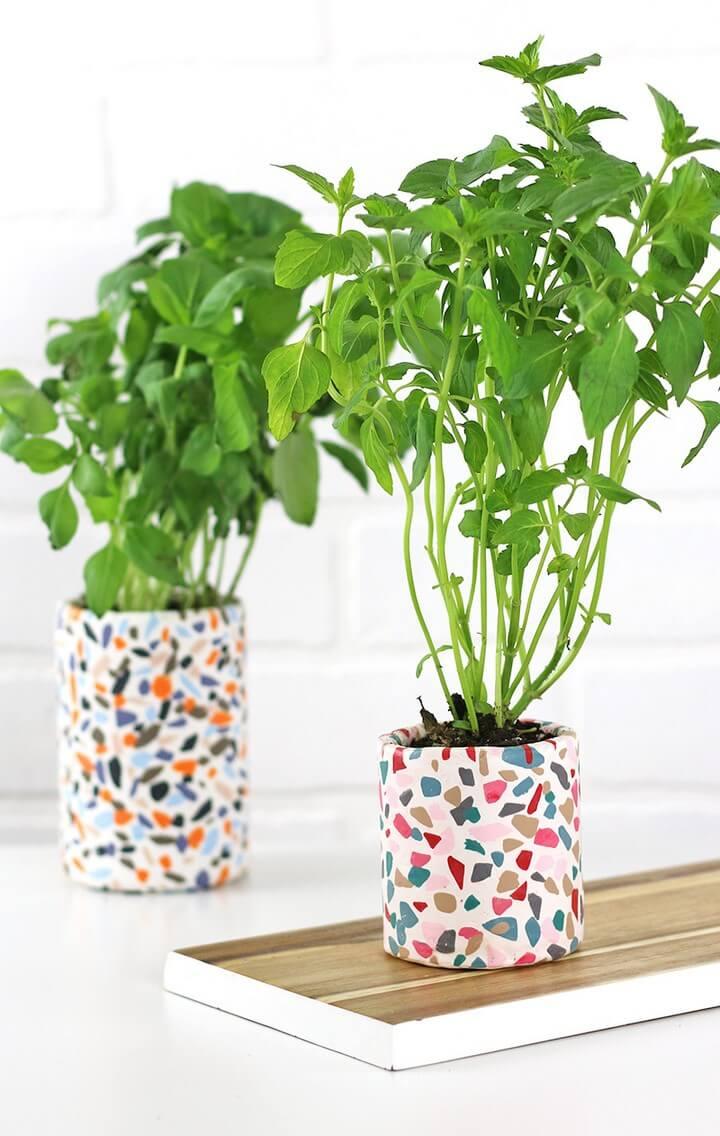 This gorgeous and colorful DIY terrazzo planter with the oven bake clays is the best thing to make tonight. So grab some old tin cans and the clay to make these pretty oven-bake clay planters. Then paint some colorful geometric-like shapes with all the lovely and bright hues and they are done. Details here!
Tutorial: persialou
How To Make Stone Planter: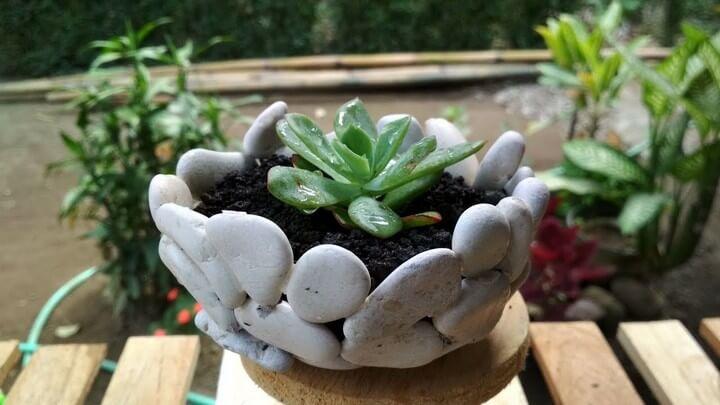 You can make these lovely stone planters and bring some rich style in your garden together. By painting up some pebbles and then putting them together in the form of a nice small planter you can make this lovely gorgeous stone planter. It would also look great inside the home be it on tables or the mantles. Details here!
Tutorial: youtube