No matter how old we grow we still believe in the fairies and their gorgeous world. One of the imminent things from the world of fairies that are shown in the movies is the gorgeous fairy lights. It whimsy to see how their beautiful world is lighted up with those amazing fairy lights in the dark. Now you can bring that magical appeal of the fairy world in your home with these 30 DIY Mason jar fairy light ideas. The ideas are so full of beauty and appeal and that same they are going to bring around your spaces too.
There are multiple fun ways shared to make those awesome fairy lights and glow jars in so many fun and unique ways. So get your hands on the mason jars and the string fairy lights to shape up these adorable and basic Mason jar fairy lights. You can decorate them in a variety of ways using moss, faux grass, fairy doors, pebbles, gnomes, and more. And if you want these lovely glow jars for the winters the moss can be replaced with the Epsom salt and the embellishing can be done with pine cones and more. These Mason jar fairy lights are great for the indoor and outdoor of the house. They make the whimsical display over your tables, mantles, and the shelves. For the outdoors, you can either mount them over your yard walls with scones or just hang them over the trees. Get to know more about these lovely ideas right below!
Mason Jar Fairy Lights: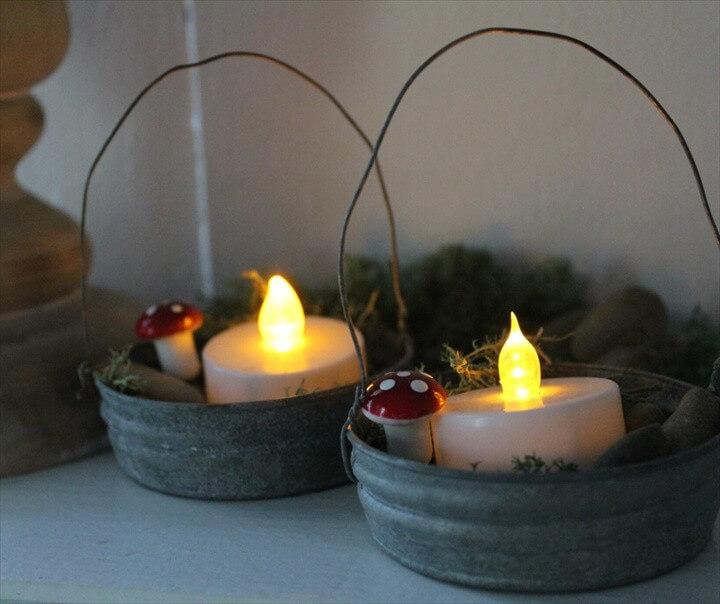 Bring the beauty and magic of the Mason jar fairy lights to your festive home this holiday season. The lovely Mason jar fairy lights are so easy and fun to make with easy things lying around. So you need a metal Mason jar lid as the base with moss, LED supported battery, faux mushroom and so much more per your imagination. These fairy lights would look so accent resting on the mantles and the tables.
Tutorial: stockpilingmoms
Fairy Garden in a Jar: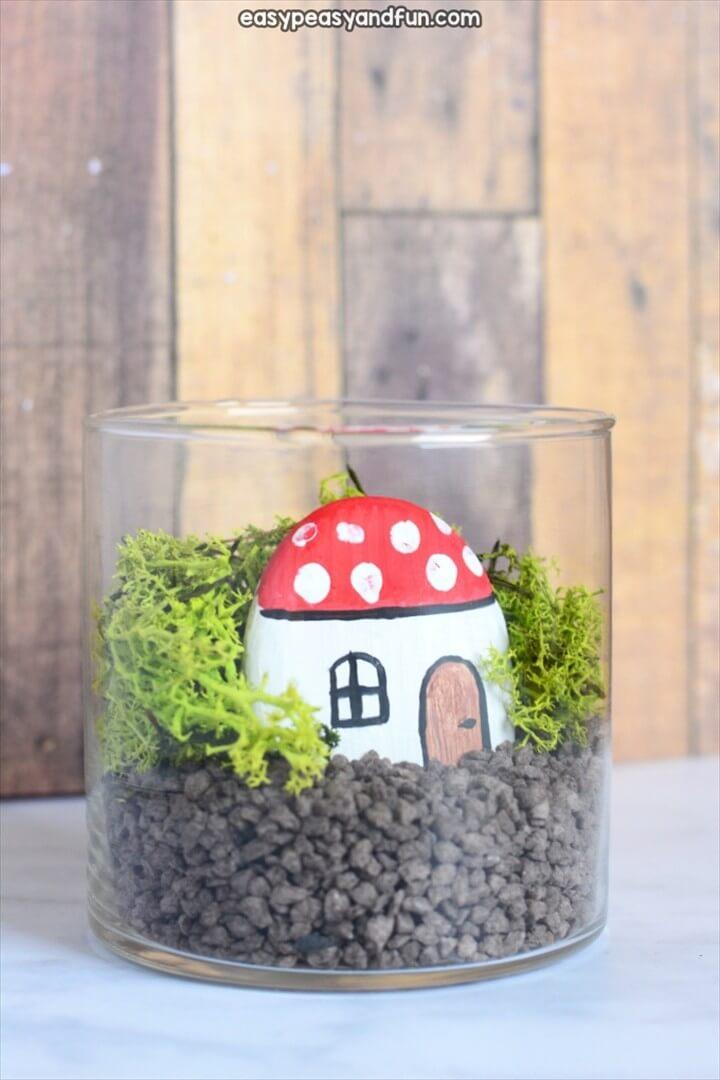 Let the fairies visit your home when you have this fairy garden in a jar at your spaces. First of all, you need a glass jar in which you need to pour faux sand and the moss and some rocks. Then grab a flat rock and paint it up with the lovely fairy house like features. Place it over your tables, mantles, and shelves. Details here!
Tutorial: easypeasyandfun
Fairy House Mason Jar: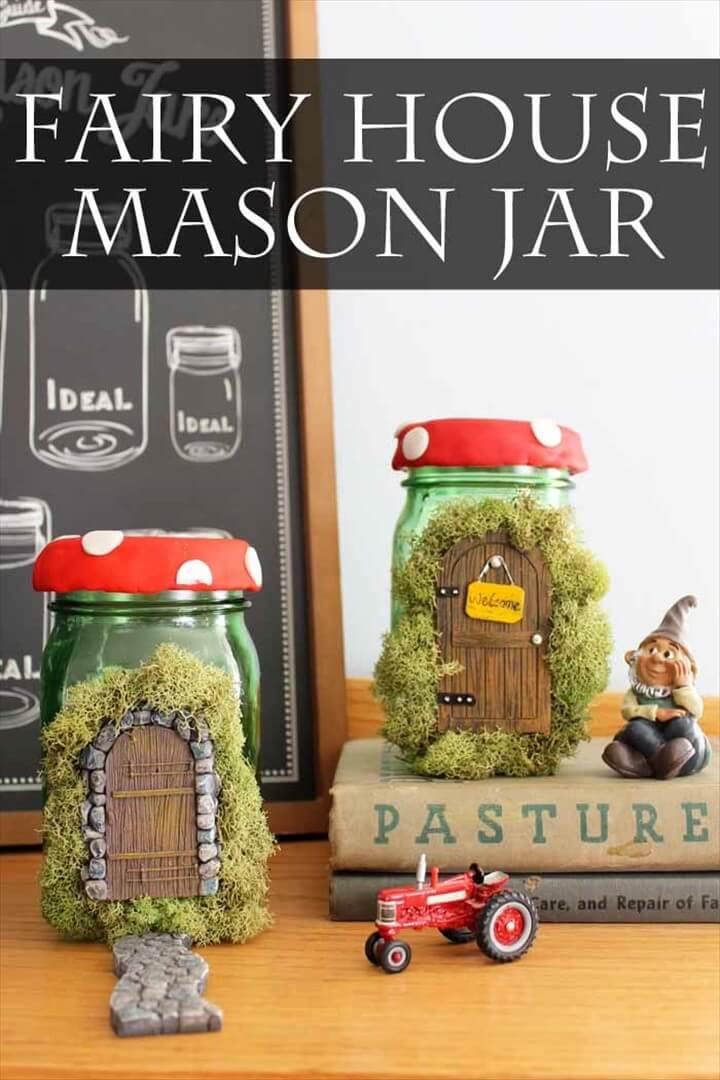 Bring the complete summer and spring vibes in your house with this lovely fairy house Mason jar. This one is super easy and fun to make with the lovely crafty supplies lying around. The first thing you need is the green Mason jar, mini fairy door, faux moss, clay, and clay tools. Check out this pretty fairy house Mason jar right here!
Tutorial: thecountrychiccottage
Make A Fairy Light Jar: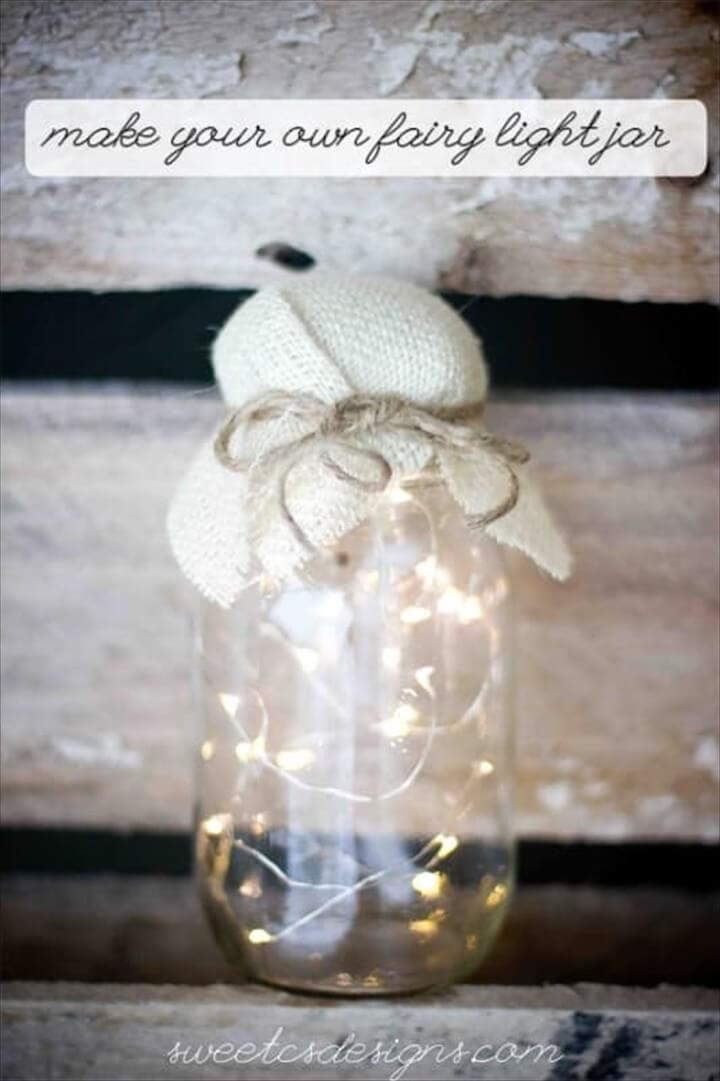 Everything related to the fairies is so much magical and fun so make these lovely fairy light jars to bring that magic in your home. You need fewer numbers of supplies to make this lovely fairy light jar. So first grab a jar and then put in some LED supported string of the lights and then decorate it with the lovely burlap piece and jute twine. Details here!
Tutorial: sweetcsdesigns
Mason Jar Solar LED Fairy Lights: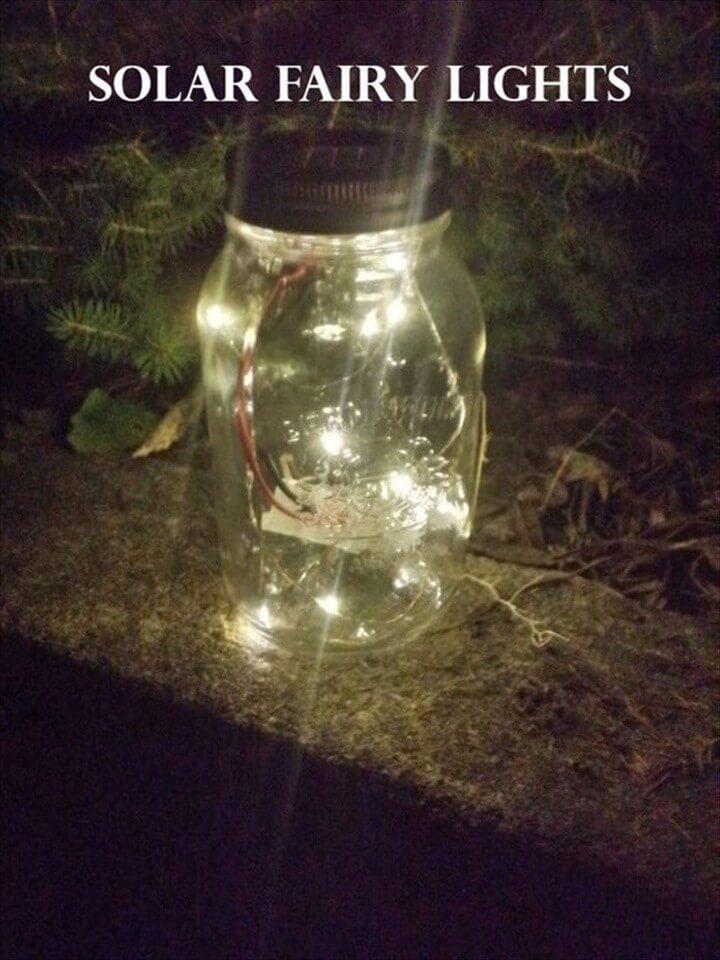 We need light in out outdoors in the summers and now you can it gorgeously. Yes, with these Mason jar solar LED fairy lights you can make the best and beautiful light arrangement in your spaces. So grab a mason jar, solar lights, batteries, fairy lights and some used solar lights to make these lovely LED solar fairy lights. Follow the details here!
Tutorial: instructables
Rustic DIY Mason Jar with String Lights: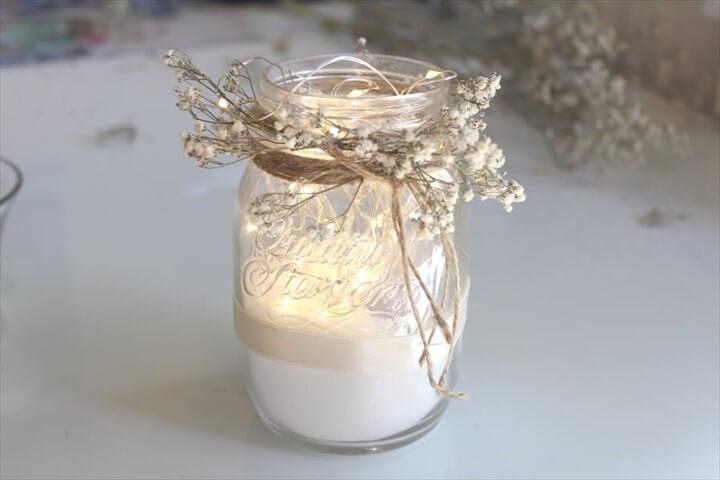 Make your winter décor look intimate with this rustic DIY Mason jar with string lights. So grab a Mason jar and glue up the top of the jar to sprinkle the Epsom salt on it for the snowy look. Then add more embellishing to the jar with the baby's breathing flowers and the ribbons. Lastly add the fairy lights and you are done. Details here!
Tutorial: loveandlavender
Solder Together a Fairy Lights Mason Jar: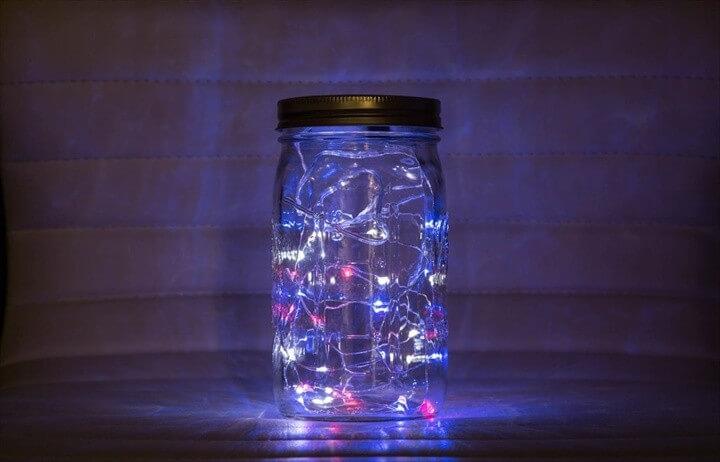 If you need lights in the house then you should go after this project of the solder together a fairy lights mason jar.  The cutely colorful lights twinkling in the Mason jar look so cute and fun in a fairy theme way. You need a lot of electronic supplies and the settlement and you have all the details attached to the links attached. Details here!
Tutorial: makezine
Glass Jar Fairy Lights: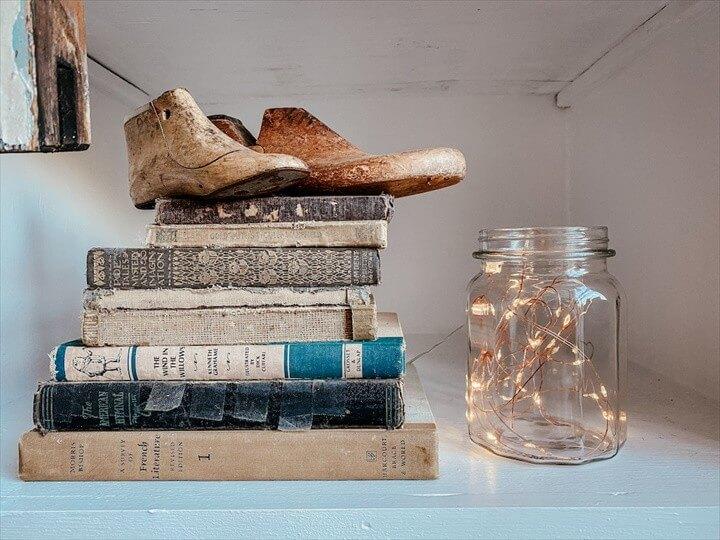 If there is a lack of intimacy in your home décor then you need to bring these absolutely gorgeous glass jar fairy lights there. They are super easy and quick to make on your own. All you need is a big empty glass jar, string fairy lights with battery support. You can display this fairy light jar anywhere in the house where you need some décor attention. More details here!
Tutorial: karleegailbowman
How To Create Hanging Mason Jar Fairy Lights: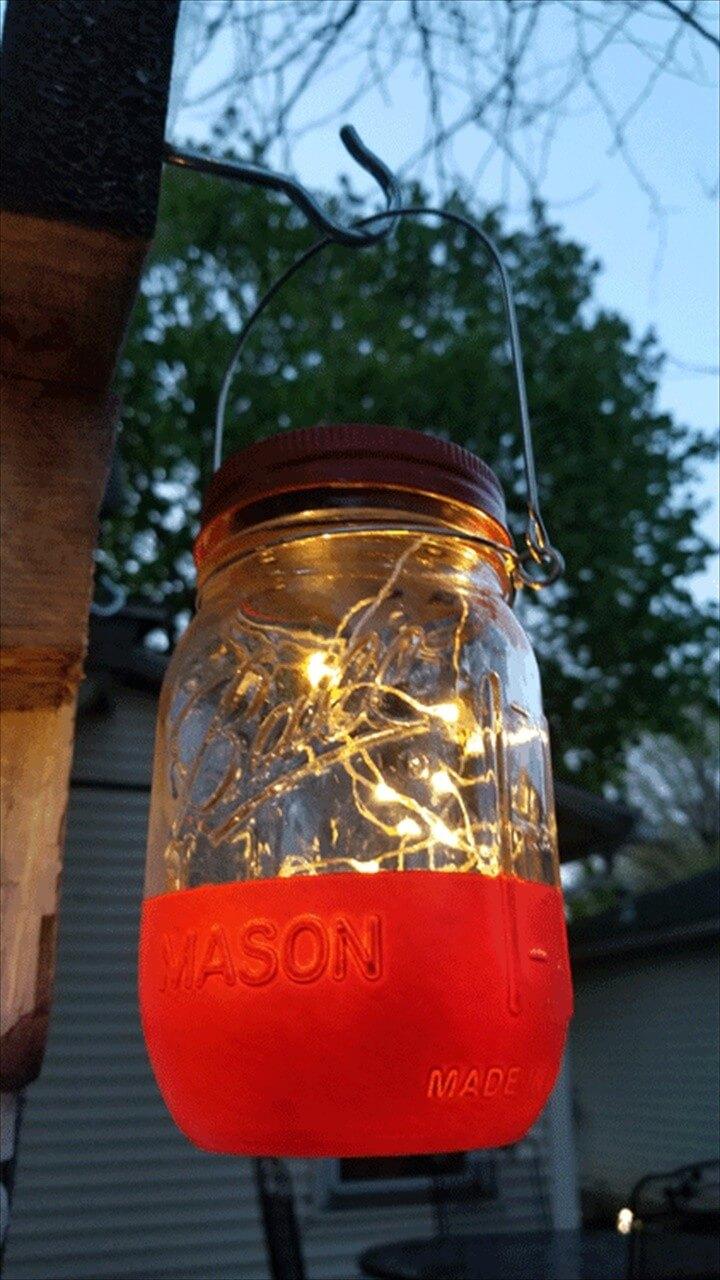 Summer also means installing lights in the garden and making these adorable hanging Mason jar fairy lights is the best thing you can do this summer. The jar has been painted red at the bottom and installed with lovely fairy lights inside.  You can make a bunch of these fairy light jars and hang them around the garden. Check out the details here!
Tutorial: michellejdesigns
Magical DIY Hanging Mason Jar Lights: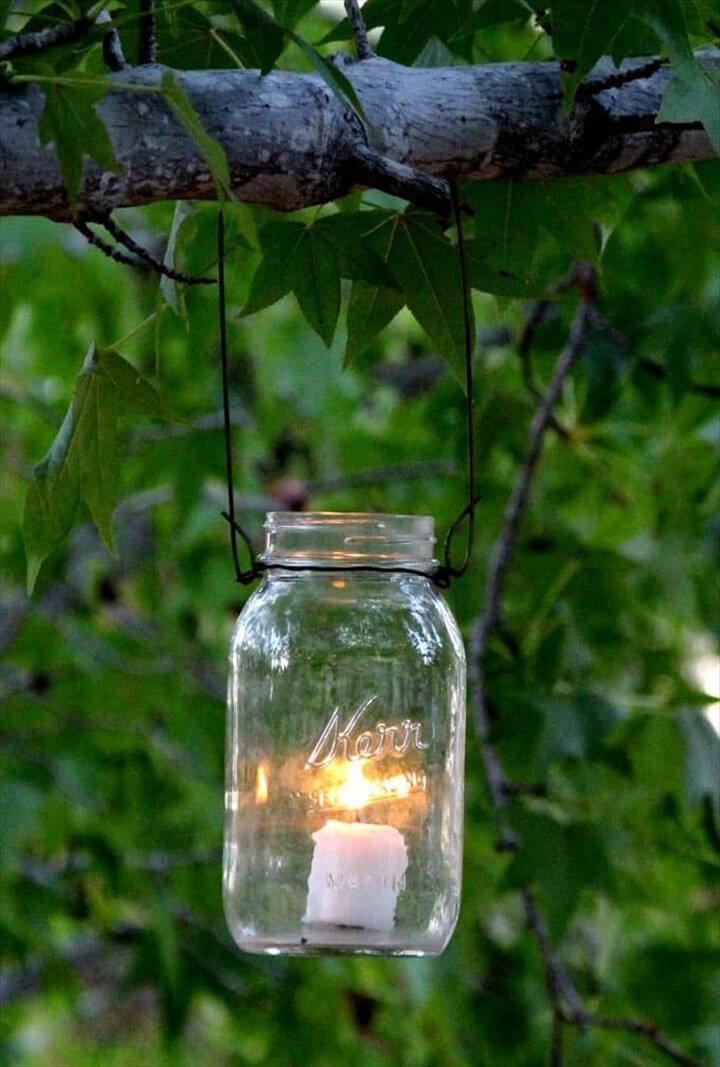 Make your garden décor look magical and fun with these adorable magical DIY hanging jar lights. They are so easy and cheap to make yet bring rich décor vibes to your garden. Just grab some wire to make the jar hang on the wooden tree branches. Hold your candles inside the jars and your lovely garden lights are ready.
Tutorial: apieceofrainbow
Make Your Own Light-Up Fairy Jars for Kids: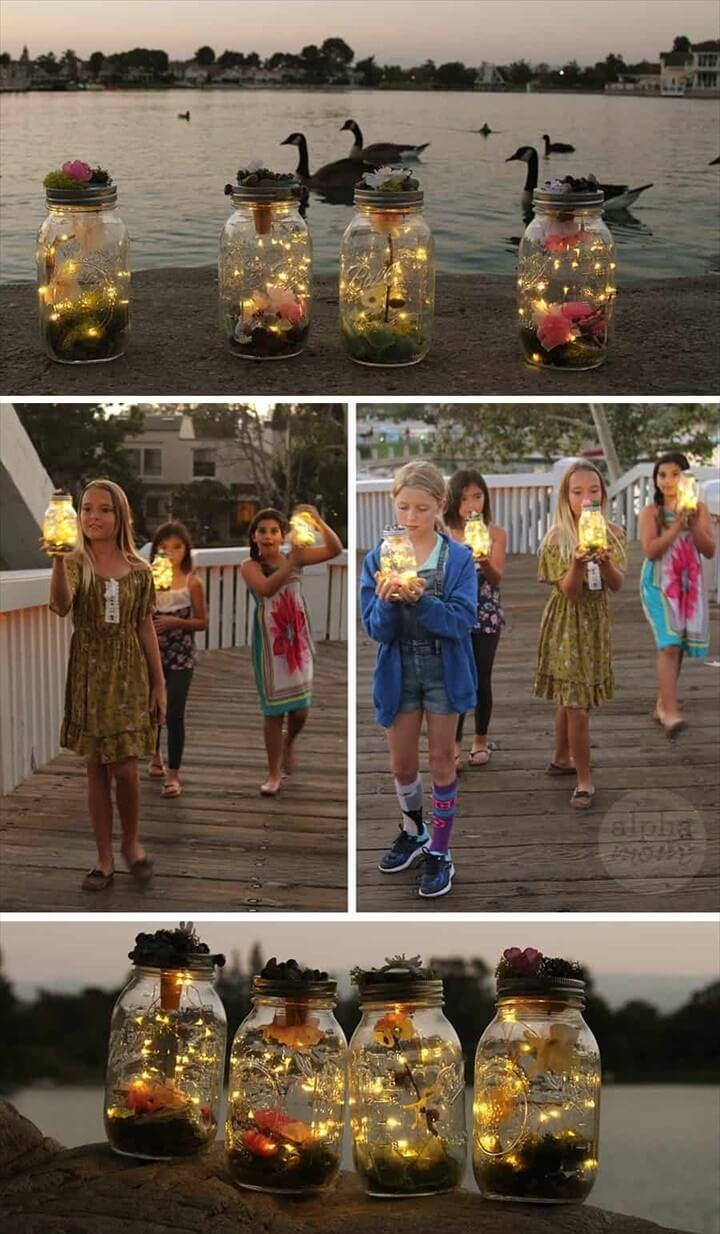 Little girls are so fascinated about the fairies and everything about them. So get them indulged with these handmade fairy jars which light up in the dark so gorgeously. The jars have been decorated with faux flowers, pebbles, seashells, pine cones, moss, and anything more that you want to add. Lastly, put on some LED lights and your beautiful fairy jars are ready.
Tutorial: alphamom
Simple DIY Mason Jar Fairy Lights: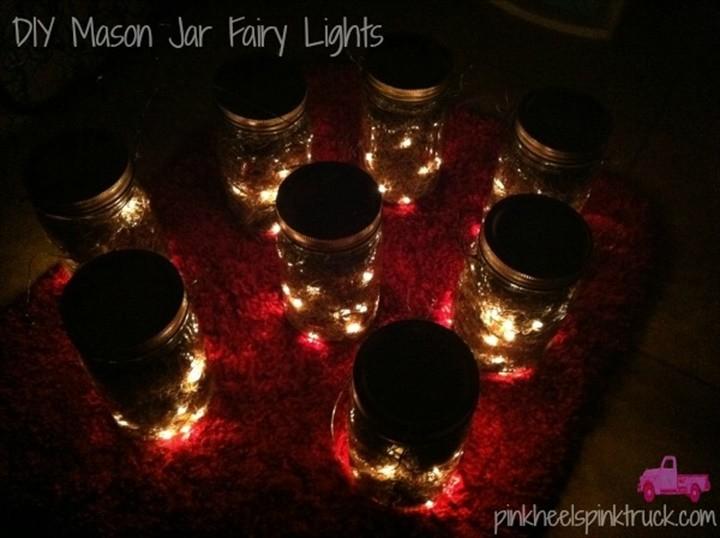 Mason jars make the best gifts and these adorable fairy lights are the best things to make this summer and gift to your garden. These are super cute and fun to make. The simple DIY Mason jar fairy lights are the best things to make with fake moss, fairy lights, LED lights and the wire to hang the mason jars around. Details here!
Tutorial: taylorbradford
Best DIY Mason Jar Fairy Lights: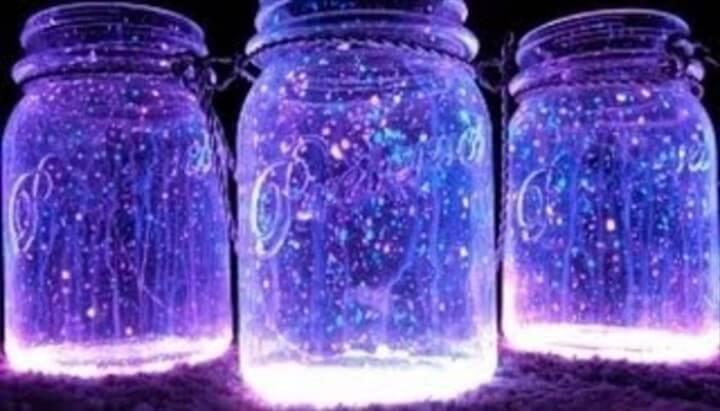 Bring some magical touches of fairy décor to the rooms of your kids with theses DIY lovely Mason jar fairy lights. These fairy lights are to be made even when you do not have LED battery lights. These ones are to be made with glow paint fabrics and the Mason jar only. Make them hold on the shelves and they would magically glow at night.
Tutorial: thrillbites
DIY Fairy Jar Night Lights: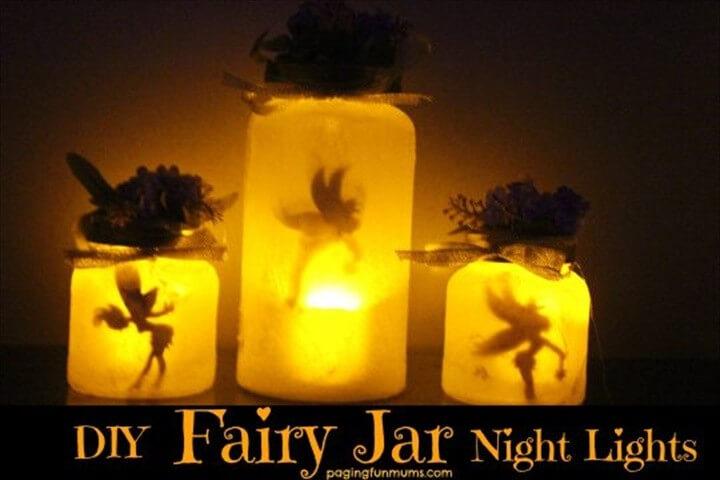 Let the fairies bring so much glow to your home this summer with DIY fairy jar night lights.  You need mason jars, white tissue papers, fairies cut out of foam sticks, and the candle lights. The process is super simple once you have gathered the lights. Check out the step by step details of this romantic and cute DIY fairy jar night lights here.
Tutorial: pagingfunmums
Fairy Light Mason Jar Leaves: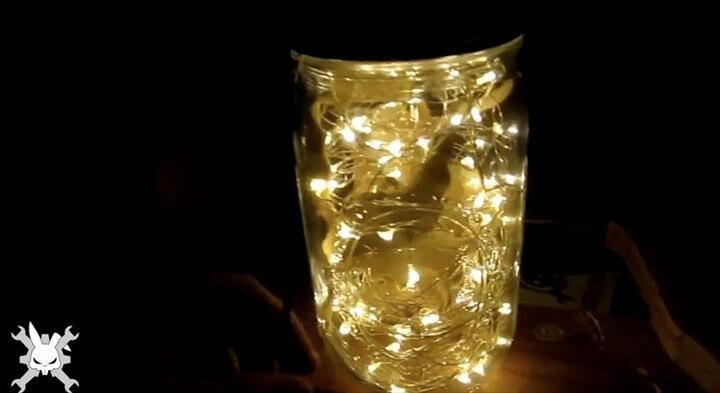 Bring the woodland feels to your summer home with these easy and handmade fairy light mason jar leaves. The Mason jar has been loaded with the fairy light strings and then wooden leaves have been added to the jar to grab that perfect woodland feel. You need thin wooden pieces and the band saw to cut out these awesome wooden leaf pieces. Details here!
Tutorial: instructables
Light Up Gnome Mason Jars: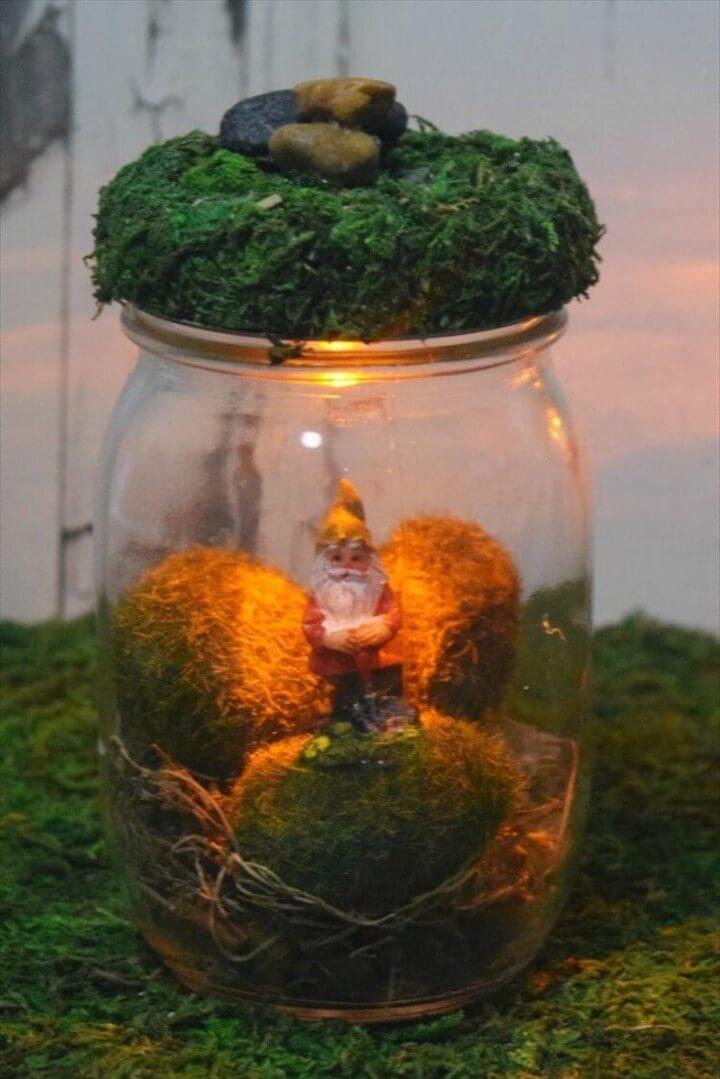 These gorgeous lights up gnome mason jars are the best décor items for your home around the Holiday seasons. The mason jars are filled with the faux grass and the moss and also some faux mushrooms. Then add the toy little gnomes to the mason jars and your lovely candle or tea lights to make them look so intimate and interesting. Details here!
Tutorial: thetiptoefairy
Fairy in a Jar Night Lights: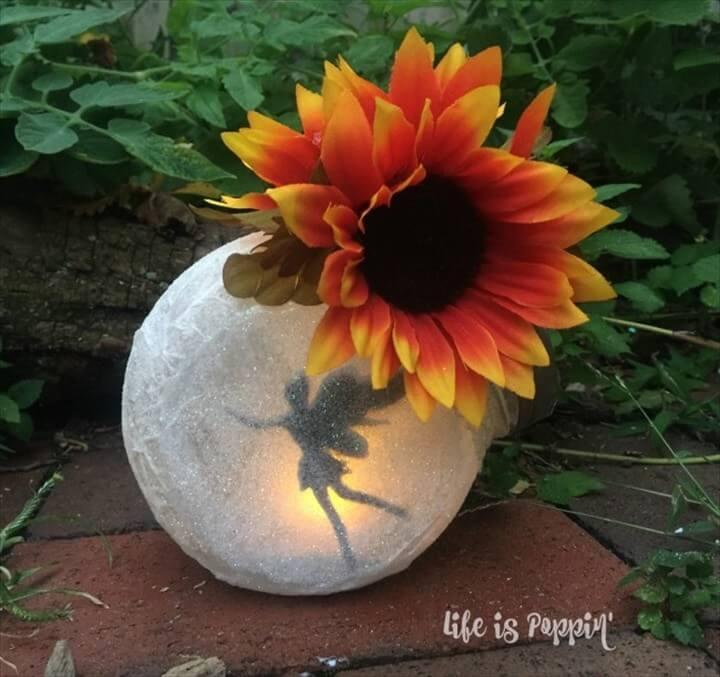 Make this gorgeous fairy in a jar night lights to make your summer nights more fun and relaxing. There are simple things that you need to make these adorable and fancy fairies in a jar night lights. You need around the mason jar, fairy silhouette, glitter, and some nonflickering candle lights to shape up this garden glow beauty.
Tutorial: lifeispoppin
How to Make Mason Jar Fairy Lights: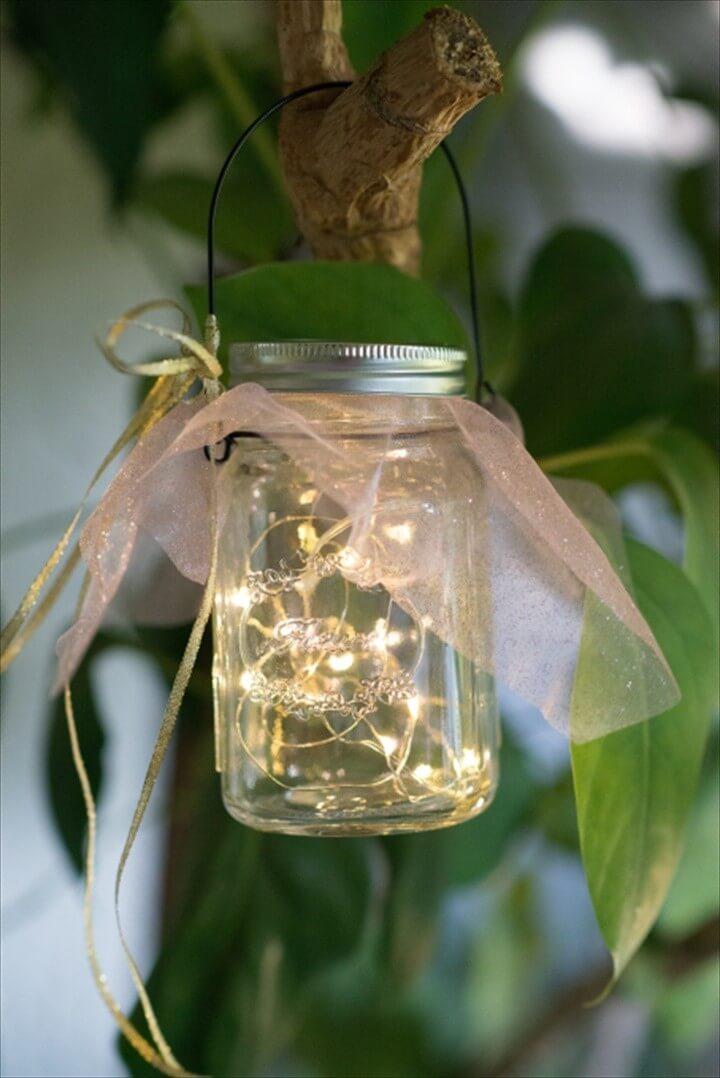 Make this lovely Mason jar fairy lights and charm up your summer outdoors more for fun nights with your dear and near ones. This is the simplest project to learn to make the fairy lights on your own. Just add the battery supported fairy lights to the jar and give a wrap on the top with tulle and hang it over your trees. Know it more here!
Tutorial: masonjarcraftsblog
Light Up the Night With a Firefly Mason Jar: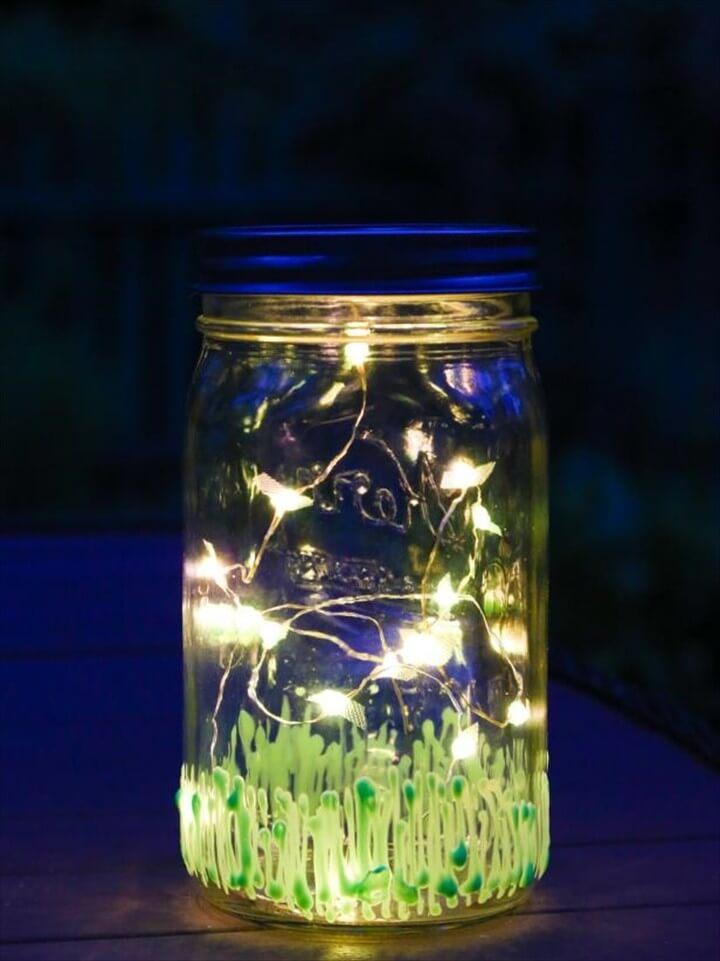 Fireflies look so ethereal when glowing in the dark and now you can enjoy the same glow in your space with this pretty light-up firefly mason jar craft. The gorgeous Mason jar is treated with LED string battery lights and the fabricated glow in the dark paint to look just so pretty when the darkness falls.
Tutorial: diynetwork
Solar Mason Jar Lights: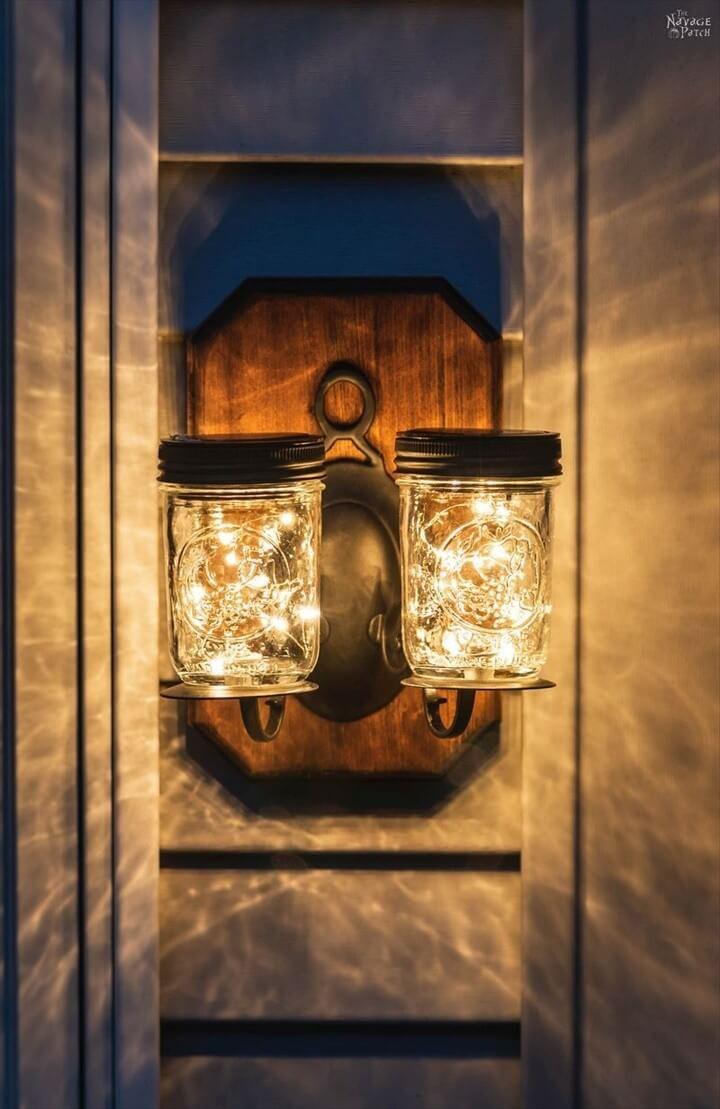 Grace up your outdoors with these solar Mason jar lights. They are super easy to install at home if you are good at working with the tools. So grab your old scones and paint them up. Fix on the scones the solar battery supported lights and place these scones over a wooden board. This mason jar light would look great on your yard or the patio walls. Check out the details here!
Tutorial: thenavagepatch
Chalky Painted Mason Jars: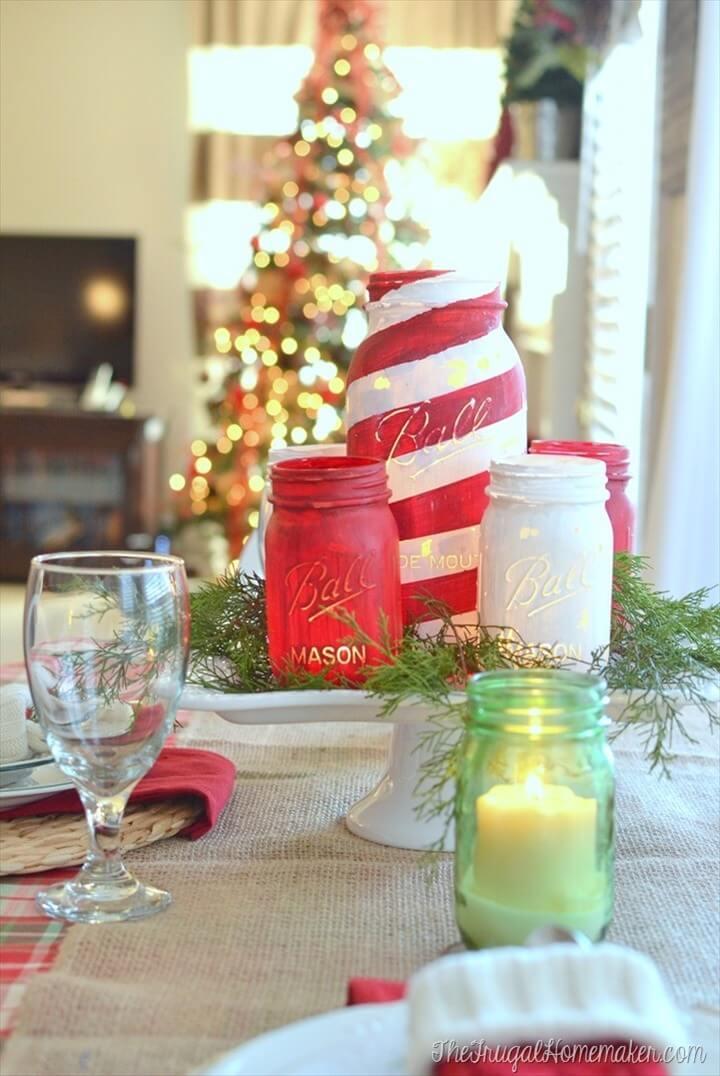 Make your dinner table look the best with these chalky painted Mason jar. The mason jars of a variety of sizes have been grabbed and painted with red and white chalk paint hues. The lovely painted mason jars have been also sanded before loading them with lights to glow so gorgeously. Check out the details here!
Tutorial: thefrugalhomemaker
Fairy Lanterns from Mason Jars: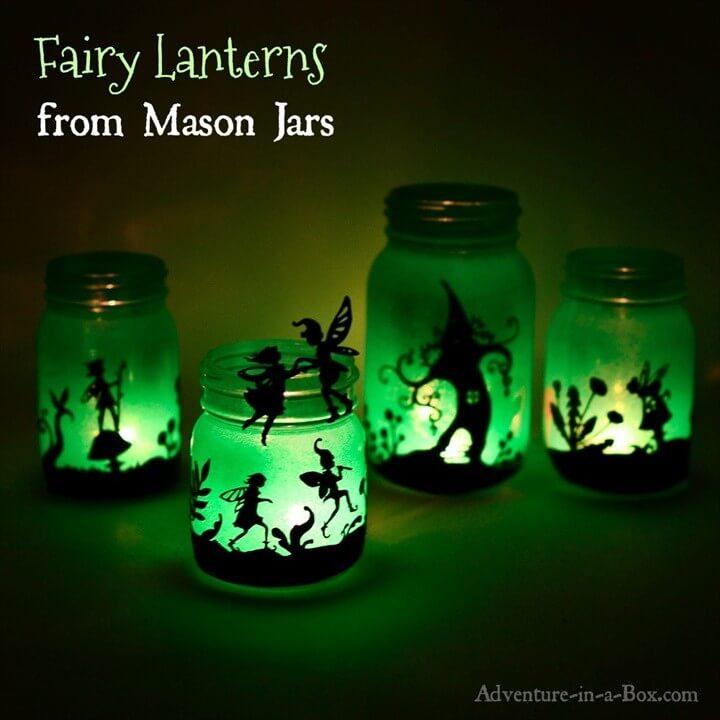 Let your creative juices go on an adventurous ride with the crafts like these fairy lanterns from the mason jars. The pretty lanterns with the fairy printable look just so magical and heartwarming. You need fairy printable to cut out of the black paper and then spray paint the jars with green hues and lastly attach the printable to the jars.
Tutorial: adventure
Firefly Mason Jar Lights: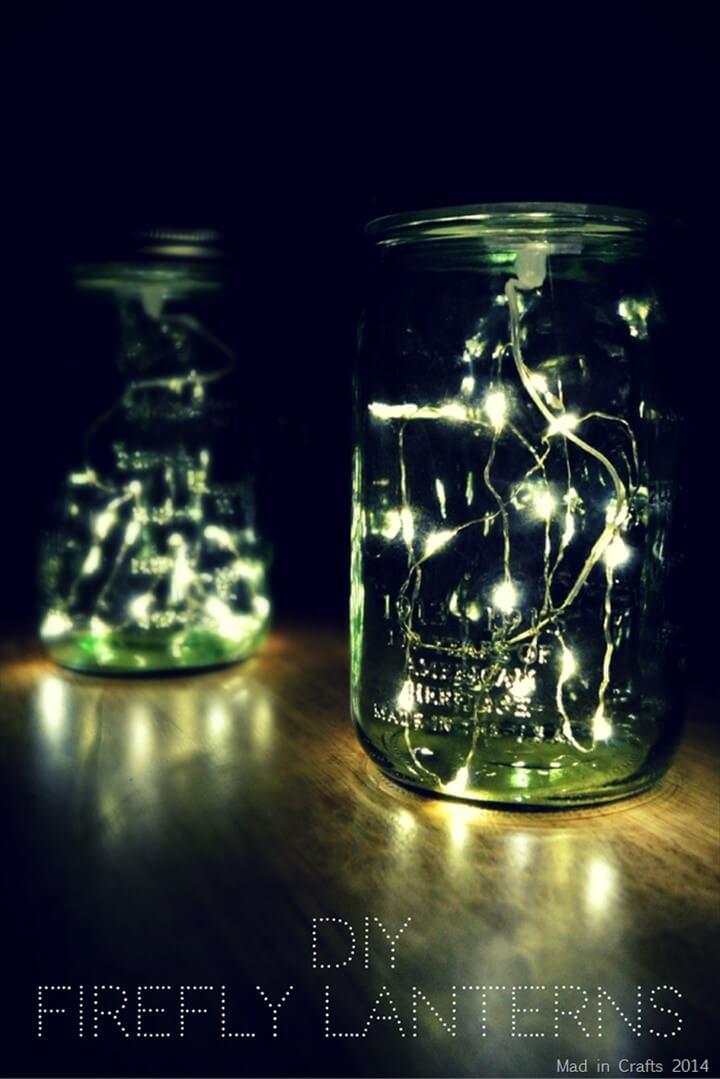 Here is another great firefly Mason jar light idea to blow your mind. The lovely firefly mason jars are made with the green painted mason jars, LED supported string lights, and the foam mounts. You are going to feel like sitting in the company of the fairies with these lovely firefly Mason jar lights. So do make some!
Tutorial: madincrafts
How to Make Super Easy DIY Outdoor Lighting: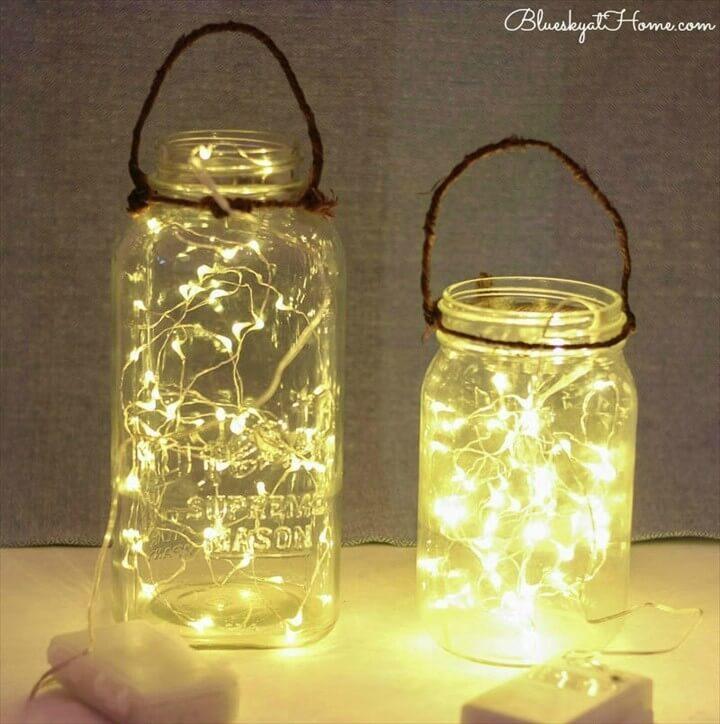 Make your outdoors look the best with these easy DIY outdoor lightings. They are super easy and fun to make with easy things lying around. So you need big mason jars to incorporate the battery supported lights and the copper wires to make them hang over the garden trees.  Catch all the details right here!
Tutorial: blueskyathome
Make Magical Fairies in a Jar: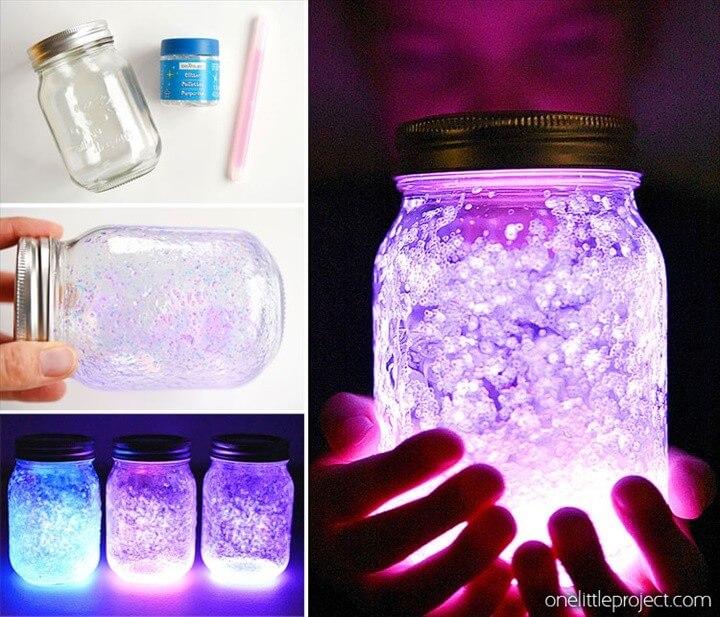 These lovely magical fairies in a jar look like you have caught so many fireflies in one jar. You need only three listed supplies to make these adorable magical fairies in a jar. One glow stick, a mason jar, and clear white glitter to add more to the charm and beauty of this jar. You can get more creative with the embellishing.
Tutorial: onelittleproject
Mason Jar Sconce: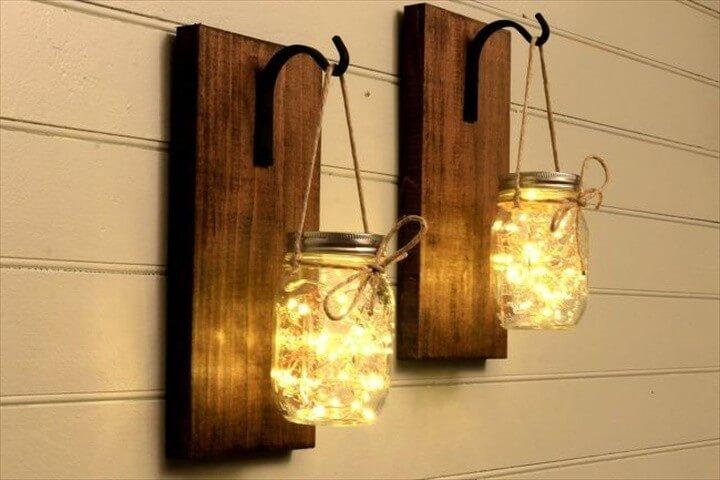 Even the mason jars can be elegant and beautiful to light up your spaces. Here are these Mason jar sconce projects to lift up the charm of your spaces. So grab some wooden boards, some old scones, and the mason jars to create these lovely walls mounted lights for any of your spaces. Check out the details here!
Tutorial: hometalk
Snowy Pinecone Candle Jars: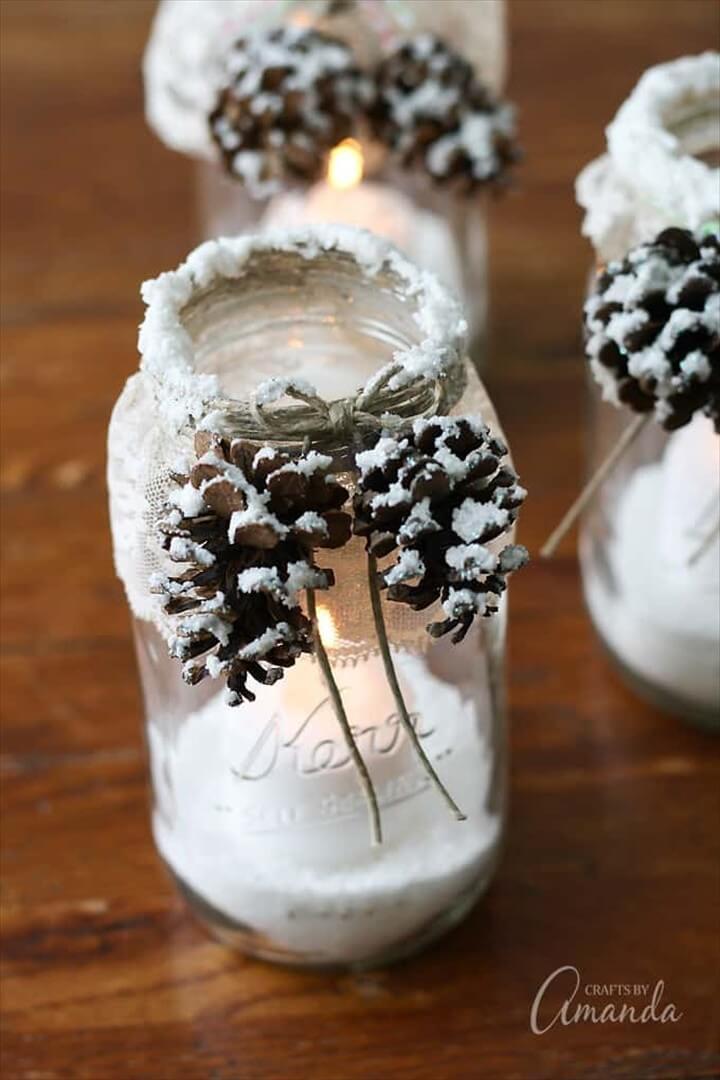 Get your hands on these adorable snowy pinecone candle jars to bring some fairy house charm to the winter décor. So get your hands on the jars, glue them up to create the snowy touch with Epsom salt and bind the cones with twine and also pour some salt inside too. Get to know more about the project here!
Tutorial: craftsbyamanda
How To Make A Fairy Light Lantern In 5 Minutes: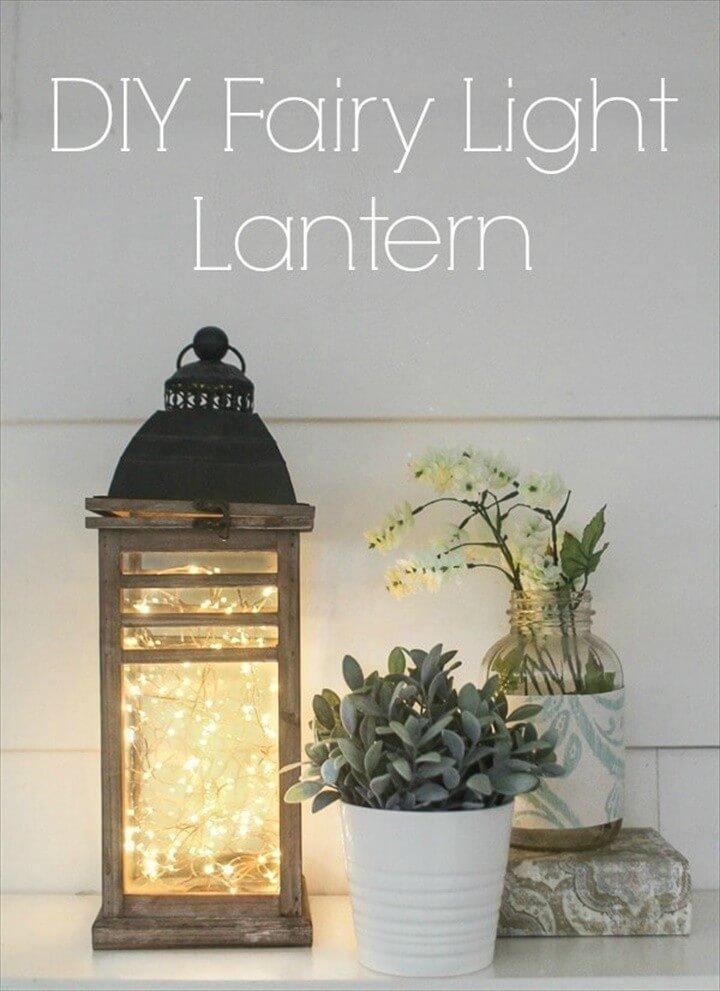 If you have an old wooden lantern lying around that you use for your candles then its to restyle it. Yes you can turn this fairy light lantern in just 5 minutes only. All you need to do is just replace the candle with the strings of the fairy light and that too in bundles. This would make a great welcoming addition to the foyer.
Tutorial: lovelyetc
Mason Jar Solar Lights: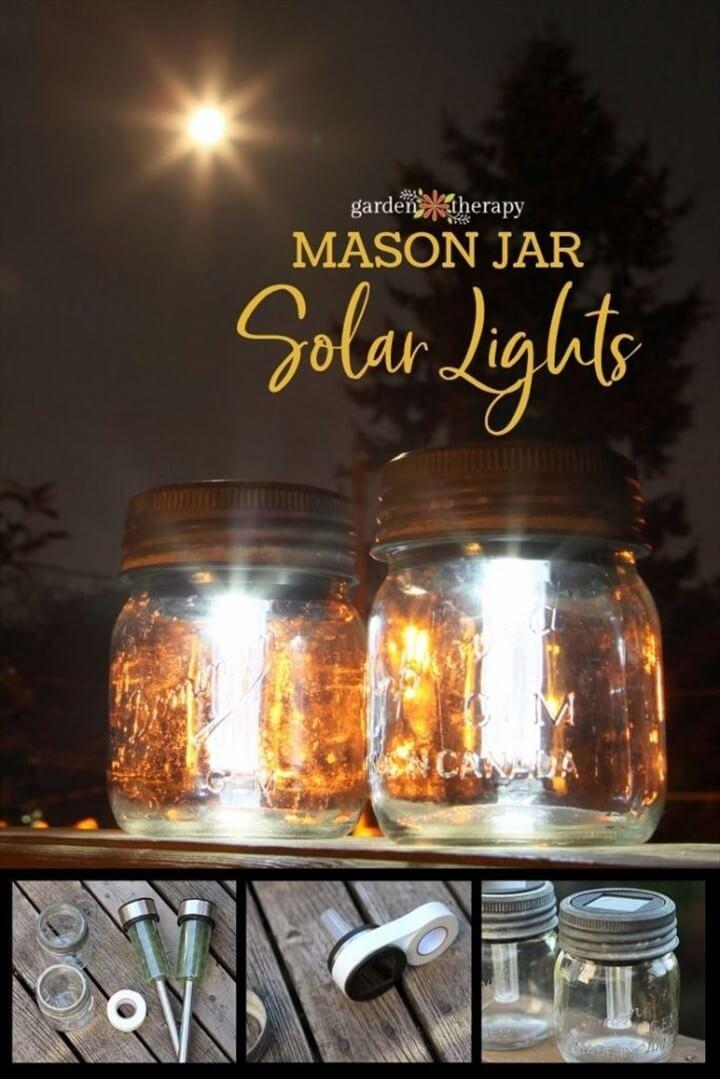 Make the most of your sun coming to your yard with this lovely Mason jar solar lights. These are so simple to install on your own and enjoy the light with energy-saving. So grab two mason jars and fill them with the solar lights. You would also need some glue or the tape to install this solar light system in your yard or patio. More details here!
Tutorial: gardentherapy
Mason Jar Fairy Lantern: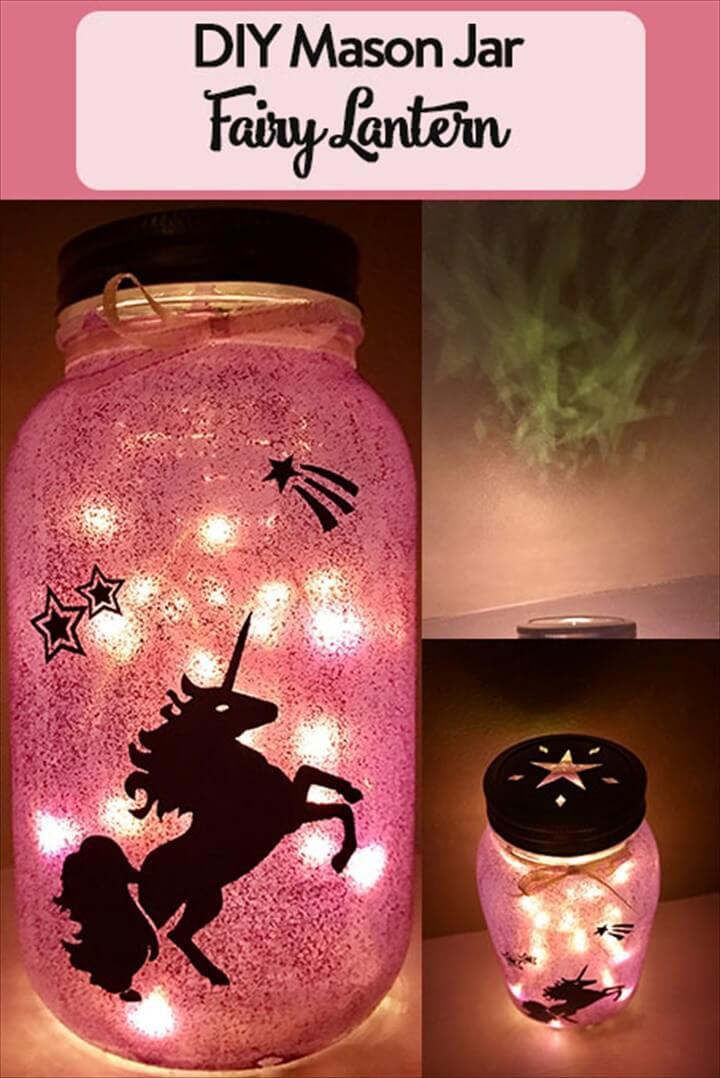 With fairies come the unicorns and these mason jar fairy lanterns are the best things to make for the purpose. The lovely unicorn is made out of the vinyl so you would need a circuit for that. Also pink paint and the glitter and some ribbon for an extra touch of embellishing and décor. Check out complete details here!
Tutorial: theinspiredhome