Women are super interested in their home décor makeovers and interior styling. They are always in the search of ideas and hacks to try something fun with their home beauty and lift it up. To help out the ladies we have brought to them these 8 DIY Home Decor Ideas With Vase which are quite cheap and simple to do at home. These lovely DIY vases are going to funk up your home décor with their quirky appeal. Also, they are super fun to do at home so along charming up the homes they can be the best projects to bust your free time.
With simple and non-expensive crafty supplies you can afford these lovely DIY vase makeovers. By simply wrapping a rope around your vases you can jazz up their look for the décor. Or you can paint them with a variety of colors and paints to get the desired look and style. Those who want some boho and modern chic kind of vases can try those lovely geometric shaped paper vases. To work more hard for a personalized vase you can get your hands on the plaster and some of the wasted cardboard. All these pretty vase ideas have their details attached via links below each.
DIY Paper Flower Vases:

The modern décor lovers are going to fall in love with these lovely paper flower vases. The gorgeous paper flowers have geometric shapes with straight lines and pretty colors. They are perfect to make a chic display over your foyer tables, mantles, and even on the shelves.
Tutorial: paper-shape
How to Make Beautiful Flower Vase With Cardboard:

It's hard to believe that this stunning and gorgeous vase is made out of the cardboard. So if you have cardboard then make this pretty vase and bring loads of beauty and appeal to the spaces. The green leaf painted vase with some metallic paint artwork in gold can catch the eyes of anyone around.
Tutorial: youtube
Plaster Flower Vase DIY:

Handmade items are always more close and dear to our hearts and so is the case with this gorgeous plaster flower vase. A balloon has been used with the plaster mixture to shape up this lovely round flower vase. Paint the vase once it's dry and you can use your favorite paint hues and the patterns for the purpose.
Tutorial: simplyhandmadestudios
Colorful Gradient DIY Flower Vases Idea:

These gorgeous and colorful gradient DIY flower vases are going to bring oodles of charm and beauty of summer blooms in the house. The gorgeous colors of the vases are the beauty of these vases. The colors are strawberry pink, dark and light blue along with some pretty bright yellow. Do make these flower vases!
Tutorial: akailochiclife
DIY Watercolor Vase Tutorial:

If you have watercolors that your kids use no more than its time to put them in use and making this DIY watercolor vase is the best.  Just take your old plain vase and then put some watercolors in some water and dip out the vase out of it. This DIY watercolor vase is the best project to do for the summers.
Tutorial: truworthhomes
How to Make a Modern Textured Vase

This gorgeous bunch of the vases is the best thing you can DIY at home. The lovely bunch of the beer bottles has been turned into these awesome and chic looking vases with spray paint, puffy paint, and some paint. You can use any of the paint hues and any design to make these textured vases for your summer home.
Tutorial:
DIY Amazing Candy Cane Vase:

You can create a lovely centerpiece for your party table with this idea of candy cane vase. So grab a bunch of the candy canes and then glue them up around the vase with complete coverage.  Lastly, add flowers to this candy cane vase and it is ready to add oodles of charm and fun to your party décor.
Tutorial: livingwellspendingless
DIY Rope Wrapped Vase – Cardboard Tissue Box Turned Vase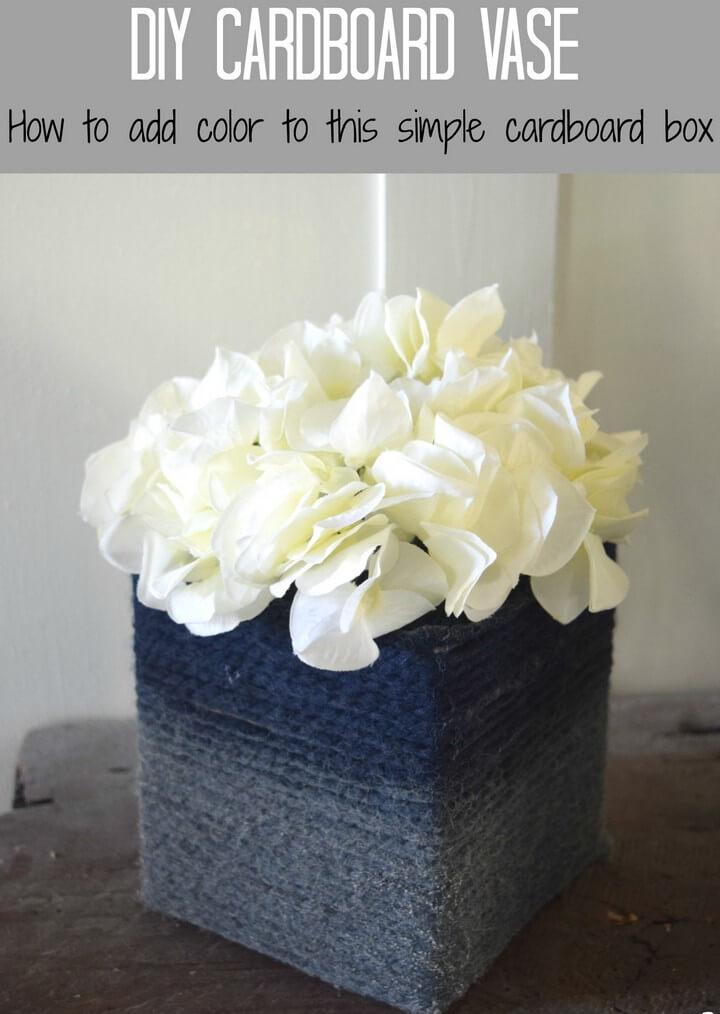 Give your home décor some DIY touches of beauty and appeal and this rope wrapped vase idea is great. So grab some lovely hued fabric rope or yarn from the market and wrap it around your vases and they are ready for a new and cute display. You can pick up the rope hues of your own choice while doing this rope makeover of your vases.
Tutorial: ourhousenowahome
If you liked this, you might also like: