Empty walls scream for the gorgeous and artistic creations to style up your spaces the way you want. So make your walls speak loud with the custom wall fashion using these 50 DIY Wood Pallet Art Ideas – How To Make A Wood Pallet Wall Art and that too with complete instructions. There are so many things that you can use to decorate your walls but the beauty that the wooden wall art pieces possess is special. There are natural charm and aesthetic appeal in the wood which makes these wood pallet art ideas so perfect and impressive for the home décor. So grab some pallet wood around and start working on your favorite pallet wood projects with easy instructions and tutorials here!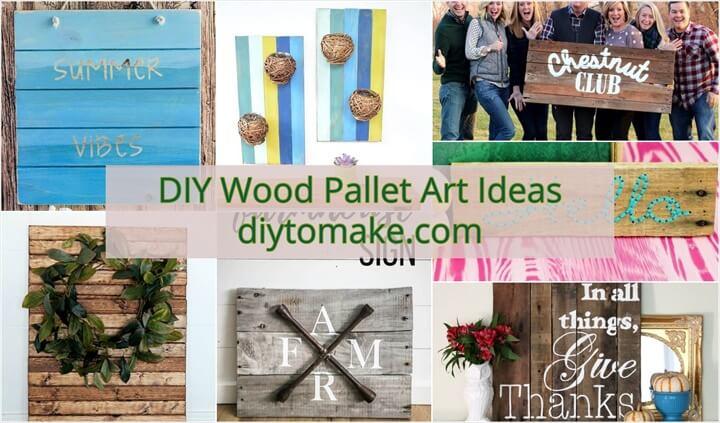 Another great thing about these pallet wood art pieces is that you can embed your personality and creativity in the ideas to let them come out more stunning. There is a variety of ways shown to yield some awesome wooden pallet wall arts. Firstly you can add anything to the wooden pallet frames to meet the décor needs of your house like antique maps, antlers, scones, and desired shapes. Then you have the choice to make some custom wooden sign for any of the celebration and festive, written off with your favorite words and quotes. Also, you can make adorable wall signs as gifts for your parents. A lot of ideas hint at the techniques of string art, printing, stenciling, painting, carving and the cutouts to let you work your wall art in any of the ways you like. Explore this pallet wood wall art collection below!
You May Also Like:
DIY Wood Photo Pallet: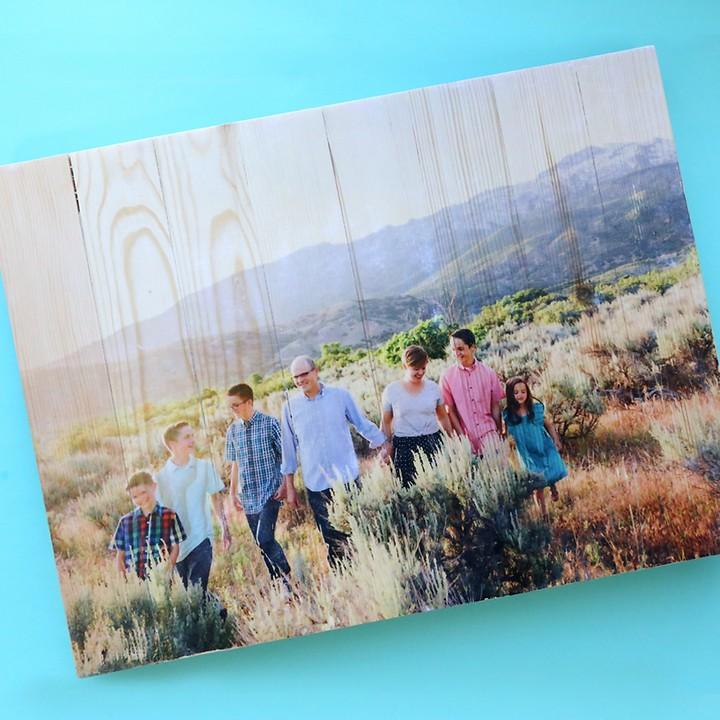 We love adding photo frames to the walls of the house to let them tell stories of our favorite moments. Now you can use this idea of DIY pallet wood photo frame to bring not only memories but a rich style and décor to your spaces too. Details here!
Tutorial: itsalwaysautumn
Easy Decoupage Wood Pallet Signs: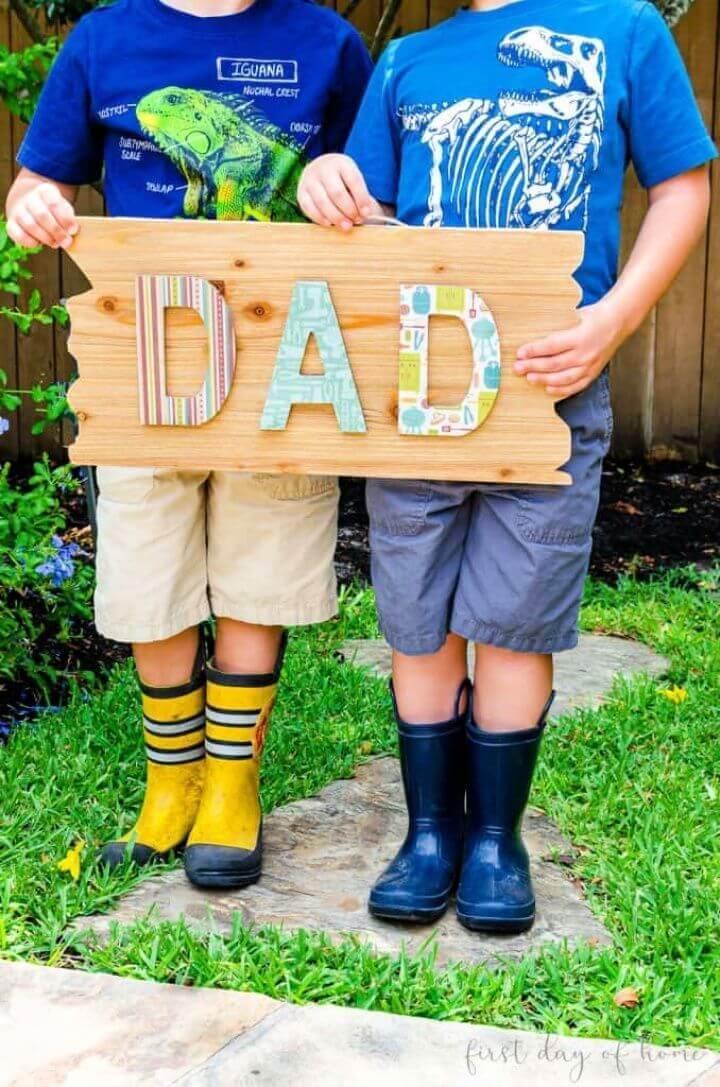 Create this easy decoupage wood pallet sign saying DAD to create the perfect gift for your father on his birthday or Father's day. You need some pallet wood pieces to form the frame first. Then add scrap paper-wrapped letters to this wooden pallet frame and your sign is ready. Details here!
Tutorial: firstdayofhome
DIY Wood Pallet Art – American Flag: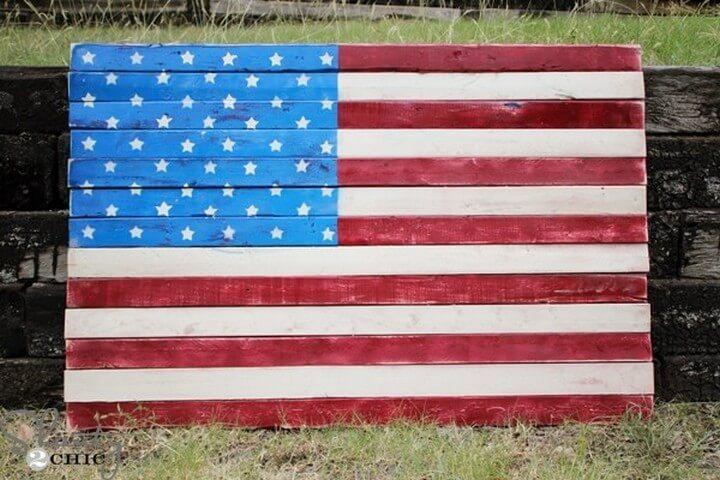 Celebrate the Independence by making this wooden pallet American flag sign that is all about making a big rectangular board out of pallets! You can quickly make one using pallet wood slats, next paint it in country flag colors!
Tutorial: shanty-2-chic
DIY Wood Pallet Owls Art: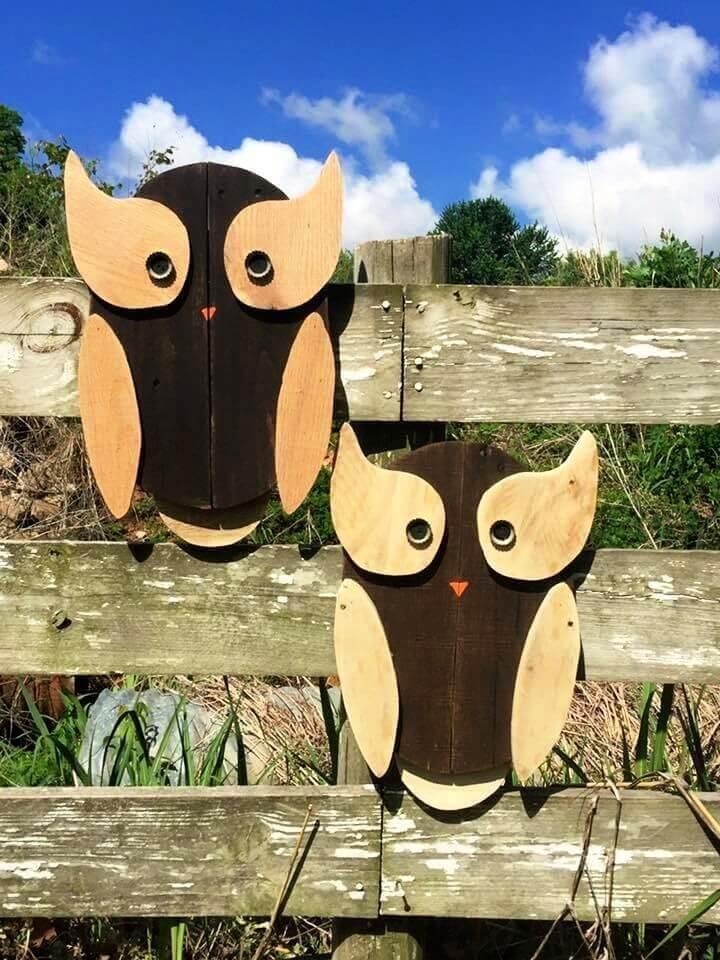 Take your pallet wood game on a whole other level with this super cute and fun craft of the DIY wood pallet owl art. The gorgeous giant owls look sitting on the walls of your patio or the garden. So get some pallet wood and the rustic paint hues to easily work up this wall art project!
Tutorial: 101palletfurniture
DIY Wood Pallet Arrow: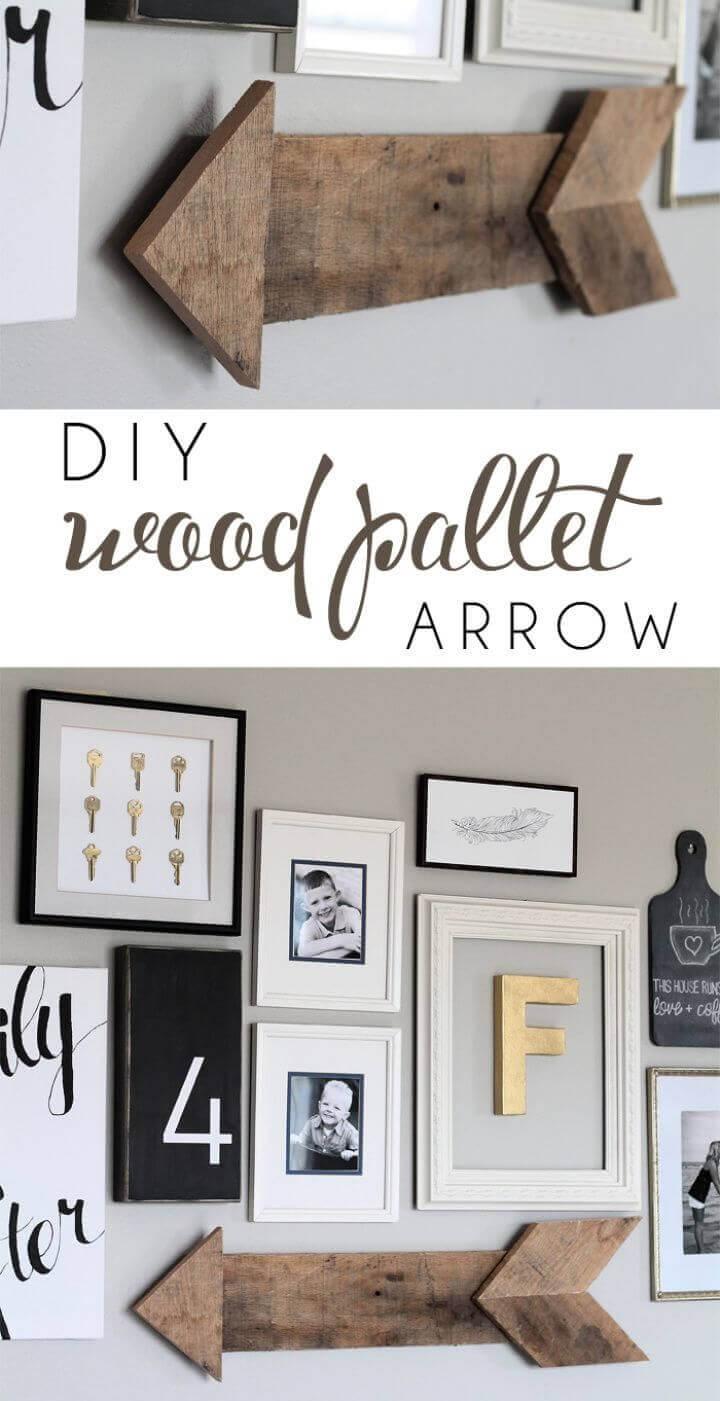 Add some rustic vibes to your living room walls with this gorgeous wooden pallet arrow. Just cut out the arrow parts from the wooden slats and then glue them together. You can either keep intact the woodish appeal or you can paint it up to match the décor vibes too.
Tutorial: lovegrowswild
DIY Wooden Pallet Arrows: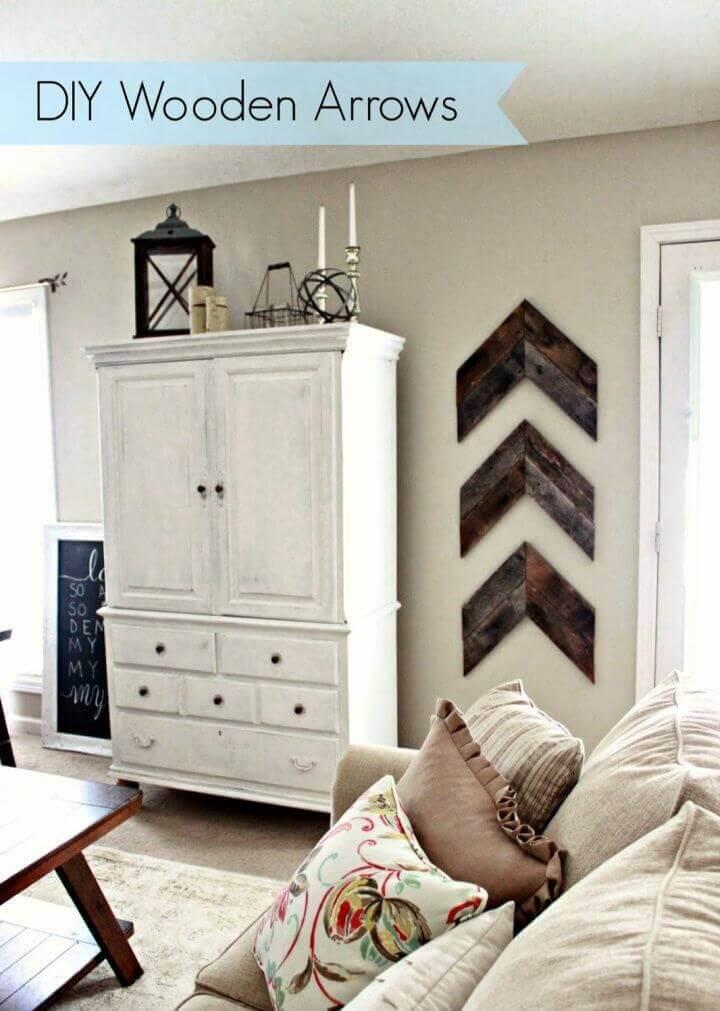 A little touch of wood can bring the beauty of warmth and nature to your home décor just like these DIY wooden pallet arrows. So grab some rustic pallet wood and cut out some small pieces out of it. Then bring together the pallet pieces to form the arrowheads and then mount them over your walls.
Tutorial: little-brick-house
DIY Jute Rope Love Wooden Pallet Sign: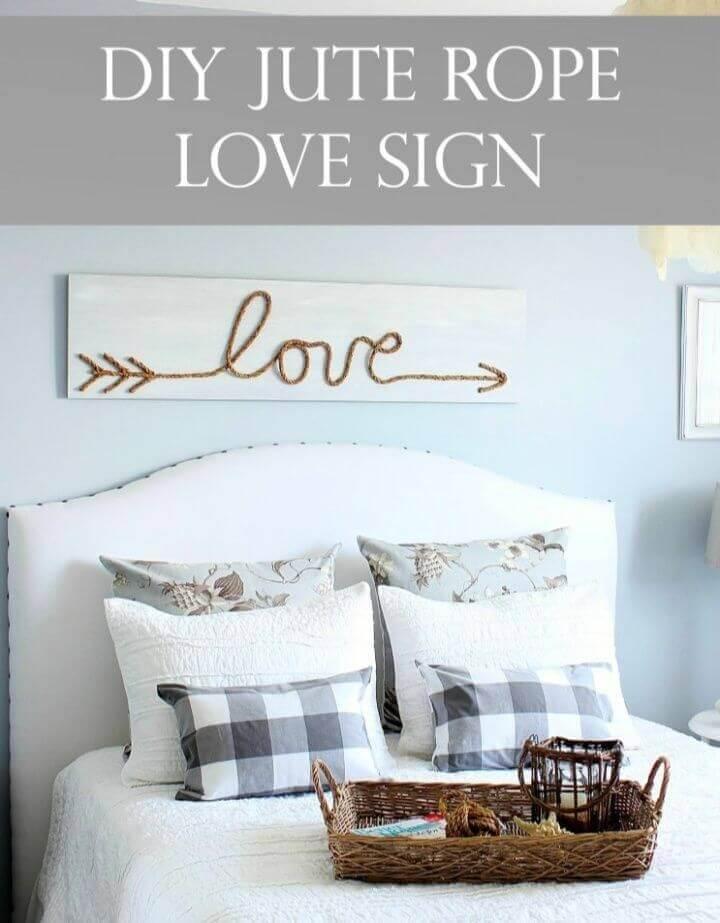 Your chic white bedroom is going to look more exotic and fun with this nautical DIY jute rope love wooden pallet sign. Get a wide and long wooden pallet board and create a love arrow sing on it with the help of the jute twine and the glue. You can mount it over the headboard or display it over living room walls too.
Tutorial: ribbonsandglue
DIY Wood Pallet HELLO Sunshine: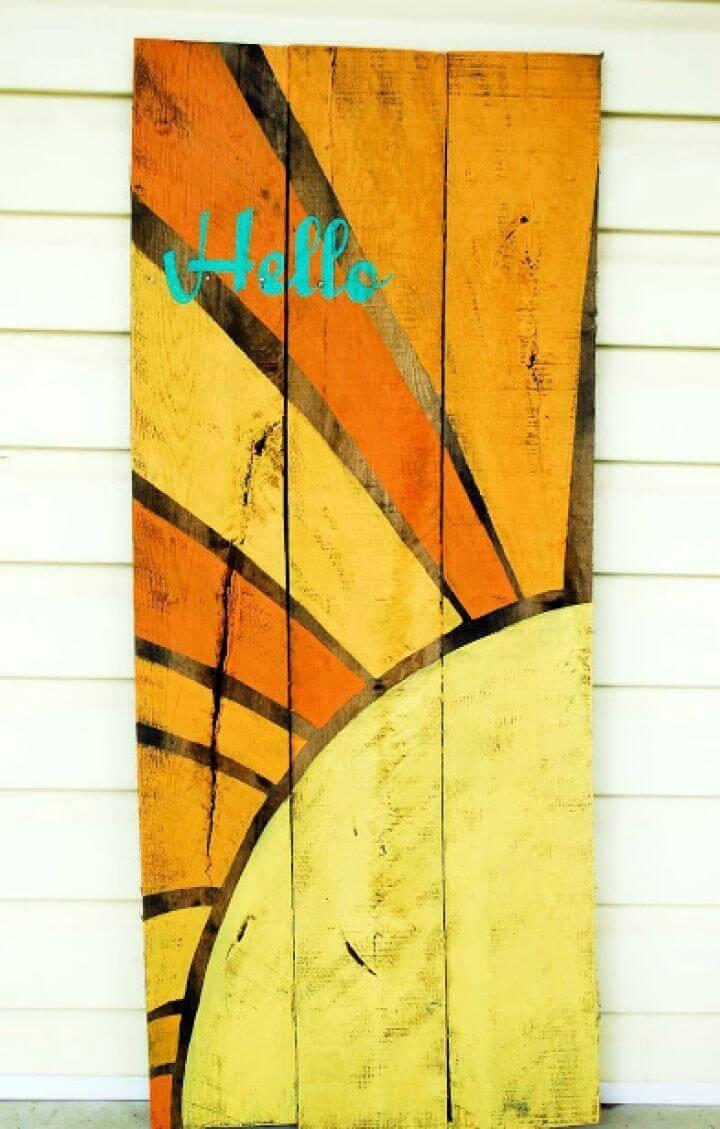 Welcome the summers for bringing the sunshine to your life with this DIY wood pallet Hello sunshine wall art. The wooden pallet wall art has a bright sun with gorgeous rays and on the top, it says Hello. This pretty wall art is the best for the indoor as well as outdoor wall beauty. Details here!
Tutorial: hymnsandverses
Wood Pallet Art: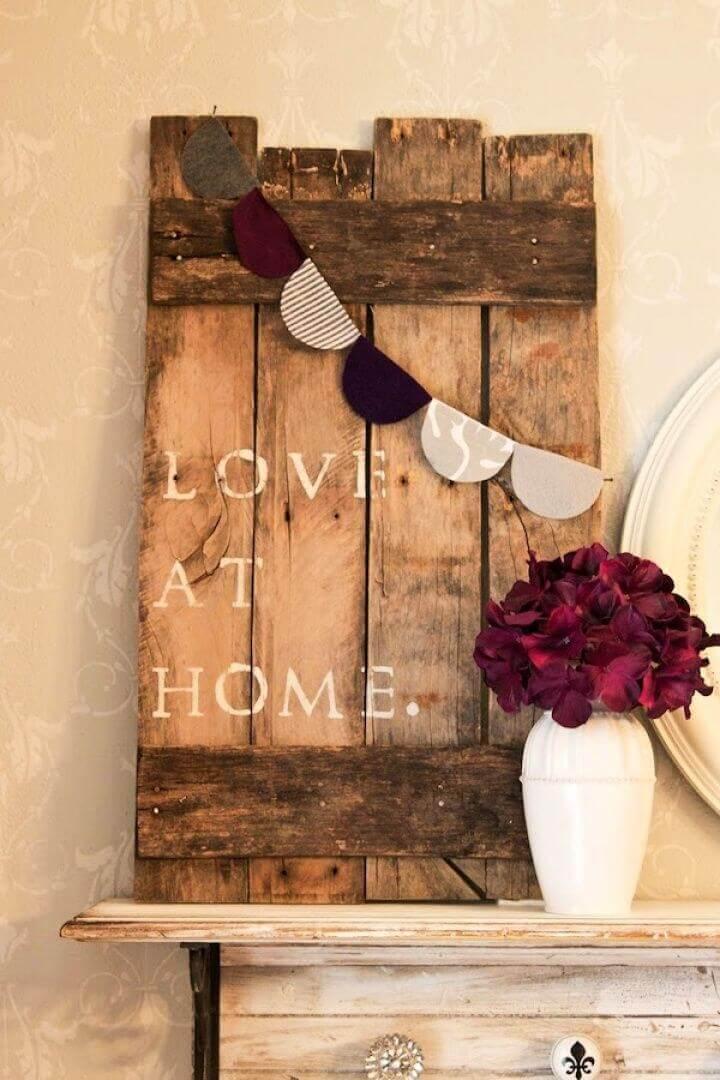 The pallet can make your some really simple yet impressive wall art pieces and this wood pallet art is the proof. A simple wooden pallet frame-like structure is adorned with a banner of fabric buntings to look just so unique and quirky. You can add it to the walls, tables or even the shelves. Follow the details here!
Tutorial: salvagedinspirations
Coffee Crate Lid Wooden Pallet Sign: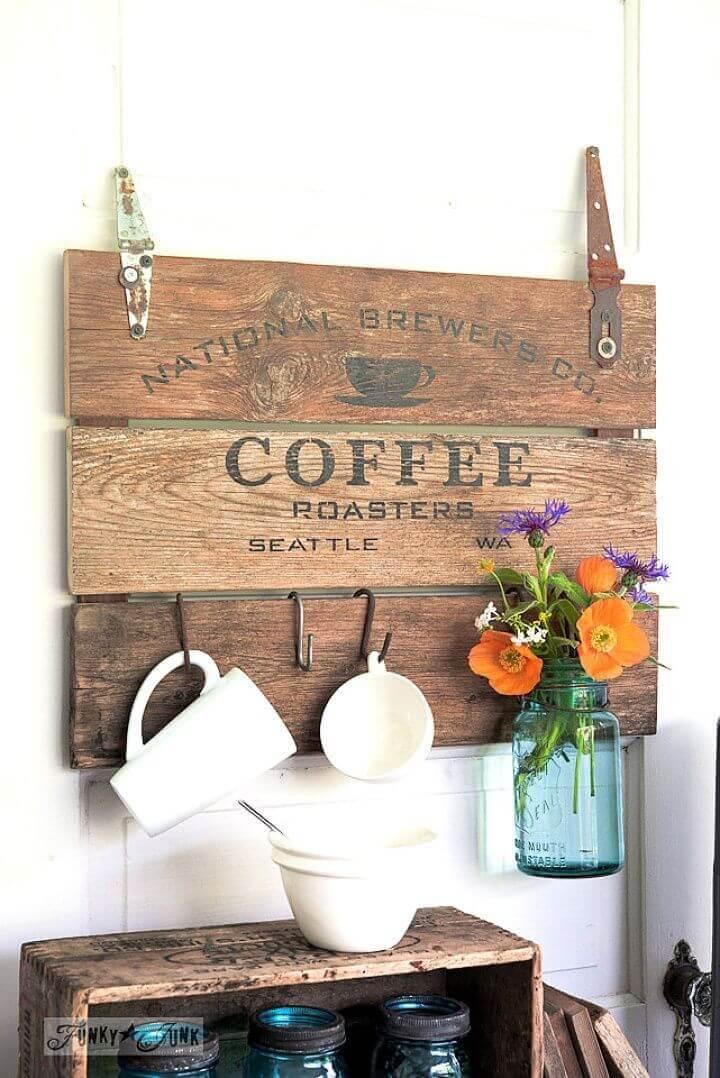 Bring some rustic beauty to your kitchen with this pallet board sign to be a part of your wall décor. The gorgeous pallet wood sign also holds coffee mugs and a lovely mason jar flower pot to look so pretty. The rusty S hooks are adding more to the beauty of this rustic pallet board sign.
Tutorial: colorsandcraft
How To Make A Pallet Sign Without The Pallet: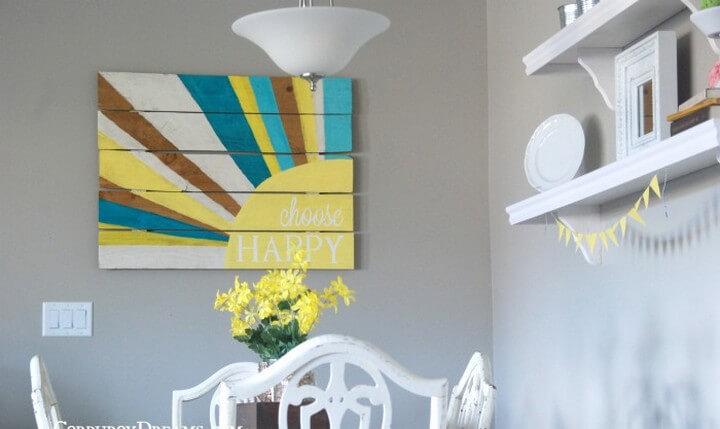 While being around your breakfast table, this pallet wood signs will wish you a happy good morning! Put together the leftover wood planks to shape up a pallet-like wood wall sign, next paint the sunrise art on it using paint in the colors you like! Hang with a better hardware system!
Tutorial: thecreativemom
Glass Bottle Wood Pallet Wall Vase: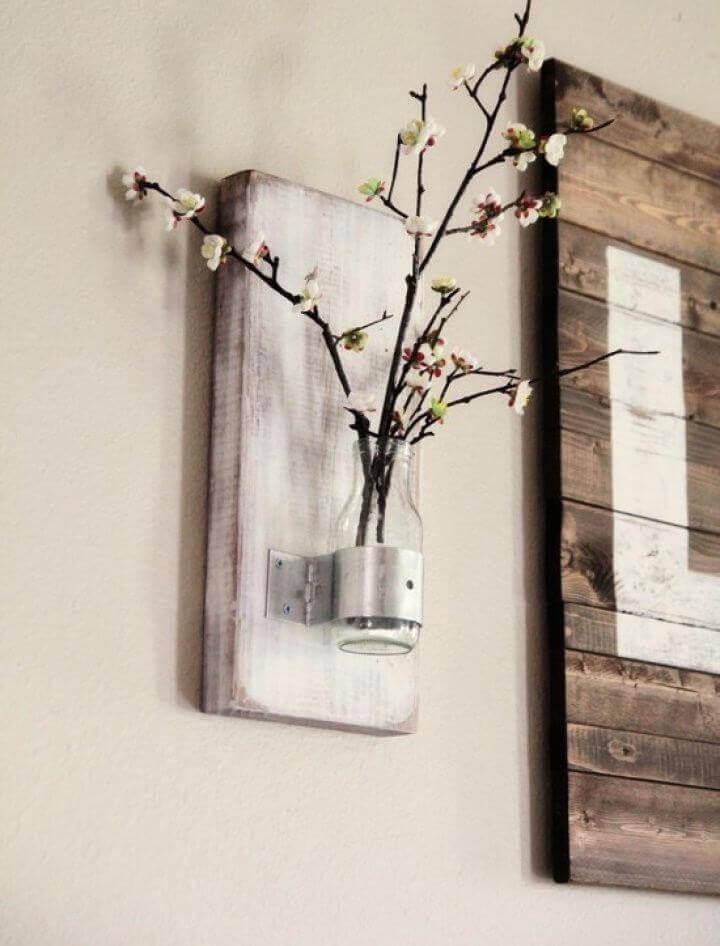 Enough of the vases on the tables and the shelves as you can now adorn your walls with the vases too. Her e is the idea of mounting your gorgeous glass bottle vases with the pallet wood and creates an artistic look of your wall. The idea is super easy, simple and cheap to work on. Details here!
Tutorial: shanty-2-chic
Wooden Pallet Wall Art: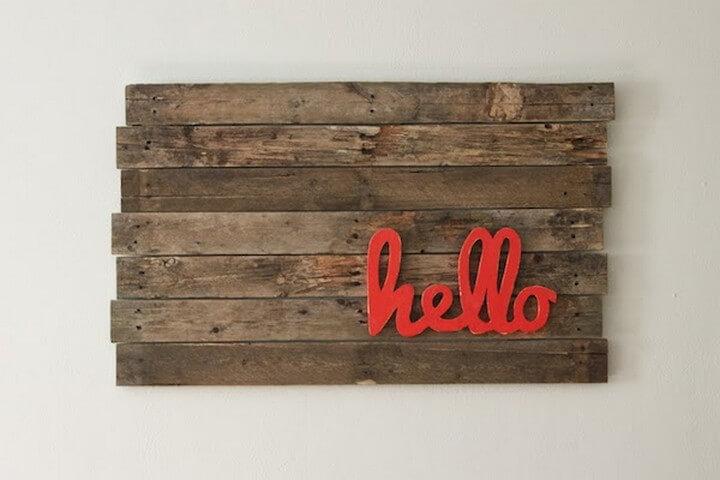 Grace your walls with this gorgeous wooden pallet wall art. The lovely pallet wall art is so easy and fun to make with just a few supplies. By putting together some pallet planks you can easily shape up the wooden canvass. Then lastly add the red-painted word Hello and its ready to rock your décor!
Tutorial: colorsandcraft
DIY Vertical Wood Pallet Garden Update: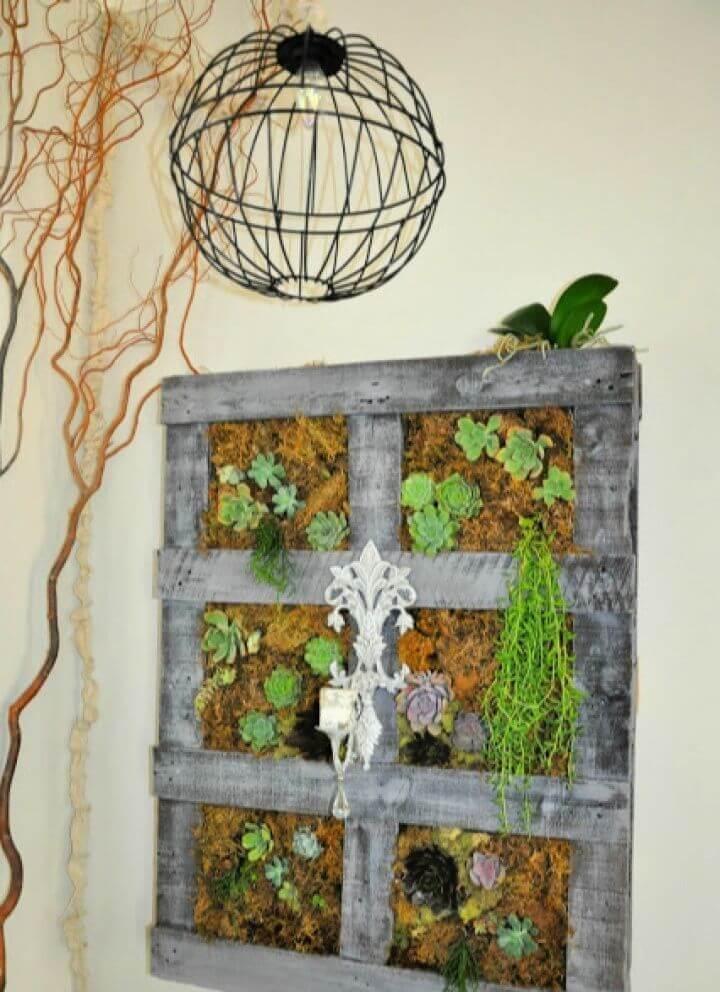 If you have pallets around then you can exercise your green thumb with them. So grab the pallets and make this lovely DIY vertical wood pallet garden for your places. You can not only save your space and money but also add oodles of charm to your garden décor too. Check out the details here!
Tutorial: anythingologyblog
DIY Celebrating Shark Week Pallet Shark: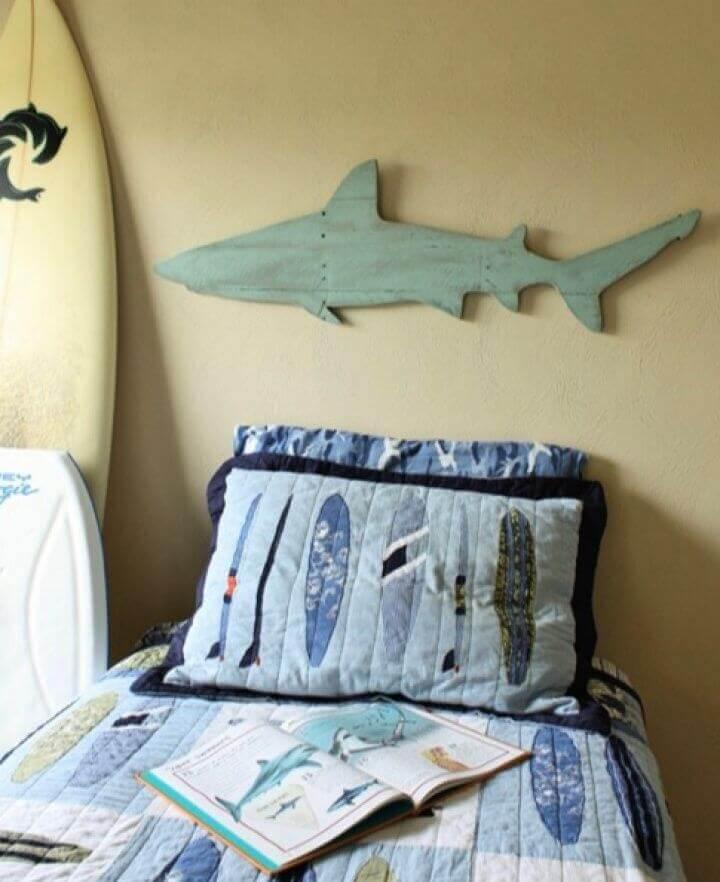 If you are looking for wall art for your kid's room then making this lovely DIY pallet shark is the best thing to get your hands on. On a wooden pallet, you can trace your shark and then finely cut it out. Lastly, paint it blue and it's ready to hang over your walls especially over the headboard. Details here!
Tutorial: sandandsisaL
How To Reclaimed Wood Pallet Pumpkin: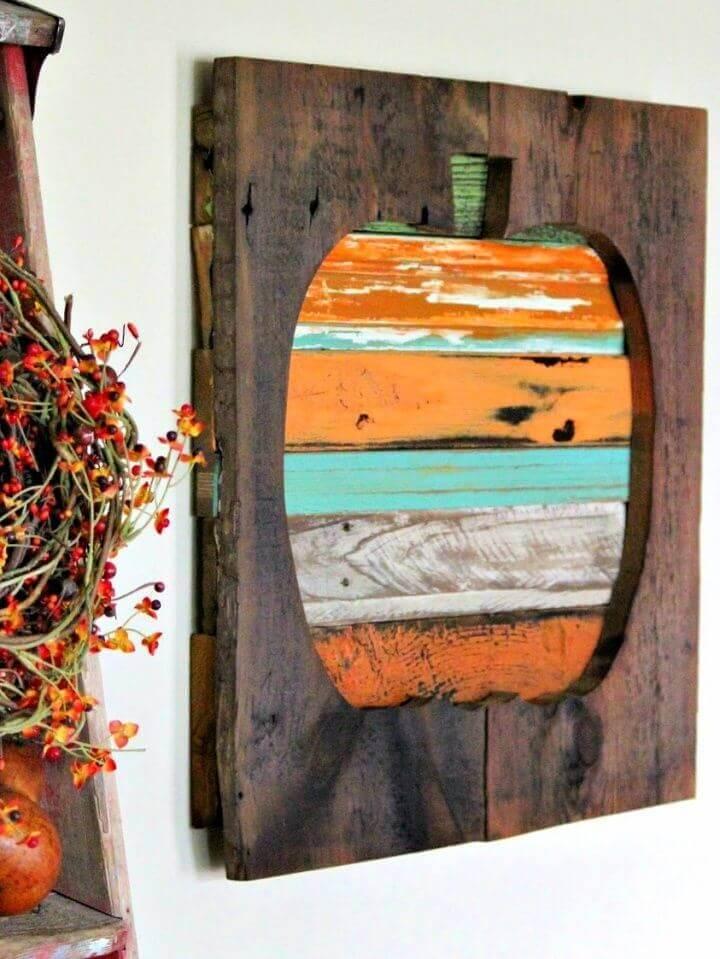 Make your walls ready for the fall with this gorgeous and pretty wood pallet pumpkin art. You need two frames to make this gorgeous pumpkin wall art. One frame has the pumpkin cut out and the other has the gorgeous shabby chic paint hues to be seen through the pumpkin. Details here!
Tutorial: beyondthepicket
DIY Woodland Pallet Sign: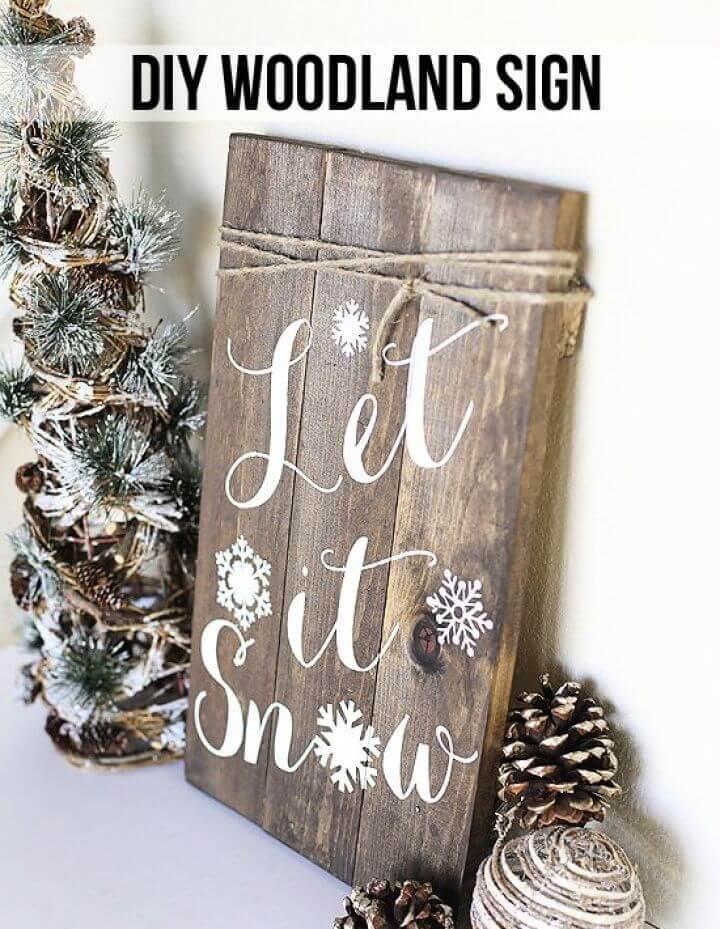 Make your winter homes more enchanting with the addition of this DIY woodland pallet sign. By stacking a few pallet planks together you can easily shape up the wood frame. Then paint some snowflakes and add words saying Let It Snow to make it a perfect fit for the winters.
Tutorial: blesserhouse
How To DIY Pallet Board Sign: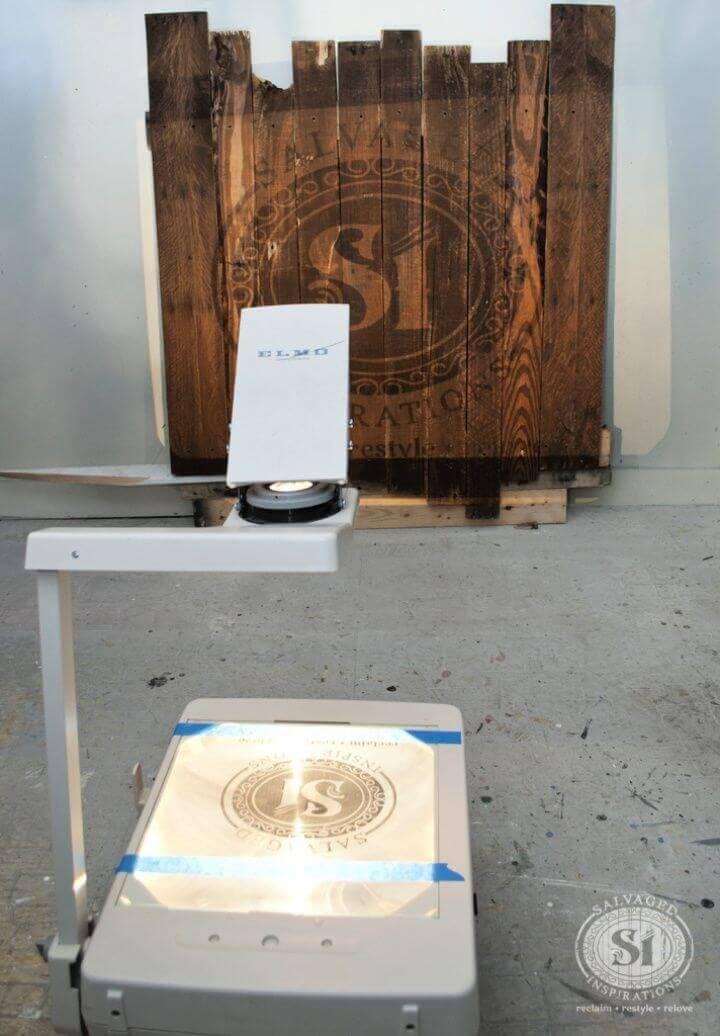 If you have some pallet wood lying around then you can make some pretty wall art pieces to make your walls look impressive and interesting. Using the wooden crates you can make this lovely wood sign and make it a part of the wall décor. Check out the décor here!
Tutorial: funkyjunkinteriors
DIY Reclaimed Wood Pallet Star: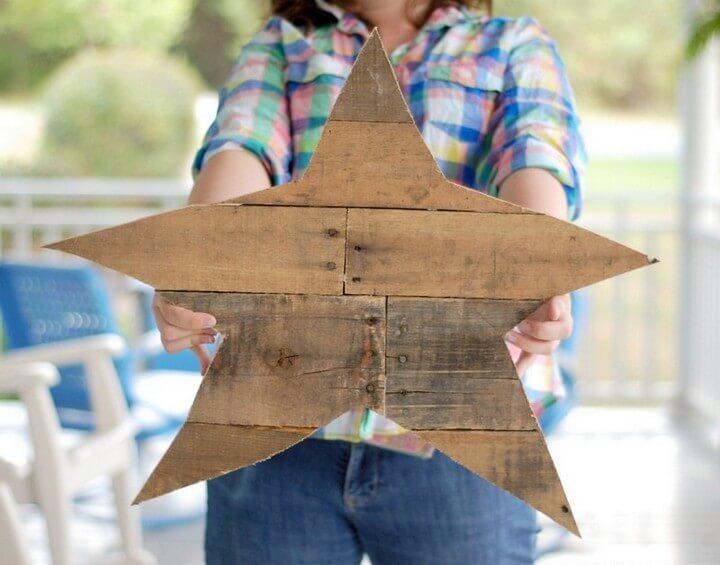 This big wooden star is going to make your outdoor spaces shine in décor and beauty. Just get some reclaimed pallet wood and cut out the star sections with the help of a template. Finally, pull together all the pieces and complete your star. You can also paint it but it looks gorgeous in that wooden appeal too.
Tutorial: mysocalledcraftylife
DIY Mini Pallet Valentine's Day Art: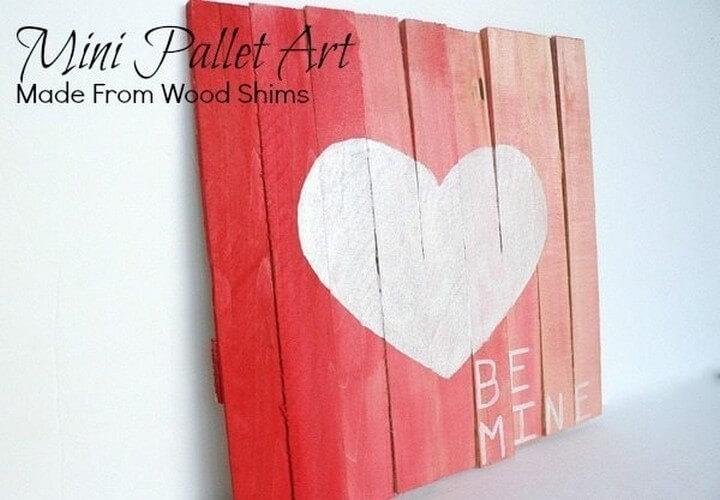 The month of February is coming and you all will be excited about Valentine's Day. So do pour some love in your home décor too with this adorable DIY mini pallet Valentine's Day art. Using some pallet wood planks, red and white paint hues you can easily create this lovely heart wall art sign.
Tutorial: tarynwhiteaker
DIY Happy Easter Wood Pallet Sign: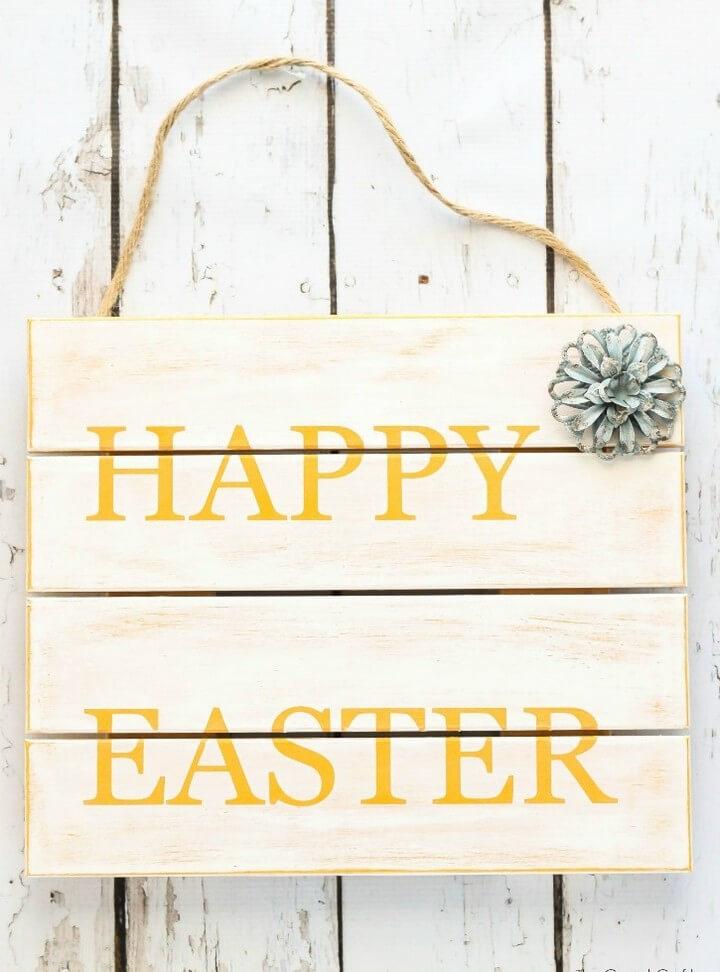 This gorgeous DIY happy Easter wood pallet sign is the perfect summer delight for your décor. The brightness of the yellow and white hues is sure to bring utter freshness and happiness to your spaces. You can either hang it over your inside homey walls or make it display over the doors too. Details here!
Tutorial: thecraftingchicks
Beachy Upcycled Pallet Art: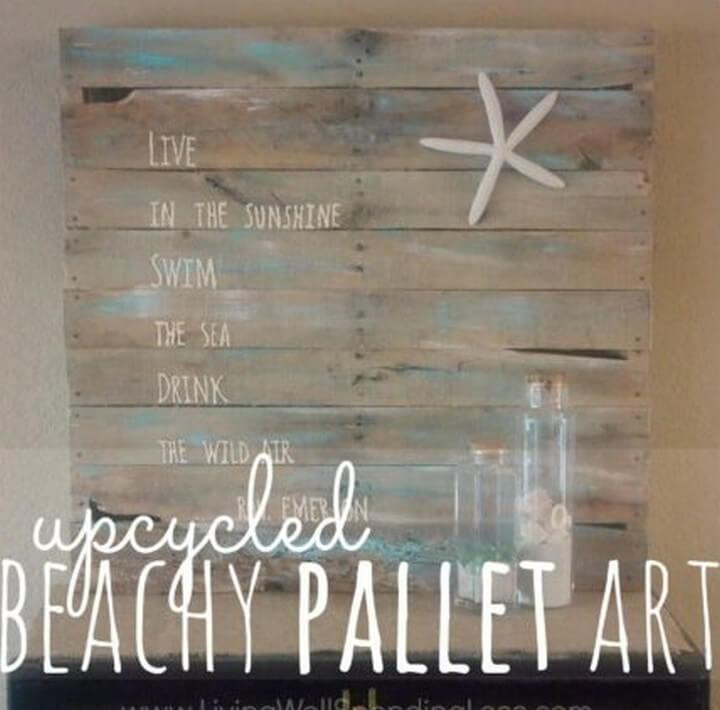 Bring the beachy vibes to your home décor this summer with this gorgeous upcycled pallet wood art. You need some pallet slats to form the basic wooden art with rough sanding and beachy hue look. Write off some fun beach quotes and add a starfish on the other side and it's ready to rock.
Tutorial: livingwellspendingless
Anniversary Date Driftwood Sign: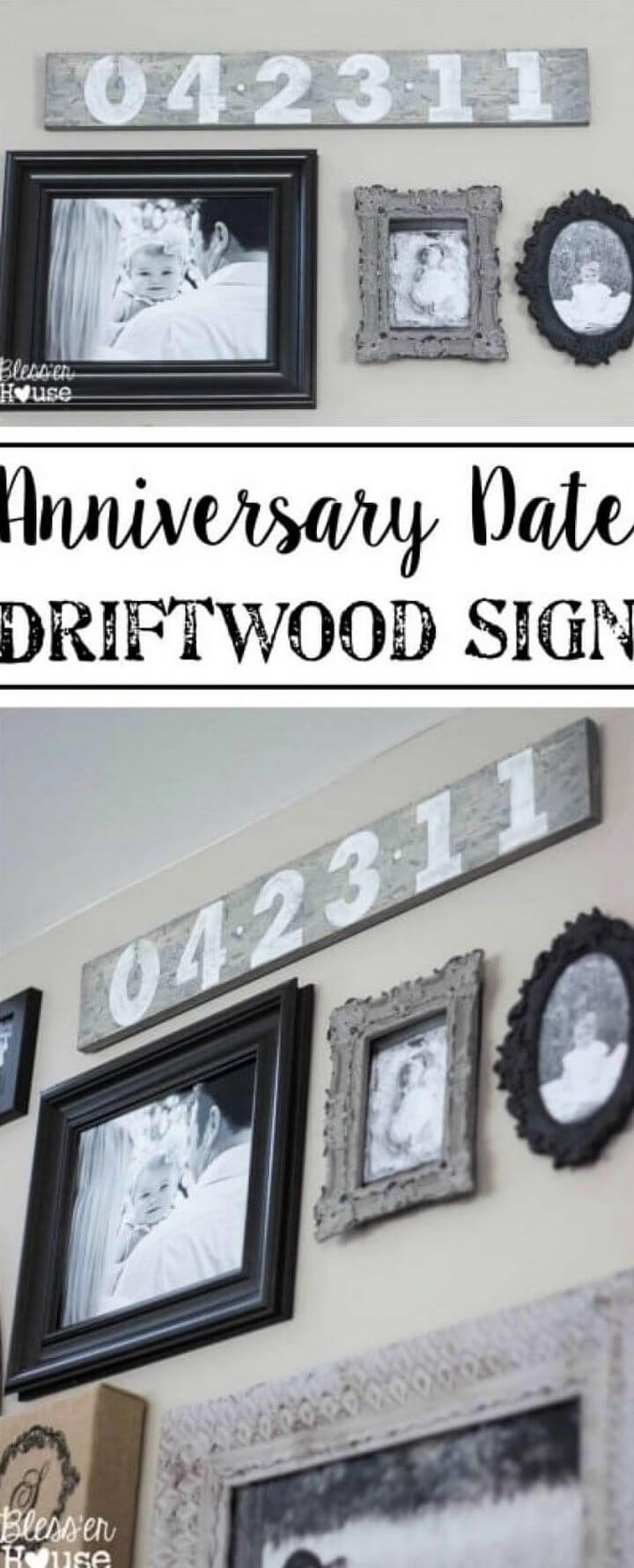 Make your wall art collection more custom and fun with this anniversary date driftwood sign. Just grab a big pallet wood plant piece and trace your anniversary date on it. Add paint to the date and it's ready to rock your wall décor with other wall art pieces. Check out the details here!
Tutorial: funkyjunkinteriors
String Art Using Recycled Wood Pallet Art: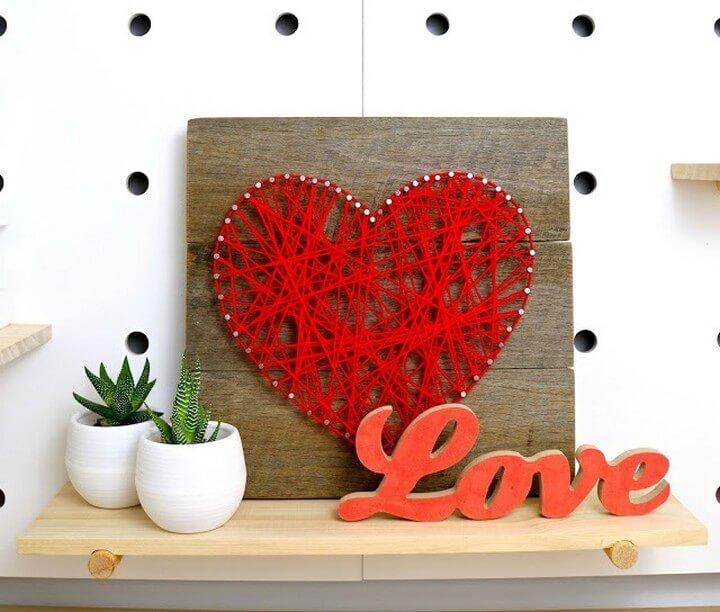 The valentine's day is approaching and here is this lovely string art using the recycled pallet wood. Either you can display this gorgeous red string heartwood pallet on the walls or over the tables. Just get a rustic wooden frame, some nails, and the red yarn string to create a lovely heart.
Tutorial: southerninlaw
How to Make a Plain Wood Board Look Rustic: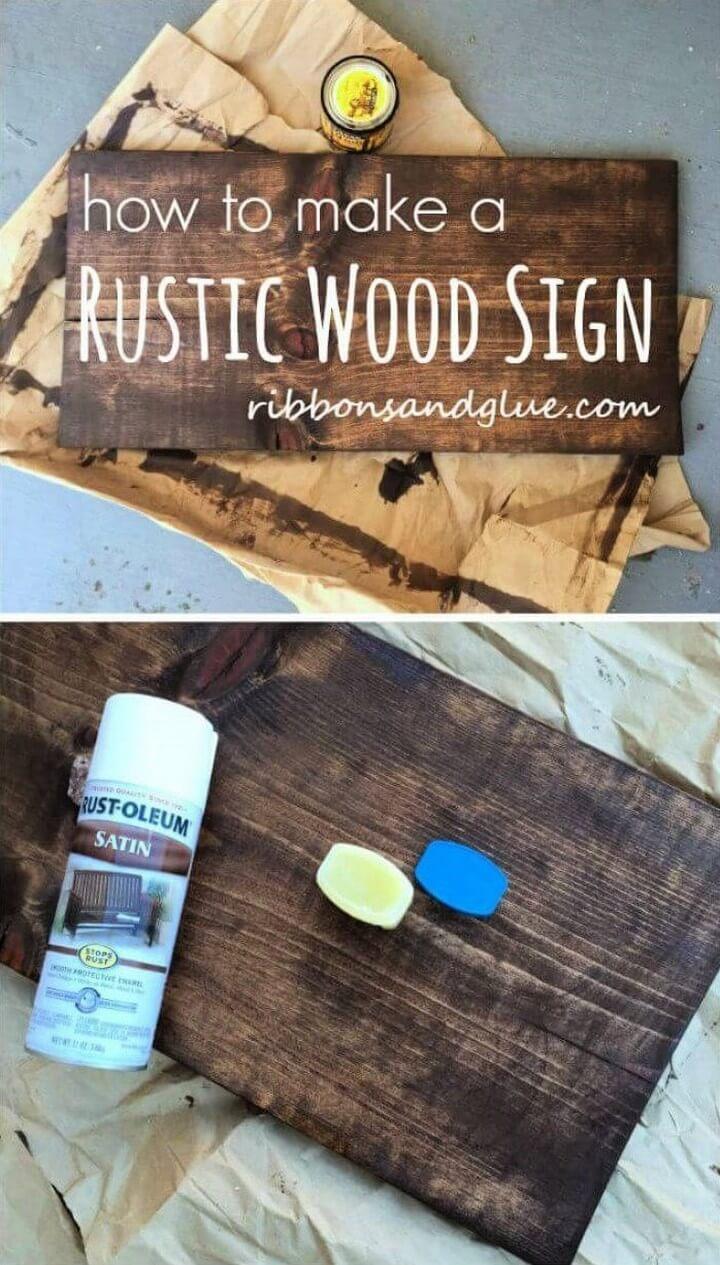 If you are also a lover of wooden wall art pieces then it's time to make one on your own. Yes instead of wasting a lot of money on the market bought wall arts you can now easily make one at home. Using some pallet wood slats and the rustic stain hues you can easily shape this plain wood art.
Tutorial: lifeasathrifter
Moss Monogram Door Wood Pallet Sign For Spring: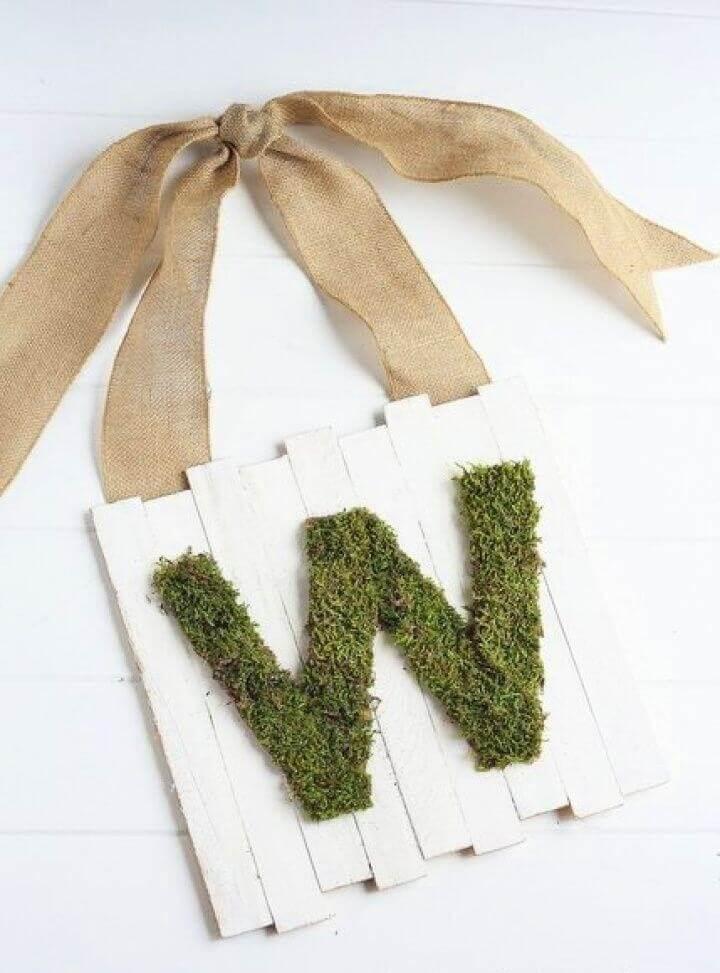 Hail the spring in the most intimidating way with this modern moss monogram door wood pallet sign.  Just glue together some pallet wood pieces to form a frame with all over white paint hues. Then get some moss and trim it with the letter W and then place it over the pallet frame. More details here!
Tutorial: tarynwhiteaker
DIY Wood Pallet Art: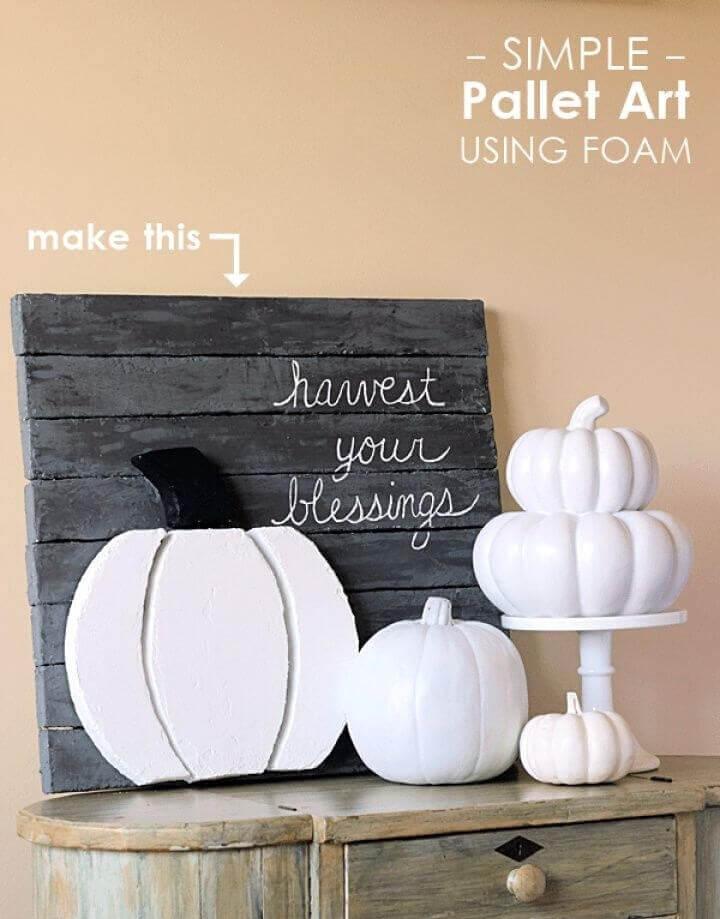 The season of fall brings you the fun festive with the pumpkin theme décor. So this time while you are getting done some lovely pumpkins ready for the décor you can add this DIY wood pallet pumpkin art too. Stack together some wooden planks, trace and cut out a pumpkin with a black and white finish.
Tutorial: rosyscription
Reclaimed Wood And Pipe Laundry Sign Hanging Station: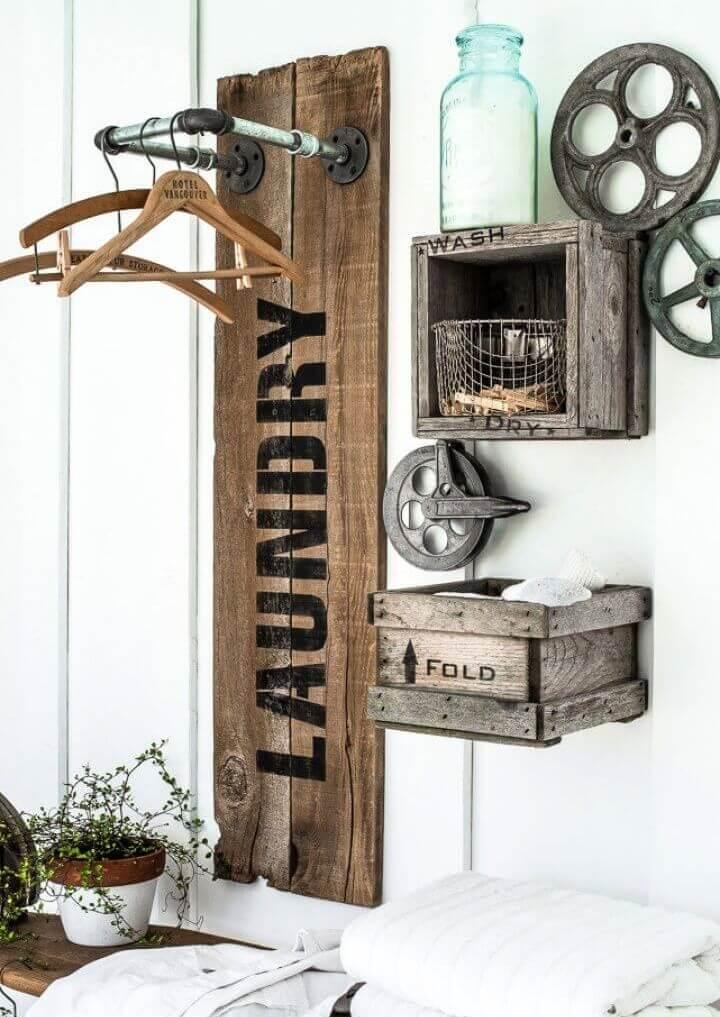 If your laundry space is an ignored one then it's time to spice it up a bit this time and that too with wooden pallets. So grab some pallet wood and the metal pipes to create this reclaimed wood and pipe laundry sign. This would work as a changing station for your ironed clothes. Details here!
Tutorial: livelaughrowe
DIY Signs That Look Like Pallet Wood: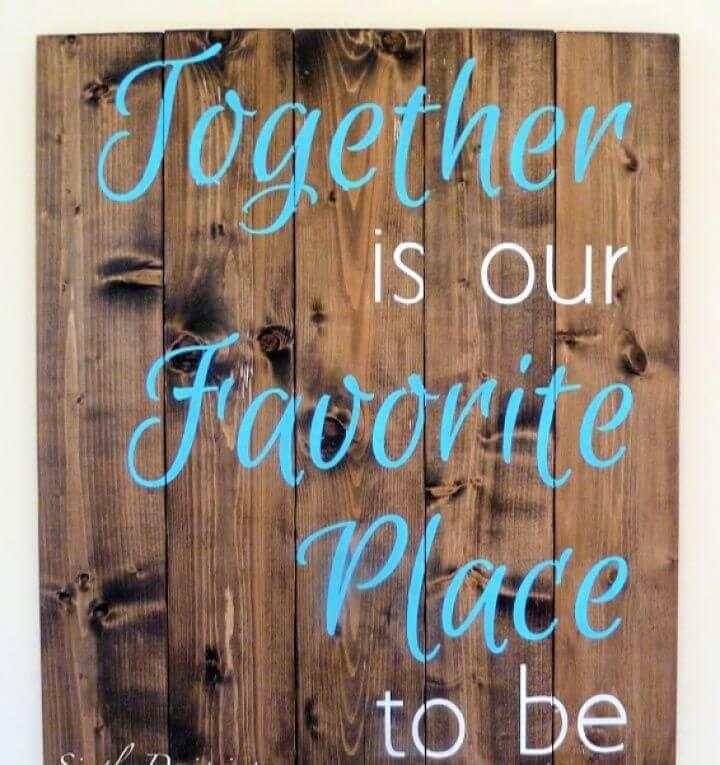 Your skills and tools can work like magic when combined. The same is the case with this DIY pallet wood sign made out of the pallets cutting tools and the silhouette machine to write off your quote on it. You can totally customize the pallet wood sign by changing the written words and quotes on it.
Tutorial: simplydesigning
DIY Pallet Photo Frames With Mod Podge Photo Transfer: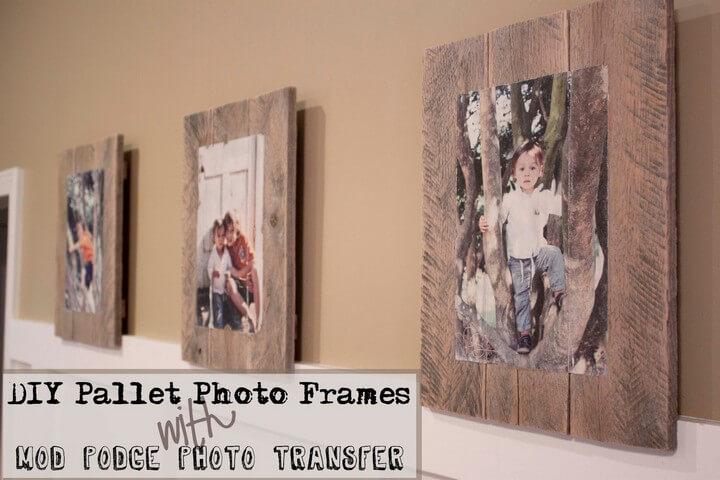 Make your walls look the liveliest with these handmade pallet photo frames with mod podge photo transfer method. So you need a bunch of the pallet planks to form the planks. Then you need your favorite images in digital print outs and some mode podge for the transfer process. Tutorial here!
Tutorial: southernrevivals
DIY Wood Pallet Wall Art: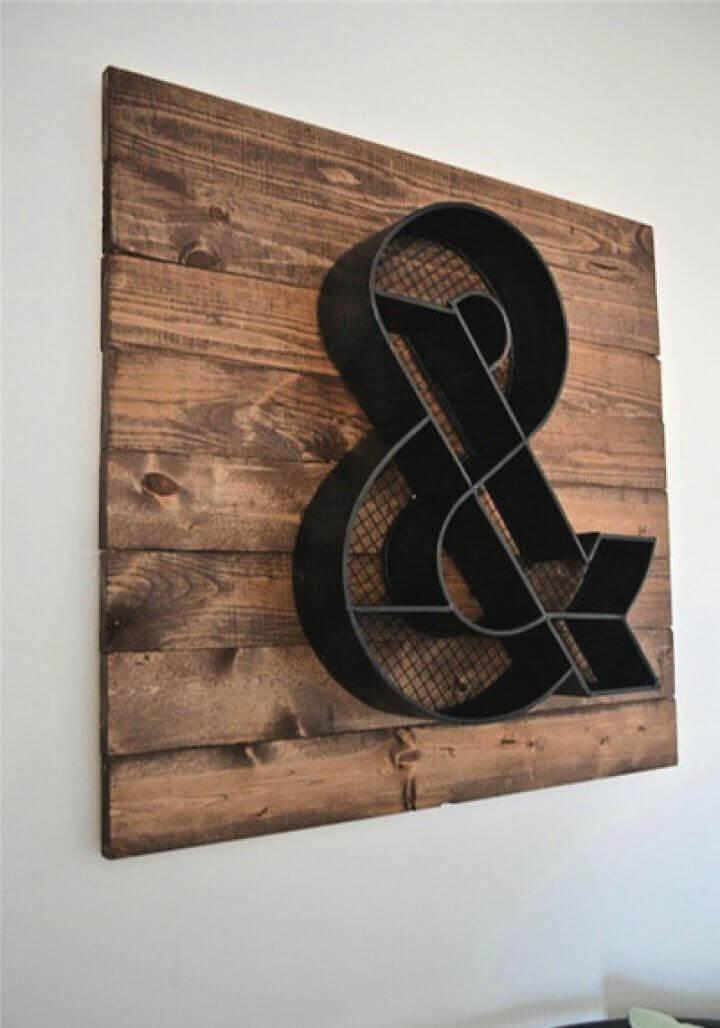 Add new dimensions to your wall art decors by making this 3D wooden pallet wall art! Put flat the torn apart pallet wood slats to shape up the background rustic wooden board and next mount the metallic ampersand letter art on its front! The best 3D decorations to make with pallets!
Tutorial: thewhitecottagefarm
Easy DIY Wood Pallet Frame: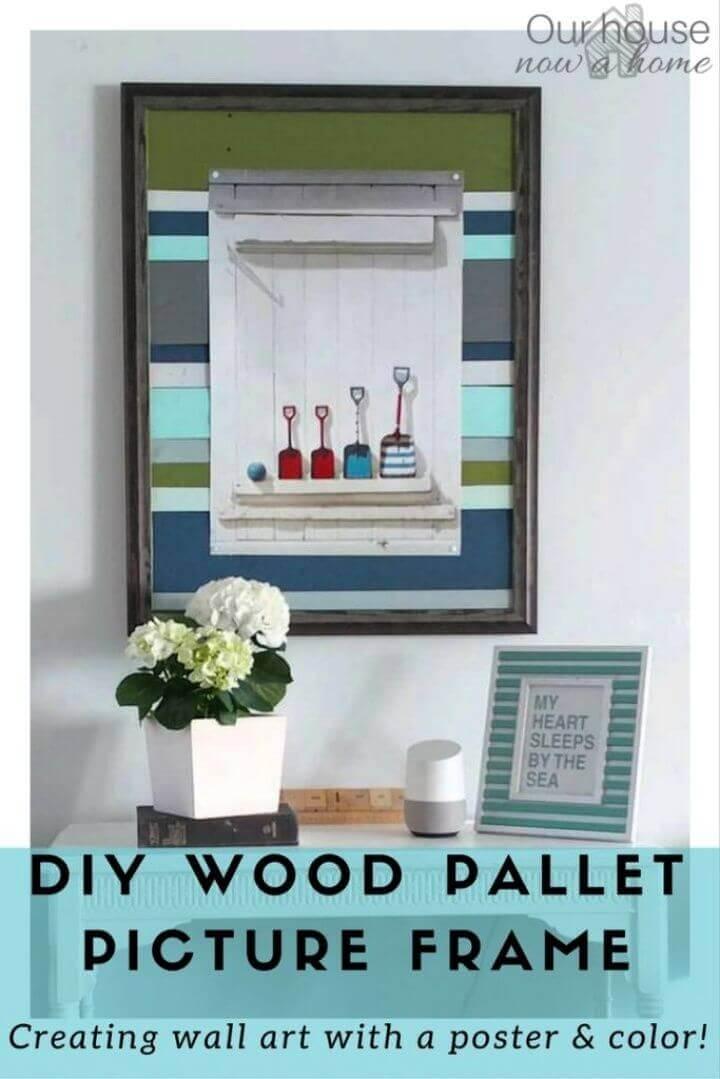 This easy DIY wood pallet frame is going to speak loudest for the beauty of your summer home. The pallet frame is made from a lot of pallet piece sand that too of different thickness and width. Paint them in a variety of beachy hues of the summers and fix them over and old wall art. How to here!
Tutorial: ourhousenowahome
Easy DIY Wood Pallet Art: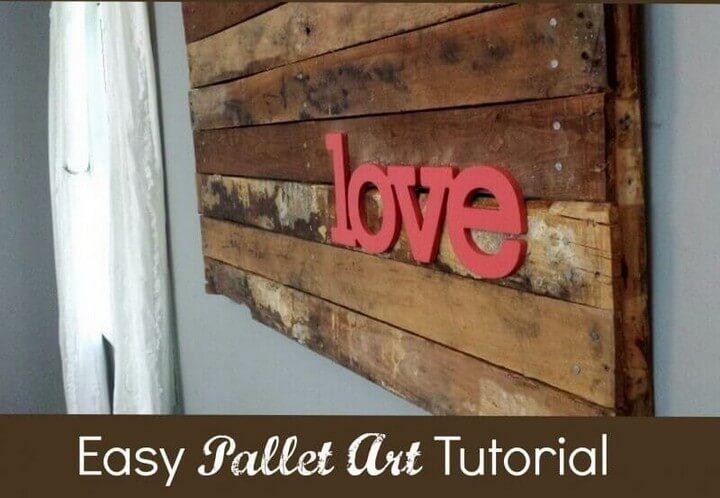 Pallets wood be a no more scrap wood for you after looking at this exciting LOVE Wall art sign! Pack again tight the separated pallet wood slats to shape up a rustic background wooden board! Next add the painted wooden "LOVE " letter art to its front to make this wood pallet art!
Tutorial: mommypotamus
DIY Wood Pallet Fall Gallery Wall: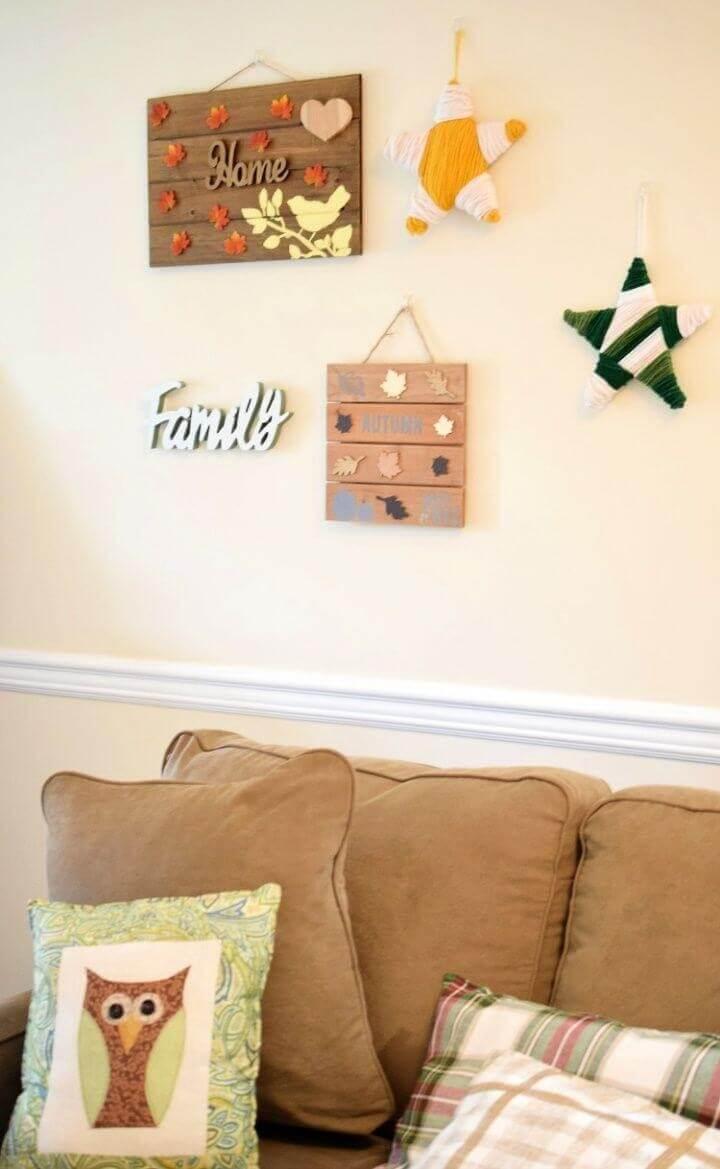 Make your walls look the most gorgeous with these DIY wood pallet fall gallery wall. The pretty wall art is made out of a wooden pallet frame as the basics. The detailing décor and embellishment are added to this wooden frame with fall theme transfer stickers and the wooden shapes of leaves, hearts, and birds.
Tutorial: momhomeguide
Love Hand & Foot Print Wood Pallet Sign: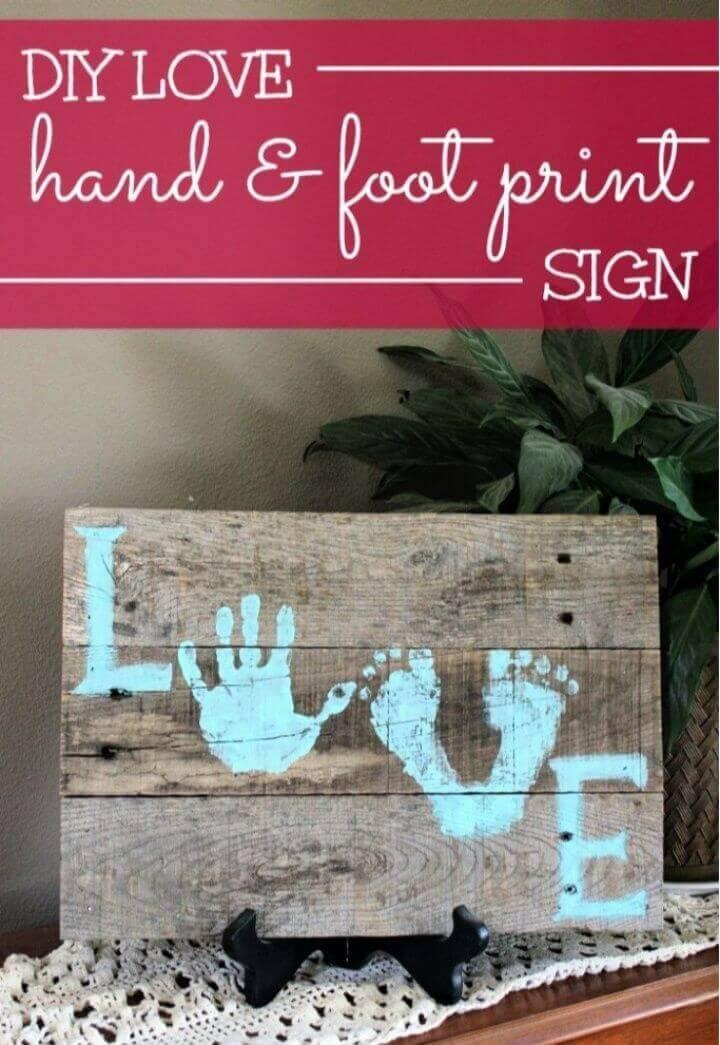 The love signs are so much in trend when it comes to wooden wall art and now you can do it differently. Yes here is this lovely pallet wood sign which says LOVE with the hand and footprints. This gorgeous idea of the wood pallet sign is not only decorative but memorable too. Details here!
Tutorial: inspirationalmomma
DIY Pallet Picture Frame: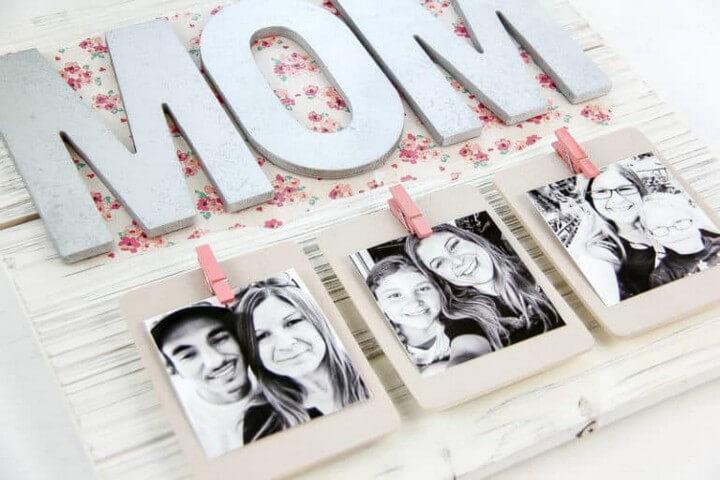 This mother's day can be the happiest for your mom with this DIY pallet picture frame gift for her. You can easily shape up this lovely frame with a wooden pallet base frame, tiny wooden pieces to hold the pictures and wooden letters saying MOM on the top. Easy how-to here!
Tutorial: 5minutesformom
Wood Pallet Map Tutorial: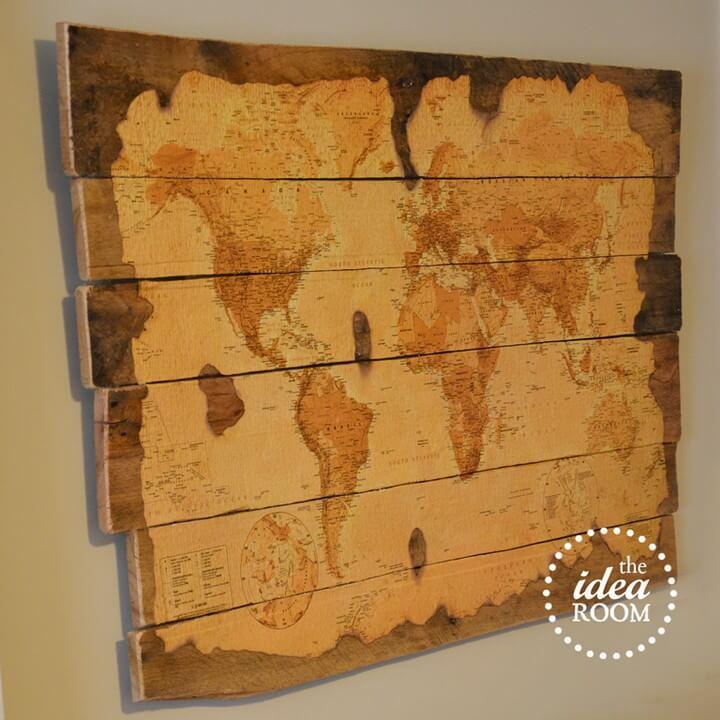 Bring some antique décor value to your home beauty with this wood pallet map wall art. You need some pallet wood to get the pallet planks and create the wooden canvass. Then get an old world map, burn its edges and some holes on it with candles and cut into strips. Glue the map strips to the pallet canvas and It's done. Tutorial here
Tutorial: theidearoom
DIY Farmhouse Sign With Pallet Wood & Repurposed Lug Wrench: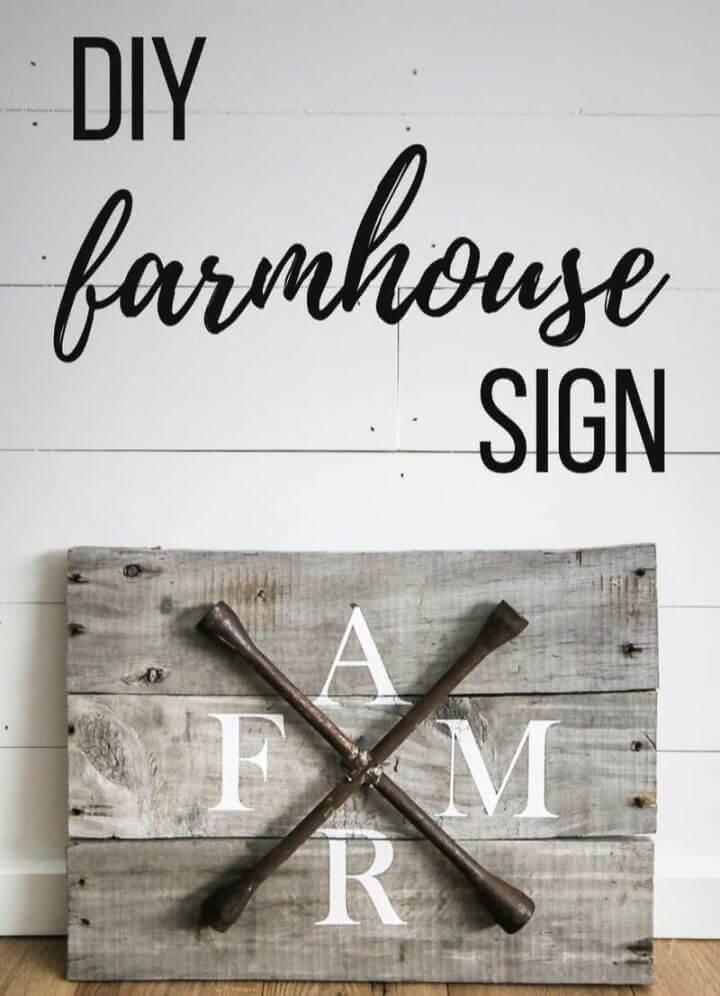 It's time to crafty and nifty with pallets and create this lovely DIY farmhouse sign to bring some rustic beauty in the house. The big wooden pallet frame says FARM and is adorned with an old rug wrench to look just so unique and stunning. You can use this sign as a gift for your dad too.
Tutorial: makingmanzanita
How To DIY Pallet Sign: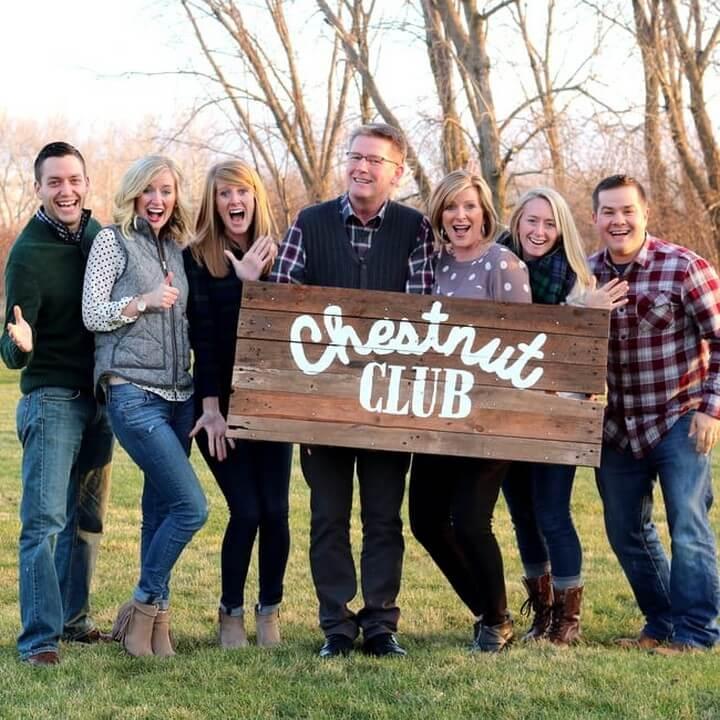 Make your father feel the most special with this lovely DIY pallet wood sign to be the best gift for father's day. Just grab some reclaimed wooden pallets and create the wooden frame with the separated and stained planks. Then add your favorite words to the frame using white paint like this one says Chestnut club!
Tutorial: thediyplaybook
Summer Vibes Wood Pallet Sign: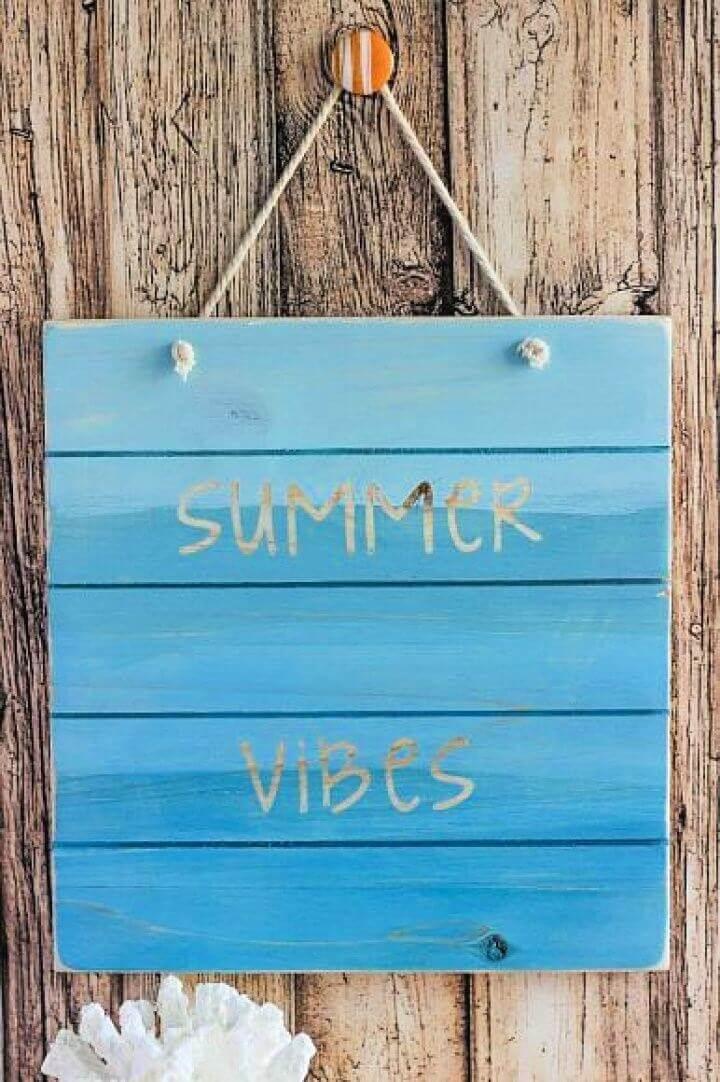 Bring the perfect beach and ocean vibes to your home décor with this summer vibes wood pallet sign. The icing on the cake is that you can easily and cheaply make this pallet wood sign on your own. You just need a pallet wood frame, blue paint hues, and the stencils to make the sign say Summer Vibes.
Tutorial: decoart
DIY Pallet Wood Sawhorse Coffee Table: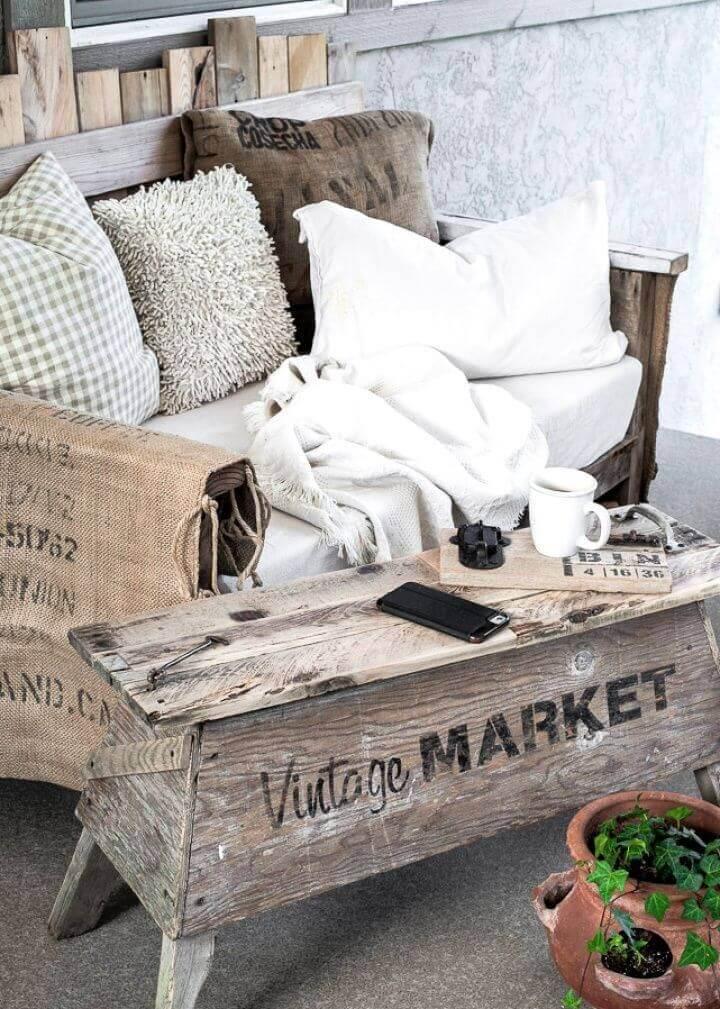 It's time to bring the most quirky appeal and charm to your living room space with this pallet wood sawhorse coffee table. With a little work and effort, you can easily turn this DIY pallet wood sawhorse into that shabby chic and quite boho looking coffee table. Get the details here!
Tutorial: funkyjunkinteriors
Thanksgiving Pallet Art & A Wood Pallet Canvas Giveaway: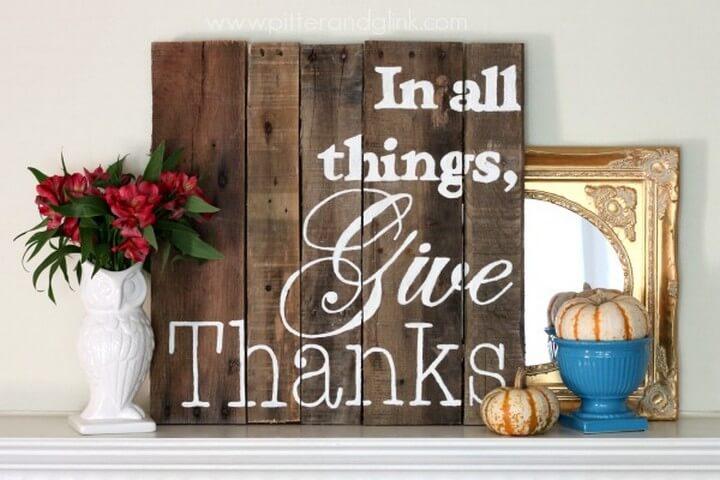 The mantle place is one of the hot spots for the décor in the house and for Thanksgiving you can adorn it with this pallet wall art. The rustic wooden wall art is made out of the wooden pallet planks and adorned with the quotes related to Thanksgiving. Details here!
Tutorial: pitterandglink
Submerged Color DIY Wood Pallet Wall Art: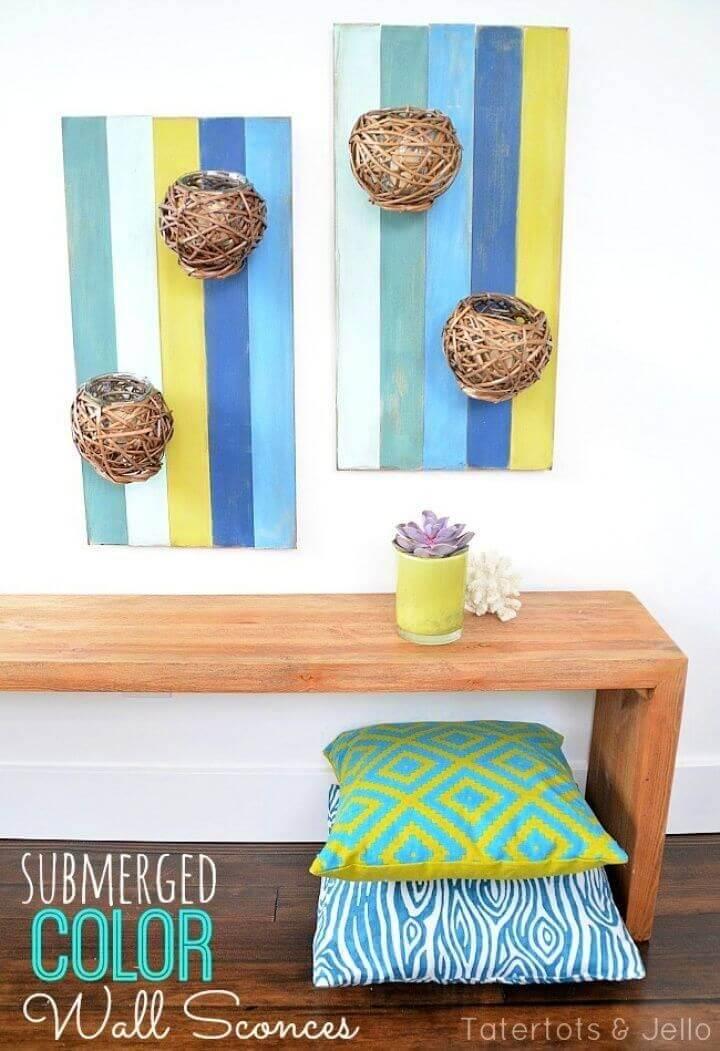 Add more beautiful vibes of your patio with this submerged color DIY wood pallet wall art. The wooden structure of the wall art is made out of the wooden pallet planks and painted with submerged ocean hues. Lastly, some nest like scones have been added to light up your spaces in the dark.
Tutorial: tatertotsandjello
DIY Pottery Barn Inspired Cut Out Wood Star Art: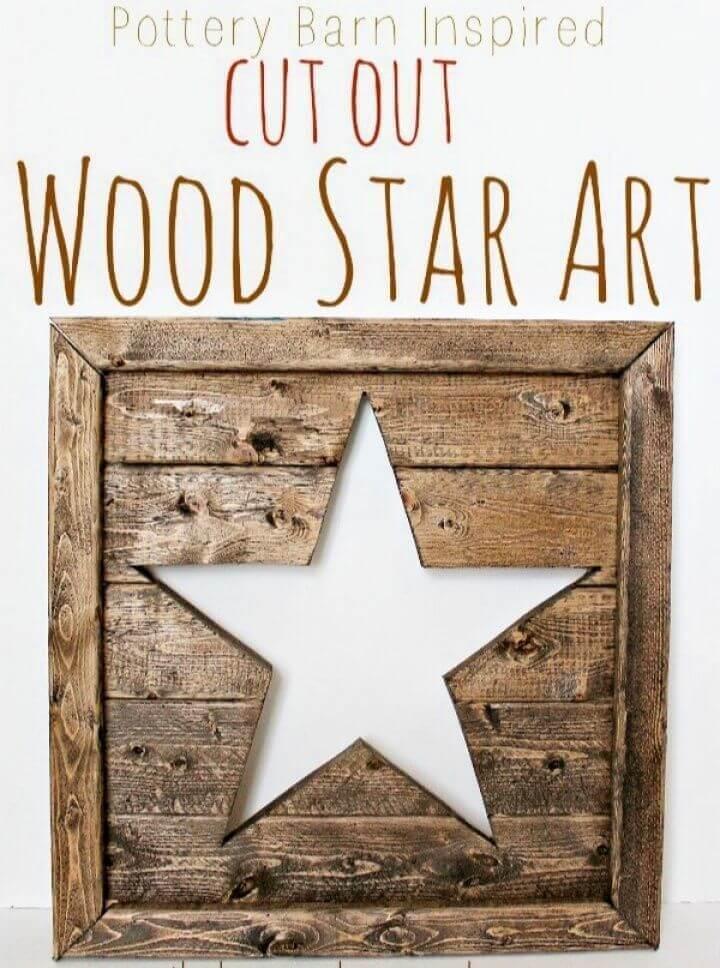 This rustic wooden star wall art is inspired by the pottery barn so it ought to be on your weekend list. Create a pallet wood frame by stacking together the planks of pallets and then trace a heart to cut it out. Lastly, add the rustic stain hues to get the perfect rustic texture and appeal of this gorgeous wall art.
Tutorial: thehappierhomemaker
How To Make A Mini Wood Pallet: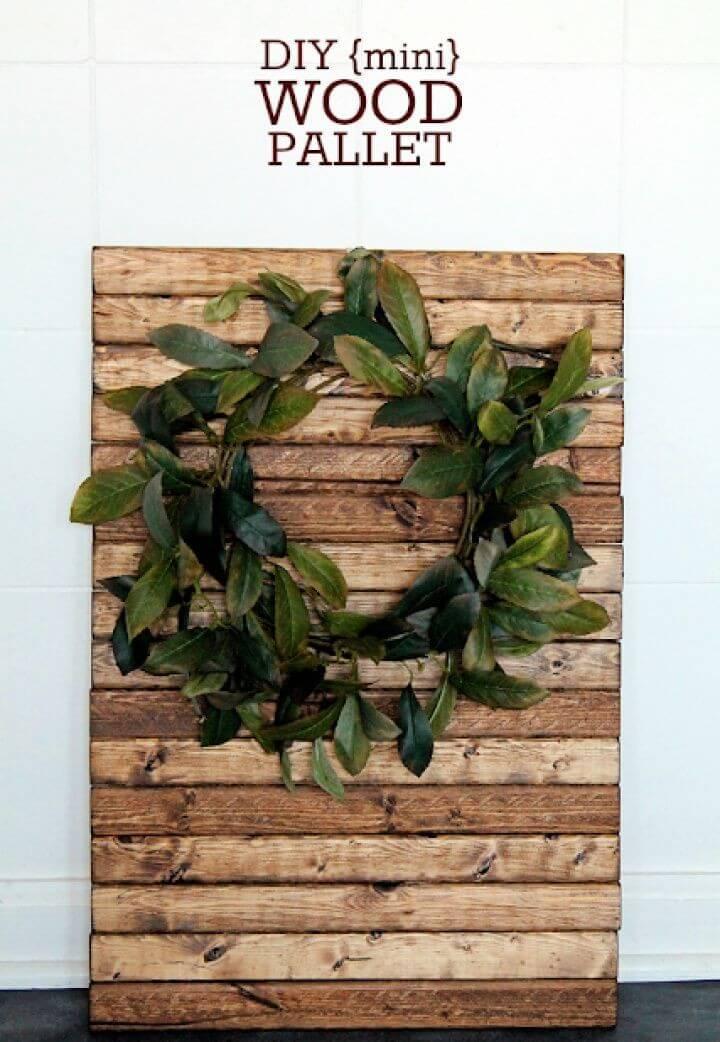 Bring the warmth of rustic beauty to your kitchen space with this mini pallet wood décor or art. Just put together the pallet pieces and create a wood frame. Then stain this pallet frame with the brown to look naturally textured. Add a green leafy wreath to it and place it over the kitchen shelf. Details here!
Tutorial: lovegrowswild
Pallet Antler Wall Art Tutorial: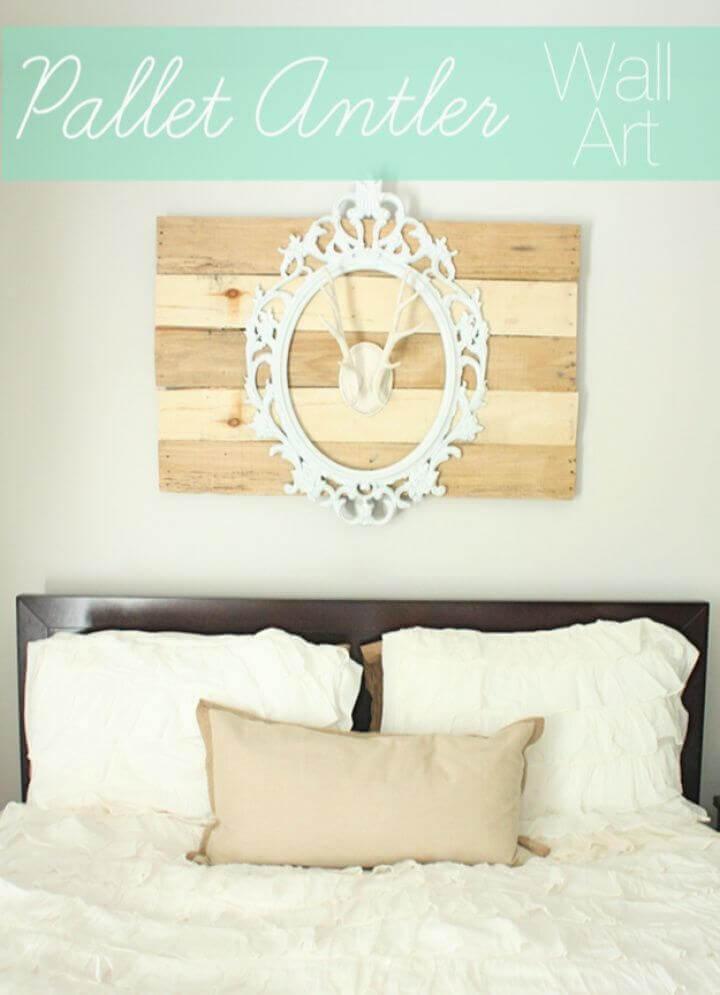 Bring some décor charm to your bedroom with this pallet antler wall art beauty. You need three things to make this gorgeous piece of wall art on your own. Pallet woods to shape up the base frame, a round-shaped antique-styled frame and then a pair of antique antlers. More to know here!
Tutorial: meganbrookehandmadeblog
DIY Wood Slice Deer Head Silhouette Pallet Art: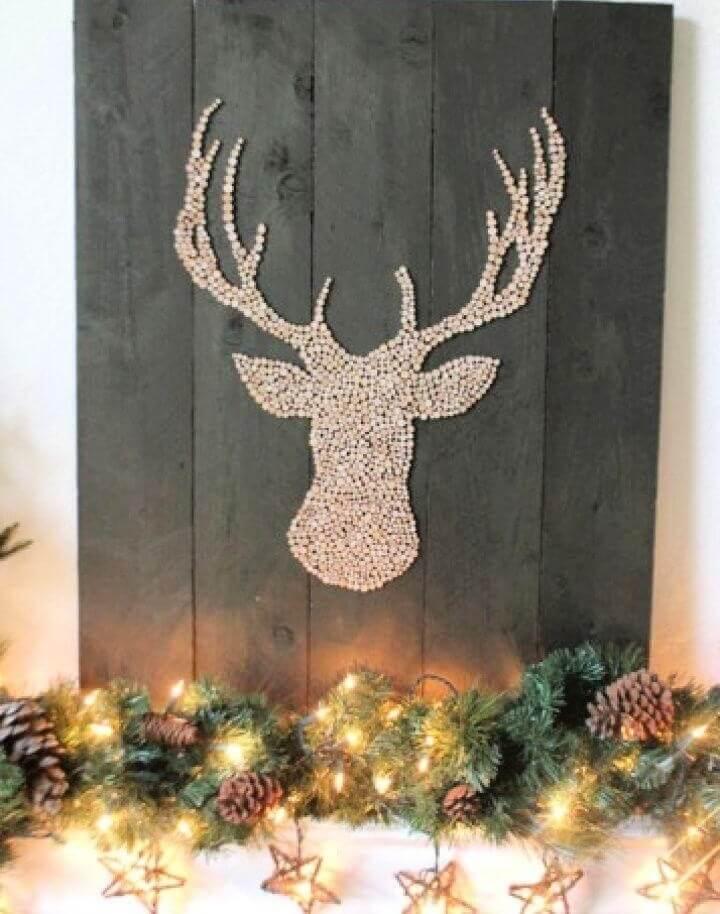 Christmas is festive of home décor and now you can add some pallet beauty to your Christmas home too. This gorgeous DIY wood slice deer head silhouette pallet art is the best thing to add over mantle places. Just grab a wooden pallet frame and trace the deer head to be filled with the round wooden slices.
Tutorial: thekimsixfix
How To Reclaimed Wood Pallet Art: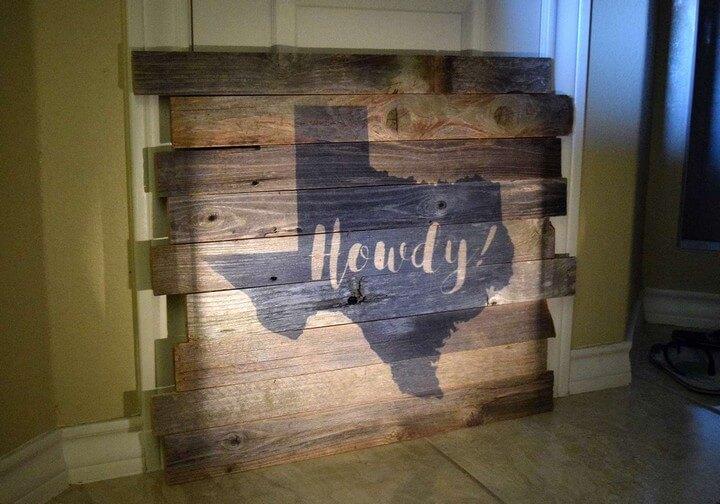 Feel proud of your state with this reclaimed wood pallet wall art. The gorgeous wall art displays the Texas state map with the word Howdy on it. You can easily create the wooden structure using reclaimed planks of the planks. Trace the map and word with a template and then fill it up with the chalk paint. Details here!
Tutorial: aleenes
Easy Embroidered Pallet Wood Art: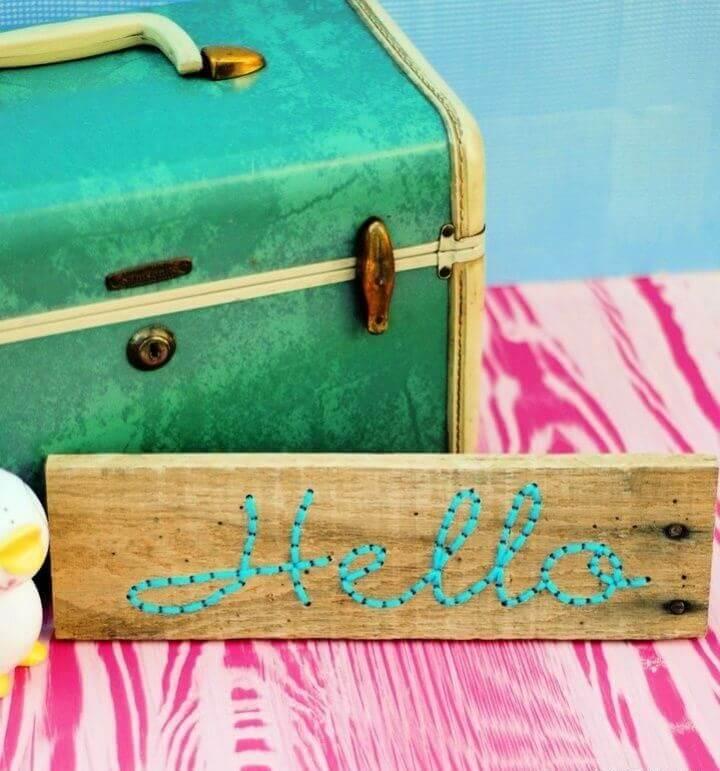 Make your foyer spaces look super welcoming for all your visitors with this easy embroided pallet wood art. The wooden pallet art says Hello with the needled floss and looks so gorgeously embroided. You can easily do it with a wooden plank, drilling hole tool, needle, and the thick floss or yarn. Details here
Tutorial: mysocalledcraftylife