Getting your home decorated with the rich and fancy items is the dream of every homey person. Either it is that lavish vase or that precious wall art on the pricey shops we just seem our décor desires dying mercilessly. But it's time to make your home décor dreams alive and that too at the cost of few pennies with the help of these 10 DIY Home Decor Ideas Budget. Yes, these amazing ideas offer you some nifty décor solutions to make your spaces look all rich in style and fashion. So what are you waiting for, grab your crafty supplies and come along these smart and budget-friendly home décor ideas right away!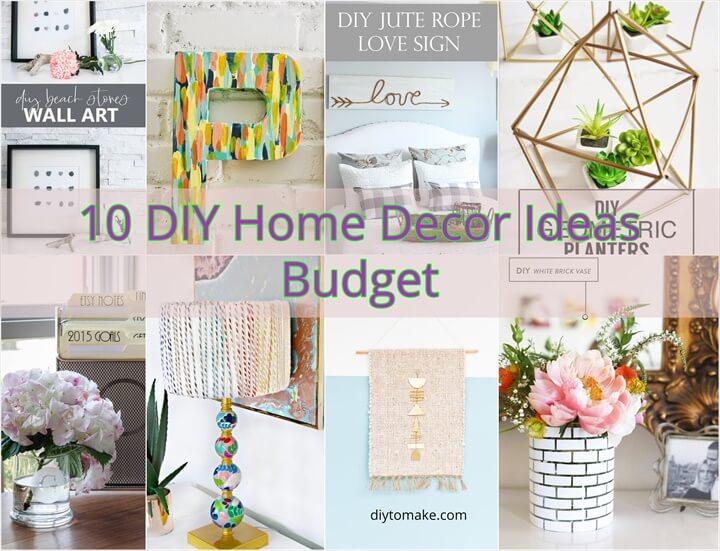 Also, you do not have to do mighty décor projects to bring some beautiful and noticeable changes in the décor. Some small and cute details are enough to jazz up the charm of your home décor effortlessly. For example, adding some Monstera leaf stamps on your mat with some bright spray paint. Adding some white brick look to a pretty glass vase or a name initial for that custom look. Create some stunning art pieces with beach stones and frames, Ampersand with a gold thumbtack and a lovely weaving wall hanging. Know more about such genius and money-saving ideas below with complete details!
You May Also Like:
White Brick Vase: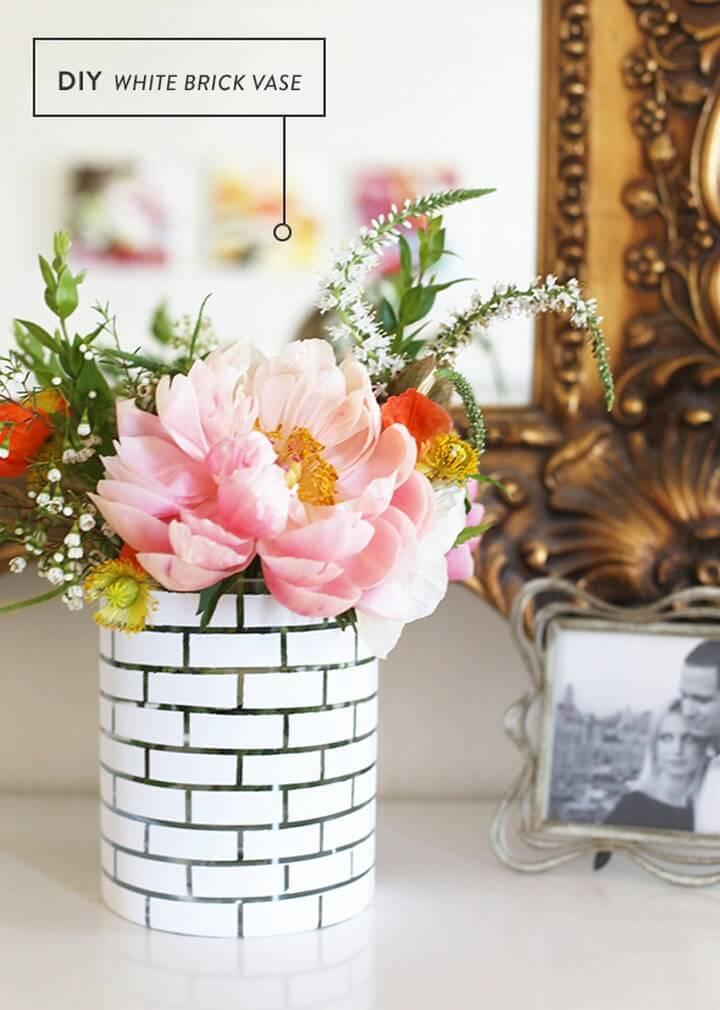 This lovely and chic white brick vase looks like made out of the tiny white bricks but it's not. You can get this lovely white brick look on a clear jar using some thin masking tape, painter's tape, and the white spray paint. Grab more details here!
Tutorial: sayyes
Monstera Leaf Doormat: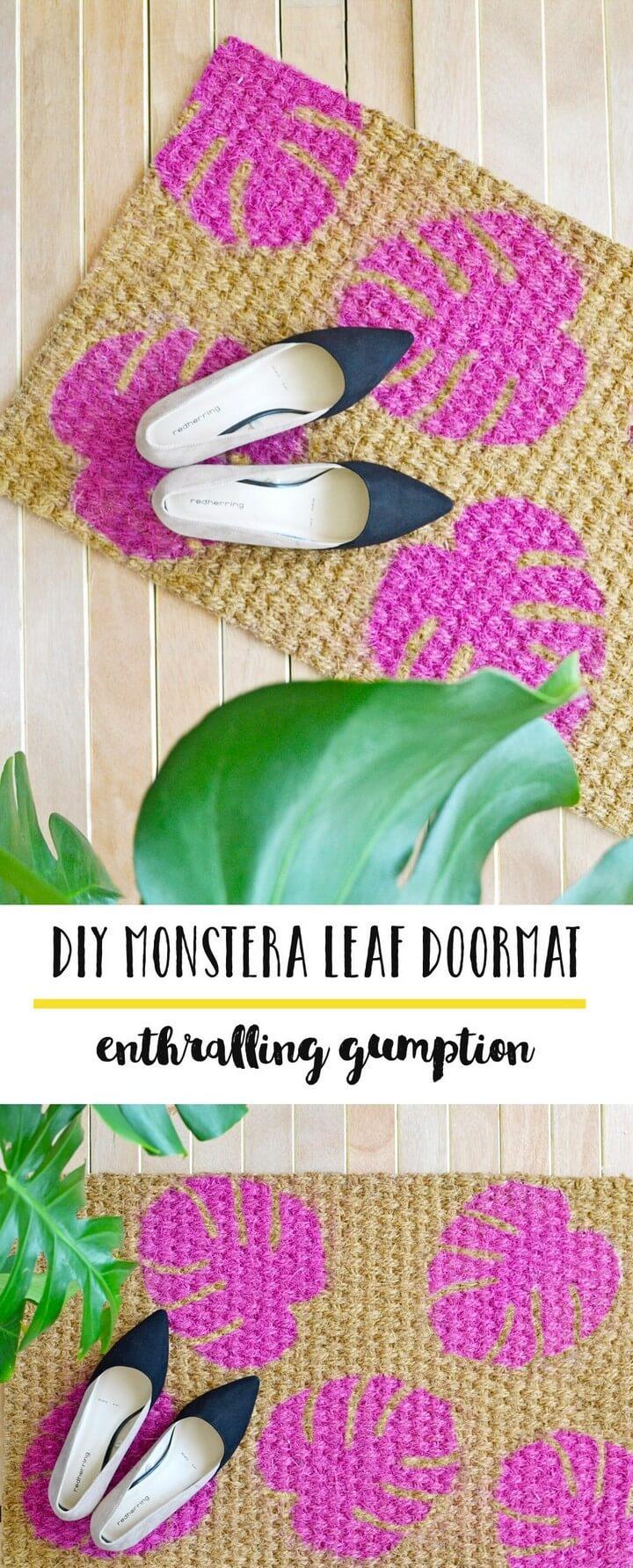 Charm up your home décor with a makeover of the doormat with this super fun project of the Monstera leaf doormat. Just grab a plain doormat, a spray paint in your desired color and the pretty Monstera leaf outline. This easy and quick craft is going to bring so much beauty to your spaces for sure.
Tutorial: enthrallinggumption
How To Make DIY Ampersand Art Using Thumbtacks: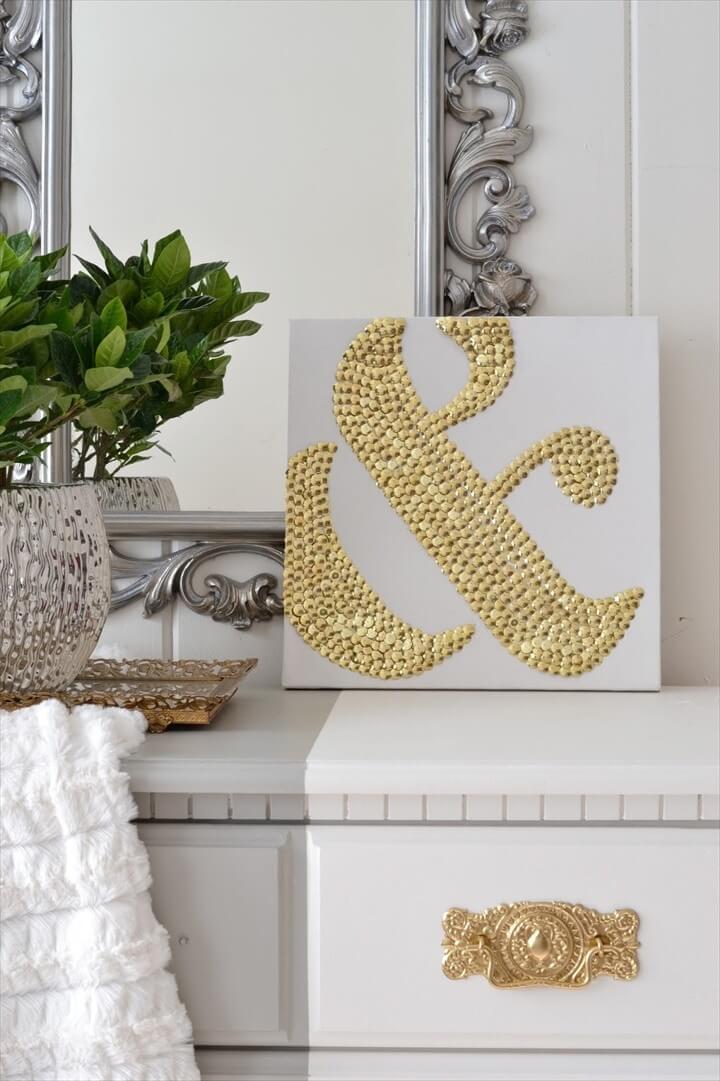 Your bookshelves, mantles or the foyer tables are surely going to look jazzed up with this lovely DIY ampersand art using thumbtacks. All you need is a square-shaped white canvass and a big bunch of the gold thumbtacks to cute that lovely ampersand. Check out the how-to here!
Tutorial: livelovediy
Geometric Planters: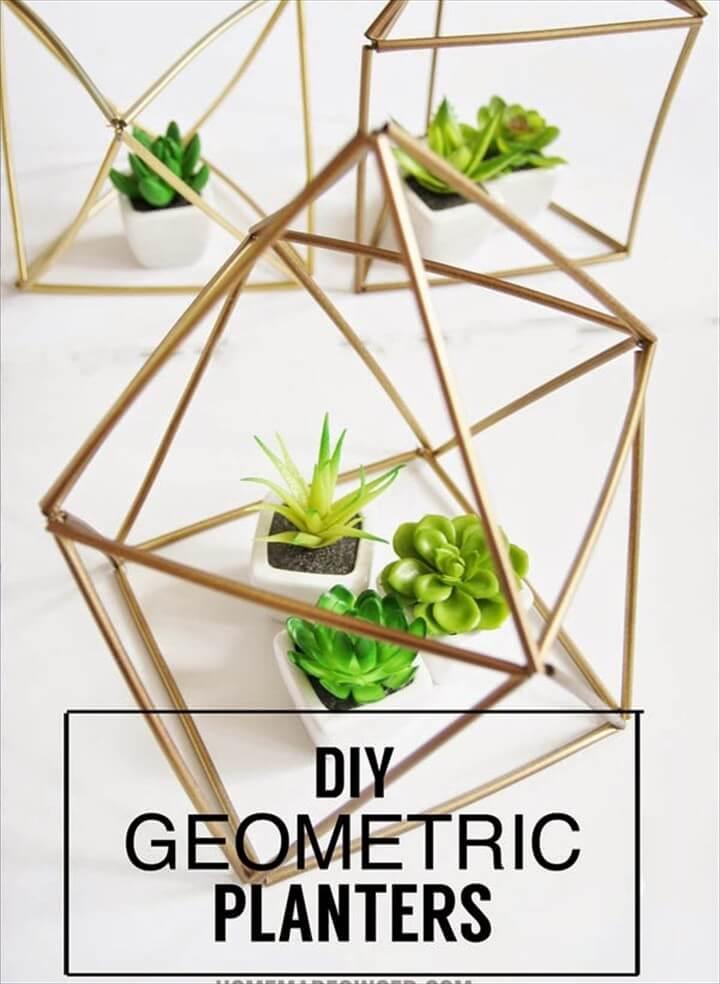 Adorn your decorative spots with these highly stylish and modern looking geometric planters. You can easily shape up these pretty geometric planters on your own using things like straws, wire, and the metallic spray. You can use these geometric planters over your cute little succulent for an adorable look.
Tutorial: homemadeginger
DIY Jute Rope Love Sign: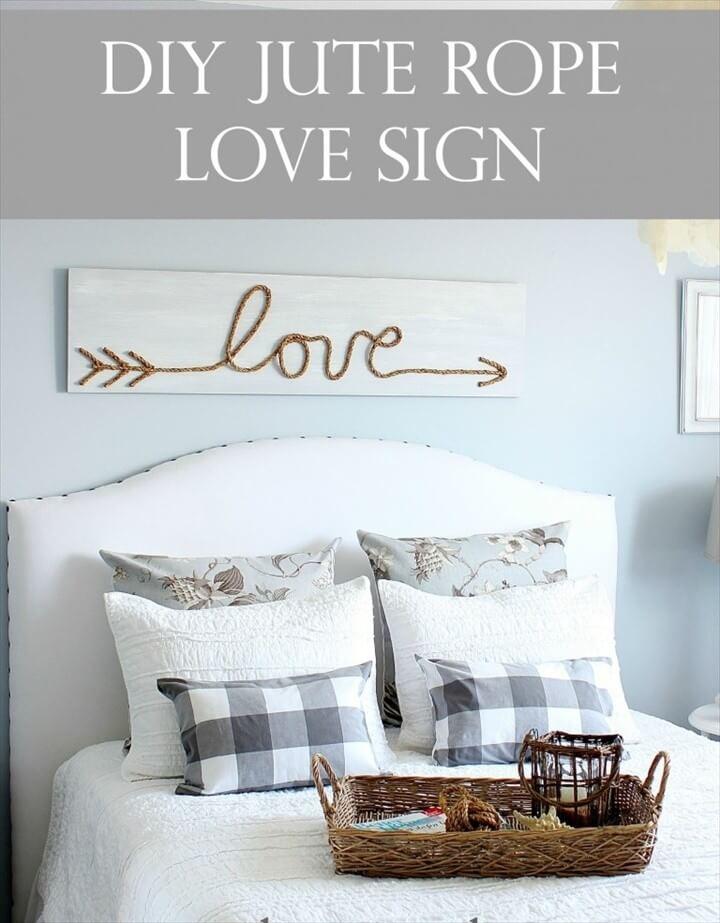 Add some country-style décor appeal to your bedroom spaces by hanging this DIY jute rope love sign over your bed. The things you need are a wooden board, jute rope, and the corn mixture to let the rope stay still. The LOVE sign with arrowhead and tail looks absolutely stunning as the wall décor.
Tutorial: hymnsandverses
Woven Rug Wall Hanging: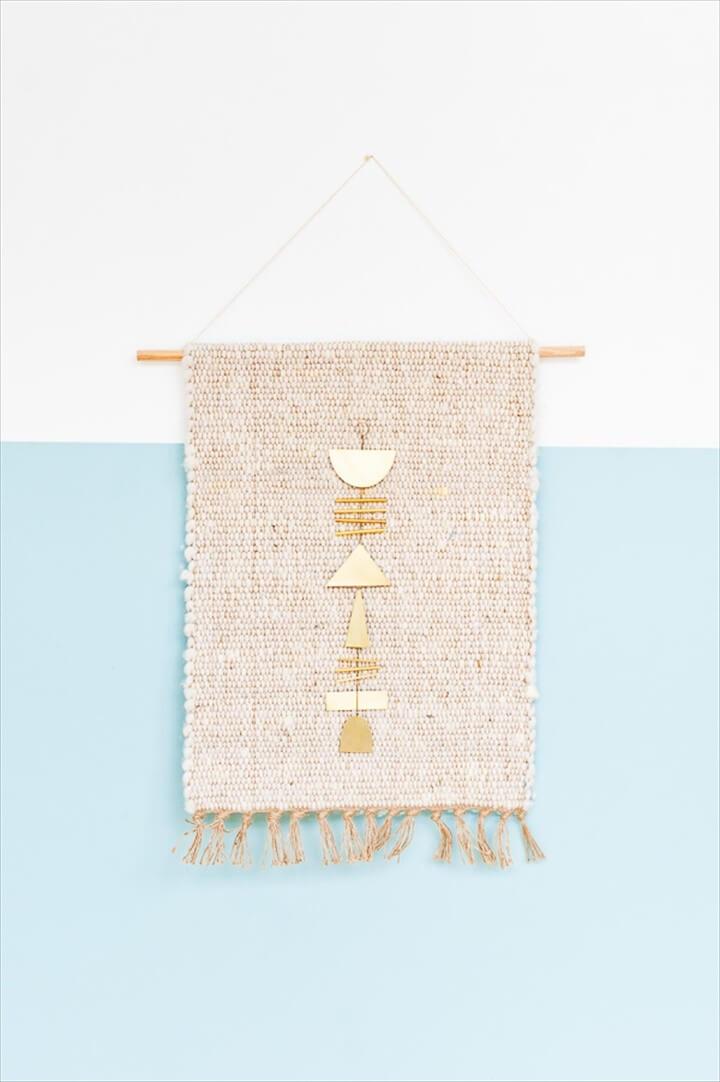 It's time to have some weaving fun with this absolutely adorable woven rug wall hanging project. You can use this piece of wall décor in your hall, living room and the bedroom spaces too. So get a rug and adorn it with some brass hanging of geometric shapes. Details here!
Tutorial: papernstitchblog
Brush Stroke Letters: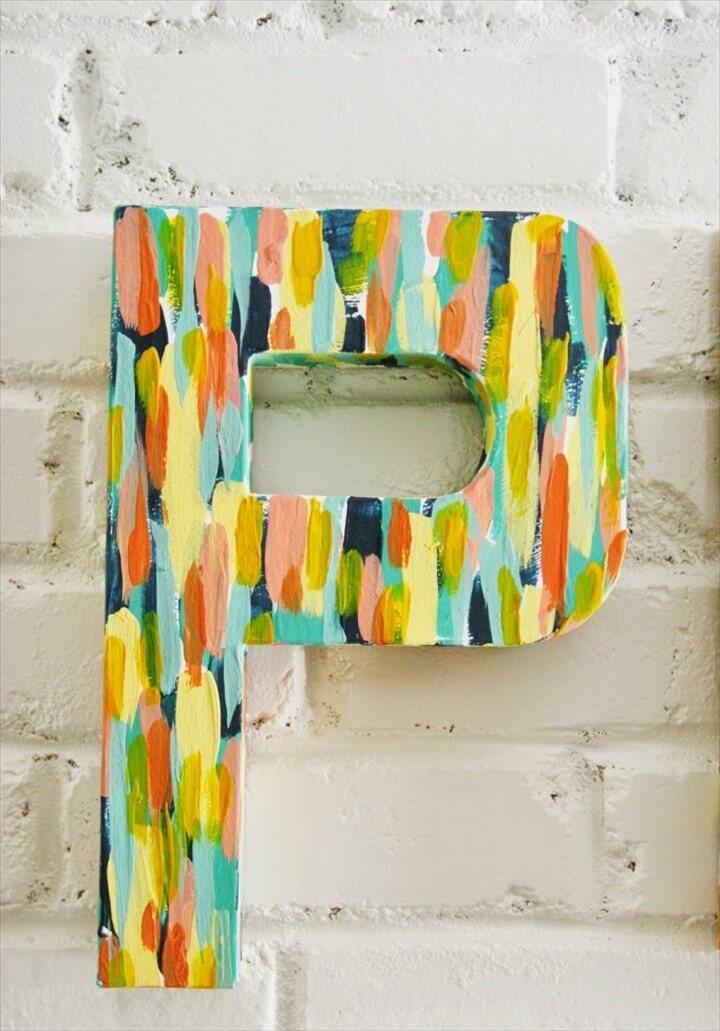 Need some personalized piece of décor for your walls? How about this super cute and colorful brushstroke letters?  Just grab a name initial in wood or cardboard and paint it with the brush strokes using some bright and bold hues and its ready to hang over your walls. Get more details here!
Tutorial: homemadeginger
Anthropologie Inspired Lamp Makeover: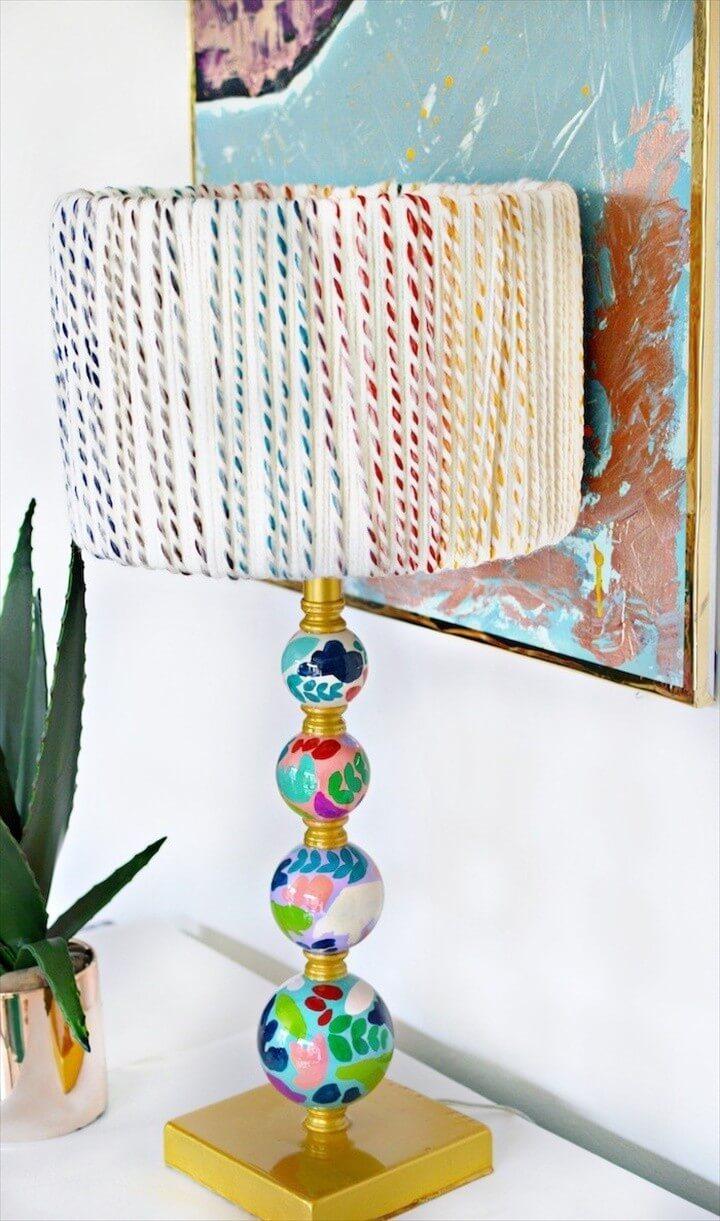 No need to buy a new lamp when you can easily and cheaply award a makeover to the lamp and make it look all fancy and fun. Here is this lovely anthropology inspired lamp makeover to be done with simple supplies. You need a color paint palette for the post and some yarn for the lampshade. How to here!
Tutorial: deliciousanddiy
Beach Stone Wall Art: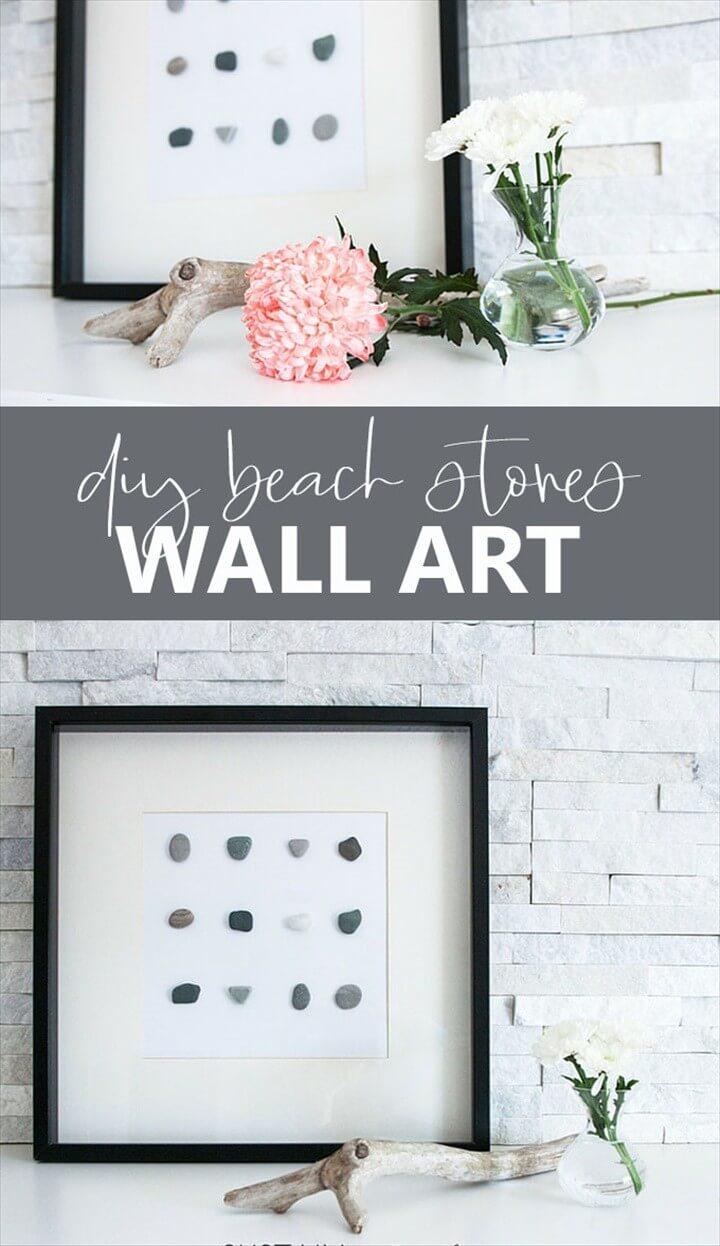 It's time to show off your stone collection that you have collected over your yearly visits to the beach. This beach stone wall is the best and the most elegant way to flaunt your lovely stone collection in the home décor. So get some glue, your stones, and a square frame to nicely do this project this weekend!
Tutorial: sustainmycrafthabit
Easy Dollar Tree Vase Makeovers: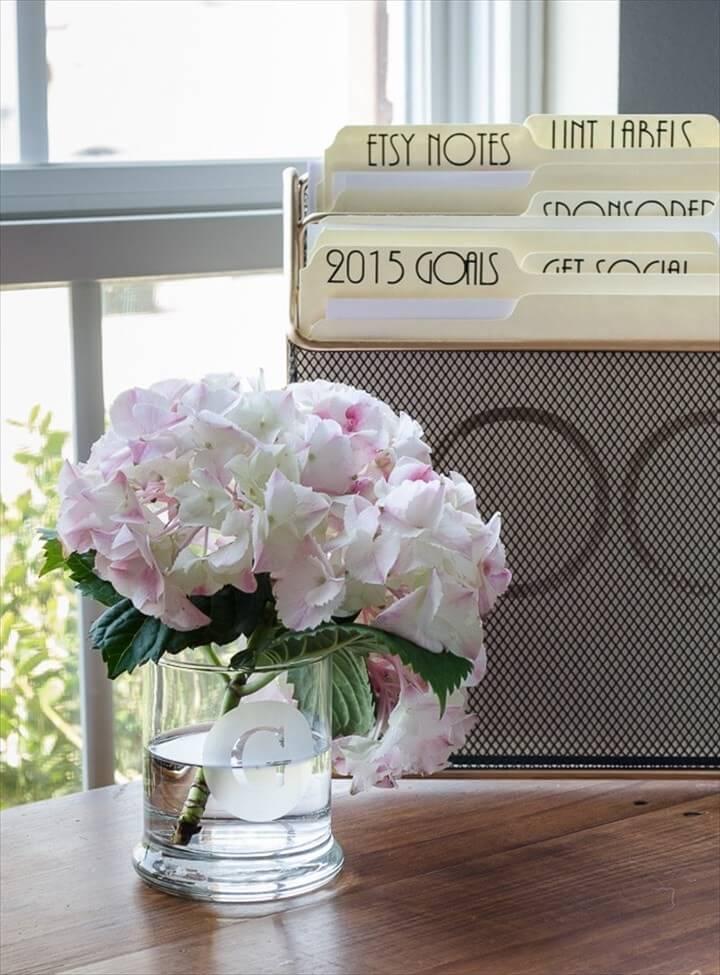 We all buy one or two clear glass vases on our visit to the dollar store. So here is this lovely and quite easy dollar tree vase makeover to get your hands on. So with a little frosting spray and a stenciled name initial, you can totally personalize a vase to look apt for your home table décor. Details here!
Tutorial: polishedhabitat