We need vases at a lot of display spots in almost every section of the house. From the foyer to the hall and from the living room to the bedrooms, vases are like the integral décor pieces to beautify these places. Buying vases from the market for the whole house can burn a big hole in your pocket. So here are these 8 DIY Vase Cheap & Simple Ideas which are quite cheap and simple to make on your own at home. All these handmade vases are gorgeous and catchy enough to be in the spotlight of the home décor so dry them all.
Summer and spring bring us loads of pretty and fresh flowers to a lovely vase is ought to be on your tables to hold these gorgeous blooms. Trying that rope wrap vase, painted texture vase, and the gradient colorful texture vase ideas are so befitting for your summer and spring homes. There are some marvelous pieces of vases having been made out of the cheapest items like plaster, cardboard and tin cans. Using paint hues of your choice you can get the desired look and design of your vase too. These pretty vase ideas have links attached to let your grab step by step details of each!
You May Also Like:
Rope-Wrapped Vases: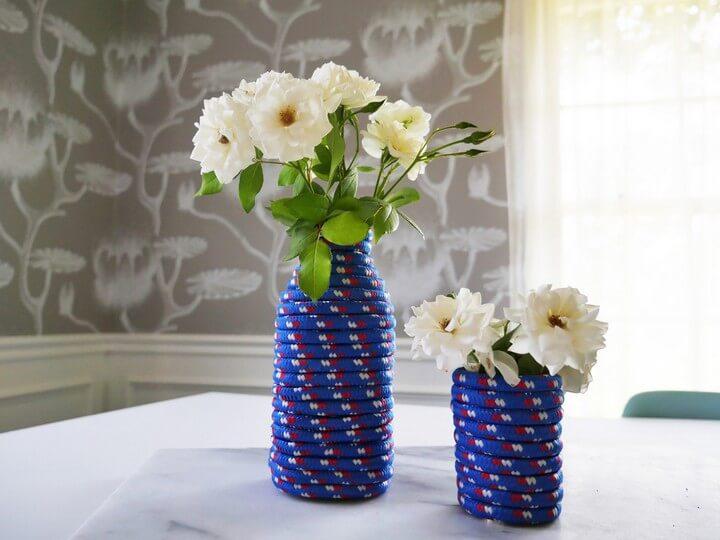 Bring home some cute summer vibes with this rope wrapped vases. You can take some rope and wrap it up around your vases of any size and shape with the help of hot glue. These nautical rope vases are sure to give your summer home a perfect beachy vibe. Details here!
Tutorial: happilyevaafter
Candy Cane Vase: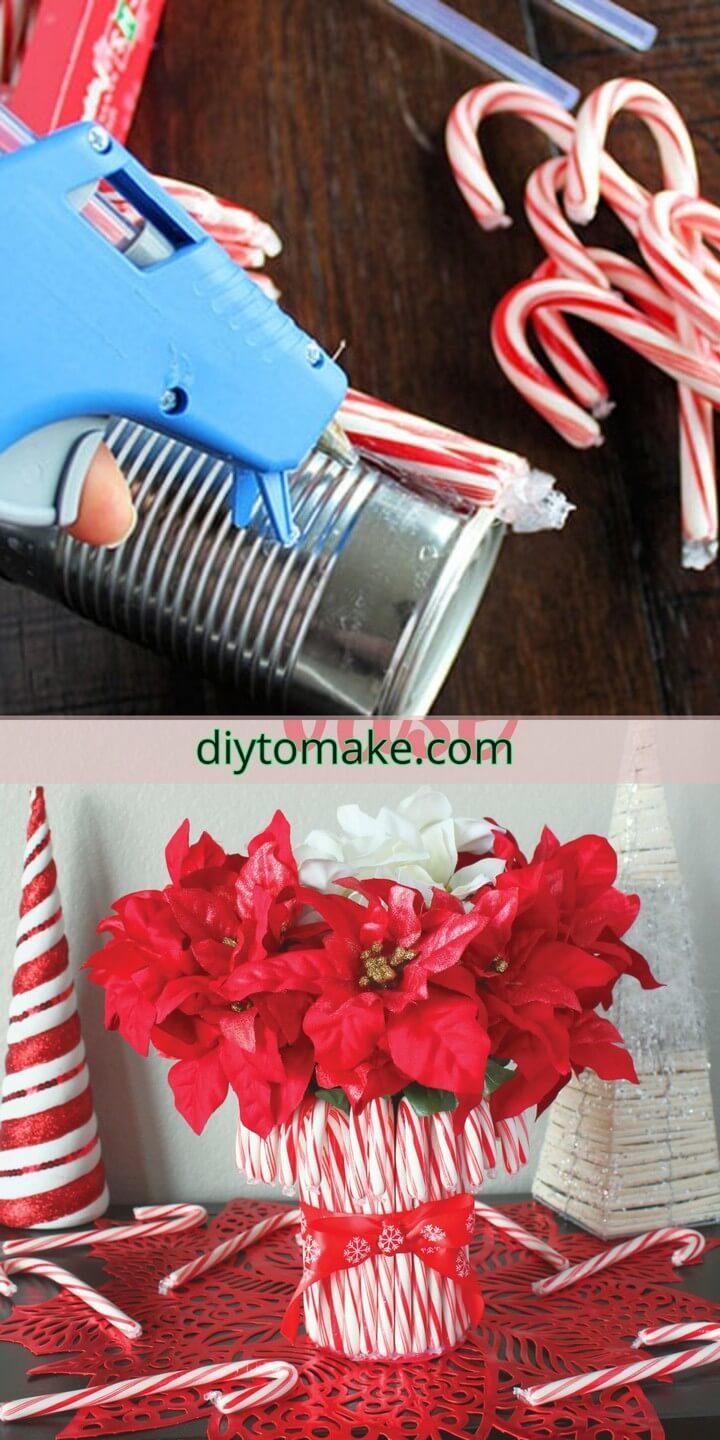 A party table is so undone without a lovely floral vase on it. So now you can make a cute and perfect vase to give your tables lovely party vibes. All you need to do is just get a bunch of the candy canes and glue them up all around an empty tin can and it's done. How to here!
Tutorial: livingwellspendingless
Painted Texture Vase: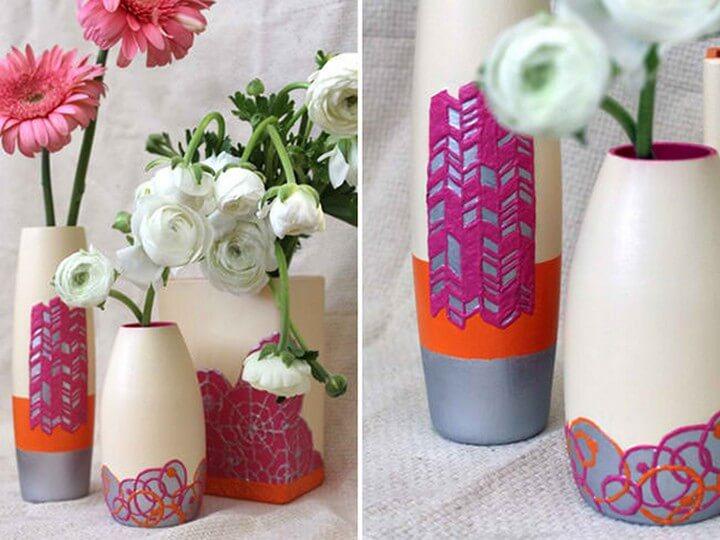 Here is the idea of these painted texture vases to make your vases look more jazzed up. You can take any of your favorite paint hues and paint any of the desired patterns and designs over the vases like floral and geometric shapes. The painted texture vases would look so pretty standing on your tables.
Tutorial: brit.co
DIY Watercolor Vase: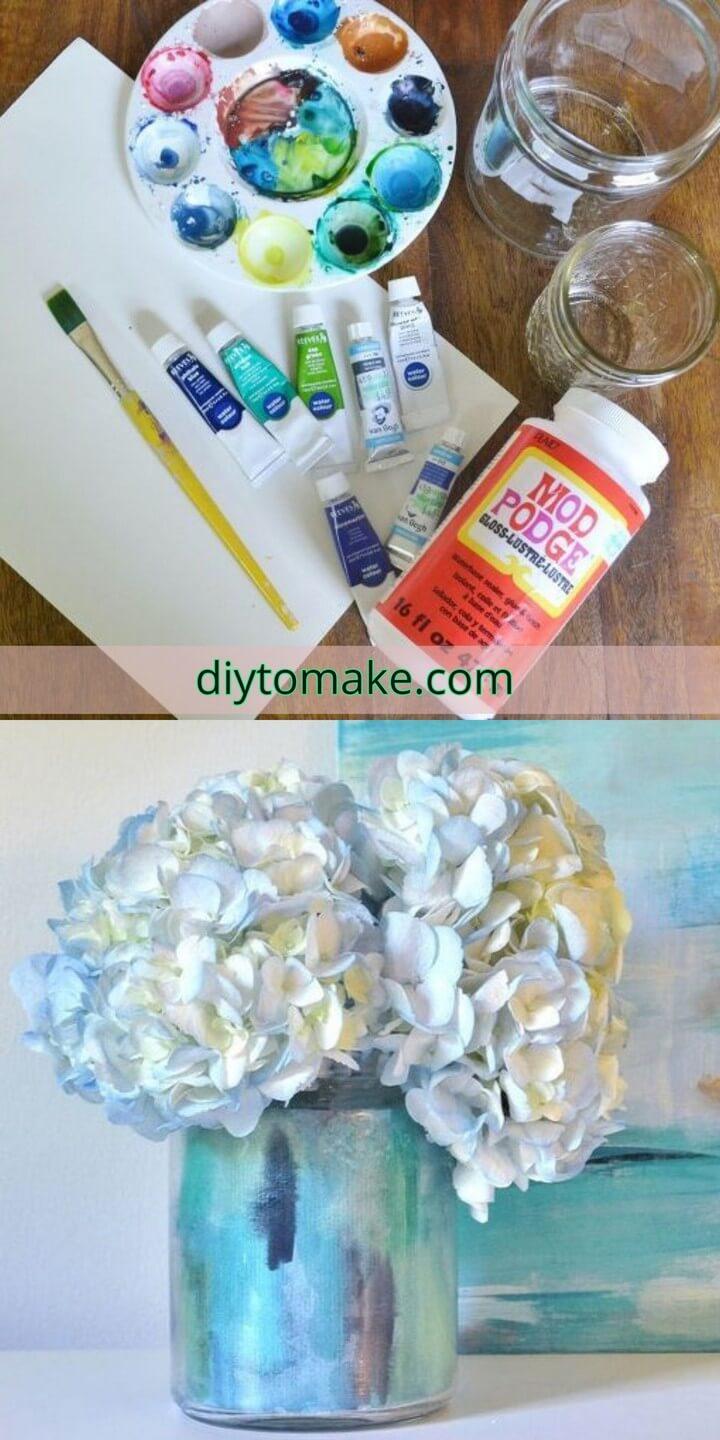 We love playing with the watercolors and now you can use this skill for your home décor with this DIY watercolor vase project. Grab a glass vase or jar and pour some pretty watercolor shades on it and once dry you have got the lovely vase to flaunt your flowers in. Easy how-to here!
Tutorial: truworthhomes
Colorful Gradient DIY Flower Vases: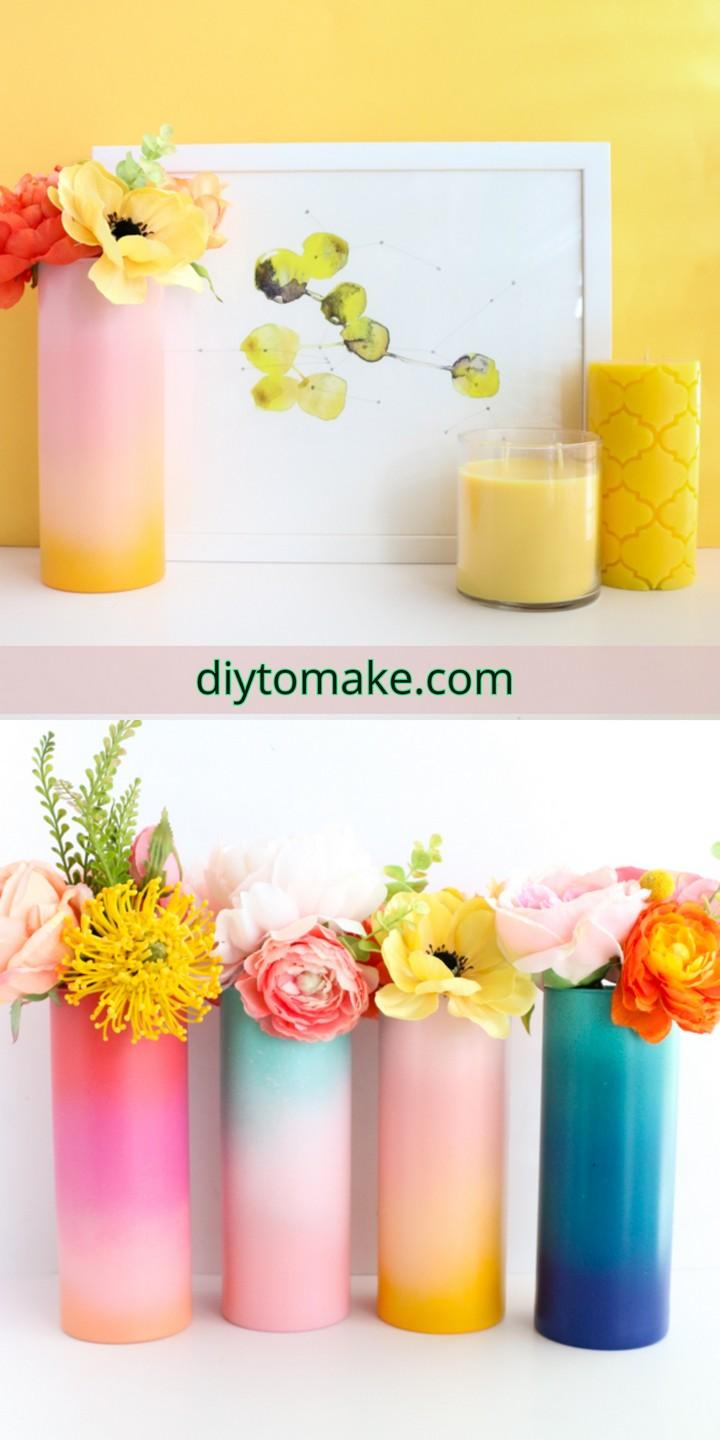 These gorgeously colorful and gradient DIY flower vases are hell easy and cheap to make at home. All you need is one empty can, bottle or the vase and spray paint it with a variety of spray paint hues. The blend and the combination of the paint hues are going to add oodles of charm to your vases.
Tutorial: akailochiclife
Plaster Flower Vase: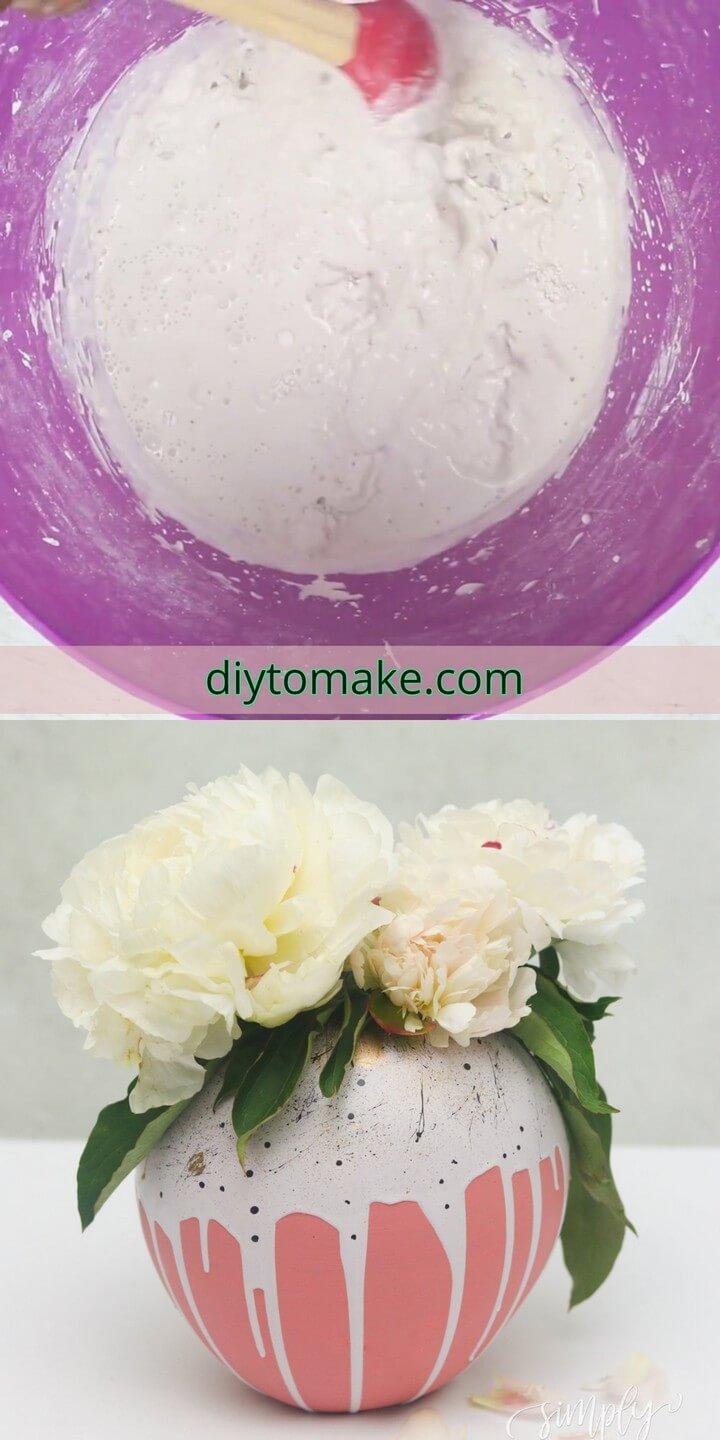 Enhance the beauty of your house with your handmade décor items just like this pretty plaster flower vase. So using a plaster mixture over a balloon you can create this perfectly round-shaped flower vase. Paint it with the watercolors for a more glam look and then place it over your tables and mantles.
Tutorial: simplyhandmadestudios
How To Make Cardboard Vase: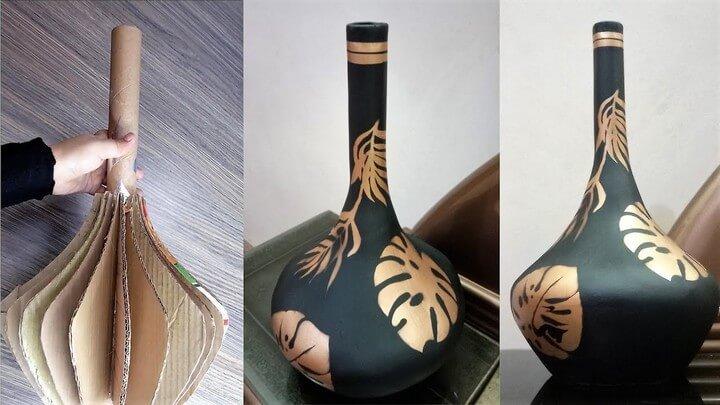 This pretty rustic looking flower vase is the perfect thing to bring in your home décor for a fresh change. The flower vase is made out of the cardboard, plaster, stickers and sprays paint. Use these lovely vases for a party and for regular use too. You can check out the video tutorial here!
Tutorial: youtube
How To Make A Paper Flower Vase Sleeve (Very Easy with Template)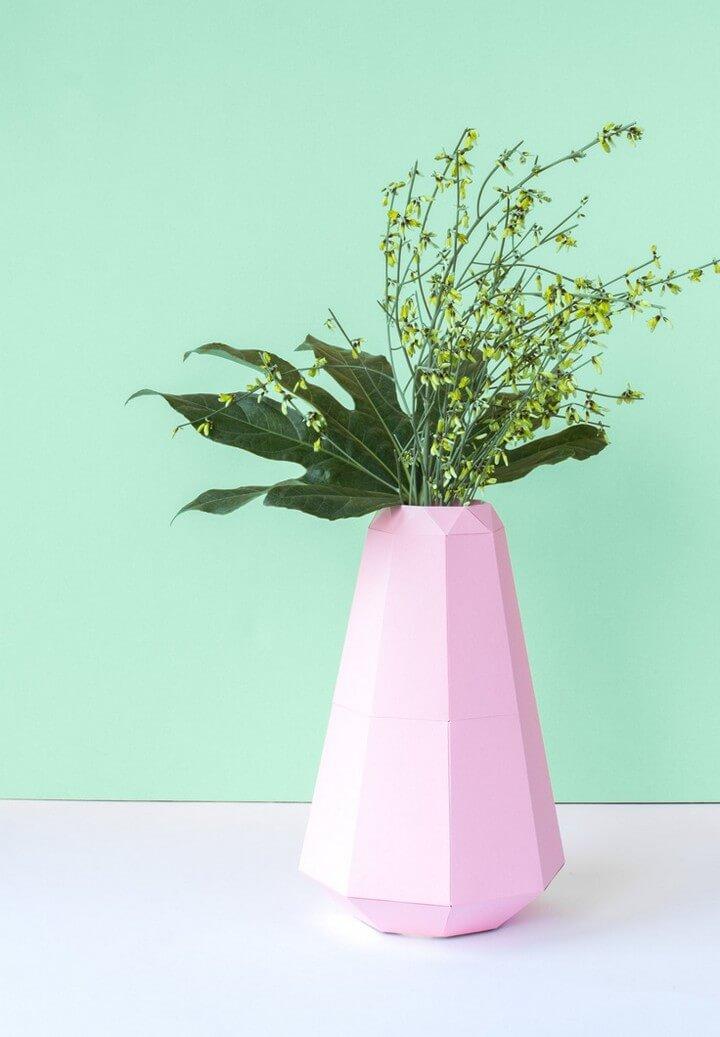 Add in some cute and chic vibes to your modern rooms with this lovely paper flower vase sleeve. You need a template of this lovely and stylish vase then cut it out and fold for that lovely and unique shape. Make this vase in any of your favorite colors. Get the free Template here!
Tutorial: paper-shape