One has to go through a lot of hard work to make his home DREAMY. From buying it to decorating it with the desired items are a pure work of money and strenuous efforts. To ease out the home décor portion we have brought to you these 28 DIY Home Decor Craft – Stylish & Unique Ideas which are quite stylish and unique. These ideas would cost you least but the impression they are going to create on your home décor is going to be super-rich. Also, the handmade décor crafts would add perks of custom beauty and personalized style to your lovely home so better be checking these ideas out.
The ideas are smart and wide-ranged to cover almost each of your home sections. Like there is a wood slice mirror and floral monogram for your foyer and gorgeous wall art pieces for the living and bedroom that too using a variety of supplies. Many of the ideas hint at the recycling of the items like tires, cans and glass jars and thus cutting the cost more and uplifting the décor charm to more heights. All these home décor crafts and ideas have links attached to let you explore each with the details and instructions.
You May Also Like:
Refurbished Dresser Shiny Knobs: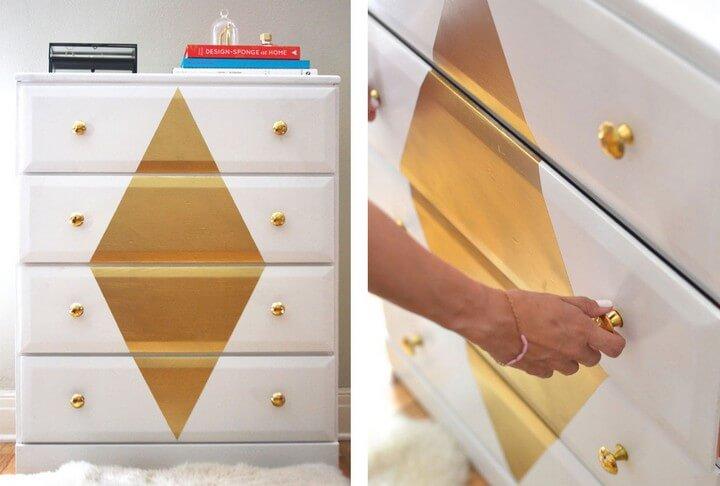 Make your furniture look super chic and modern with your own hands. Here is this dresser that has been refurbished to look so beautiful and that too with just paint. The white paint on the wooden section and the metallic spray on the knobs really make the dresser look a catchy and cool piece.
Tutorial: camillestyles
DIY Wall Art Beach Stone Home Decor: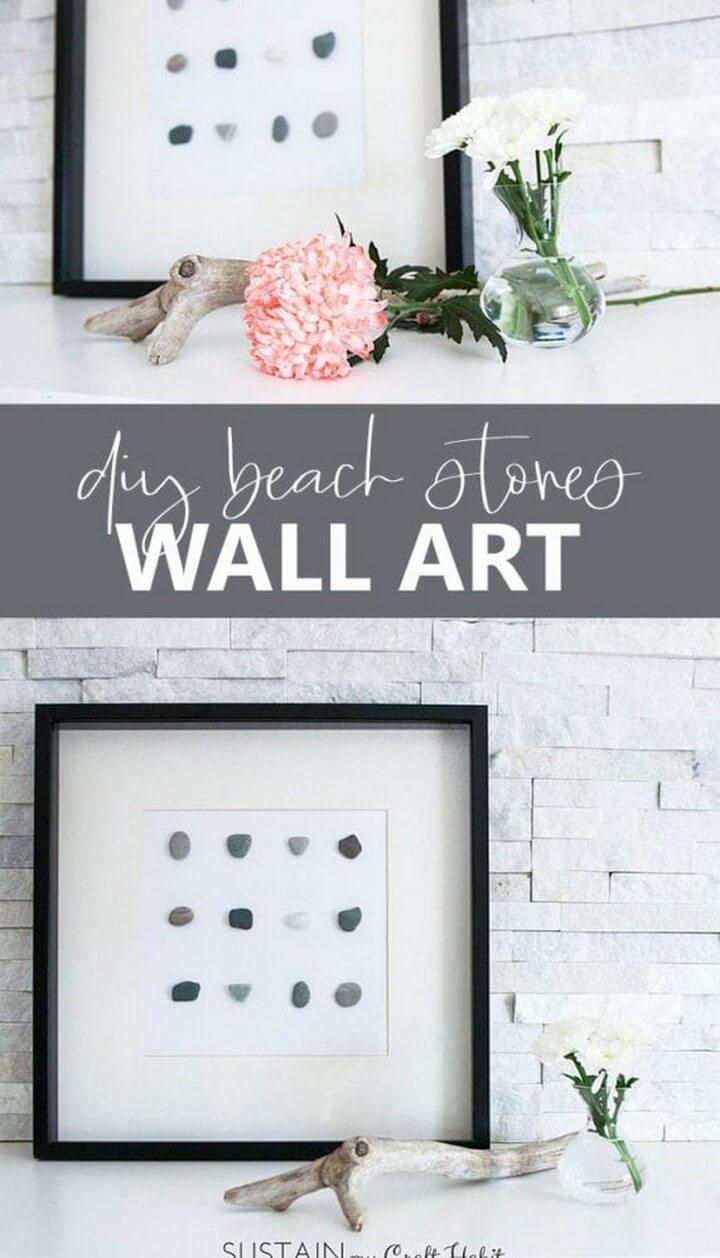 We all have a collection of beach stones in jars. This DIY wall art beach stone home décor suggests the best kind of use of these beach rocks. With a frame, some stone and a piece of white paper you can easily work up this gorgeous beach art to display in your foyer. Details here
Tutorial: sustainmycrafthabit
Easy DIY Valentine Decoration Using A Shadowbox: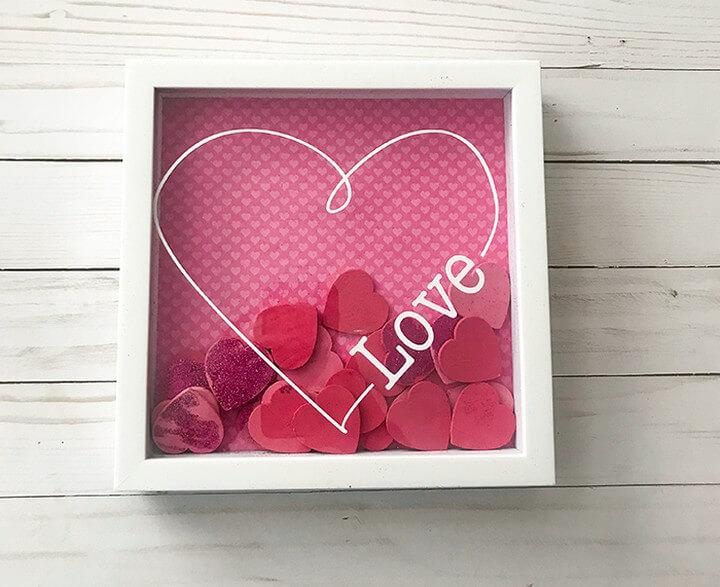 On valentine's day when the love would be in the air, you can show some via your home décor. This DIY valentine decoration shadowbox is the easiest and prettiest of the décor pieces to work this time. With a shadowbox, heart file cut out and some wooden hearts this lovely décor can be done in minutes.
Tutorial: clumsycrafter
DIY Idea: How To Make Your Own Love Sign: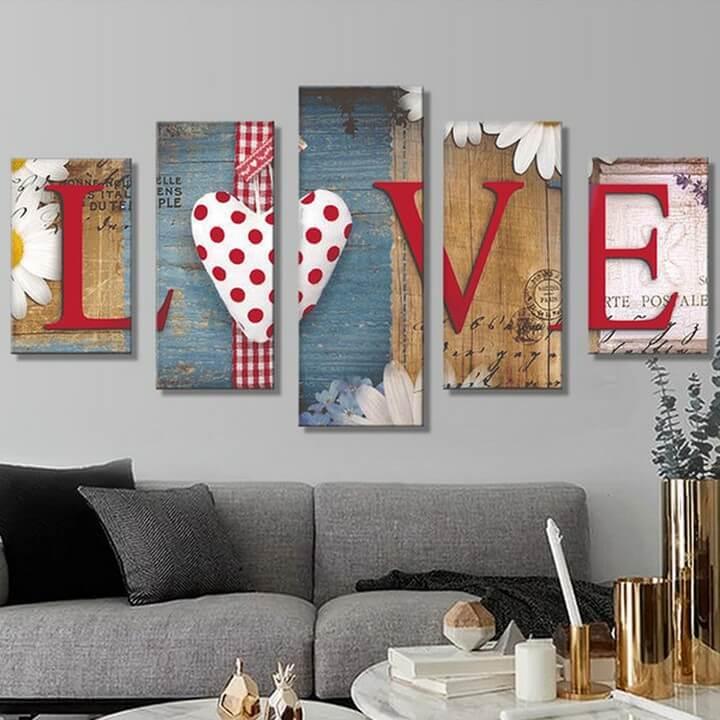 Your walls would look just like an art-house with these handmade love sign. Using some wooden boards you can easily create this breathtakingly beautiful love sign. It not only says LOVE but also exhibits gorgeous painted scenery on the boards that make it look totally heart winning. Details here
Tutorial: modernwedding
Tassel & Pom Pom Wall Hanging: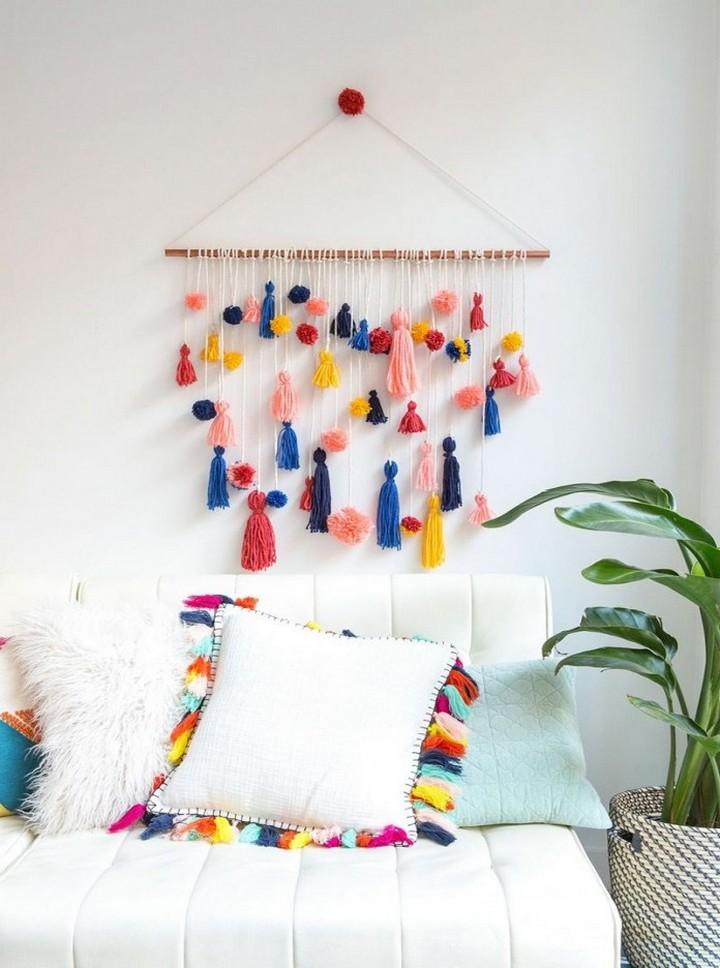 Either it is spring or the summer this tassel and pom wall hanging would bring the perfect color vibes in your home décor. With some yarn threads, a wooden dowel and a big bunch of tassels and the pom poms you can easily create this eye-catching wall hanging. Details here
Tutorial: youtube
Farmhouse Wood Box Centerpiece: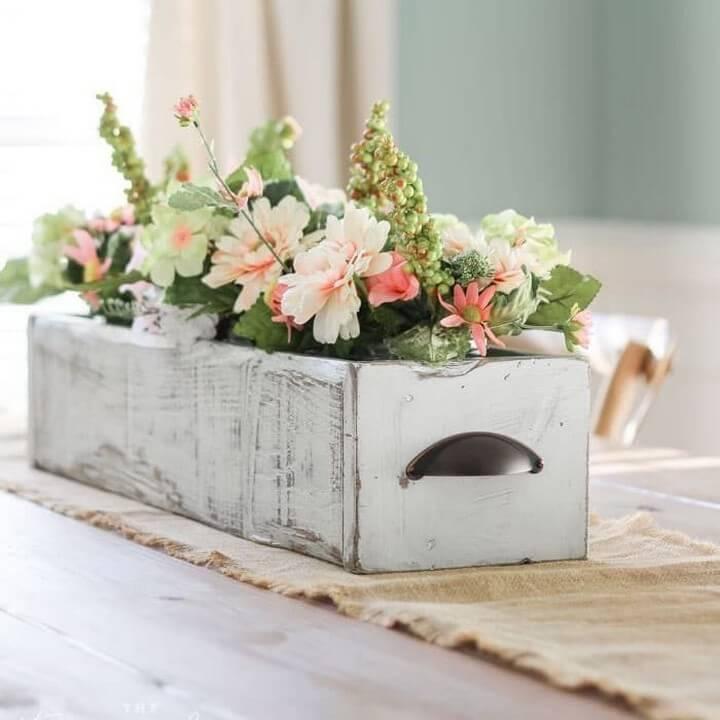 This farmhouse styled wood box centerpiece would surely bring oodles of charm to your dinner tables. With some wooden boards and rough white paint, you can easily create this lovely centerpiece. Load it with the simple flowers or fill in some mason jar to make it look more custom and cute.
Tutorial: theturquoisehome
Decorative Mirror Frame – DIY Wood Slice Mirror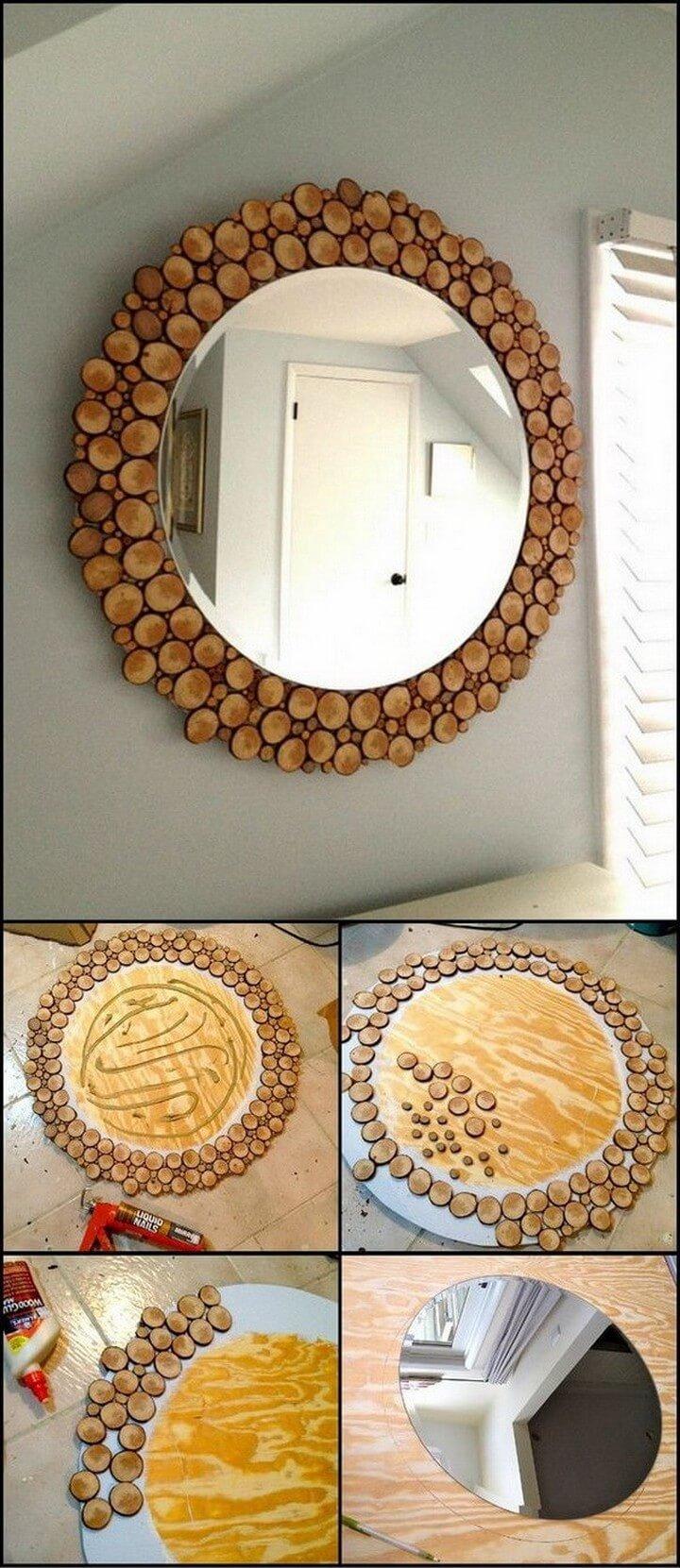 It's time to decorate your mirror and make it look a cool and catchy piece of your home décor. Here is this simple wood slice mirror to get your hands on this weekend. Just get the tree branches and cut round shapes and glue them around the mirror in multiple layers. Details here
Tutorial: theownerbuildernetwork
Clever Upcycled Cookie Sheet Organizer Craft – Dollar Store Cookie Sheet Organizer Two Ways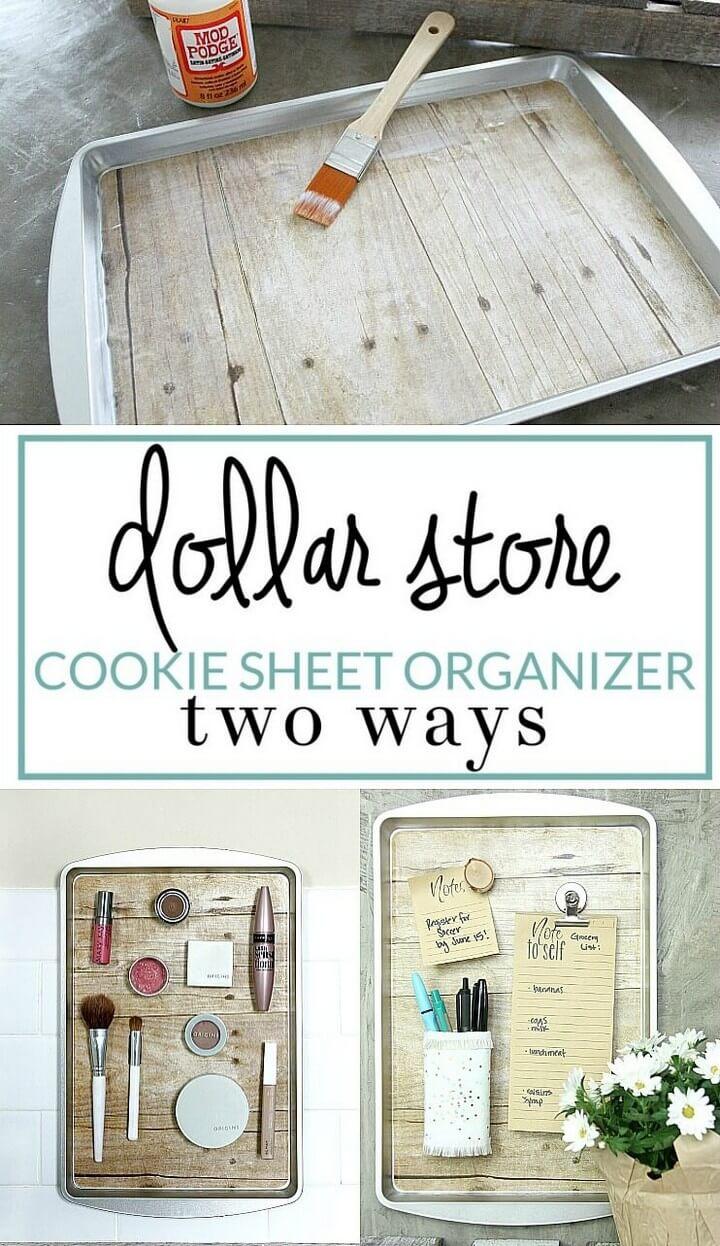 Make the most of your walls to organize your home spaces and this upcycled cookie sheet organizer would help. The cute and quirky organizer is easy to make by gluing some grain wood paper to an old cookie sheet. You can get the cookie sheet from the dollar store too.
Tutorial: thecrazycraftlady
Canopy Reading Nook: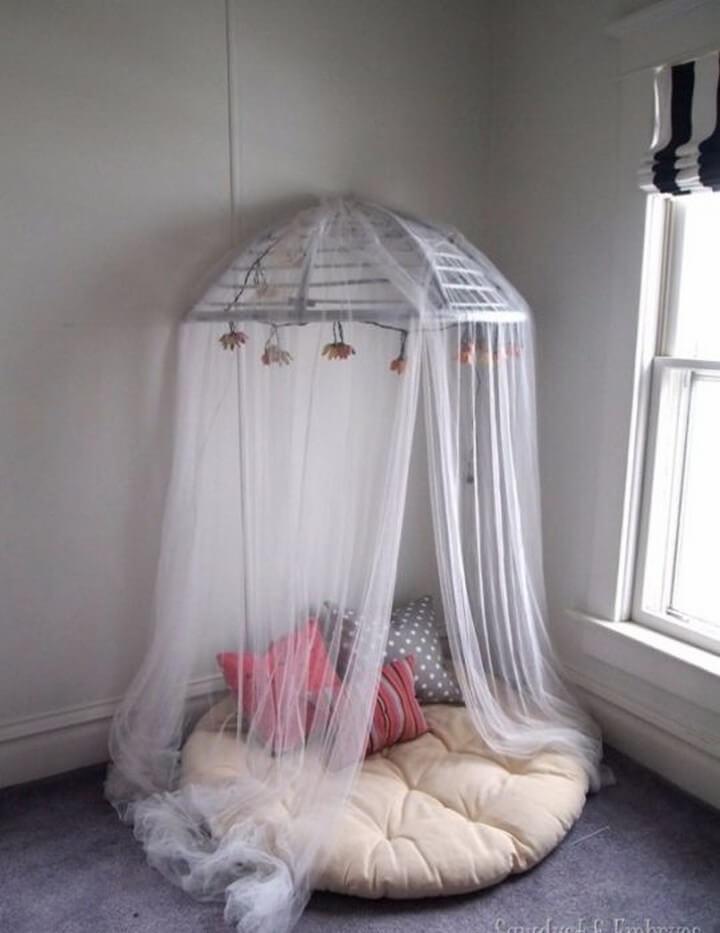 You are going to hugely drool over this smart and genius idea of canopy reading nook. It has been made out of an old Papasan chair, some curtains, lights, and pom-poms. Your little reader would love to study in this lovely reading corner which is quite comfy too. Get step by step details here
Tutorial: realitydaydream
Canvas Painting Anyone Can Make: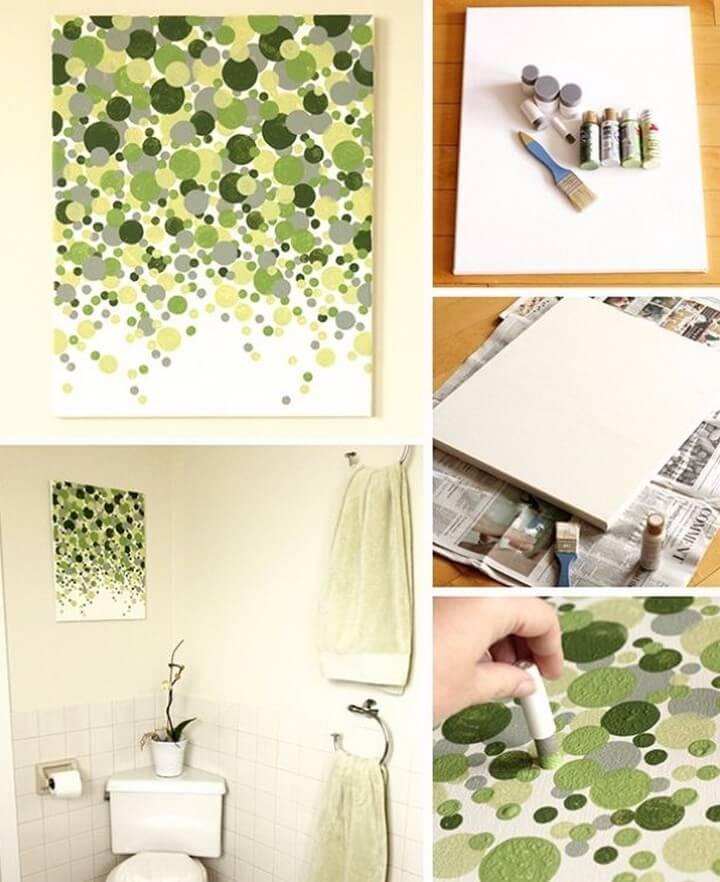 You can make some fancy and artistic wall beauties at home and this DIY canvas painting is the proof. The beautiful painting is so easy to do with a canvas and then paint it up in your favorite hues using the circular pouncers. The varied size of the pouncers really helps to create this fantastic piece of art.
Tutorial: dabblesandbabbles
Christmas Ornaments Glittery Snowball: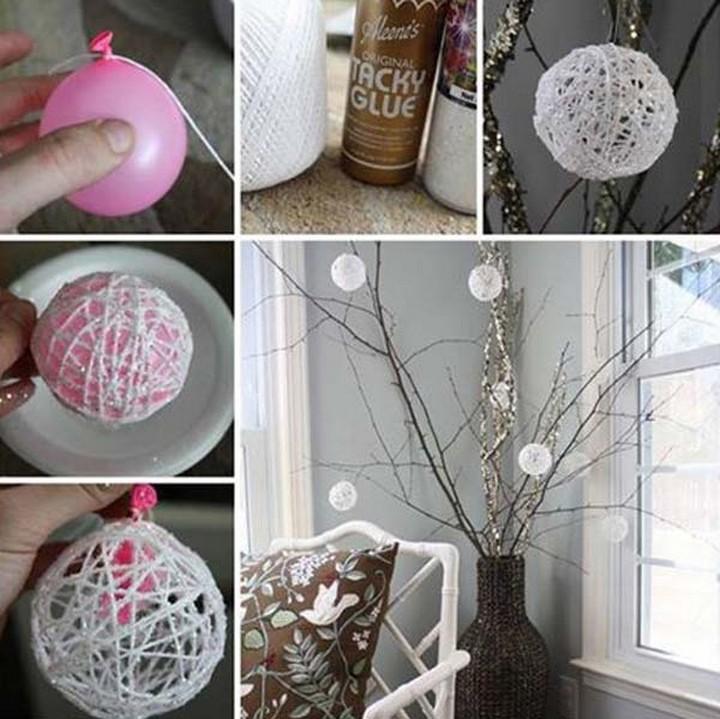 Bring some glittery touches to your home décor this time of Christmas with this lovely handmade glittery snowball. The gorgeous small size balls are easy to make from water balloons, strings, and some sticky solution. You can use them on y our braches in the vase to glow and brighten up the décor.
Tutorial: viewalongtheway
DIY Floral Monogram: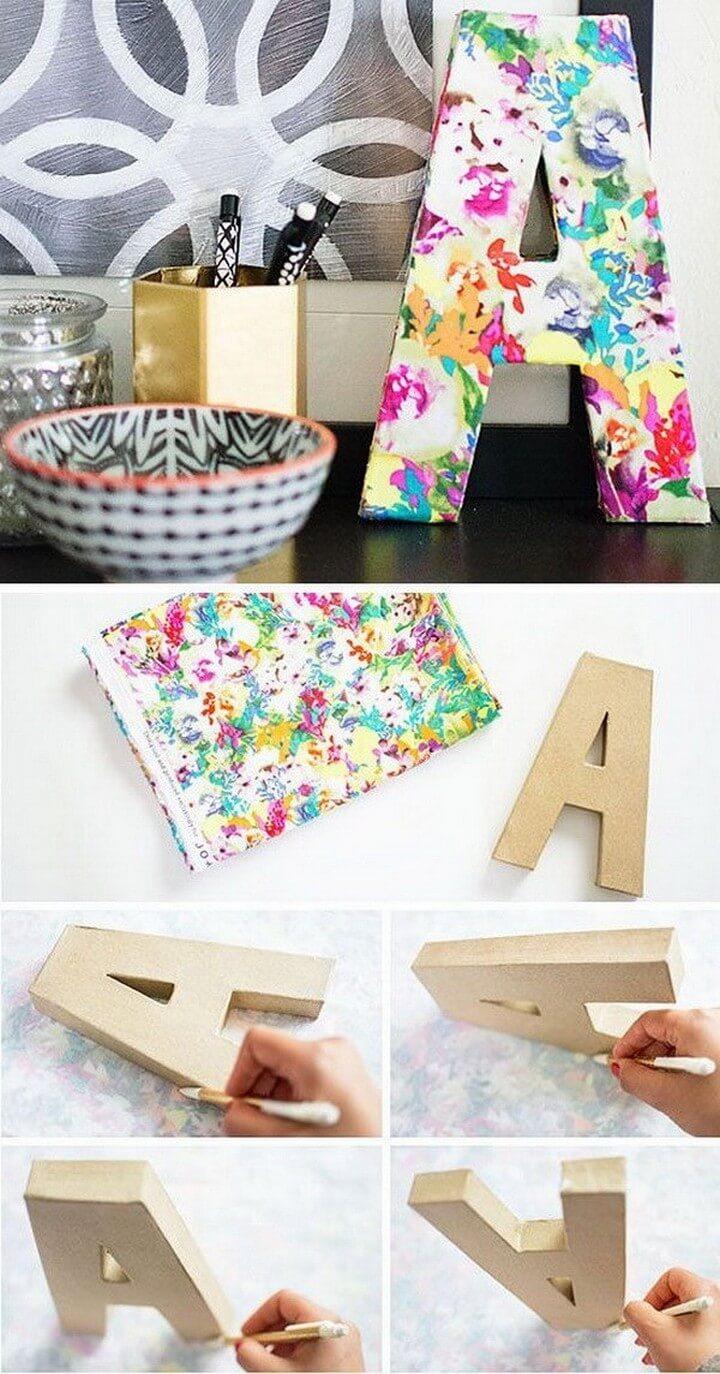 Monograms add the perfect custom vibes to the home décor so make this easy and cute DIY floral monogram. Just grab a cardboard made monogram and then wrap it up with a gorgeous floral printed fabric all over. You can use the monogram for your regular home décor or personalize a party too.
Tutorial: homeyohmy
How To Make Paper Flower Wreath: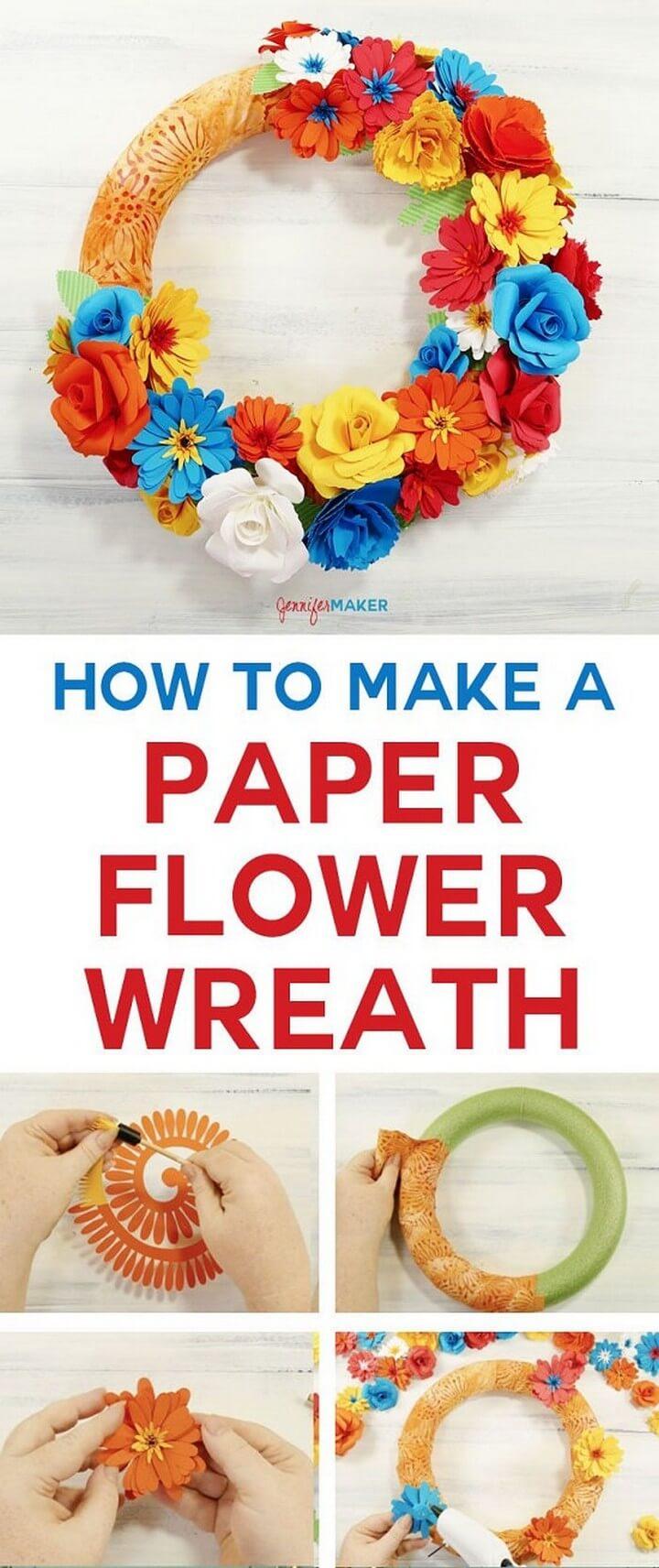 Spend some fun time on your weekend by doing some fun paper crafts and making this paper flower wreath would be just perfect. Just cover the wrath ring with some paper as the base. Then decorate the wreath ring with a bunch of colorful paper flowers. Flaunt it on any door or wall in the house for a lovely look.
Tutorial: cradiori
Paint Dipped Vase:


Here is the easiest way to style up your places with the handmade vases like the paint-dipped ones. Grab your favorite glass vase, pour in some of your favorite paint hues and let the dip flow randomly and get dry right there. Learn more about this idea here
Tutorial: indulgy
Easy To Make Mosaic Picture Frame:


Mosaic artwork is really enchanting and now you can create it on your own even if you have not learned it. Here is this simple picture frame made to look so exquisite and is super cheap and easy to do at home. Just break a mirror and glue it pieces to a painted frame and it's done.
Tutorial: consumercrafts
Pallet Shelf For Kitchen: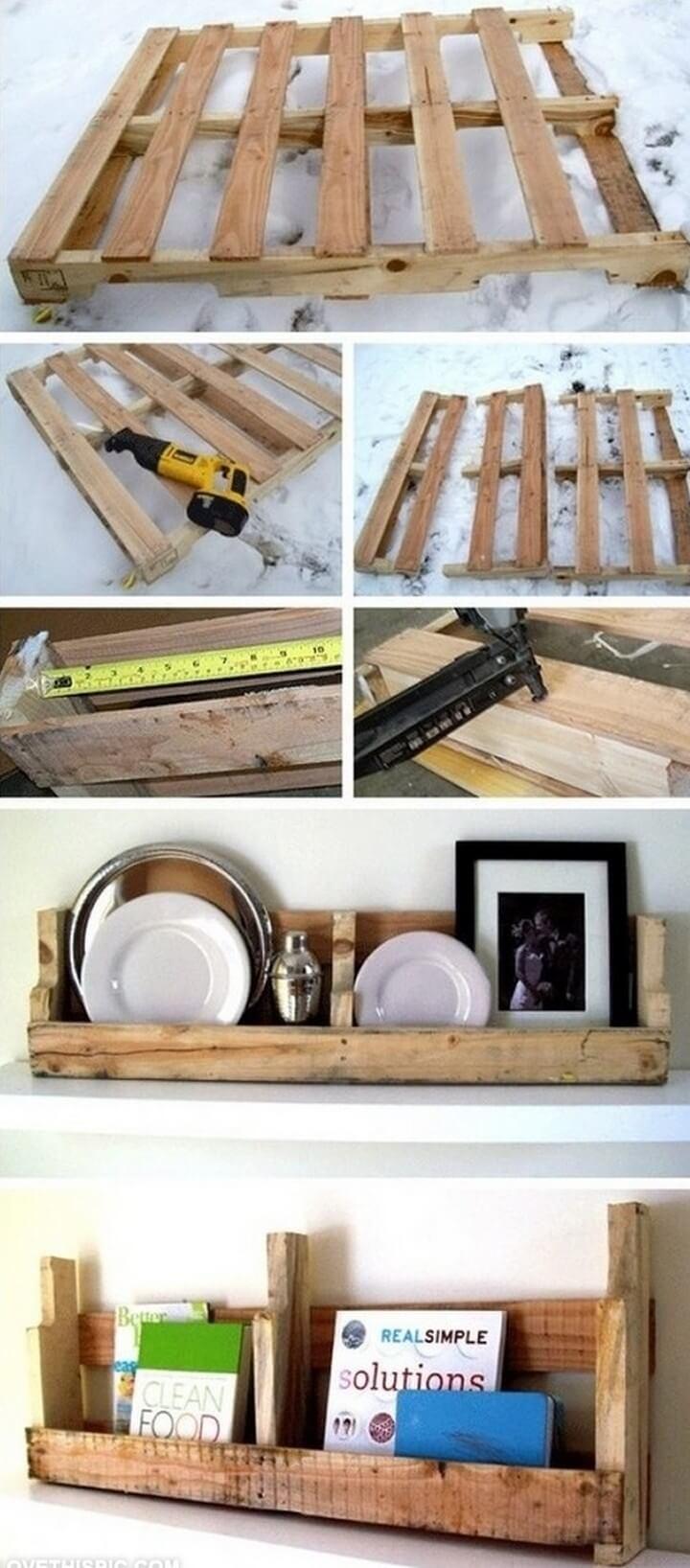 Do you need more storage space in your kitchen? If yes then make this simple yet functional pallet shelf at the cheaper rates. With a few tools, supplies and a pallet skid, you can easily install this shelf on your kitchen walls. From mugs, cups and spice jars you can organize everything on this pallet shelf.
Tutorial: instructables
Silk Floral Monogram:


Floral monograms can be a fun and personalized part of your home décor for any of the days be is special or casual. Now you can this lovely silk floral monogram on your own. So get some foam board to cut out your monogram and later cover it all over with colorful silk flowers. Details here
Tutorial: decoist
Giant Photo & Frame Tutorial – Engineer Print Frame


If your kids have their own rooms then this idea of creating the giant photo frame over their desks would be fantastic. Just get the large print of his favorite photo and frame it up on your own with some wooden boards. The frame with rustic stain hues looks just so beautiful. Details here
Tutorial: shanty-2-chic
Turn An Old Tire Into A Gorgeous Planter: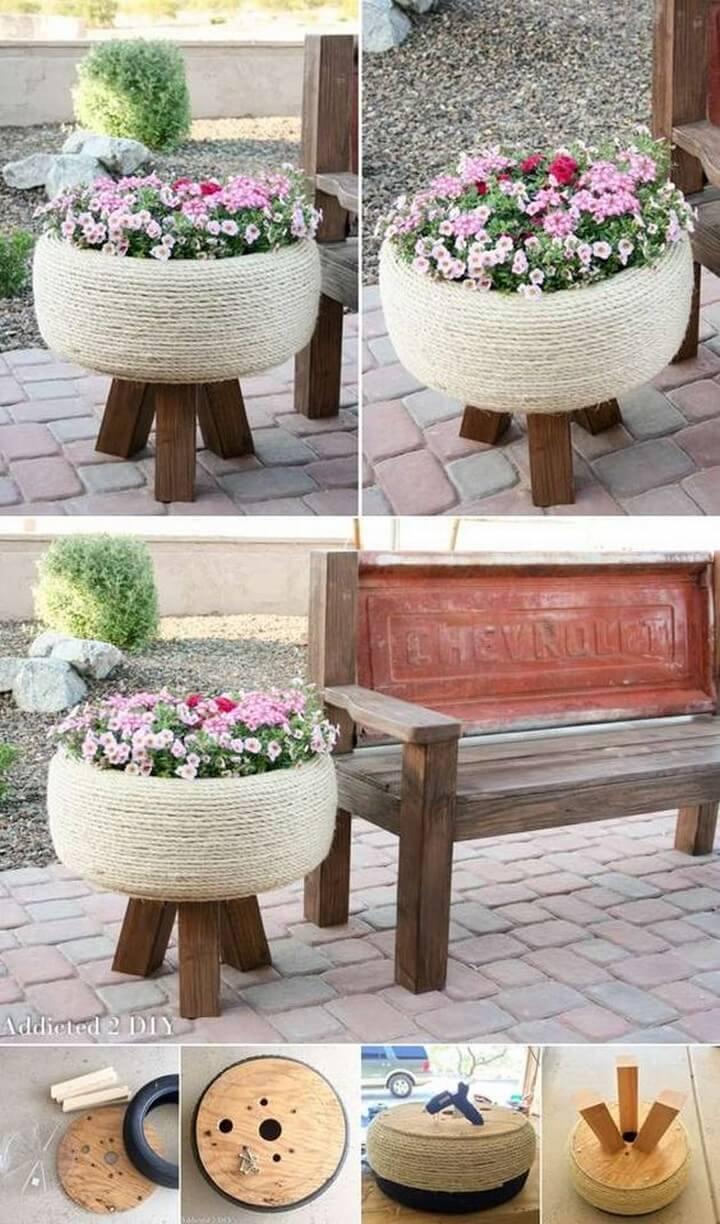 Tires should be recycled to have a clean environment and now you can do it beautifully. Here is the idea of turning an old tire into a gorgeous planter and that too quite simply and cheaply at home. You would need some white yarn to cover the tire with and some wooden pieces to create the tripod stand.
Tutorial: wonderfuldiy
Fabric Chandelier For Home Decor: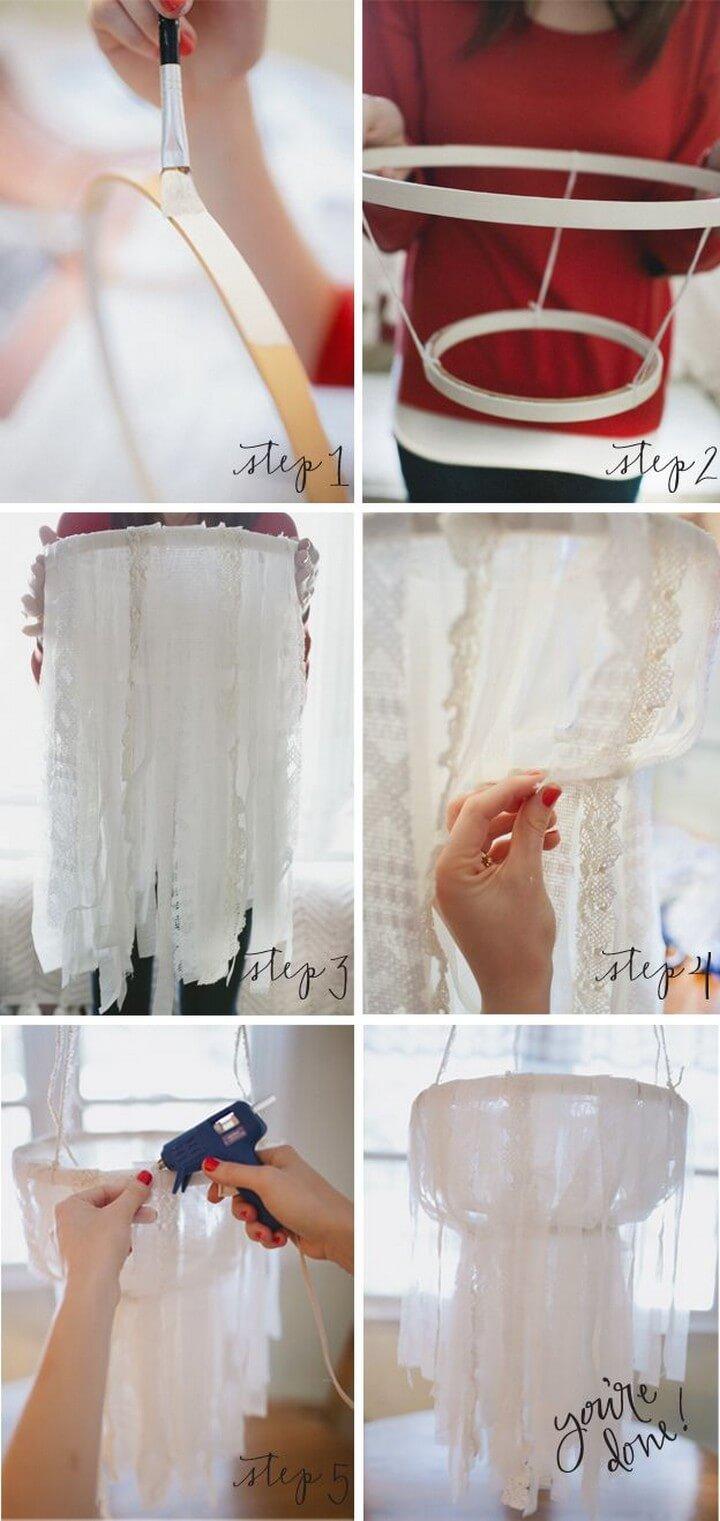 Make your porch seating much more fascinating in décor with this little and cute fabric chandelier. You are in need of a lampshade and then cover it all over with some white fabric using some glue. Thus so cheaply and easily you can work up this cute little home décor project. Details here
Tutorial: shelterness
DIY Tin Can Cutlery Organizer: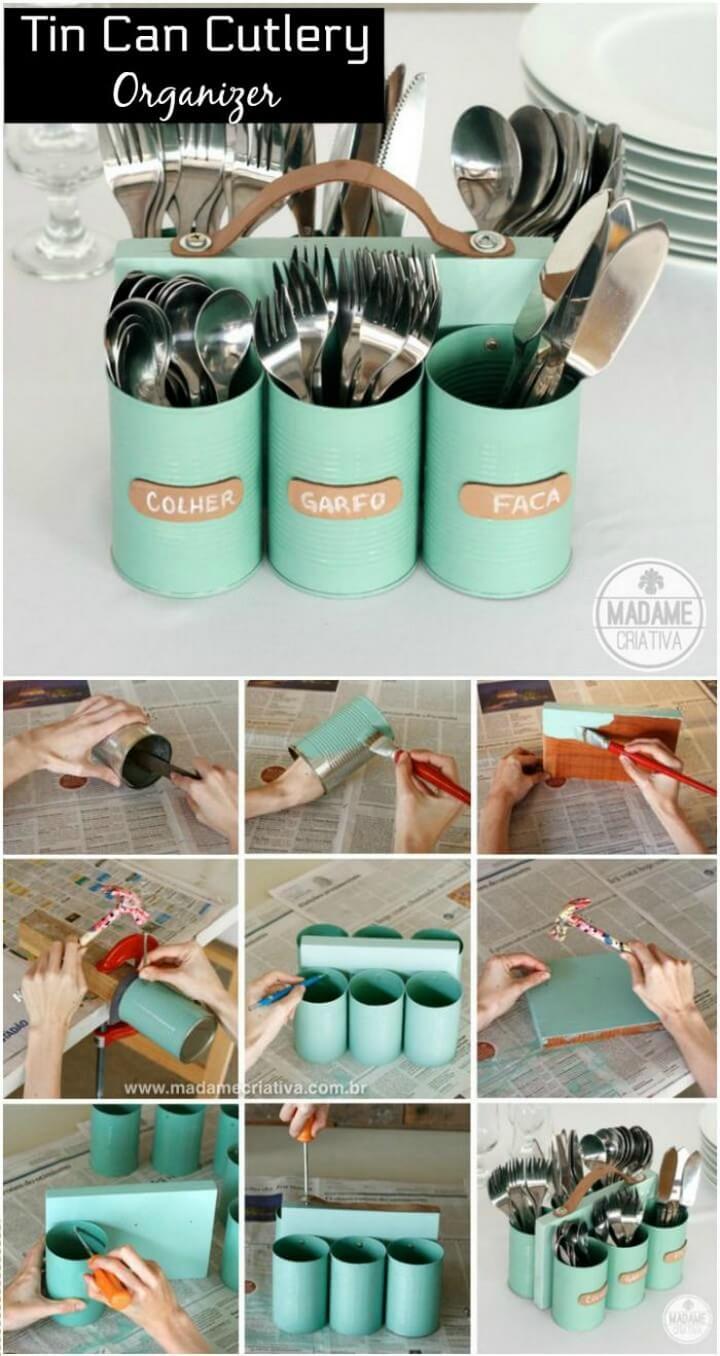 Make your kitchens look more organized with this genius DIY tin can cutlery organizer. The organizer is made out of six tin cans and a wooden board is in the center to join the set of three tins on each side of it. The gorgeous paint finish, tin can labeling and the leather handles are further things to accomplish this project
Tutorial: madamecriativa
Yarn Wrapped Vases Tutorial: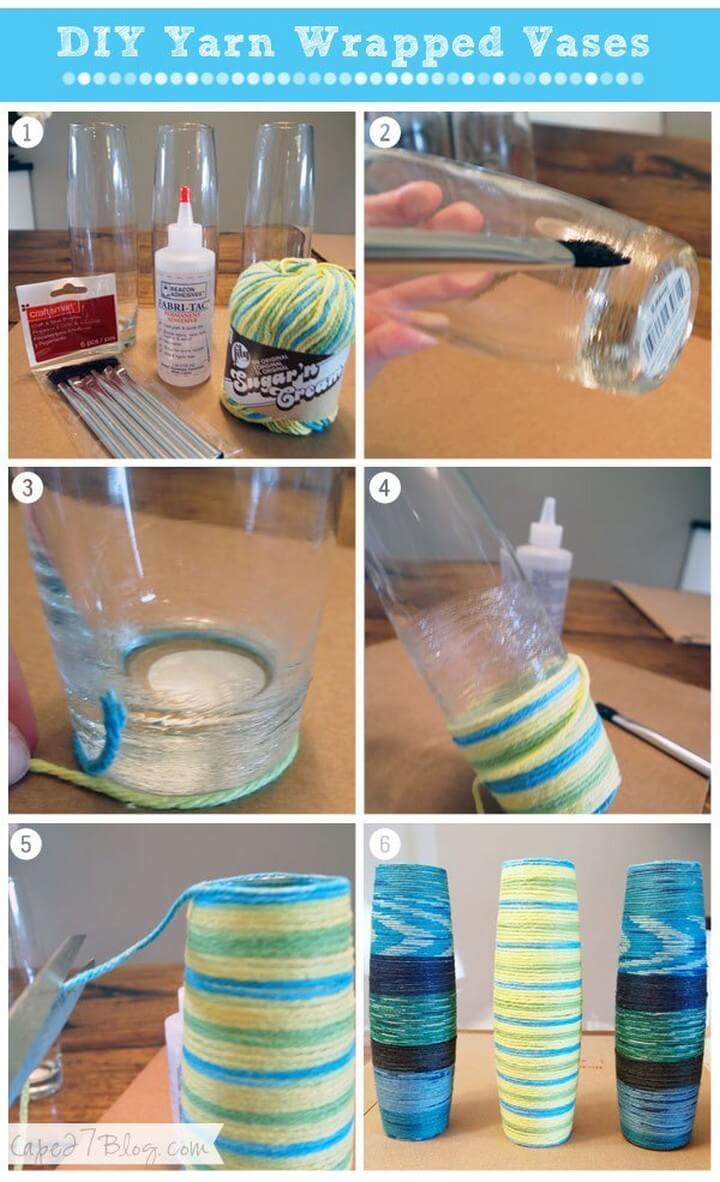 There are so many ways to prepare some cute and custom pieces of décor for y our home and here is the inspiration. Here is the tutorial showing how you can turn some simple glass vessels into the catchy pieces of décor display by just covering them with yarns of your favorite colors.
Tutorial: hazelwood
Amazing Rope Tire Ottoman: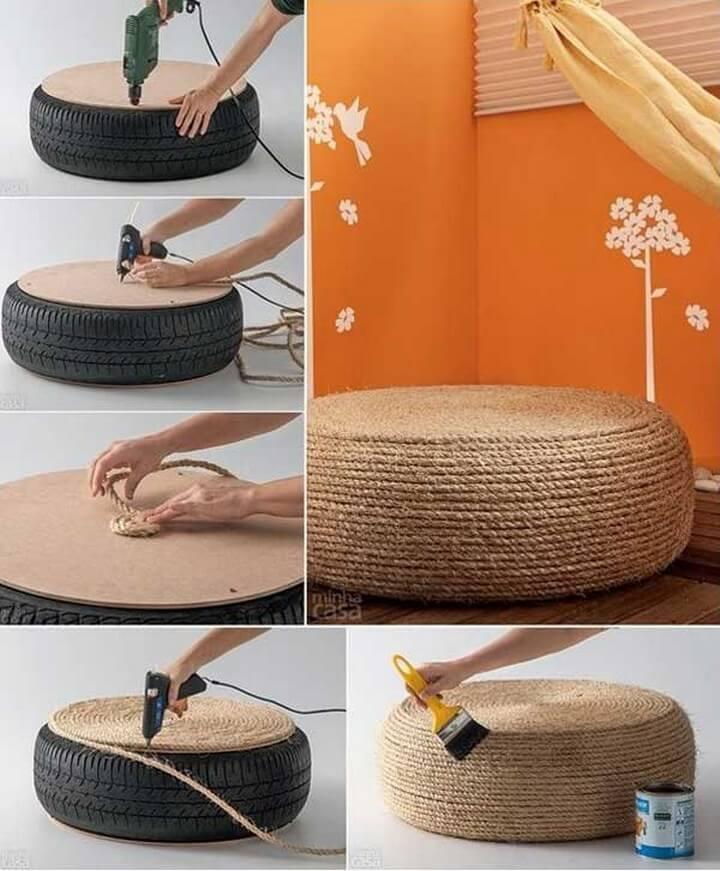 Here is another amazing idea of this rope tire ottoman to let you recycle the tires more and more. Just get two round shaped cardboard and place them on the top and base of the tire. Later cover this while tire thing with white rope and you have got yourself a lovely ottoman.
Tutorial: youtube
Home Decor Wood Sign: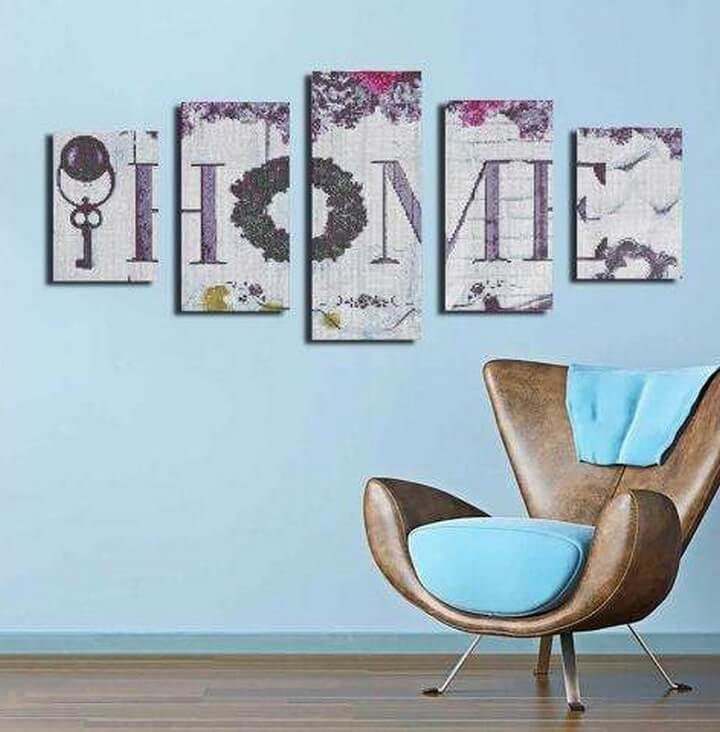 This mesmerizing home décor wood sign saying HOME with gorgeous painting like scenery would surely make your walls alive. You need some wooden boards, painting stuff, and tools to do this unique and fun décor wood sign. This home sign would make your home décor look much jazzed up. Details here
Tutorial: youtube
Washi Tape Wall Decor: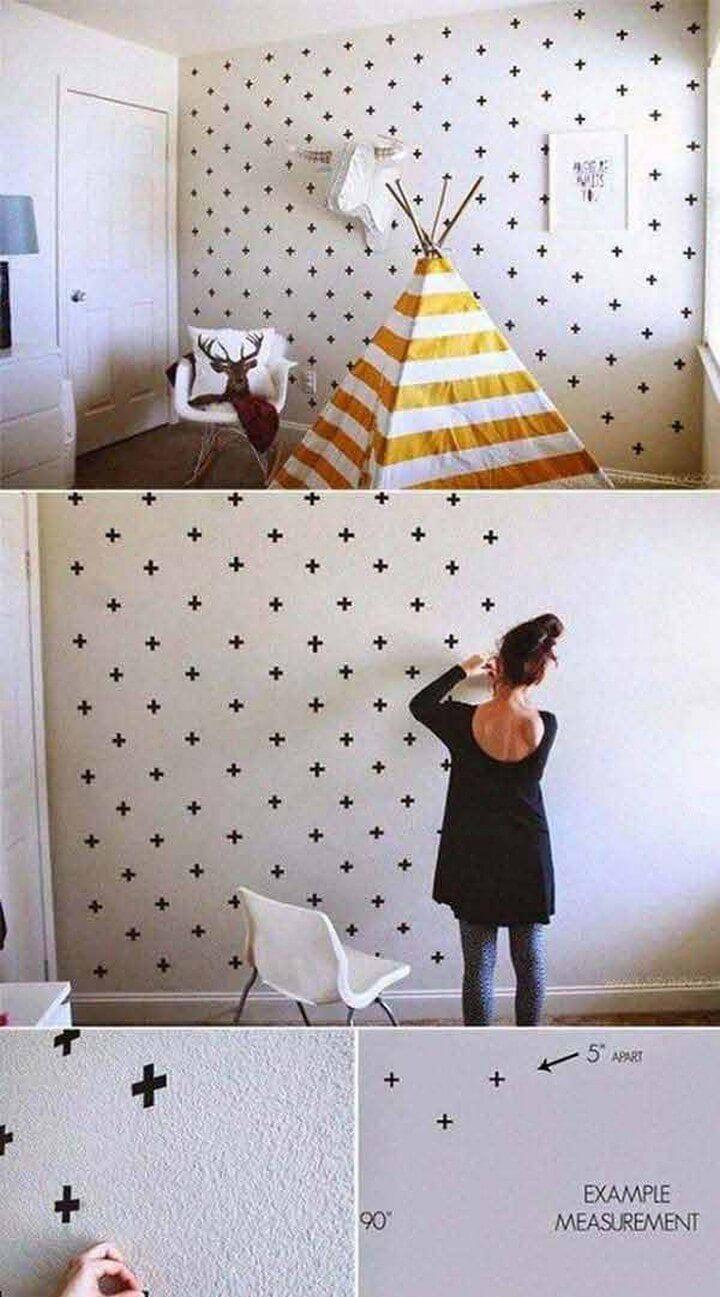 The washi tape is the new big thing in the world of craft and can do wonders just like this washi tape wall décor. The whole white and chic walls have been covered with + signs all over. The signs are made with black washi tape. Check out easy details here
Tutorial: everythingemilyblog
Tree Branches Heart Wall Art: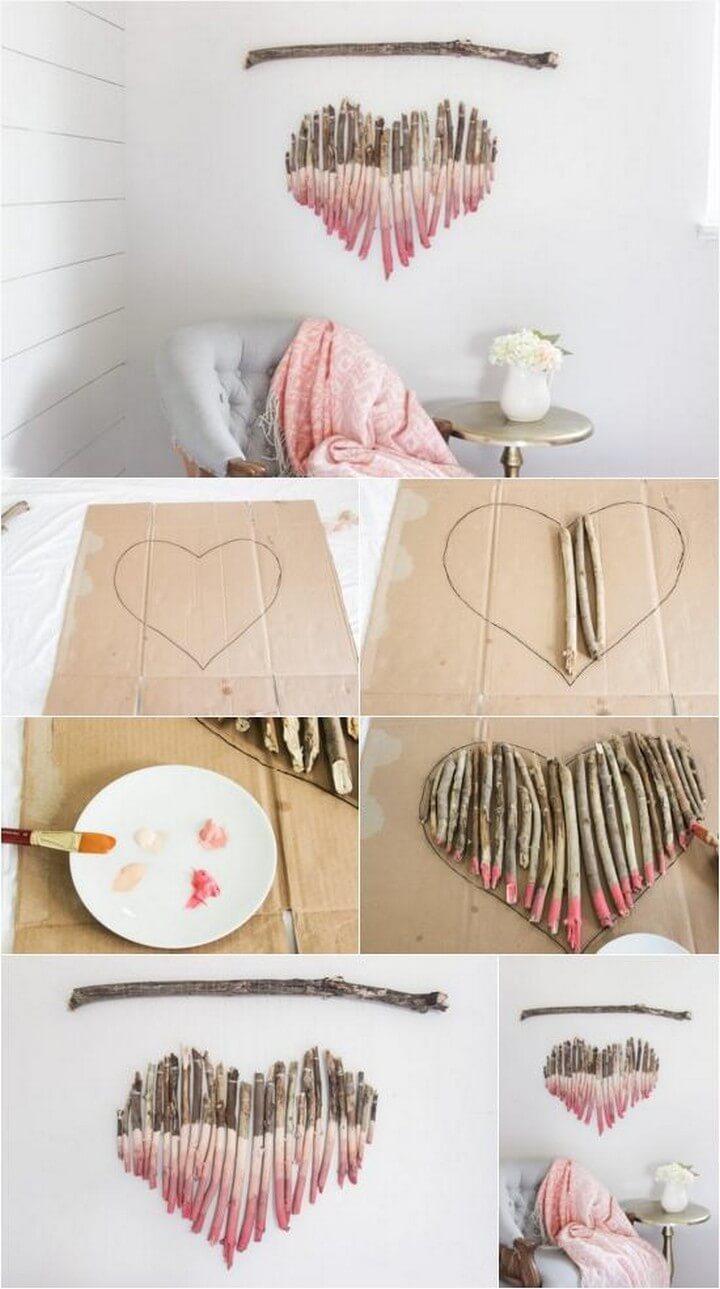 Bring the perfect beachy vibes to your home décor and that too with the things that you have found on the beach. This gorgeous wall art of tree branches looks so exotic and fun for a summer home. So grab some dried tree branches or driftwood, paint them half and create a lovely heart art on the walls.
Tutorial: ehow
Amazing Dye Macrame Wall Hanging:


The macramé wall hangings are back in fashion these days and now you can easily make one at home. So make a macramé and hang it over the walls using a piece of driftwood. For a twist, the macramé has been painted pink halfway down and looks just so ethereal. Details here
Tutorial: greenweddingshoes
No-Sew Rope Basket For Storage: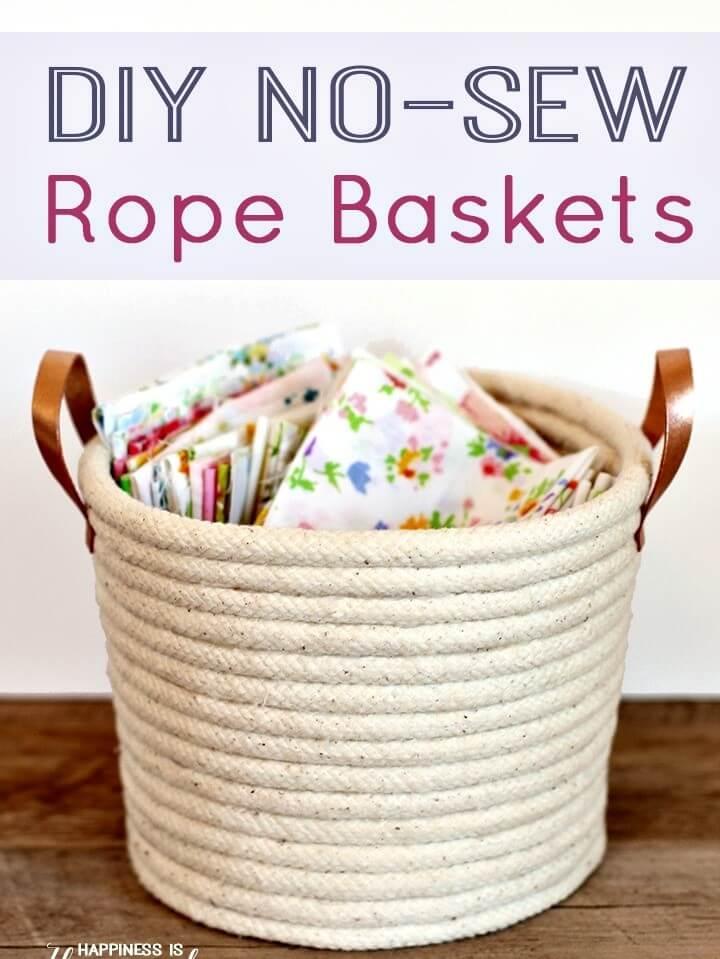 Why should we buy a plastic basket that would not last long when we can make this long-lasting rope basket at home. As a thick white rope has been used to shape up the basket, it is surely going to be a robust thing to store your knick-knacks inside. Leather handles more to its beauty and charm. Details here
Tutorial: happinessishomemade