Our homes are the most relaxing places and the beauty of the house really adds to the comfort that it provides us. Decoration of the house really adds to turn your spaces into your dreamy land but it can be expensive. So here are these totally inexpensive 13 DIY Projects For Home Decor to work on. Not only you can groom up the look of your spaces but also save yourself a lot of money with the help of these cheap décor ideas. Also, these ideas are about the small and cute décor details so you are going to really enjoy these décor ideas for sure.
Vases really contribute to the overall home styling and now you can create on your own. Using some clear jars of glass or wood and hand painting them is a great idea to get some custom vase pieces.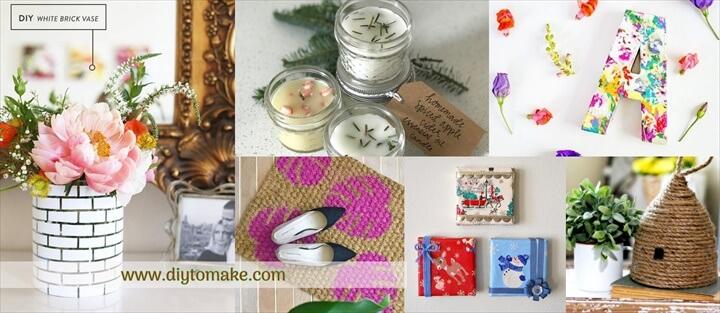 Making cheap yet lovely glittered and scented candles is also a great idea to add oodles of charm to the home ambiance if you are a lover of farmhouse styling or rustic décor then making crate coffee signs, rope honey beehive are awesome projects to work on. To know more such amazing yet cheap décor ideas you need to explore it all below.
DIY White Brick Vase: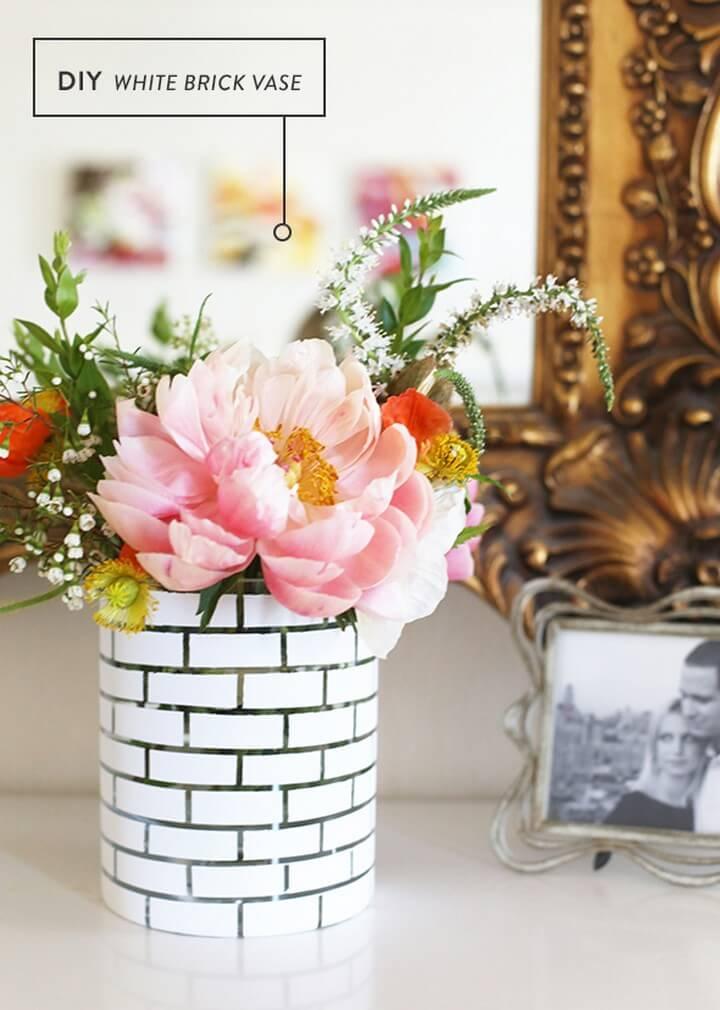 It's time to bring some delicate and decent change in your décor and this DIY white brick vase is perfect for the purpose. With some white paint and some masking tape, you can easily create this pretty brick vase and adorn it with flowers.
Tutorial: sayyes
Floral Monogram: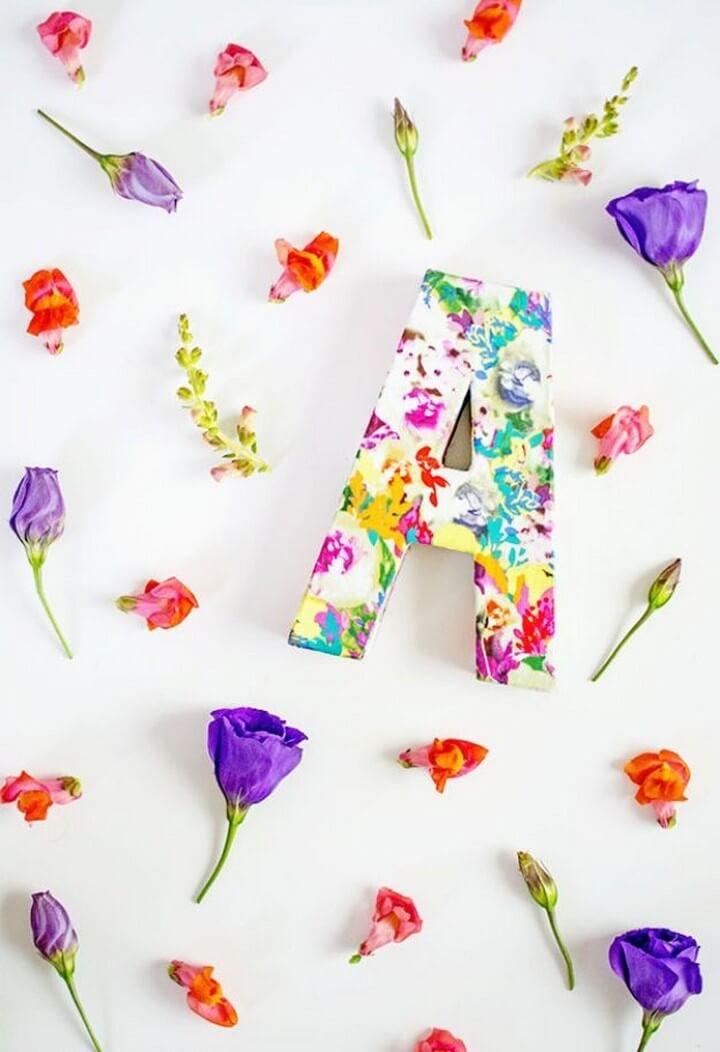 If you want to bring the spring touches in your home décor then doing this floral monogram project is an apt project. Just get the monogram of your choice and cover it with a nice floral paper and you are done. Display it over your shelves or mantles.
Tutorial: homeyohmy
Monstera Leaf Doormat: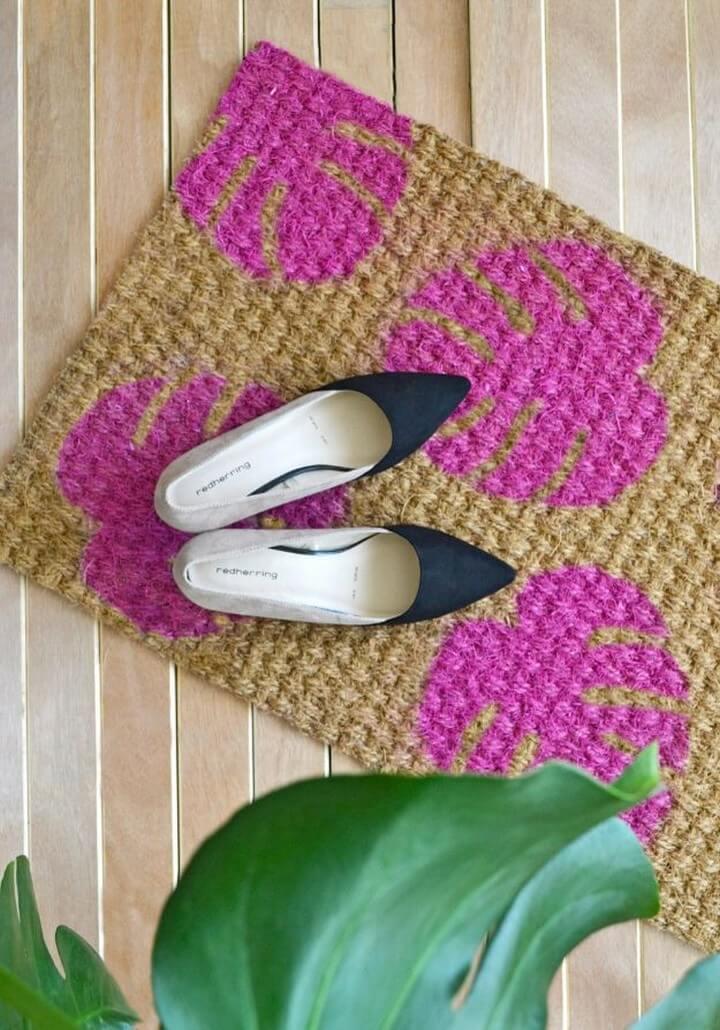 Everything should be according to the season and so is the doormat. So for the summer or spring, this Monstera leaf doormat is the perfect thing to welcome the visitors. Cut out a leafy design on cardboard to use it as the perfect cut out to paint up the doormat.
Tutorial: enthrallinggumption
Silver Glitter Candle DIY: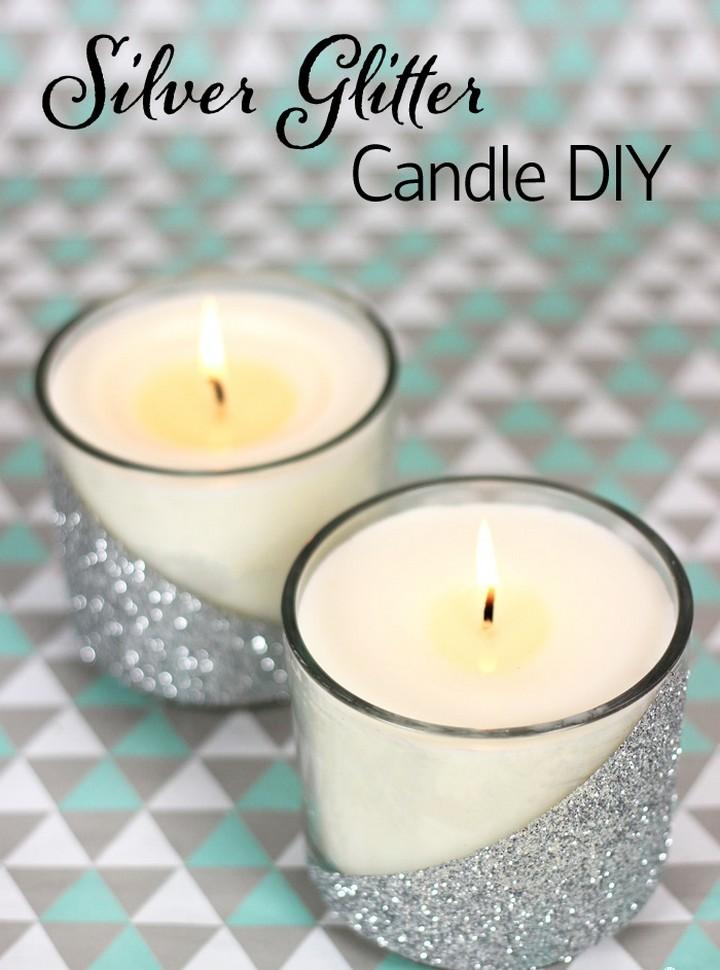 Now you do not need to buy those pretty candle jars as you can easily make them at home. Here are these gorgeous silver glitter candles to get set on your tables. All you need is some glue, tape, and glitter to easily decorate this pretty table centerpiece.
Tutorial: soapqueen
DIY Make Your Own Designer Switchplates: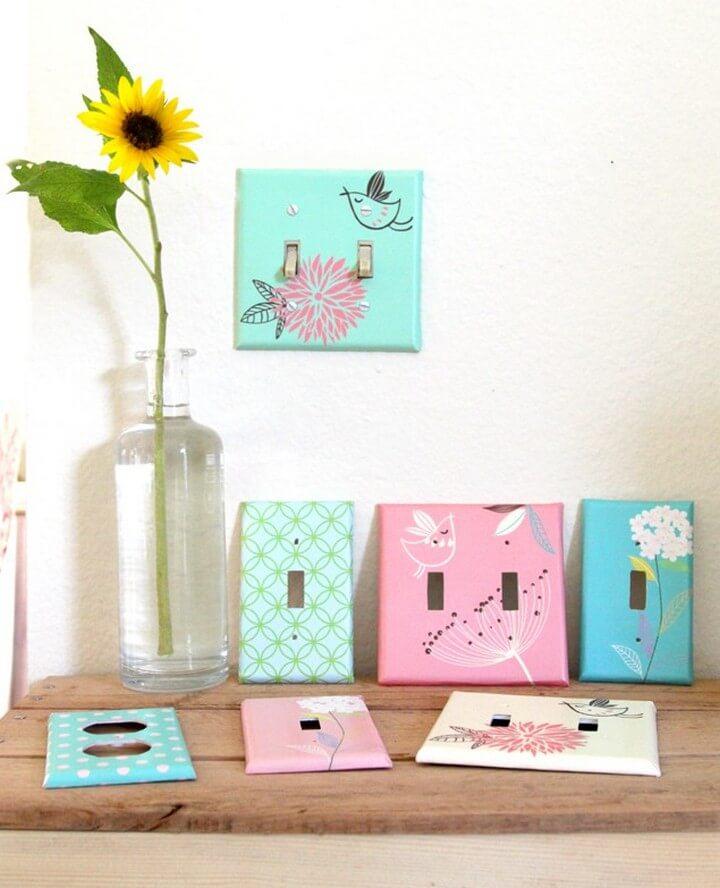 Switchplates can be turned into the gorgeous wall art pieces and with this great art project. Just grab some flowery paper and glue them over your switch plates and make them all gorgeous and quirky. You would be more than happy every time you put something on the charge on these switch plates.
Tutorial: apieceofrainbow
DIY Mirror Box: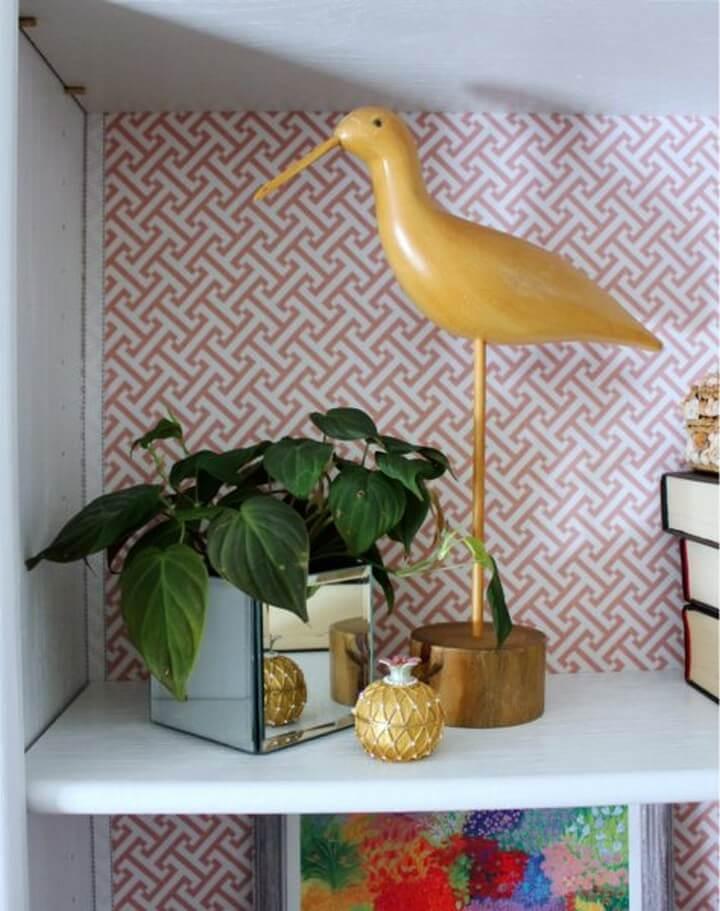 Using some mirror boxes in squares this gorgeous box is ready to play the role of a gorgeous and unique coffee table centerpiece.  The DIY mirror box would look good for all the seasons be it summer or winters just change the flowers and it's ready to go.
Tutorial: hisugarplum
Coffee Crate Lid Sign: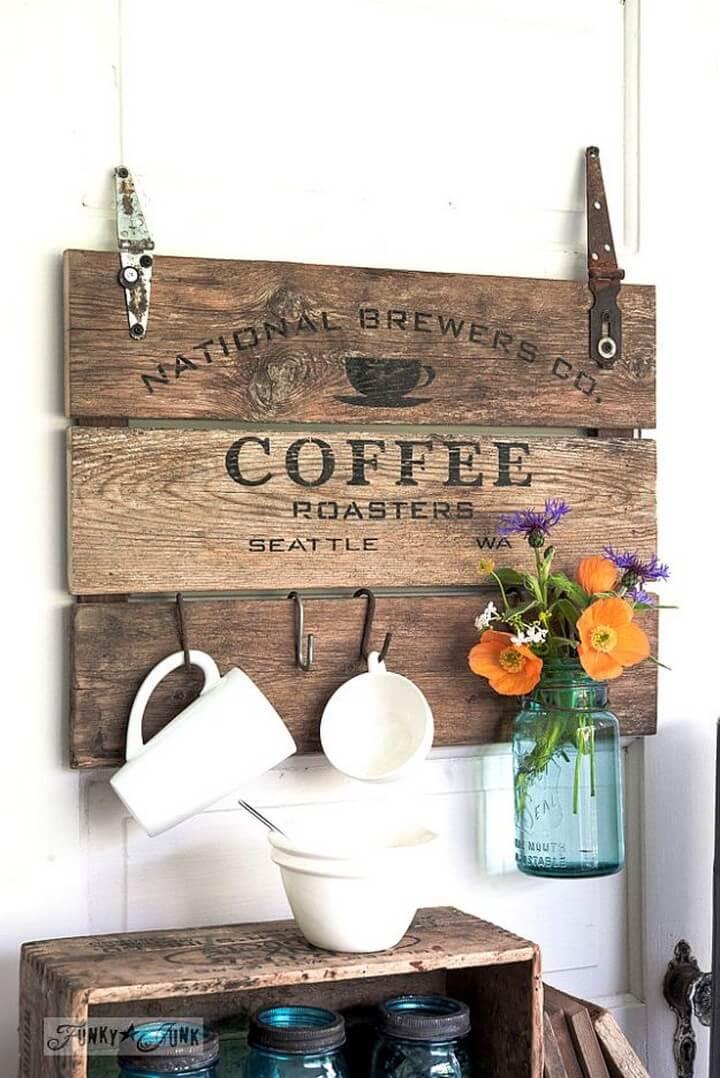 With a wooden crate, you can do some really fantastic wood décor projects just like this coffee crate lid sign.  With wooden boards and the ink, you can create the stenciled letter saying Coffee roasters. Hang it with door hinges to add more in its rustic look.
Tutorial: funkyjunkinteriors
DIY Painted Vases: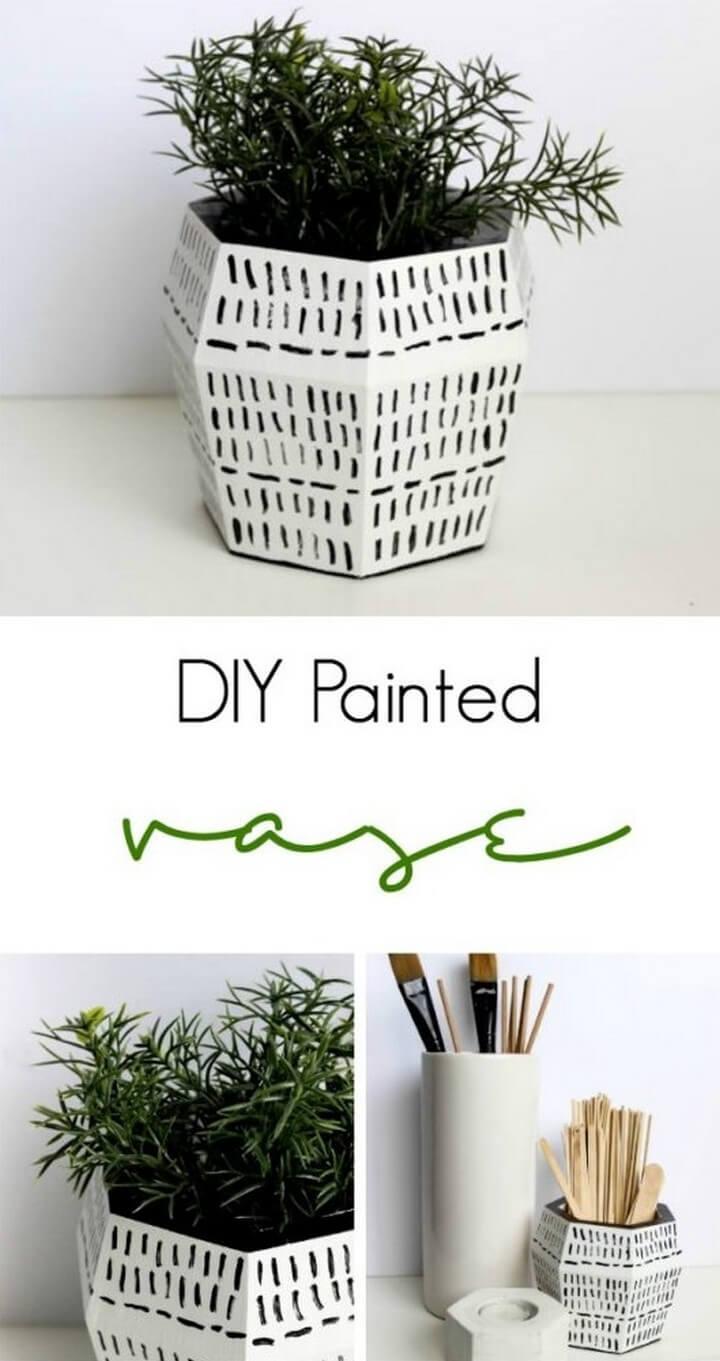 These DIY painted vases are the best thing to add on your display tables and charm up the look of your house. The plain wooden vase looks really personalized with white and black vases. You can choose to create your own personal design over the vase.
Tutorial: lovecreatecelebrate
Shabby Chic DIY Canvas Wall Art: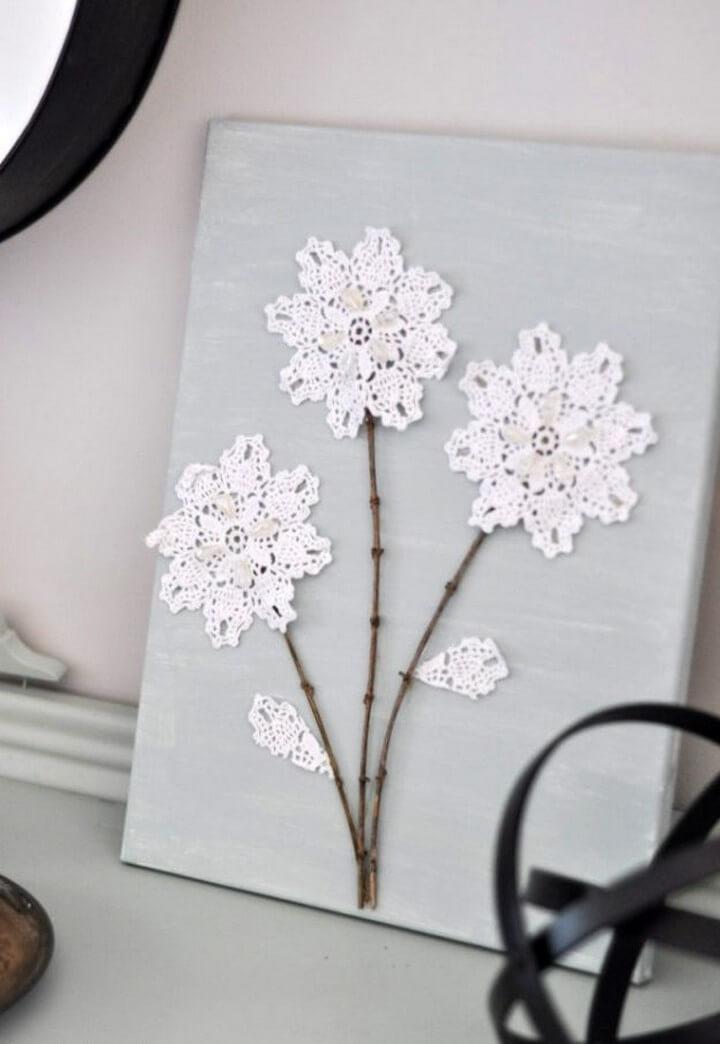 The addition of this shabby chic DIY canvas wall art is the best thing to do on your own.  Just grab a canvas and glue some doilies on it with beads to look so adorable cute. Foyer table, sofa table or the hall table this canvass wall art would look just so attention-grabbing.
Tutorial: consumercrafts
Wrapping Paper Wall Art With Glue Gun: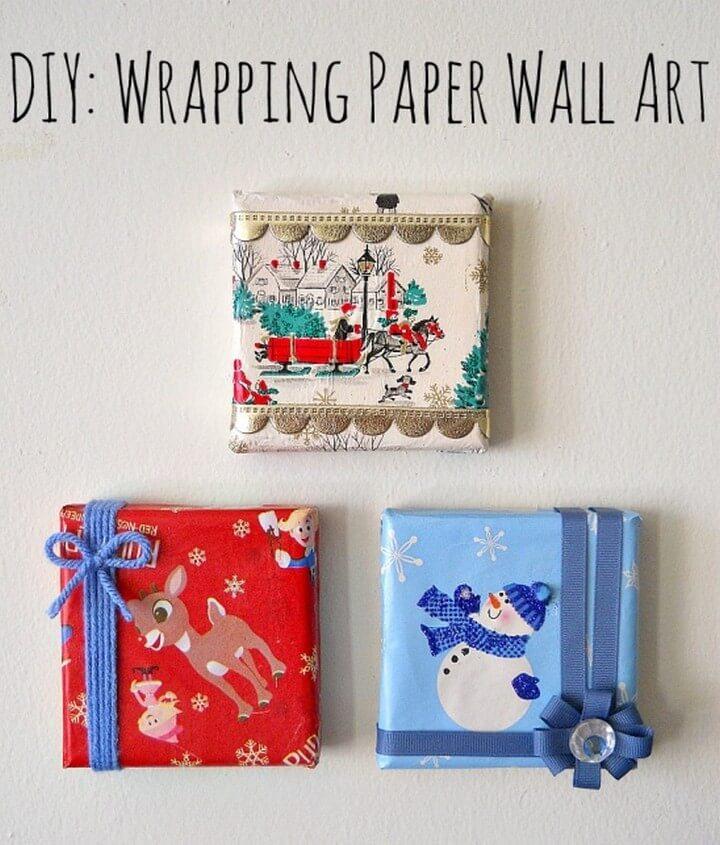 Bring the festive vibes on your homey walls with this gorgeous wall art of wrapping papers. The Christmas theme wallpapers would be all around in the market with lovely images and colors. So grab those all wrapping papers and glue them around your little square canvas for a chic wall look.
Tutorial: blitsy
Rainbow Text Wall Art: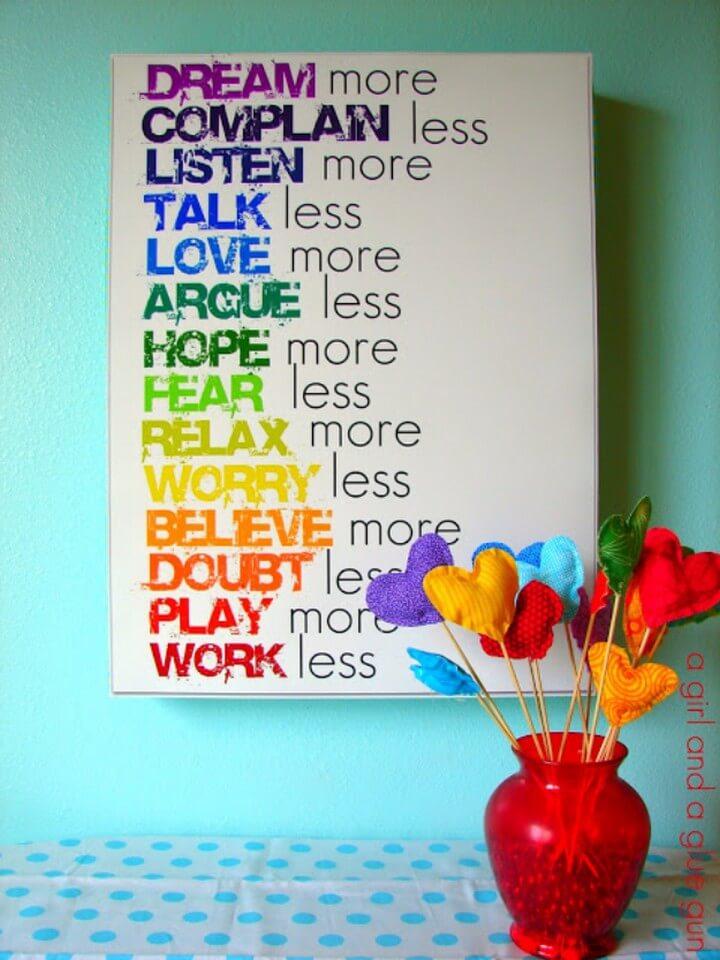 Yarn can do wonders to your home décor with this gorgeous rainbow text wall art is the proof. The pretty rainbow is made with ropes and the colorful yarns wrapped around. You can hang it in the kid's room for a perfectly cute look during summer and spring.
Tutorial: athomewithashley
How To Make Homemade Natural Candles: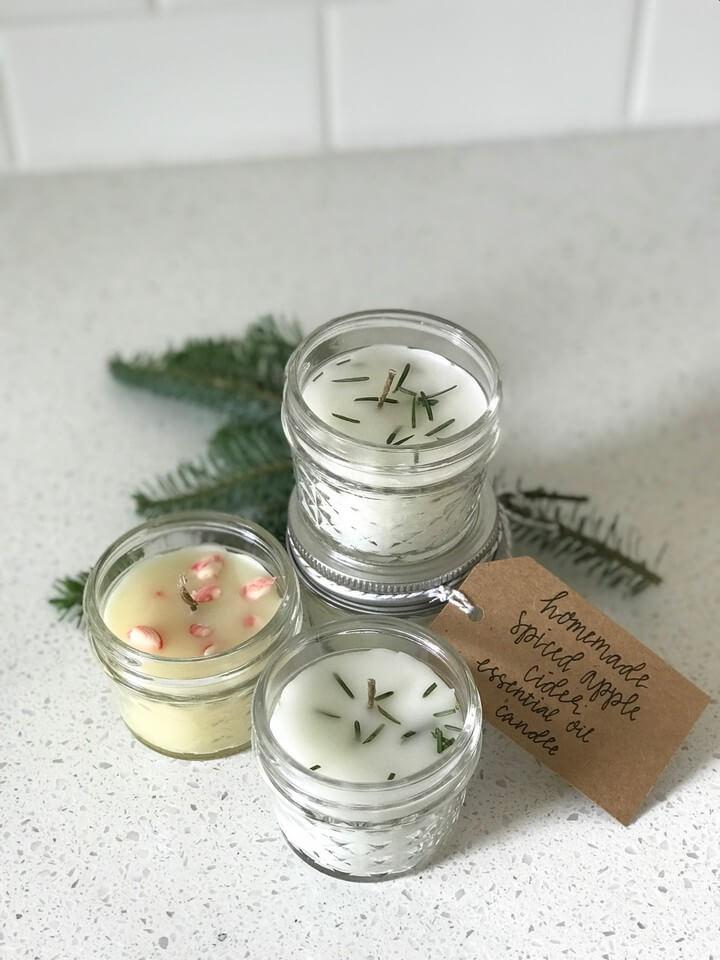 The holiday season would be more fun with these lovely scented candles lighting around.  Using beeswax and the essential oils you can easily make this bunch of natural candles to use for your spaces. They would also make a great gift for your dear and ones too.
Tutorial: 100daysofrealfood
How To Make Home Decor Rope Beehive:

Add oodles of honey charm to your house with this home décor rope beehive. With some thick brown rope and some hot glue, you can easily create this gorgeous rope beehive. You can easily hang it around to your spaces and bring the perfect country-style look in your spaces.
Tutorial: salvagesisterandmister