Styling up a home can cost you an arm and leg if you do it with the professionals. So it's time to be home stylist yourself and save your hard-earned money with these 15 Budget-Friendly DIY Home Decor Projects. These ideas are proof that you do not have to buy those hefty décor items and get the rich home décor look. Following these projects suggests how easy it is to beautify your home at the cost of just a few pennies. Also, these ideas have covered all the homey portions from the living room to bedroom, mantles and the walls so that you can get a wholesome inspiration to jazz up your home style with.
The list starts with a handmade wreath hanging over the doors. It is super easy to make with cardstock cut petals and then arrange them on a foam wreath ring. There are multiple ideas showing you to charm up your candles for the mantles and dinner tables and that too using the cheaper items like glitter, fabric, and clay. There are many more ideas to allure your imagination and creativity so just get along the list and get fueled up. All the ideas have tutorial links attached.
You May Also Like:
DIY Winter Wreath – Stylish & Simple Holiday Decor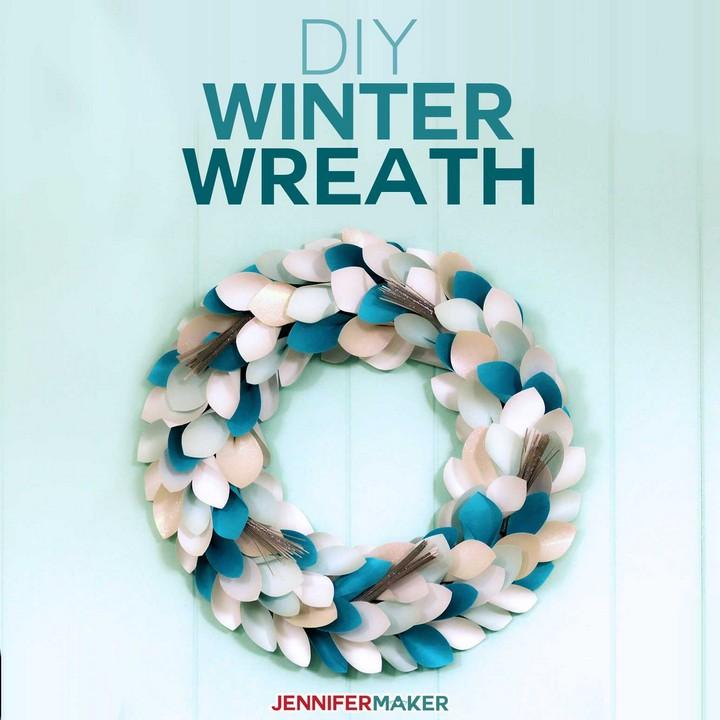 Making your DIY winter wreath project would surely give your home a wow effect. This pretty and simple handmade wreath needs white and blue card stocks with some glitter sheet and the foam wreath to get easily done. Check out more here
Tutorial: jennifermaker
Fabric Cover Candle Lampshade: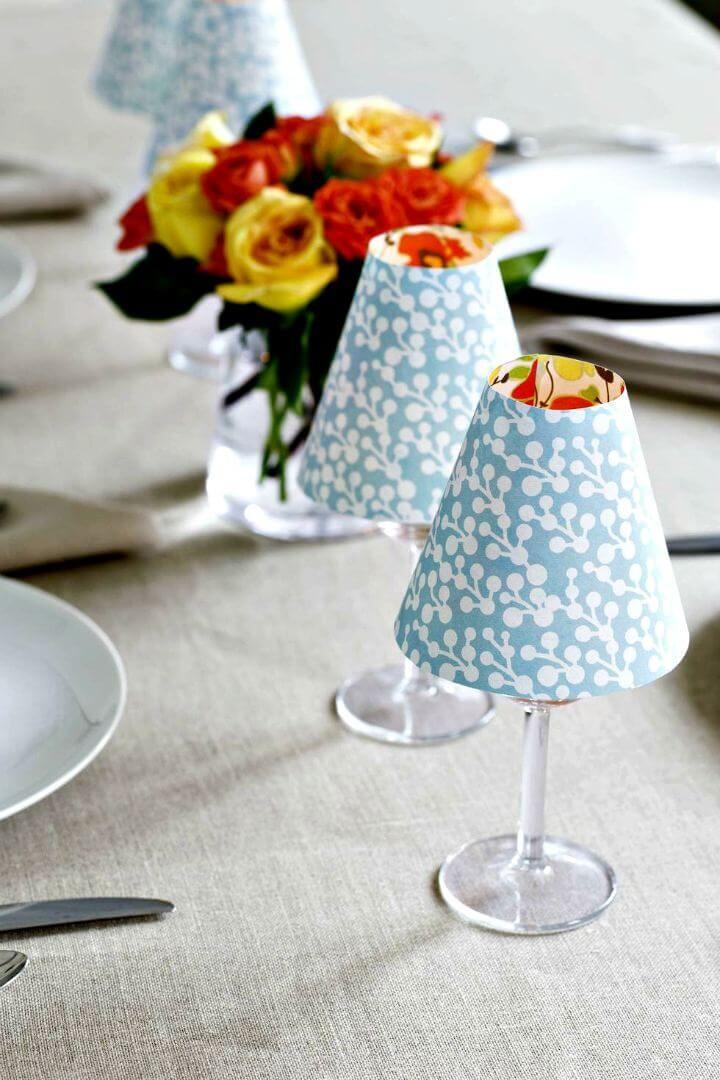 Candles are an integral part of a dining table décor and now you can beautify them at home with some fabric. By simply covering the candle lampshades with your favorite and matching the fabric you can highlight the candle look on the table. Details here
Tutorial: youtube
DIY Tropical Monogram Trinket Box: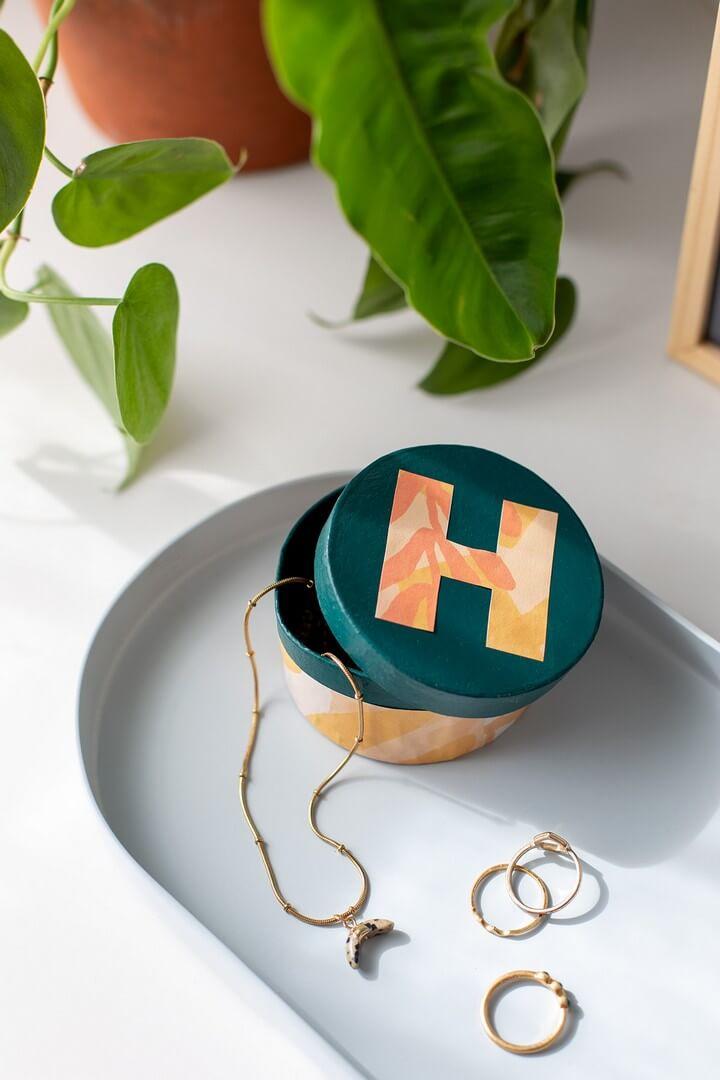 A jewelry box is a good gift idea for the girls but does make it a little thrilling like this DIY monogram trinket box. Get a simple favor box and paint it up with your acrylics and then lastly add the monogram out of tropical printable and your exotic gift box is ready.
Tutorial: design-fixation
No-Sew Boho Fringe Pillow: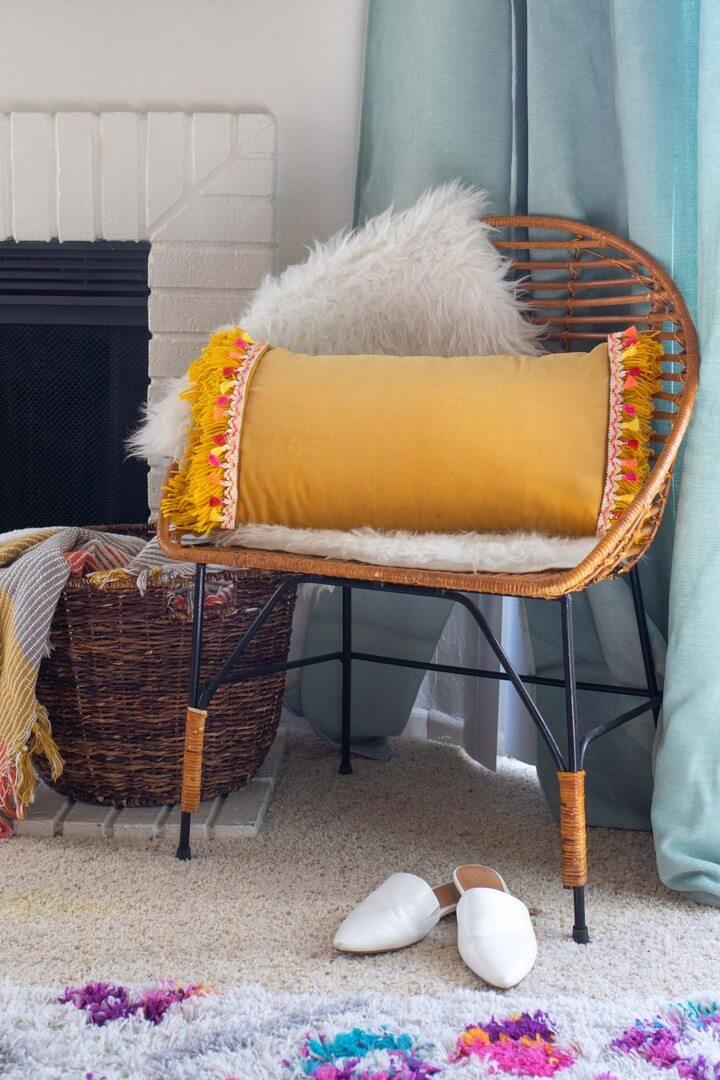 There are so many fun ways to twist up your boring items and this no-sew boho fringe pillow is a perfect sample. The simple pillowcase is provided with the yarn cut fringe and the cutely colorful finish of the rainbow tassel adds more charm to it. Step by step details here!
Tutorial: design-fixation
Painted Bottle Vases: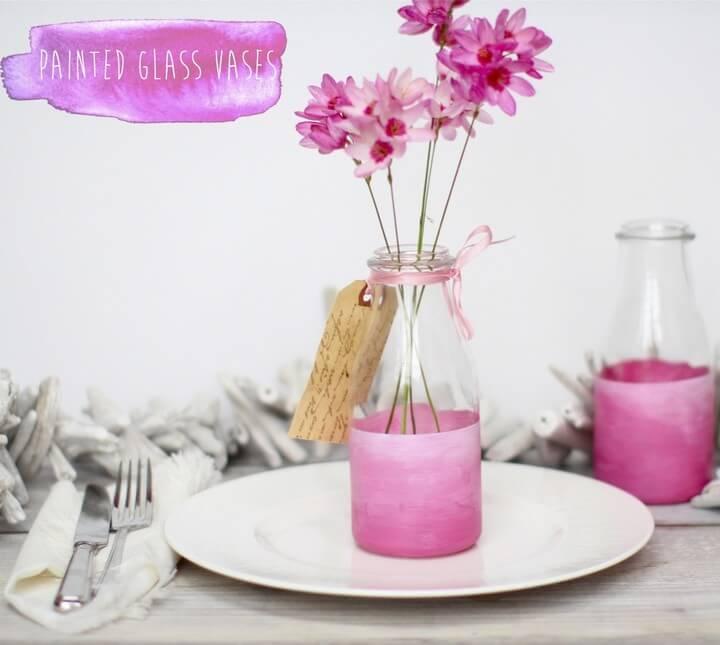 Make a custom dinner table setting for your next family gathering and this idea of painted bottle vase would help. Just get some empty bunch of bottles and paint their bottoms in your desired colors. Fill in some cute matching flowers and some wish tags and they are ready to rock your tables.
Tutorial: katescreativespace
DIY Wooden Coffee Table: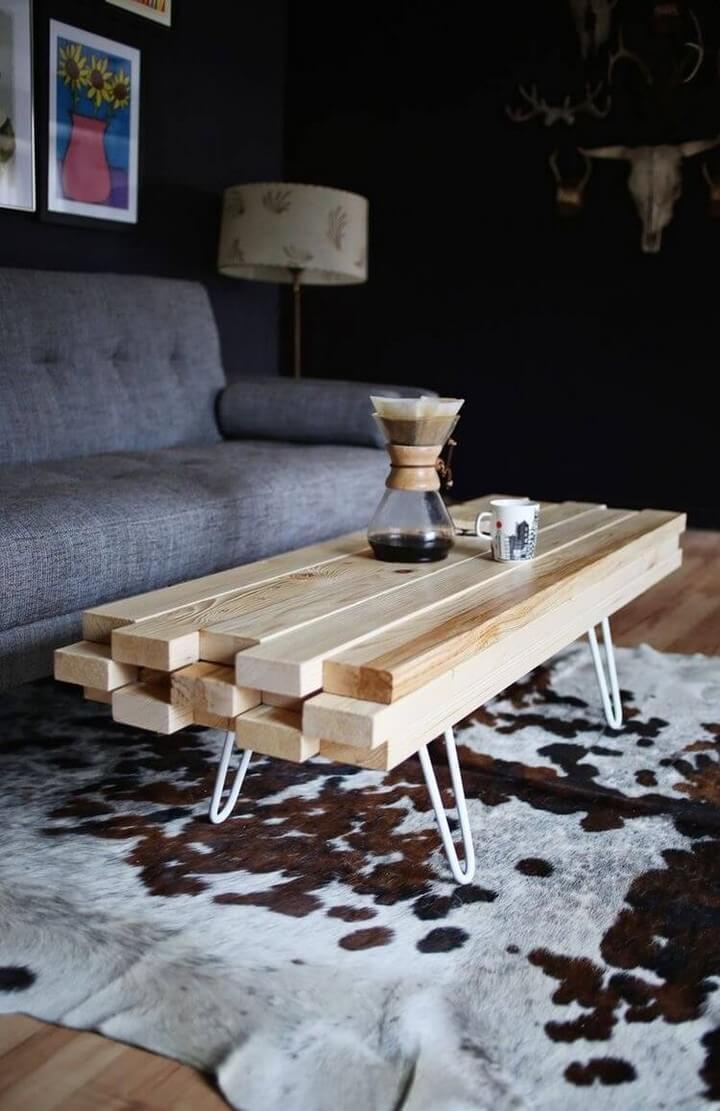 Here is how you can change the complete look of your living room with this pretty DIY wooden coffee table. The lovely and totally boho-chic table is made out of the wooden boards of different lengths. Just adjust these boards on the hairpin legs and your enchanting and stylish coffee table is ready.
Tutorial: abeautifulmess
DIY Gradient Planters: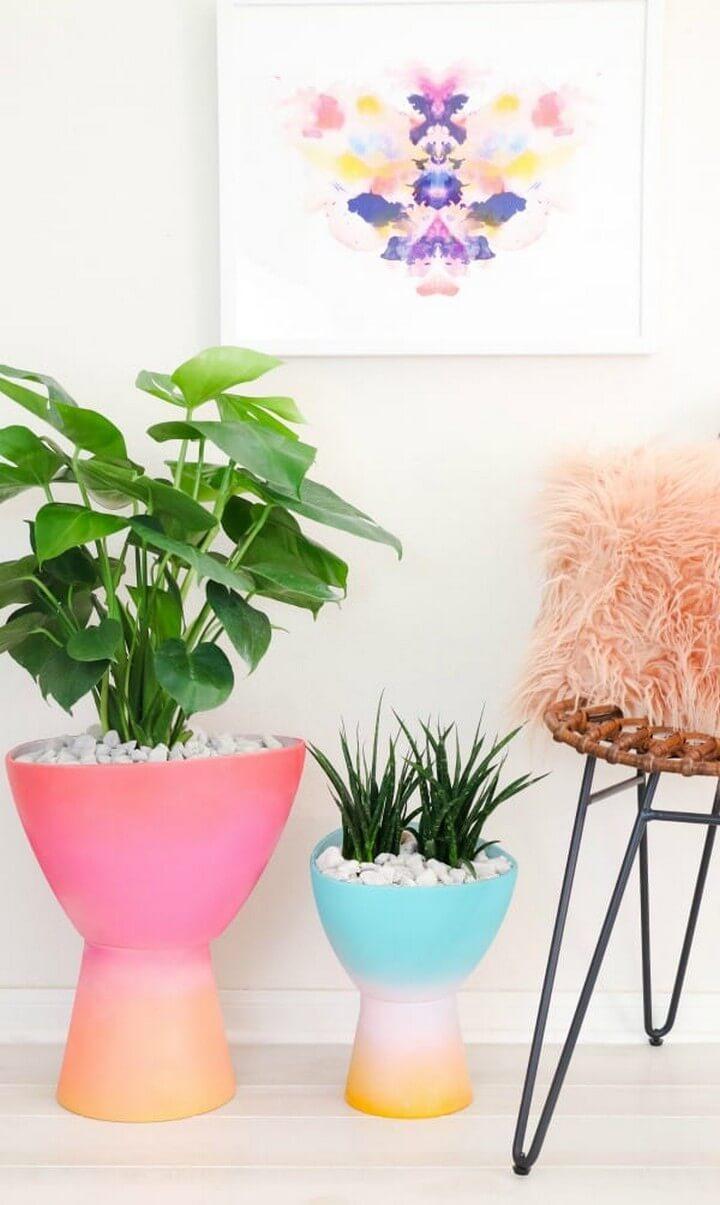 Just look at these beauties of DIY gradient planters and feel super excited to make them cheaply at home. You need large planters for the top and smaller ones for the base and some gorgeously bright spray paint hues for that whimsy finish. More details here
Tutorial: abeautifulmess
DIY Tufted Pillows: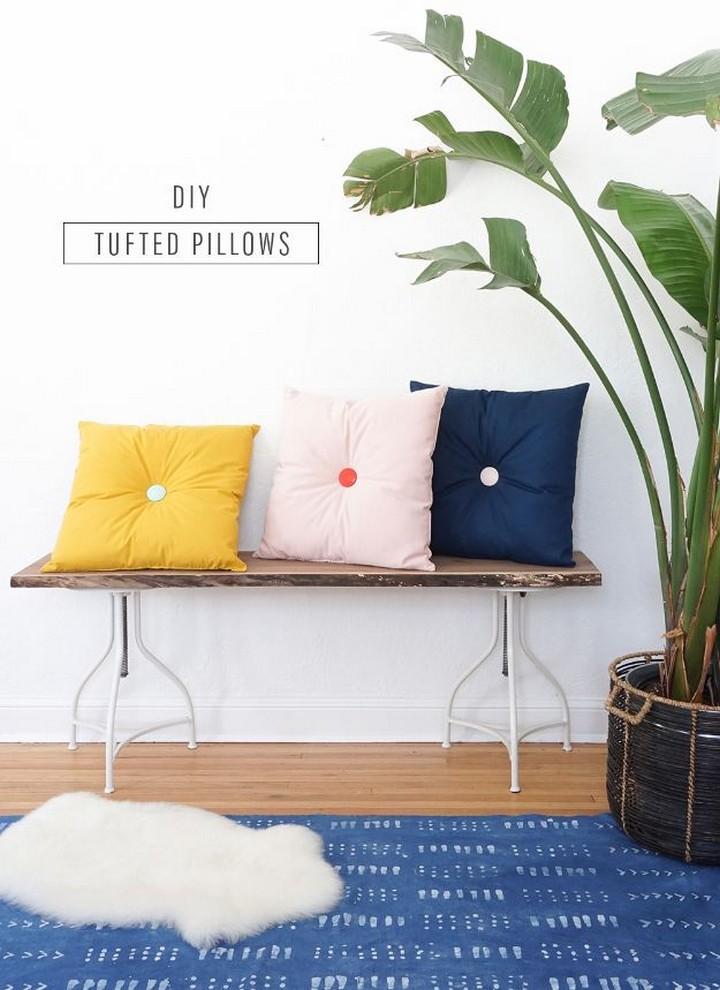 Tufted headboards are all a rage and these DIY tufted would make a great follow up to them. You need regular yards of fabric to make the pillowcases and some pretty round buttons to create the tufted look in the center. Get your hands on the details here
Tutorial: sugarandcloth
DIY Punch Rug Artwork For Beginners: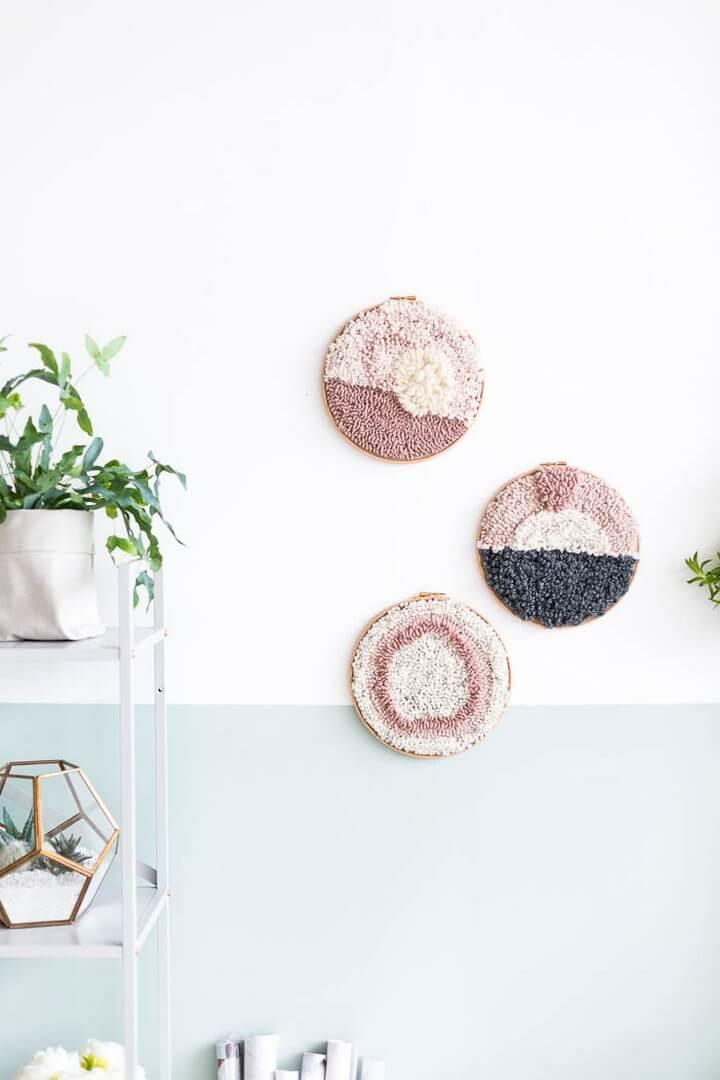 It's time to bring some quirky wall art pieces and style up the home décor a bit more. If you are a beginner then this DIY punch rug artwork is just perfect for you to get your hands dirty with. Grab punch rug needle, right yarn and the embroidery hoops to work this out.
Tutorial: fallfordiy
Clay Candle Holders: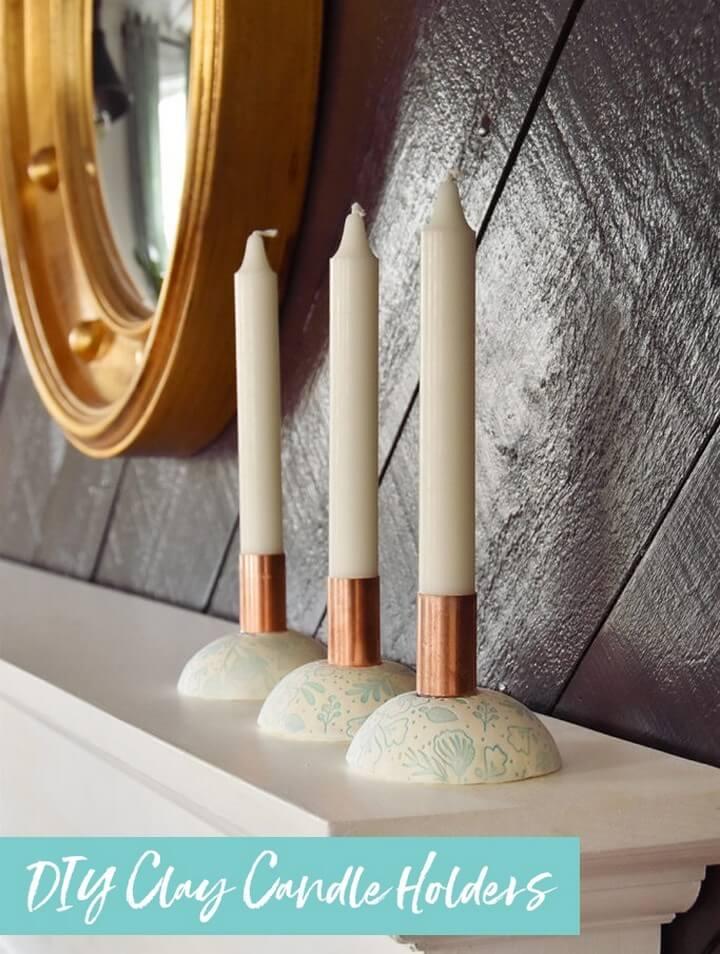 Candle holders are now easy and fun to make with custom looks at home just like these clay candle holders. They would look so great standing on your mantle pieces and light up your home décor as well. Use clay for the candle holders and stamp to design them up. Details here
Tutorial: design-fixation
DIY Faux Inlay Box: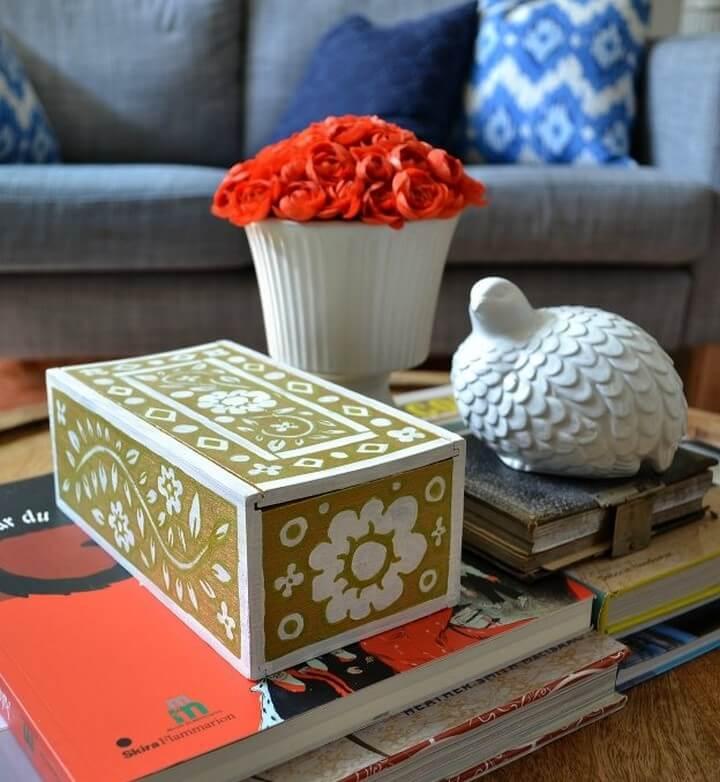 Give your living room décor some fun touches of personal crafts and this DIY faux Inlay box is just perfect for the purpose. Firstly you need to make the box out of some wooden pieces and then paint it up with the personalized paint hues and design of your choice.
Tutorial: hellolittlehome
Easy DIY Rubber Stamped Clay Planter: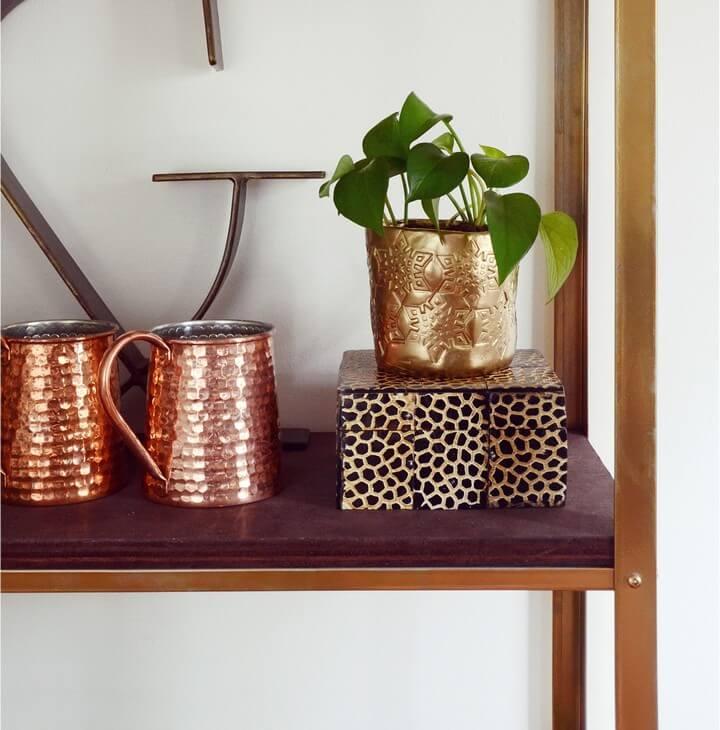 Do not but a planter from the market when you can make this DIY rubber-stamped clay planter on your own. The planter is super easy to make out of clay and then beautify with the rubber stamps. You can bring some changes in the size, shape, and design for personalized possession.
Tutorial: design-fixation
How To Make A Glitter Candle: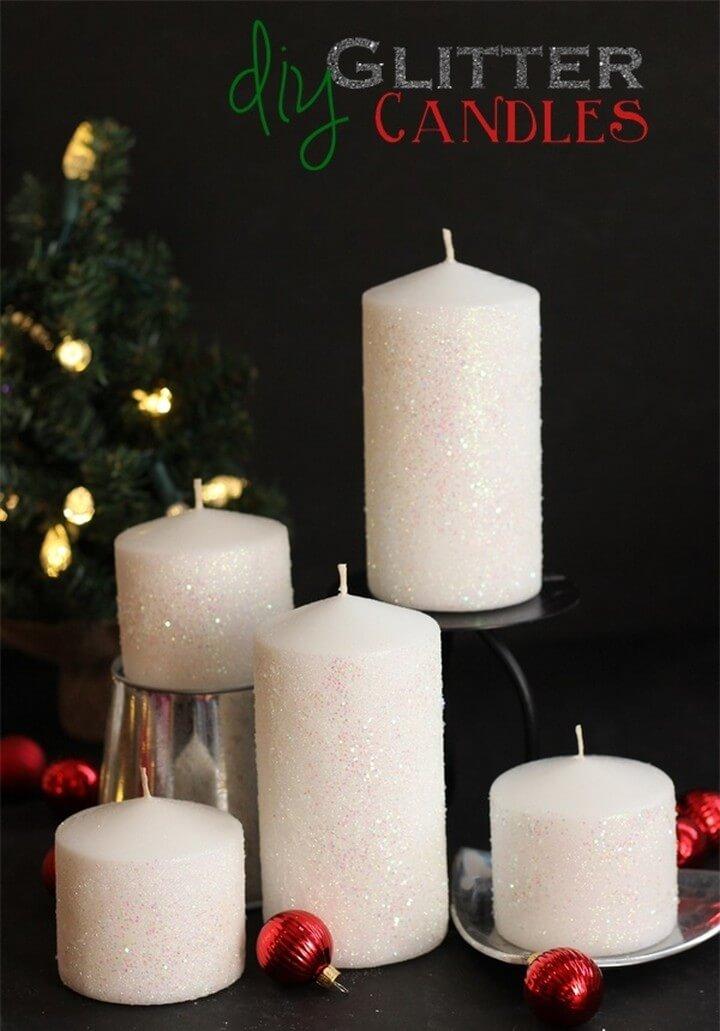 Even at the last moment, you can charm up your décor for the dinner table setting by just adding glitter to the candles. So grab some glitter and mode podge to instantly uplift the candles and the look of your dinner table setting. Easy details here
Tutorial: realcoake
How To Make Inexpensive Clay Knobs: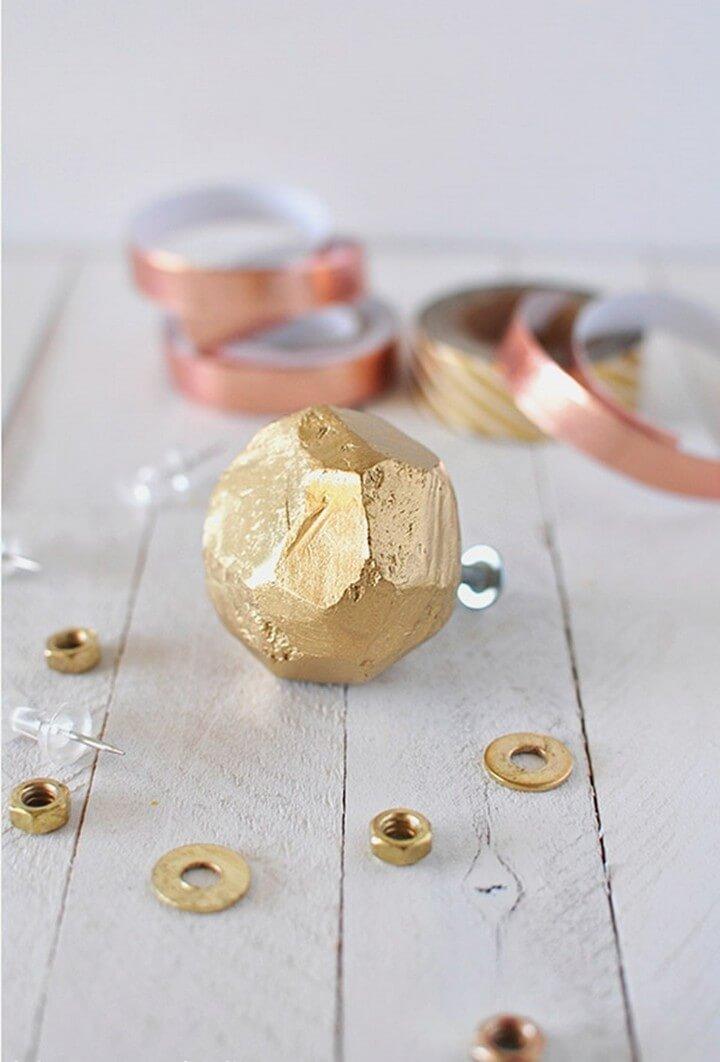 Do you need to change the knobs of your drawers? If yes then this idea of inexpensive clay knob is just for you. Just take some clay and shape it up the way you like. Round, square, hexagonal all shapes can be done for the knobs and with the finish of perfect paint, the knobs are ready.
Tutorial: delineateyourdwelling
How To Create An Ombre Painted Finish On A Jewelry Armoire: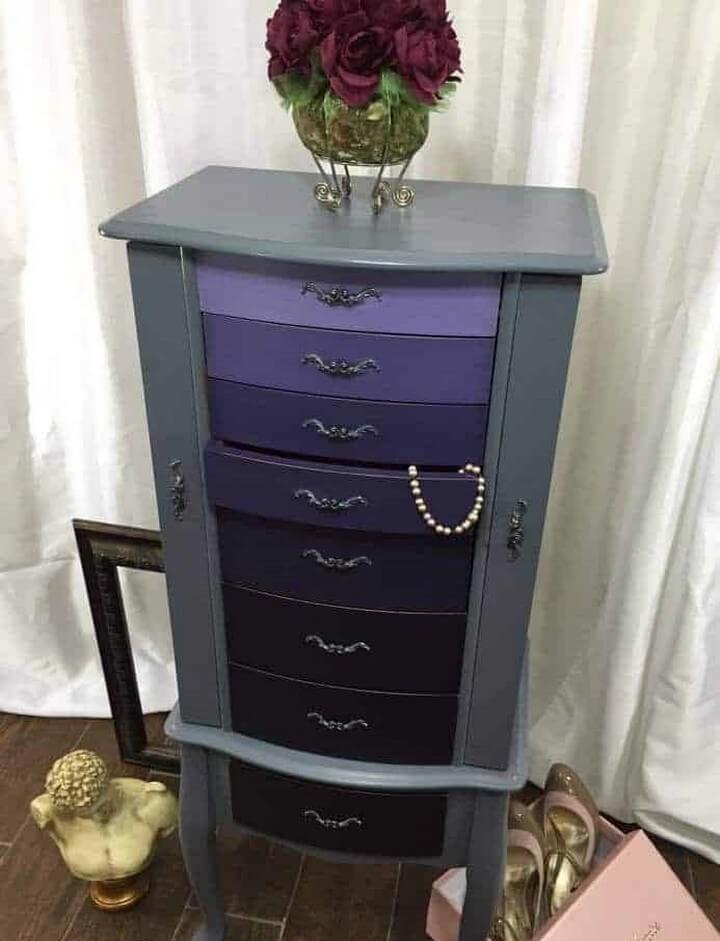 A makeover can really change the game for your home décor and here is the inspiration. This ombre painted finish on a jewelry armoire is just so gorgeously turned out. You can do it in any of the colors you like and also on anything and enjoy some refreshing touches added in the décor.
Tutorial: justthewoods