Nothing is a waste to toss off when you are a skillfully intelligent person. We all have our old jeans and denim hiding secretly inside our closets that we neither use nor throw away. The reason we cannot get rid of them is that they have been with us as a true companion through the thick and thins of seasons. So here we have these 50 Impressive DIY Old Jeans Ideas You Can Do Easy that you can try easily at home and give your favorite denim a second chance to live with and around you. All these ideas suggest how purposefully you can reuse your old jeans and make the most out of them.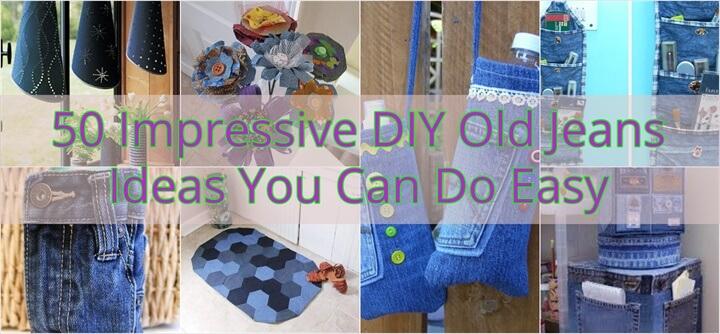 First of all, you can turn your old jeans into more fancy and fun wear with some changes. Like, you can turn them into stylish shorts, pants with beaded fringes and the cool denim jackets. Secondly, these denim jeans can be recycled into some fancy and boho accessories like bags, jewelry, make up pouches, mobile and glasses cases. Then there are uber-cool home décor ideas to create with the worn-out denim-like pot covers, wreaths, and doormats. Also, you can make blankets and pillows out of the old jeans to use them in the house to donate them. These ideas have much more to offer so just visit the list below!
You May Also Like:
5 Best Facial DIY Masks That Are Easy To Make
Best DIY Teeth Whitener – Clean Your Teeth
16 DIY Face Mask To Make Every Skin Type Glow
12 DIY Photo Frames – How to Make Your Own DIY Picture Frames
17 DIY Beautiful & Easy To Make Front Door Wreaths For Summer
20 DIY Burlap Ideas – Gorgeous & Delightful Craft For Home Decor
How to Make a Kid's Apron from Your Old Jeans: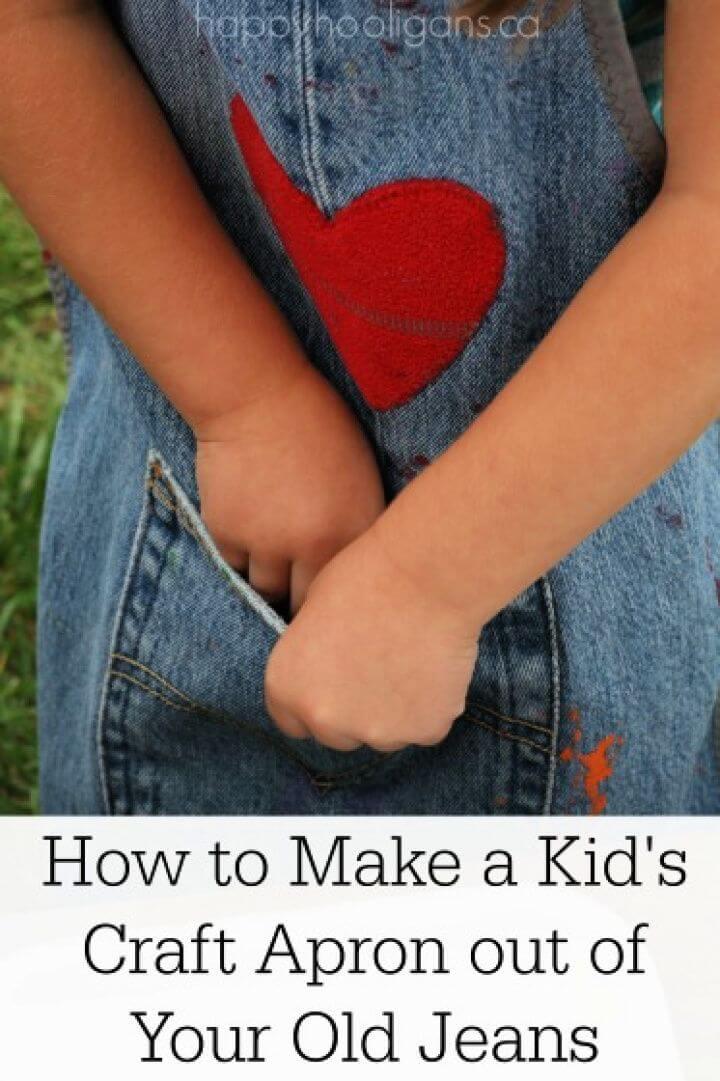 Kids are in love with the messy plays and to save their clothes from getting dirty you can make them this apron from the old jeans. Being made out of the jeans the apron is going to be durable and thus useable for a longer time. Learn the sewing details here!
Tutorial: happyhooligans
Upcycled Jeans Pocket Ornament: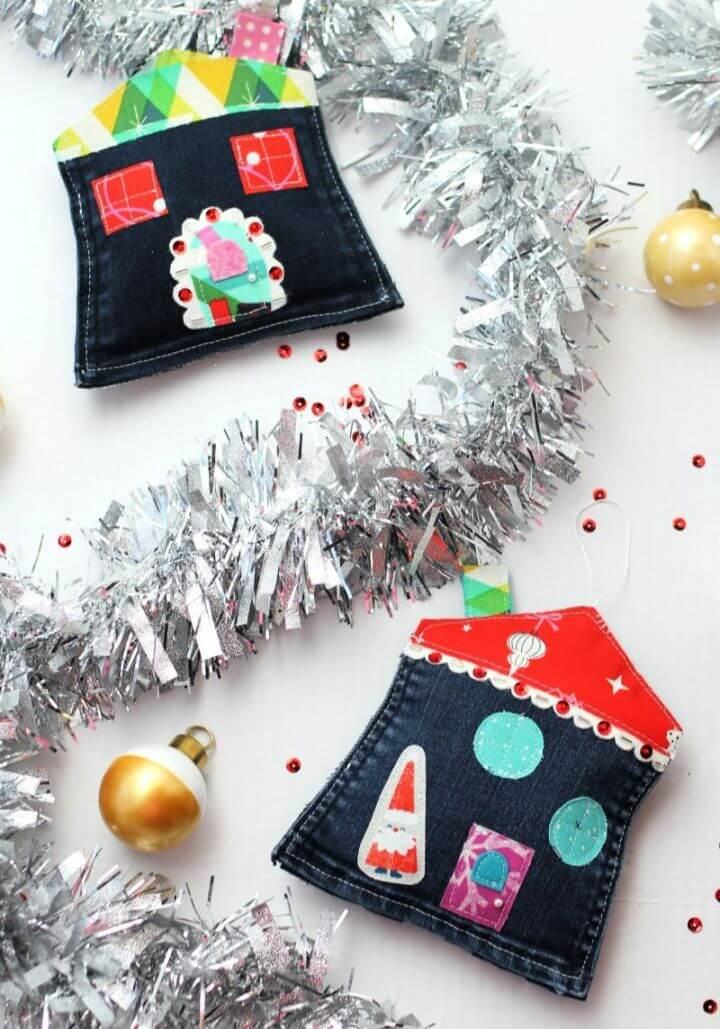 Nothing is a waste when you are a crafty person and the same is the case with your old jeans. Here is this lovely idea showing how you can easily transform your old jeans pocket into the adorable décor ornaments. Using colorful combinations you can create cute patterns and shapes to adorn these pockets with. Details here!
Tutorial: swoodsonsays
DIY Cute Nautical Wreath from Old Jeans: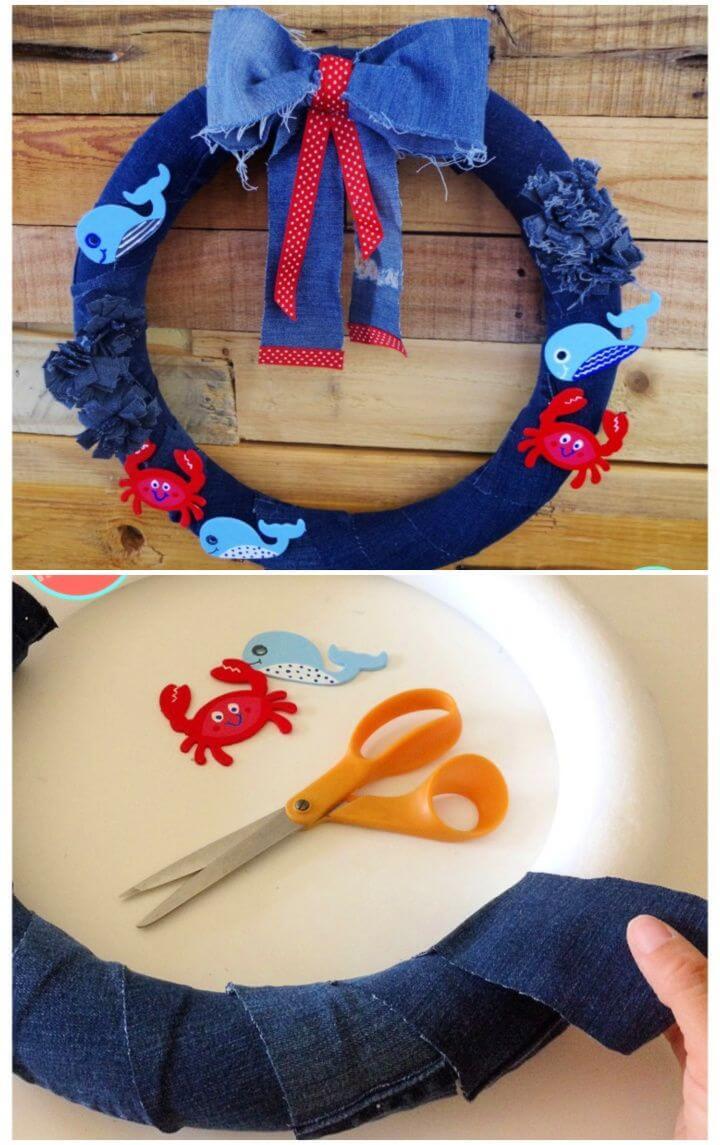 Get some funky summer décor added to your doors or walls with this DIY cute nautical wreath from the old jeans. Just get Styrofoam ring and cover it with the cutout patches of your old denim. Also adorn the wreath more with colorful sea creatures, denim flowers and the denim bow with red ribbon. How to here!
Tutorial: dazzlewhilefrazzled
Upcycle Old Jeans Into This Cute Chevron Denim Cushion: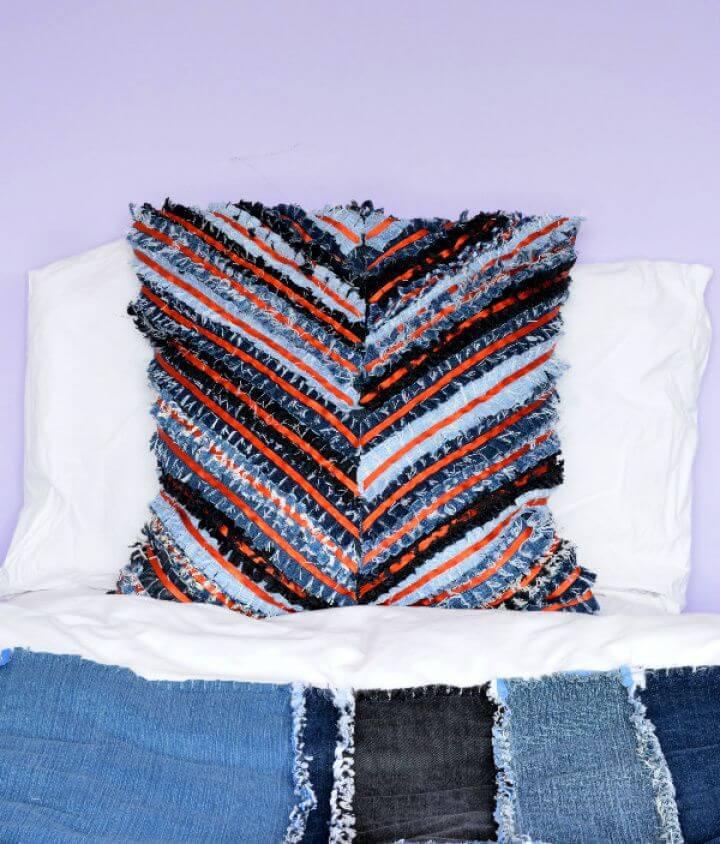 Why should one throw away his old jeans when this lovely and cute chevron denim cushion can be out of it? The combination of the blue denim patches and the orange ribbon looks so refreshing and cool. This denim cushion is sure to bring some quirky appeal to the sofas and the overall living room.
Tutorial: seamsandscissors
Easiest Way To Sew A Gorgeous Denim Quilt: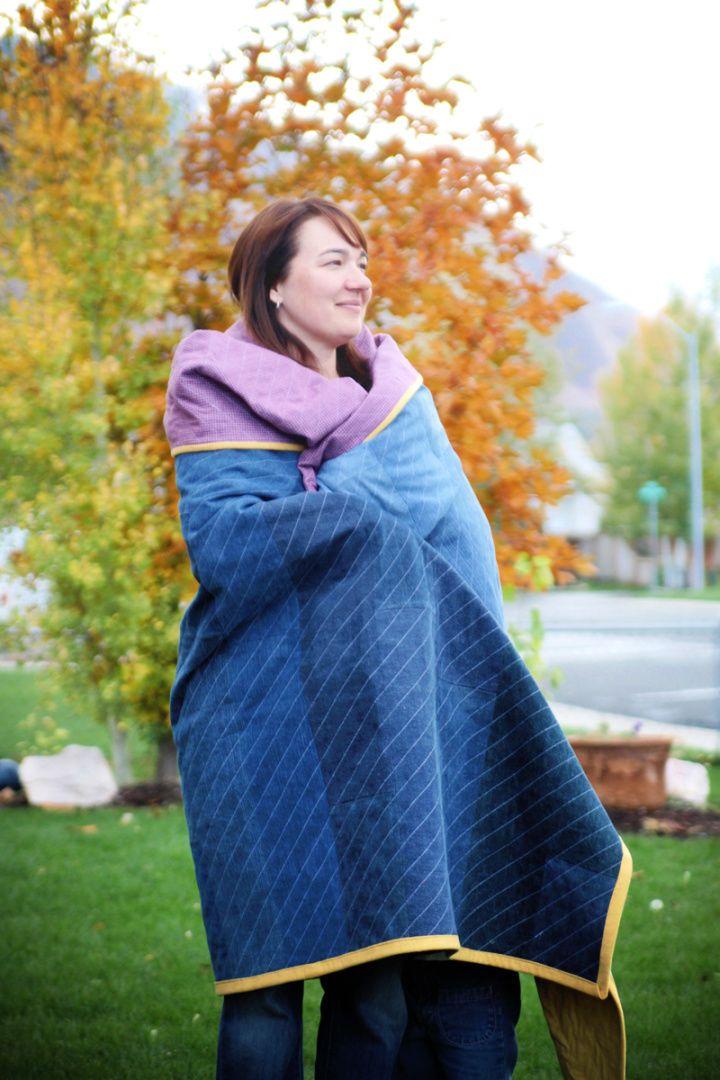 Make your picnics and car trip more warm and comfy with this gorgeous denim quilt to wrap around. Using your bunch of old jeans and some flannel fabric you can easily sew up this super cute and warm quilt. Check out the sewing tutorial here!
Tutorial: itsalwaysautumn
Upcycled Jeans DIY Glasses Case With Killer Pocket Feature: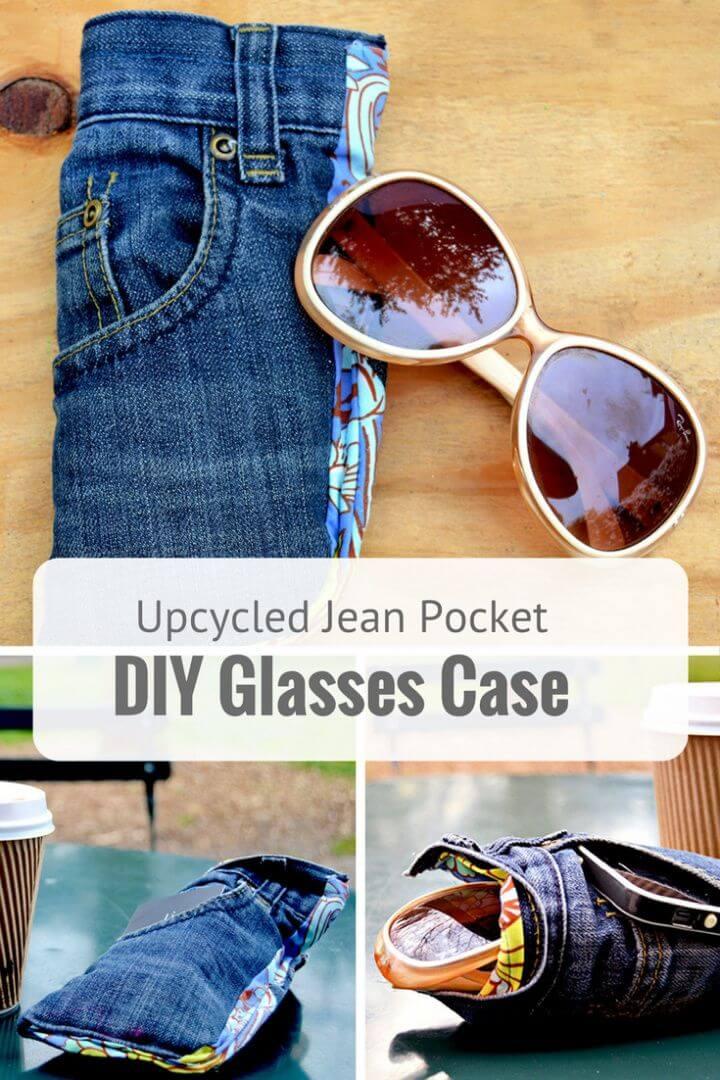 Make the most out of your old jeans with projects like this upcycled jeans DIY glasses case with the pocket feature. You can easily sew up this denim glasses cover to protect your favorite shades. The pocket would let you hold your cell phone along with the glasses too. Tutorial here!
Tutorial: pillarboxblue
How To Make Your Own DIY Jeans Jewelry: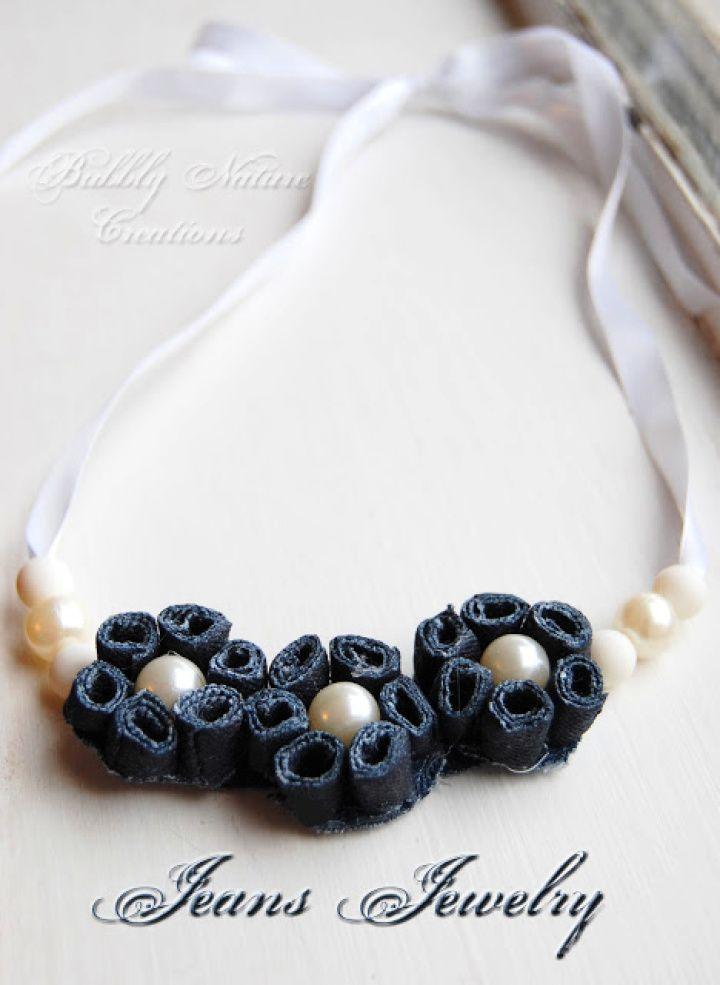 Summer is so much fun to make some handmade pieces of jewelry and this time you can try your hands on this DIY jeans jewelry. This gorgeous statement piece is made out of the denim flowers and the white beads to look. You can use this necklace as a lovely gift for your best friend, mom, and daughter too.
Tutorial: sprinklesomefun
How To Repurposed Old Jeans Pocket: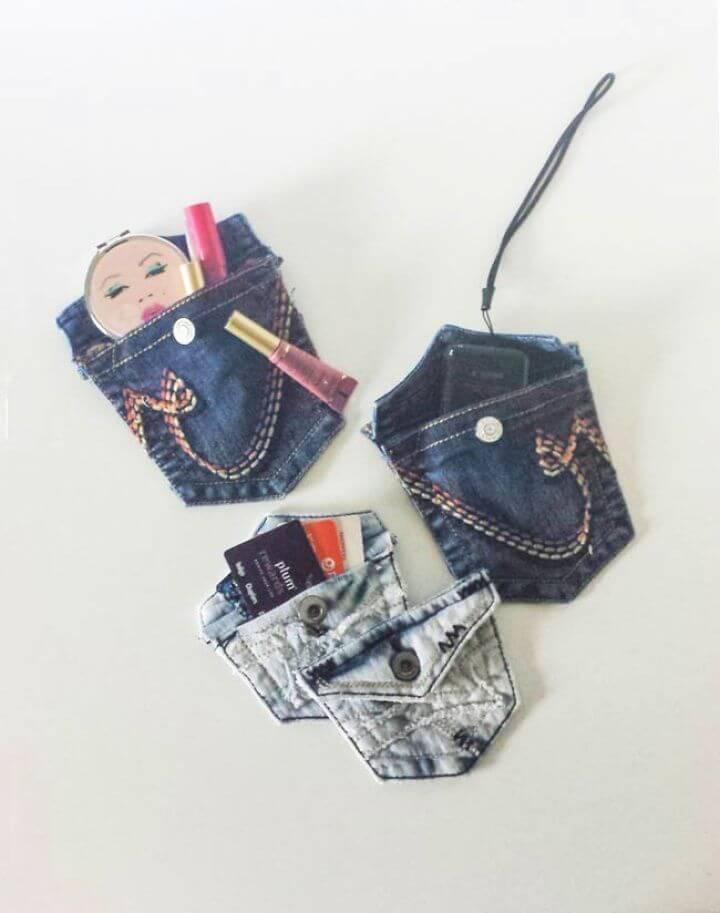 Either on the jeans or off the jeans the pockets are perfect to store your knick-knack stuff. So it's time to repurpose your old jeans, cut out the pockets and use them as the wall or bag organizers to carry your cards, lip gloss, glasses and more. How to here!
Tutorial: fancymomma
How to Turn a Pair of Jeans Into Your New Favorite Shorts: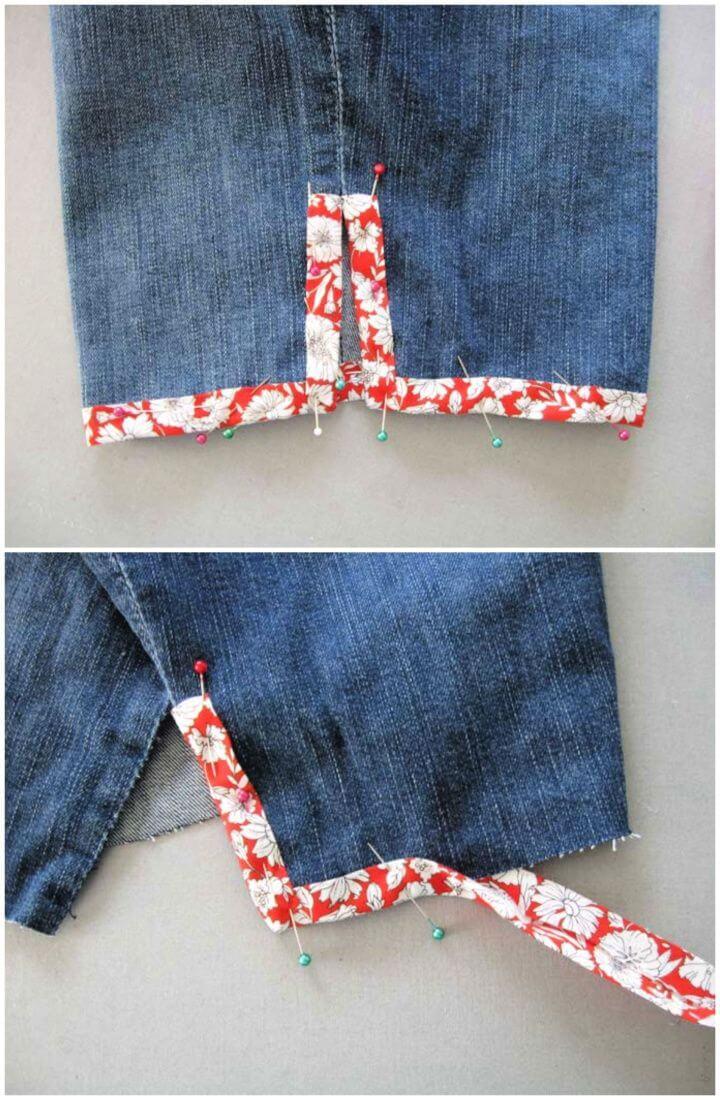 No one wants to toss off his/her old pair of jeans so turn your old jeans into your new favorite shorts for the summer. For an acute twist, a colorful fabric scrap appeal has been added to the shorts edging for that lovely and beautiful look. Check out the details here!
Tutorial: shop.mybluprint
Easy Denim Flower Necklace: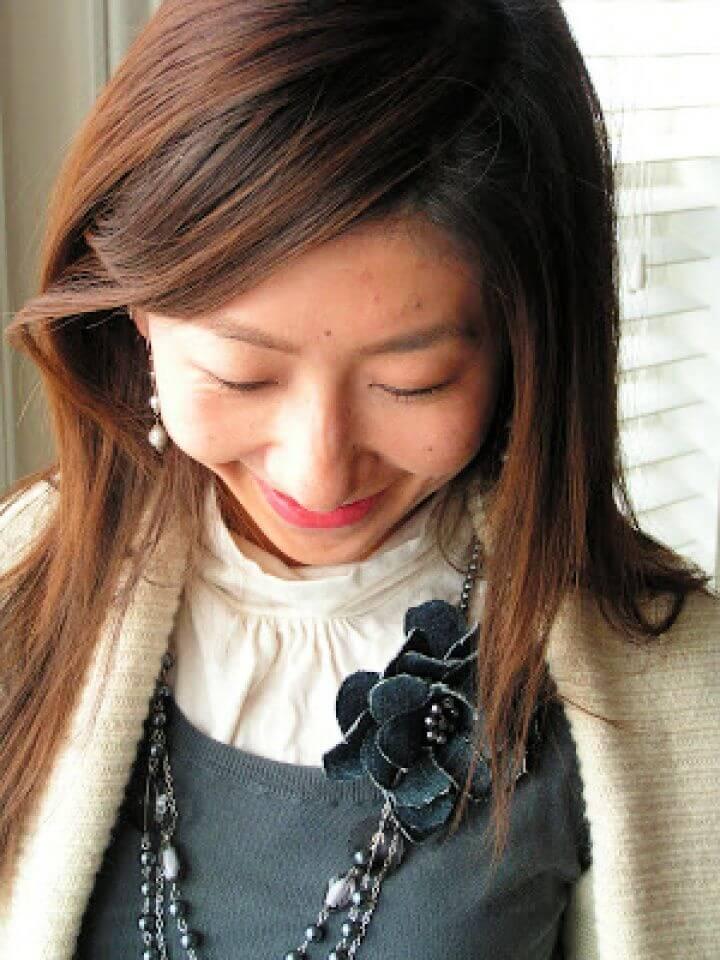 Get quirky with your denim with this easy denim flower necklace. This pretty corsage is going to look so beautiful on your dresses and it is quite simple to make too. Just cut out flower shapes from the denim pieces and then sew them together with beads and pearls in the center. Catch the details here!
Tutorial: tearosehome
Baby Shoes From Old Jeans: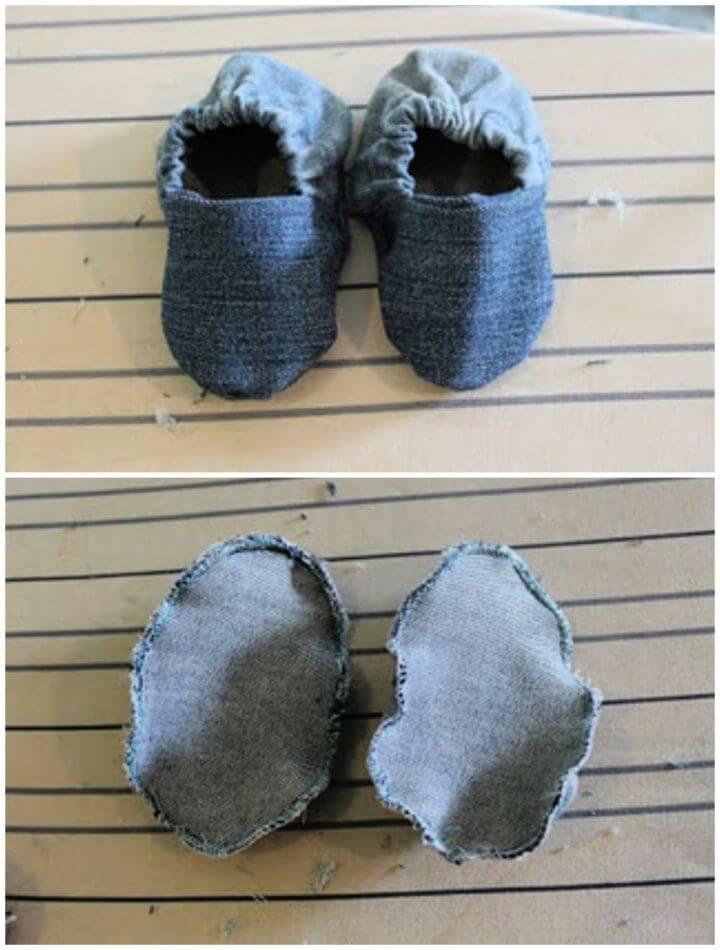 Either your toddler is fond of running on the floor or he loves to have fun on the garden grass these baby shoes from old jeans are so perfect for his tiny feet. So get your old jeans and your sewing kit to make these adorable yet super comfy and warm shoes for your little ones. Details here!
Tutorial: prettyprudent
How To Transform Old Jeans Into A Denim Clutch In About An Hour: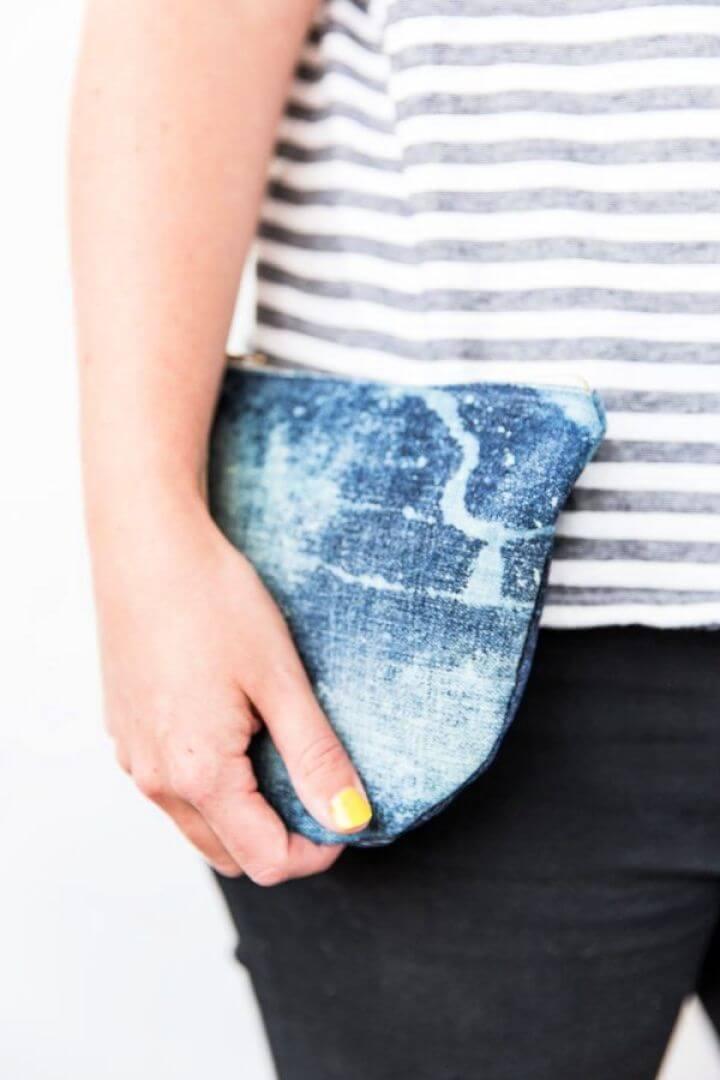 Make this super cute and cool denim clutch from the old pair of jeans lying in your closet. The jeans have been bleached before making this adorable and stunning clutch out of it. You can make your pouch in any size and shape depending on your needs. How to here!
Tutorial: papernstitchblog
DIY Bag from Jeans: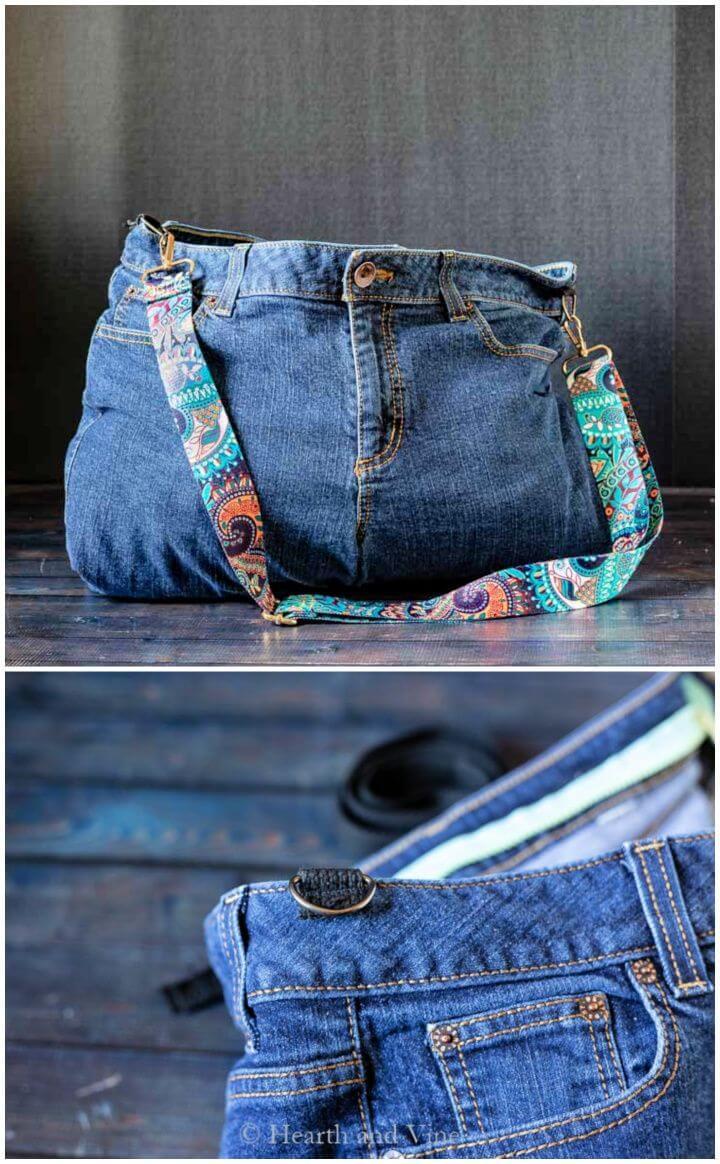 Make the most out of your old pair of jeans by making things just like this DIY bag from jeans. The upper waist and pocket section of the jeans here has been used to shape up the jeans. A zipper and a fabric strap are added to the bag for its complete look. Teen girls are going to love this bag so much.
Tutorial: hearthandvine
How To Make A DIY Sew A Denim Rug: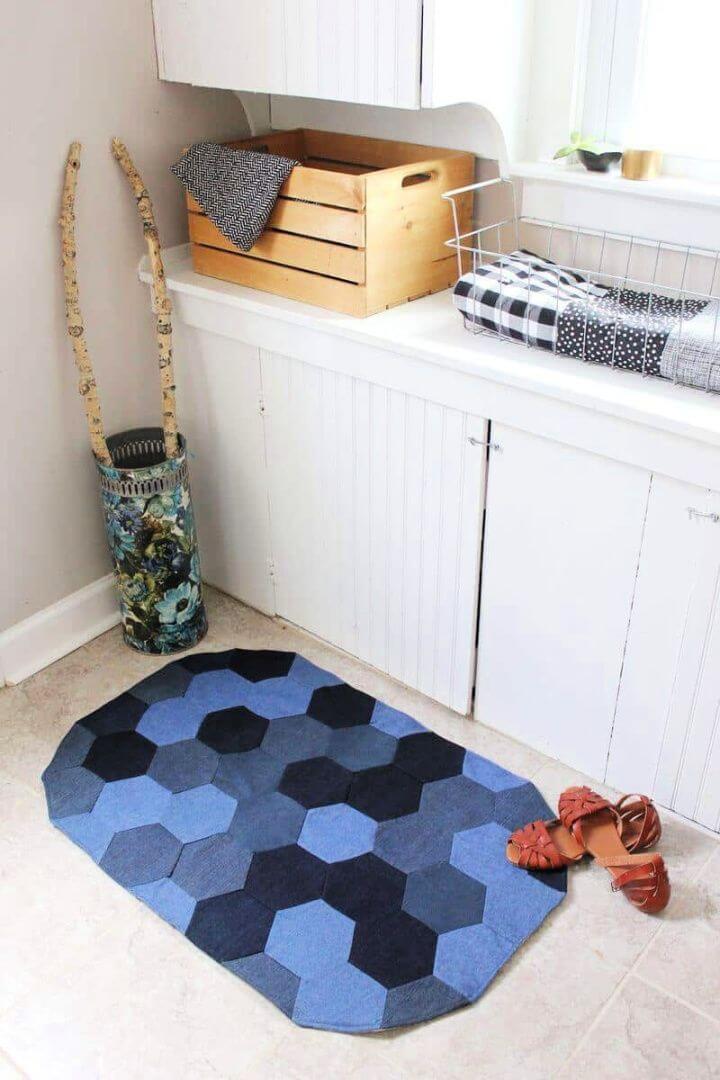 Denim is the best fabric for being so durable to make things like a rug so that they work efficiently and last longer. So here is the idea of sewing a lovely denim rug and that too with hexagons for that perfect chic look. Grab your old jeans in all the shades and cut out hexagons to be sewn together and create this rug.
Tutorial: abeautifulmess
Upcycle Style Denim Rag Rug: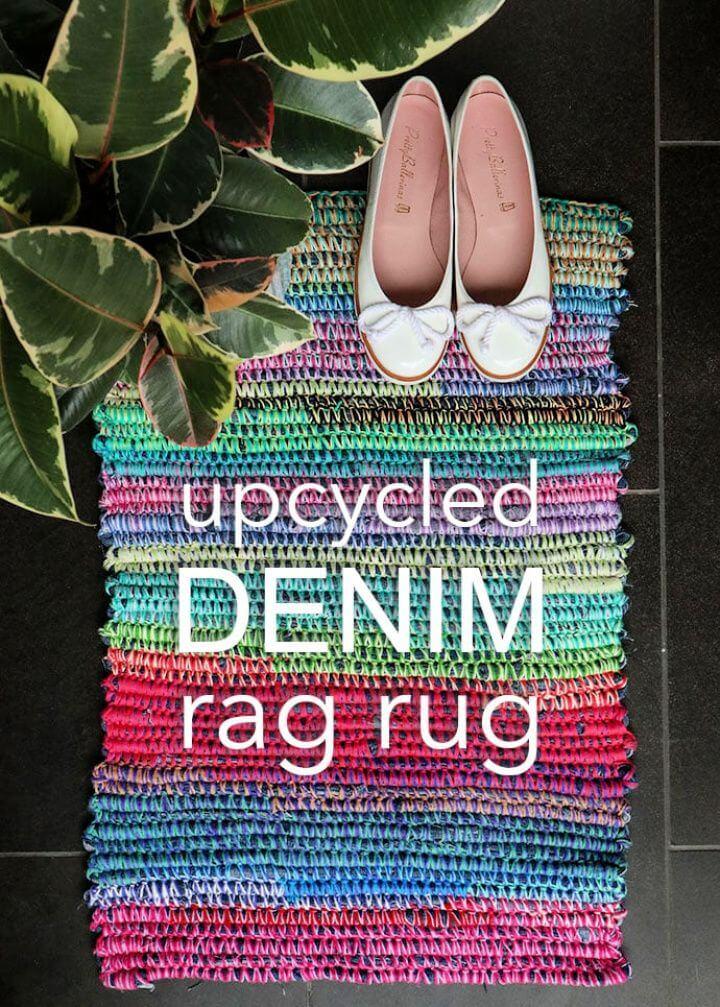 It's time to Upcycle your old jeans for the betterment of your home décor with this lovely denim rag rug project. The cut-out strips of the denim have been crocheted with the colorful yarn scrap to form this so vibrant and totally durable denim rag rug. Step by step details here!
Tutorial: mypoppet
How To Turn Old Jeans Into A Skirt: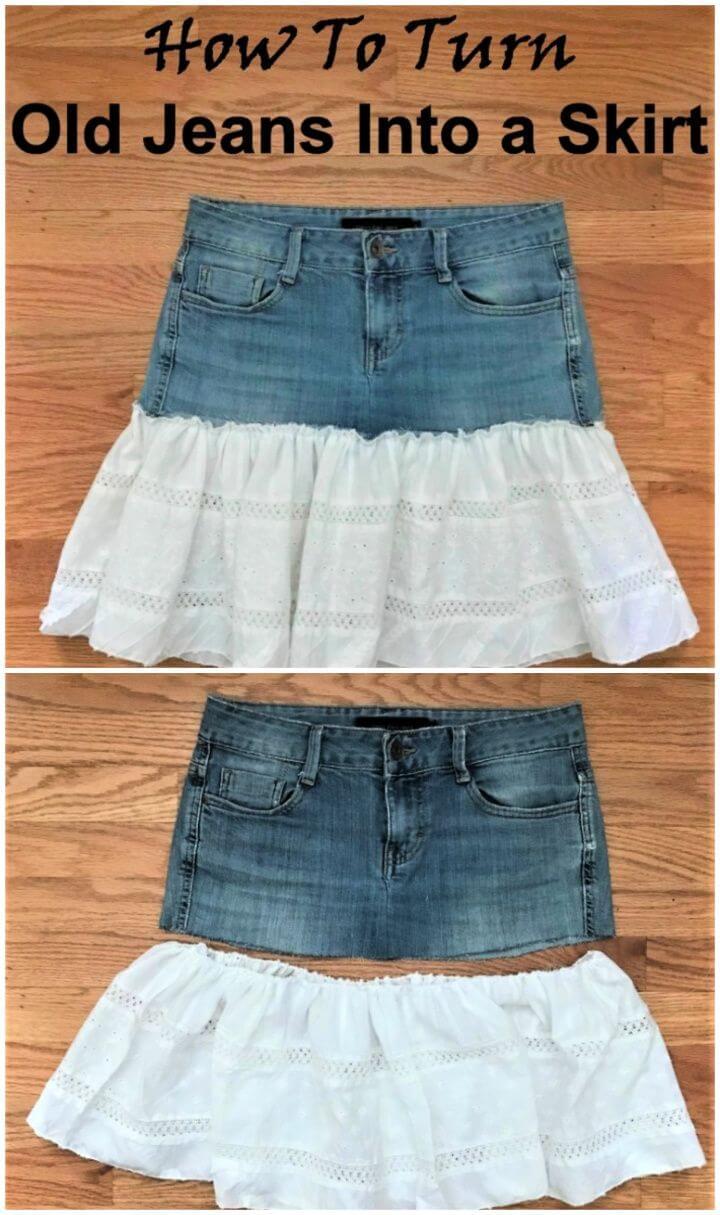 Get some refashion fun with your old jeans by turning them into this simple yet cute skirt. You need minimal sewing to make this lovely everyday skirt for the summer. Just cut out the upper section of the jeans and add some white apparel fabric and your skirt is done.  Get details here!
Tutorial: thesewingpixies
DIY No-Sew Denim Owls from Old Jeans: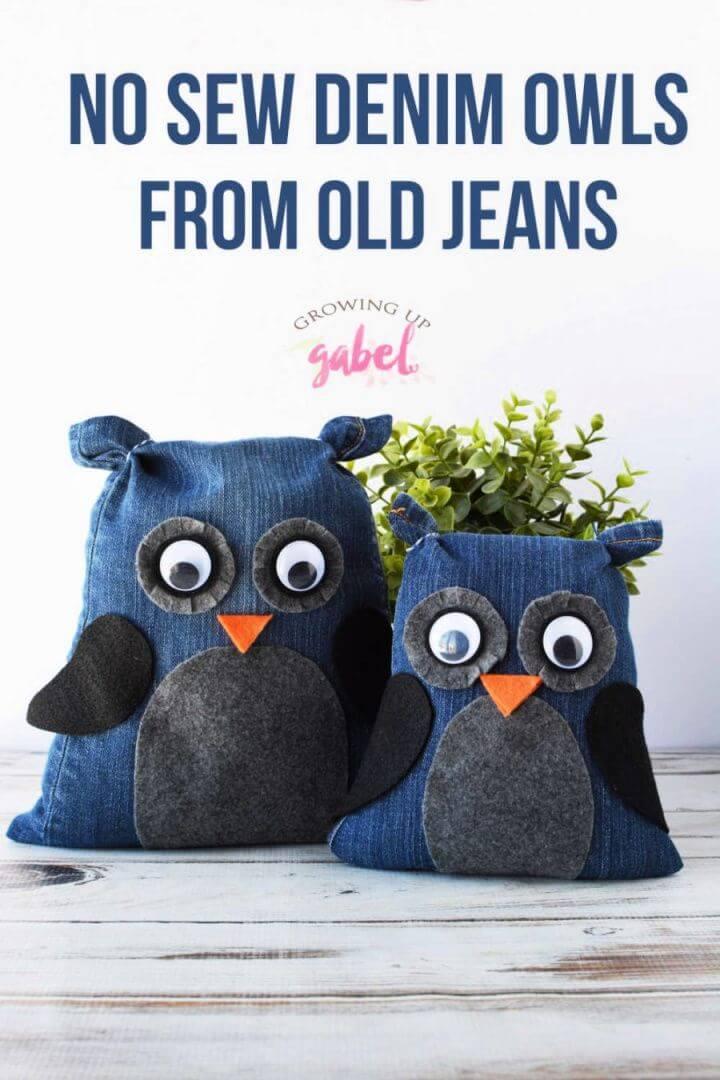 Owls are perfect for the home décor to bring some quirky and cute appeal in any of the seasons. These adorable owls are made out of the old jeans to look just super sassy. The bodies of the owls are made with a pant leg section and filled with cotton and rice. The cute face features are made with felt.
Tutorial: growingupgabel
How to Upcycle Old Jeans with Beaded Fringe: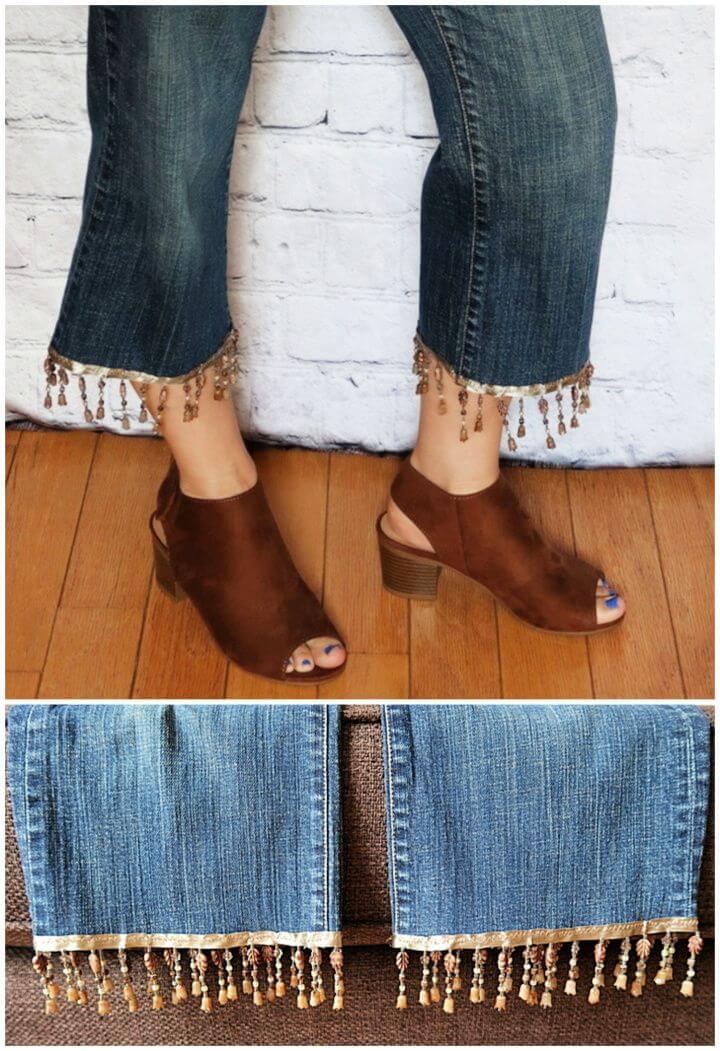 It's time to give your old jeans another golden opportunity to be on your legs and make you look so stylish and cool. These old jeans are upcycled with the beaded fringes at the bottom to make it look so sassy and cool. You can easily adapt this idea to look boho this summer.
Tutorial: 50withflair
DIY Upcycled Jeans Mason Jar Wall Vase: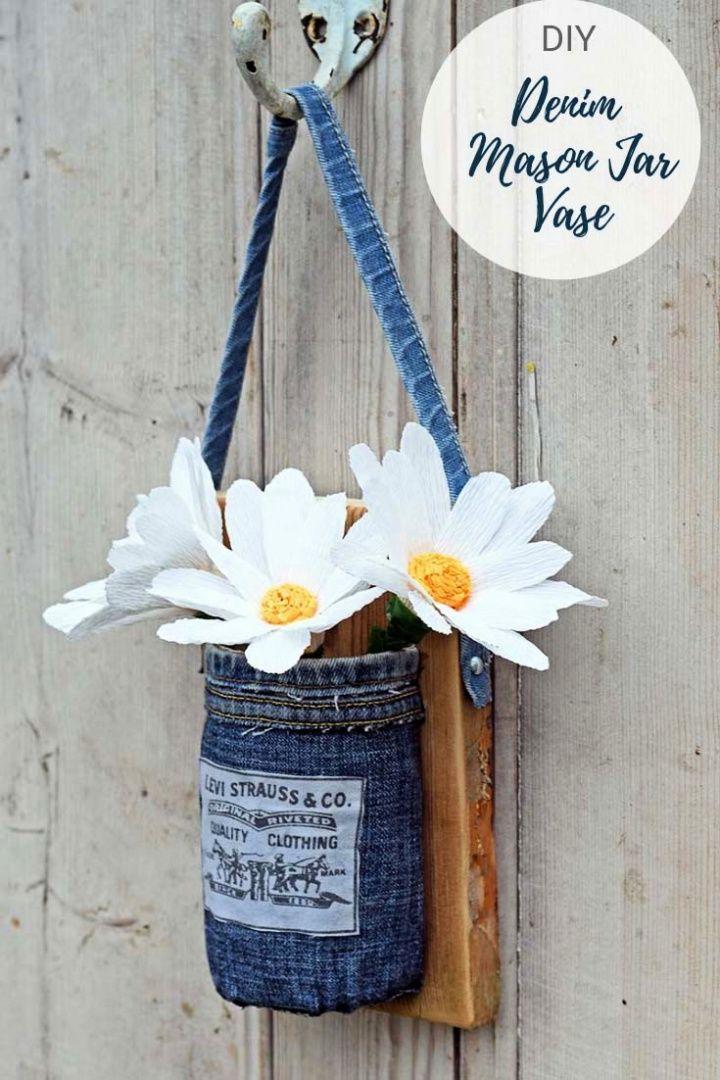 We love turning mason jars into the pretty flower holders and now you can do it with a denim twist. Yes, you can create a lovely jeans cover for your mason jar and hang it over a wooden board to look perfect for the summer wall décor. Try this lovely denim Mason jar vase idea this weekend.
Tutorial: pillarboxblue
How to Sew an Upcycled DIY Fabric Planter: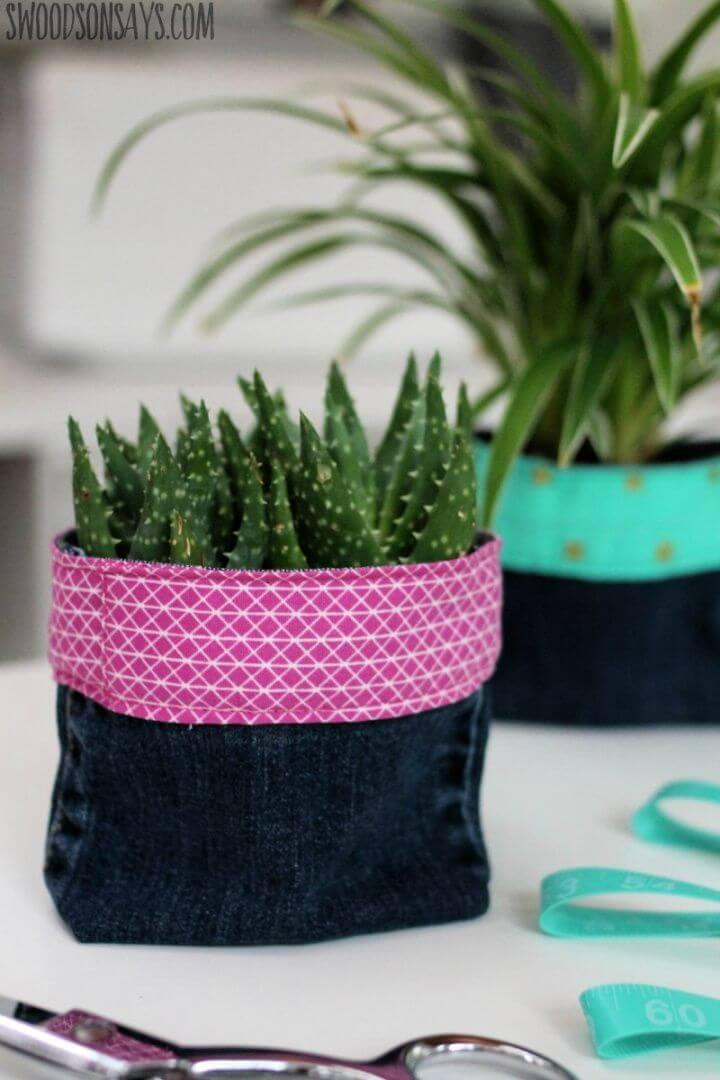 Indoor plants look so pretty and bring the fresh vibes in the home décor. Now make them look more pretty and fun with this upcycled DIY fabric planter. The lovely planter is made from the leg section of the jeans with a colorful fabric hem on the top edging. Check out details here!
Tutorial: swoodsonsays
Upcycle Your Jeans Into A Fun DIY Christmas Tree: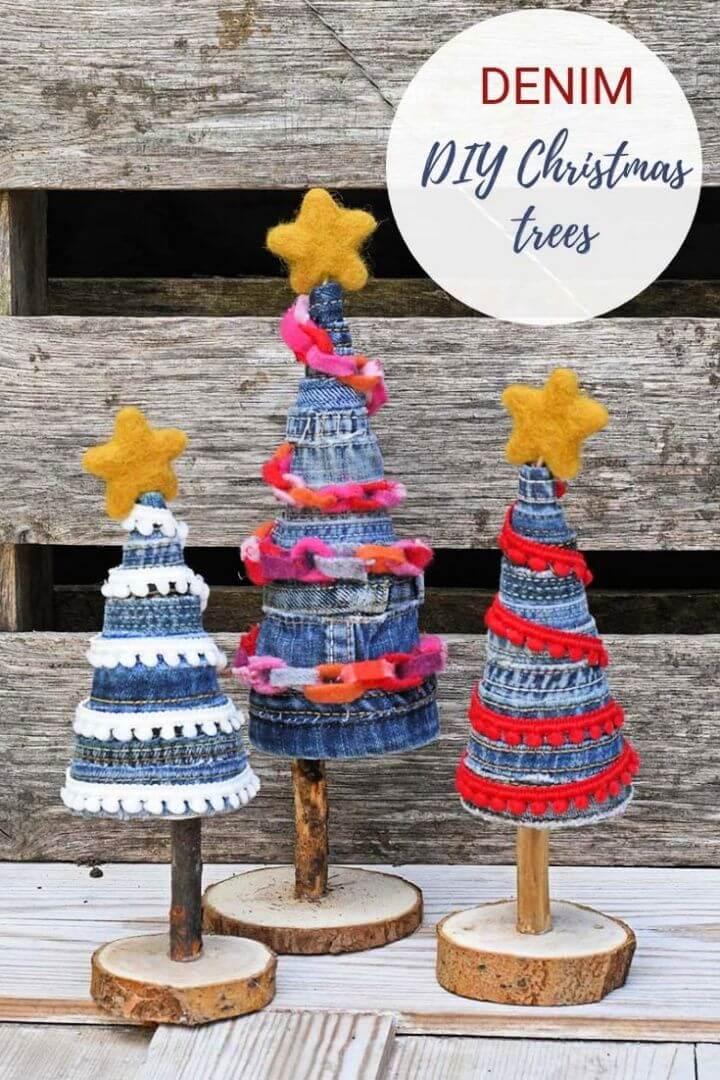 Bring some uniqueness to your Holiday décor this time with these super cute and adorable Christmas trees to be made out of the old jeans. Things to make the trees are cardboard and denim with some wood twigs and slices. The trees are decorated with tiny pom pom lace, felt stars and cocktail sticks.
Tutorial: pillarboxblue
Firework Embroidered Jean Shorts Idea: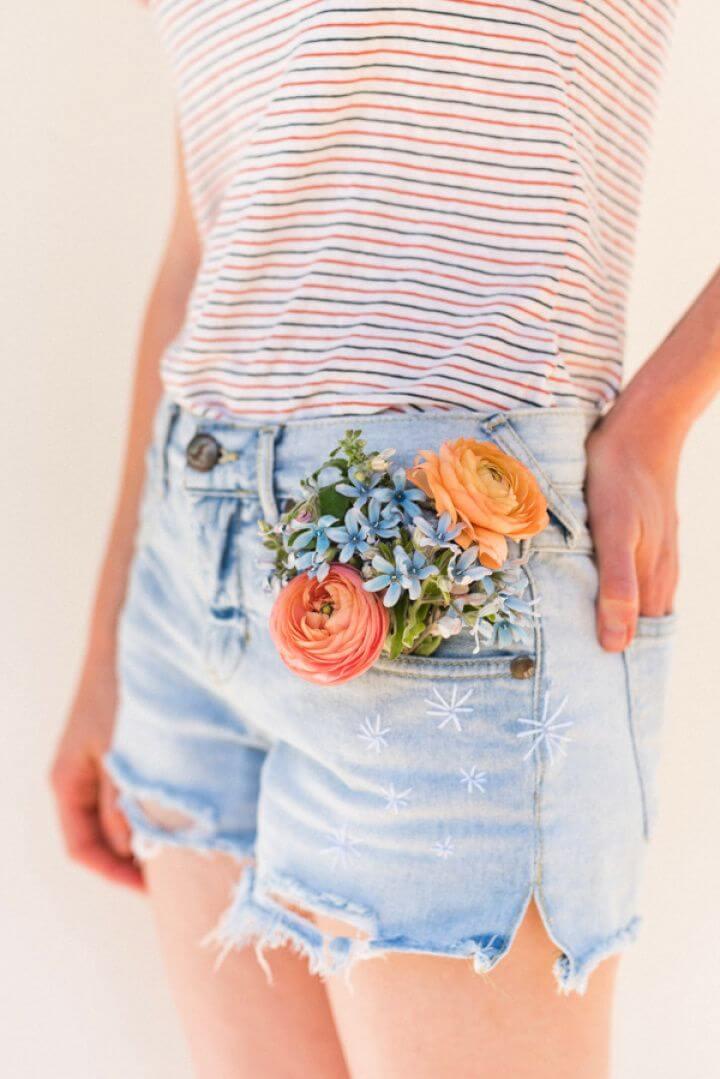 Make yourself look ready stylishly for the fourth of July with this lovely firework embroidered jean shorts. The denim is cut into the shorts with white embroidery stitches on the right side of the denim in the design of a lovely firework. You can do this project for your own self or for your daughter.
Tutorial: papernstitchblog
Upcycle Your Denim Jacket With Old Jean: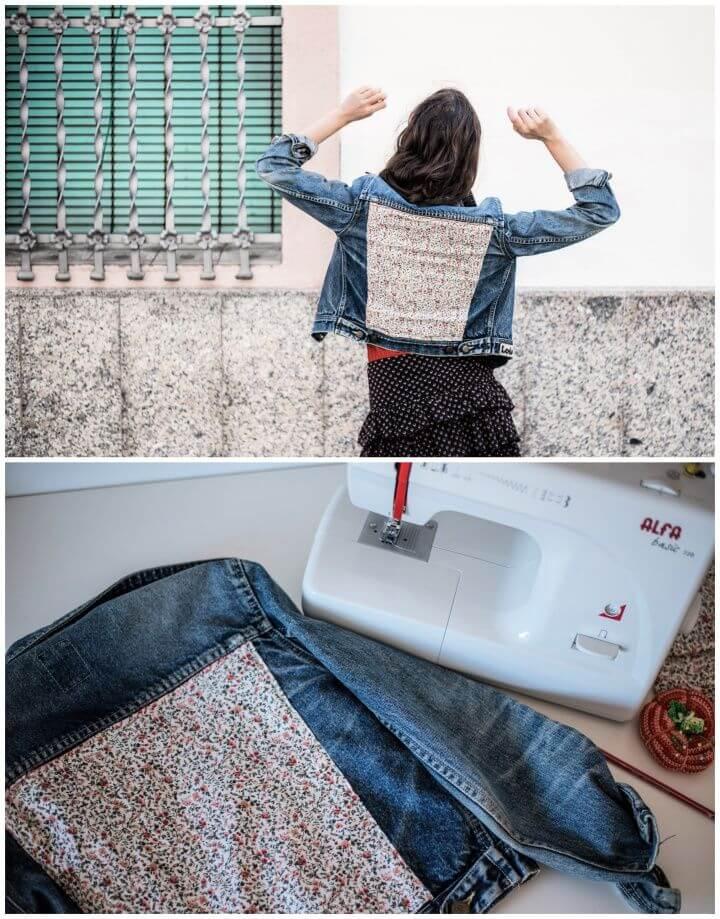 It's time to upcycle your old denim jeans and creates this lovely denim jacket out of it. You can adorn this lovely and cool denim jacket for the spring and fall to look just so effortlessly stylish and cute. A fabric piece has been added to the back of the jacket for a really quirky twist to the jacket.
Tutorial: emerjadesign
DIY Portable Pocket Pouch: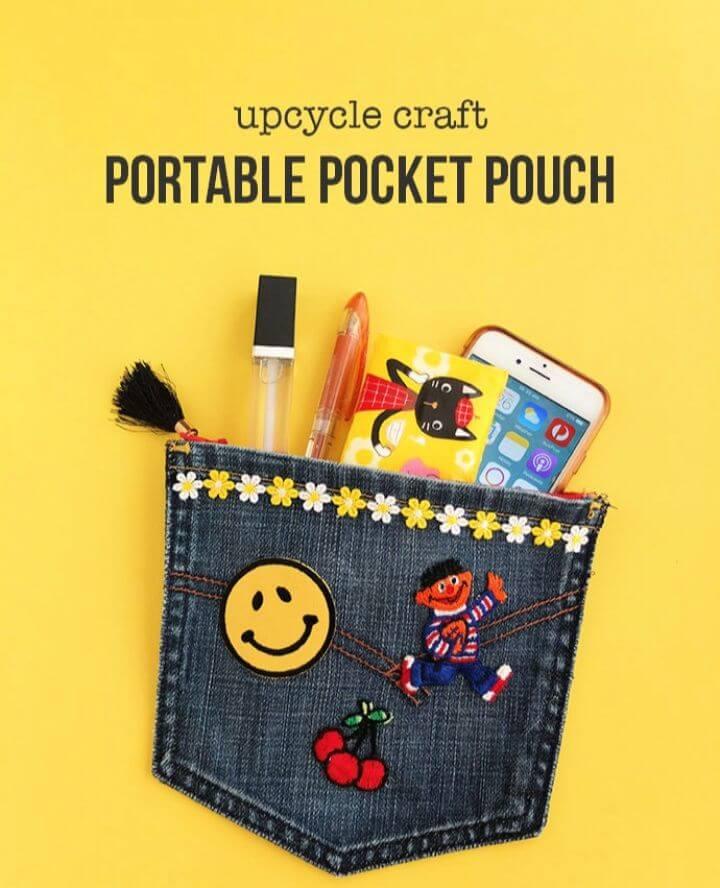 Now carry your essentials in the cutest and stylish way with this handmade DIY portable pocket pouch. Just grab your old jean sand cut out the pockets from them. Add some colorful trim and the patches to the pocket pouch to make it look so funky and cool. Details here!
Tutorial: mypoppet
DIY Shorts Alter Your Old Jeans Or Trousers: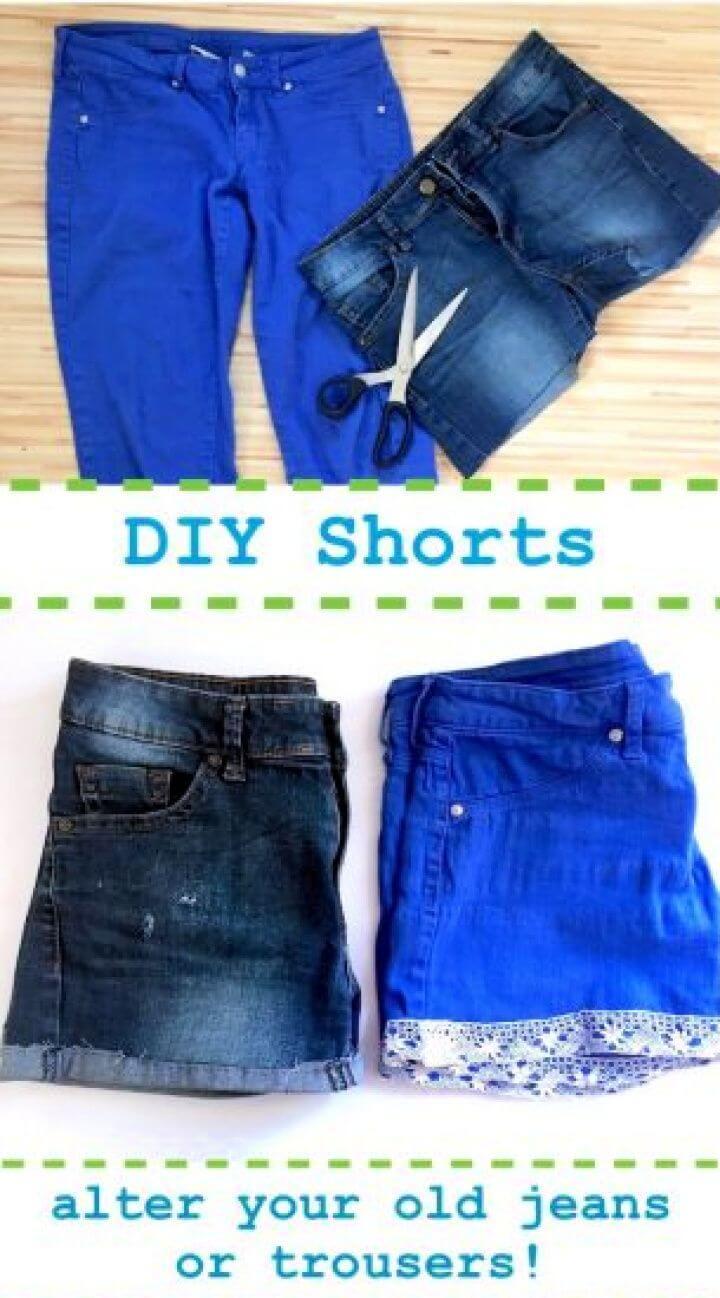 We love shorts for the summer for being so stylish and comfy at the same time. So here is the idea of turning your old jeans into the pretty and cool shorts or trousers with just a little cut and sew work. Just cut the shorts of the desired size and add some hem or lace to the bottoms for a fresh look.
Tutorial: fashionandlifestyle
DIY Ottoman Using Jeans And A Wooden Crate: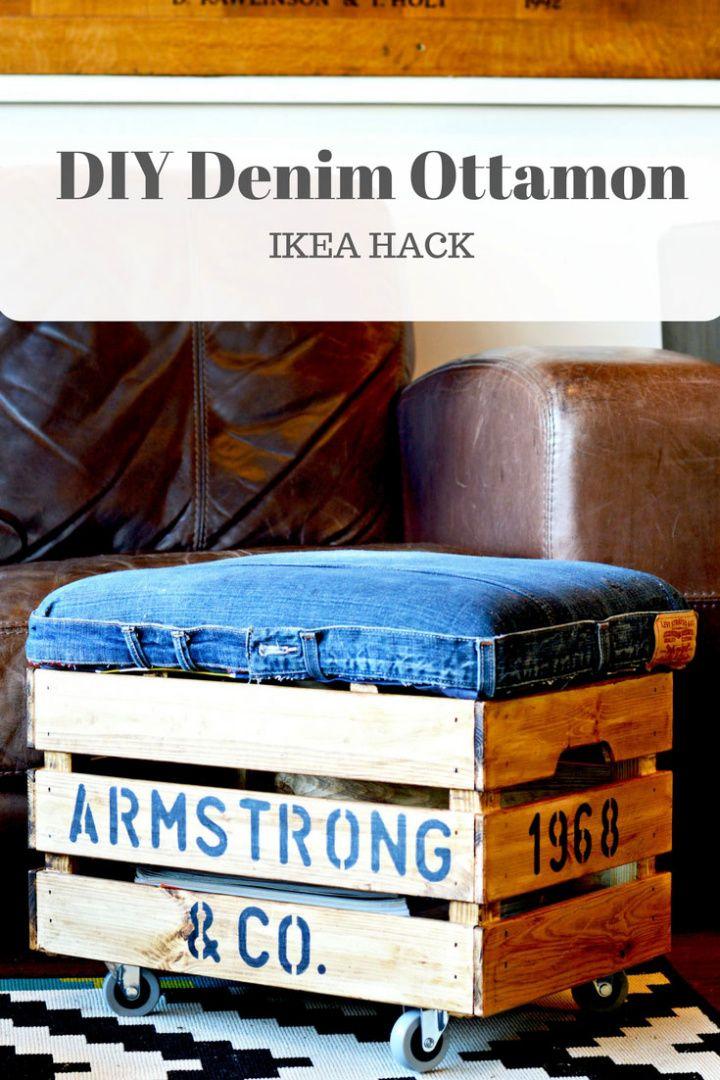 Bring this totally and fun and functional DIY ottoman using old jeans and a wooden crate. With some padding and the denim fabric cut out of your old jeans, you can easily create this super boho and chic looking ottoman. Also, this ottoman is going to cost you a few pennies so do make it.
Tutorial: pillarboxblue
Upcycled Frayed Denim Pouch: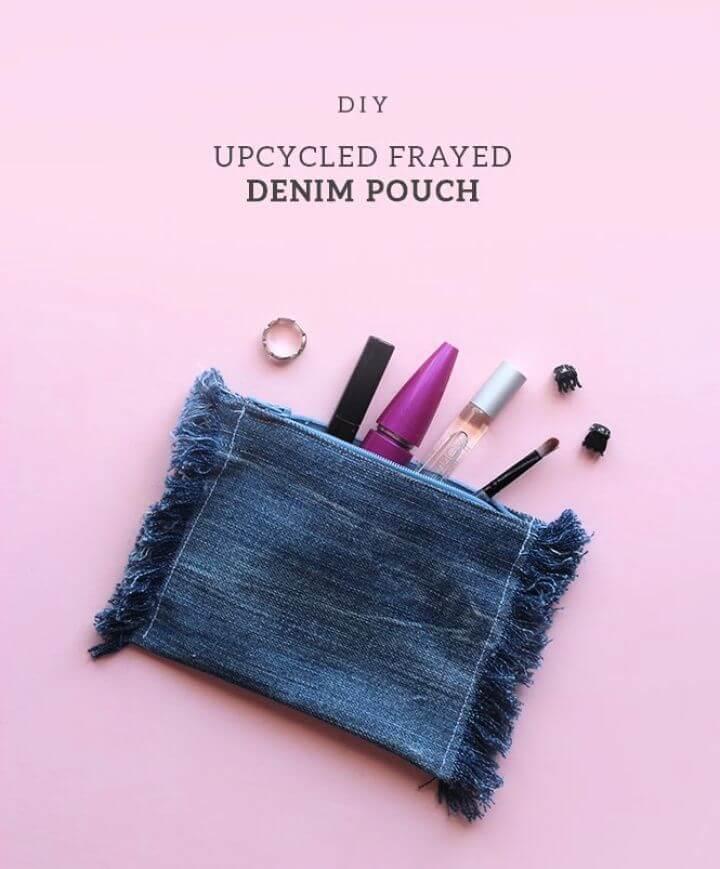 Carry your makeup in style with you when going outside with this handmade upcycled frayed denim pouch. Get some piece of the denim from the leg section and create frays at the edging. Then sew it up in the shape of a cute little square pouch with a zipper to easily carry your make up around.
Tutorial: curlymade
Sewing Case For Old Jeans: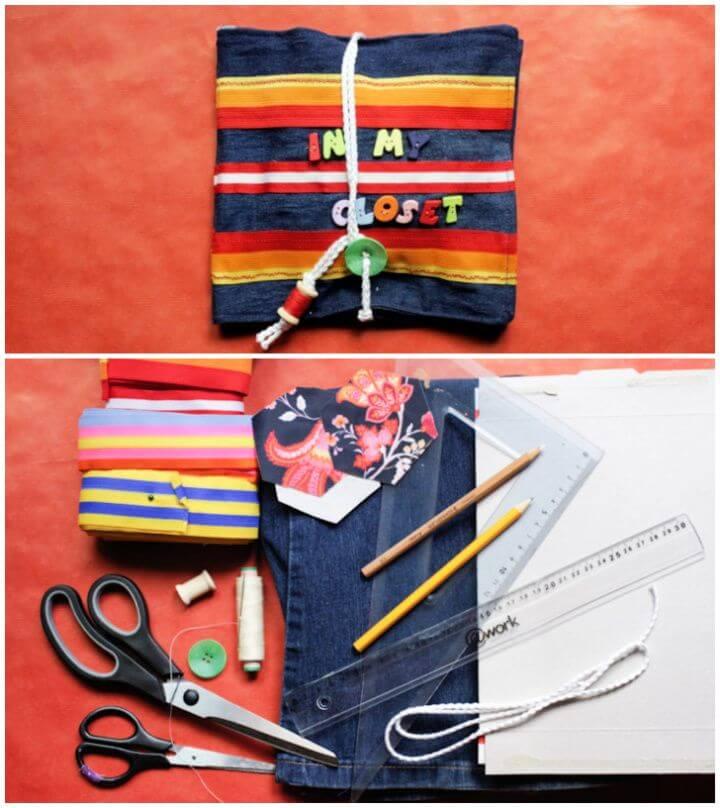 Now you can secure your sewing items so lavishly and safely with this sewing case from the old jeans. The denim sewing case is treated with some colorful ribbon patches and the letters saying In My Closet. Catch complete details of the idea here!
Tutorial: inmyc
Resistant Upcycled Jeans Picnic Blanket: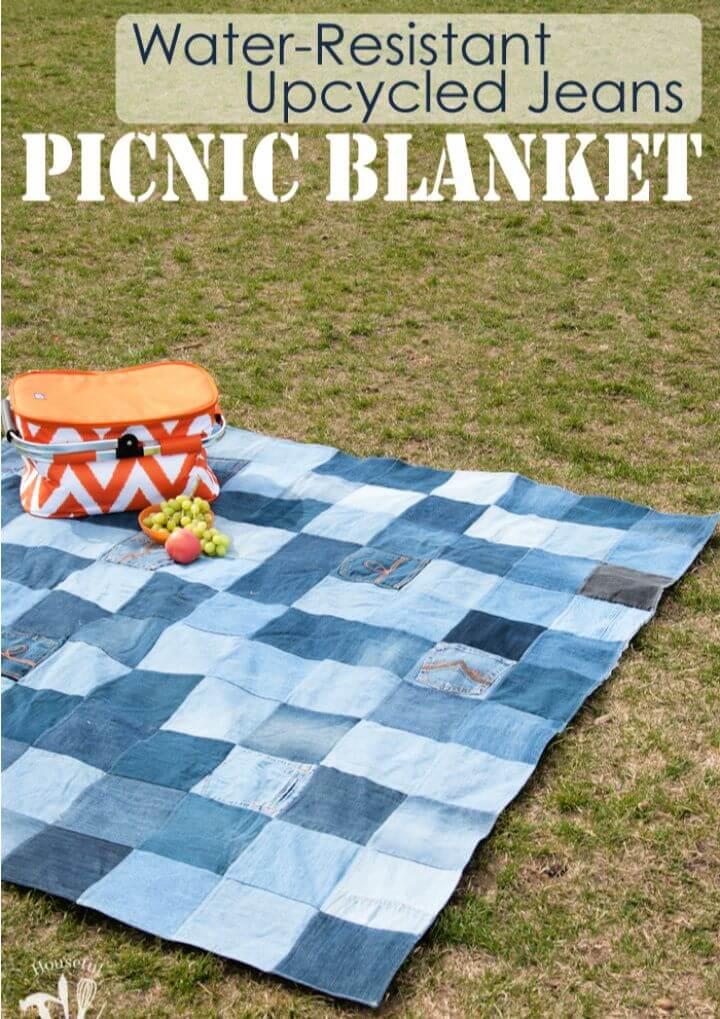 Make the picnic table from the old jeans and it would last for decades to let you and your family create some fun picnic memories on it. Just grab a pile of the old jeans lying in your closet and then cut out squares out of it. Sew together these squares and form up this absolutely gorgeous and durable picnic blanket.
Tutorial: housefulofhandmade
How To Make A DIY Planter From Old Jeans: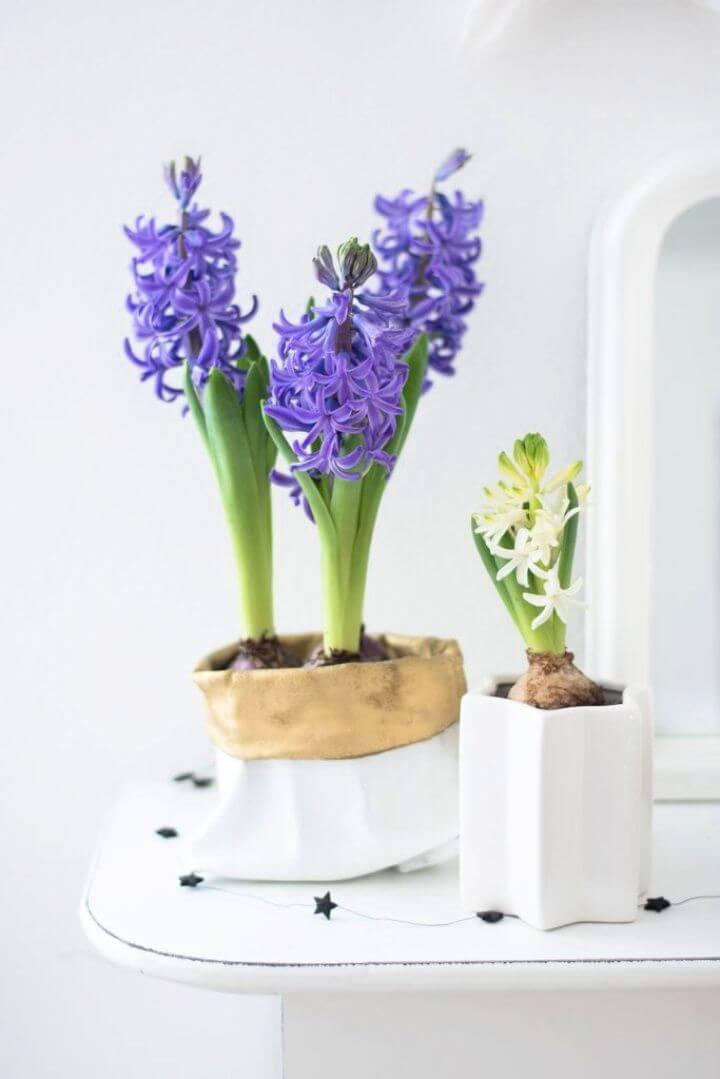 Make the most out of your old jeans to jazz up the beauty of your spaces with things like this DIY planter from the old jeans. The cutout bottoms of the legs of the denim have been sewn into shape up like a pocket and hold planters. For a decorative look, these denim planters can be painted in white and gold.
Tutorial: sinnenrausch
Denim DIY Coasters Step By Step Tutorial: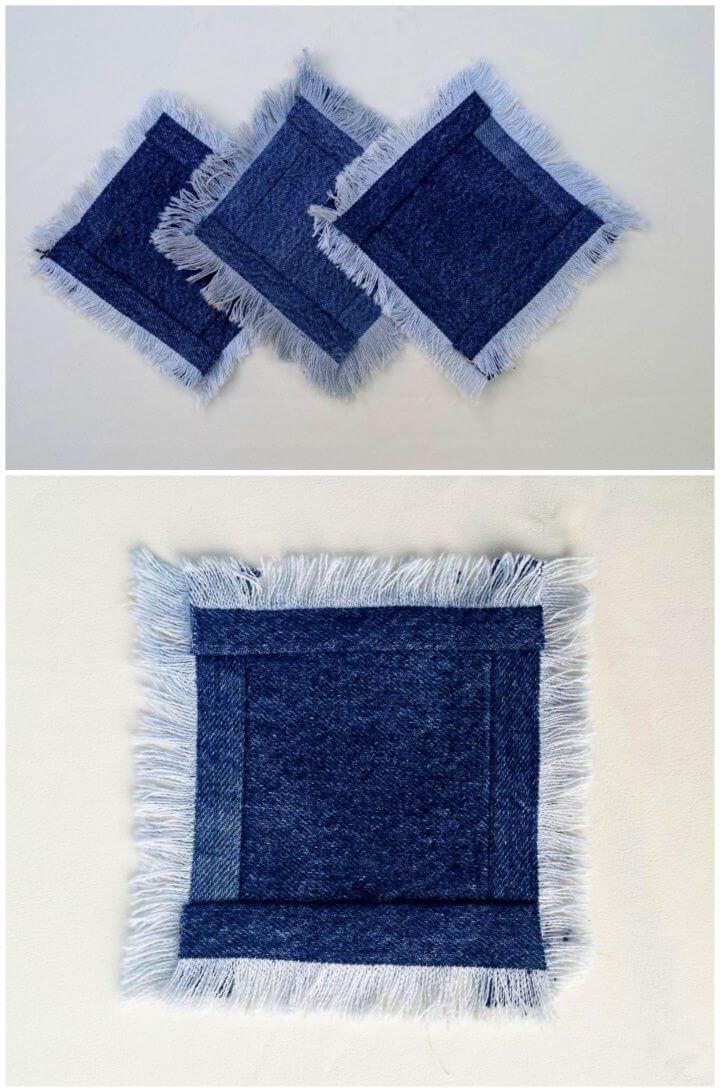 Save your money this summer season of the parties by making this gorgeous and durable bunch of the coasters from the old denim jeans. The cute little square-shaped denim coasters with the frayed edges look no less than pure beauties. You can use a pack of these denim coasters as a great gift idea too.
Tutorial: craftpaperscissors
DIY Beach Pillow from Old Jeans and Troubles of the Heart: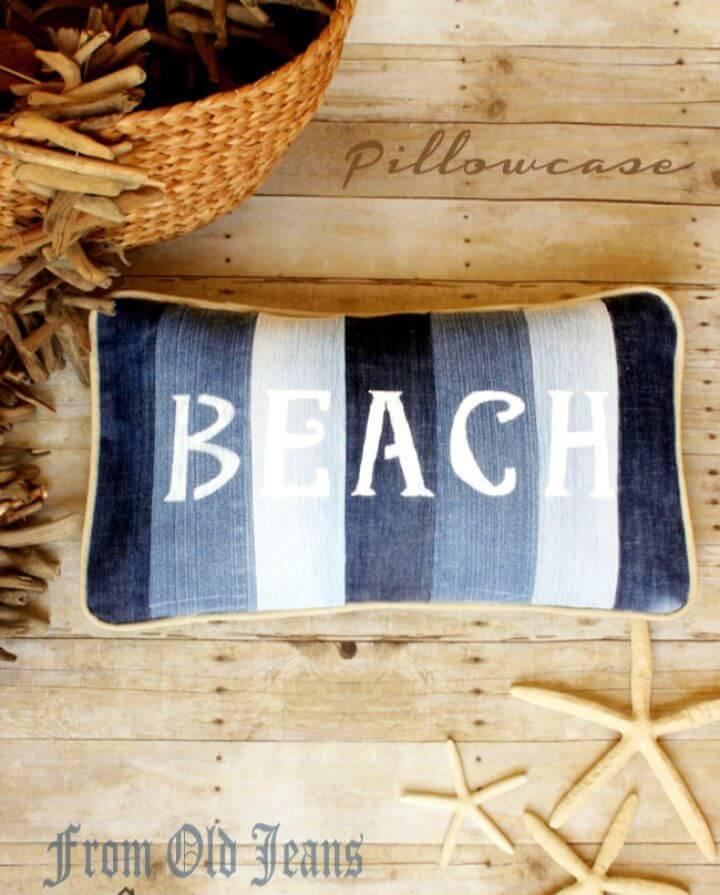 A beach trip can cost you much so save on other beach utilities with things like this lovely DIY beach pillow from the old jeans. From the colored and faded patches of the jeans, this lovely pillow is nicely sewed up with a simple fabric hem at the edges. Also, it says BEACH to look just so opt for your beach trips.
Tutorial: remodelandolacasa
Jeans Pocket Turtle – Another Clothes Upcycle: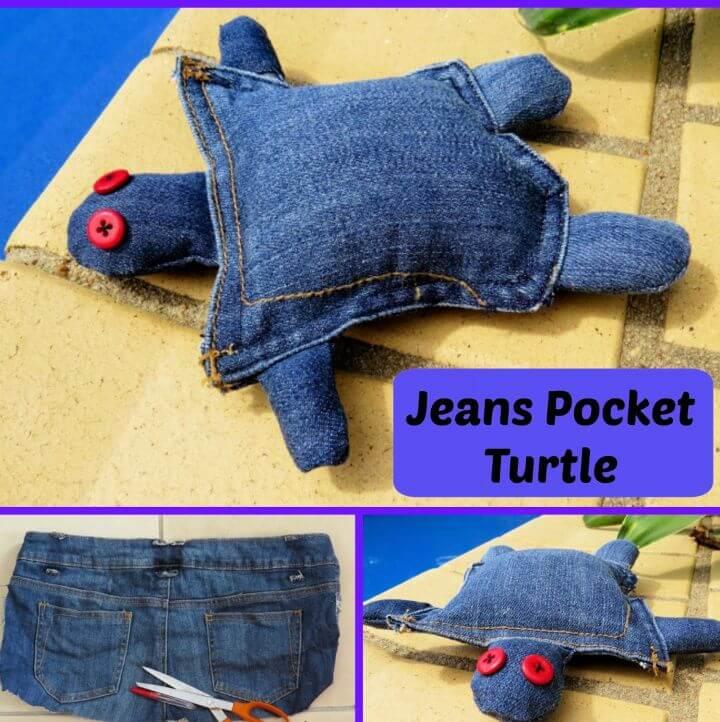 Handmade toys are always best to play with so here is this lovely jeans pocket turtle to make the perfect toy for your kids. The pocket of the jeans has been turned into the back shell of the turtle and the rest of the parts are made from the other jean scraps. Add buttons as the eyes and the cute little turtle is ready.
Tutorial: jembellish
Upcycled Denim Play Crown: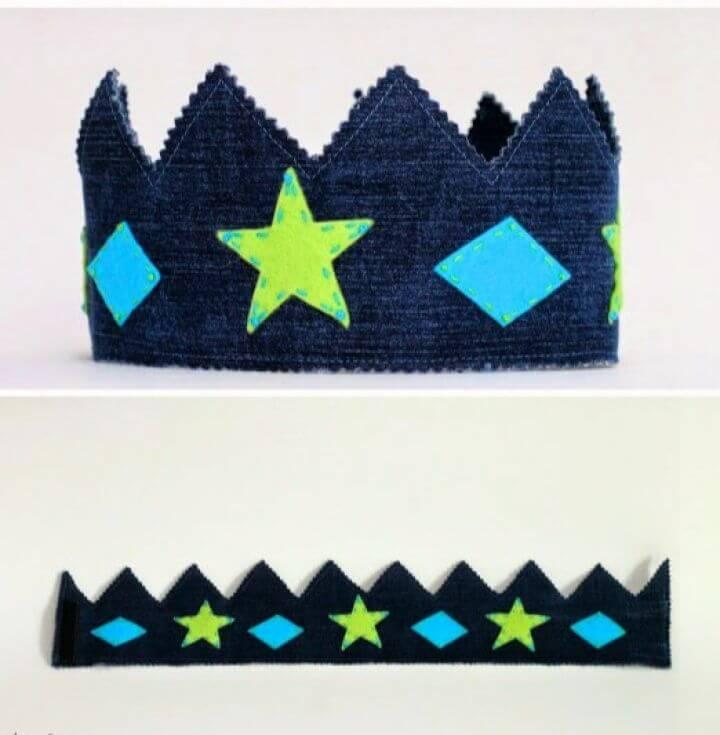 Kids love to act role-plays at home with their little fellows and king is the favorite character of the boys. So to make them look like the real one makes this pretty upcycled denim play crown for them. Create a simple spiky headband with felt made starts and rubies sewed on it. Details here!
Tutorial: creativegreenliving
DIY Quilted Denim Pillow: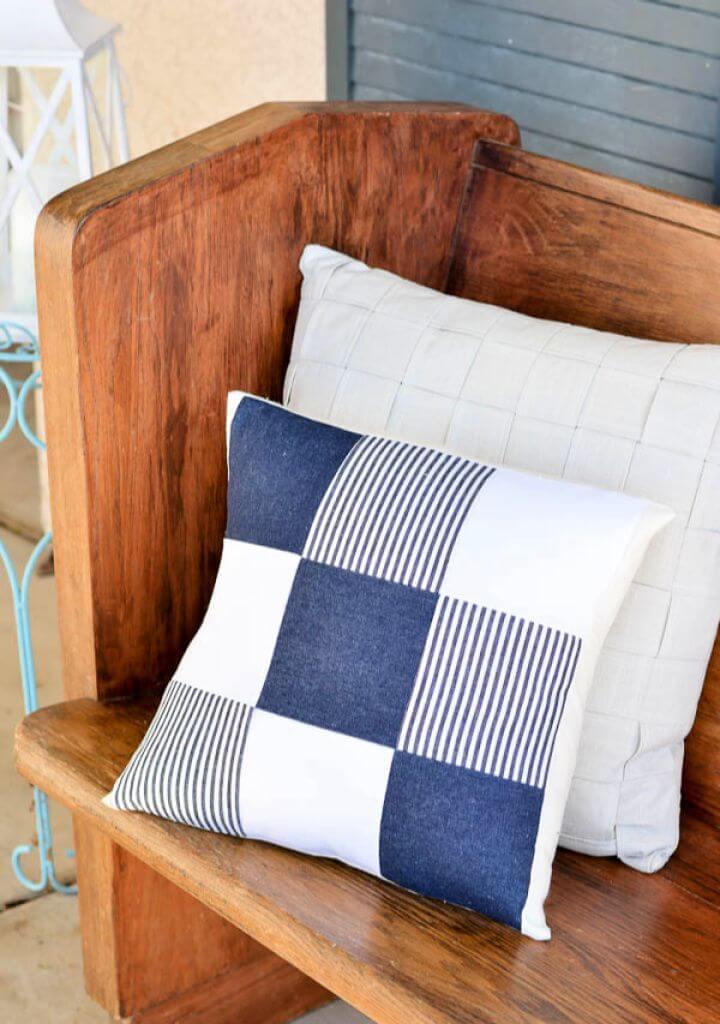 Make this super cute and chic DIY quilted denim pillow to look just so modernly stylish for your bed or sofa. The gorgeous white canvas fabric is adorned with the denim squares to look just so eye-catching yet elegant. Get the sewing details here!
Tutorial: apumpkinandaprincess
Easy Upcycled Denim Bucket Tutorial: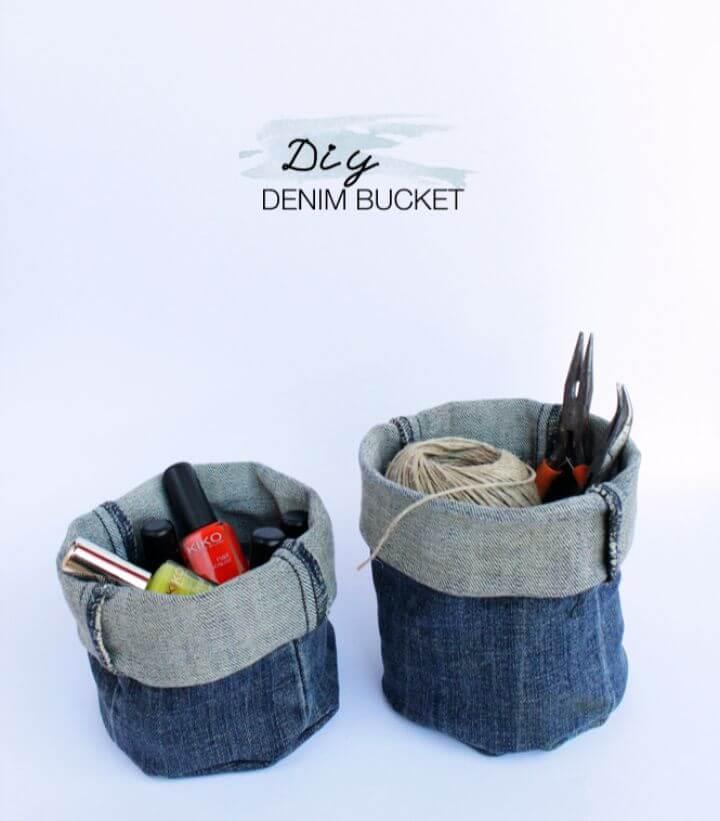 Your knick-knack stuff can be nicely housed in these handmade upcycled denim buckets and that too at the cost of nothing. Cut out the bottoms of each denim leg and sew them in the shape of these lovely buckets with a fold-up on the top. From makeup to tools you can house everything in them.
Tutorial: curlymade
Make A DIY Beg Dari Jeans: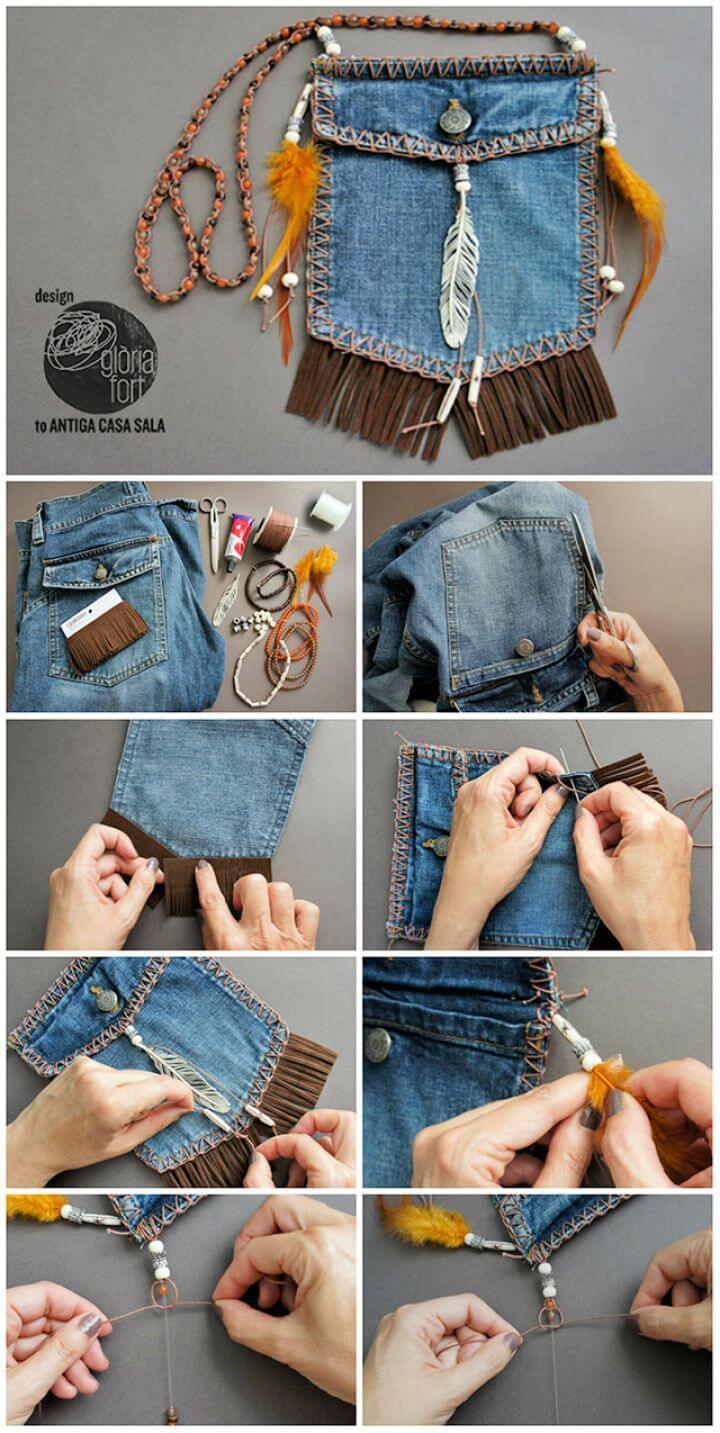 Charm up your personality this summer with this utterly boho and chic looking DIY beg Dari jeans amulet bag. The cut-out denim pocket has been turned into the lovely bag with a beaded strap, embroidery hemming and the feathers for a more amulet like appeal. More details here!
Tutorial: gloriafort
How To Transform Your Jeans Into Spicy Shorts: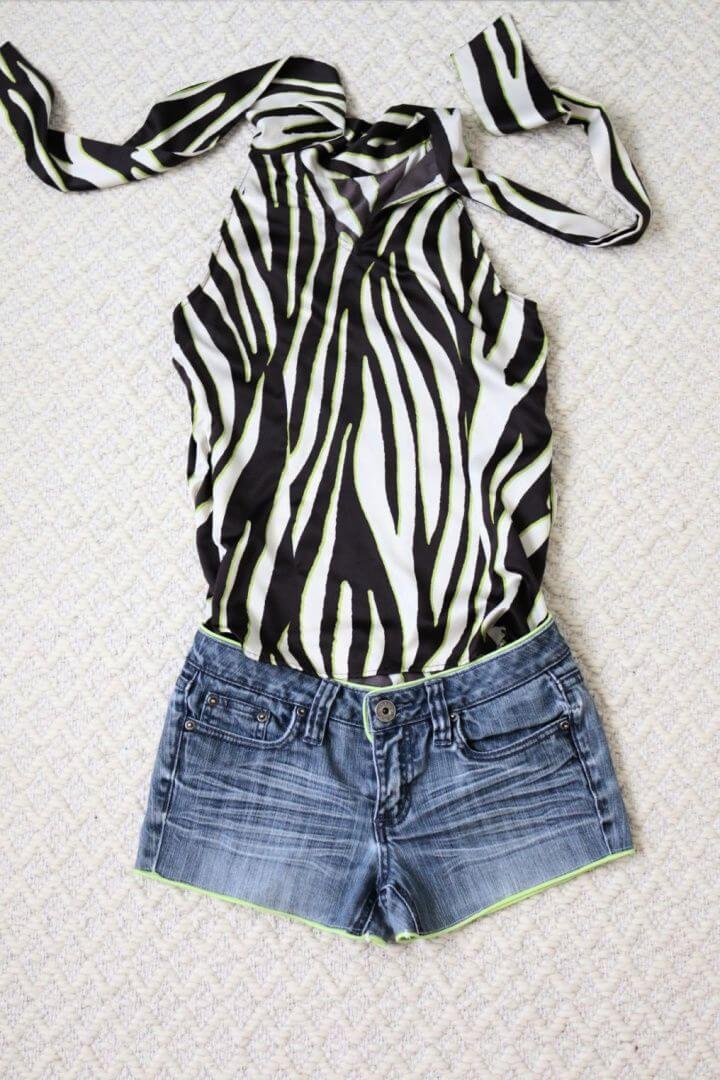 A summer wardrobe is so undone without jeans short to pair up with a variety of tops and tanks. Now instead of buying a new one, you can make this lovely pair of spicy shorts from the old jeans. The green-colored maxi piping on the shorts is adding some really a stylish twist to this regular looking pair of shorts.
Tutorial: oheverythinghandmade
DIY Little Denim Whale Soft Toy: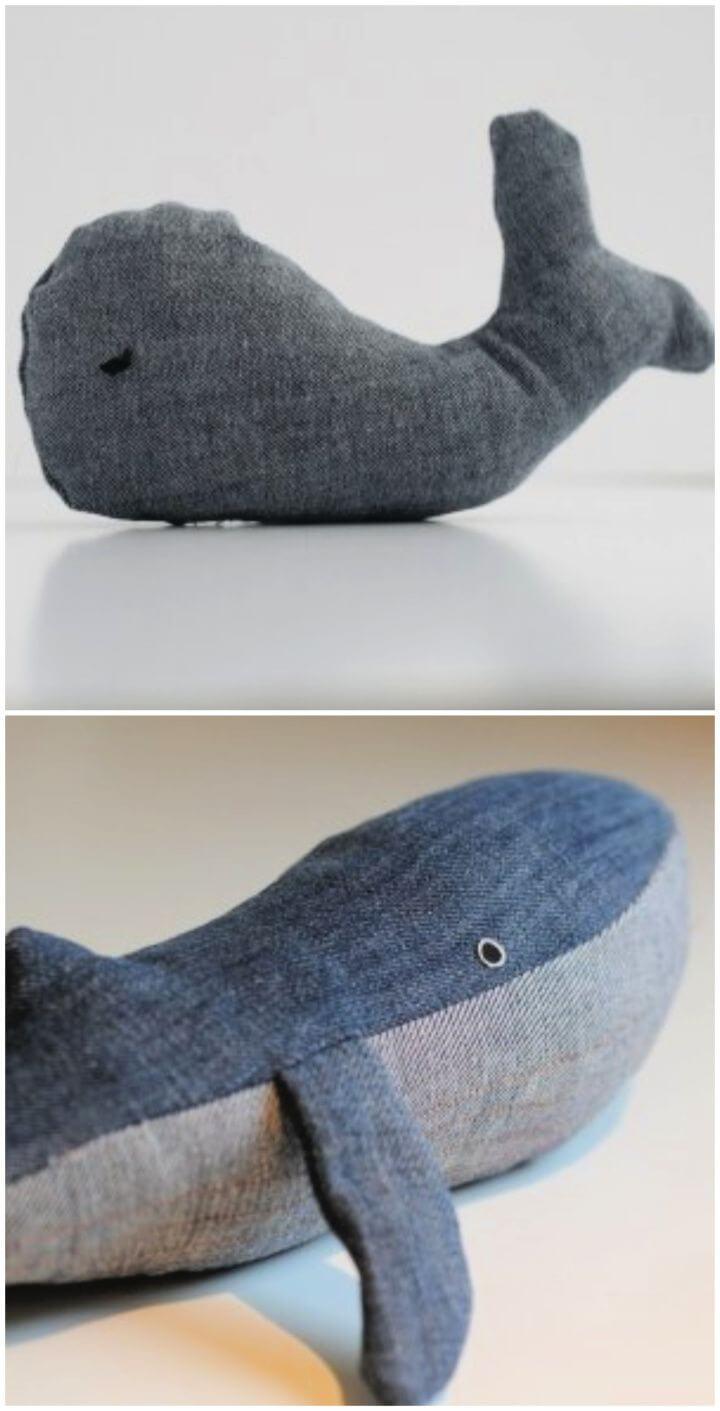 Kids are in huge love with the sea creatures and whale is one of their favorites. So it's time to make their love for the whales more strong with this lovely DIY denim whale soft toy. This lovely denim whale toy would be a great gift idea for your little ones around. Learn to make it easily here!
Tutorial: littlebuttondiaries
DIY Denim Flower Pot Cover: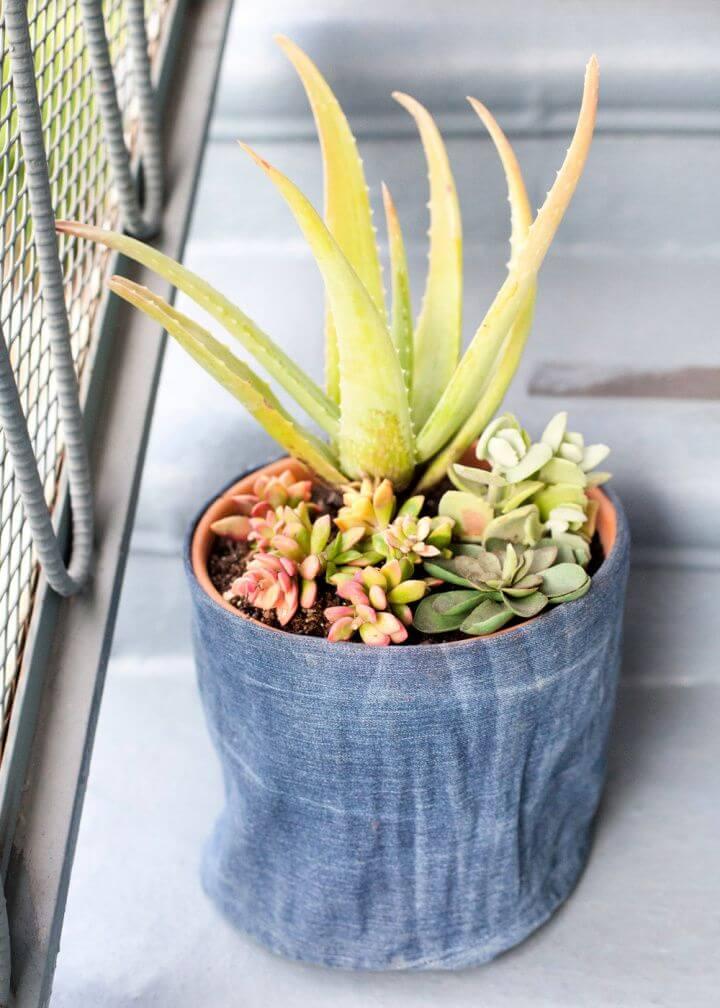 Simple and naked terracotta pots need some décor treatment if you are using them inside the home and you can try this denim pot cover. All you need to do is just cut out the piece of denim according to the size of your pot and simply sew it up. This is going to add some very subtle hues to the décor.
Tutorial: oubly
Collaborator From Jeans To Bag: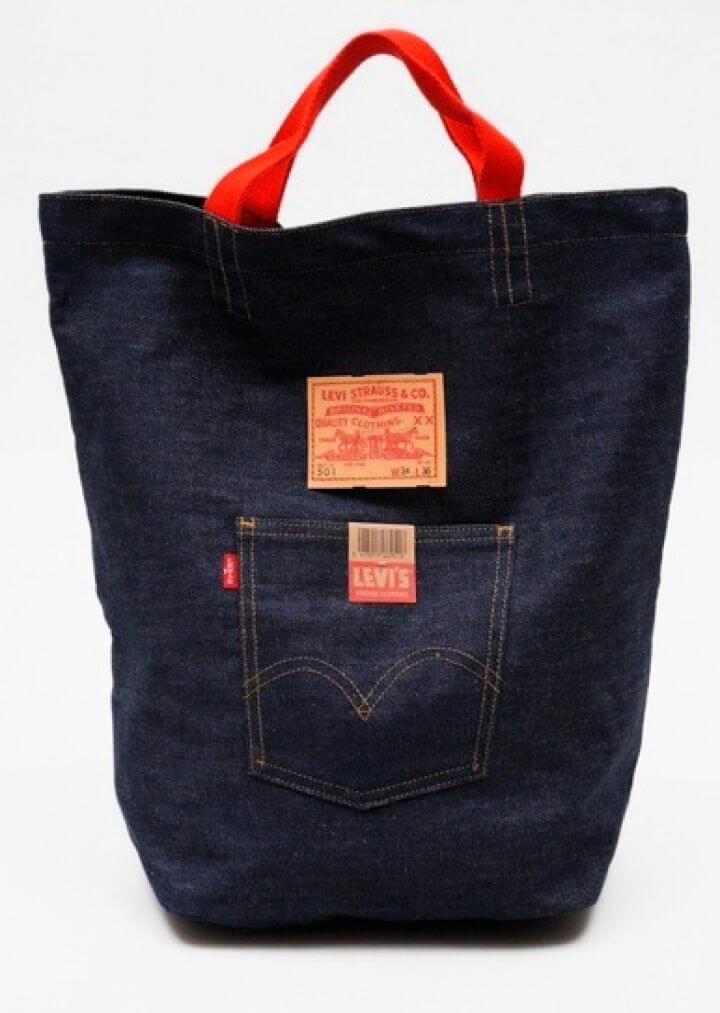 If you are a person who needs big and strong bags to carry your big bunch of the utilities together then make this lovely jeans bag. You just need a pair of your old jeans and get around your sewing station to make this super cute and functional jeans bag. The red straps are making it look lovelier.
Tutorial: 2ndfunniestthing
Recycle Old Jeans Into A Patchwork Jean Bowl: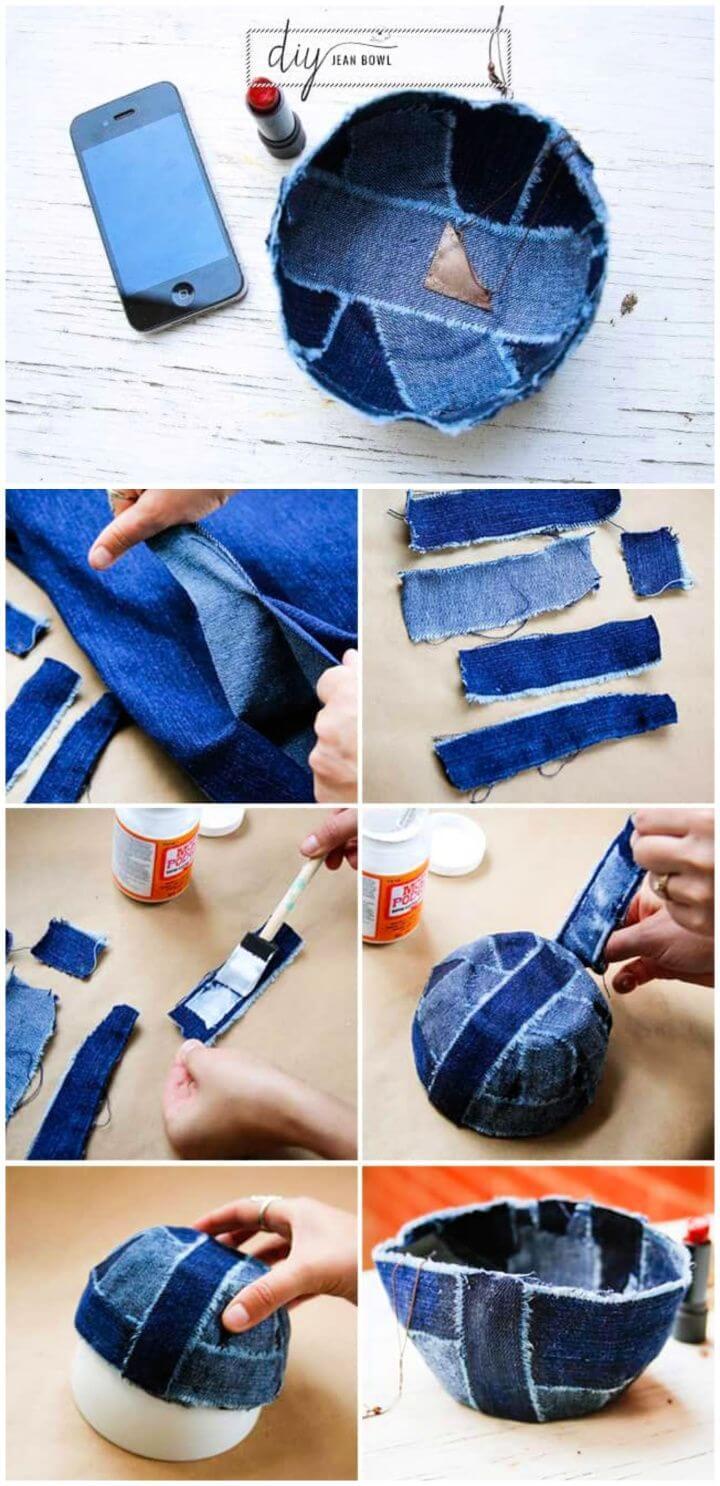 Along with custom fashion accessories, make cool utensils too out of old jeans! Go for an amazing pair of jeans patchwork and make this old jeans bowl! You need old jeans, mod-podge, and a bowl to make this denim bowl that is just looking sweet! A lovely bowl to make with old jeans!
Tutorial: helloglow
DIY Hair Bows – Denim Scraps Tutorial: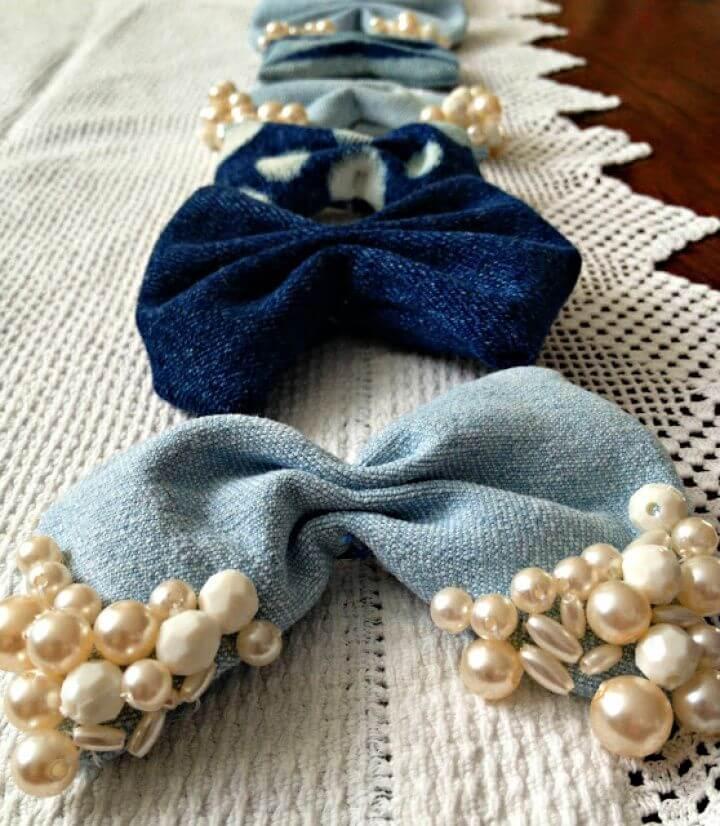 Recover cool hair accessories too out of your old denim scraps! Repurpose the leftover jean scraps to make these sweet hair bows, will make a sweet gift for a style lover! Here you need the leftover jeans and hair clips to make these hair bows! Decorate them more using pearl beads and other accents!
Tutorial: salutetocute
How To Make Your Own DIY Jeans Jacket From Old Jeans: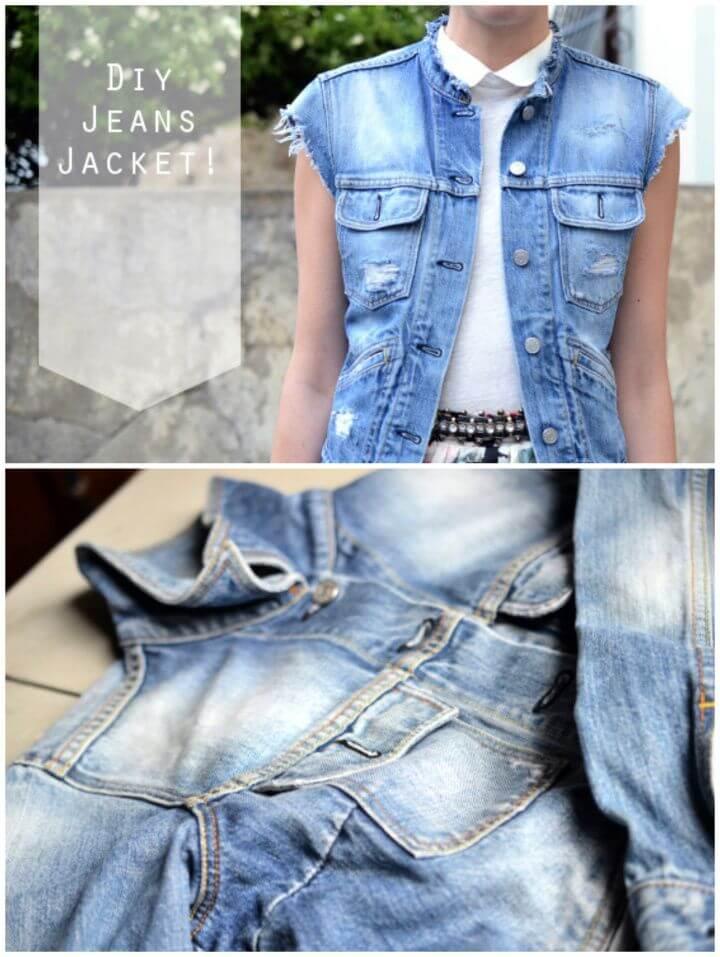 Don't let your old jeans go as a waste, transform them into adorable jackets, will take your style to the next level! This DIY hack involves cutting the arms of a jeans jacket and it will look extra stylish in the sleeveless style! A must crochet a jeans jacket for your fashion wardrobe!
Tutorial:  chocolateandcraft
DIY Children's Apron For Handicrafts From Old Jean: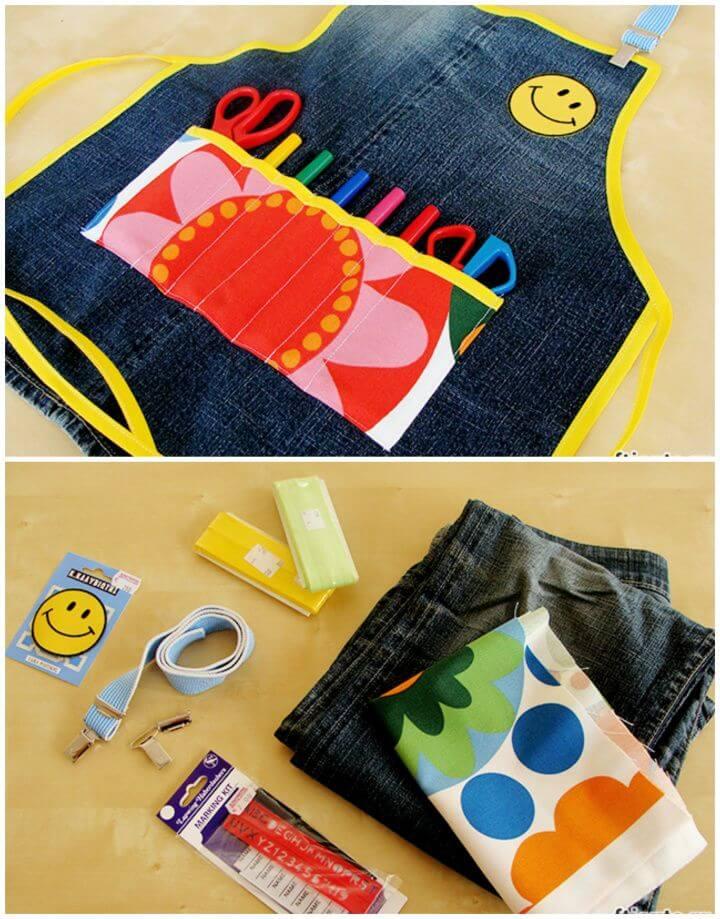 Are your kids are deeply in love with the crafting? Then help them get ready more for the craft mania with this kids handicrafts apron! A lovely kids' accessory to make from old jeans! It comes with a yellow accent lining, a colorful printed fabric pocket and also with lovely rubber straps!
Tutorial: ftiaxto
DIY Lemonade Hobo Bag Tutorial: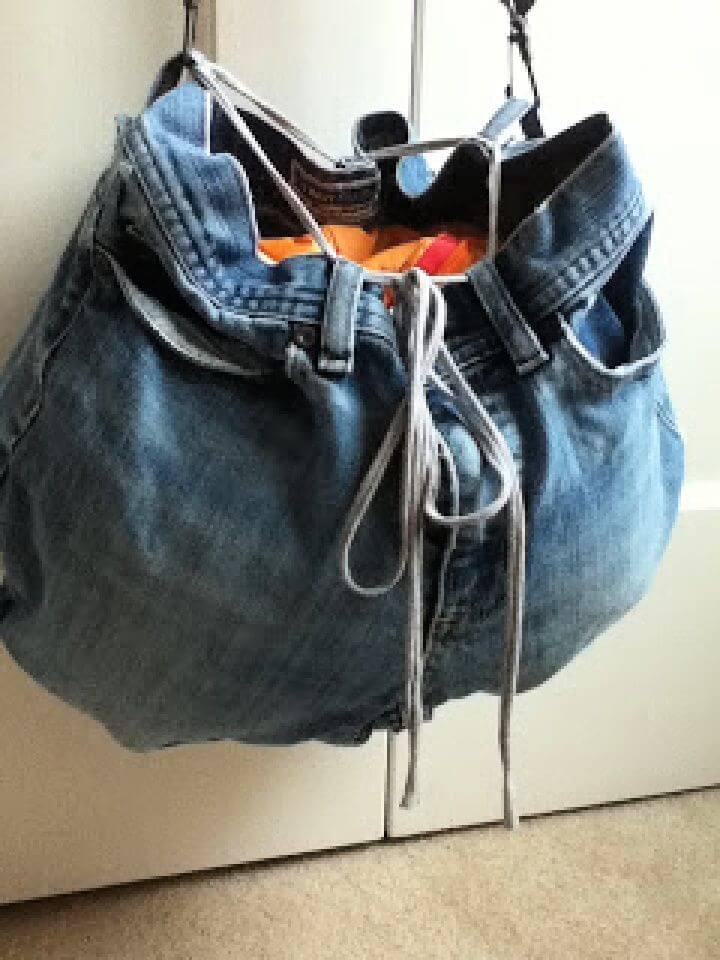 Looking for new and mind-boggling storage options for your home and rooms? Then do repurpose your old jeans for that! Start organizing your things with this lemonade hobo bag that looks great with drawstring closure! Cut the upper part of the jeans and sew it again to make a bag! Use a cord or shoelace for drawstring!
Tutorial: funkymonkeyinthemiddle
Repurposing An Old Pair Of Jeans: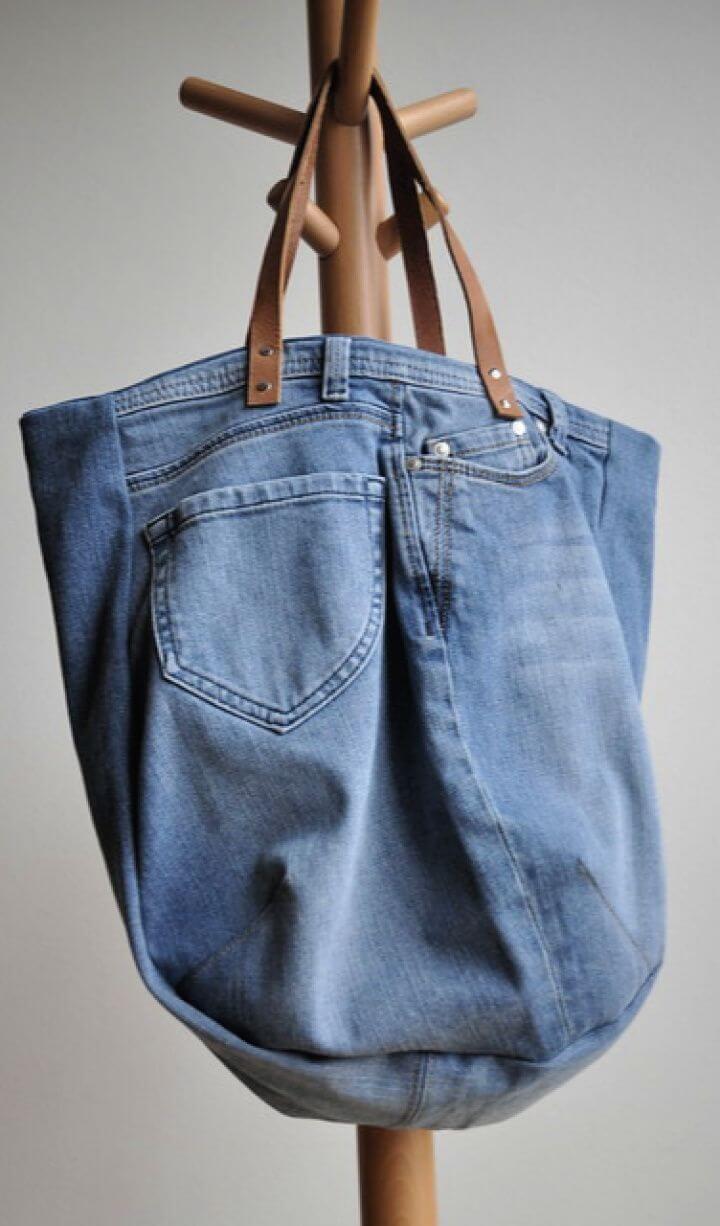 Need a durable bag for your heavy fruit or vegetable shopping? Then you must make this durable bag out of old jeans! Modify your jeans to serve as a bag, add the fabric lining inside and finish with the leather straps! Use a rubber kit to install the leather handles! Details here
Tutorial: betweenthelines
Old Denim Corner Heart Bookmark: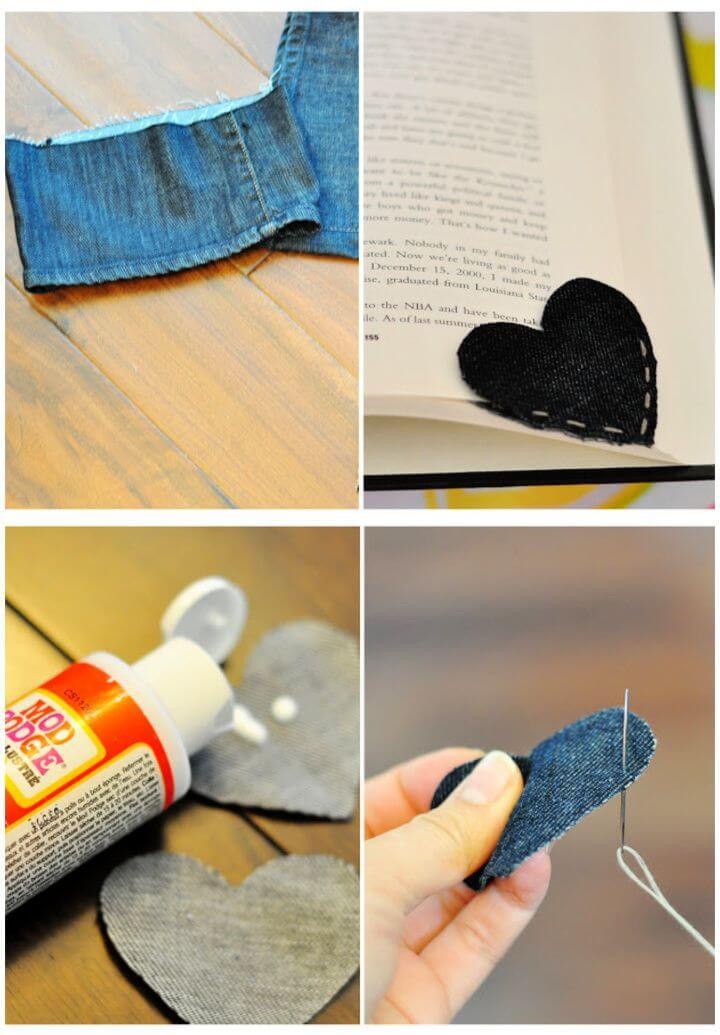 Start reading your books where you left off without remembering the book page with this heart bookmark! Make it with old jeans in a couple of minutes! Cut two heart shapes out of the jeans, stitch their bottoms together to make these cuties, the love bookmarks!
Tutorial: thecheesethief
DIY Jeans Pocket Entertainment Organizer Garland: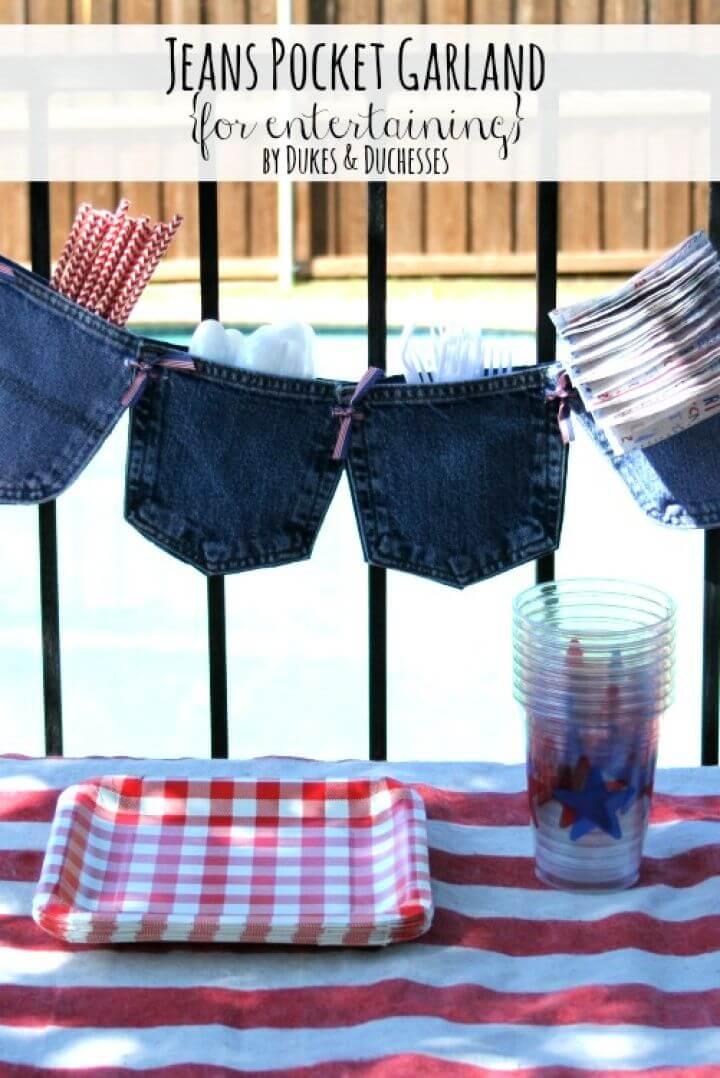 Rock your holiday parties with this very special decoration, made out of your old jeans! Separate apart the pockets of your jeans and then sew them together onto a piece of a string making a cool holiday garland! New creative reuse of your old jeans!
Tutorial: dukesandduchesses
DIY Wine Bag Repurpose – From Pant Legs To Wine Bags: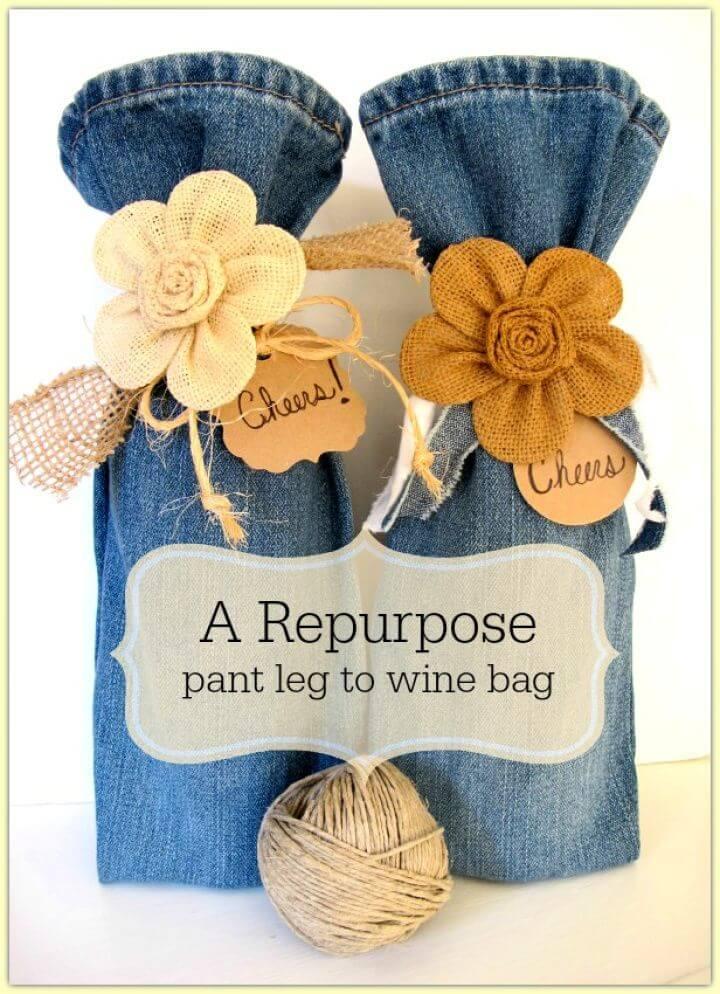 Along with custom fashion accessories, make cool utensils too out of old jeans! Go for an amazing pair of jeans patchwork and make this old jeans bowl! You need old jeans, mod-podge, and a bowl to make this denim bowl that is just looking sweet! A lovely bowl to make with old jeans!
Tutorial: mysoulfulhome