Having a beautiful home should not get expensive! To get a home appearing better often involves buying expensive decorations that sometimes not fit to your budget! So, gain an impressive look of your home with these DIY Home Decor Crafts that will help make the luxury home decors inexpensively! The list involves easy craft ideas that involve the easy supplies that you must have in-home or in-home storeroom to do most of these projects! The list will involve using paper to wood to fabric, to make fabulous ornaments and home decoration that will simply change your life amazingly! Open up this collection of 14 DIY Home Decor Crafts – Easy Craft Ideas that will surely impress all the creativity lovers! These crafts are too innovative to make you think that's why you have through this way before toward the ordinary things! From making custom accessory holders to outstanding light decors, the list is having all homemade decorations to impress you with!
Fold the leftover felt to make lovely bowls, will nicely update your home storage! Put together the recycled wood slats to make a blanket ladder! Assemble the popular board pieces to make square boards and then add them up with the string nail art to make gorgeous home wall art signs! Upcycle the old paper and make fabulous lampshades and go handmade with the leftover metal pipe scrap and wood slats to make lovely antique light fixtures! Fit the magnets in a recycled wood plank to make a knife holder for your kitchen and also add up a repurposed wood slats with the wooden peg hooks to make a jewelry organizer! Look through all these DIY Home Decor Crafts to amaze yourself with the incredible new uses of ordinary and recycled things!
You May Also Like:
Wallpaper Lampshade: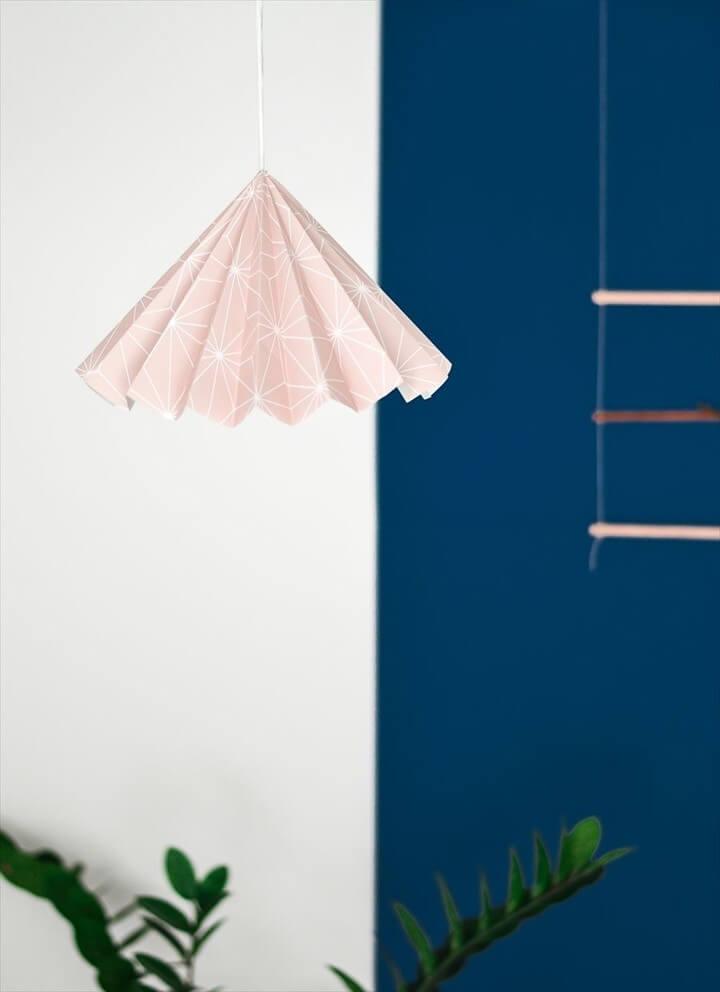 Spruce up your interior light systems with handmade lampshades! Grab the big paper and a big round object to trace a perfect circle on the paper! Cut the circle out and fold like a hand fan to make this wallpaper lampshade! Secure sides in place using double-sided tape!
Tutorial: homedit
Gold Bolt Blanket Ladder: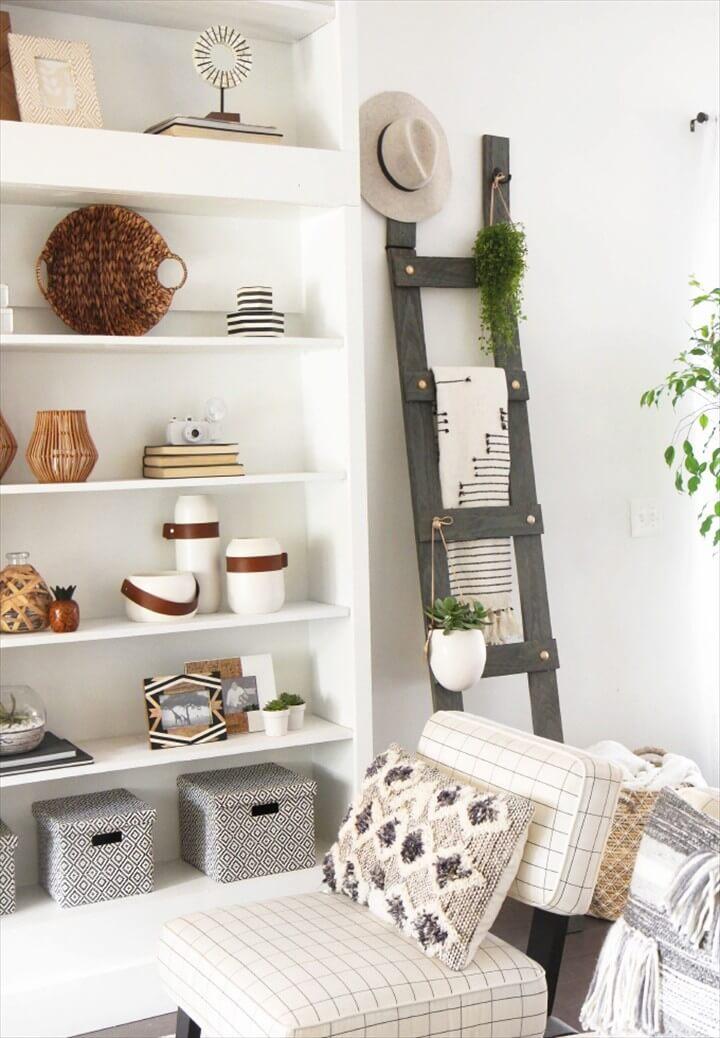 Fancy up your home or bathroom with this lovely organization unit, the blanket ladder! It gains a modern posh look with the gold bolt buttons! Grab 3 lengths of 1x4x8ft reclaimed wood, give it one or few primer coats and then paint! Assemble with metallic gold painted bolts!
Tutorial: ispydiy
Sunshine String Art: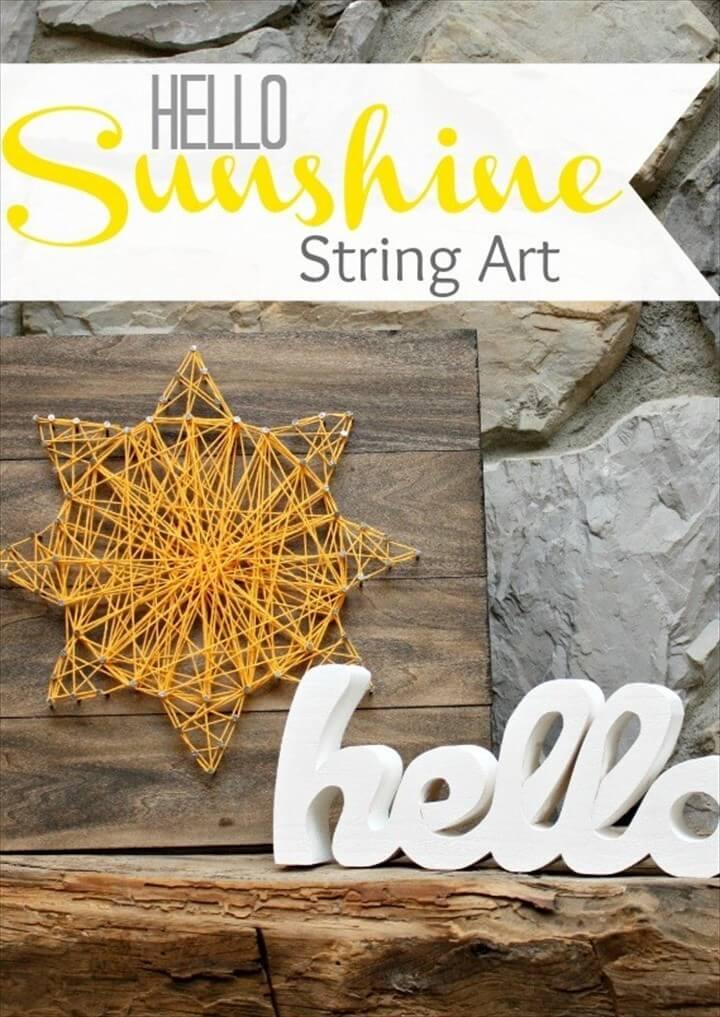 Are you handy at nail and string art? Then this project is for you! Cut a 1×4″ poplar board lengths into 16″ pieces, put them together making a square board! Next trace the sunshine art on it followed by erected nails using a template! Fill the art using bright yellow string!
Tutorial: homemadeinterest
Simple Folded Felt Bowls: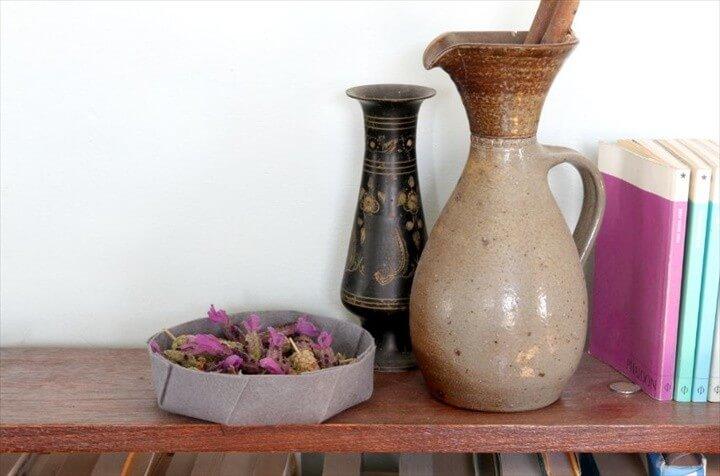 Jazz up your home decors by updating the home storage options with these folded felt bowls! A smart felt stash buster project! Grab a 1 piece of feeling of A4 paper size and 2 pieces of cardboard having 8″ x 8″ size to complete this project! Use cardboard pieces to make a template for a folded felt bowl!
Tutorial: homedit
Industrial Bathroom Light Fixtures: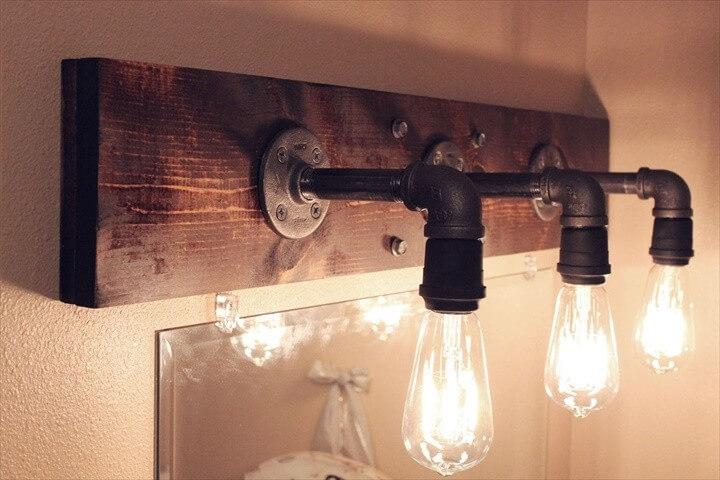 Feature antiqueness in your modern bathroom with this lovely industrial bathroom light fixture! Make it with a reclaimed wood plank add up L-shape light fixture made of recycled metal pies and floor flanges and ending up with bulb holders! Next, fit the light bulbs in to get it made!
Tutorial: homedit
Magnetic Knife Holder: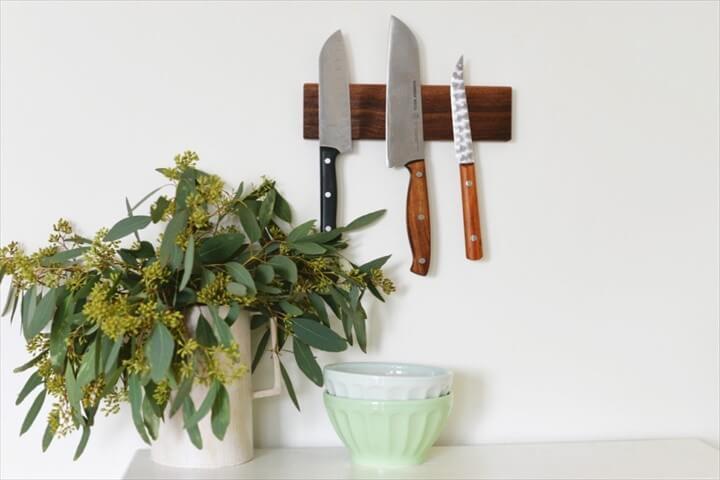 If your cutting tools are often to lost in your kitchen then here is a quick magical solution for it! Make this magnetic knife holder inexpensively using a ¾ inch woodblock! Drill holes in it to fit ¾ inch round heavy duty magnets! Give it a lacquer finish and install on the wall using brackets to hold your knives!
Tutorial: homedit
Handpainted Pillows For Home Decoration: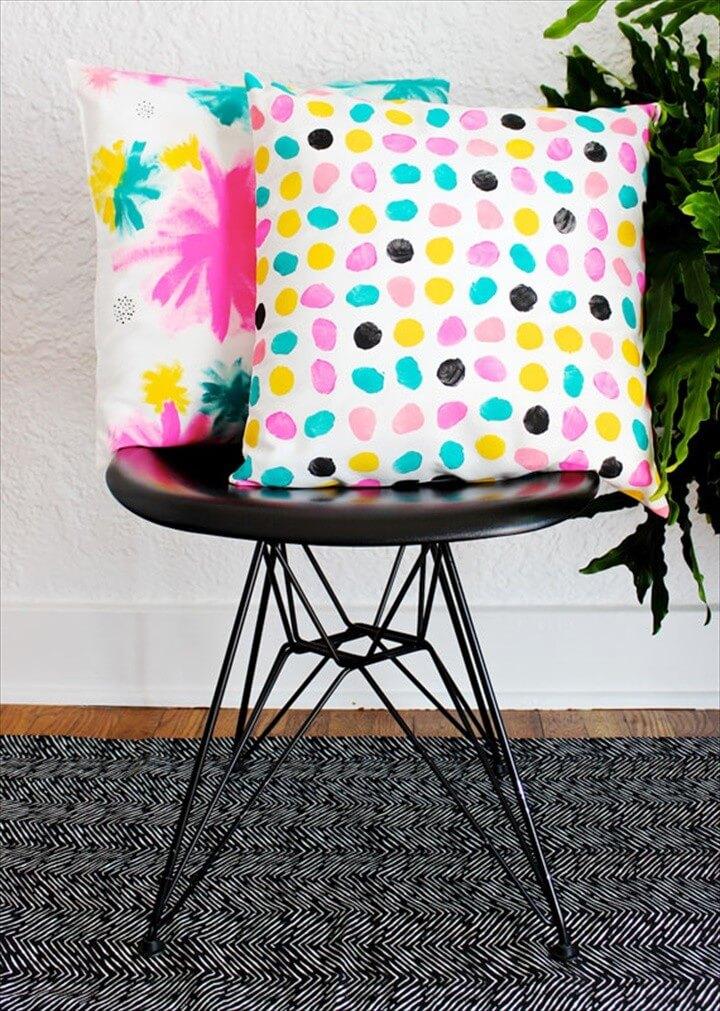 Turn your hand-painted fabric arts into memorable home accessories, will always go appreciated! The idea is pretty simple, just hand paint your selected fabric and then sew pillow out of it! This idea will rock when you need to award the kid's handprints! Details here
Tutorial: blog.etsy
Ombre Necklace Rack: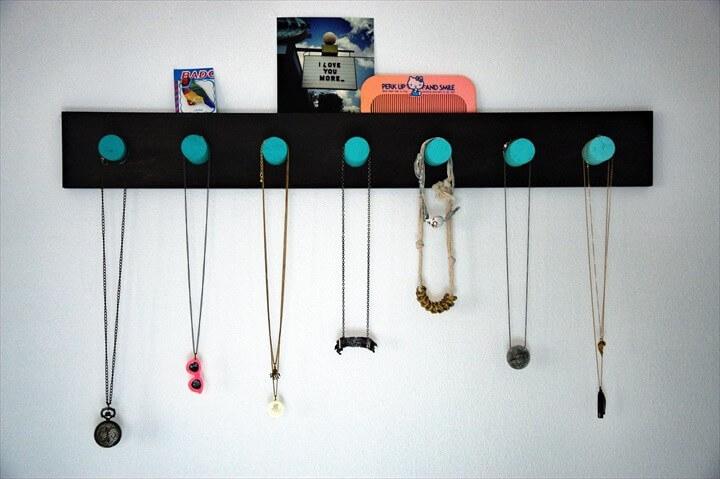 If your necklaces are often to get tangled in your jewelry drawer then you must get them organized with this quick modern hack! Make this ombre necklace rack using a long piece of wood and chopped 1.5″ wood dowel pieces! Paint the longer board in black and pegs in turquoise using craft paint and then use strong glue to install pegs on the board as hanging hooks!
Tutorial: wellitsokay.blogspot
Dog Print Wall Art: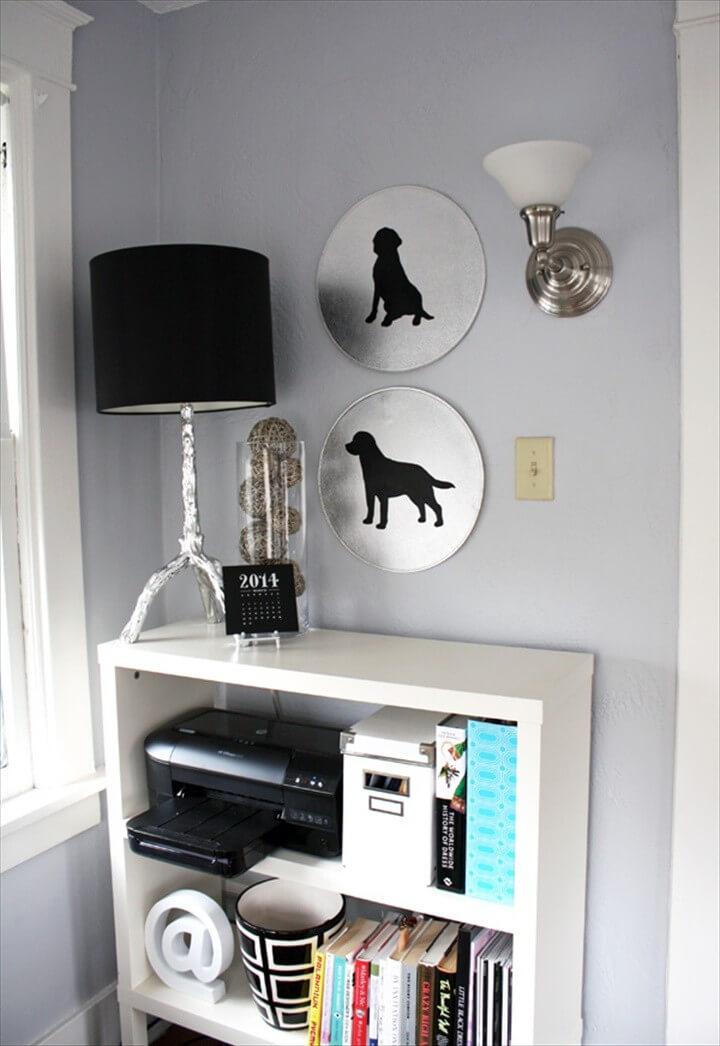 Create also gorgeous modern wall art signs at home using the leathery placemats and your printer! Print out Labrador poses on a white paper to use as a template! Use them to trace the art on the leathery round placemats! Fill the traced out art with black paint and paint the rest of the placemat in any other color!
Tutorial: wearwagrepeat
Spring Geometric Triangle Background: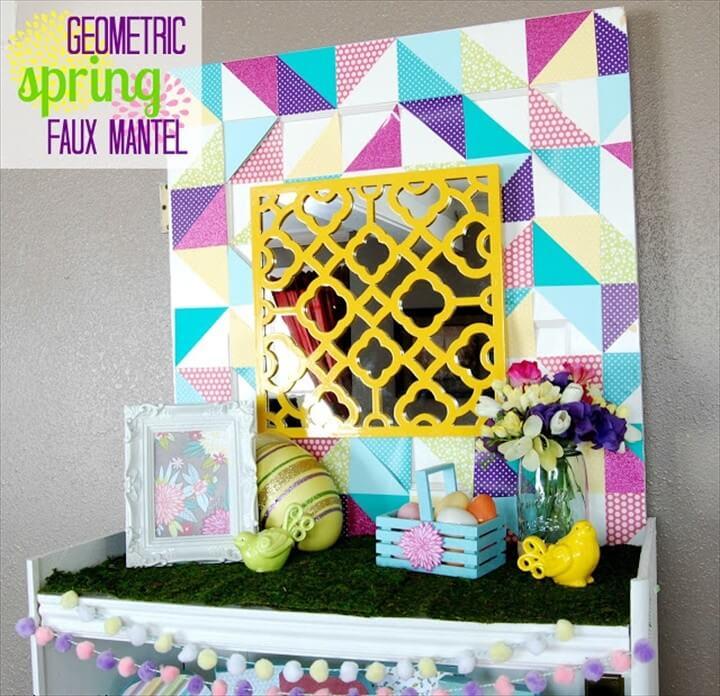 You will love these hacks if you need to give an interesting geometrical background to a custom item! The idea is to grab the vinyl in custom colors with custom prints, cut squares out of selected colors and then fold them to get equal triangles! Adhere these triangles to any surface for a quick geometrical background!
Tutorial: girllovesglam
Frame Shelves: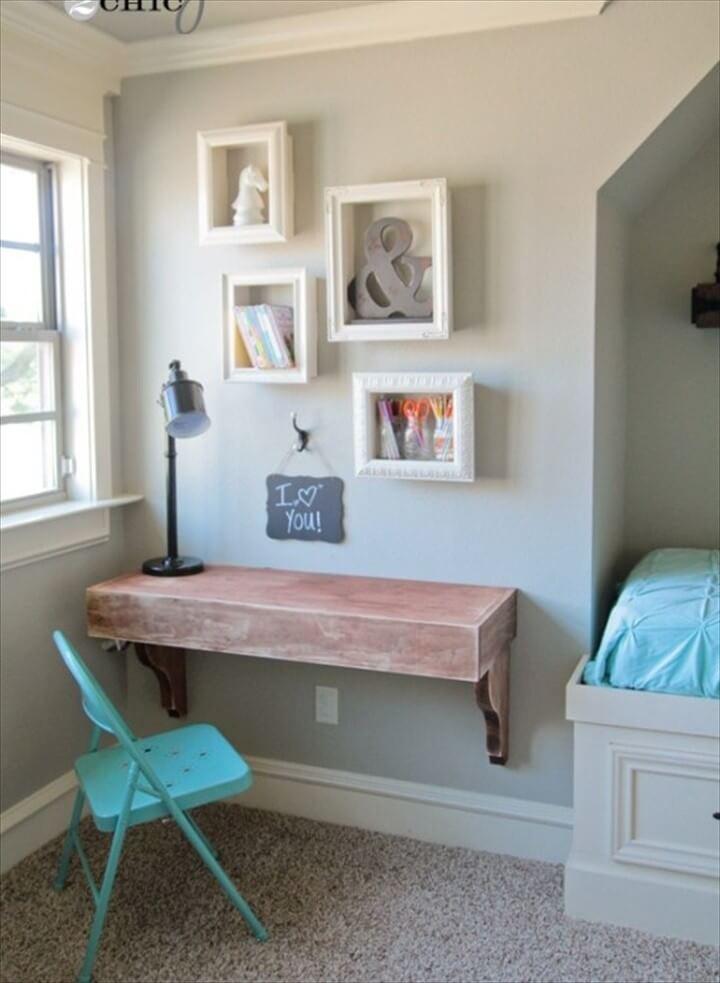 Having nothing to do with your old picture frames? Then reuse them to make fantastic display shelves on the wall! Make your fames empty and add more depth to them by gluing the wood planks of equal thickness to their backside! Next paint them and give a stable wall mount to display your things!
Tutorial: shanty-2-chic
Super stylish Shoe Rack: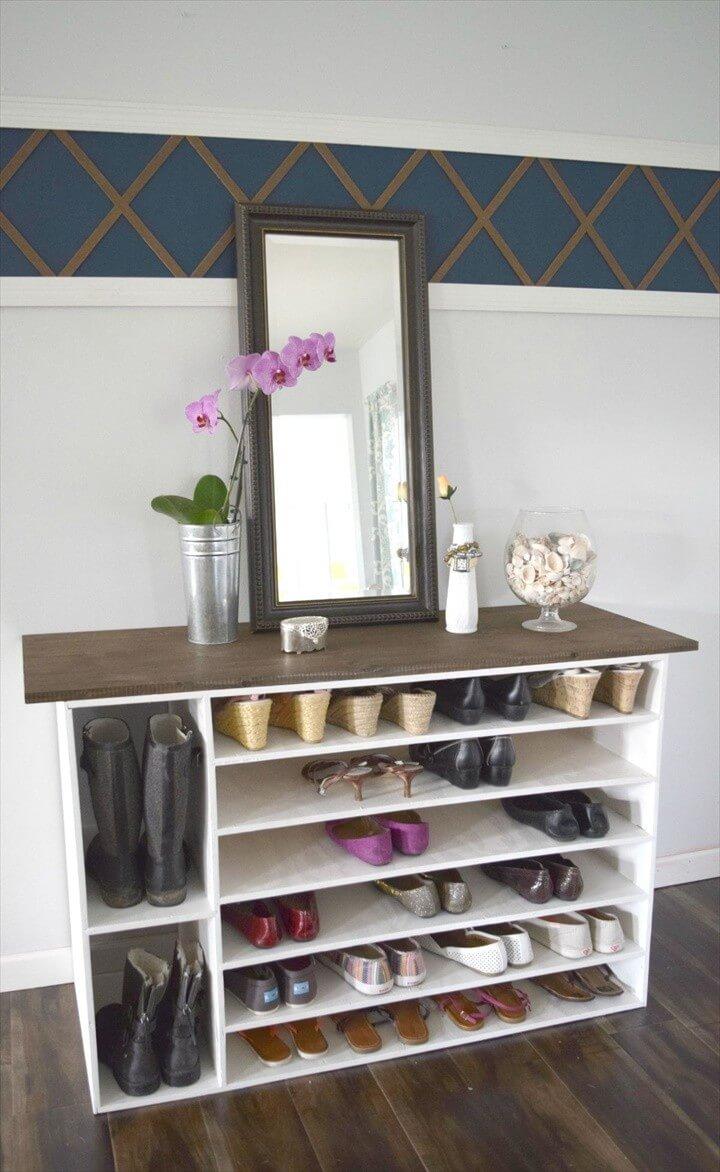 Take the shoes organizing game to the next level using this stylish shoe rack, a modern shoes rack to make inexpensively at home! Use the 2 plywood board and a long pinewood board to make this modern shoe rack comes with an edged countertop! Details here
Tutorial: homedit
Wire Key Holder: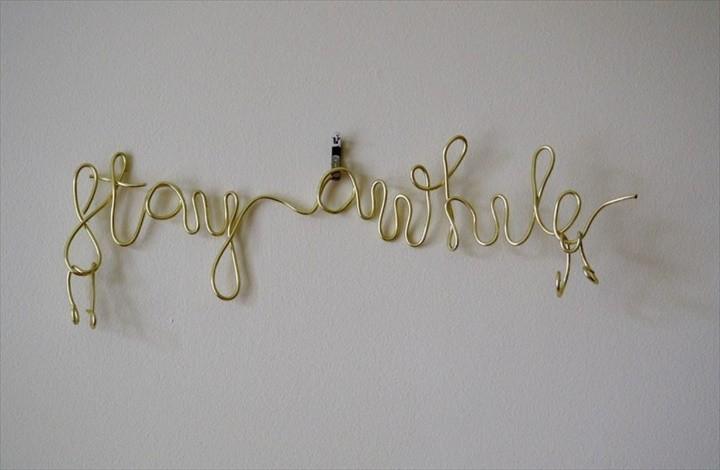 Do make this organizer and style up the key organization in your home! Grab the pliable wire and cut it to require lengths and then start twisting into your favorite letter shape! Use a word stencil to make your work easier! Leave the letter edges to hold the keys and next hang it up on the wall!–
Tutorial: homedit
Lampshade With Fabric: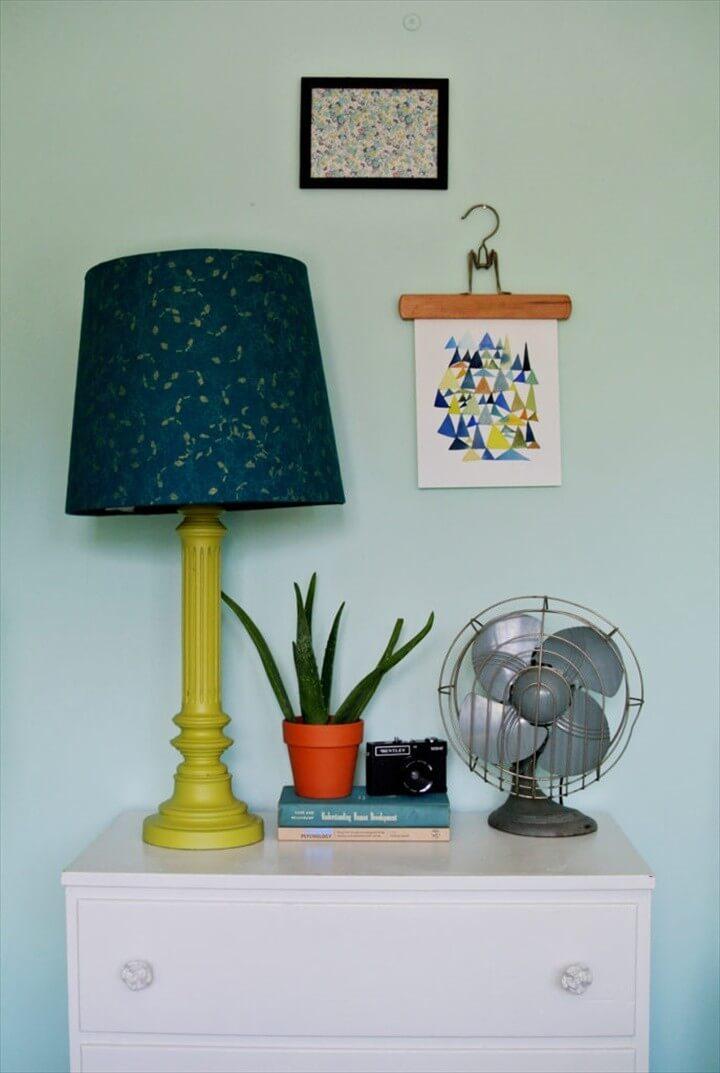 Lampshades make the best home decor accents if you come in decorative appeals! Make your own beautiful lampshades with fabric, will be the next show stopper in home decors! Grab a drum lampshade and 1 yard of fabric that you can wrap around the lampshade with a spray adhesive!
Tutorial: homedit