Kids cannot sit on the chair and read their favorite books to pass their time. They need something super thrilling and exciting to indulge in. So as the summers are coming with a lot of holidays so you really should be peeking into these 15 DIY For Kids – Kids Creative Activities At Home. As the kids have to spend all their time at home during the holidays, these 15 DIY for kids are surely going to help them spend some fun time. Not only these crafts are for the fun but all of them are crafty and creative enough to enhance the skills and abilities of the kids too.
Summer brings us rainbow colors so the kids can get busy with cutely colorful crafts like pom pom necklace, pom pom chandelier, and the rainbow bubble snake. There are crafts that need kids to sit on the table and have fun like cardboard circle weaving, dish towels, and the fairy bells. But kids love more those games which can involve them physically so they are going to have loads of fun with crafts like fun painting, shaving ball balloons, and the pool noodle obstacle course. All these fun crafts have their details attached to be easily performed for the kid's summer fun!
You May Also Like:
Rainbow Pom Pom Necklace: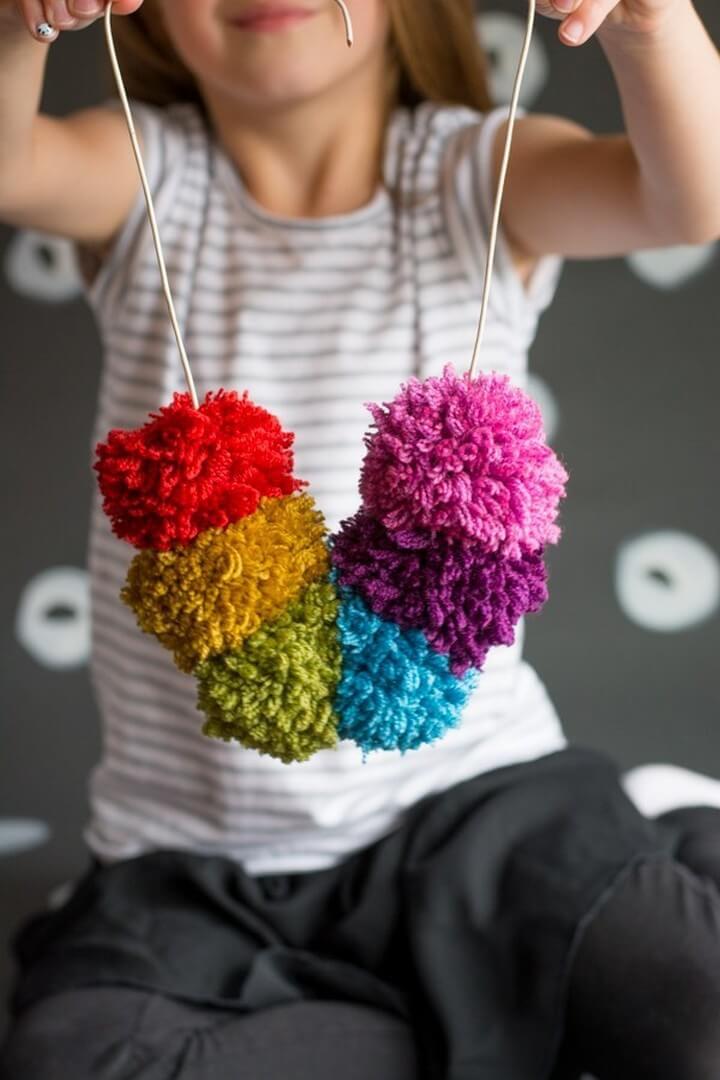 Let your girl's crafty skills shine this summer with some easy and fun crafts like this rainbow pom pom necklace. So get them some colorful yarn to make a bunch of the pom-poms and then string them up to create this lovely necklace. The girls would love to flaunt their handmade pom pom necklace.
Tutorial: thisheartofmineblog
Make Borax Crystal Flowers: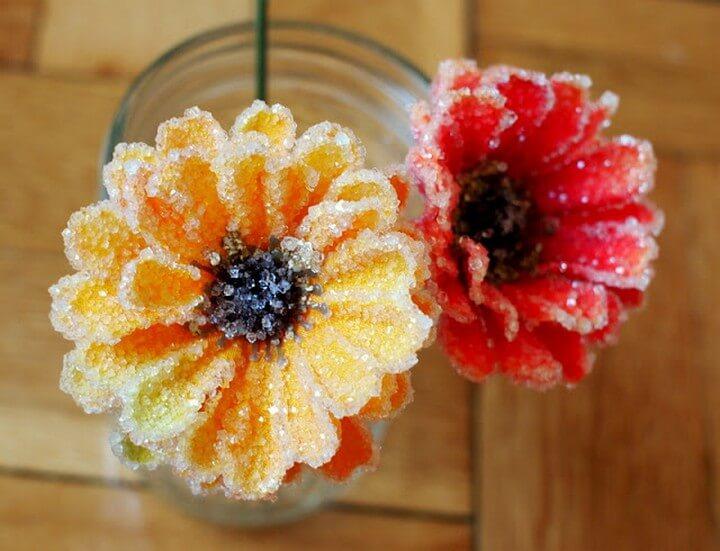 Get your kids busy with some fun and creative crafts like this borax crystal flowers this weekend. Just buy a pair or two of the fake flowers and then dip them in the solution of the borax to get the lovely crystals on the flowers. These crystal flowers are going to charm up your vases for sure. Details here!
Tutorial: pinkstripeysocks
Paper Plate Berry Baskets: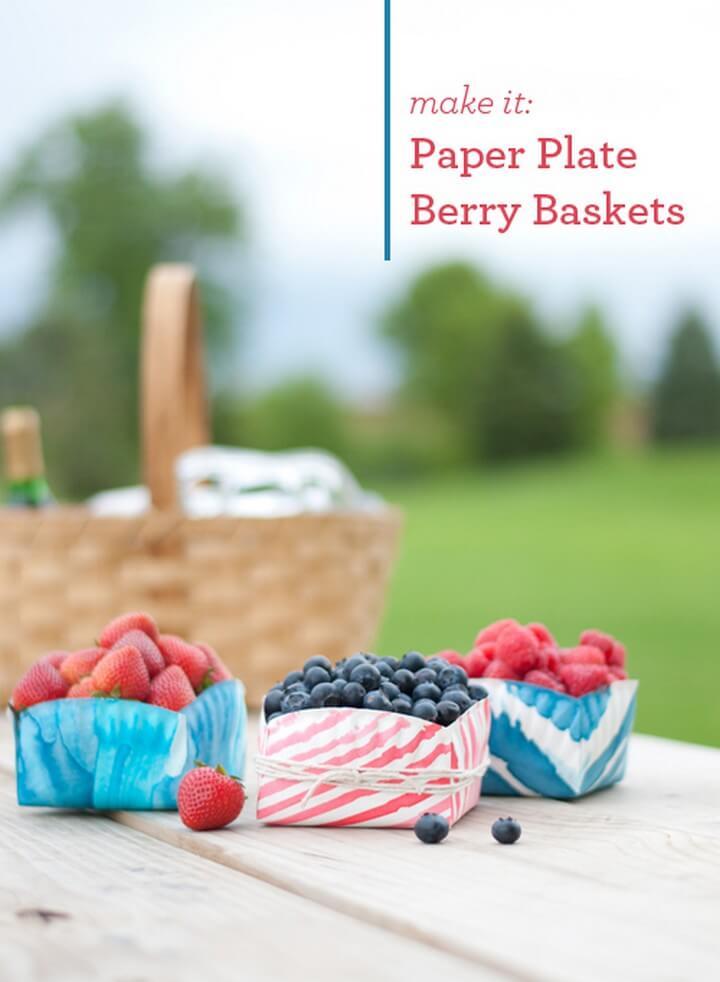 Get yourself on a fruity picnic on a nice sunny summer day and these paper plate berry baskets would help. These cute and colorful baskets would help you to carry your favorite berries with utter ease and fun. The paper plate baskets are easy enough to be made by the kids as well.
Tutorial: designmom
Pom Pom Chandelier: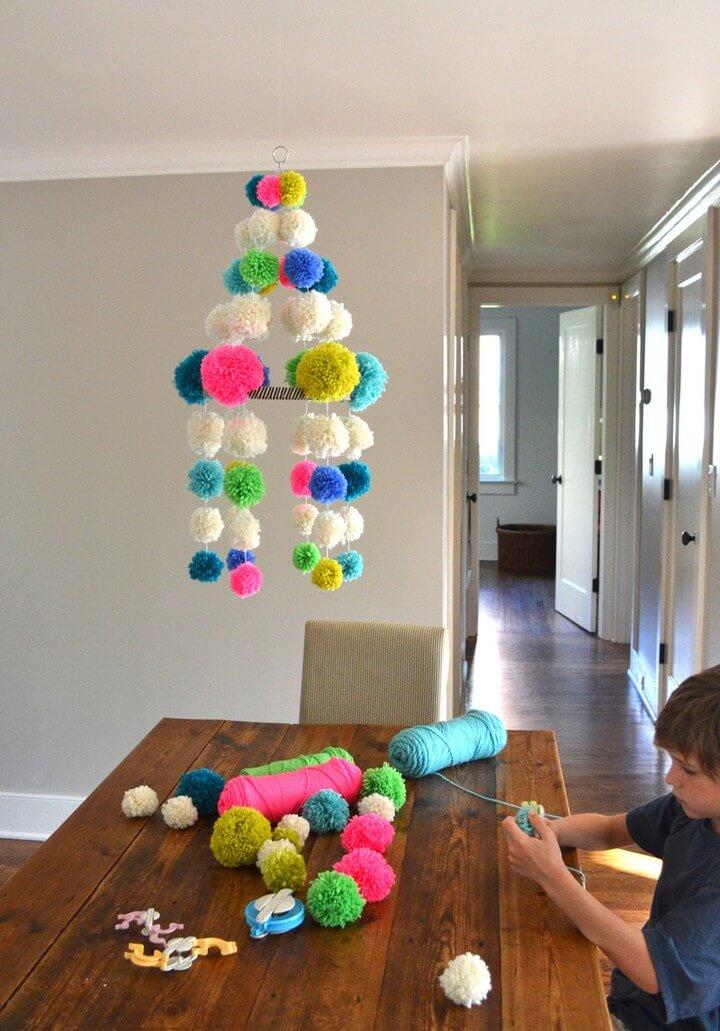 If your kids at home and you want to spend some quality time with them then make this lovely pom pom chandelier.  Using a pom pom maker the kids can make pom poms and then arrange it as a chandelier with a hoop ring. You can hang it anywhere but it would suit a nursery the most.
Tutorial: artbarblog
Easy Cardboard Circle Weaving: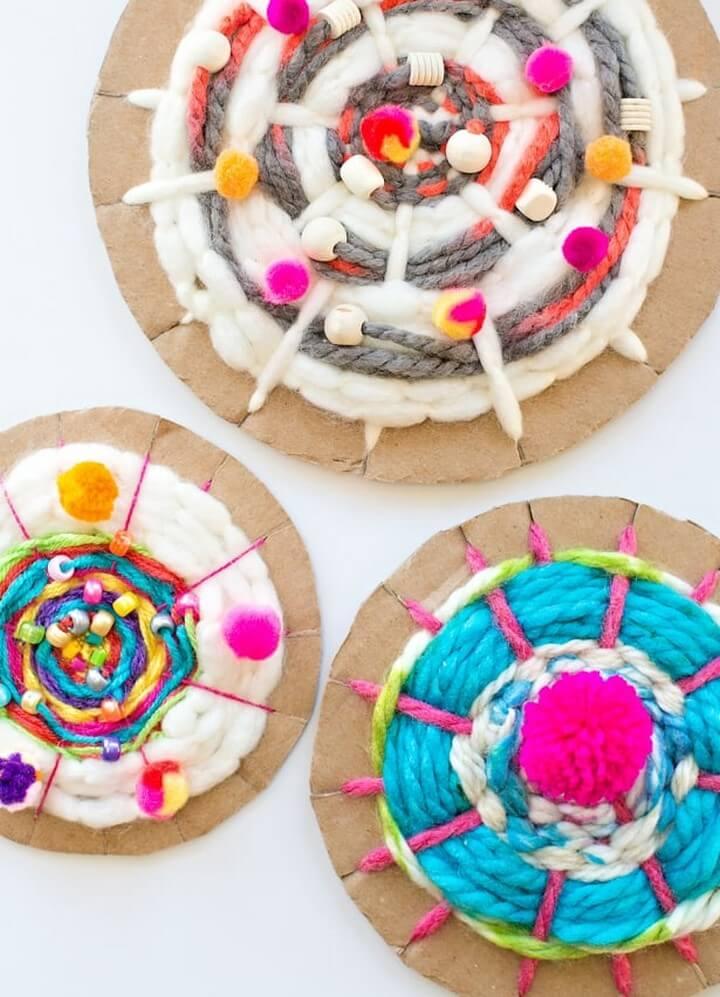 Engage your kids in this fun craft with these easy cardboard circle weaving. They are surely going to develop their motor skills with this fun circle weaving. So cardboard circles, yarns, pom-poms and beads are the things that you need to make these cardboard circle weaving. Details here!
Tutorial: hellowonderful
Dish Towel For Kis To Make: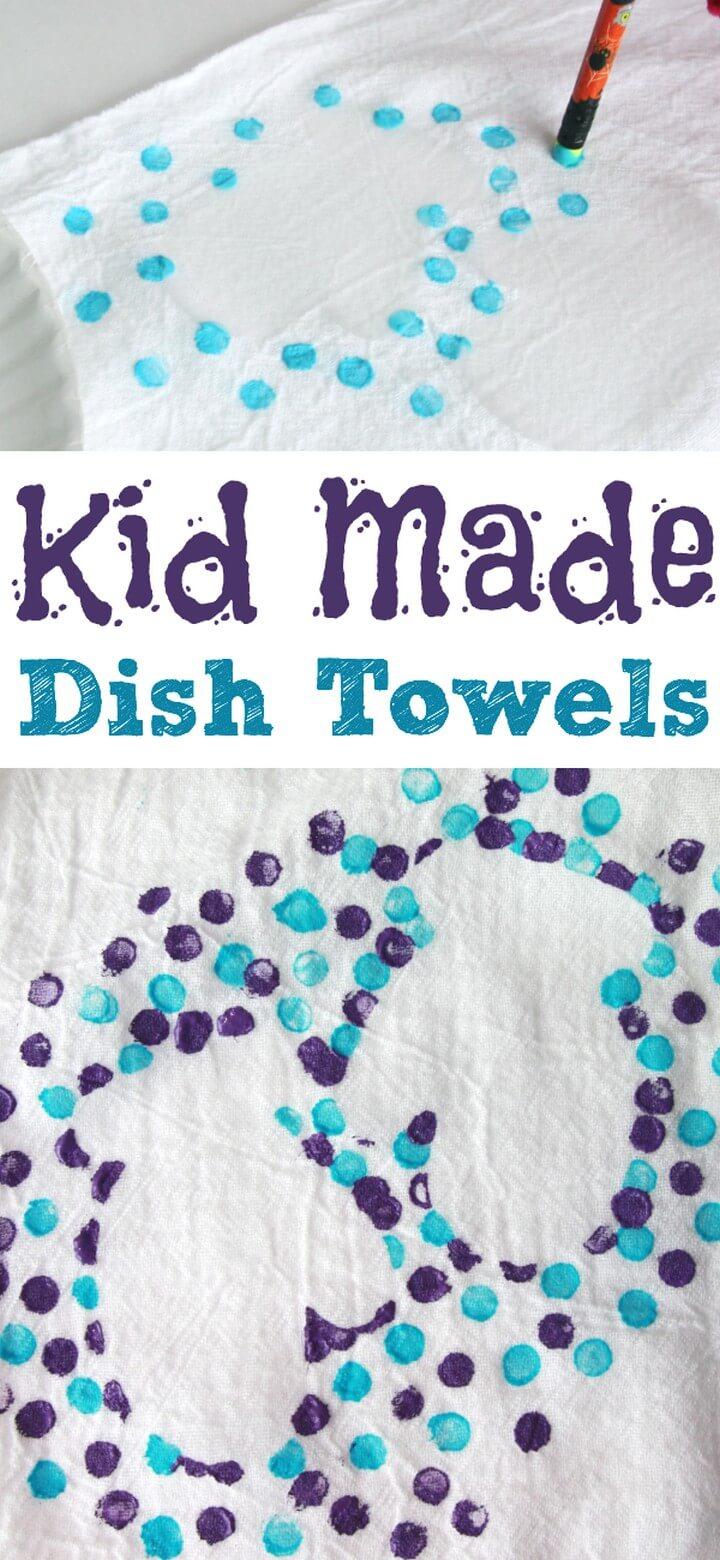 Let the kids make some beautiful and fun gifts for grandparents on this festive season with this project of the dishtowel. The first thing is to trace the shapes on the towel and then paint them up with colorful fabric paint with the help of pencils. Check out details here!
Tutorial: icanteachmychild
Squirt Gun Painting: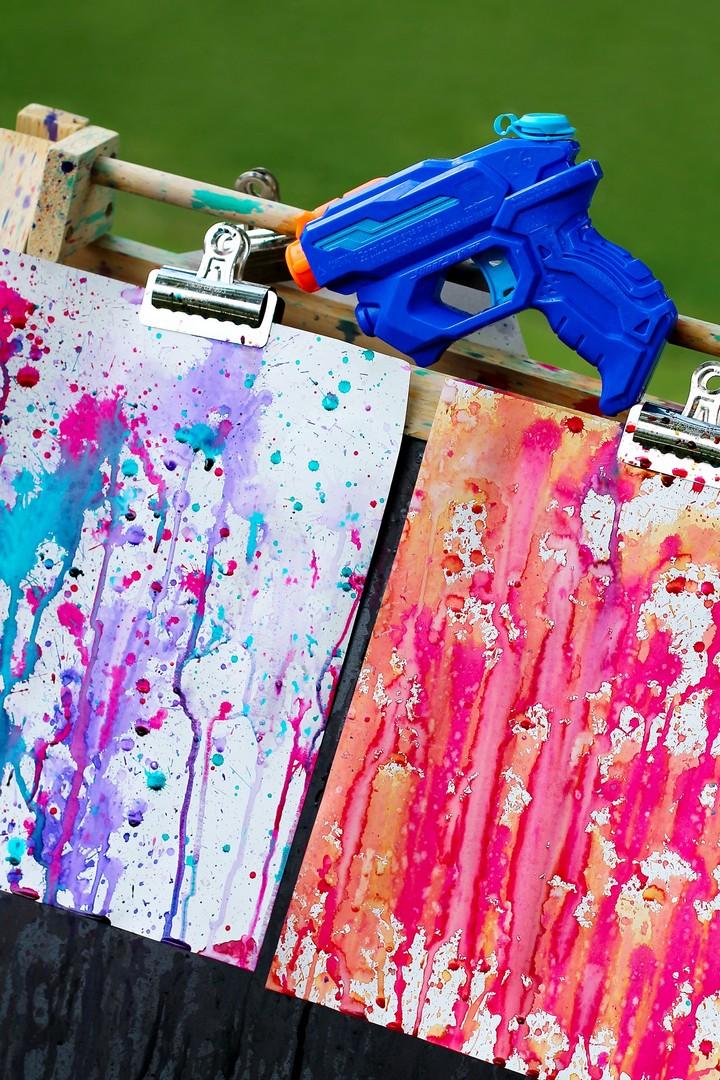 Boys love to play with the paint and the gun and making this squirt fun painting is going to be their fun summer activity. They can play this game with their friends and the siblings using their favorite paint hues. They are surely going to enjoy this gun painting game in the garden on a summer afternoon.
Tutorial: firefliesandmudpies
Twinkling Fairy Bells: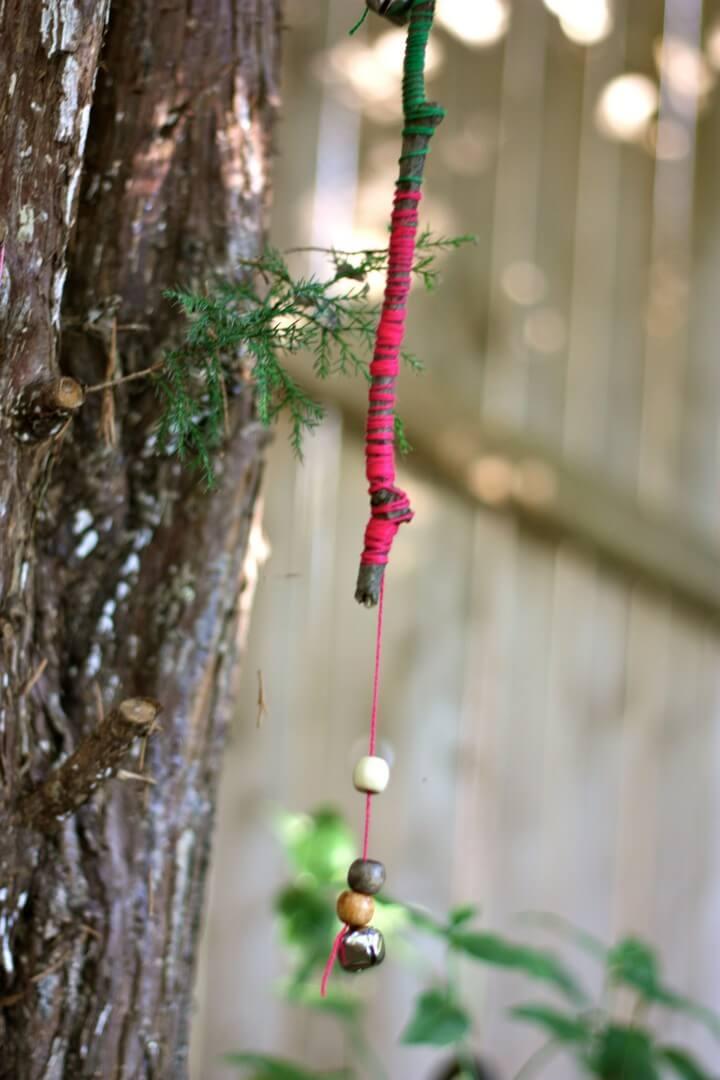 Bring some fairy fun in your garden décor with this twinkling fairy bells project. Kids are going to really adore this project as they are so fantasized by the fairies. Grab some wooden twigs and wrap them with some colorful yarn and tie some jingle bells to one hanging yarn string and it's done. Details here!
Tutorial: buzzmills.typepad
Crystal Names: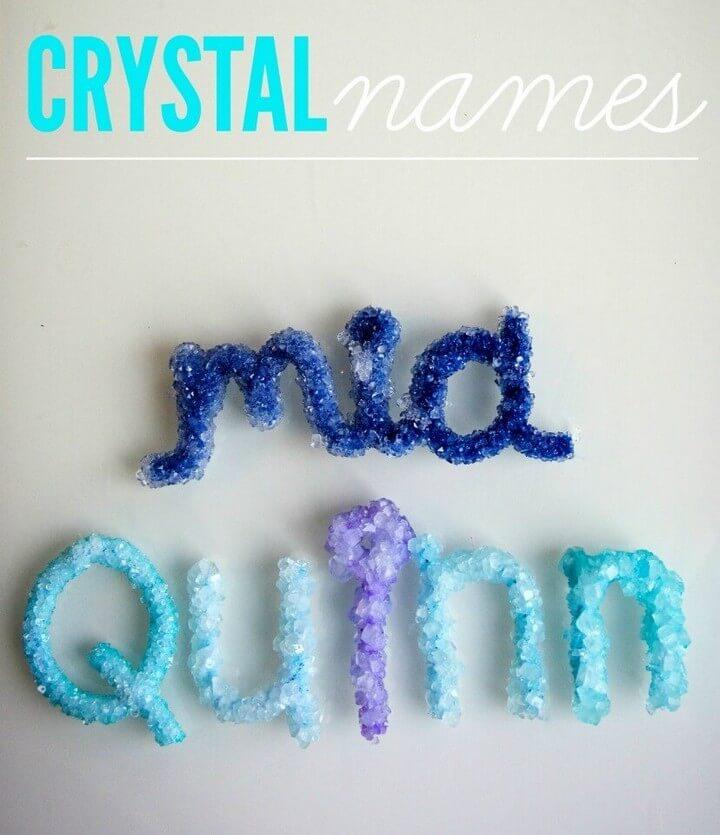 Making these DIY crystal names is a fun activity for the kids to perform during their summer holidays. Let them write their names with the pipe cleaners, put them in the borax solution to get crystals on them and lastly hang them in the outdoors under the sun to shine and look gorgeous. Learn it here!
Tutorial: playdoughtoplato
Polka Dot Slime: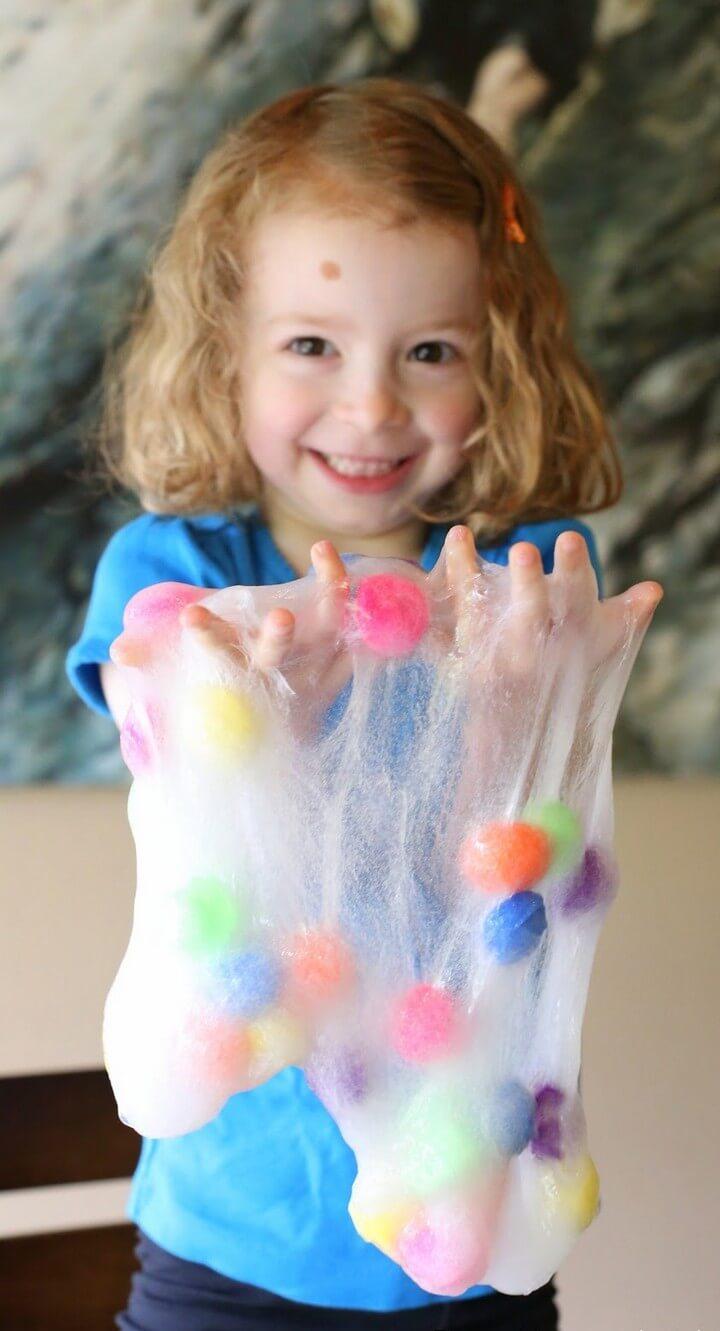 It's time to upgrade your slime game for this summer and spruce up the fun for your little ones. This polka dot slime is going to be your kid's favorite for the summer to play and have fun with. The slime is easy to make with the glue and the polka dot effect is to give with the pom-poms. Details here!
Tutorial: funathomewithkids
Pool Noodle Obstacle Course: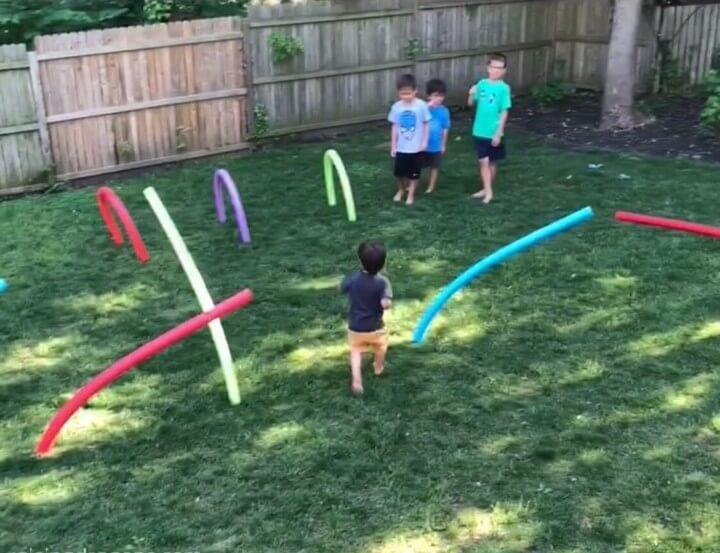 Kids love everything which involves body activity and they are going to get crazy and fun busy with this pool noodle obstacle course. The obstacle course has five setups of in an out, rig toss, tunnel, mini hurdles, and the balance beam. The best thing is you need pool noodles, pencils, and duct tape to make them.
Tutorial: raisingdragons
Rainbow Bubble Snakes: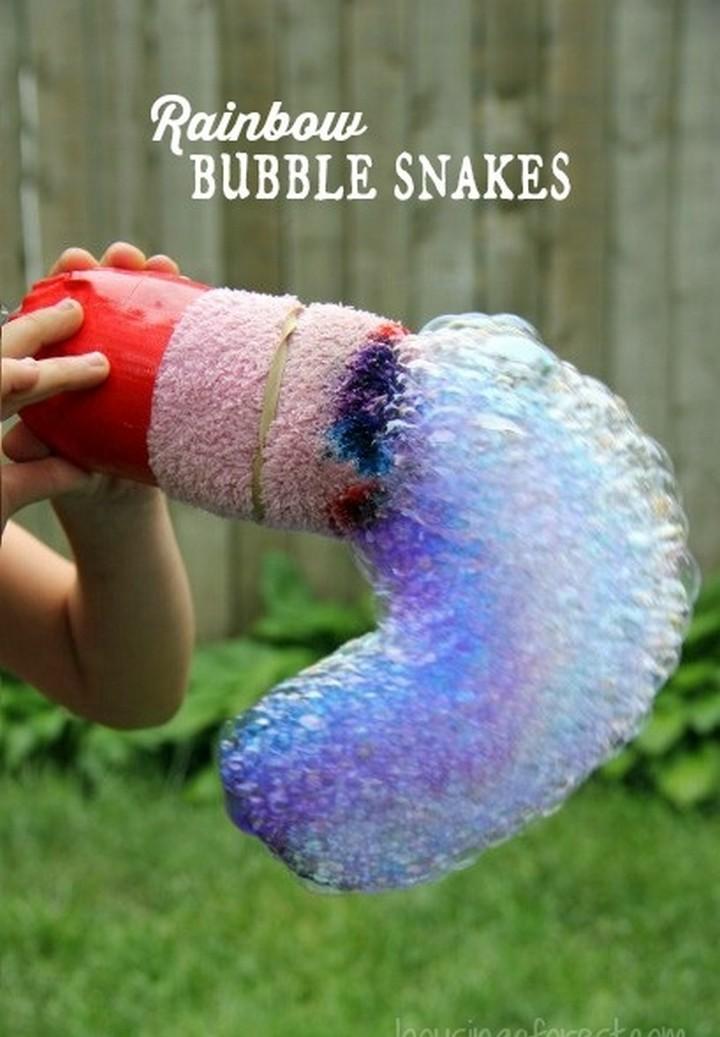 Get your kids busy with all the summer fun with some enjoyable activities just like this rainbow bubble snakes. Using plastic bottles, socks and the duct tape you can easily install these bubble snakes in just no time. Kids can play with these bubble snakes for hours and spend a summer day with so much fun.
Tutorial: housingaforest
Temporary Tattoos Using Kids' Art: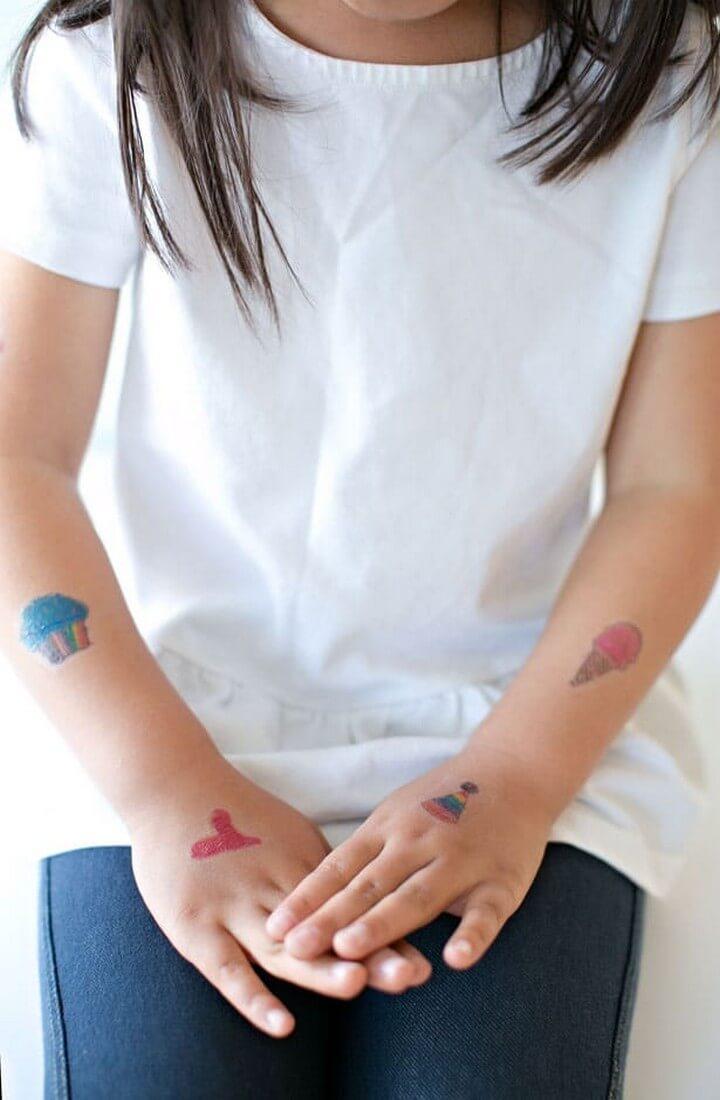 Tattoos are fun but we cannot let our kids have them so here are is how they can have these fun temporary tattoos using kid's art. Using the templates and the colors of their own choice the little and boys and girls and get these pretty tattoos on their bodies like hands and arms. Details here!
Tutorial: hellowonderful
Funfetti Play Dough: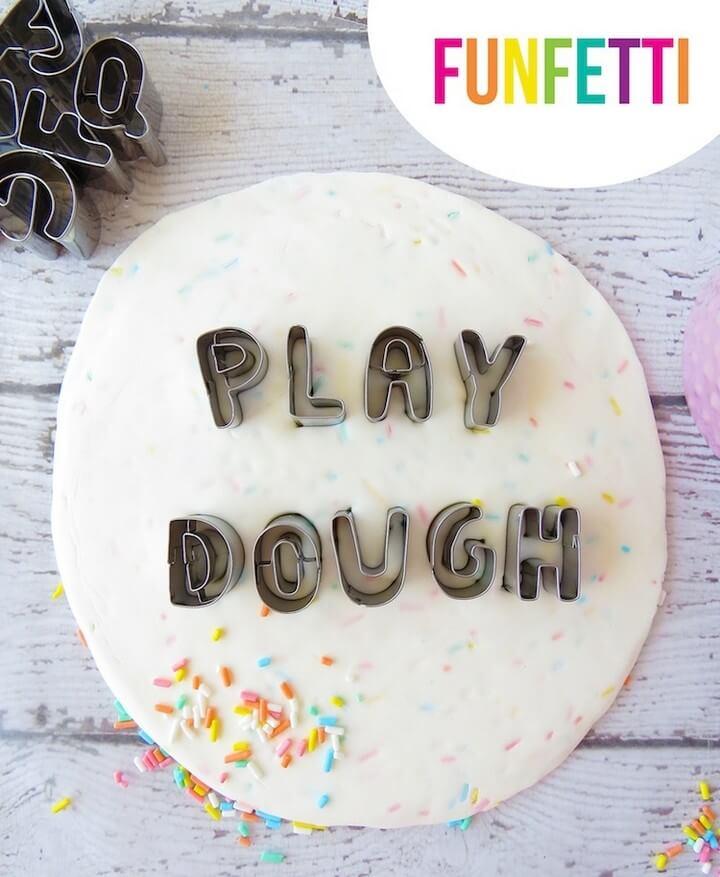 Kids can learn a lot through the fun games and this confetti play dough is surely going to get them interested in baking. Using the sugar powdered and the colorful frosting the kids can prepare this play dough. The cookie-cutter would cut the dough into fun shapes which are totally edible too.
Tutorial: smartschoolhouse
Shaving Cream Balloons For Kids: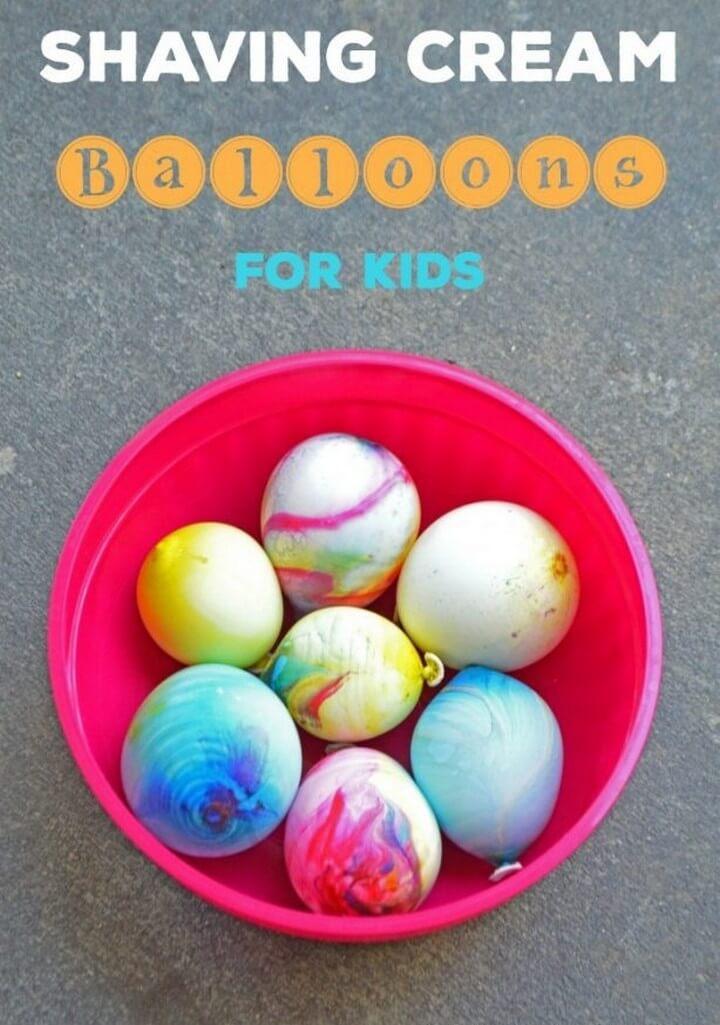 Summer fun is so incomplete without the water balloon fun and now you can up this balloon game with this shaving cream balloon for kids. All you need to do is just fill the balloons with the shaving cream and let the kids throw them on each other and have some messy fun. Easy and fun details here!
Tutorial: totallythebomb