Summers are for outdoor fun but there are days when kids cannot go out due to rain and they have to stay inside. They can get really bore and cringe when they have nothing to do inside so you need to seek some fun ideas to keep them busy. Here are these 10 Summer Craft For Kids – Easy Craft Ideas which are quite easy and simple but surely enjoyable and loaded with fun. They would love to indulge in these fun summer crafts and spend some time and till then you can prepare them some yummy dinner easily.
There are craft ideas for the boys and girls to do separately and some of them are unisex. Girls would love to make that pretty mermaid and string heart art while the boys are going to enjoy making that colorful surfing board. Also, these fun crafts will polish their creative and cognitive skills so you better arrange these fun summer crafts for your little ones. These summer-themed crafts are going to be much more fun like the paper made octopus, fish, butterflies and colorful pinwheels. Check out the details of these easy craft ideas right below with provided tutorial links of each!
You May Also Like:
Pinwheel Tutorial: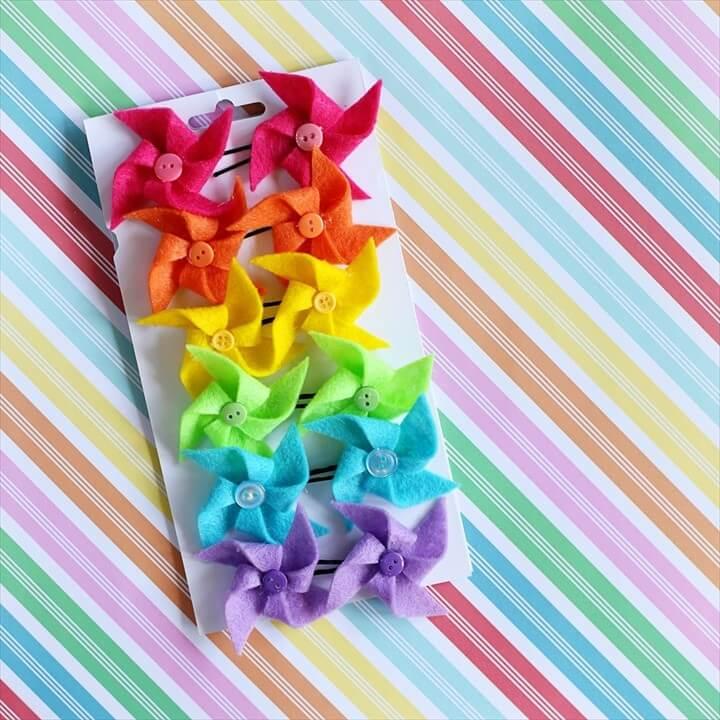 Pinwheels mark the summer fun for the kids and here is a fun pinwheel pin craft for your kids to make and enjoy. You would need a bunch of the bobby pins, buttons and the rainbow-colored felt to make these pretty and totally funky pinwheel pins. Tutorial here
Tutorial: theidearoom
Super Easy Paper Grouchy Ladybugs Craft: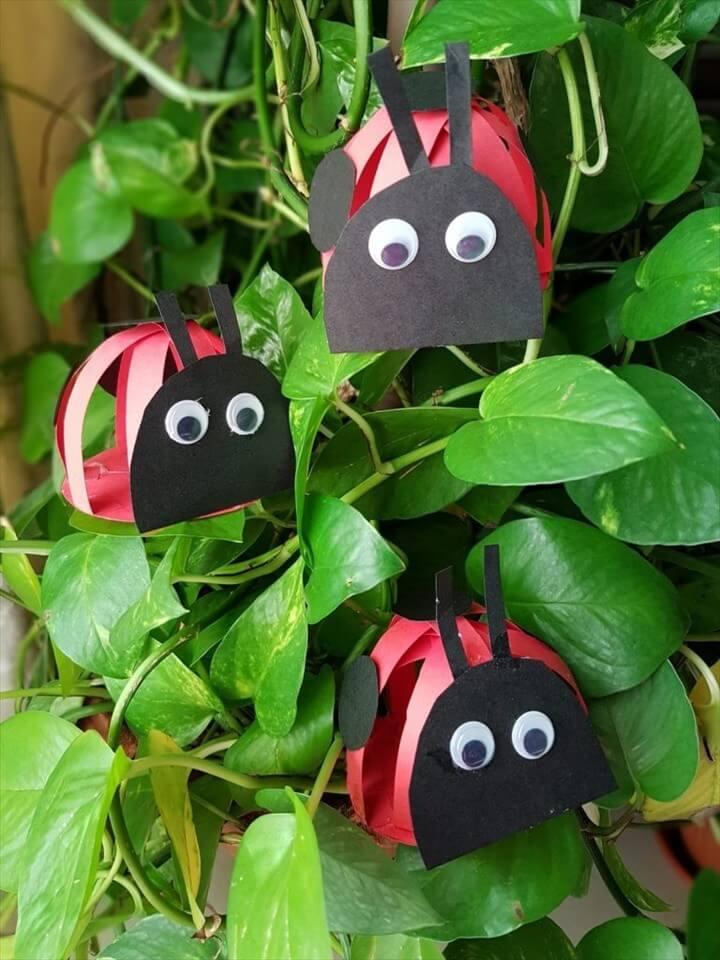 Do not worry if the ladybugs do not visit your garden. Let your kids have loads of fun making these super easy paper grouchy ladybugs and let them sit on the plants to look so cute and adorable. All they are red and construction paper, glue stick and a pair of googly eyes to make one ladybug.  Details here!
Tutorial: artcraftandfun
Super-Cute Paper Fish Craft:

Make summers more fun for the kids with some lovely crafts like this super cute paper fish craft. The pretty and cute fish are made out of the colorful cardstock paper, googly eyes and some pencil worked features. TO make them look interesting and unique some colorful sequins have been glued as the gills of the fish.
Tutorial: iheartcraftythings
Paper Plate Butterflies: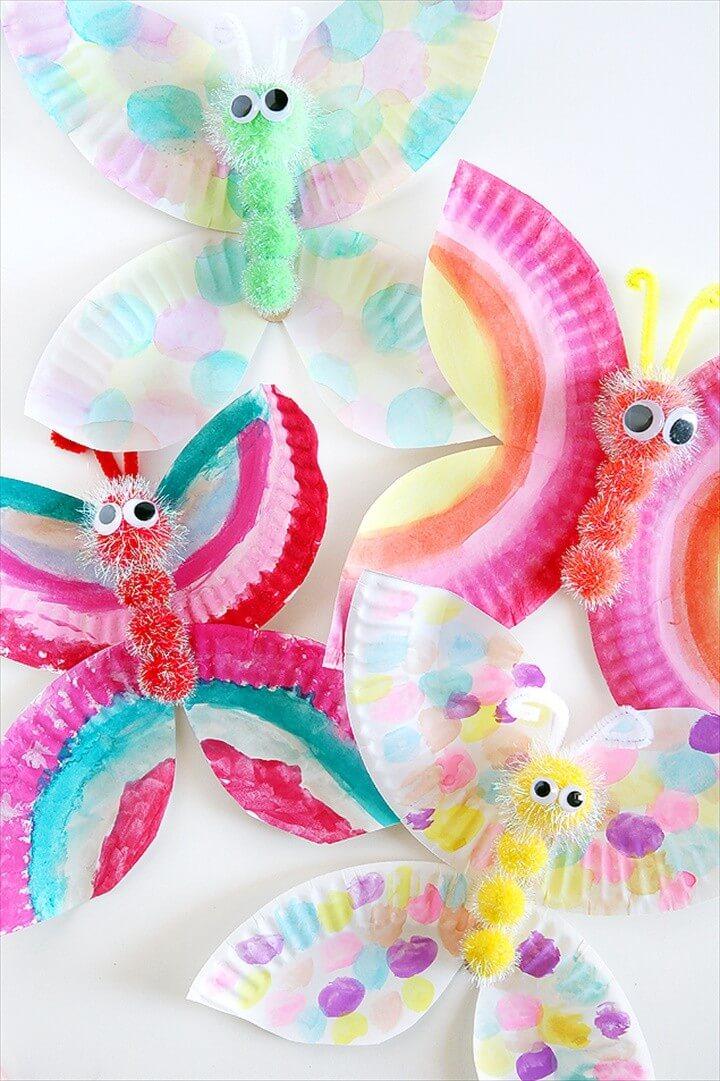 Summer means craft fun for the kids and now you can add these cute and colorful paper plate butterflies to the list too. Cutting the paper plates in halves, painting them with watercolors and adding pom poms is easily going to shape up these adorable butterflies. How to here!
Tutorial: eighteen25
Easy Summer Craft For Kids – Curly Paper Octopus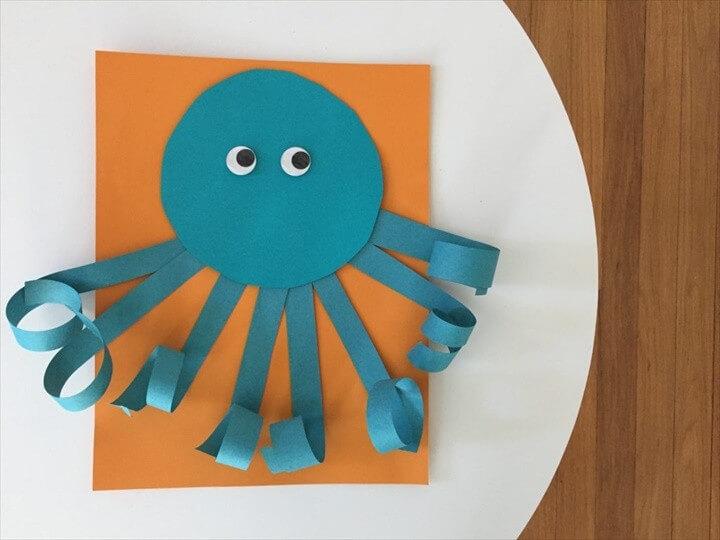 Summer brings us the beach and sea crafts so the kids can enjoy making these lovely and curly paper octopus. You need only a few things to make this adorable curly paper octopus. SO get your kid some construction paper and the googly eyes to have this octopus fun at home. Details here!
Tutorial: thechirpingmoms
Simple Circles Suncatcher Summer Craft For Kids: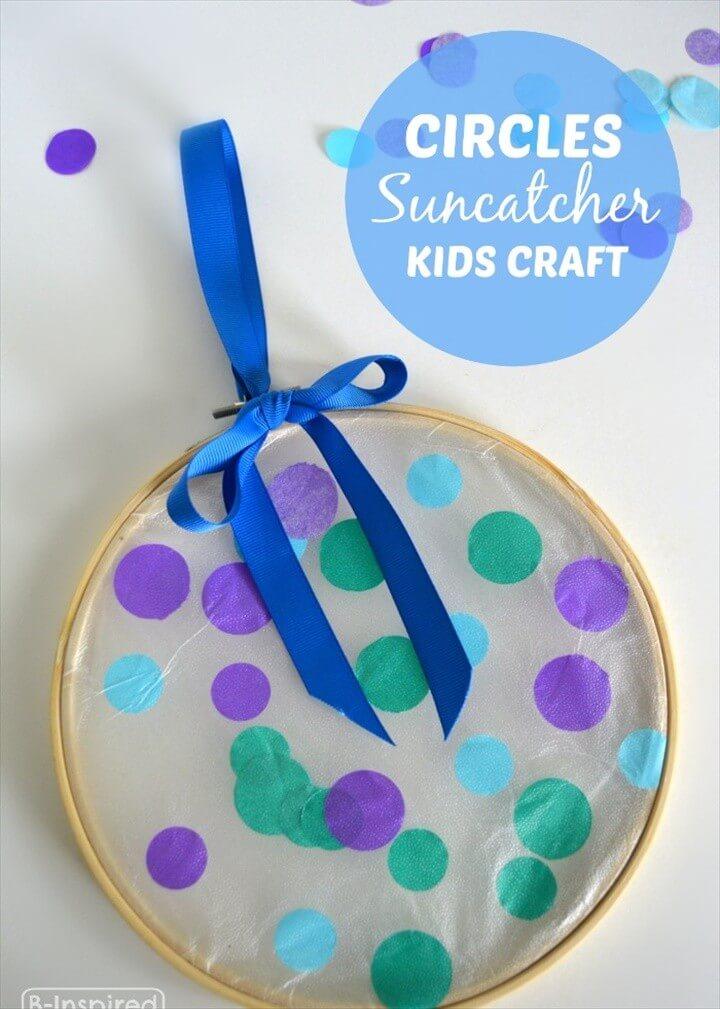 Kids are super enchanted by the sun catchers and they would love to make these simple circles Suncatcher summer craft. So grab some colorful tissue paper and cut out some circles out of them using puncture. Glue up these circles on a white tissue paper and fix it in an embroidery hoop. Tada Suncatcher is ready!
Tutorial: inspiredmama
String Art Heart Kids Craft: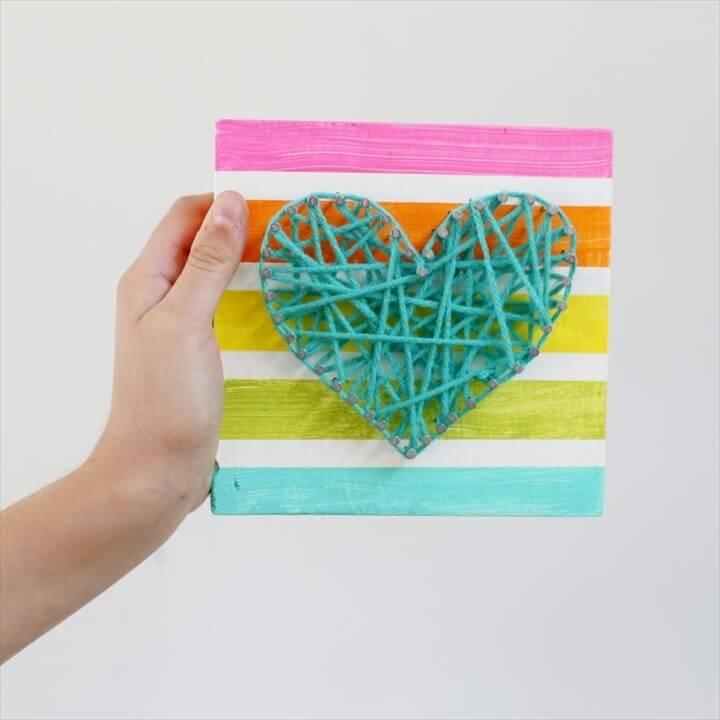 Celebrate a girly weekend this time with this lovely string art heart kid's craft. The gorgeous little heart is made on a little board with nails and the string and girls can easily do it. They can proudly display this art on their room walls. Check out the details here!
Tutorial: sugarbeecrafts
Mermaid Paper Roll – Kid Summer Crafts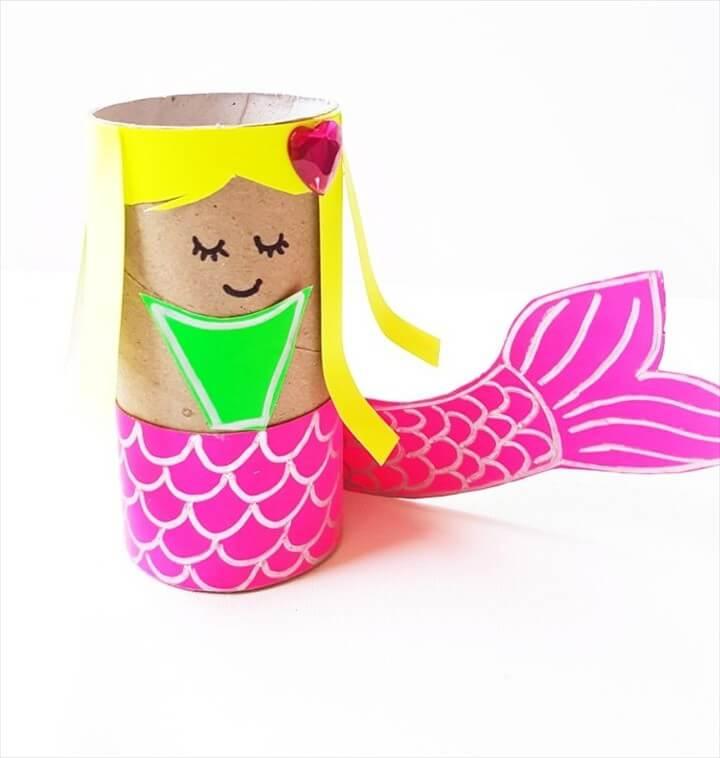 Let your girls get busy with this super fun and cute craft of mermaid paper roll. They are going to love making their favorite mermaid using the easy things lying around. So grab paper rolls, construction paper, colorful pens and a beautiful pink gem for the hair. Details here!
Tutorial: artcraftandfun
Toy Surfboard Craft For Kids: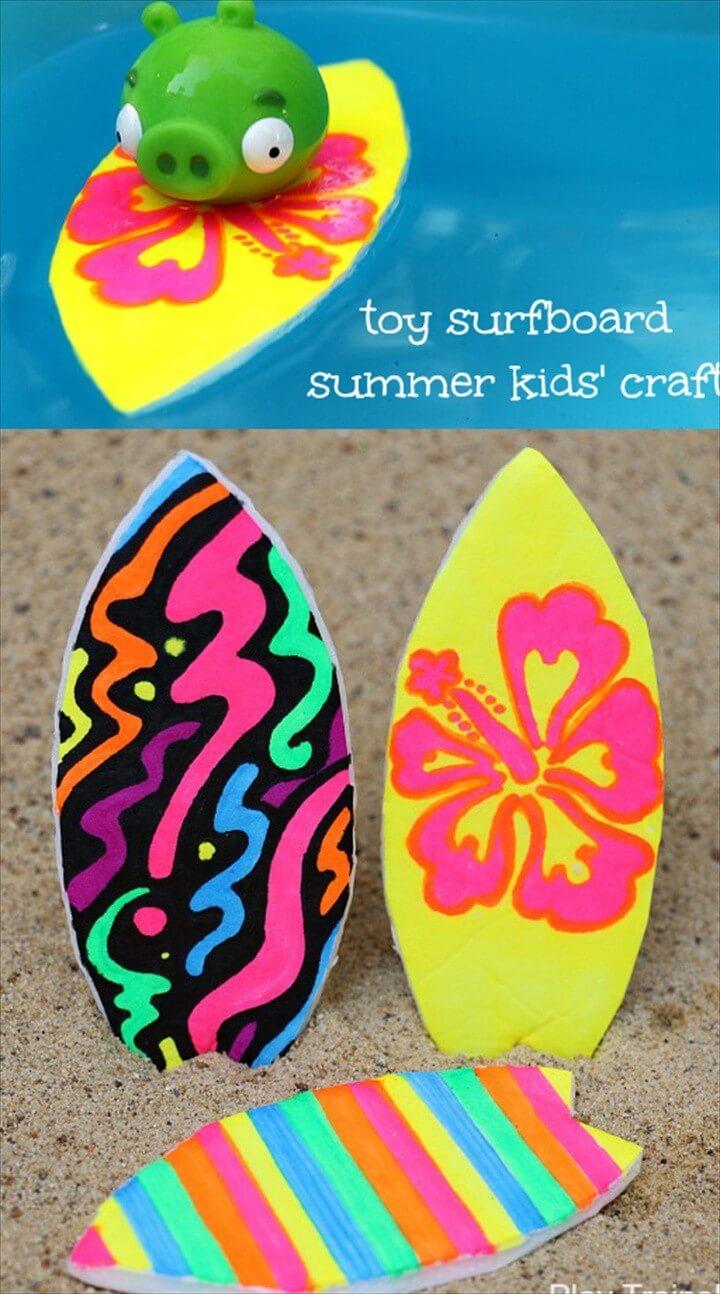 Boys love surfing in the summers and if they cannot go to the sea this time they can still make these toy surfboard craft for kids. The kids can make this lovely toy surfboard using foam board and paint them with a bunch of neon sharpie pencils. More details here!
Tutorial: trains
How To Make Sweet Paper Ice Cream Treats: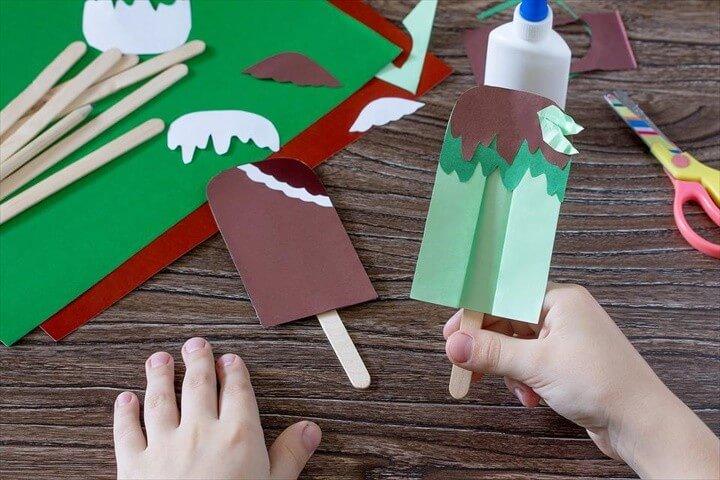 Ice cream is the perfect summer delight and here is the perfect ice cream craft to make and enjoy. Kids would have loads of fun while making this super fun ice cream treat. So get them some colorful cardstock paper, craft sticks and glue to make these cute and colorful ice cream treats.
Tutorial: 30seconds