Fashion is a constant game that you need to keep winning. These 12 DIY Fashion Ideas Step By Step you can surely uplift your fashion game and get inspiration for so many more creations. The good thing about these ideas is that they have everything related to your fashion from head to toe. So you are going to see some super cool upgraded version of the hair accessories and stylish makeover of the shoes with some jeans and jewelry ideas in between. All these DIY fashion ideas are easy to make even by the beginners and cheaper than you think.
Most of the ideas suggest some smart tricks and hacks remodel your old fashion accessories and make them look updated and enchanting. The ripped-off jeans with interwoven pearls and the denim jacket with glue up studs and spikes are a pure boho style. The macramé earrings and the braided necklace are some folk jewelry inspirations made out of yarn to make your look extraordinary stylish. You would learn to remodel your old sandals and flip flops with a piece of fabric and some ribbons respectively. Go through the list given below and get the easy details of each idea by clicking on the links attached.
You May Also Like:
Macrame Earrings Step by Step: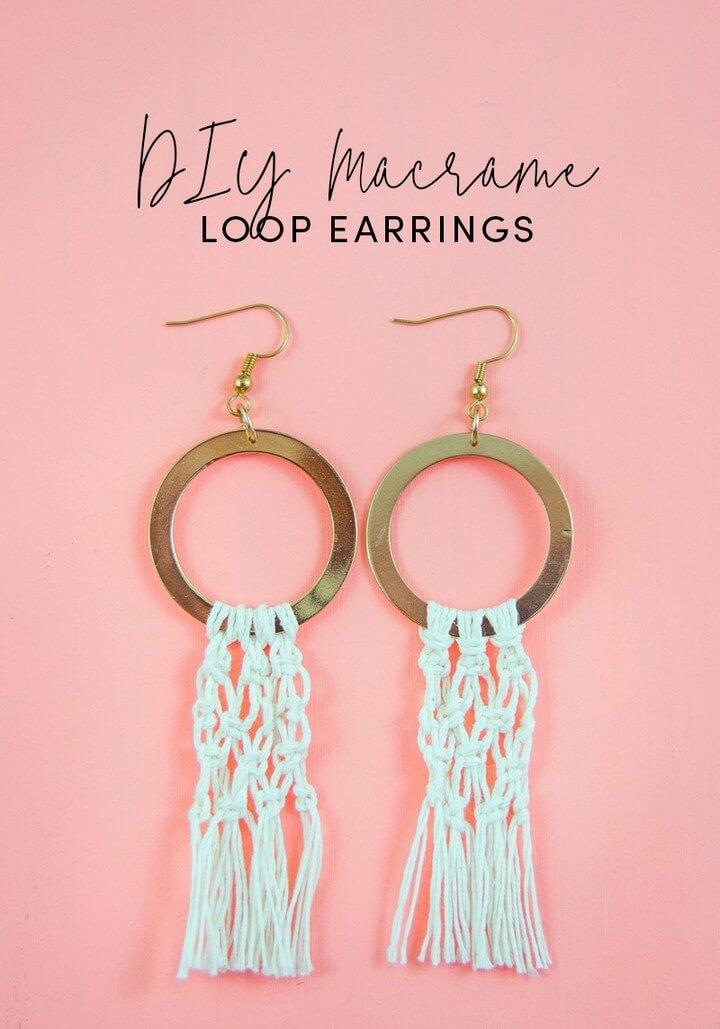 Macramé is back in fashion and not only to the home décor department. Here are these gorgeous and totally fun looking macramé earrings that you can easily make at home adorn yourself for a party. Get some white cotton yarn, earring hooks and jewelry tools to get this project started.
Tutorial: consumercrafts
No Sewing Machine Embellished Jacket: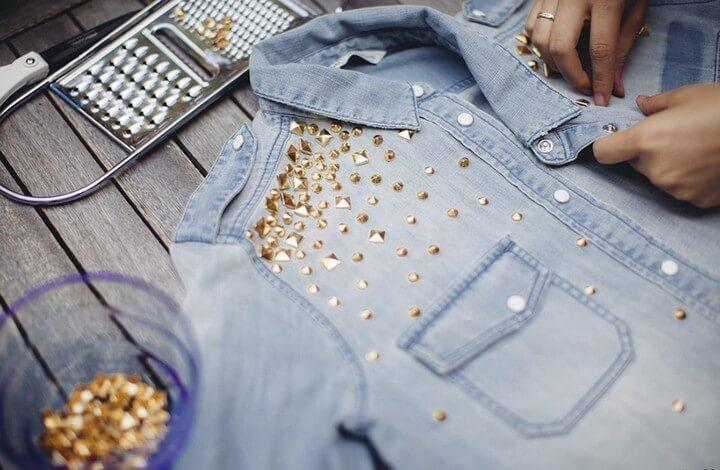 Take your fashion game to a level up with this no sewing machine embellished jacket. The only thing done to this gorgeous denim jacket is just gluing the gold-colored spikes and studs all over. The refashioned jacket looks all cool and boho to flaunt around. Details here
Tutorial: parkandcube
Embellish Your Denim Rips – DIY Ripped Pearl Jeans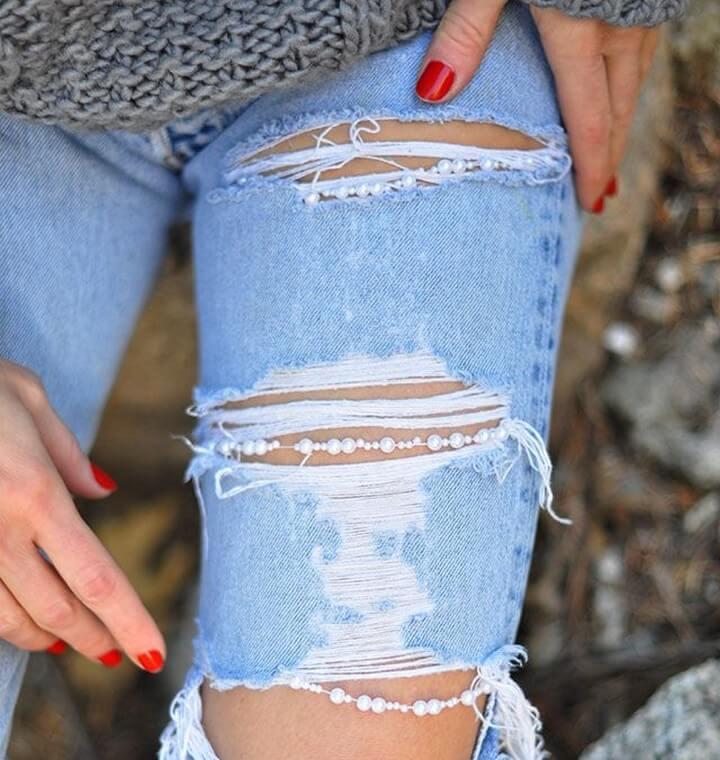 The denim rips are all in fashion and it feels like they always will. So bring some chic fashion to your ripped jeans with this idea of ripped pearl jeans. Gorgeous white small pearls and seed beads have been interwoven among the rips to turn them out super stylish. Tutorial here!
Tutorial: lovemaegan
How To Make Braided Gold Pearl Jewelry Necklace: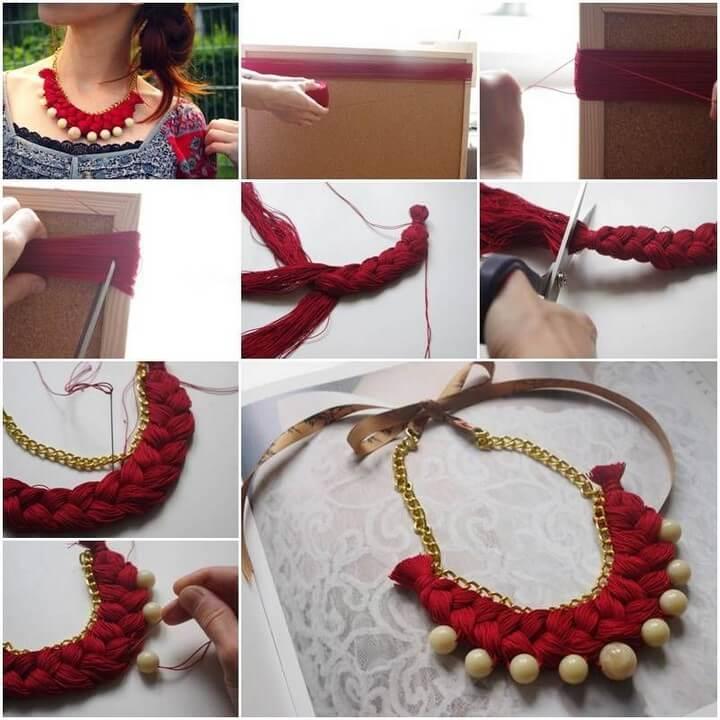 You are going to fall in love with these braided gold pearl jewelry y necklace. Your simple dress would look super glamorous with this heavy statement jewelry piece. You need yarn to make the braid, a chain over the braid and some peals on the bottom. How to here!
Tutorial: fashionrolla
Easy Shoelace Braided Bracelet: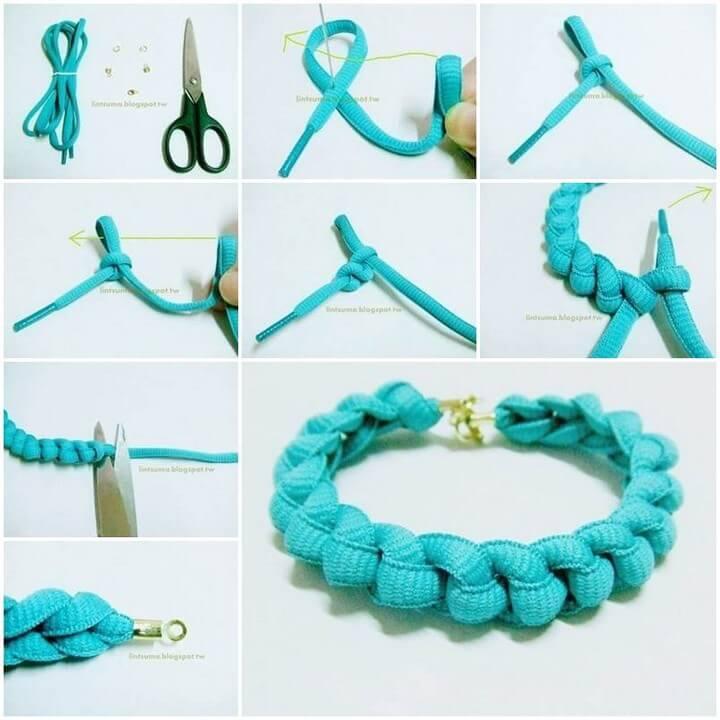 Funk up your bracelet fashion this summer with this easy shoelace braided bracelet. So grab shoelaces in any of your favorite colors and create the bracelet in the simple braid style. Lastly, add closing clasps and your lovely and simply cute bracelet is ready to rock. Tutorial help!
Tutorial: icreativeideas
How To Make Your Own Fashion Flower Hair Clips: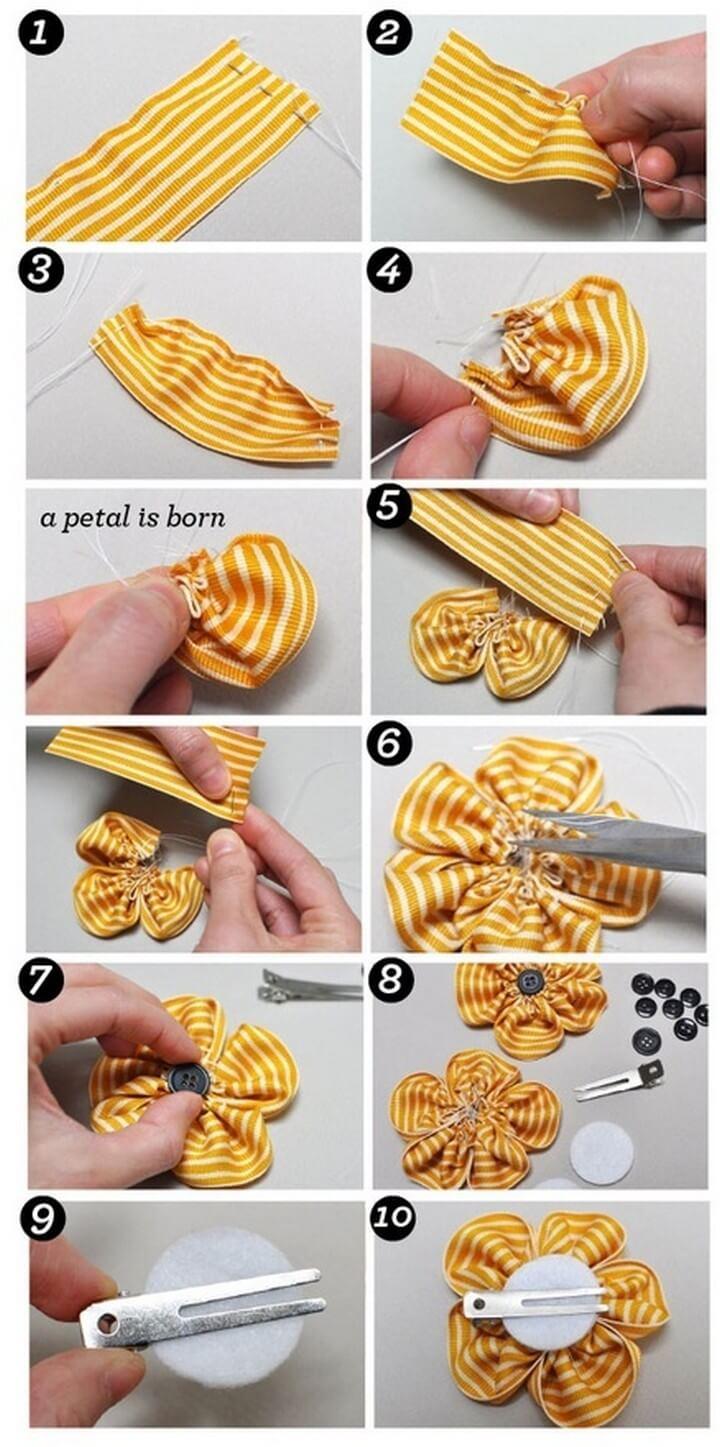 Little girls are in huge love with the hair accessories and now you can make this super cute and pretty flower hair clip for her. Get any fabric laying around especially the one left out from her homemade dress. Make a flower and add a clip and let her adorn it with the matching dress to rock the look.
Tutorial: youtube
How To Make Cute Fashionable Handbag: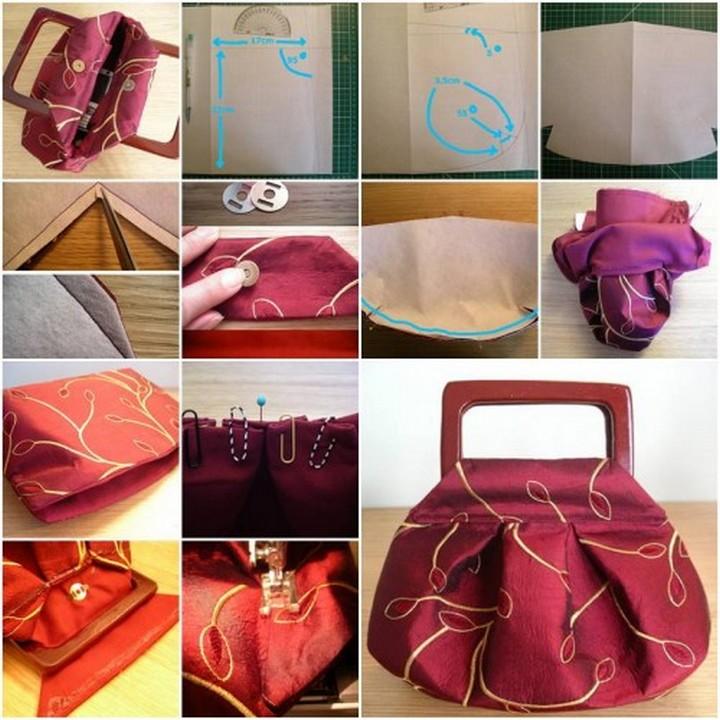 Bags consume a lot of money especially when they are coming from the brands. Save yourself some money and make this cute fashionable handbag at home. Using some cardboard and some lovely silky like the fabric you can easily work up this fashionable handbag on your own. Details here
Tutorial: youtube
DIY Fabric Sandal Makeover: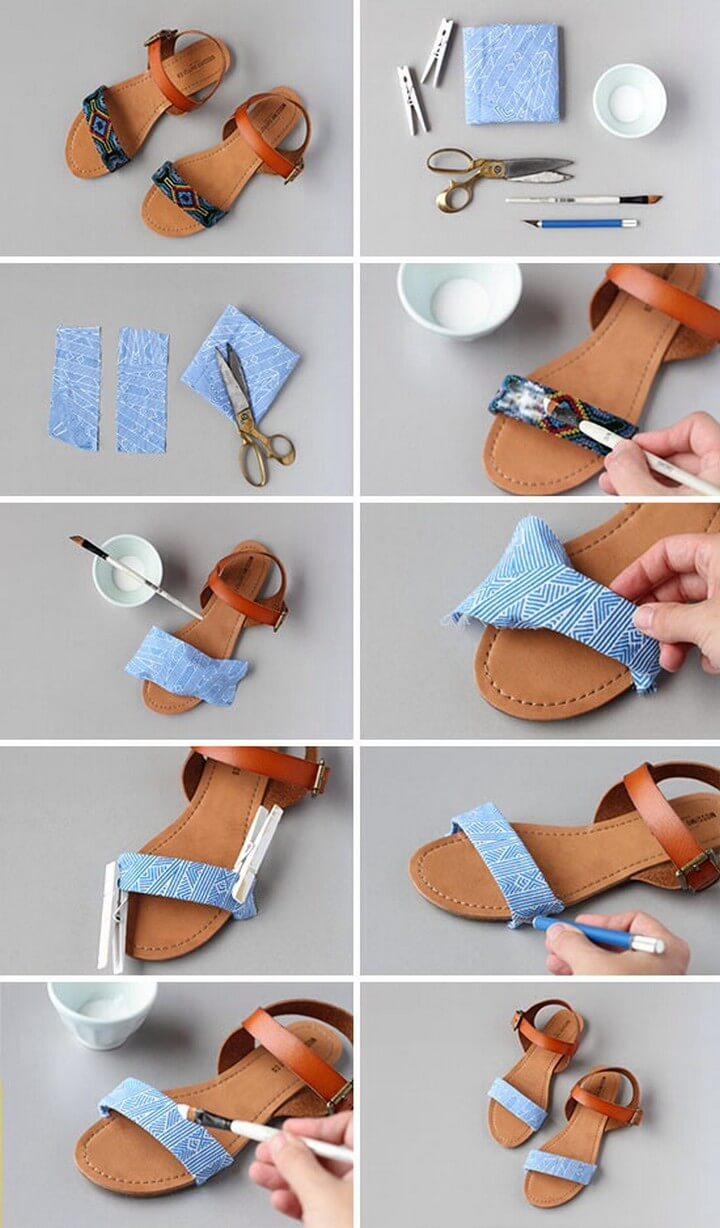 Never throw an old sandal as you can give them some cute and smart makeover. Here is this simple refashion idea of the sandals using some fabric. You can use any fabric you like or even the one matching your summer top, tank or dress. Look into the details here
Tutorial: papernstitchblog
Felted Heart Sweater: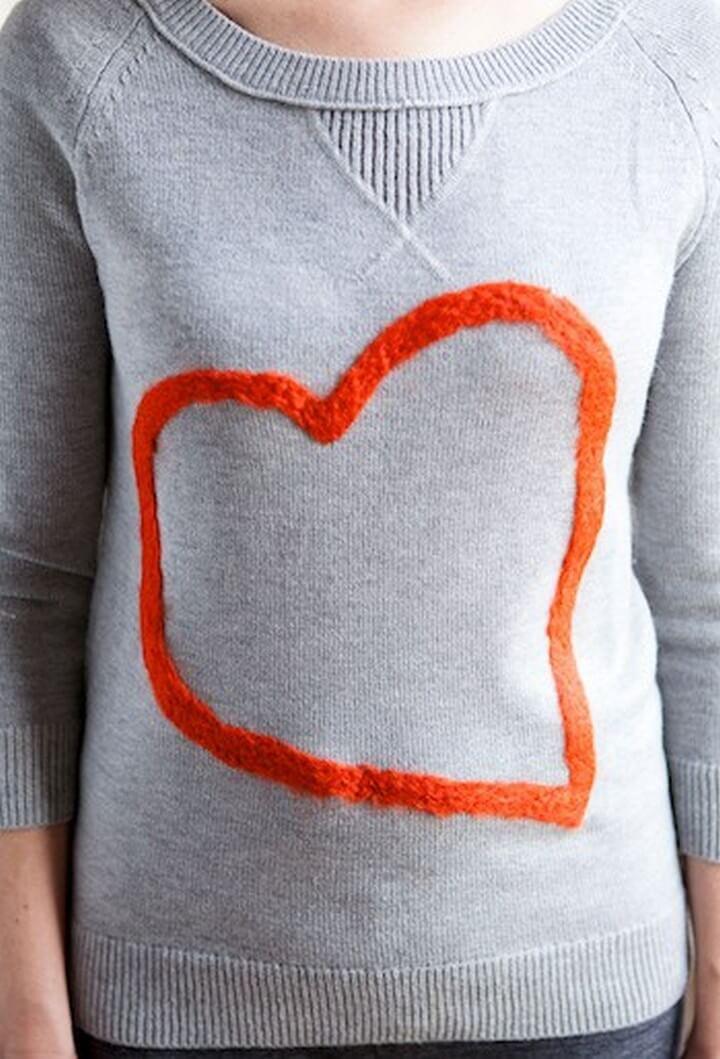 Make your old sweater look all interesting and cute with this idea of felted heart sweater. Nothing big and complicated has been done here. Just take some felt in bright color and cut our a heart shape out it and glue it or sew it up on the front of your sweater and it's done. Tutorial help here!
Tutorial: sayyes
Amazing Floral Flower Clutch: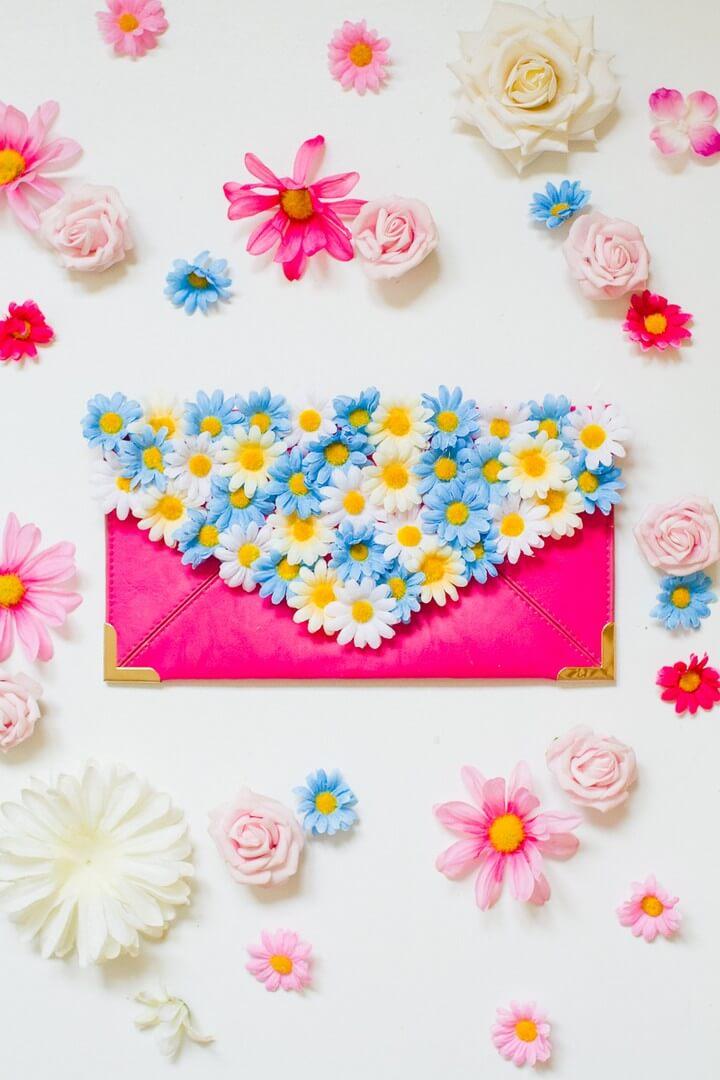 Bring some flower beauty to your summer fashion this time with this amazing floral flower clutch. This is the simplest project to do with the least of the items. Get your clutch that you want to refashion and add some fake flowers to it using the glue gun and it's done. Know more here!
Tutorial: bespoke-bride
How To Make A Tiny Baby Shoes or Booties: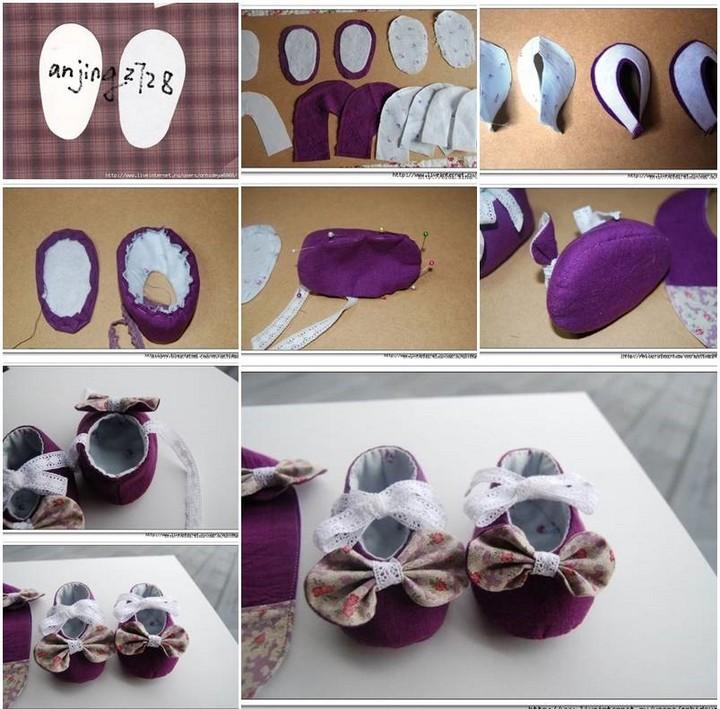 These handmade tiny baby shoes or booties would be the best thing that you can make for your little one. They are not only comfy but super soft and warm to protect those tiny feet. So grab some felt, cotton, fabric and the lacey ribbons to sew up these shoes on your own. Tutorial here
Tutorial: howtoinstructions
DIY Chanel Inspired Flip Flops: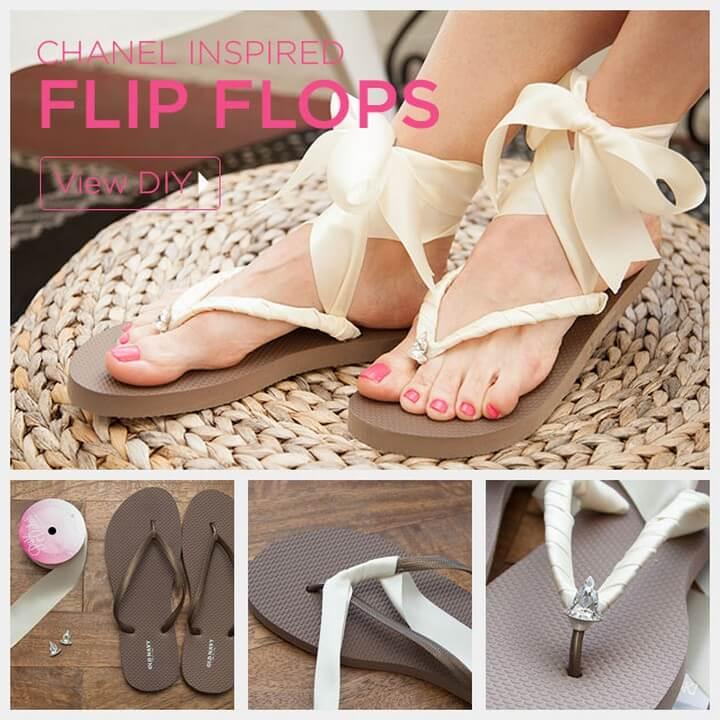 Flip flops and ankle wrap sandals are the summer shoe wear and now you can get the latter with the first one. Yes, these gorgeous ankle-wrap sandals are super easy to make by just wrapping up some ribbon over the flip flops with crystals on the center joint. Easy details here!
Tutorial: trinketsinbloom