One of the best jewelry items for men and women is the bracelet. Also, they are equally adored by the kids so it means bracelets are loved by all. So here we have brought to you these 28 DIY Bracelets – How To Make Bracelets that you can make and enjoy a great crafting experience at home. A handmade bracelet makes the perfect gift for the friendship day so now you can choose out of these gorgeous and stylish 28 DIY bracelets to make and celebrate your friendship with. These handmade bracelets would cost you only a few pennies but leave you and dear ones with endless memories to cherish for long.
Summers are the best to enjoy all kinds of fashion and styles and so making these bracelets would add extra oodles of charm to your personality. Also, the kids would have so much fun making these bracelets as their outdoor summer activities and share with their cute little buddies as the token of love. From yarn, paracord and leather to simply woven, metal and jeweled there are bracelets of each genre to choose per your preferences. All these pretty bracelet ideas have links attached to follow the list of supplies and making methods in detail.
You May Also Like:
Foam Bracelets For Kids: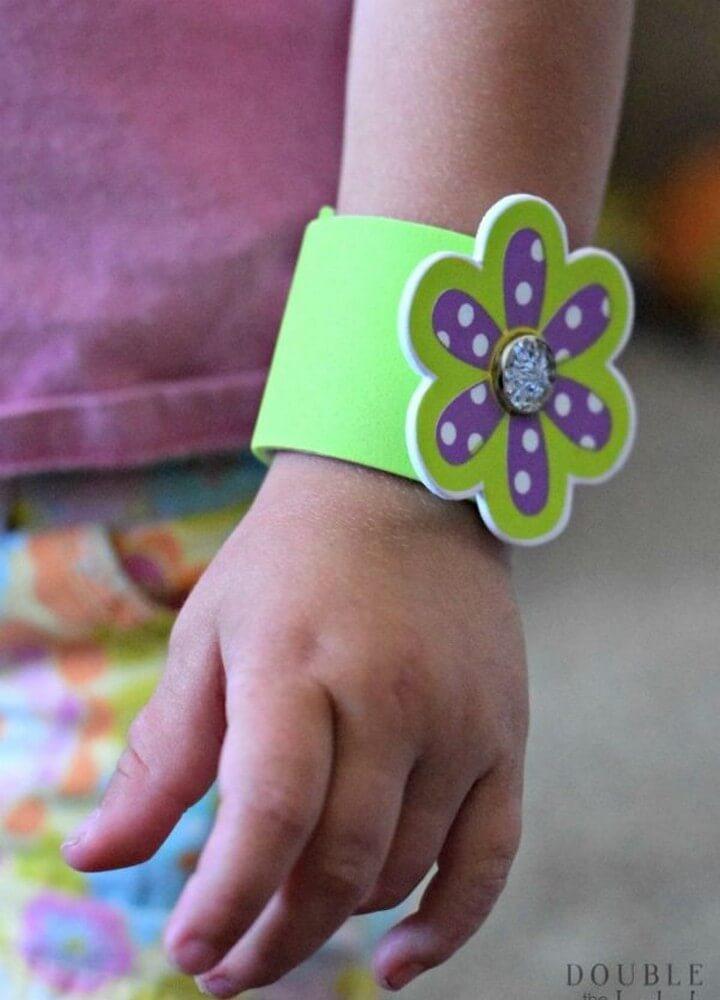 Make your girls fall in love with these adorable foam bracelets that you can easily make at home. You would need two colors of foam sheets and some Velcro dots to shape up this super quick and cute bracelet. You can customize the bracelets with some fun shapes on the bracelet other than flowers.
Tutorial: upliftingmayhem
How To Make Knotted Rope Bracelets: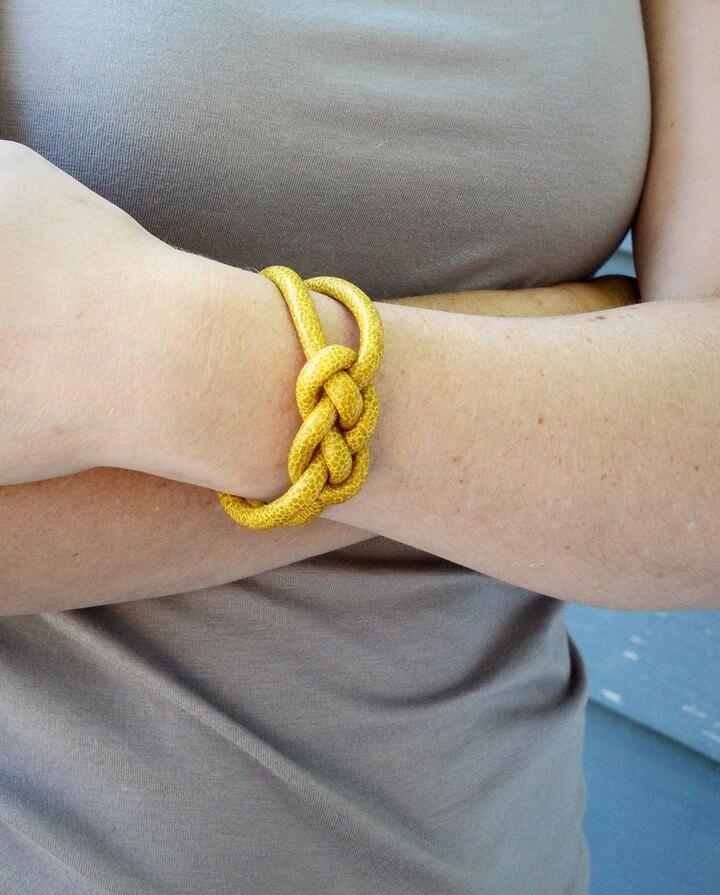 Even men can enjoy wearing some super cool bracelets around their wrists and uplift their fashion game this summer. Here is this stunning knotted rope bracelet that needs only 30'' inch of leather tope and 5mm magnetic clasps. This bracelet is easy and cheap to make as a pretty gift.
Tutorial: diys
How To Make An Oversized Friendship Bracelet DIY Tutorial: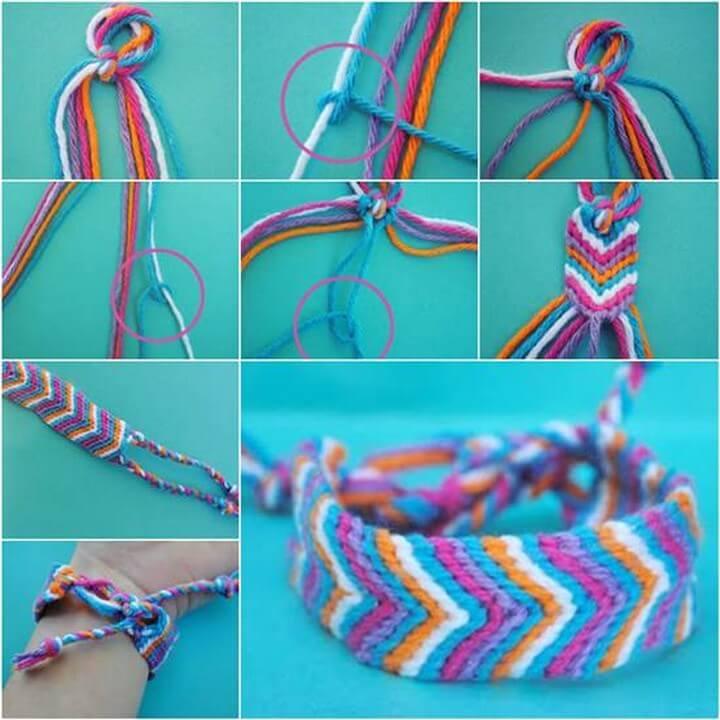 Make your friendship stronger this friendship day with this oversized friendship bracelet that is super easy to make at home. You need a bunch of colorful yarn strands to make this chevron patterned bracelet. The hand knitting technique of this bracelet is shared here in the video tutorial.
Tutorial: youtube
How To Make Adorable Bangle Keychain Bracelets: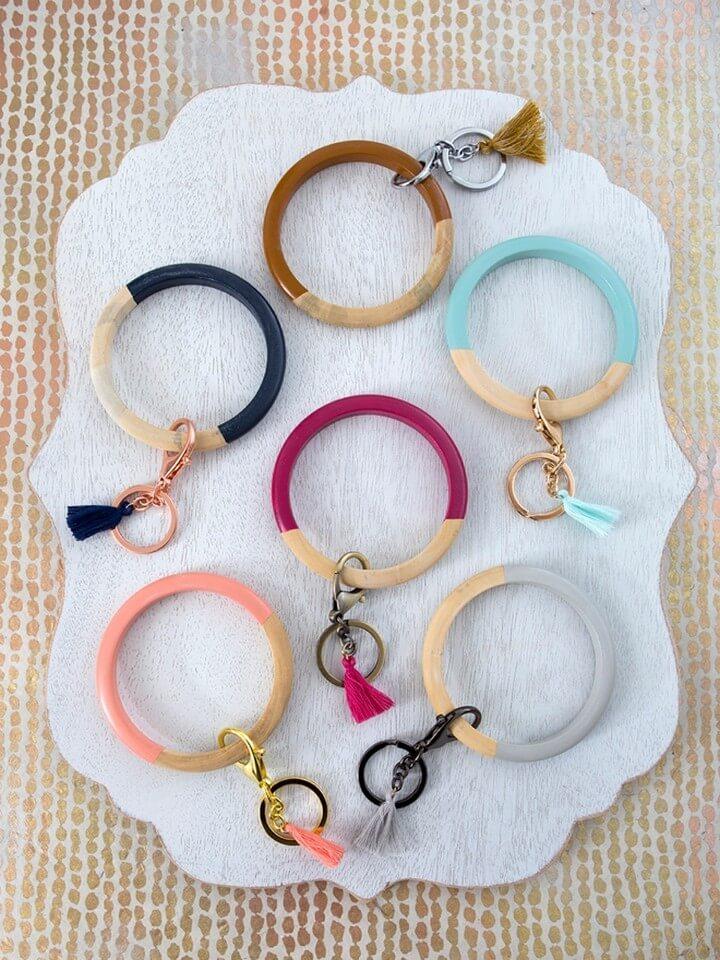 Here are these adorable bangle keychain bracelets to let you enjoy double functional roles out of it. It's not only a cute and fun DIY bracelet to flaunt but a quirky keychain so that you never your keys again. So grab some wooden bangles, yummy acrylic paint hues, key chains, and the colorful tassels to make a few.
Tutorial: somethingturquoise
How To Make DIY 6 String Braided Friendship Bracelet: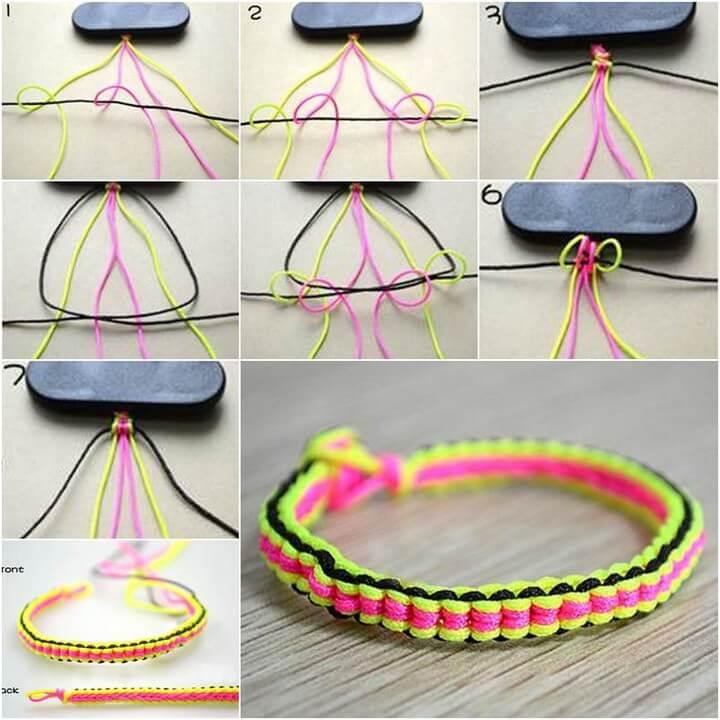 The bright colors of the yarn and the traditional style of braiding really makes this friendship bracelet look just super exotic. Not only for your own summer girly side, but these pretty bracelets are also perfect to celebrate your friendship too. Learn to make them easily at home here
Tutorial: icreativeideas
Pastel Braid Bracelet: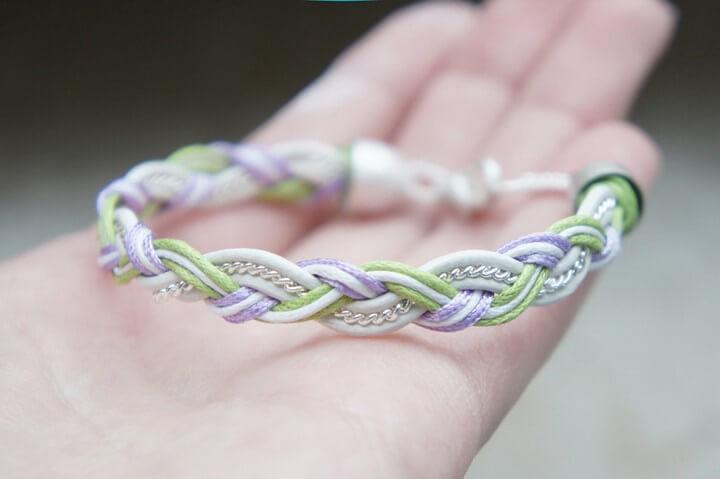 Make your summer dresses look prettier with these pastel braid bracelets to glam up your wrists with. The pastel colors in the bracelet bring so many subtle vibes so do make some to wear with your pastel summer dresses. Learn the braiding of the bracelets right here
Tutorial: anuschkarees
Pretty Flat Ribbon Bracelet: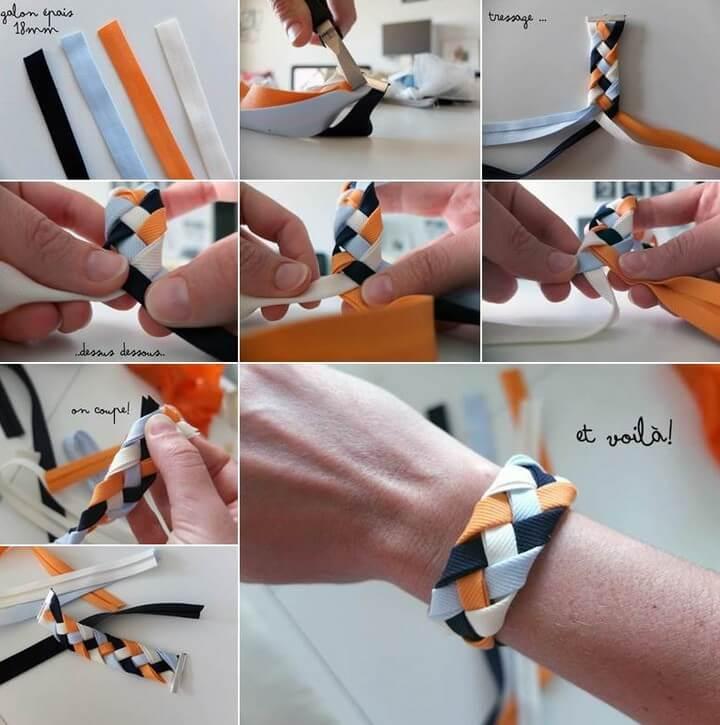 This enchanting and awesome flat ribbon bracelet is perfect both for women and men. So grab some funky colors of the flat ribbons and shape up this cool and catchy bracelet with bracelet clamps and rings. The complete method has been shred here through pictures to learn and practice.
Tutorial: wonderfuldiy
Fabric & Wire Wrap Bracelets: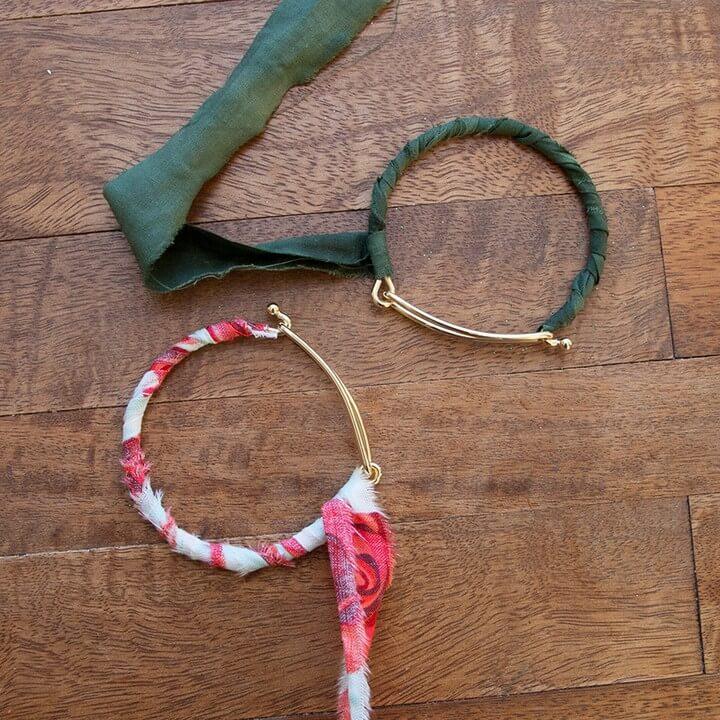 Make the most out of your fabric scrap piece and making this chic and a boho fabric and wire bracelet are awesome. Just grab some wire bangles and then cut out fabric straps from your stash and then wrap them around the bangles. Thus so easily your drool-worthy bracelets are ready to rock your look.
Tutorial: trinketsinbloom
Ribbon & Pearl Bracelet: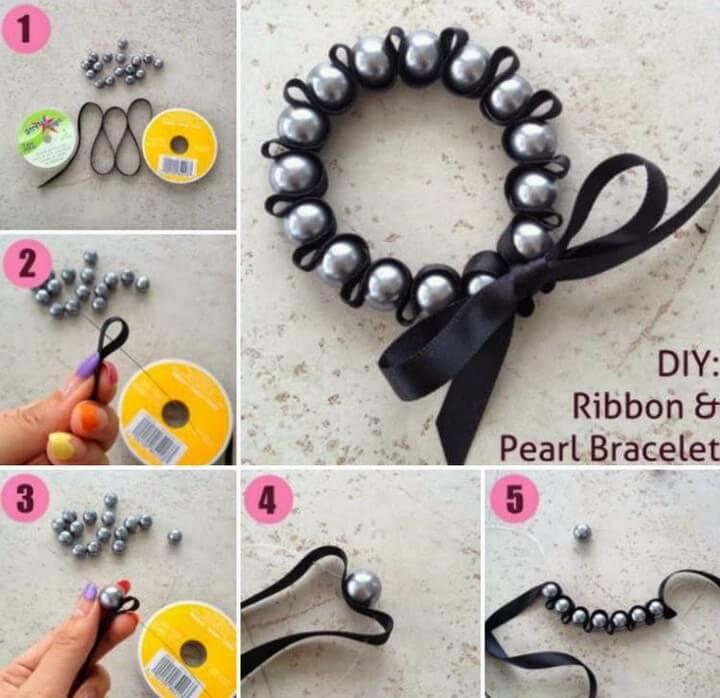 This gorgeous ribbon and pearl bracelet is perfect to adorn your wrists for some fancy dinners and even for weddings too. This one is made with black ribbon and 12 mm black beads and has turned out to be just epic. You can change the colors per your dress demands.  Details here
Tutorial: yesmissy
Make Your Own Mosquito Repellent Bracelet: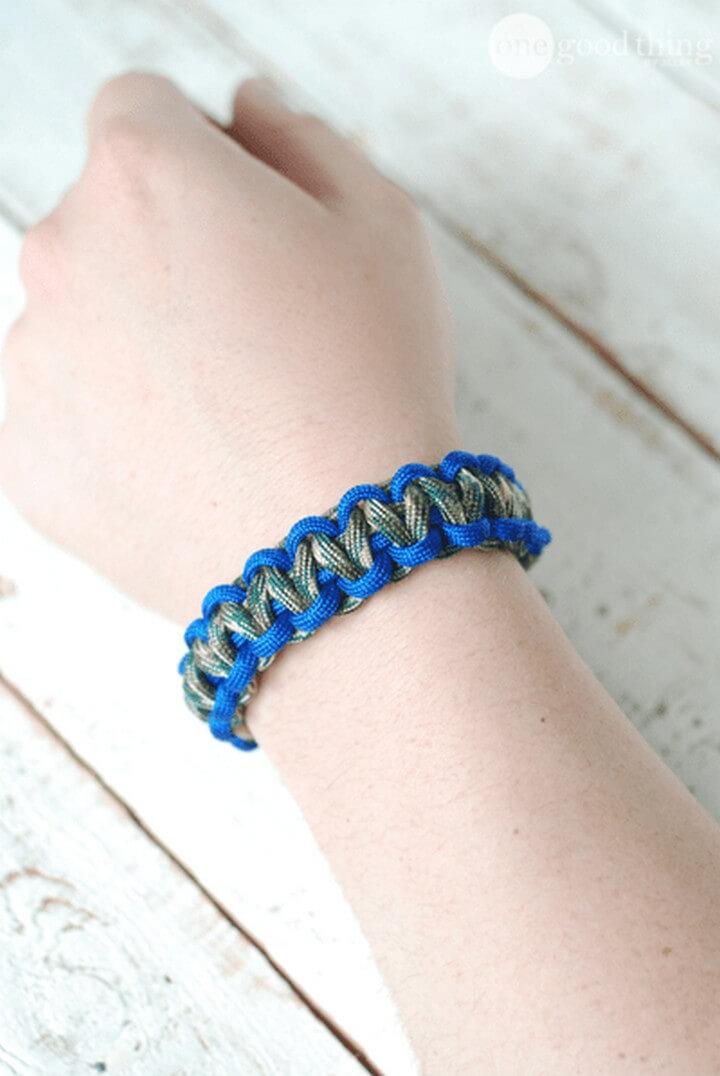 The summer fun should not be disturbed by the mosquito bites. Here is the stylish solution to your problem with these mosquito repellent bracelets that you can make for the whole family. They are super easy and fun to make from the regular things like ribbons, clasps, rings so get the details here.
Tutorial: onegoodthingbyjillee
Air Dry Clay Bracelet Mother's Day Gift: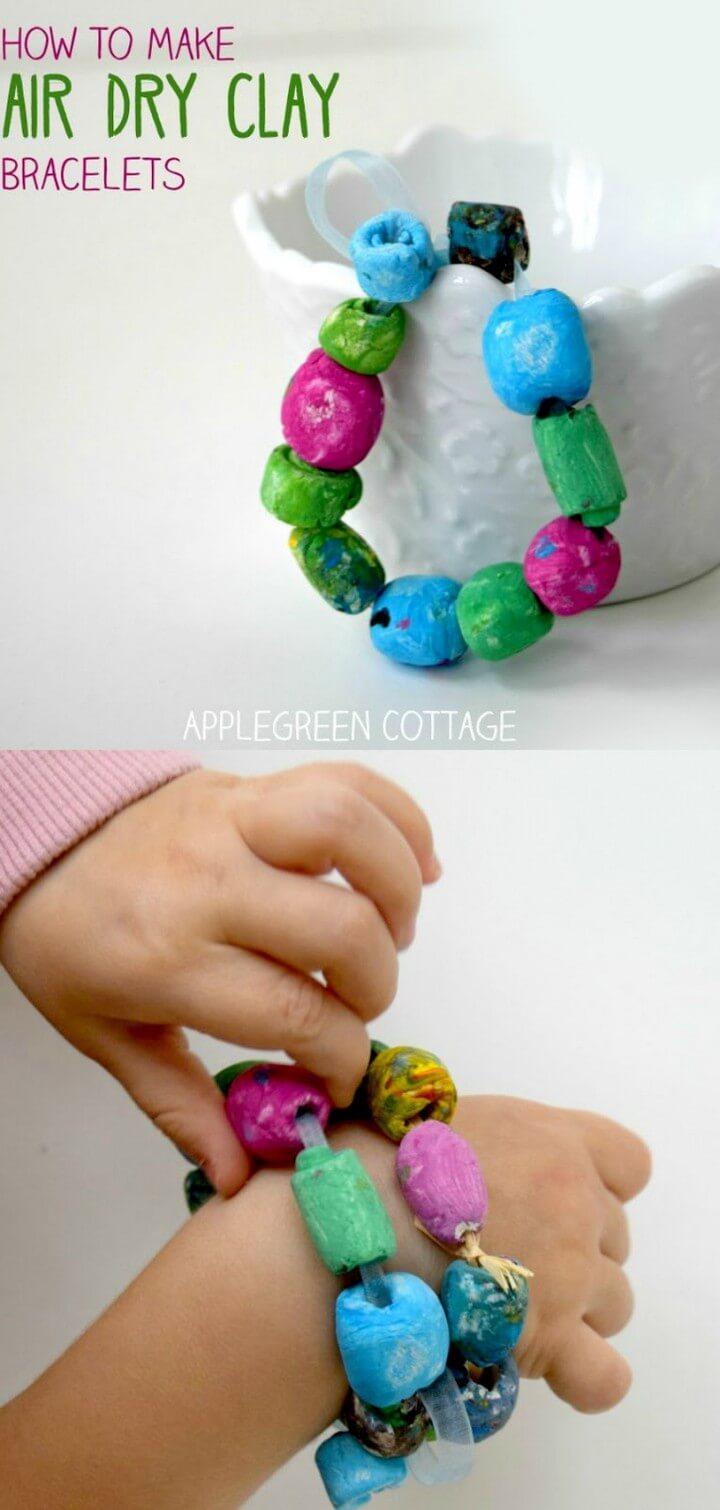 Summers are super fun to play outside and indulge in so many activities. Here is this idea of an air-dry clay bracelet to make with your kids and help them preparing and fun Mother's day gift. So get some clay, acrylic paint, and some band to start up this super cute and pretty gift.
Tutorial: applegreencottage
Unique Chevron Friendship Bracelet: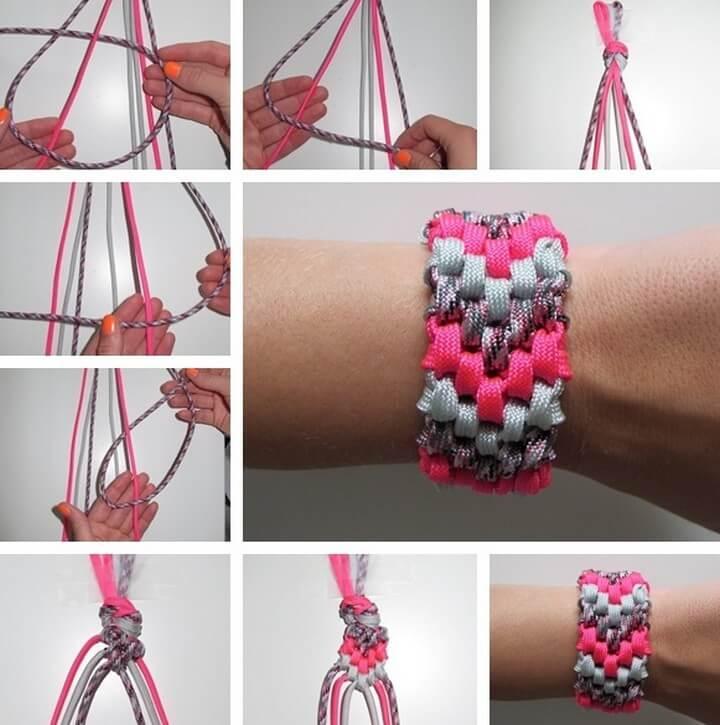 Here is this lovely and unique chevron friendship bracelet to make and enjoy on this friendship day.  With nylon thread in multiple colors of pink and grey, you can easily make this bracelet with a few twists and folds. You can use your favorite yarn hues for the purpose too.
Tutorial: wonderfuldiy
Quick DIY Woven Leather Bracelet: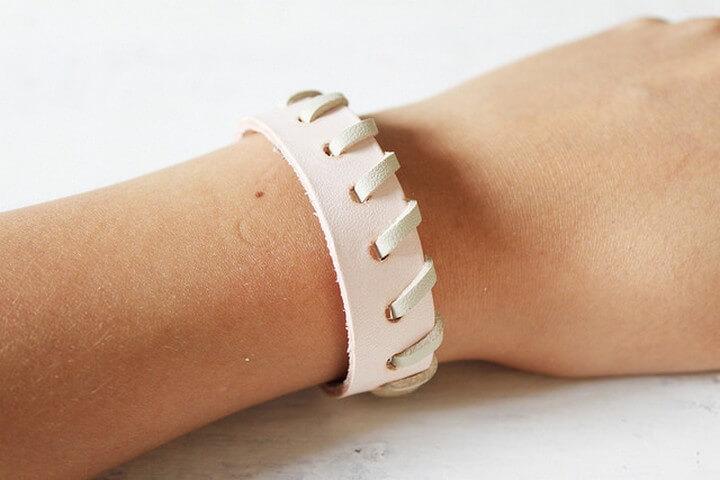 With a piece of leather and the leather cord, you can easily shape up this gender-neutral bracelet. Here is this quick DIY woven leather bracelet to make and enjoy on any of the coming festive or big day. You would need a lot of tools to shape up this leather bracelet so get the complete list and details here
Tutorial: collectivegen
How To DIY Embellished Friendship Bracelets: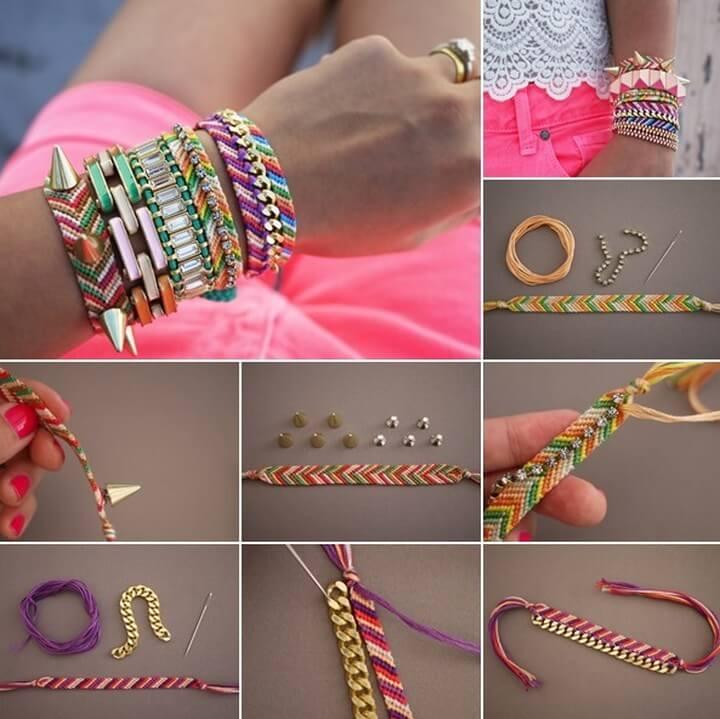 There are so many ways to bring colors in your summer life and bracelets are one of them. Here are the yarn made embellished bracelets worked up with rhinestones and the spikes. You can make a bunch of them wear together in the wrist or you can make them gift around too.
Tutorial: honestlywtf
Braided Fabric & Chain Bracelet: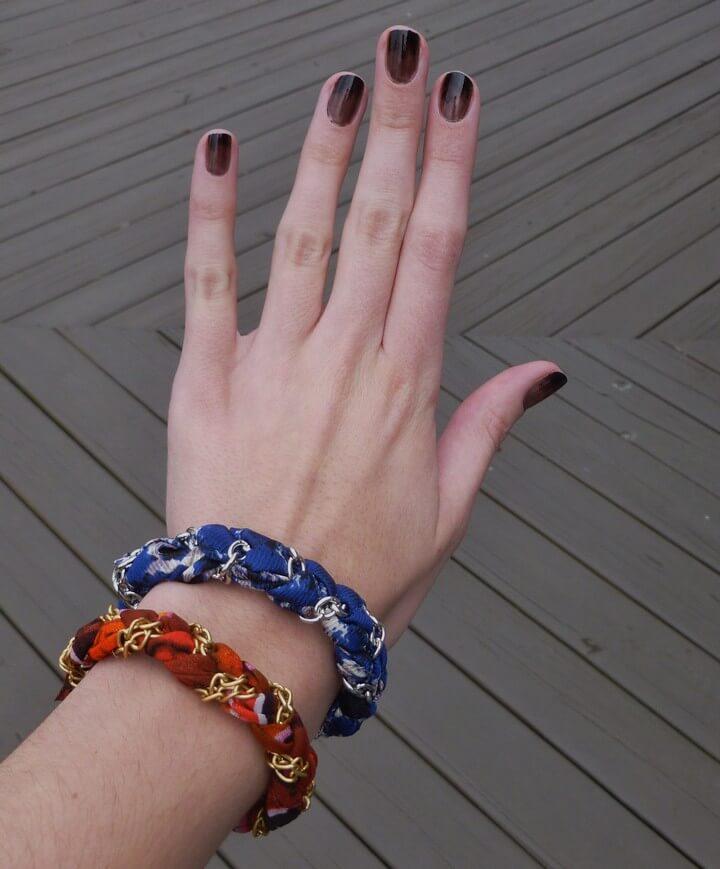 With fabric chain and lumps you can braid up this gorgeous and modernly stylish fabric bracelet for yourself. You can make matching bracelets with your dresses with the left out fabric pieces. The twist about this bracelet is that the chain has been braided with the bracelet. Learn it all here
Tutorial: chicagonow
Metal Stamped Washer Bracelets: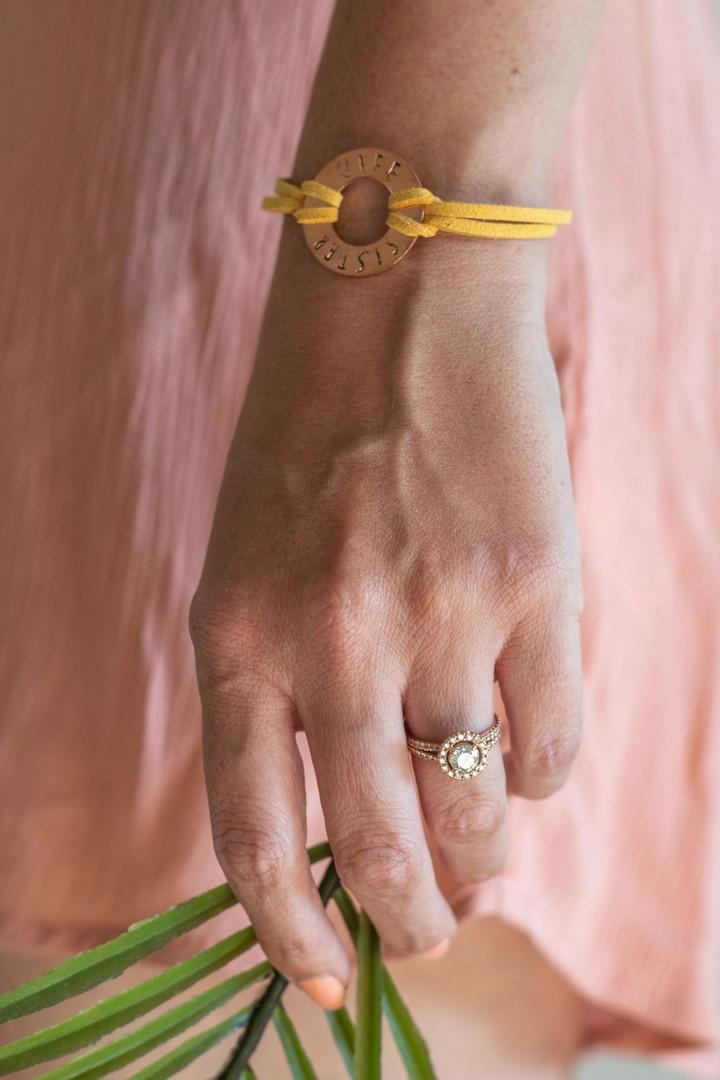 Make your own style statement with this metal stamped washer statement this summer. You can write your name, any quote or any of your favorite words on the washer and then tie it up with the leather cord. So save yourself some money and make these cheap metal stamped bracelets right now.
Tutorial: clubcrafted
Square Knot Friendship Bracelet Tutorial: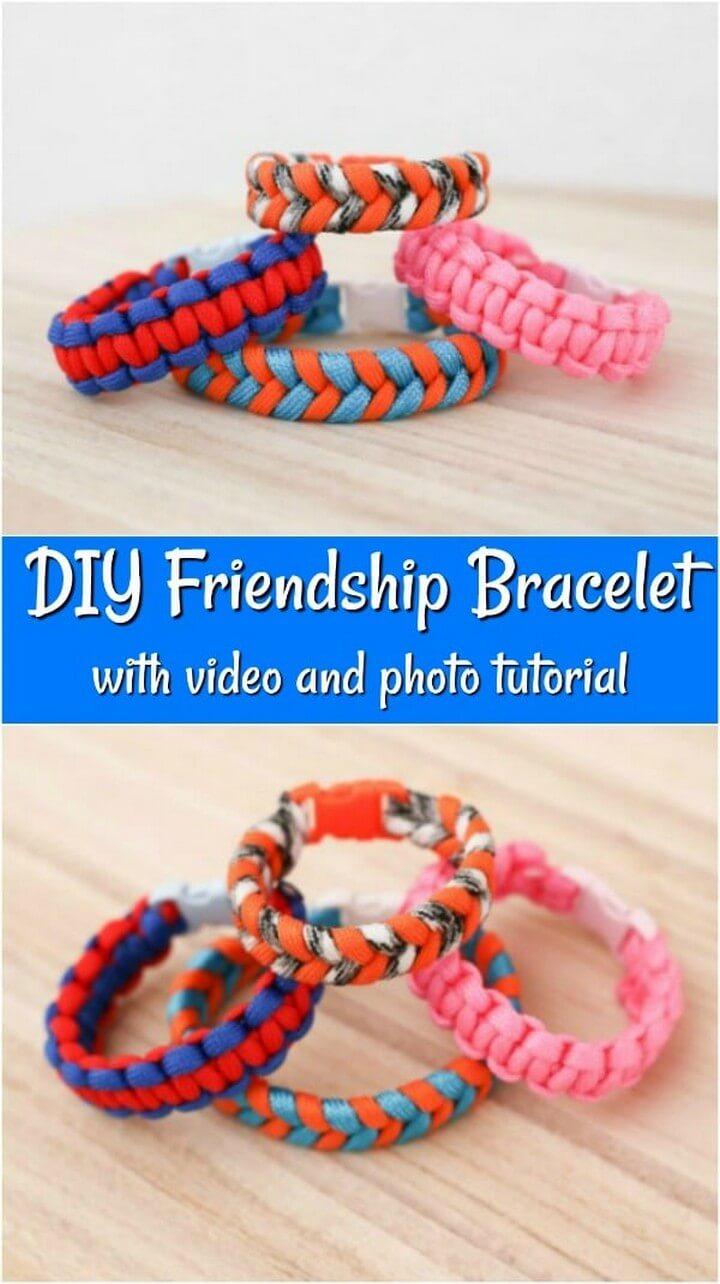 These handmade square knot friendship bracelets are the best gift for your loved ones. Be it your siblings, partners or the friends making these pretty knot friendship bracelets is the easiest and cutest gift to give away. You can make it with a thick ribbon or a paracord ribbon and the details are here
Tutorial: diyncrafts
Bracelet Made From Braided Beads: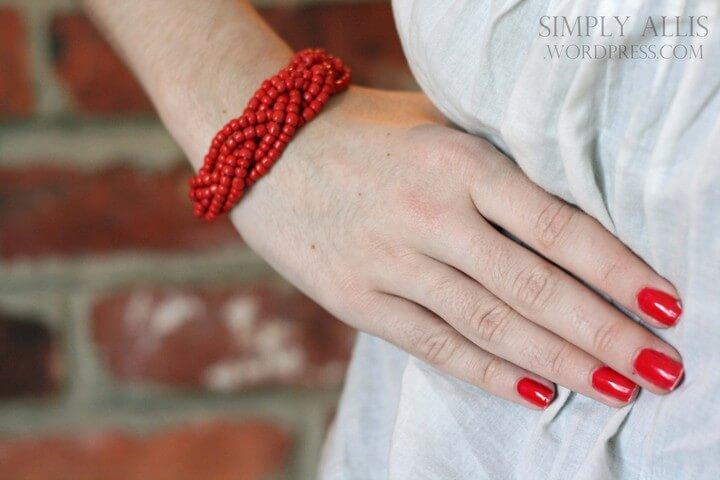 This gorgeous braided bracelet is made from the beads and its stylish enough to be taken as the market bought one. First, make beaded strings and then braid them up to work up this gorgeous beaded bracelet. You can make a necklace with the same style and thus enjoy wearing a complete set.
Tutorial: simplyallis.wordpress
Beads Wrap Bracelet: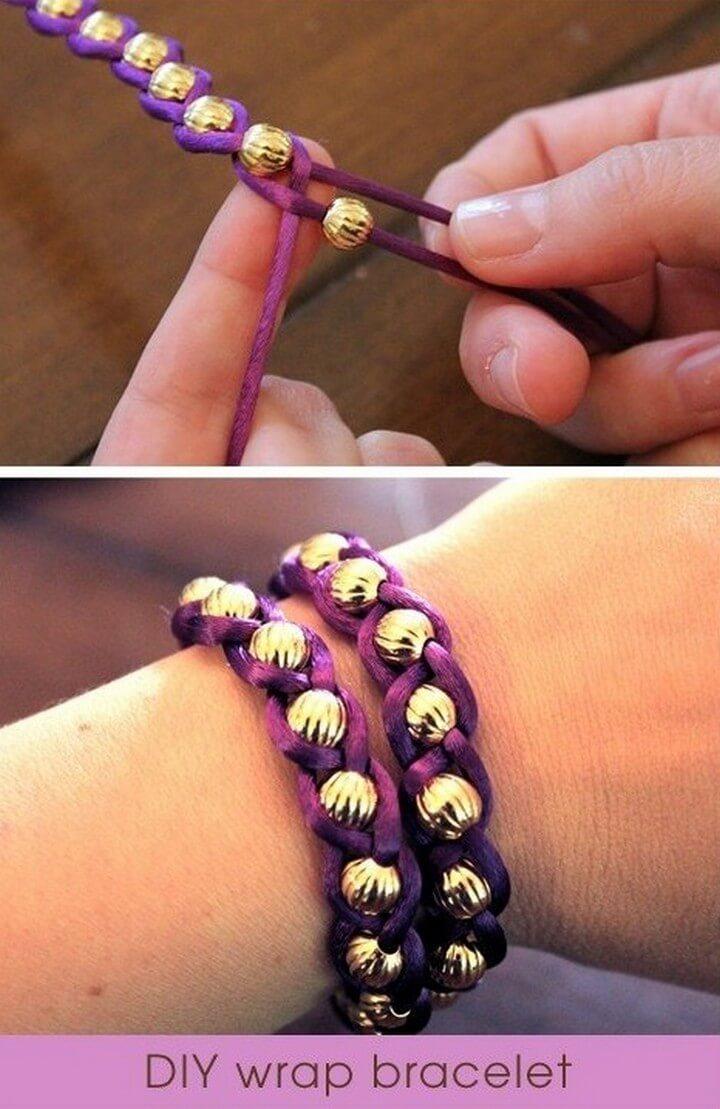 With beads and cords, you can shape these adorable bracelets to flaunt around. The golden beads with colorful cords look just so fantastic and you can wear them at every festive be it a party or a wedding. The bracelets are so easy to make and here are the details
Tutorial: youtube
Braided Hex Nut Bracelet: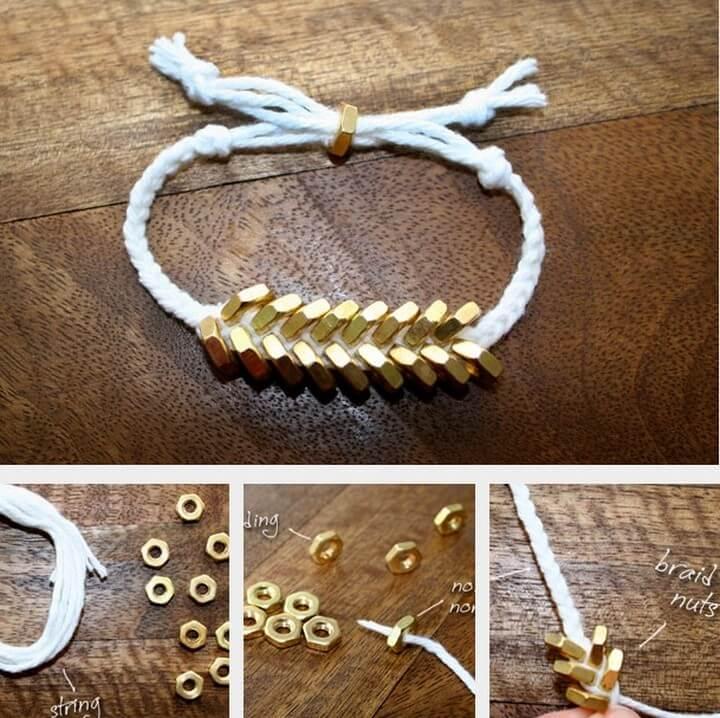 This braided hex nut bracelet is one of the coolest bracelets you have ever seen. So with a bunch of these hex nuts and white threads you can make these easy and feasible braided hex bracelets. You can make these lovely bracelets on your own. Easy pattern details here
Tutorial: trinketsinbloom
Easy Rope Bracelets: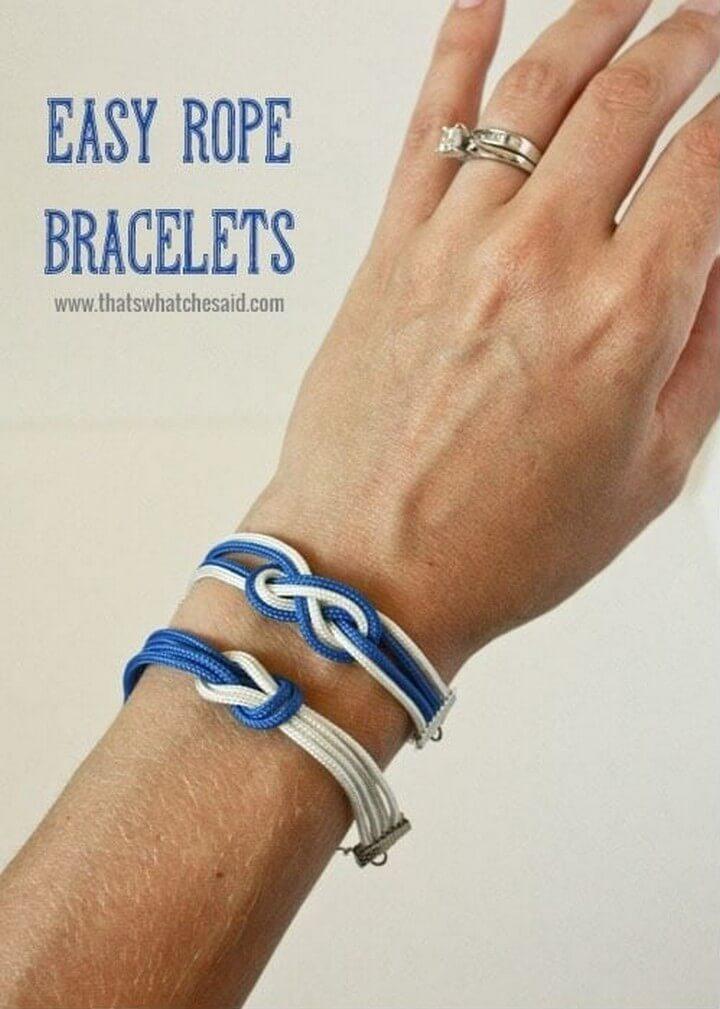 With colorful ropes, clasps, and rings you can make these lovely rope bracelets. The yarn pieces here have been twisted like the knots to look just so pretty and fun.  The design of the bracelet is perfect for the males and females so you can make a bunch of them to use as gifts around. Details here
Tutorial: thatswhatchesaid
Wrap Bracelet With Statement Beads: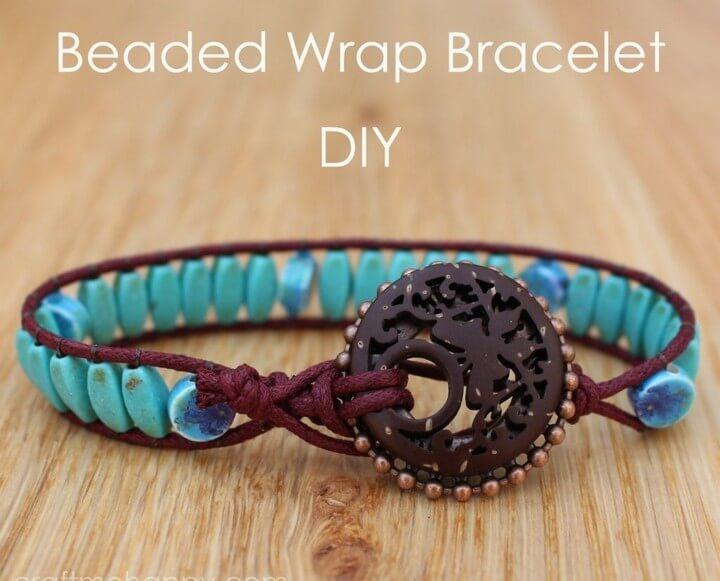 This thin in design bracelet is the perfect piece to make and charm up your looks with. The thin leather rope pieces and the tiny beads are just perfect for you to create this lovely bracelet with a minimalist design. This small and cute bracelet would make a huge style statement around your wrists and here is its tutorial
Tutorial: fabyoubliss
How To DIY Woven Paracord Cuff Bracelet: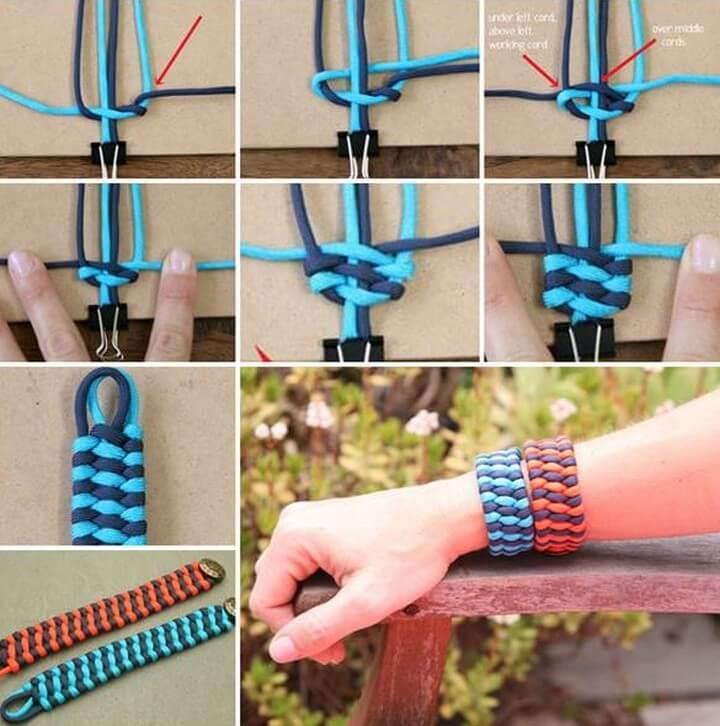 These wide cuff bracelets are awesome to weave and make some cool glam look for the summers. You can take some black paracord to pair it with any of the colorful paracords like red and blue looks stunning here. Also, the bracelets close up with the buttons to make them look fancier.
Tutorial: remarkablydomestic
DIY Multi-Strand Bracelet: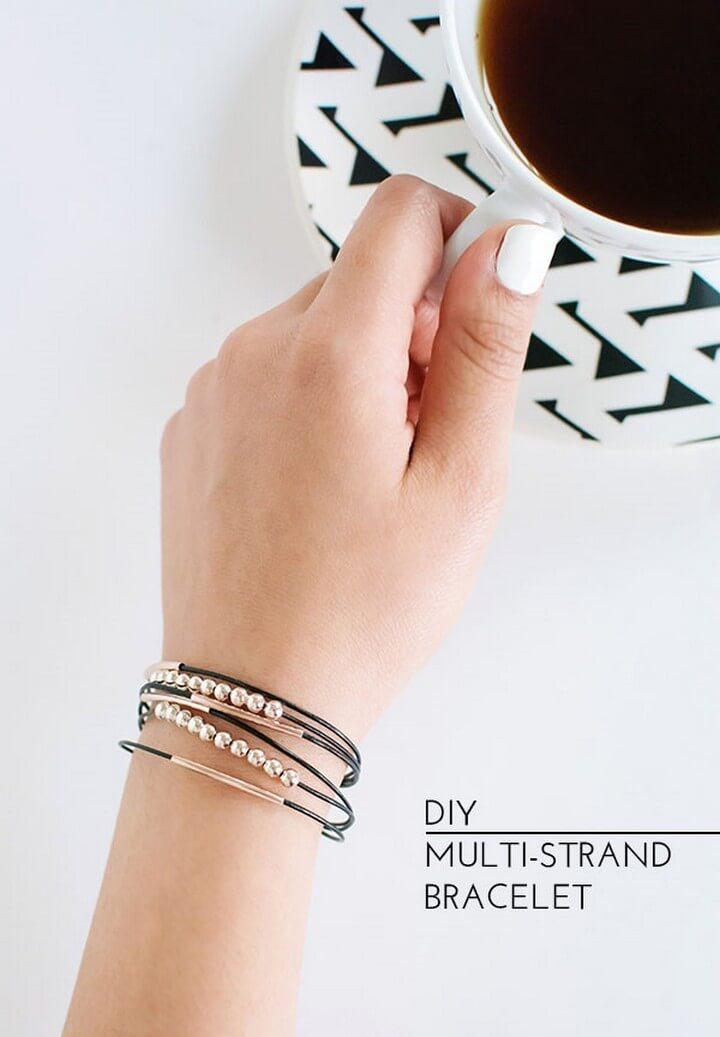 If you are a fan of metal possessions then you are surely going to fall in love with these DIY multi stand bracelets. The multiple strands have metal beads and the lace to make it look just so classy and cool. Again the design is unisex so you can make it for your male and female friends.
Tutorial: homeyohmy
How To DIY Jeweled Embellished Paracord Bracelet: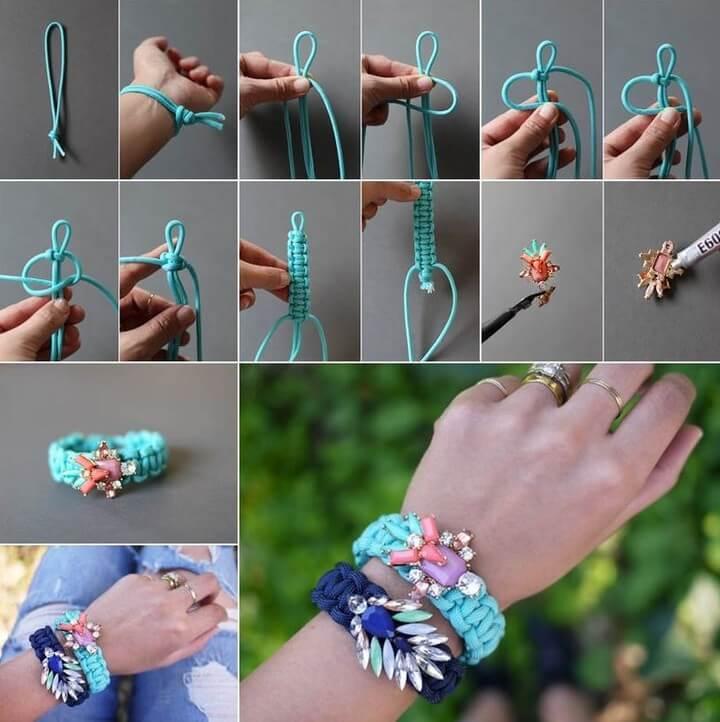 Add some personalized touch of style and beauty to your glam look for a formal event with this handmade bracelet. The bracelet is simply made out of the paracord and to make it look glamorous some jewels like a brooch or earrings have been added on the top. Easy details here
Tutorial: honestlywtf
Silk & Silver Layered Tube Bead Bracelet

: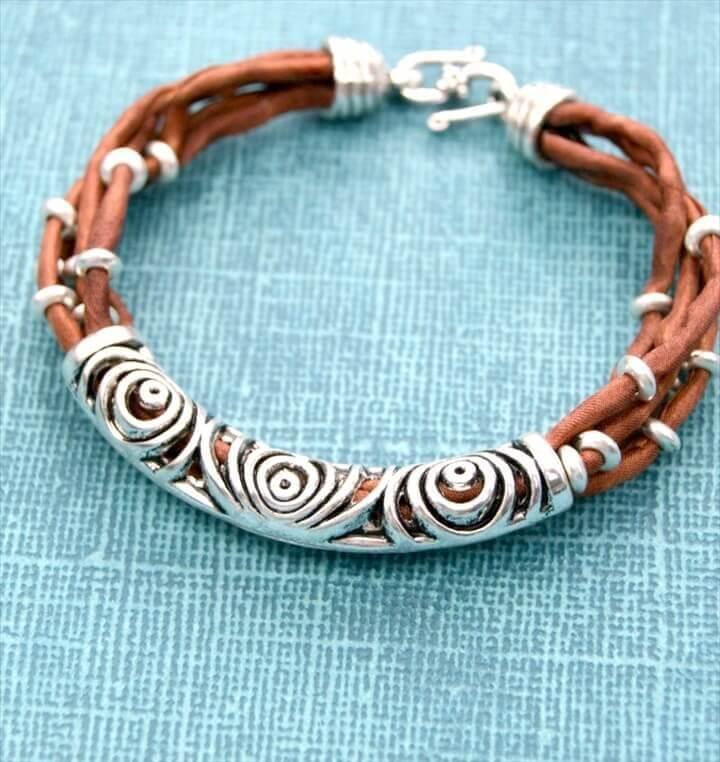 Here is another totally boho-chic kind of bracelet to excite the fashionista inside you. The base of the bracelet is made from the silk cord and the designing on the top is done with the silver and it really adds oodles of charm to the bracelet look.  Details shared here
Tutorial: happyhourprojects
Unique & Easy Friendship Bracelet: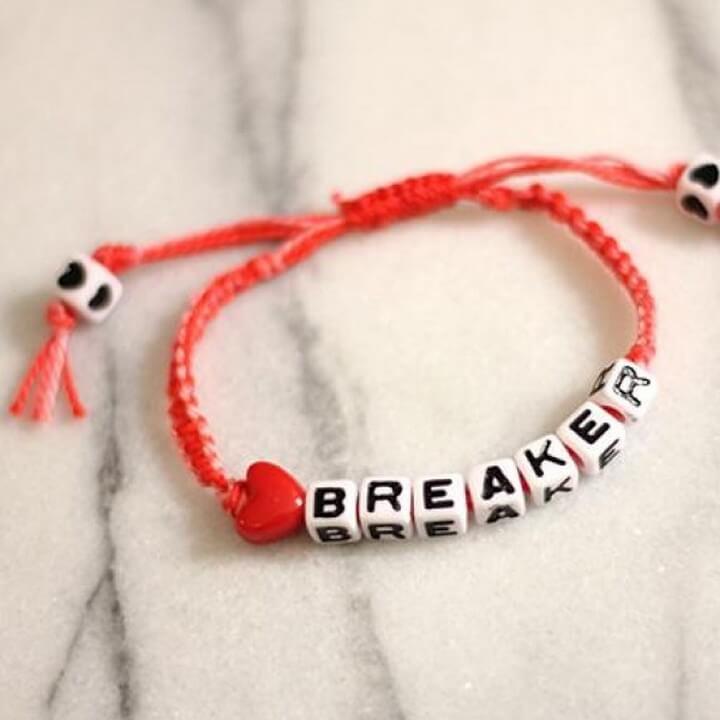 Kids can make pretty bracelets at home and enjoy some fun time together. So you can guide them with this unique and easy friendship bracelet to spend some quality time with. The bracelet needs some cords and letter spelling cubes to be easily worked up at home.
Tutorial: dontmesswithmama
Easy DIY Summer Bracelet – Bangle Bracelets With Charms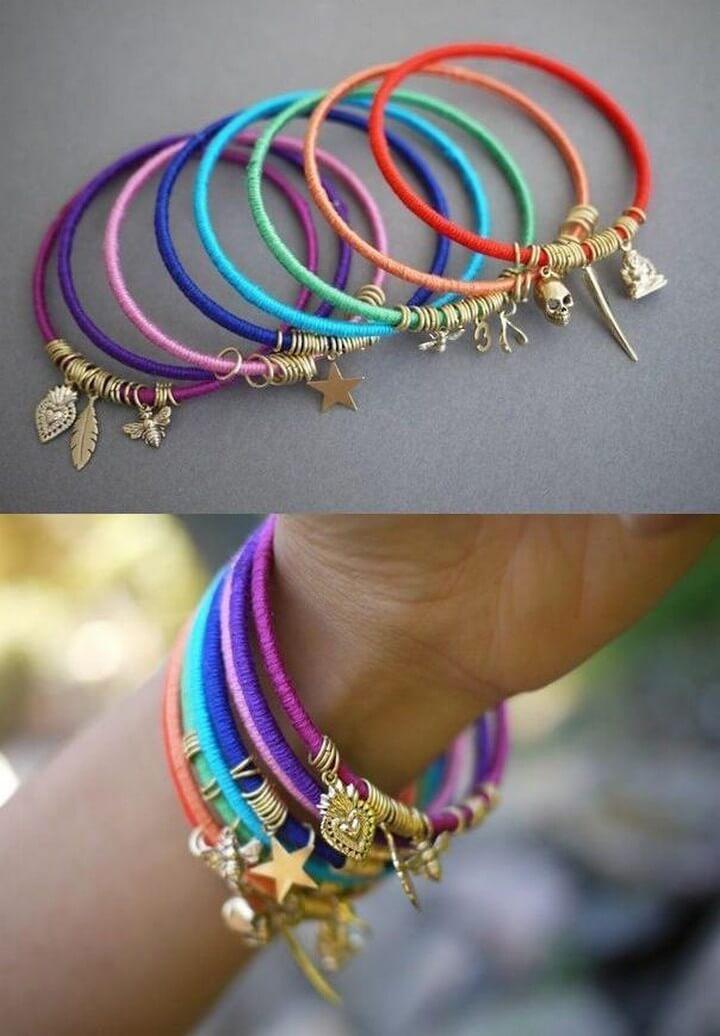 These gorgeous and colorful summer bracelets are the best things to create and look funky on a fun day out. The bracelet is super easy to make with metal rings to be covered with yarn and then adorned with some cute charms at the end. Follow the details here
Tutorial: stylisheve