For many of us, summer is another name of freedom. It's the freedom to go out, dress up and enjoy to the fullest. Flip flops are the custom footwear for the summers for being too comfy and cool. That is why today's post is about these 25 DIY Flip Flop Ideas You Can Make an Hour that you can make on your own.
These DIY projects would let your style up your comfy flip flops and thus making them a complete part of your fun summer dress up. The soft sole of the flip flops would save your feet from the heat and the pretty DIY straps would enhance your feet fashion.
There are endless ways to treat your plain and simple flip flops for a pretty DIY makeover. One of the easiest ways is to add fabric straps to the flip flops which can be simple, braided and knotted. For a more interesting and fancy look, beads and studs are so much fun to glue over the tops.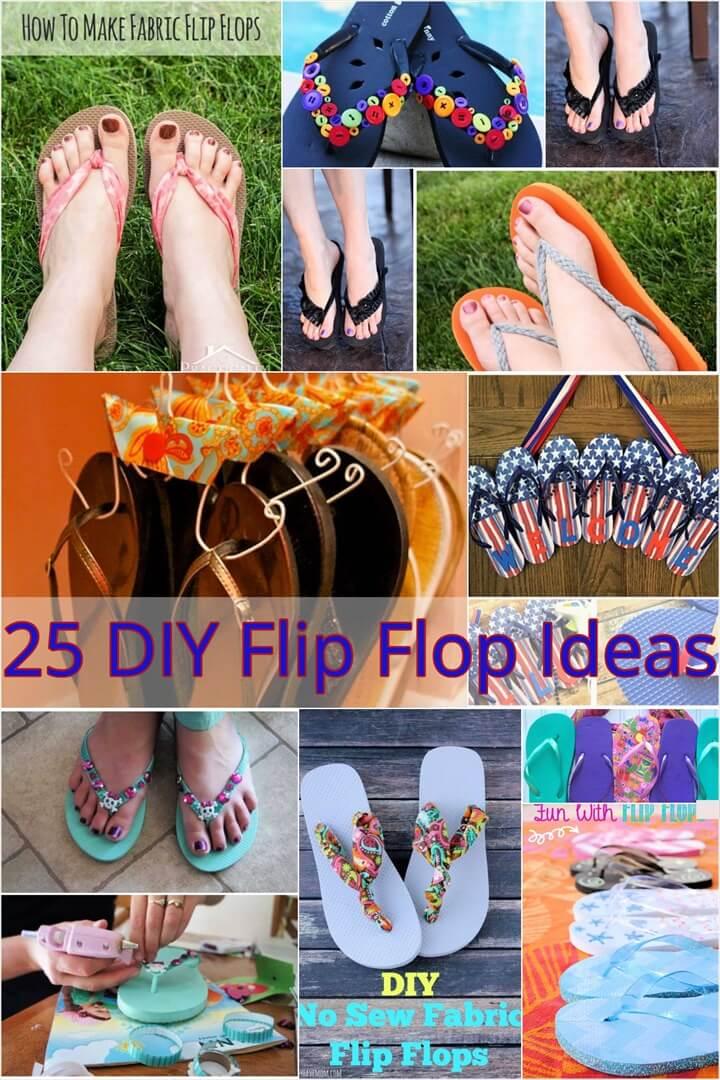 These home-styled flip flops would charm up your causal and party look for the summer. Not only comfy and cute footwear, but these flip flops can also contribute to home décor via signs, coasters, wreaths and memo boards. Get it all explored right below!
DIY Beaded Flip Flops: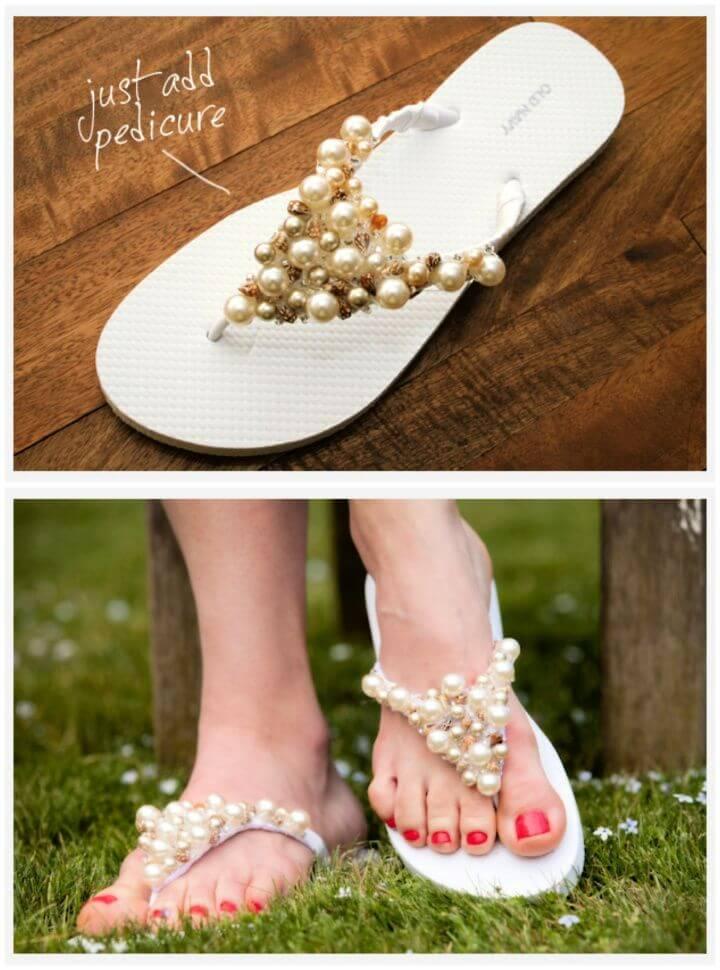 You know what interesting thing summer brings out from our shoe storage? The flip flops. So get your hands on this DIY beaded flip flops to make them look fancy enough for your weekend parties.
Tutorial: trinketsinbloom
DIY Fabric Flip Flops For Under $5: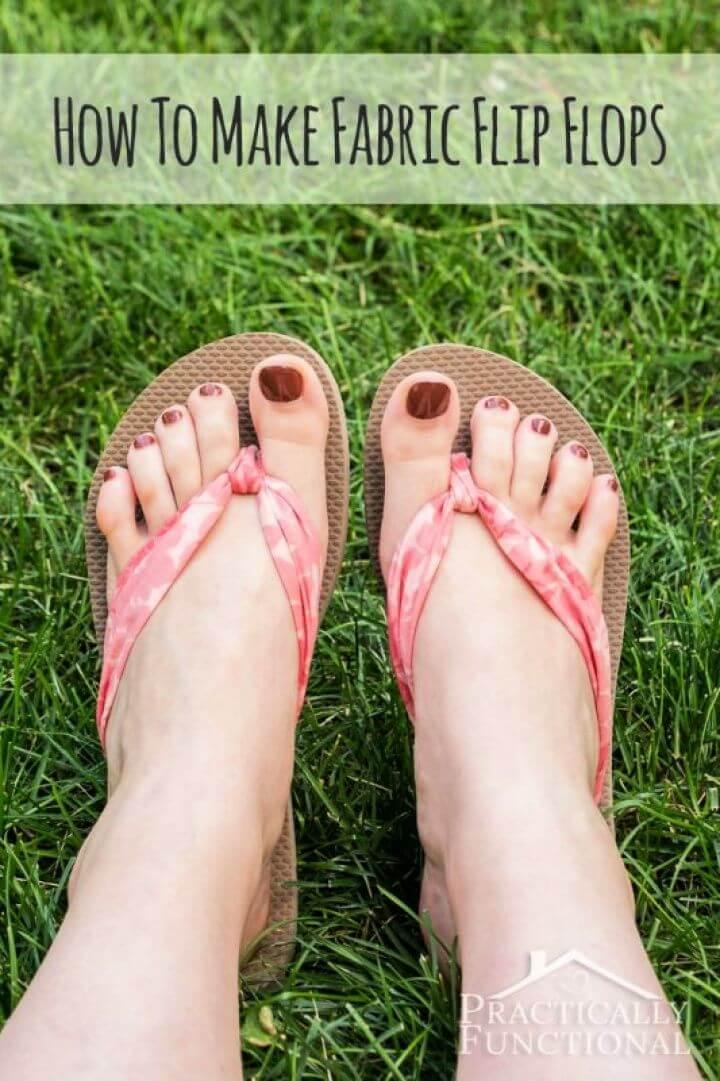 You can transform the old and boring pair of flips flops into something so cool and exciting. With this DIY fabric flip flops idea you can style your flip flops nicely and cheaply at home.
Tutorial: practicallyfunctional
DIY Fabric Flip Flops: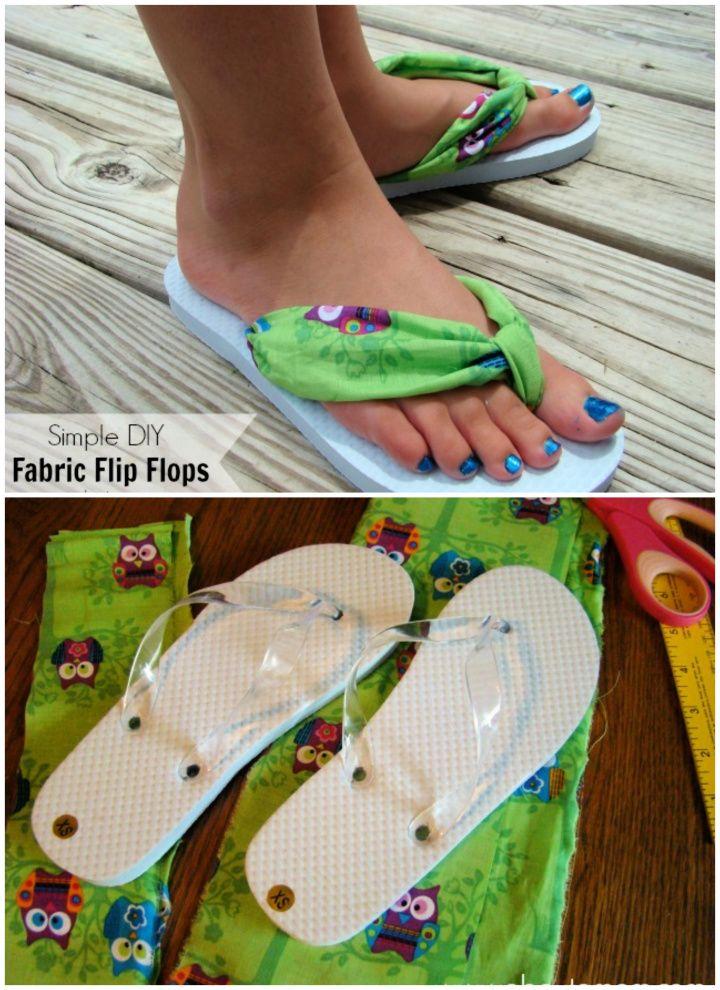 Add some fabric fun to your summer fashion with these DIY fabric flip flops. All you need to do is just replace the straps of your flip flops with some nice and cool summer fabric and it's done.
Tutorial: aboutamom
DIY Flip Flop Earrings: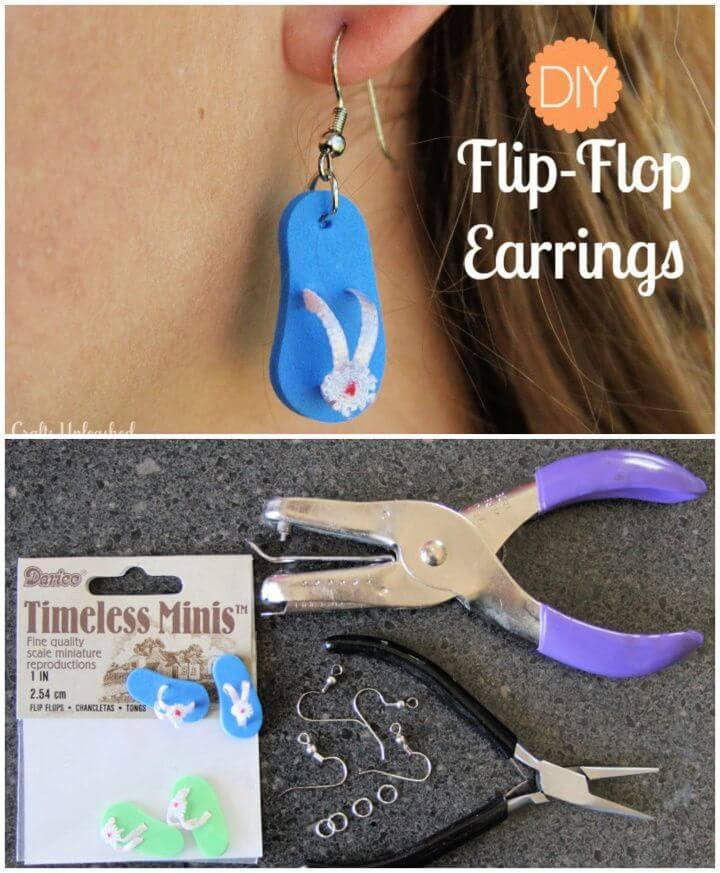 Need some cute and colorful jewelry for the summer fashion? How about adding these DIY flip flop earrings to your collection? You can easily get these cutest miniature flip flops and turn them into the adorable ear rings.
Tutorial: consumercrafts
Make A DIY Extraordinary Flip Flops: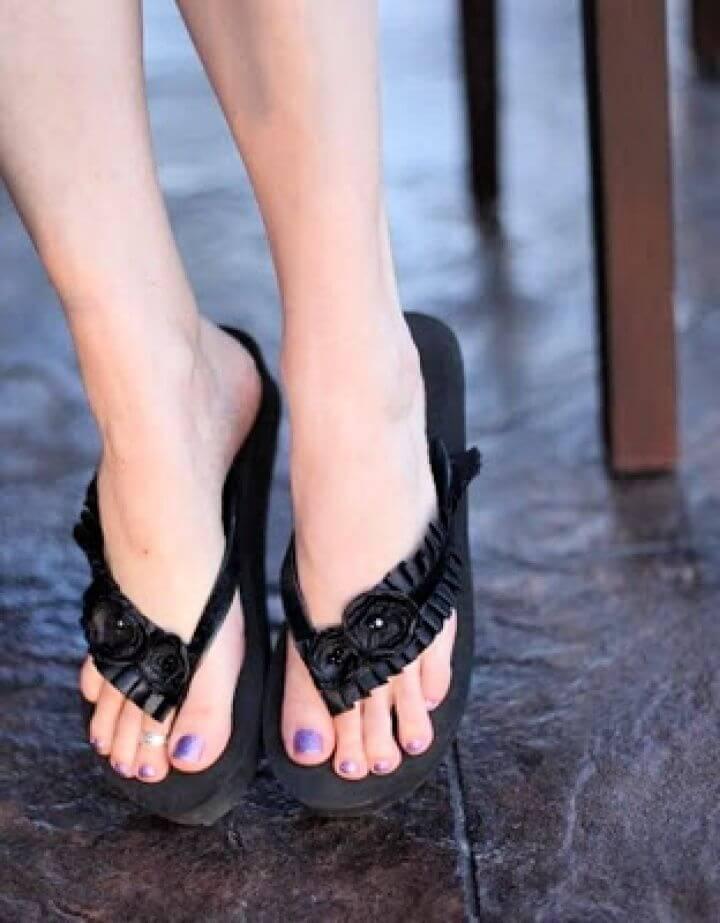 The plain and simple flip flops can be instantly made to look so fancy and fun with some crafting work. These gorgeous flip flops look so pretty because of the embellishing ribbon and the flowers adorned on it.
Tutorial: sweetcharli
Easiest Ever DIY No Sew Fabric Flip Flops: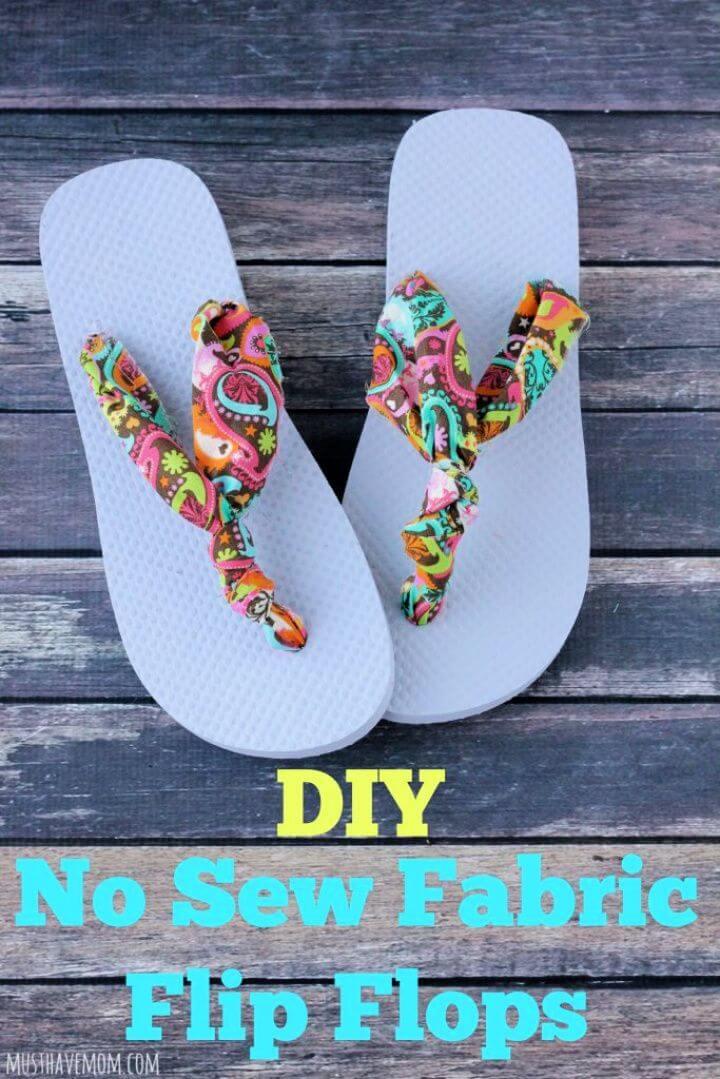 Give your flip flops a whole new look with some DIY work. Just grab some colorful fabric and create the new and cool straps for your flip flops. This pair of fabric flip flops would look so cute on your feet.
Tutorial: musthavemom
DIY Fun With Flip Flops By Crazy Little Projects: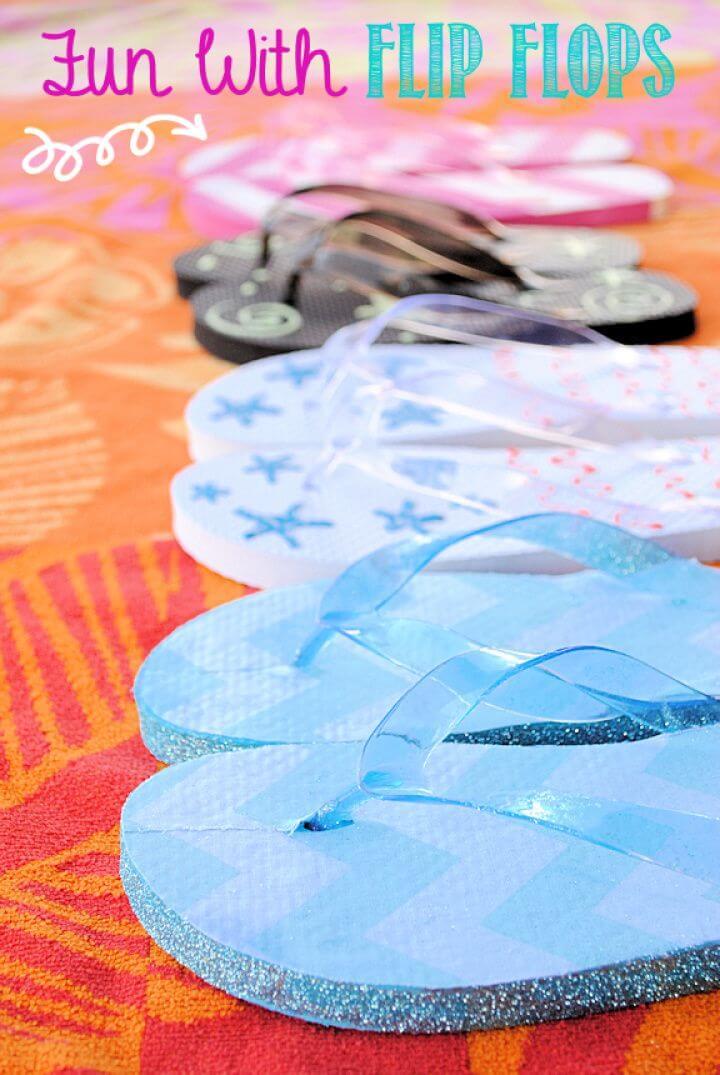 Give your casual summer looks a lovely boost with these fun DIY flip flop projects. This fun idea suggests adorning your plain flip flops with the chevron painted lines. Also the lines have been glittered to look so jazzed up.
Tutorial: skiptomylou
DIY Flip Flop Refashion: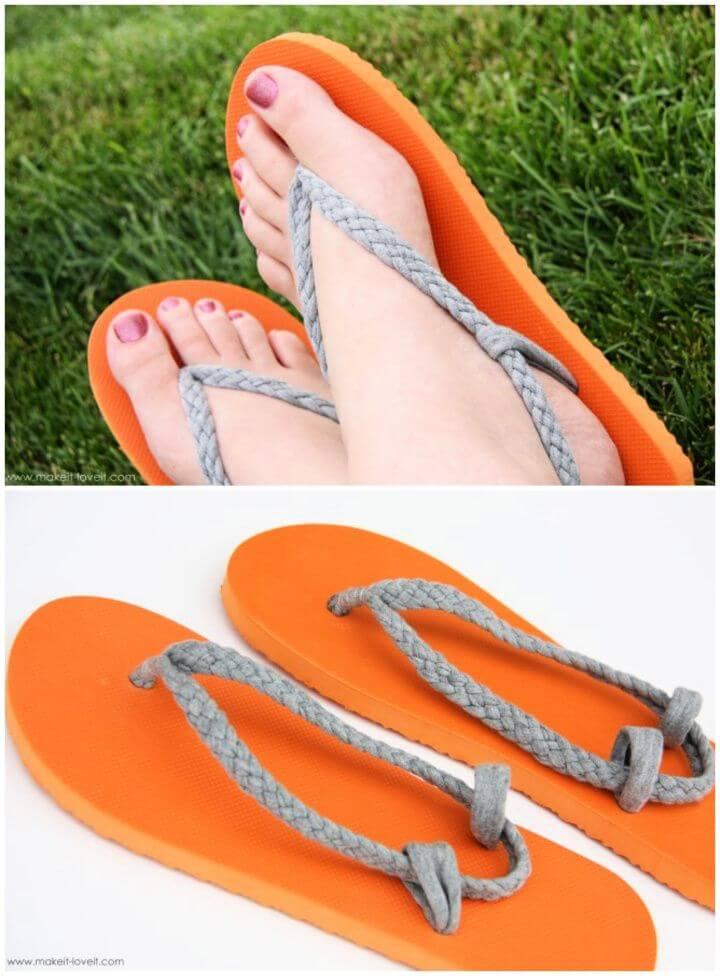 The feet are all happy in the summers to be wearing such light and simple sandals. So here is the idea of these DIY flip flop refashion to get your hands on. The straps here have been replaced with a braided knit fabric to look just too cute.
Tutorial: makeit-loveit
Make Your Own DIY Flip Flop Hanger: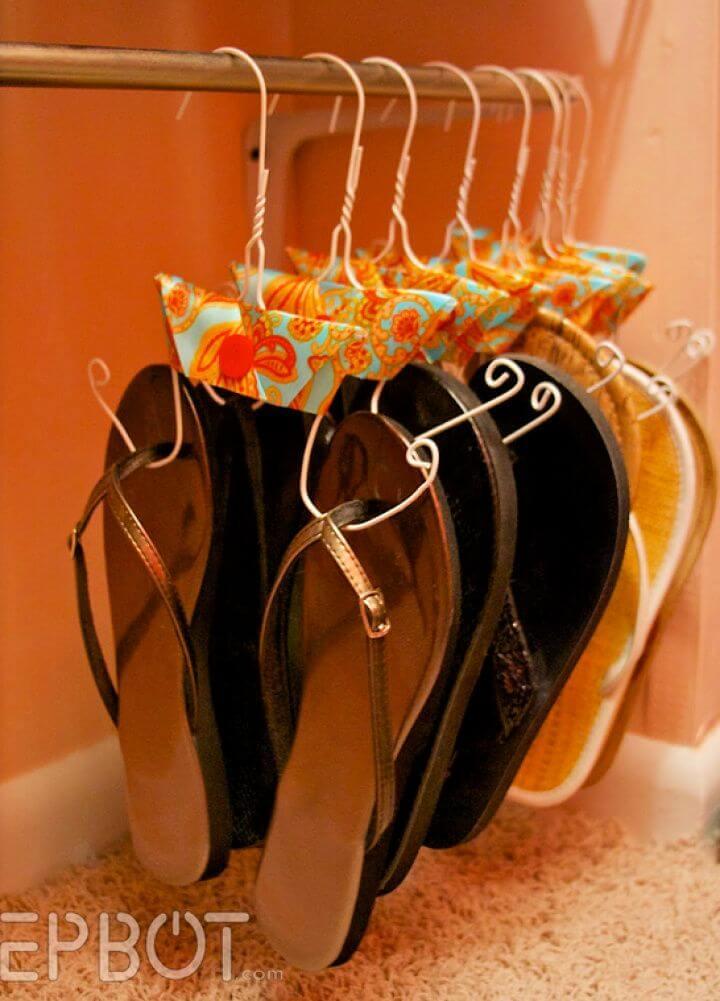 We all have some nice and cool pairs of flip flops to carry all summer long. Now you can organize your pairs of flip flops in a better-organized way with this flip flop hanger.
Tutorial: allcreated
DIY Water Balloon Flip Flops: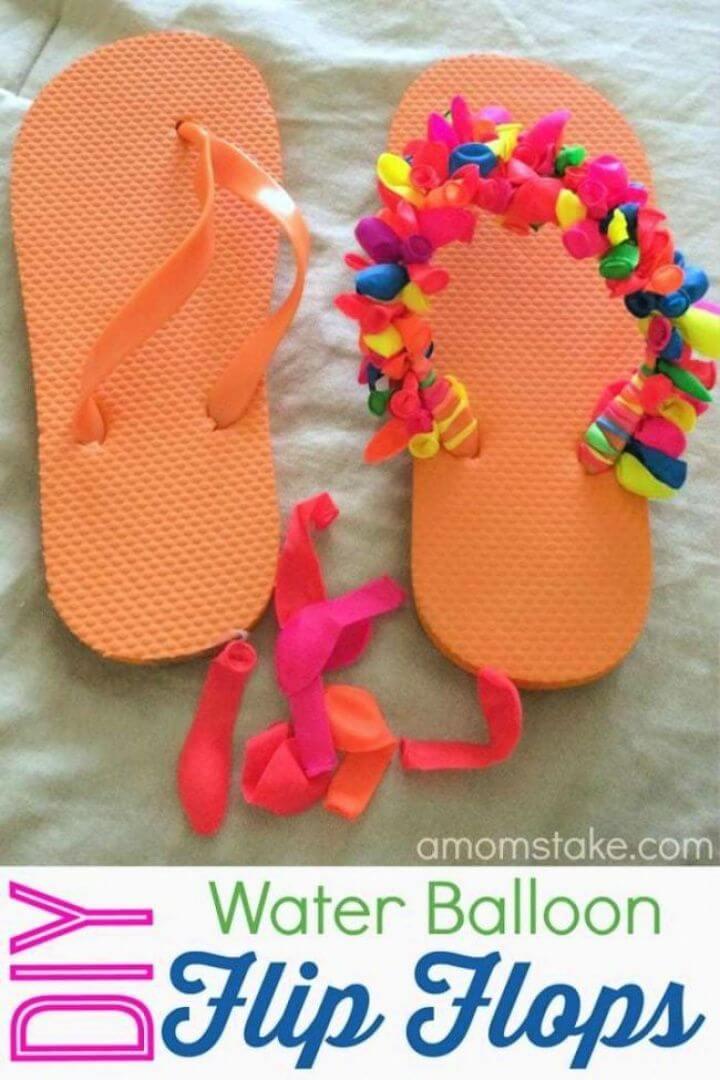 Make the flip flops for your little ones at home that too at the cost of just a few pennies. Here is this fun idea asking you to tie little colorful balloons on your flip flop straps and they are happy to go in the tiny feet.
Tutorial: amomstake
DIY Dollar Store Flip Flop Sign for Summer: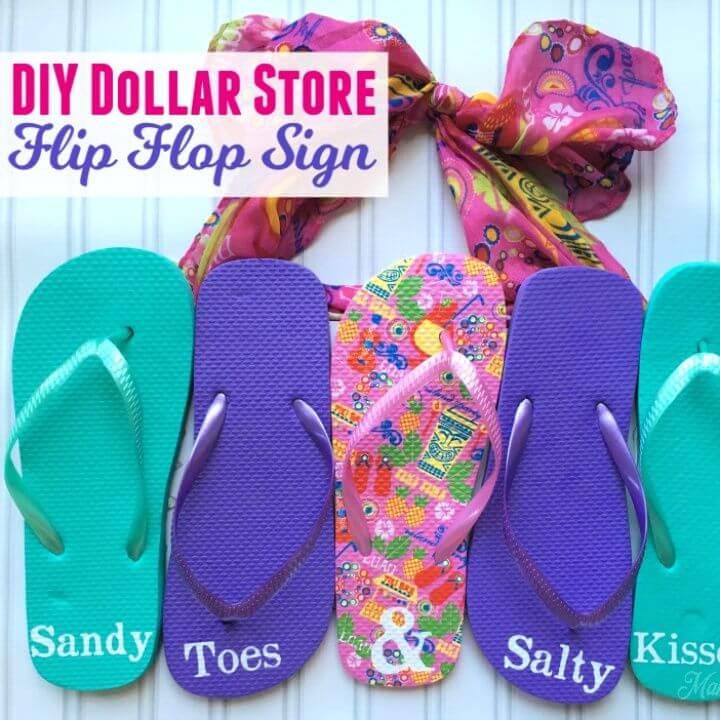 We love summers for the sea and the beach trips and now you can create this fun beach sign for your summer home. Using the colorful flip flops this lovely and inexpensive sign is super easy and fun to make.
Tutorial: mamacheaps
DIY Embellished Flip Flops: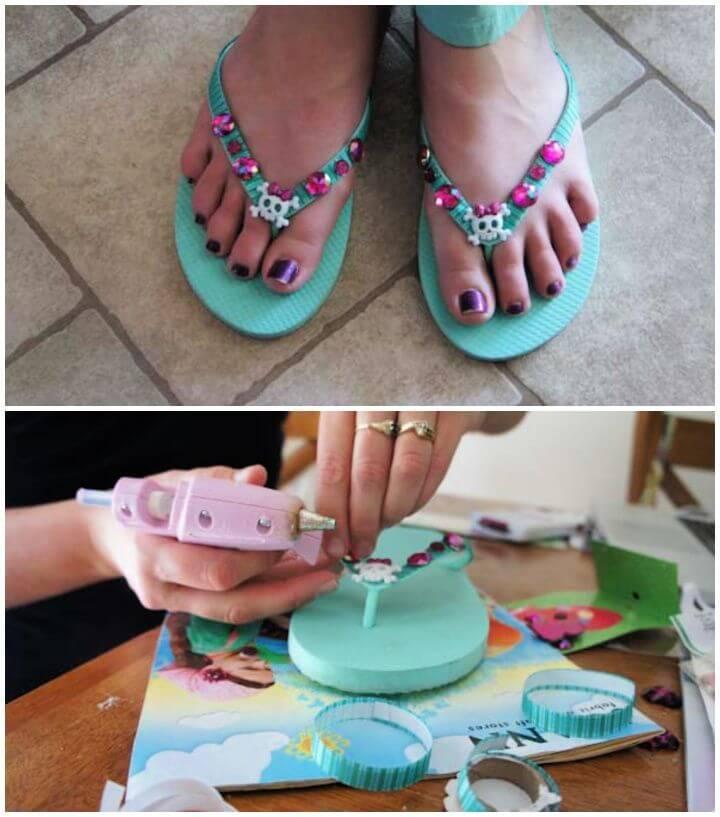 Flip flops are the comfiest things for the summers and now you can style them at home. Here are these pretty flip flops looking so cute with the added studs, stones and cute little stud in the center.
Tutorial: justshortofcrazy
DIY Flip Flop Basket: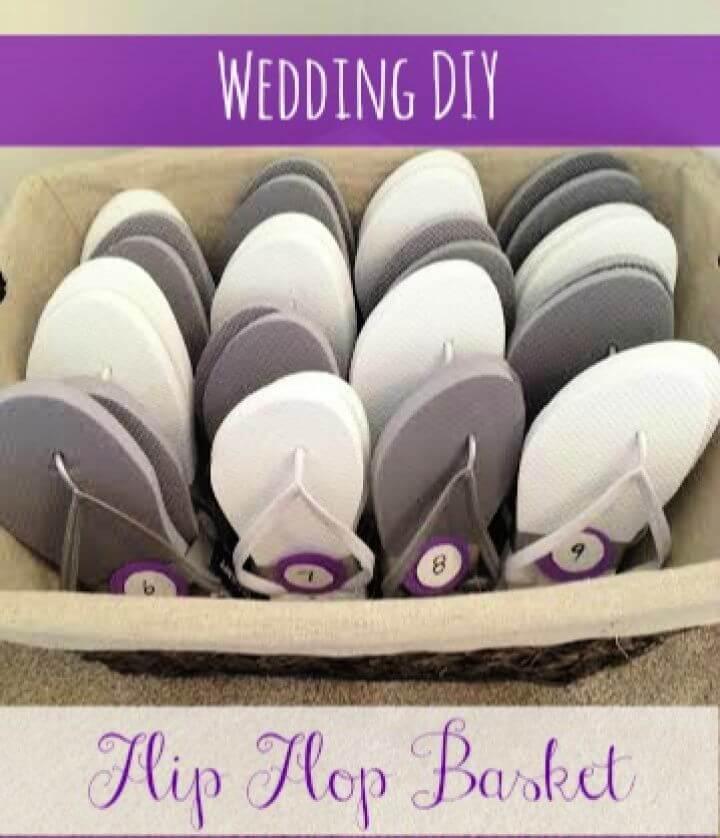 If you are preparing for the wedding these days then you should really be looking into this flip flop basket idea. This basket of flip flops would comfort your guests when they are tired of their heels and shoes.
Tutorial: abrideonabudget
DIY Flip Flop Welcome Sign: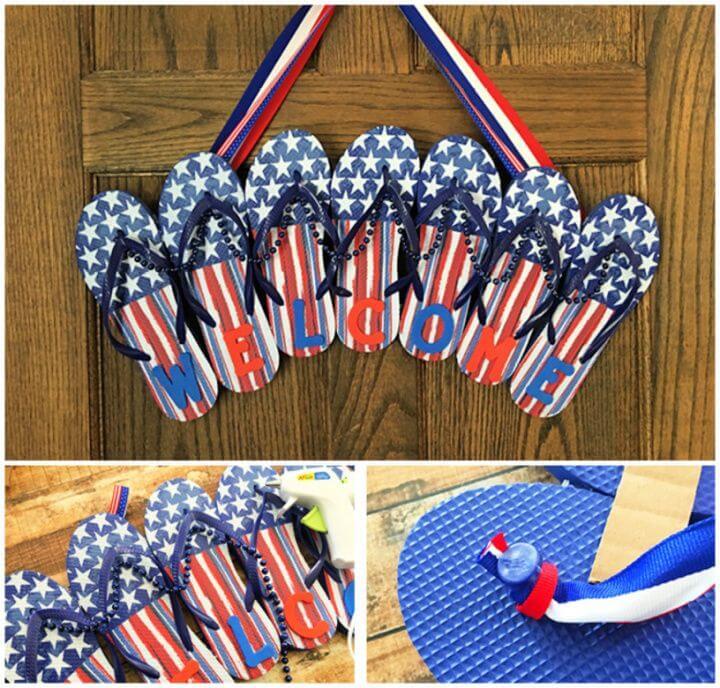 Welcome summers in the most patriotic way with this DIY flip flop sign. Using four pairs of flag flip flops, foam letters and the blue beads you can easily shape up this pretty welcome sign on your own.
Tutorial: craftcreatecook
DIY Flip Flop Garland: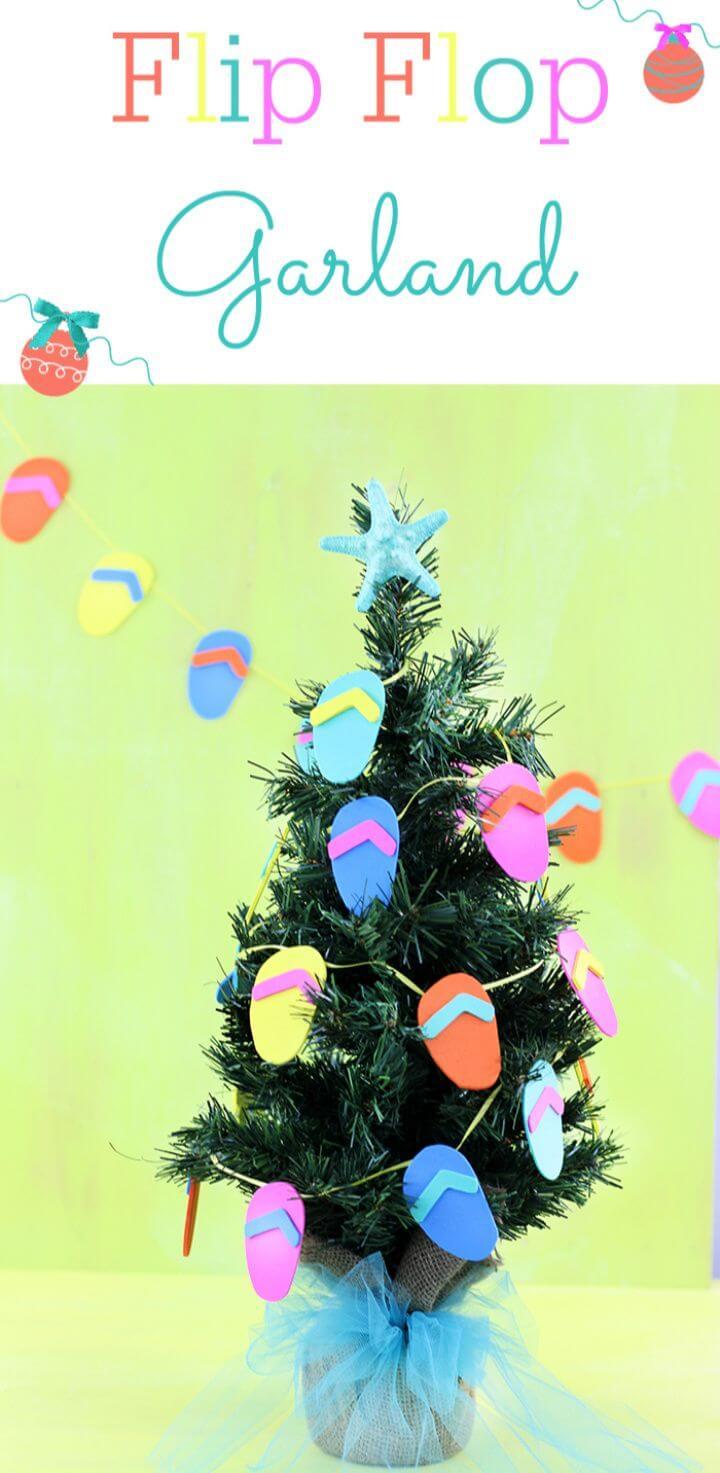 If you are also celebrating Christmas in the hot weather then getting your hands on this flip flop garland is a fun idea. Out of colorful foam sheets, you can cut out some cute and colorful flip flops to decorate your tree and more.
Tutorial: cutefetti
DIY Flip Flop Memo Boards: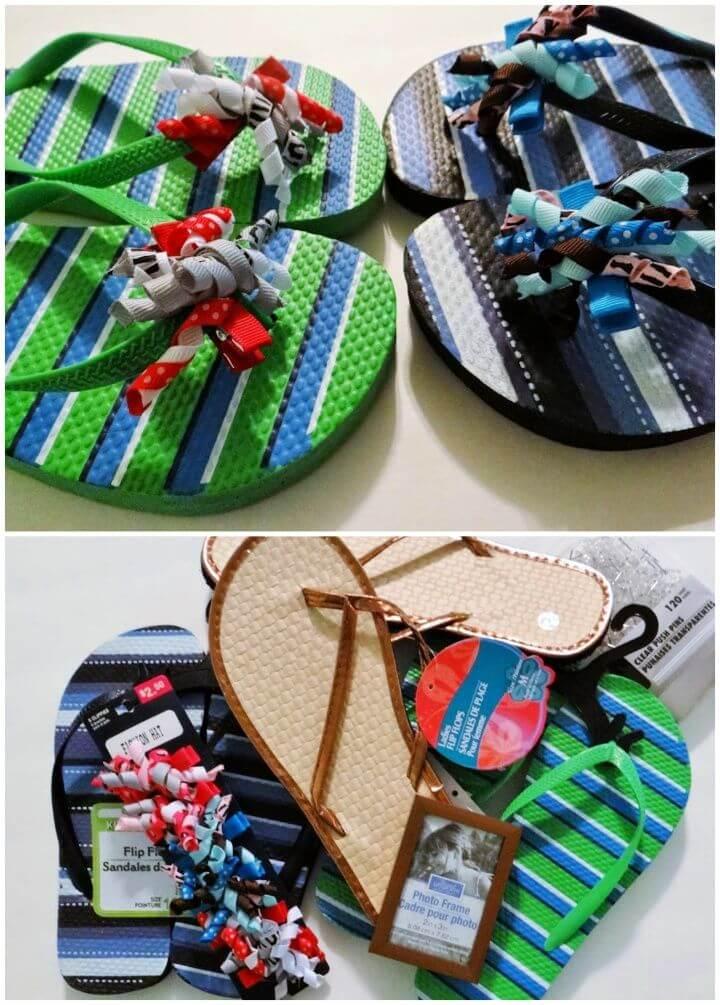 If you have some colorful pairs of flip flops then you are going to love this idea of flip flop memo board. Embellish your flips flops and add your favorite photos, tags and the cards and your cute memories are ready for giving away or the display over walls.
Tutorial: ruralmom
DIY Flip Flop Coasters: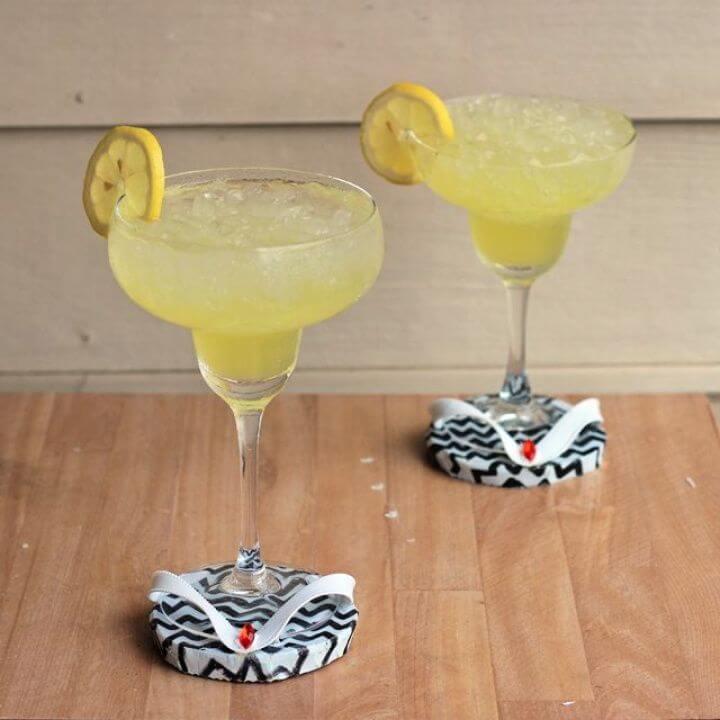 This is the most adorable and the cutest flip flop idea ever. These DIY flip flop coasters are really going to drool over them. They are easy to make out of the flip flops and some ribbon in cute little round shape. You can use a pack as the gift idea too.
Tutorial: shrimpsaladcircus
DIY Flip Flop Keyring: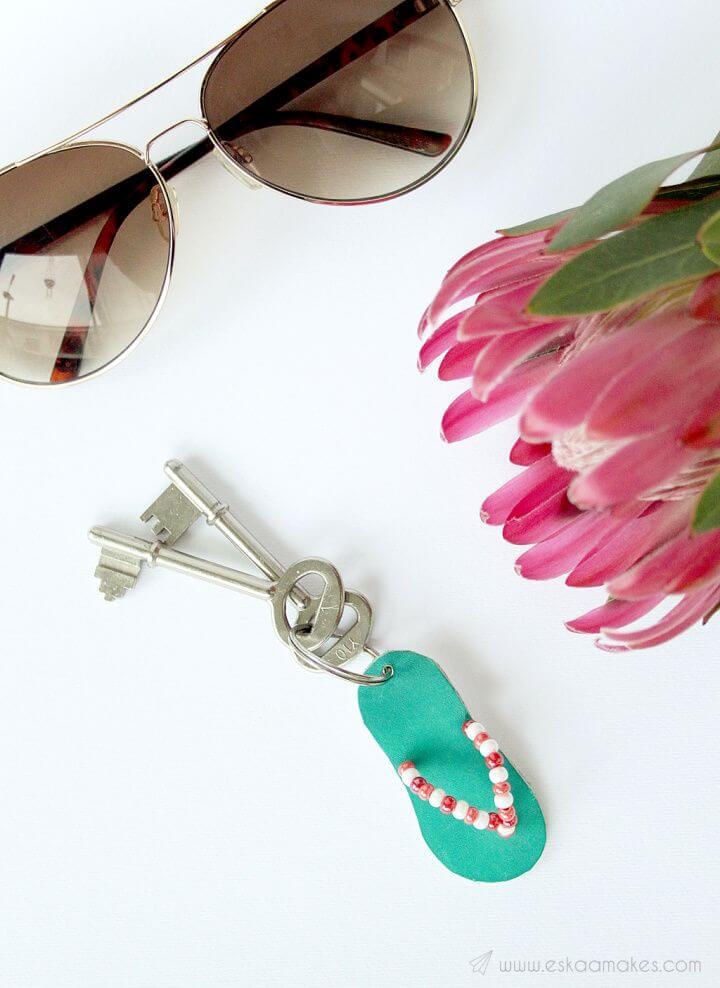 Summer crafts can be inspired by anything that you love in the summers just like this cute keyring is inspired by the flip flops. The tiny and adorable flip flop is leather made with beaded straps and works as the cutest key chain. Make a bunch of them use around as adorable gifts.
Tutorial: eskaamakes
Apply Heat Transfer Vinyl To Flip Flops: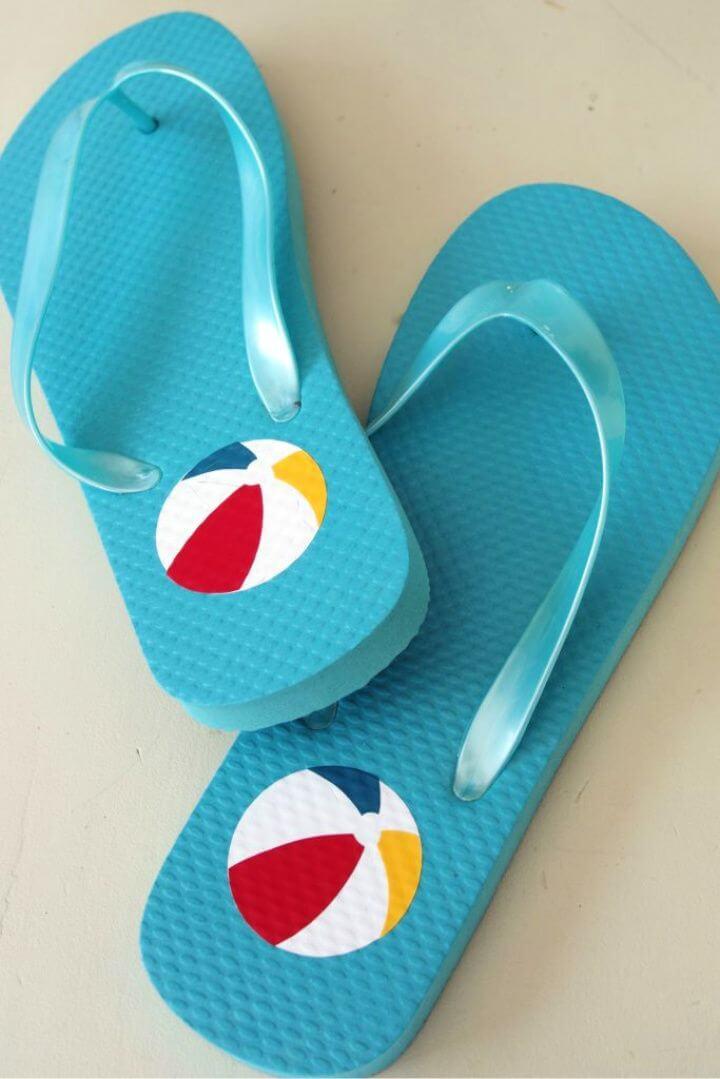 Before going to the beach you can add beach embellishing to your beach possessions and flip flops are also one of them. You can use the craft of transfer vinyl to turn your flip flops into the beautiful beachwear for your feet.
Tutorial: createandbabble
DIY Braided Ribbon Flip Flops Tutorial: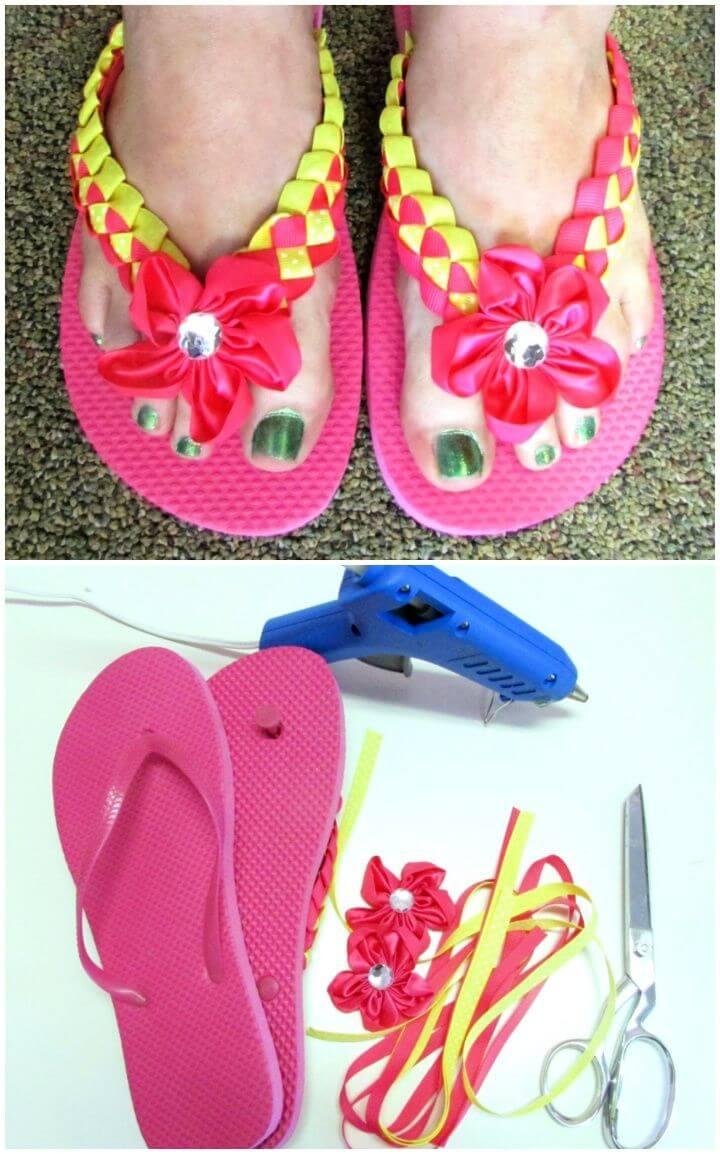 Flip flops are fun for the feet during the summers as you can pair them up with any of your clothes.  Remodel your flip flops with the ribbon braids and flowers to look more summer-ready.
Tutorial: alwaysunderpay
Easy DIY Flip Flops Idea: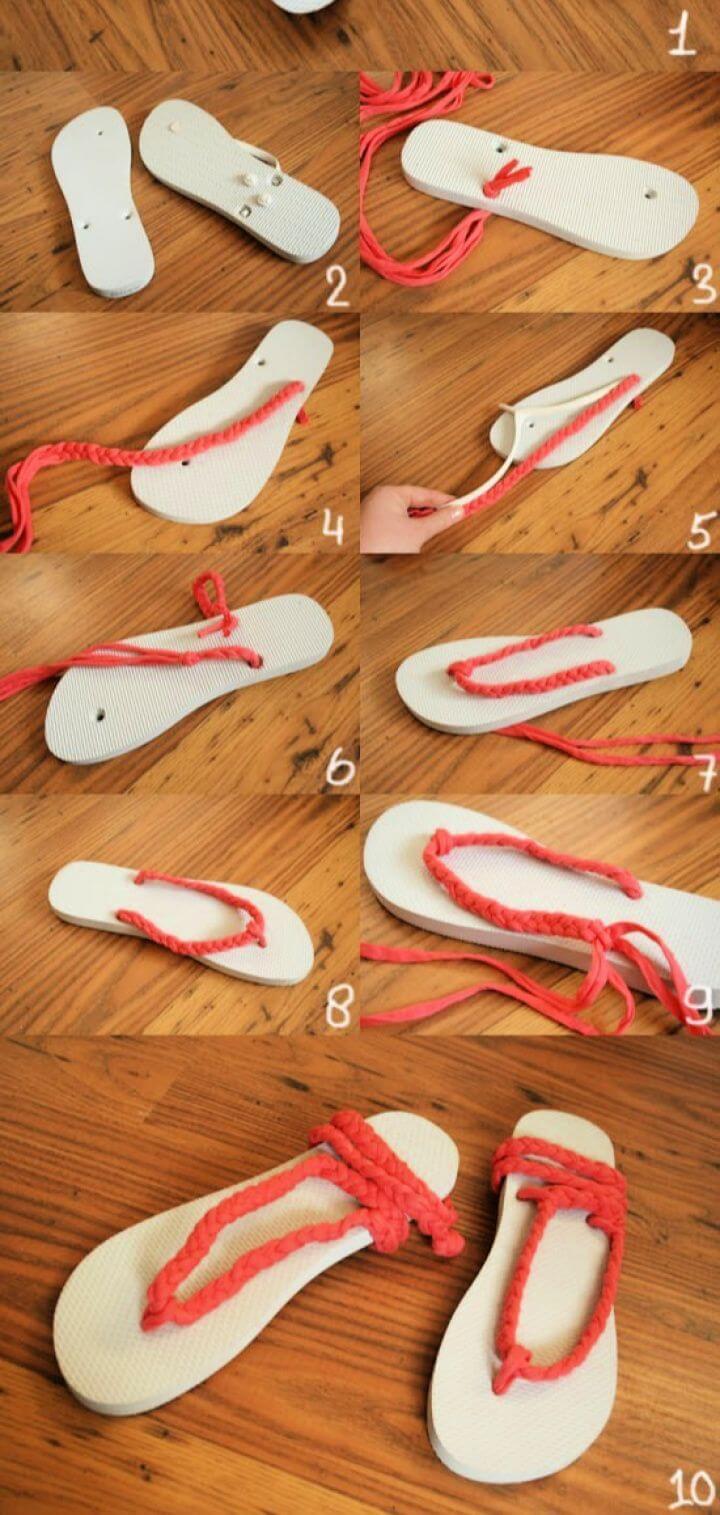 Here is how you can make the most out of your fabric scrap with this idea of DIY flip flops. All you need to do is just create braids from the fabric and use them in the place of your flip flop straps.
Tutorial: bywilma
DIY Key West Flip Flops & Rock The Flop Linky: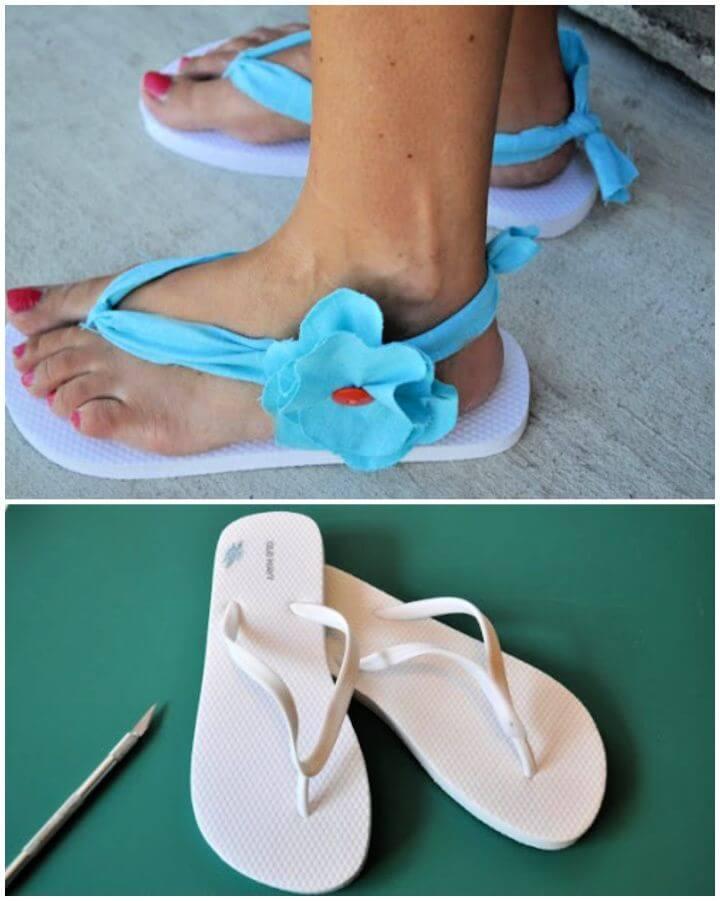 There is no charm and fun in the regular bought pair of the flip flops. You can make your flip flops look all whimsy and cool with this DIY idea. The fabric straps and the flower really add oodles of charm to this pair.
Tutorial: web.archive
Fun & Funky Flip Flops: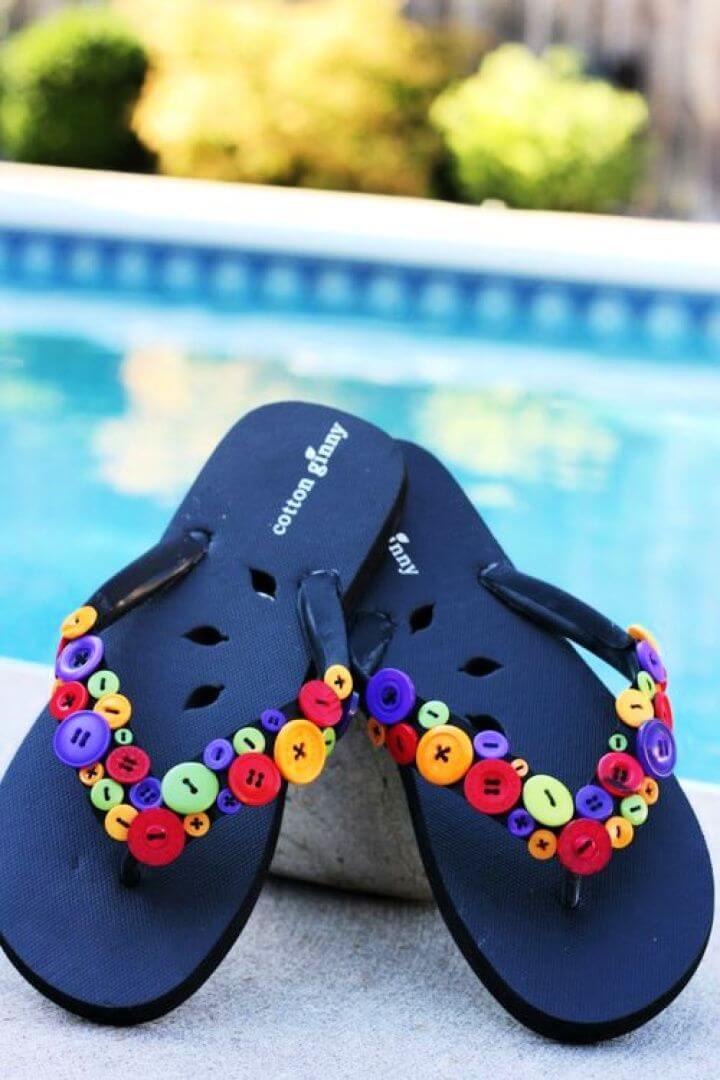 Add some appeal to your plain and boring flip flops and that too with the buttons lying around. Just get all the colorful buttons lying around and stitch them up on the straps of the flip flops and rock your summer look.
Tutorial:  scrapbookandcardstodaymag
DIY Fabric Flip Flops: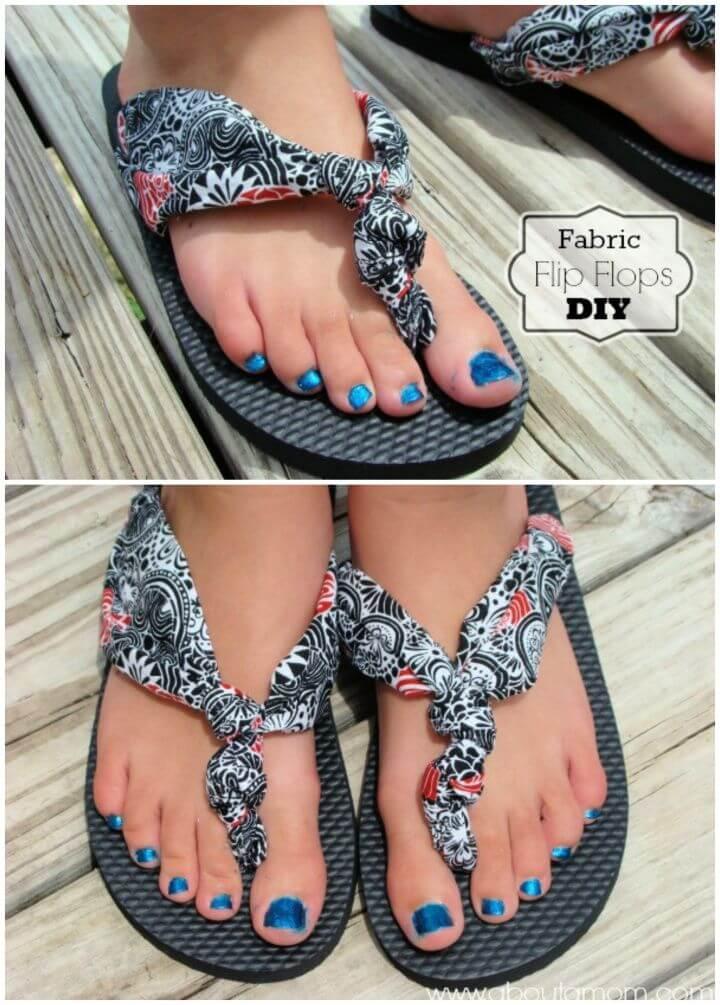 How about paring your hand-sewn top with the handmade matching fabric flip flops for a casual summer look. Just remove the straps of your flip flop and add the left out pieces of the fabric instead and it's done.
Tutorial: aboutamom
DIY Strappy Flip Flops: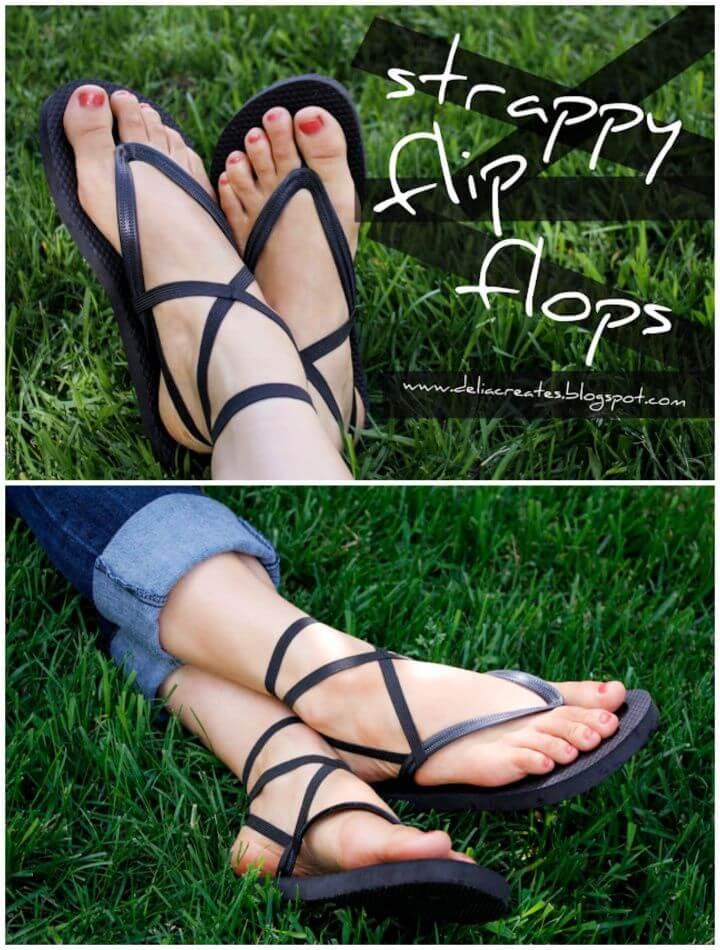 The ankle strap flip flops or sandals are quite in fashion during the summers and now you can create a pair on your own. Here are these gorgeous DIY strappy flip flops to look just so fancy and stylish in.
Tutorial: deliacreates