If you are the one person with a firm mantra of recycling and reusing paper products, these DIY projects with cardboard are your own personal realm then! With these 18 DIY Projects With Cardboard ideas, you can recycle and reuse cardboard to design something adorable with a lot of fun added in the crafting activity.
These craft ideas are so adorable and catchy that you can fall in love with them at very first sight. You can create a cute cardboard cloud, and light it up with lights, talk about some charming cardboard jewelry. After exploring through our collection of these DIY cardboard crafts, you can have plenty of ideas for storage, especially. Forget about wooden drawers or stuff, you can make fantastic storage boxes for clothes, jewelry, and whatnot with cardboard.
Having a huge cardboard monogram at your corner table can gear up your decor game, big time. The best part is with pins; you can even attach and organize your important documents. Brace yourselves for some brilliant DIY projects with cardboard. You are going to try them all one after another. They are just SO appealing. This cardboard house was so easy to make. It only took one cardboard box and some tape. So much fun for the kids!
DIY Cardboard Drawers Tutorial – How To Make Cardboard Drawers
Cardboard drawers can be your funky corner of storage or collection. They can especially come in handy is storing your DIY or arts and crafts supplies. You can even tag the drawers or organize them by colors. Hit the tutorial for details.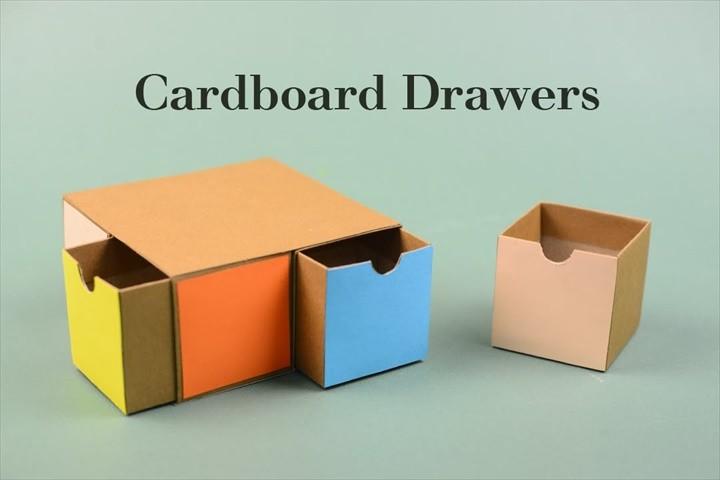 Tutorial: youtube
Embroidered Cardboard Bracelet:
This stately and eye-catchy bracelet is super easy to make by using cardboard as the base. Get hold on your sewing kit! Gather around some funky embroidery threads. Choose your stylish pattern! Get started by seeing the tutorial.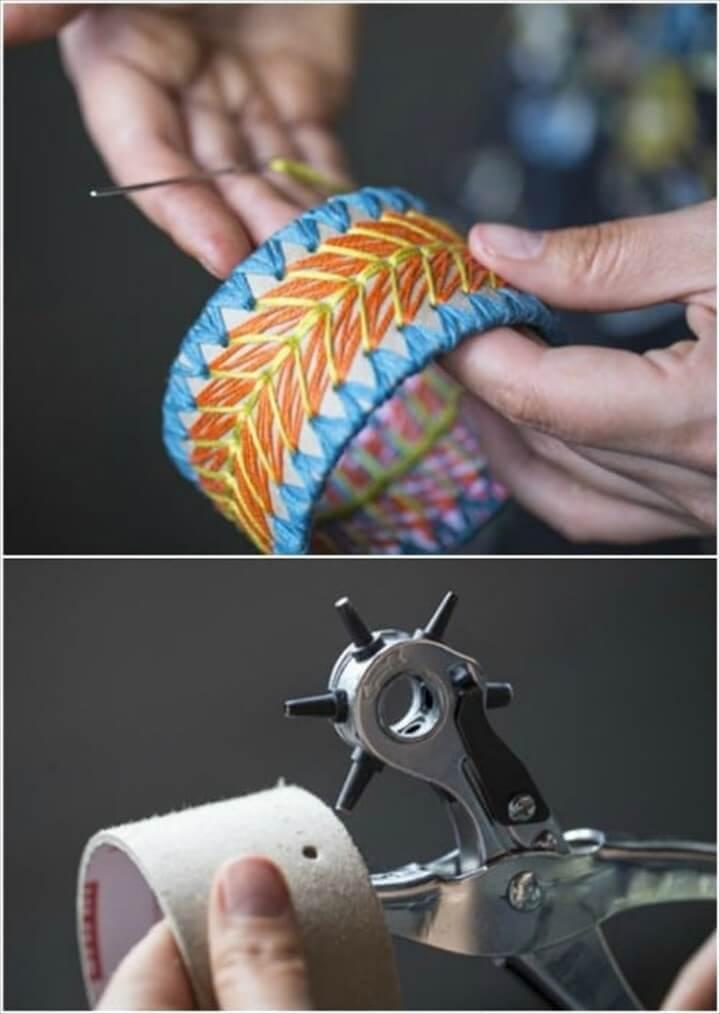 Tutorial: youtube
Cardboard Cloud With Lights:
Kids love clouds, and well, lights are everyone's favorite! With this tutorial, you can craft this soothing and beautiful cardboard cloud, laced with lights. To brighten up your little one's room at night. See details in the tutorial.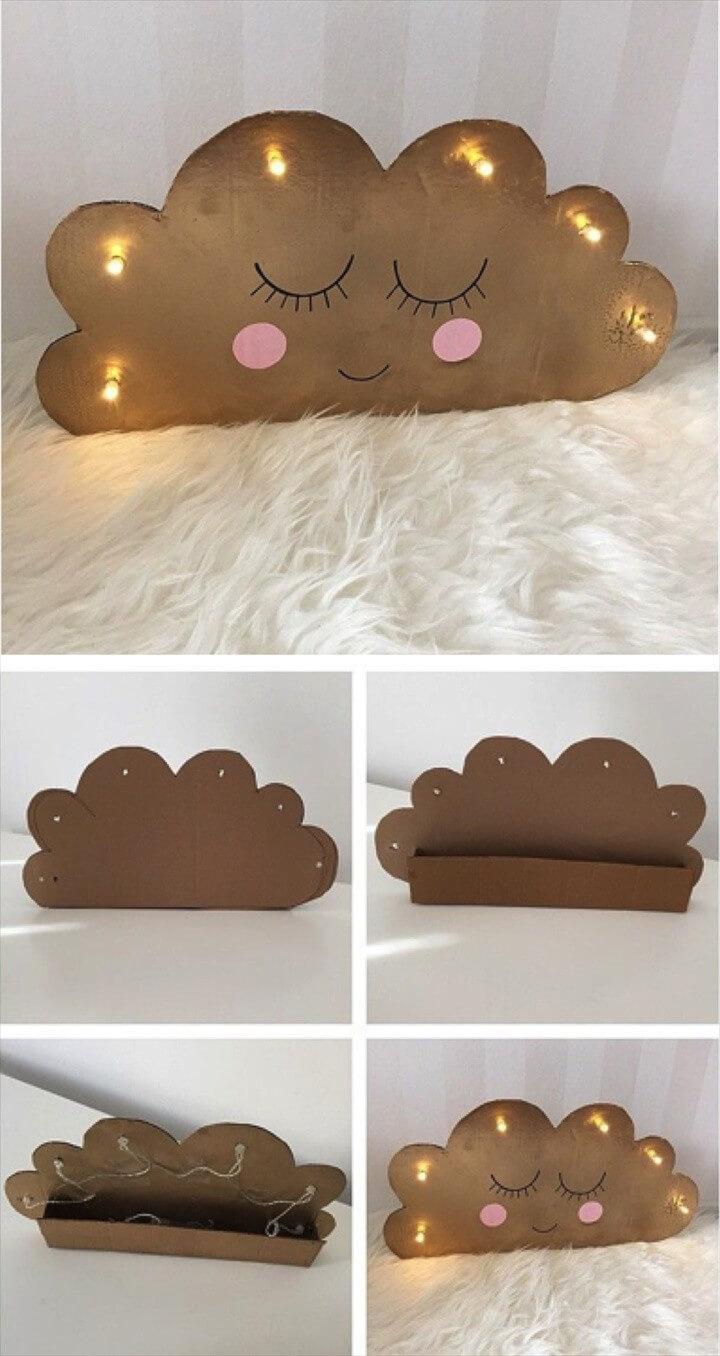 Tutorial: mommodesign
Teachers Day Gift Idea Cardboard Photo Frames – Photo Frame Tutorial
When the teacher's day is around the corner, and you still have to come up with a cool teacher's day gift for your kids! This iconic and memorable photo frame idea using cardboard as the base and stones as embellishment could be a hit in the school.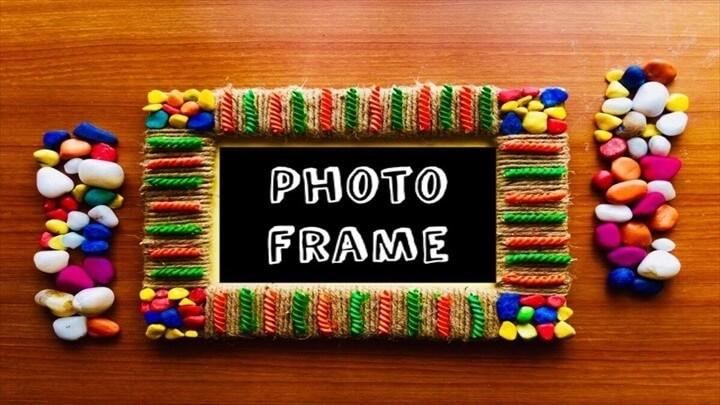 Tutorial: mycrafts
Easy Storage Projects With Up-Cycled Cardboard Boxes:
Never lose hope in an empty cardboard box. You can reuse it as your perfectly covered and adored storage box. You can cover it up by using an old sweater! Nothing fancy, nothing expensive! See the tutorial for details.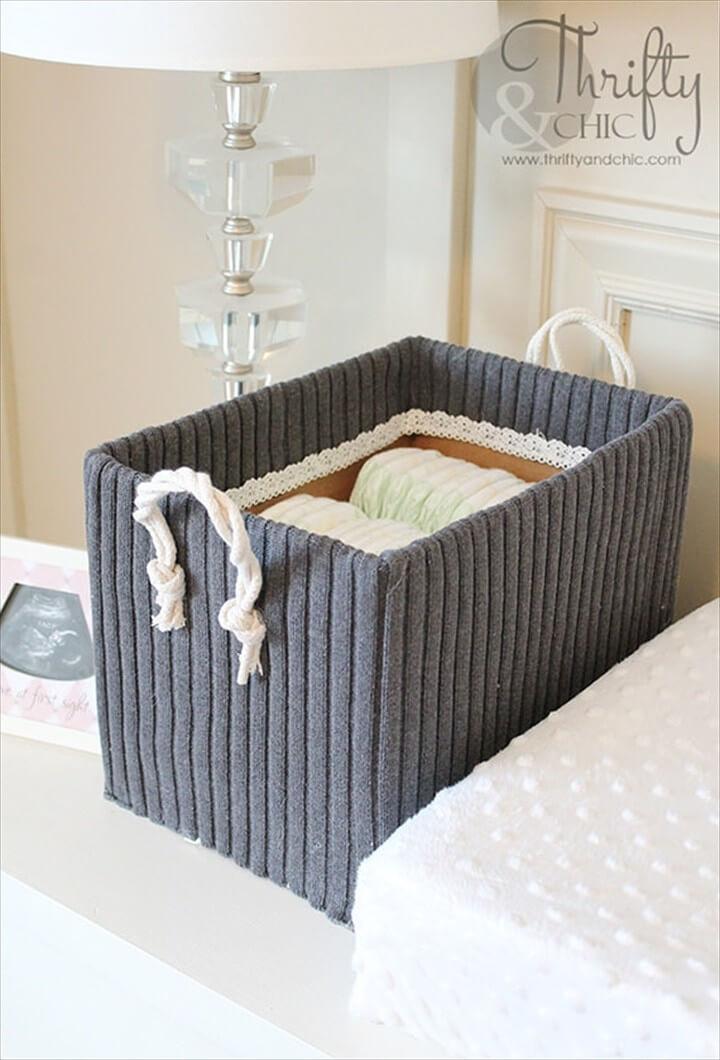 Tutorial: thriftyandchic
How to Create Jewelry Box Out Of Cardboard:
DIY Jewelry boxes are as important as the jewelry itself! They can make your life way more accessible in the mornings if you have got everything sorted out. With this tutorial, you can design a perfectly organized and pretty cardboard jewelry box.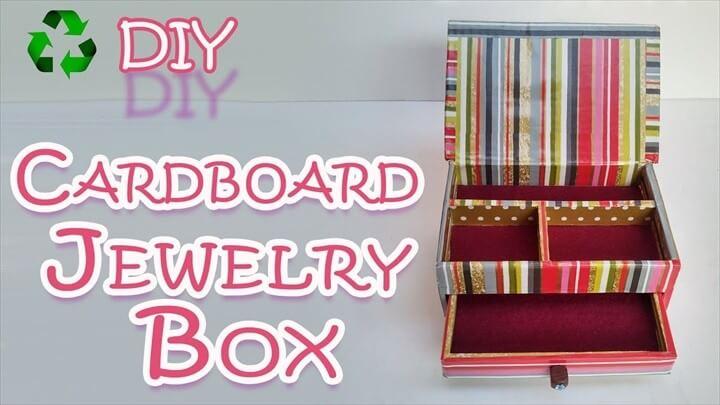 Tutorial: diyprojects
How To Turn A Cardboard Box Into Wall Art:
Looking for ideas to cover up an empty wall corner? Use sides of the cardboard boxes as the main background. Splash it up with the colors of your theme. Cut the left sides or panels as abstract shapes, and here you go!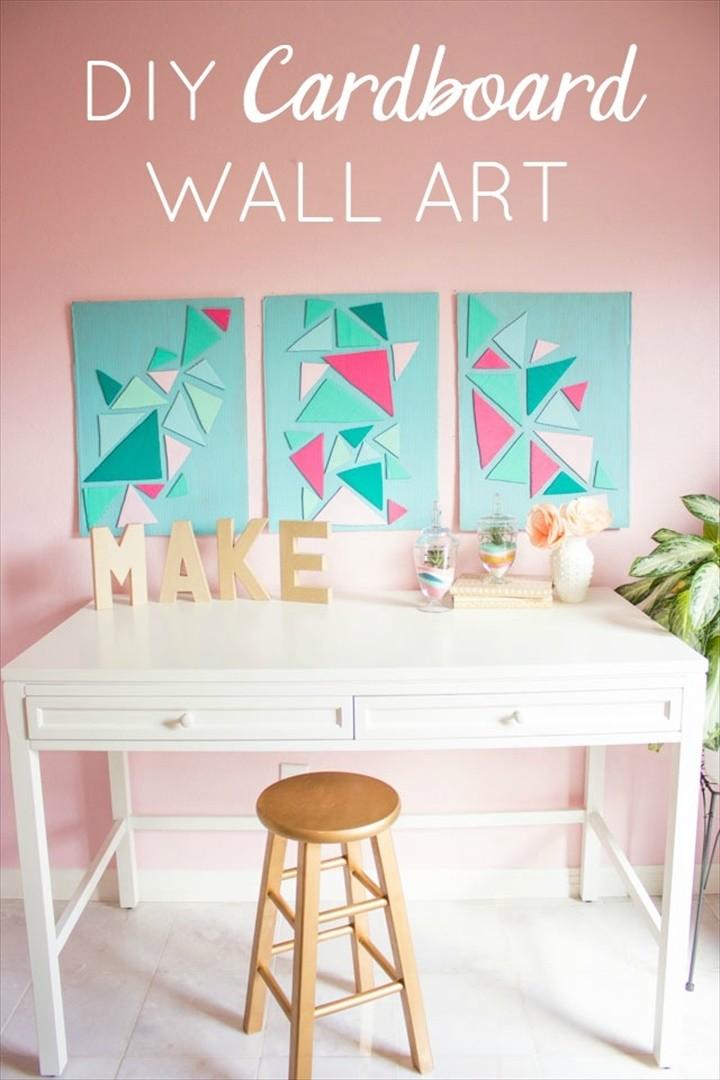 Tutorial: designimprovised
Cardboard Letters:
This tutorial suggests using a cardboard letter as the main base. Cover up the surface using some cardboard tiles or roll, with the help of a hot glue gun. The tutorial will walk you through the step by step guide and details.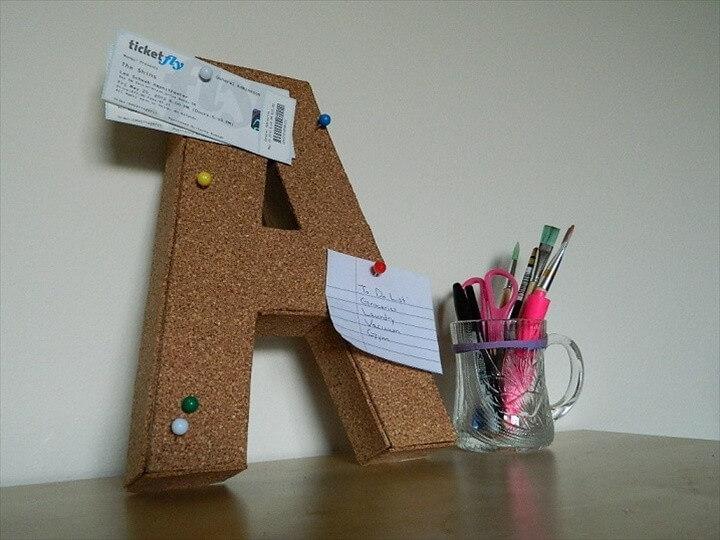 Tutorial: tattooedmartha
Cardboard Box Camera:
Make this ultimate fun DIY cardboard camera with your kids! Use some small cardboard box, a paper cup. Cosmetic bottle lid as the camera lens and some few other supplies like threads, ribbons, markers, etc., For full details, click the tutorial.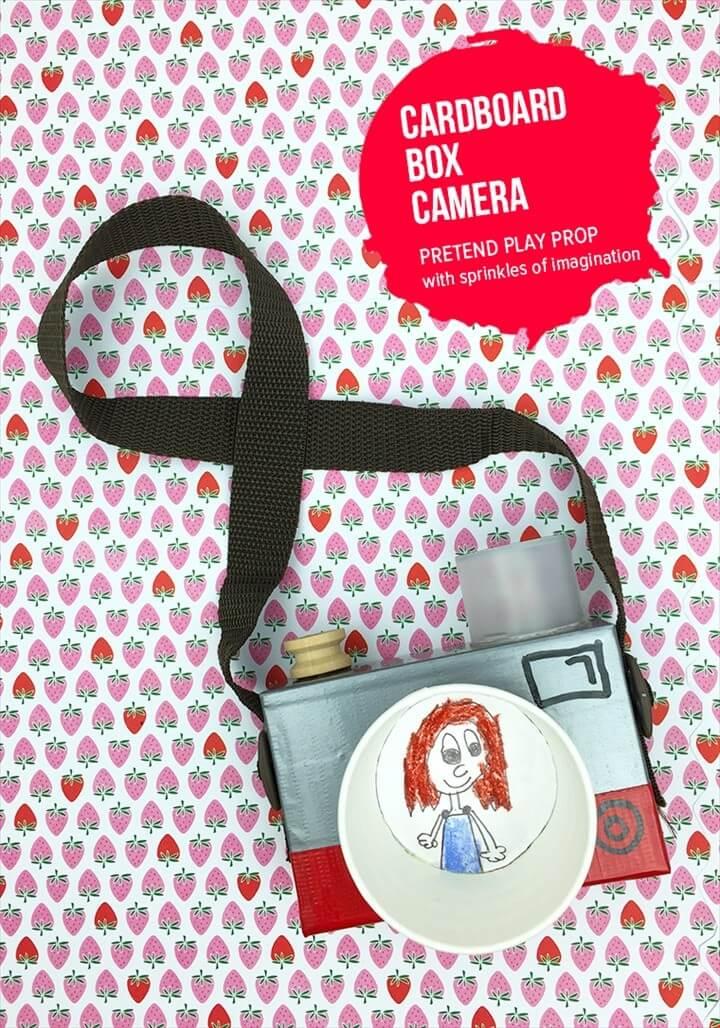 Tutorial: mollymoocrafts
DIY Cactus Pots:
Well, well with DIY in your basket you can have your own tiny cardboard cactus plants set up indoor. They will look be the cutest addition to your living room, your kitchen window, or maybe a lovely decor for the laundry room.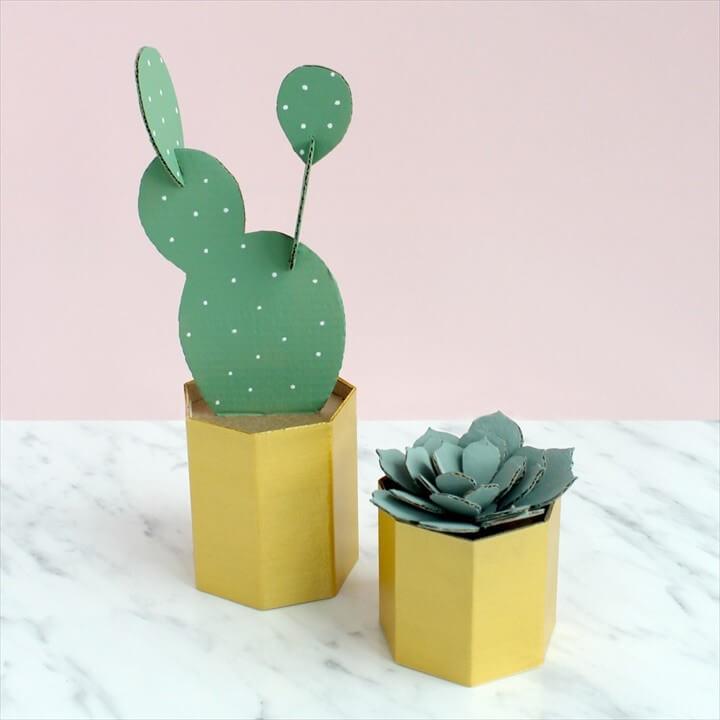 Tutorial: makeitfuncrafts
Cardboard Penguin Christmas Crafts For Kids:
Gather around some black and white paint. Some googly eyes and a bit of your DIY craft inner side. Craft these pretty and adorable cardboard penguins this Christmas or Easter for your little nieces or nephews. They are going to love these!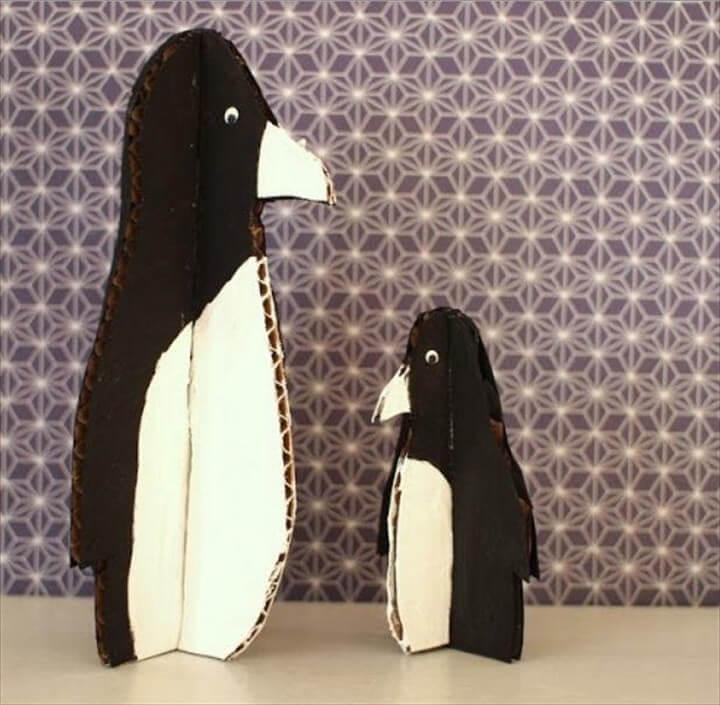 Tutorial: allfreechristmascrafts
Amazing Recycling Craft Idea From Old Cardboard Box:
Organize your old cardboard box by upcycling it into something useful, such as these storage boxes. To cover up the old outlook of the box, use some scraps of wrapping paper. See full details with steps in the tutorial section.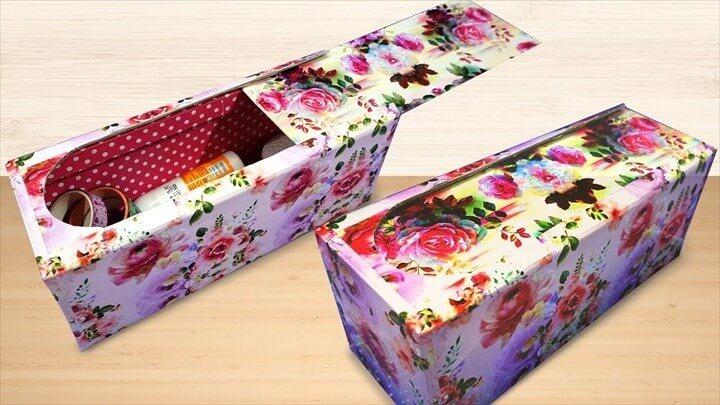 Tutorial: youtube
Adult Puzzle Games Wall Decor DIY Crafts Cardboard Rhino Head:
Give your kids a crafty afternoon by making this fun to assemble the cardboard puzzle of a Rhino head. One, it's easy to make. Two, kids would get addicted to completing it. This could be full of a productive fun day for your little ones.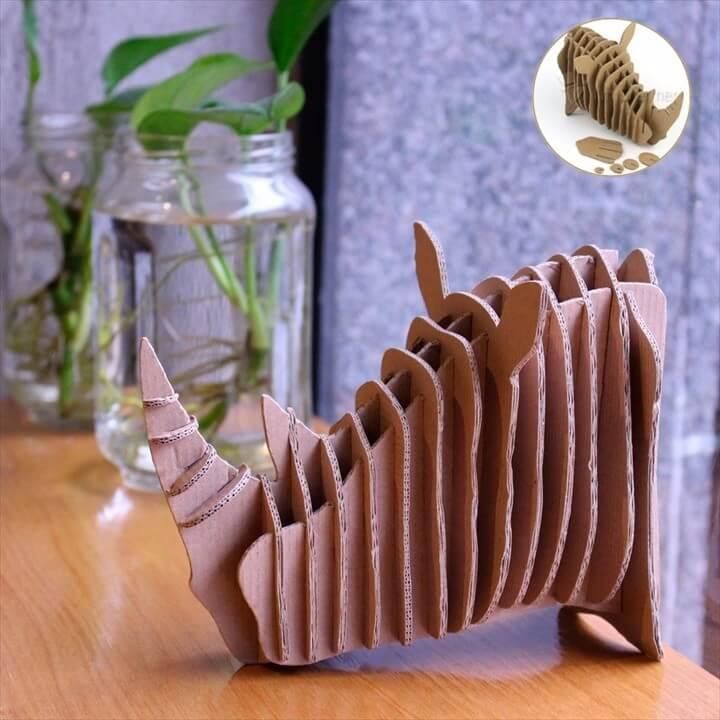 Tutorial: youtube
Cardboard Bookmark Tutorial:
These adorable cardboard bookmarks can add more soothing and positive vibes to your readings! These are all easy and fun to make. This tutorial suggests plenty of options for kids too. To make everyone fall in love with reading.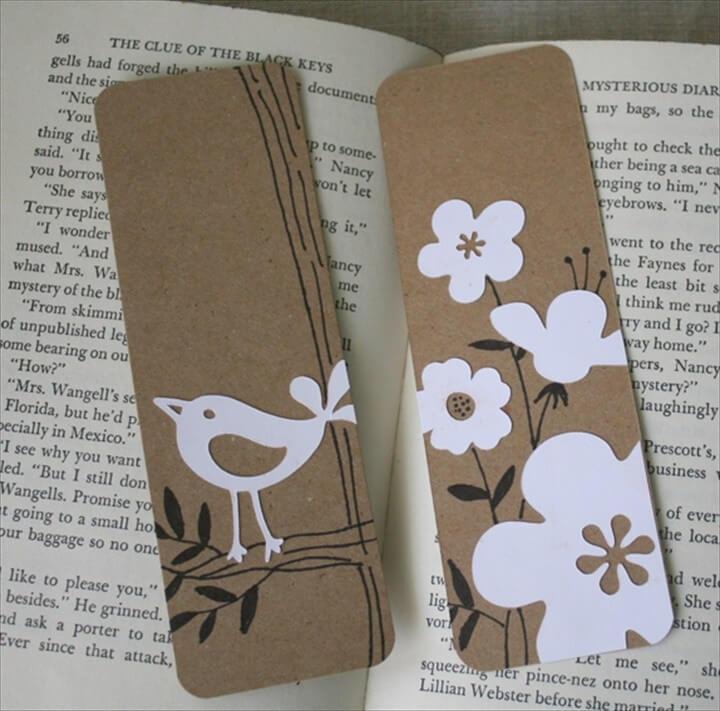 Tutorial: favecrafts
Cardboard Pumpkin Stamp:
By using some tape, hot glue and scissors turn an ordinary and boring toilet paper cardboard into this fun and funky pumpkin stamps collection! Make the cardboard to craft a cool pumpkin stamp. For step by step guide, hit the tutorial.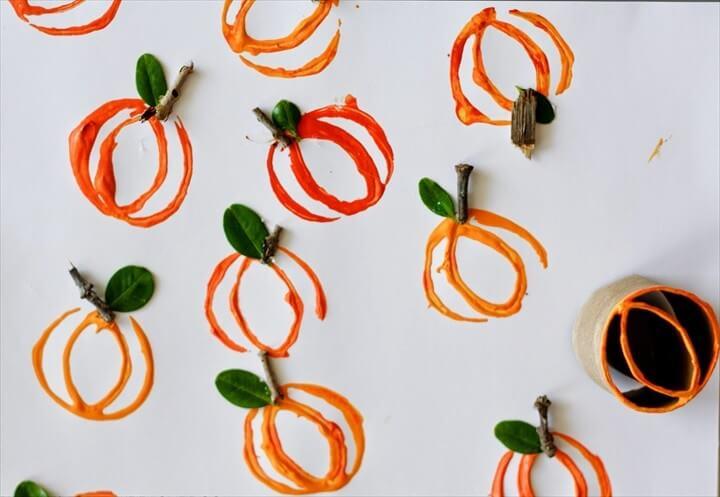 Tutorial: makeit-loveit
Ideas With Cardboard – DIY Cardboard Pie Box
Self-cooked homemade stuff for a house warming party or a new year's goodwill idea can spread love. With this cardboard box idea, you can spread love in a totally recyclable box. Plus point, personalize the lid as you desire.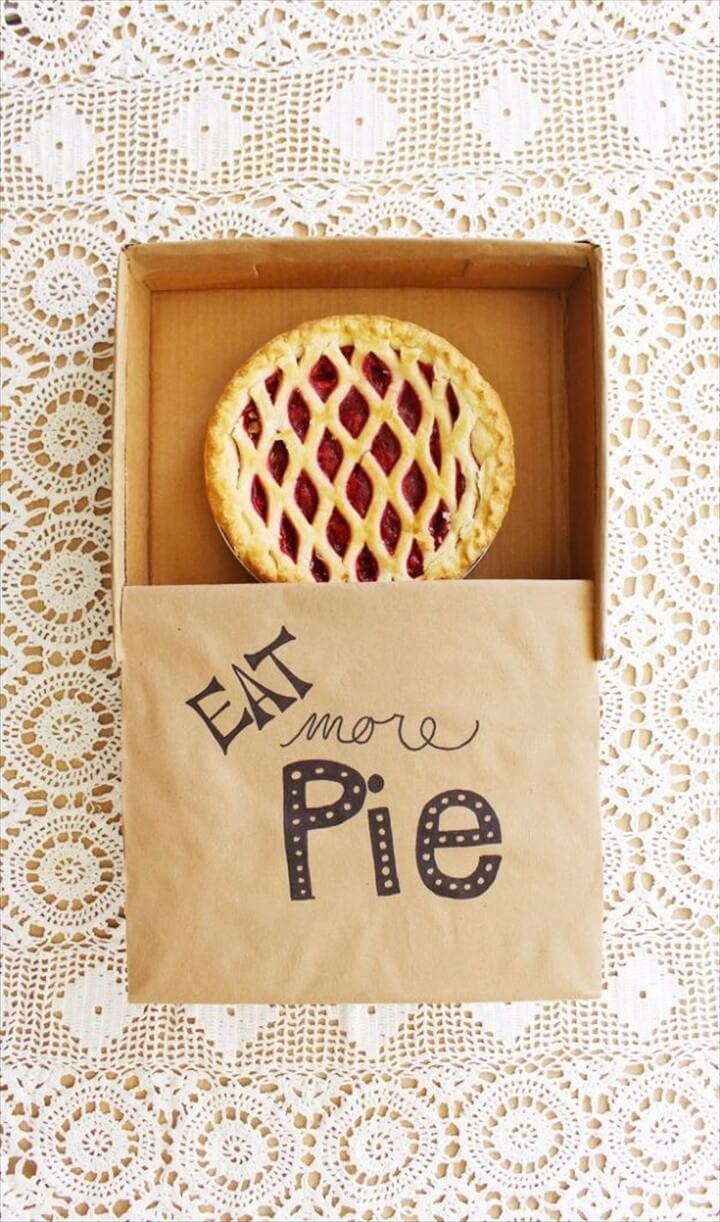 Tutorial: ajoyfulriot
DIY Cardboard Cacti – How To Make Room Decor Crafts
IF you love indoor plants but can't keep up with the careful routine of care. Or you have a kid or pet to look out for. Craft these tiny and adorable cardboard cacti plants for your room and make your own personalized plants corner.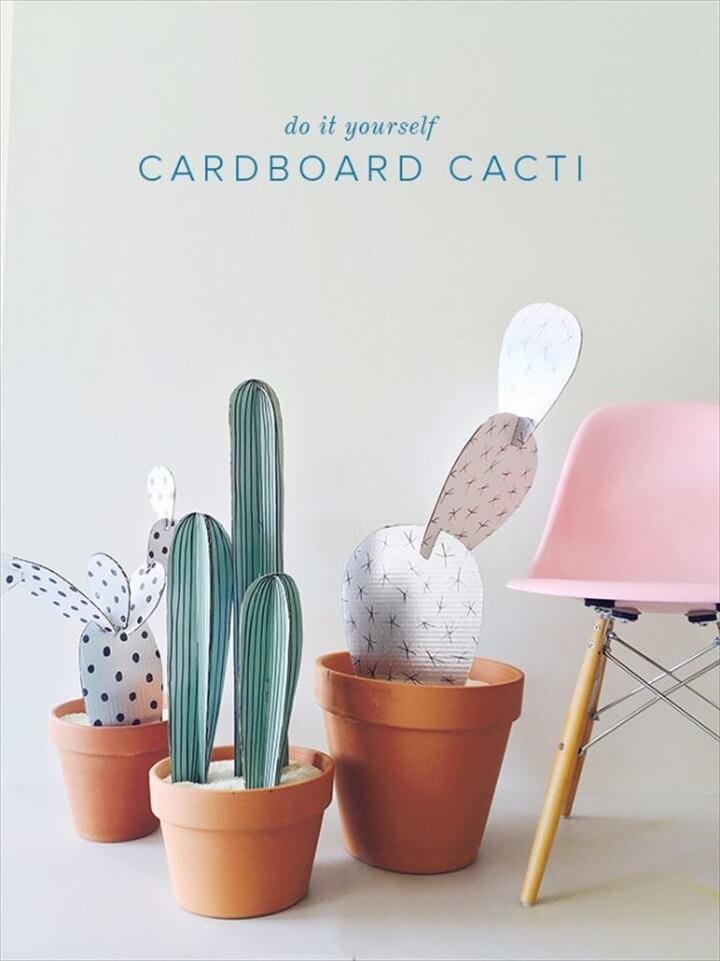 Tutorial:  thehousethatlarsbuilt
Ring Toss Game DIY:
To have an absolutely fun outdoor afternoon with your kids, design these funky cardboard rings. The crafting part could be fun itself but then using something to make a whole game out of it, will keep the kids happily occupied.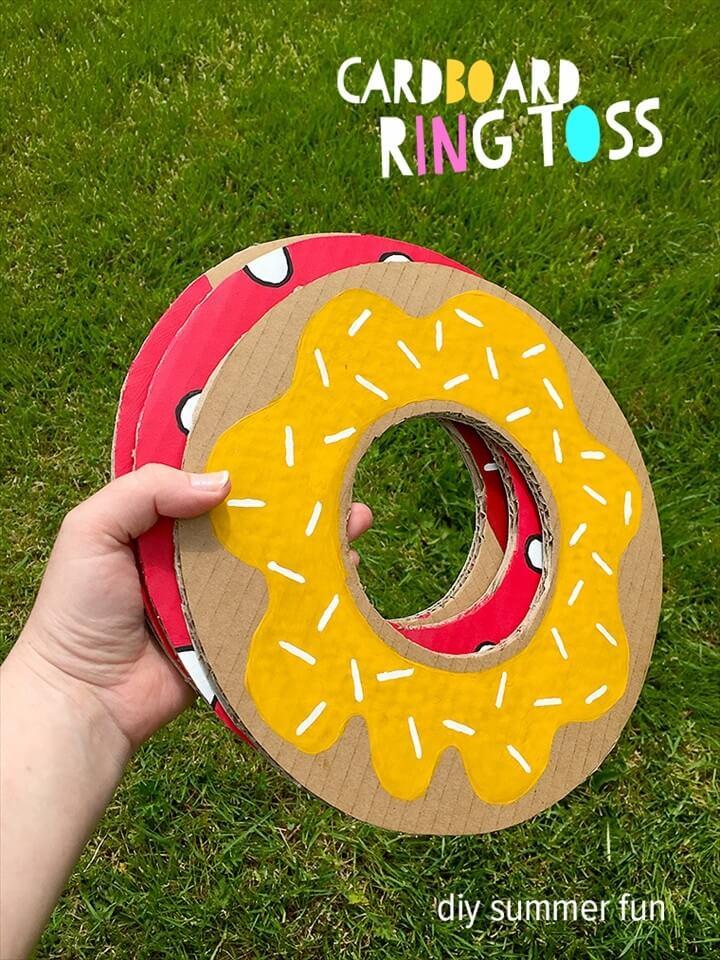 Tutorial: thriftymommaramblings
All of these DIY projects with cardboard are made using supplies readily available at home. Nothing costly in included in the ideas. The best part is that the ideas we have gathered here are suitable for all ages. Be it an adults room decor or a kid's room setup. You can get plenty of storage ideas out of this and well, many happy game day ideas too!