If you listen to the cry of the empty walls carefully, you will know how desperately they want some chic and gorgeous piece of wall hanging to look complete and functional. Whenever we Google for the wall hanging ideas, crochet wall hangings are sure to pop on the top for being in trend these days. Now you can make those lovely and eye-catching crochet wall hangings at home with the help of these 14 Crochet Wall Hanging Patterns To Try Today. Either your walls crave for the colors, texture or the vintage beauty of pure crochet art pieces, these lovely crochet wall hanging patterns are apt to go for.
You can use the yarns of your choice and colors to make these pretty crochet wall hangings so that they bring perfectly matching décor vibes to your whole spaces. For the winter décor, you can opt for the neutral and subtle yarn shades and the patterns with heavy designs and textures. Summers are great to play with some delightful patterns and the yarn hues so the ideas like crochet rainbow, alpaca and the mandala wall hangings are perfect for this chirpy season. Each wall hanging pattern comes with details and tutorials via links attached!
You May Also Like:
Crochet Wall Hanging Pattern: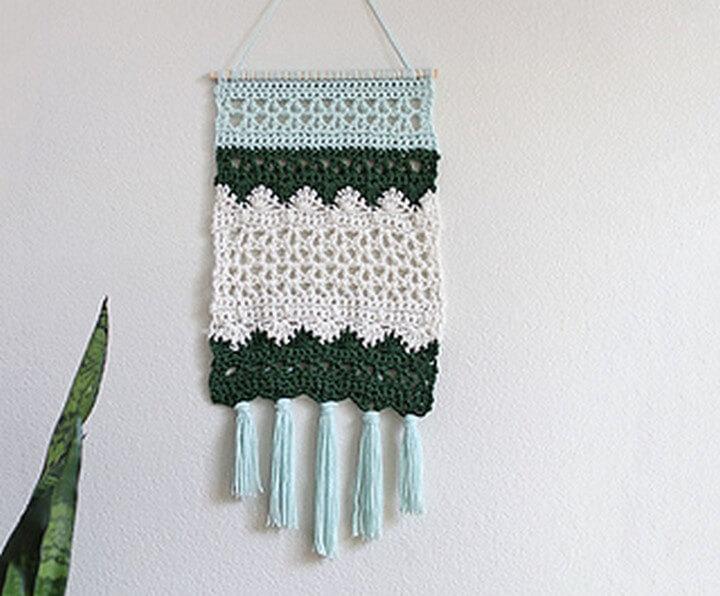 Style matters, especially when you are dealing with the interior decors. Use yarn to bring grace to your blank walls. A smart way will be to crochet this wall hanging appearing in green white and aqua colors. It impresses with the wavy design pattern and also with the bottom tassel trim. Details here
Tutorial: ravelry
Alpaca Wall Hanging Pattern: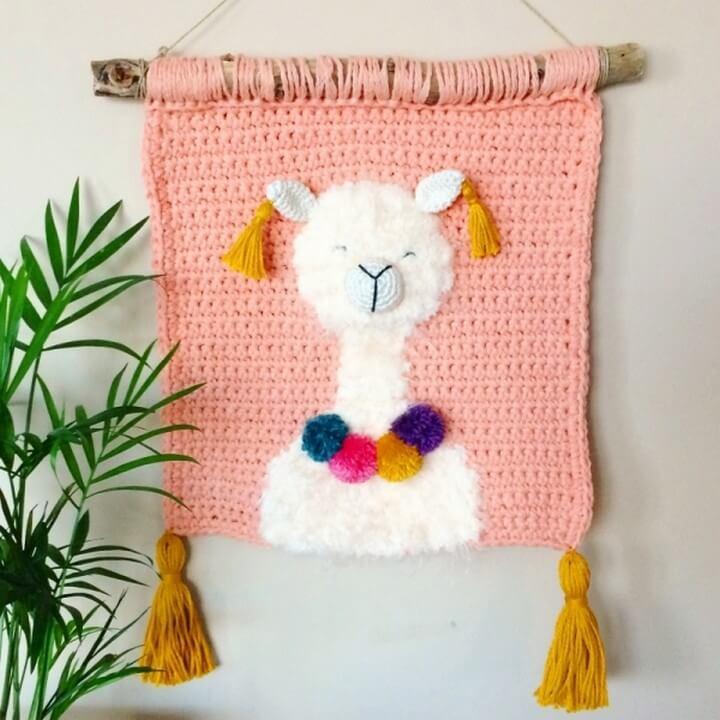 Feature alpaca to an ambiance of a room for a unique style. But this yarn alpaca wall hanging will bring coziness too to a particular place along with an instant visual boost to a wall. The finished size of this wall hanging is 30 x 26 cm, and it a beginner crochet pattern.
Tutorial: allcrochetpatterns
Rainbow Wall Hanging: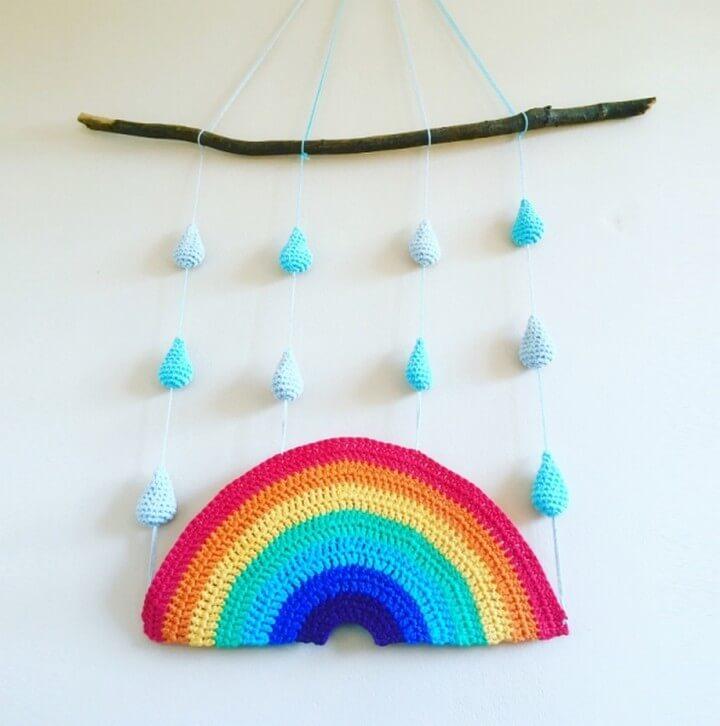 Create a fantastic nature scene on any of your walls with this rainbow wall hanging. A smartly crocheted wall hanging, the best yarn 3D wall painting. The completed size of the rainbow is 19cm x 39cm, while the stuffed droplets are 6cm x 4cm well strung up for making raindrops.
Tutorial: allcrochetpatterns
DIY Knit/Crochet Wall Hanging: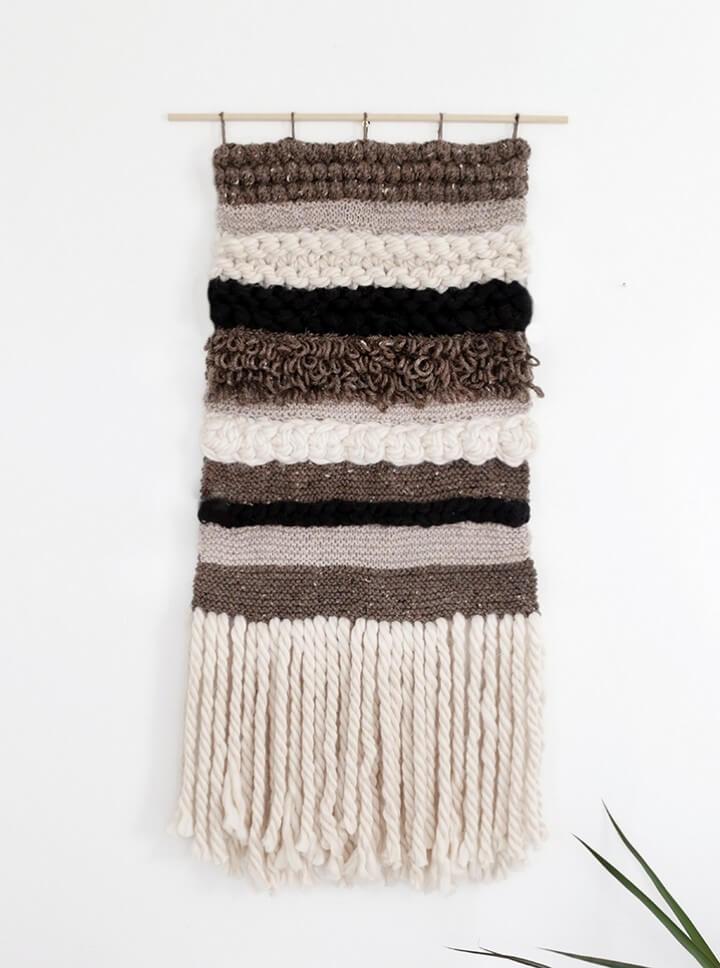 Opt for this crochet wall hanging to bring lots of warmth to a particular room, it features lots of design texture and finally ends with a fringed trim. From fluffy to ribbed to frizzy, it comes with all yarn texture to impress any onlooker. Mix up both knitting and crocheting to whip it up.
Tutorial: themerrythought
Serenity Crochet Mandala Wall Hanging Printed Pattern: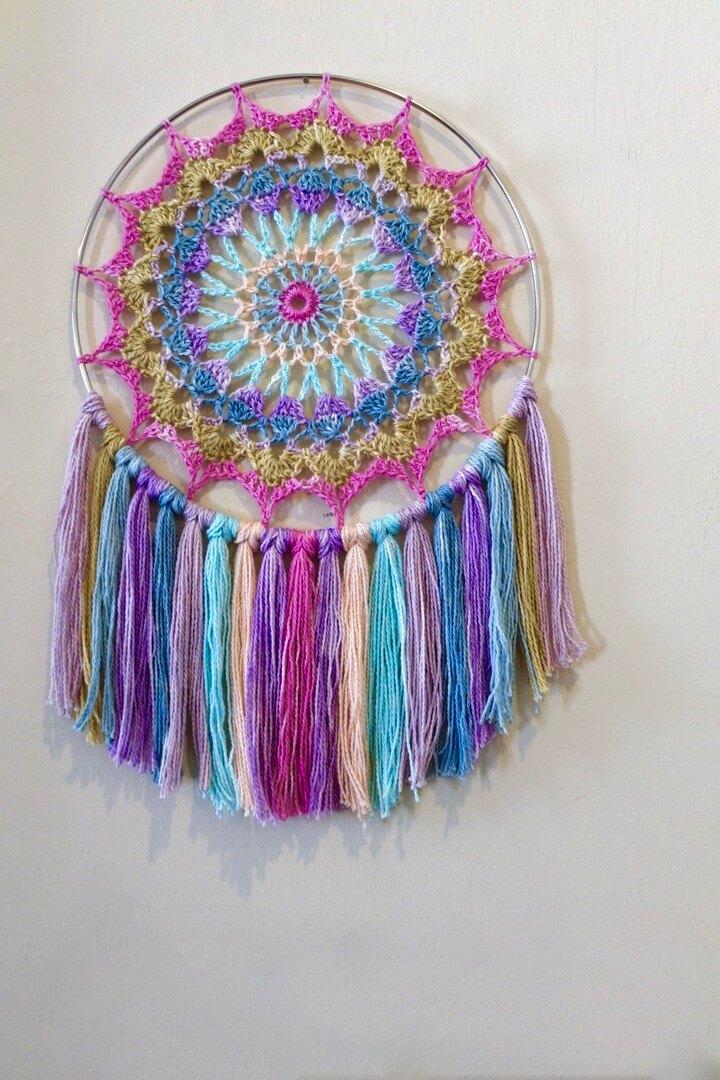 A dream catcher or a wall hanging, it is 2 in 1 crochet wall hanging pattern. Add up the bottom of a metal hoop with colorful yarn tassels and next crochet a big serenity crochet mandala inside the hoop. A fantastic yarn beauty that will take your wall decors to the next level.
Tutorial: shirleyandeadie
Cotton Thread Crochet Wall Hanging Home Decor: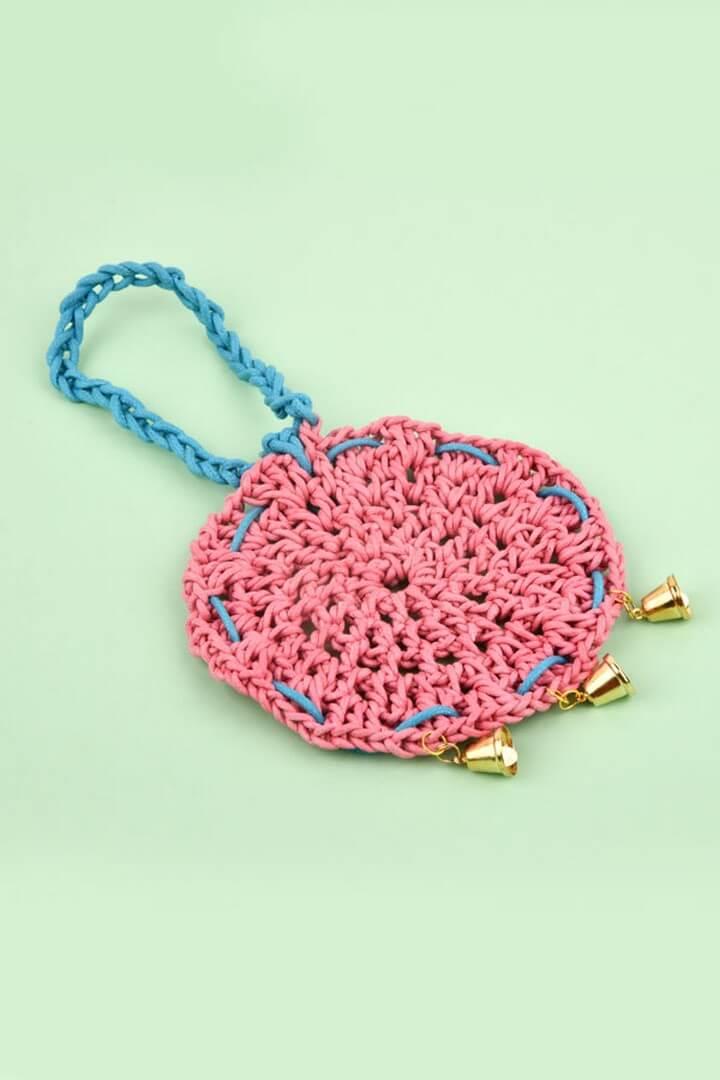 A simple but cool crochet wall hanging will make a sweet sound too due to hanging golden bells. Crochet the cotton thread while working in rounds to whip up this gorgeous wall decor. You can decorate it more with any other accents rather than the golden bells.
Tutorial: youtube
Yarn Wall Hanging DIY Tutorial: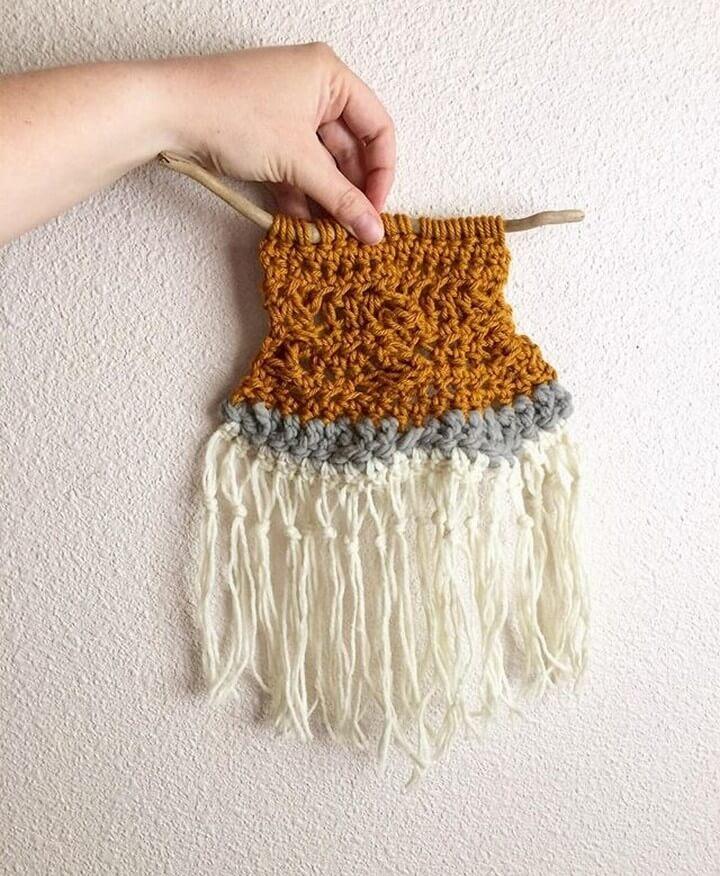 Bring the necessary winter warmth on your interior wall with this yarn wall hanging. You need a piece of driftwood and some leftover yarn weights to stitch this wall hanging, a beginner crochet pattern. Experiment with desired yarn colors. Must come with a fringed bottom.
Tutorial: createdmakers
Tapestry Of Feathers Crochet Wall Hanging: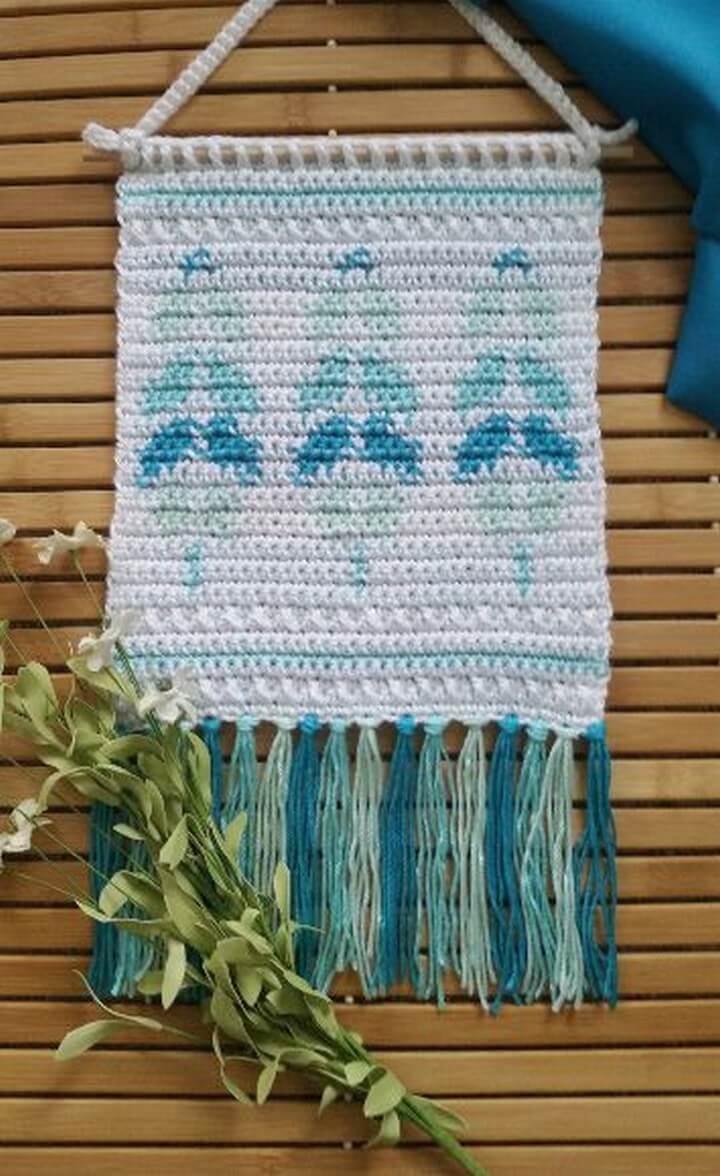 Bring lots of visual details to a particular home interior along with a cozy touch of elegance by crocheting this Tapestry of Feather's crochet wall hanging. Grab a 14″ wood dowel with ¼″ diameter and start crocheting this hanging on it using desired yarn colors. Use a 5mm hook for this pattern.
Tutorial: cashmeredandelions
Rainbow Crochet Wall Hanging: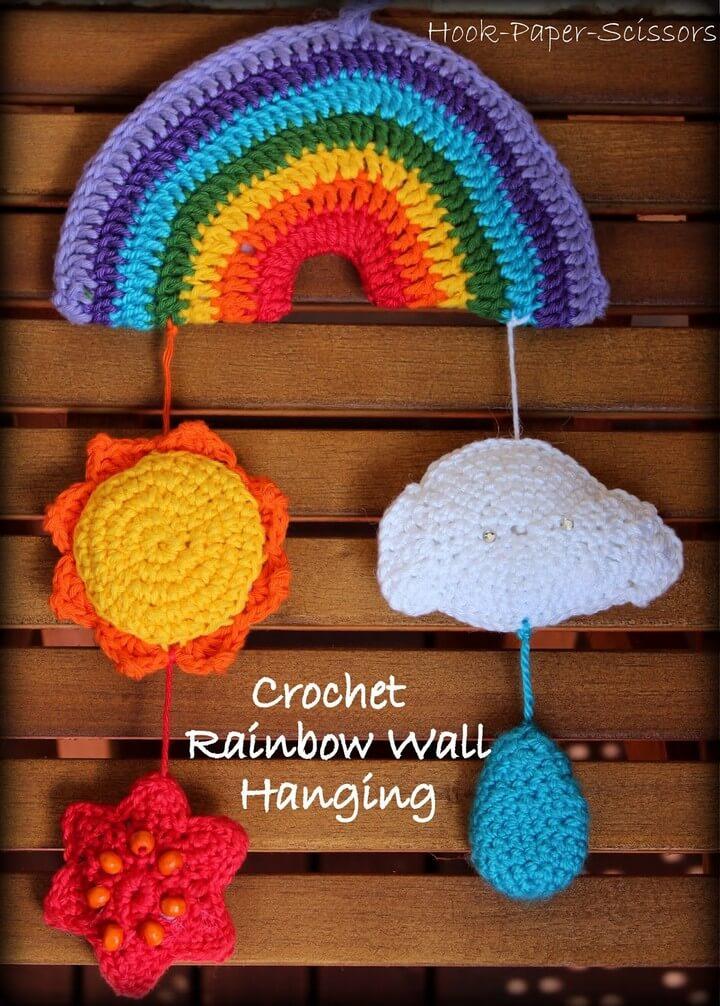 Use your hook smartly to bring rainbows to your home. Crochet this rainbow wall hanging added up with the floral and rainy cloud hangings. Crochet the rainbow yarn weights to whip up this hanging and separately crochet the cloud, rain droplet, and others.
Tutorial: youtube
Calming Wall Hanging Crochet Pattern – Zig Zag Crochet A Classic Wall Hanging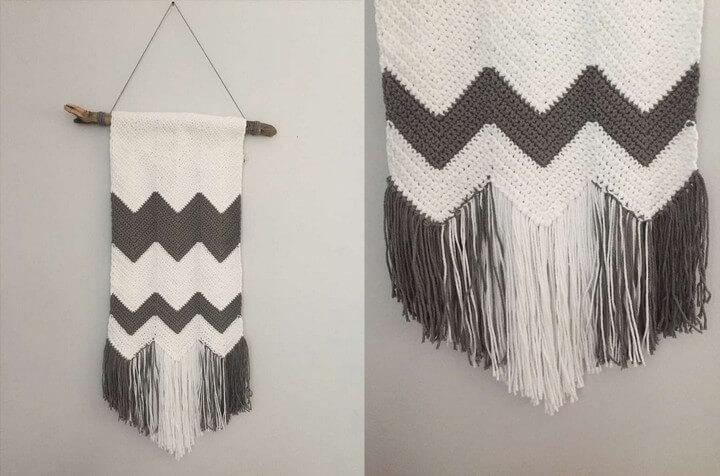 Along with adding amazing decorative details to a wall, chevron wall hanging will have significant health benefits too. Looking at this yarn wall hanging will instantly make you calm down. Crochet yarn in white and beige or in dark grey for this classic wall hanging. End it up with the fringed bottom.
Tutorial: acraftyconcept
How To Crochet Wall Hanging: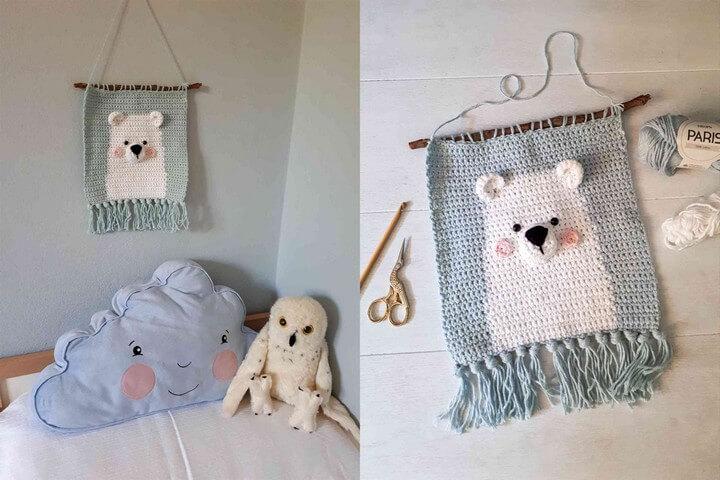 Rock the kids' bedroom with this cute yarn wall hanging feature a lovely white bear. The perfect fall wall decor to whip up with your beginner skills. Crochet entire hanging on a rustic wooden stick. The creative twist is to add the stuffed ears, nose, button eyes, and pink cheeks.
Tutorial: attic24.typepad
Easy To Make Wall Hanging: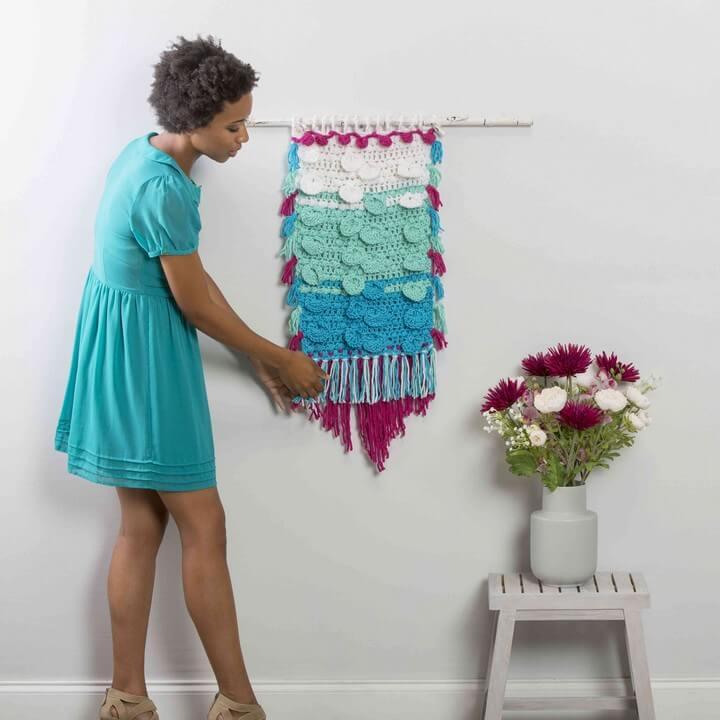 Fancy up your interior wall with this yarn wall hanging featuring fringes, tassels, and alluring yarn circles, giving it 3D width. Must crochet it with your basic skills, will add new dimensions to your wall decors. Try this wall hanging with your favorite yarn colors.
Tutorial: windingroadcrochet
Crochet Rainbow Wall Hanging: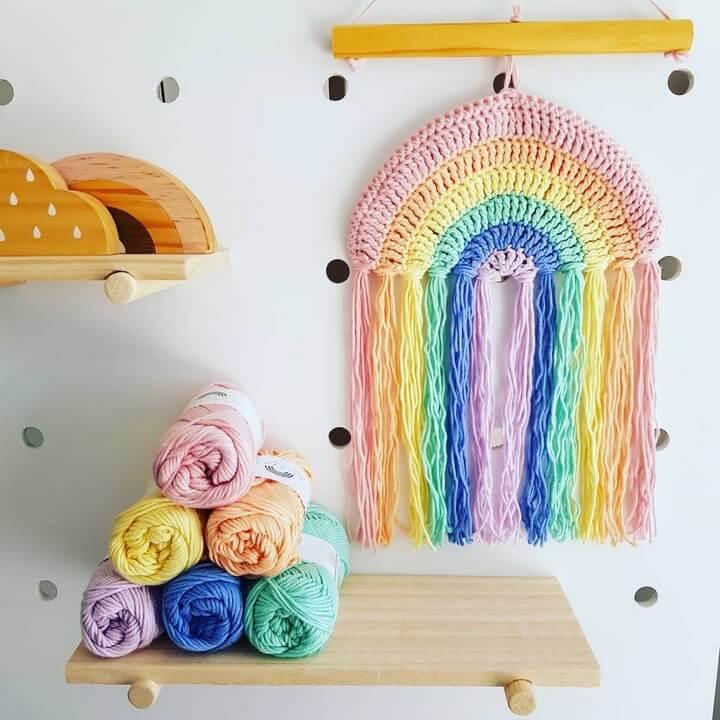 Get the visual instructions here to whip up this rainbow wall hanging, will instantly fancy up a blanket wall. Each rainbow color ends up into a fringe after making a perfect arch. This is the whole beauty of this rainbow wall hanging. Crochet chunky yarn weight for this project.
Tutorial: youtube
Christmas Tree Wall Hanging Free Crochet Pattern: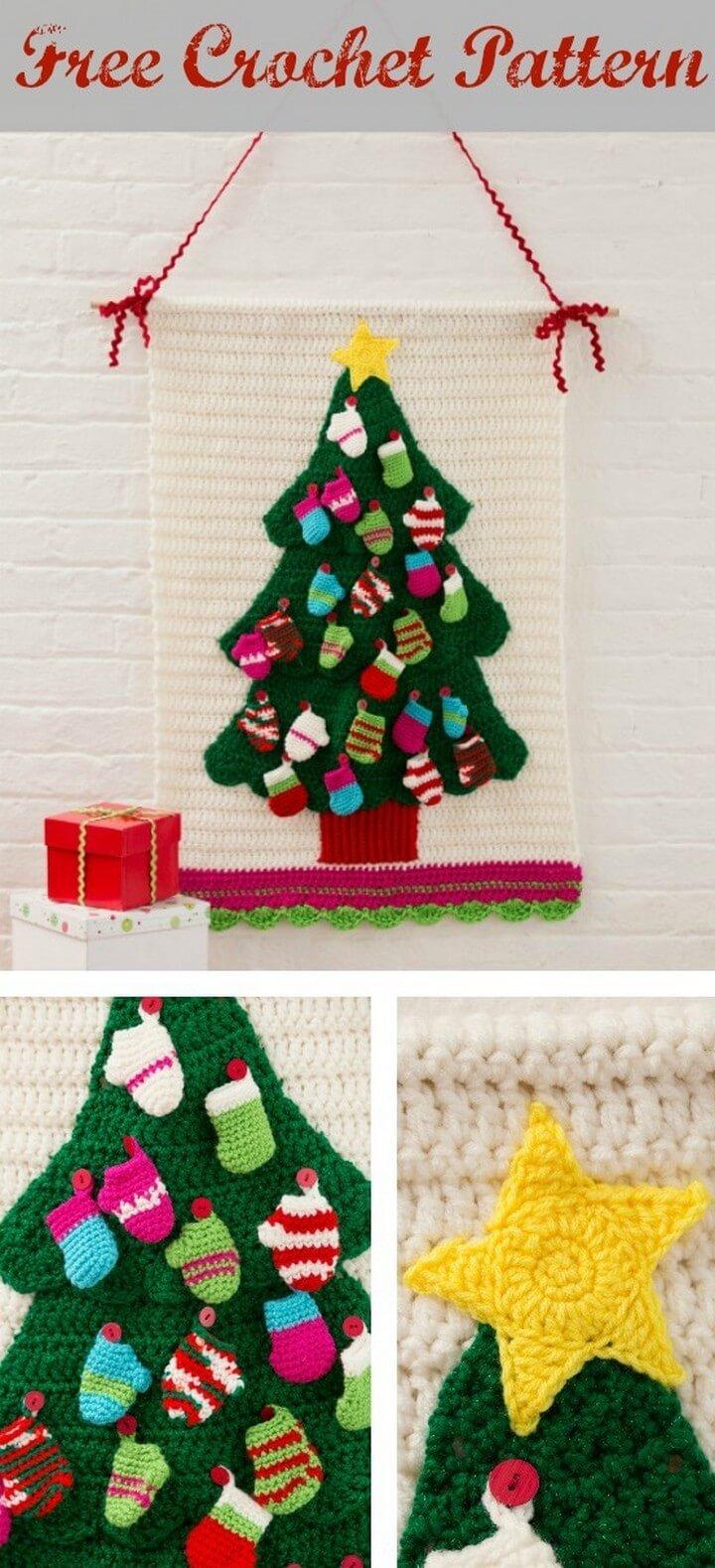 Celebrate your annual festival with this perfect wall hanging, will create a festive appeal of a targeted wall. The idea is to crochet a green tree on a white yarn background, next decorate it well with the colorful crocheted stockings.
Tutorial: coolcreativity