Kids cannot sit idle or peaceful when at home so keep some healthy activities arranged at hand to keep them busy with. With these DIY For Kids Supper & Easy DIY Summer Projects, you can involve them in some fun art and crafts to unleash their energy and creativity. The fun that comes with these activities is a bigger bonus that is going to attract the kids towards these super fun activities. Also, you can get involved with your kids and perform these enjoyable summer activities to spend some quality family time at home.
As the kids love playing with water so they are going to love that DIY water sponge bombs to have some cute water fights. Making a lovely wax sailboat and sailing it through a tub of water in the garden would also be so much fun. There are some projects which would need your supervision with the kids while getting performed like that lovely BEACH letters, summer flip flop, wooden watermelon and more. There are more such super cute and fun full ideas to work on so get into this lovely round and get the details of each fun summer project.
You May Also Like:
Best Direction To Sleep – Which Is Best Direction To Sleep
Immune System Boosting Foods – How To Boost Immune System
DIY Summer Craft For Kids – Sponge Water Bombs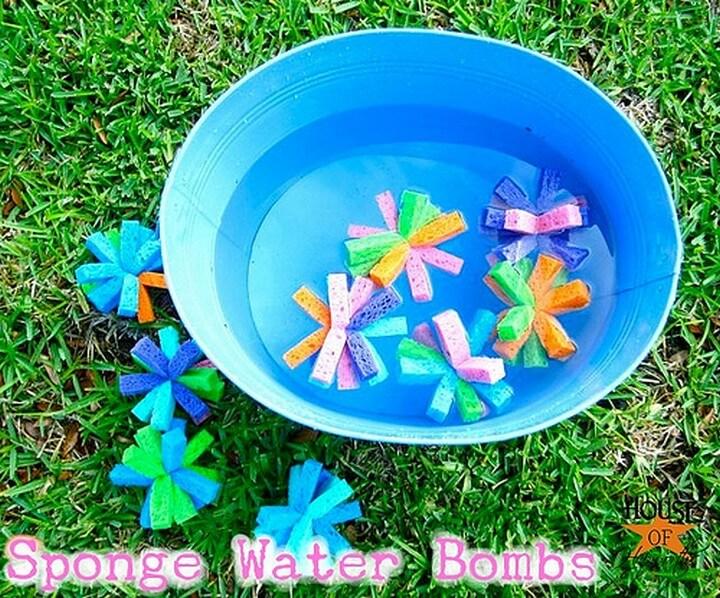 Kids love having water fun during the summer especially the water fights with a sponge and the balloons. So here are these DIY summer sponge water bombs to make and contribute to their water fun. Using colorful kitchen sponges you can easily make these super cute water bombs and that too many in numbers.
Tutorial: ourfamilyofseven
DIY Felt Cup Covers: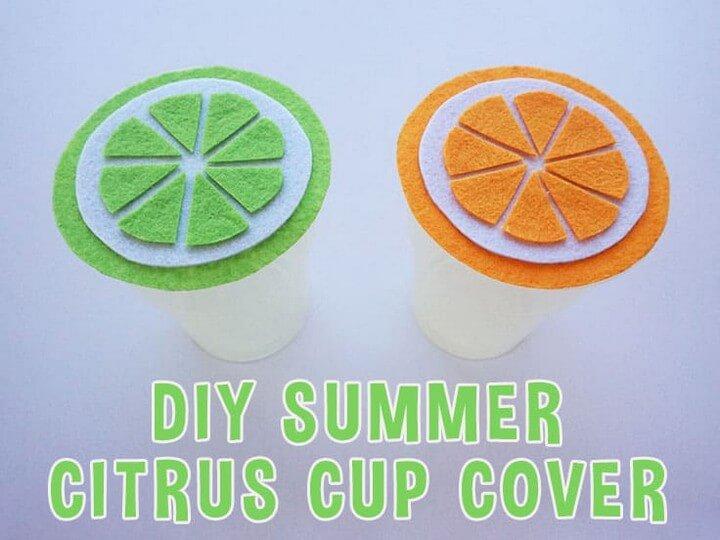 We drink a lot during the summers so make these super cute and fun looking fruity themed DIY felt cup covers to put on your drink glasses. So grab some of the green and the orange felt and cut out these adorable DIY felt cup covers with citrus fruit inspiration to look so pretty and fun. Details here!
Tutorial: partywithunicorns
Egg Carton Flowers: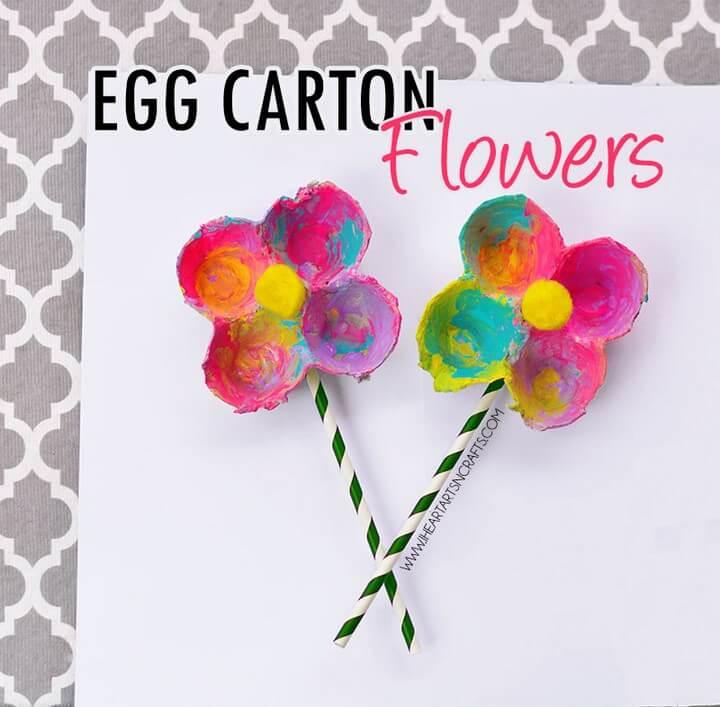 If your kids love painting the things around them make these adorable egg carton flowers with them and they would enjoy it so much. Just paint up the four sectioned off the carton with multiple colors of the paint and then add the straws to be the flower stems and it's done. Check out the details here!
Tutorial: iheartartsncrafts
Soda Bottle Planters: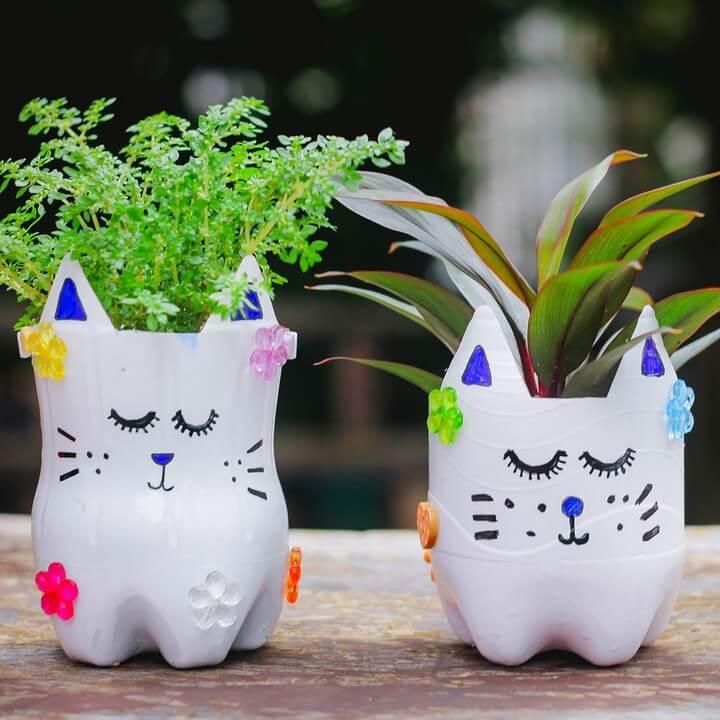 These gorgeous soda bottle planters with the kitty theme are just super cute and adorable. The bottoms of the soda bottles have been painted in white and then awarded with the cute features of the kitty to be the loveliest planters on your shelves and the tables. Follow the easy details of the idea here!
Tutorial: youtube
Easy Beach Craft – DIY Letters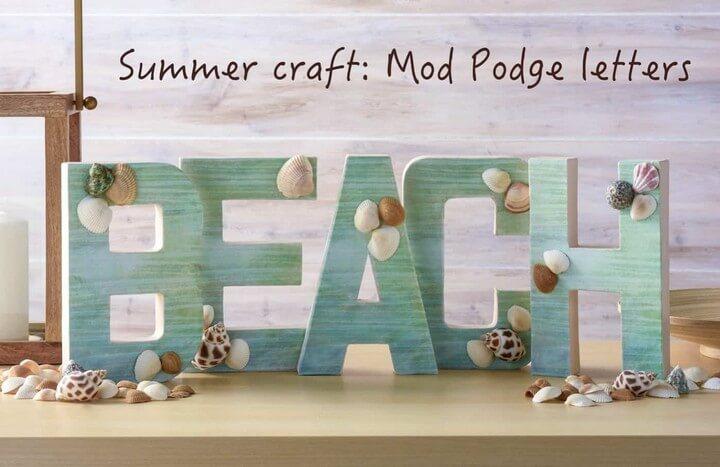 Summer is so much fun for bringing the beach and now you can bring the beach to your home with these easy beach craft DIY letters. Just get the paper mache letters saying BEACH and then cover them with some scrapbook paper and the seashells all over and display it in your foyer or the living. Details here!
Tutorial: modpodgerocksblog
Make Your Own DIY Watermelon: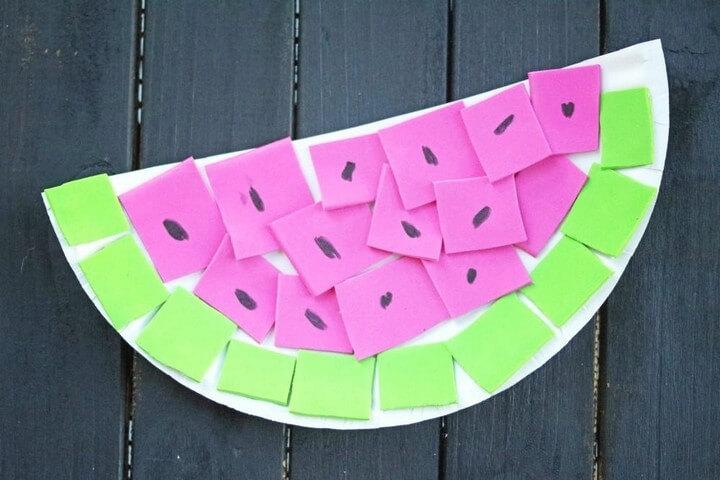 Now you can enjoy a watermelon which is not going to rot all summer long. Yes, we are talking about this lovely DIY watermelon that is easy to make with the canvass fabric, filled with the fur and then painted with the acrylic paint hues of the watermelon. Learn the complete details of the idea right here!
Tutorial: consumercrafts
DIY Embellished Summer Flip Flops – Easy Summer Crafts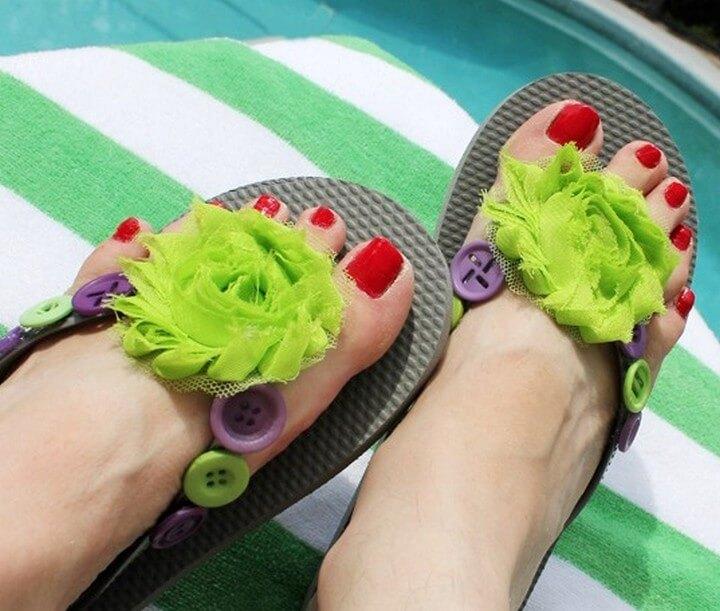 Summer styling is undone without a pair of the funky flip flops and now you can embellish one at home on your own. Here are these adorable DIY embellished summer flip flops made with the fabric flowers and the colorful buttons. You can do it on your old flip flops and make them look all new and fun. Details here!
Tutorial: alittleclaireification
Easy DIY Paper Crab Card: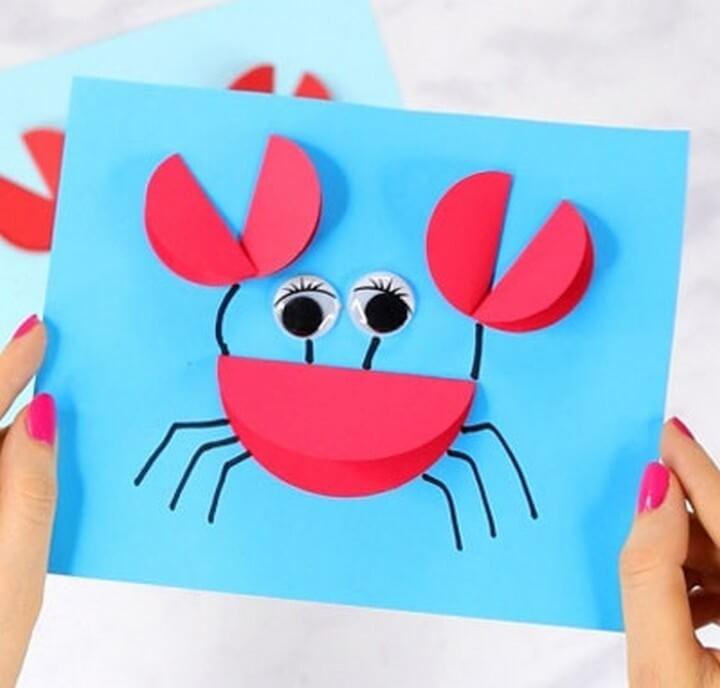 Here is how the kids can have some of the sea fun at home with these easy DIY paper crab cards. First, the kids can draw a simple crab with legs at the paper and then at the place of its mouth and the legs add some cut-out pieces of the red crafty paper. Add a pair of googly eyes and the cute crab card is done.
Tutorial: easypeasyandfun
Wax Boat For Kids: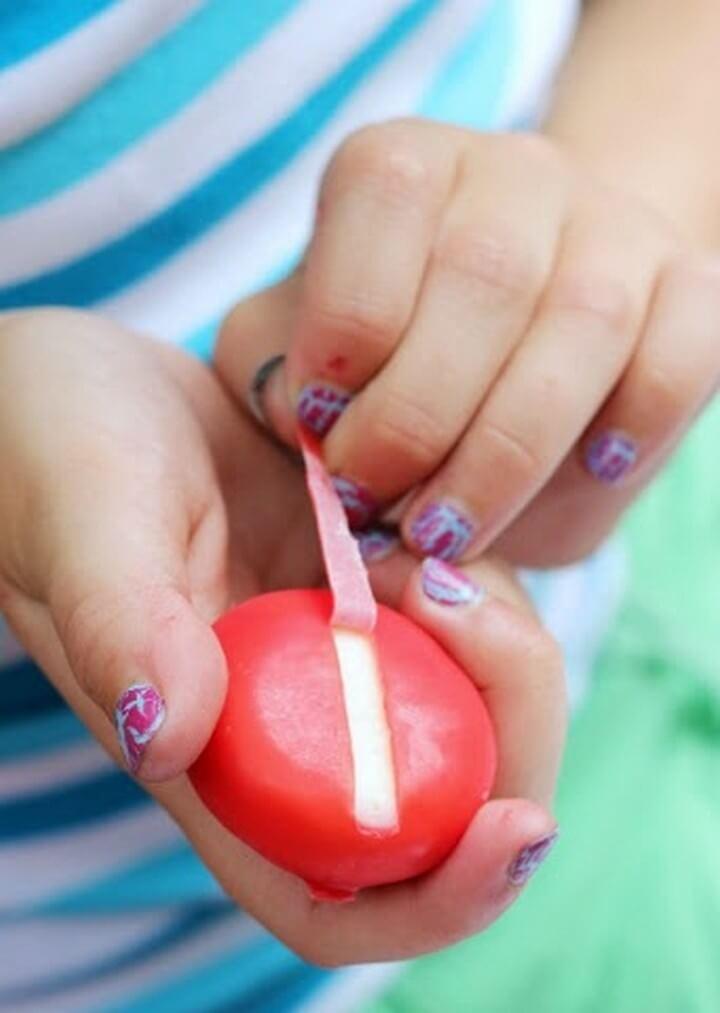 Kids are into all kinds of water fun during the summer and so they are going to love these wax boats a lot. The pretty boats are made out of the cheeseballs being coated with the red-hued wax. Lastly, add a paper sail with the help of the toothpick and you are ready to sail it in the water tub. Details here!
Tutorial: housingaforest
Make A Wooden Watermelon: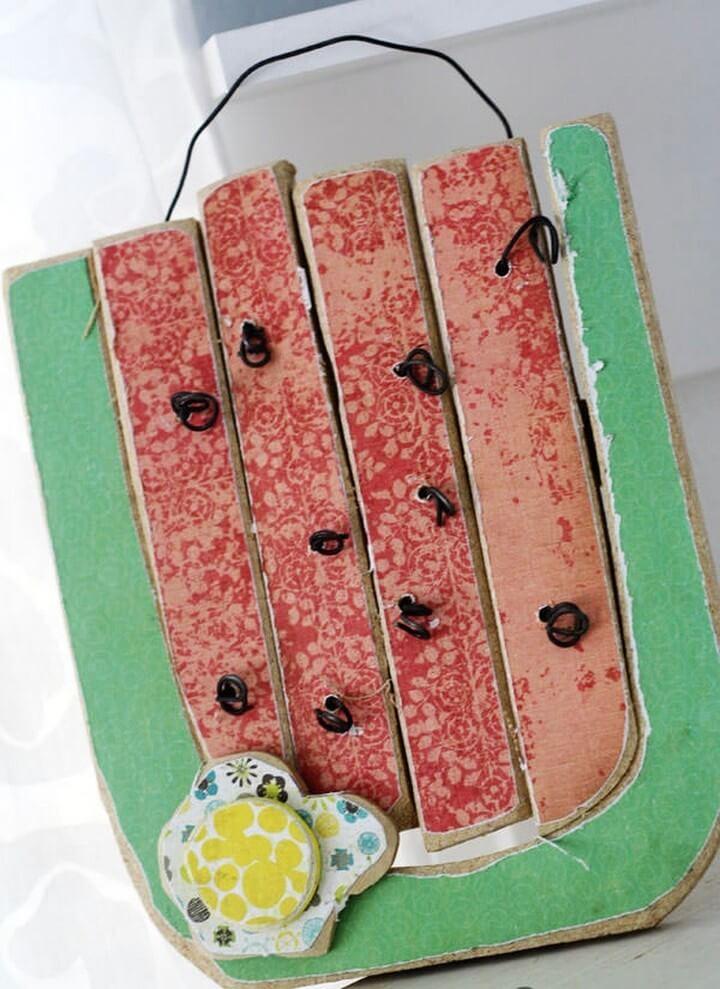 You are your kids are going to have a sure fun with these wooden watermelons to be a part of your fun summer crafts. Use some pieces of the wood to make this lovely cut out craft of the watermelon. Use the scratch book paper of the red and green colors to adorn these wooden pieces as the pretty watermelon.
Tutorial: howdoesshe
Crochet Summer Flowers: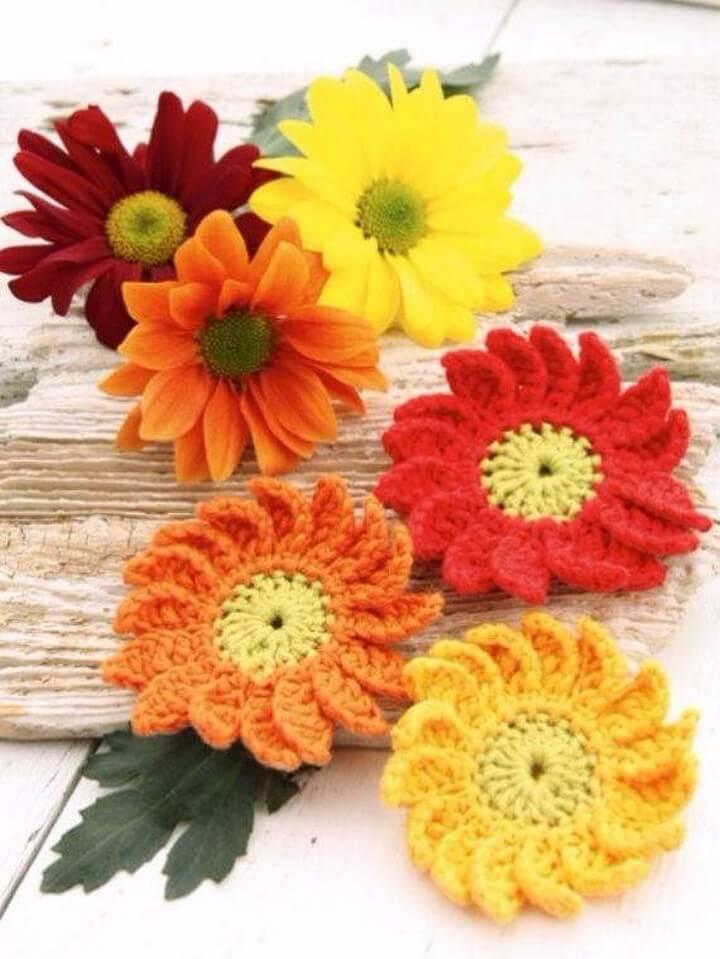 Now you can make these gorgeous crochet summer flowers that are not going to wither away. You can use them on so many things as the appliqués or as the embellishing pieces for the home décor. Using the free pattern you can make a bunch of these lovely crochet summer flowers on your own.
Tutorial: goldenlucycrafts