Mason jars are one of the favorite supplies for crafty people. And this time you can use them for some amazing light ideas to incorporate in your indoor and outdoor spaces. Here we have brought to you these 50 Brilliant DIY Mason Jar Lights Ideas to adorn some nifty yet gorgeous light fixtures in your spaces. Either you need a new light in your fresh built patio or you want to remodel some old lights indoors, this fun and smart DIY Mason jar light ideas are surely going to help you out. These lovely light projects are not only going to add glow to your spaces but also lighten up your décor.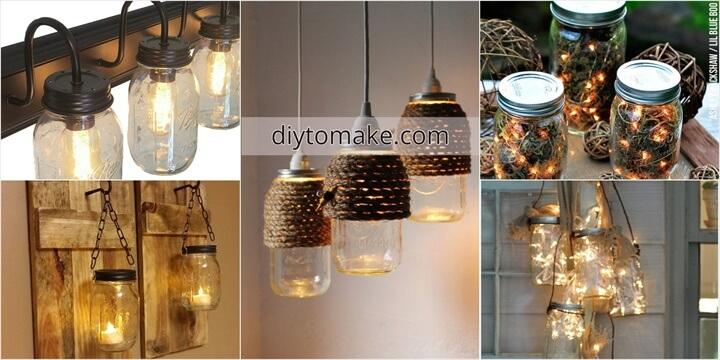 There is a variety of light ideas to choose from and make them perfectly fit your needs and desires. There are loads of easy and simple solar light ideas to install in your yard, patio and garden spaces. Also, you can impressively replace your old lights of the bathroom or kitchen with the Mason jar light pendants for an updated and elegant look. Those gorgeous and stunning chandeliers from mason jars are to pour your heart after. From nautical and beach-inspired light projects to some snowy lanterns you can find everything within this round-up.
You May Also Like:
DIY Solar Mason Jar Light: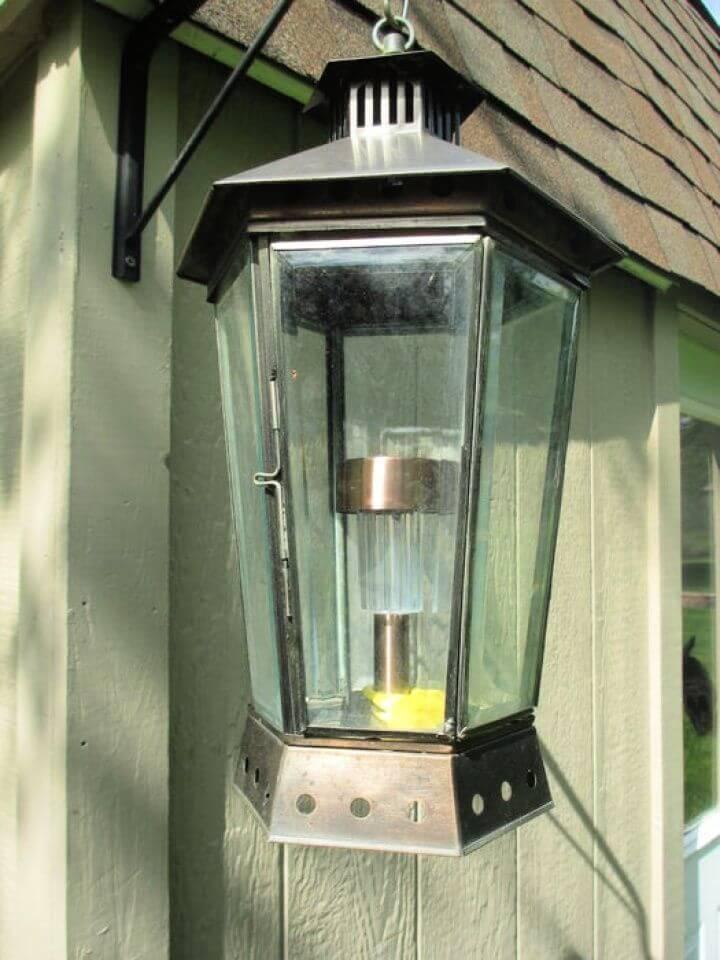 Make the most out of the mason jars with this DIY solar Mason jar light for your outdoor spaces. You need only a few supplies to make this totally fun and functional Mason jar solar light for the patio or the yard. You can make a bunch of these lights to prepare your outdoors for the wedding too.
Tutorial: instructables
Mason Jar Light: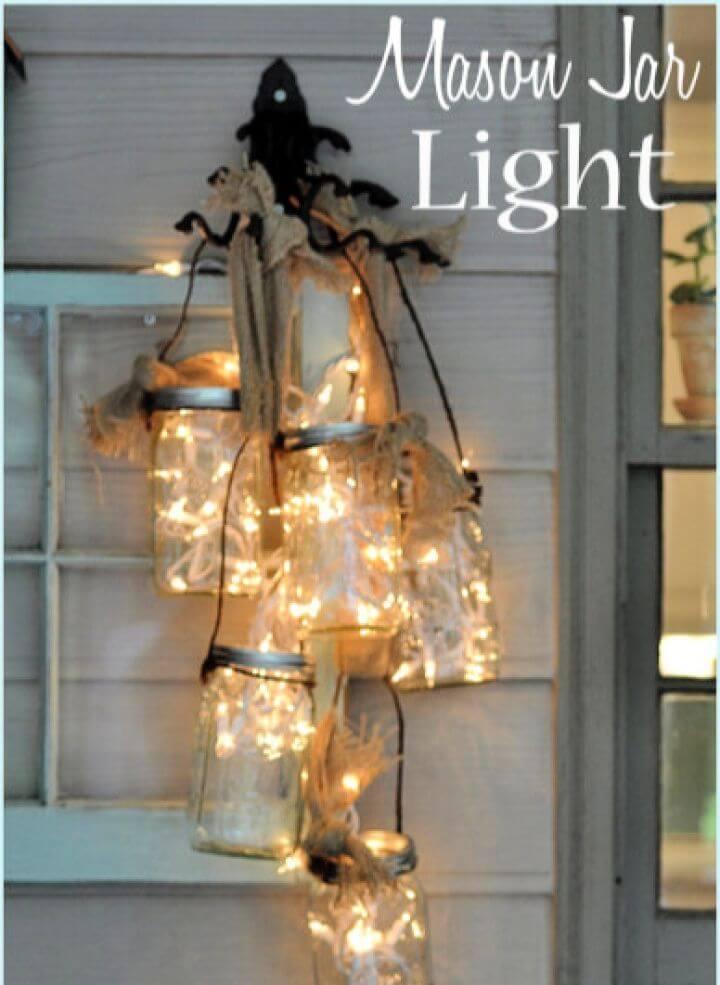 This gorgeous mason jar light is the best thing to make and bring some décor delight in your porch spaces. You need a bunch of the Mason jar, wire, tiny white lights, and the burlap ribbon to make this Mason jar light unit. This little chandelier looks quite impressive hanging on porch walls.
Tutorial: allthingsheartandhome
Mason Jar Pendant Lights: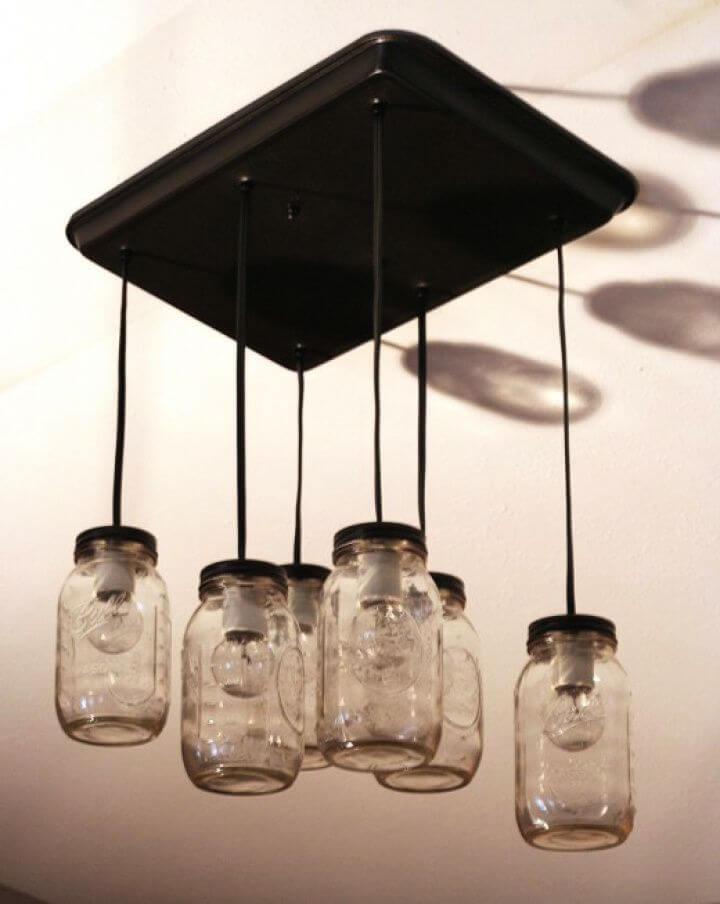 Bring some charm and loads of light to your kitchen spaces with this Mason jar pendant lights.  The icing on the cake is that this lovely Mason jar pendant light unit is made with easy and cheap things like a cookie sheet and a bunch of the mason jars. Follow the details here!
Tutorial: dengarden
Outdoor Mason Jar Lights: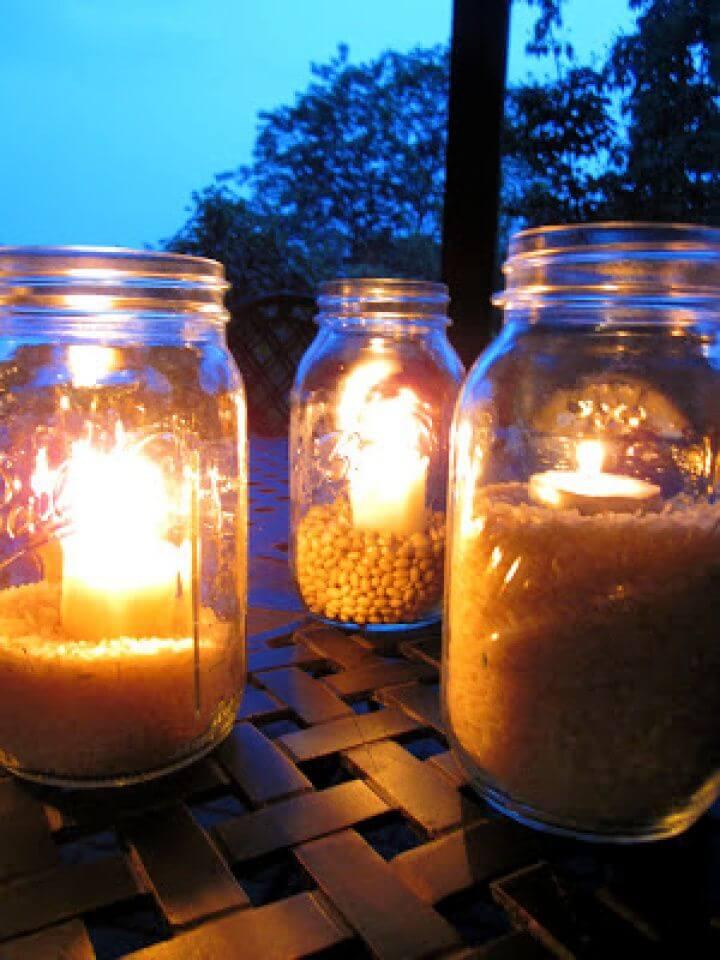 Make your summer nights much more fun and romantic with these lovely outdoor Mason jar lights. They are super simple and quick to make and charm up your nights with. Just grab the mason jars and fill them with white rice and beans, add candles and your lovely lights are ready to rock your patio or yard.
Tutorial: christinasadventures
How to Make a Wall Light Fixture: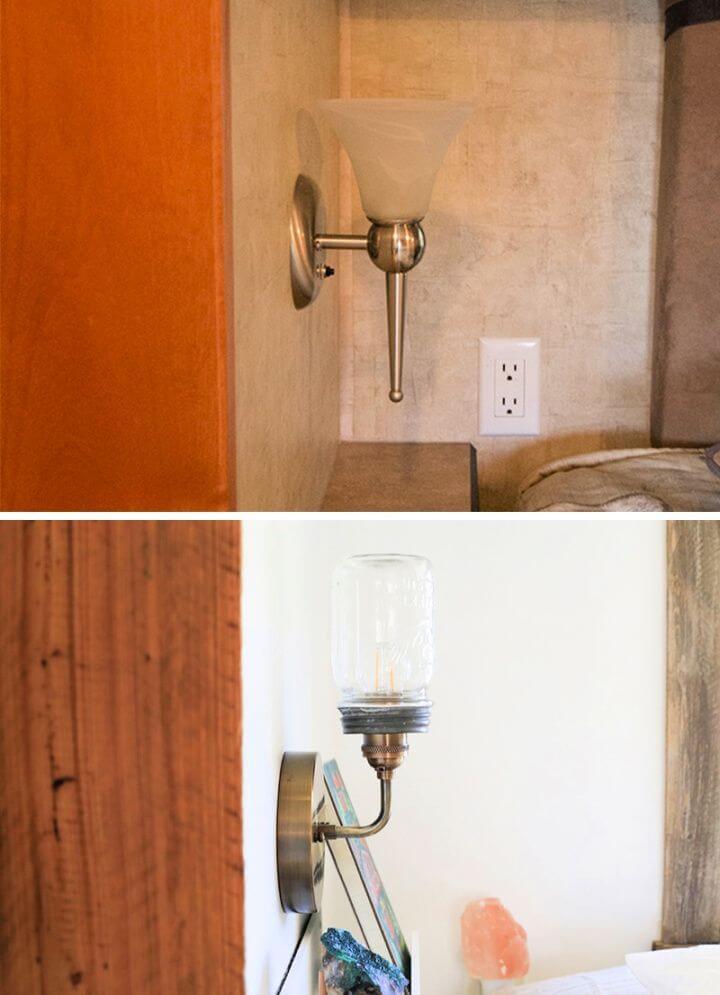 A simple change in the light fixture of your house can really bring freshness to the décor of your spaces.  Using the Mason jar, brass canopy and the keyless socket you can easily install a new and totally cheap wall light fixture in your spaces. Check out the details here!
Tutorial: mountainmodernlife
Mason Jar Lanterns: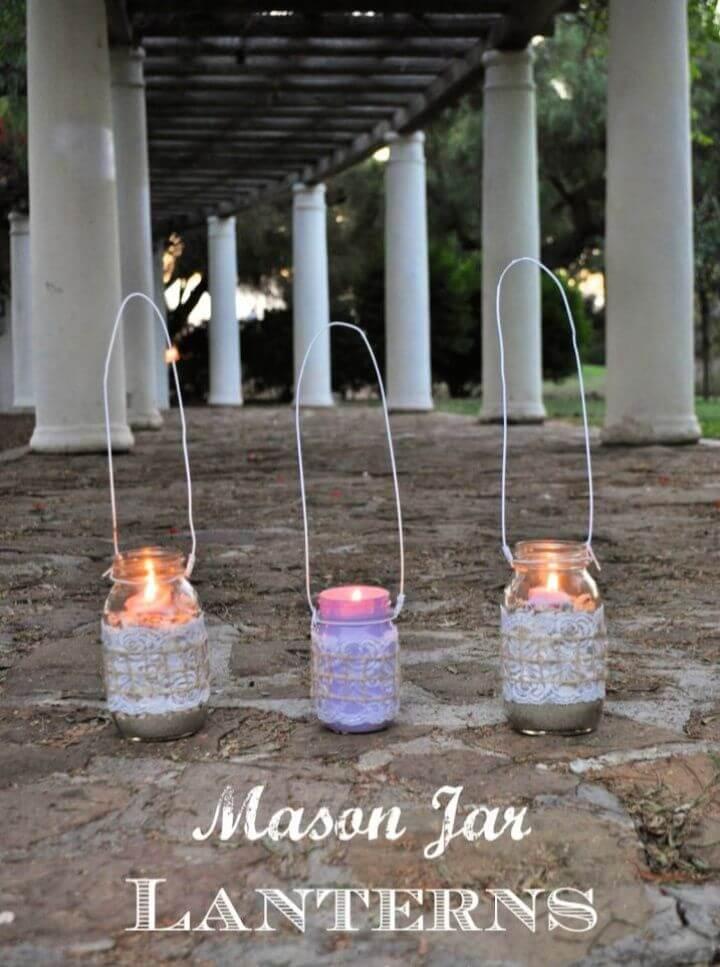 Your outdoor beauty is undone with the lovely lights and lantern and now you can make these lovely Mason jar lanterns. The mason jars have been painted, filled with sand and stones and then adorned with lace and jute ribbons to look so fancy and fun. Also, wires have been added to make them hang.
Tutorial: makelifelovely
Rustic Mason Jar with String Lights: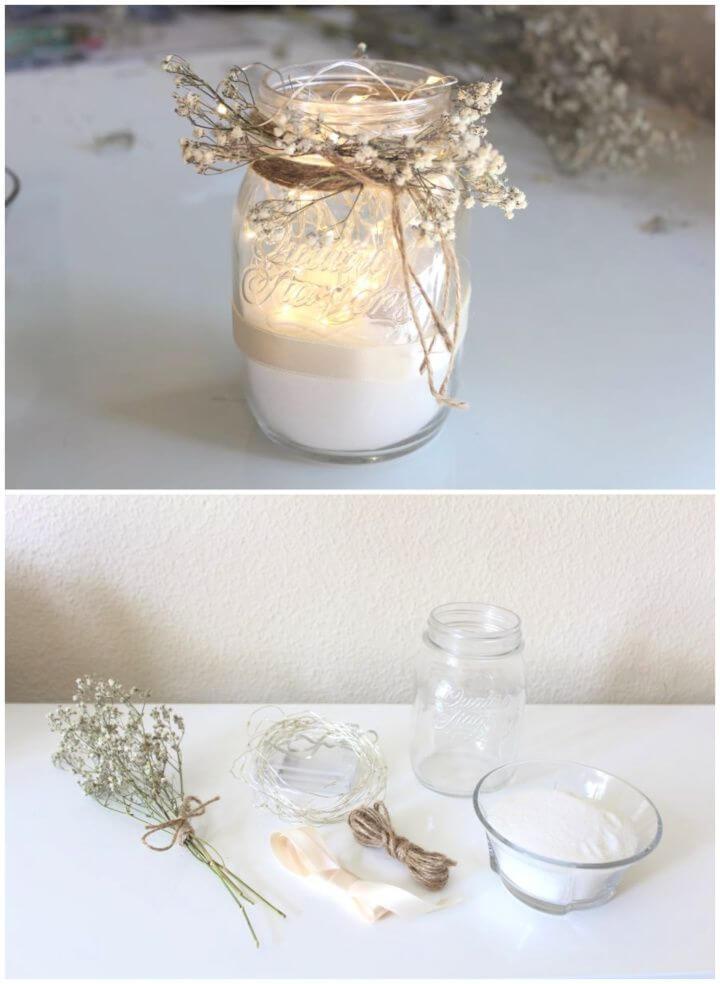 Either there is a party, dinner or the wedding this rustic Mason jar with string lights is going to be a perfect and nifty part of your décor. The Mason jar is decorated with baby's breath and twine of two shades. Inside the Mason jar goes Epsom salt and the lights for a lovely finish. Details here!
Tutorial: loveandlavender
Solar Mason Jar Lights: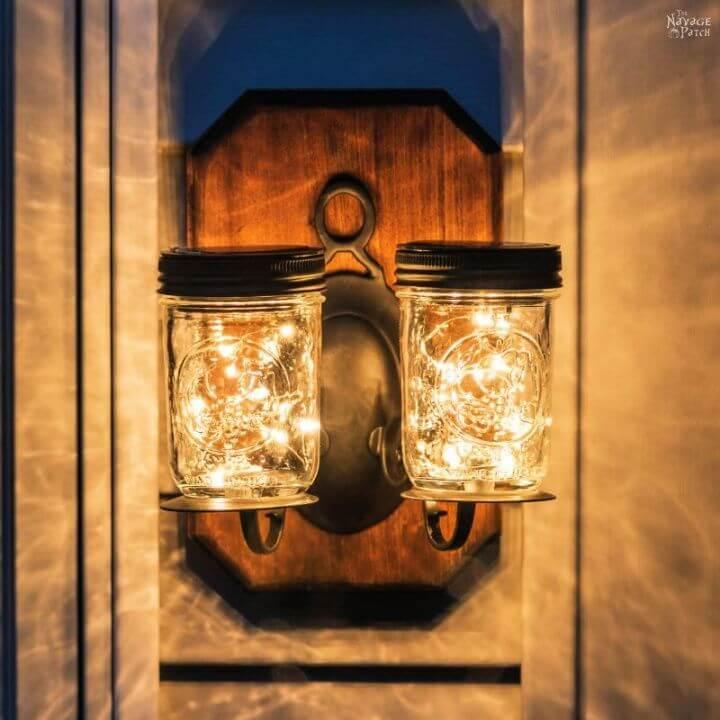 Bring the perfect rustic and vintage kind of light décor to your outdoors with these solar Mason jar lights. The use of old scones, solar butterfly lights and the Mason jar really makes this project exciting. Follow it more here
Tutorial: thenavagepatch
Mason Jar Lights Idea: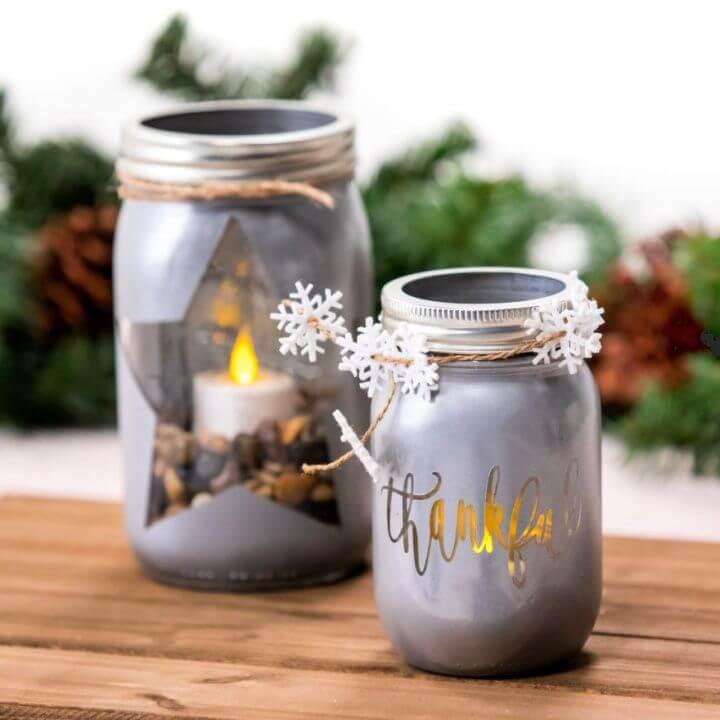 Make your outdoors ready for the festive season with these adorable and gorgeous Mason jar lights. Just grab a pair of mason jars and paint them with a metallic spray of silver shade with a vinyl star sticker in the center. Fill in the jars some pebbles and stones, add tea lights and finish it off with snowflake ribbon.
Tutorial: thanksgiving
LED Mason Jar Lights: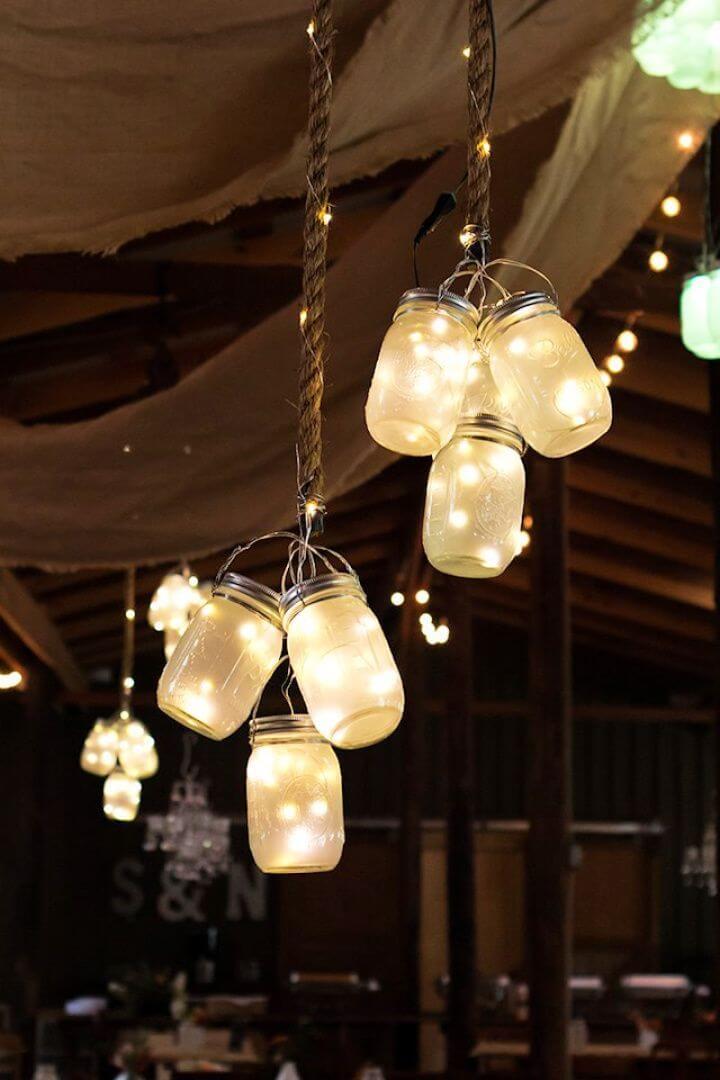 Add some more romance and beauty to the wedding in the house with this LED Mason jar light project. From single light pieces on the table to that big swirly chandelier, you can make it all with a big bunch of the mason jars and the LED lights. This idea is surely impressive and budget-friendly too.
Tutorial: sarahhearts
You May Also Like:
Patriotic Mason Jar Lanterns: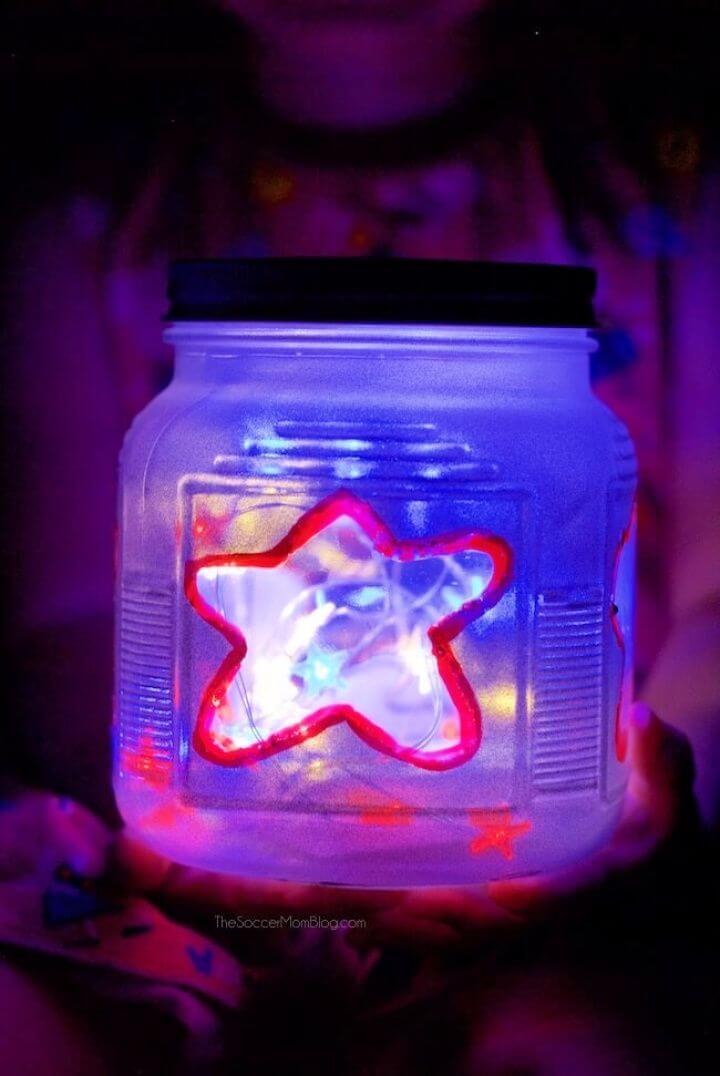 Let your home glow with this super fun patriotic Mason jar lantern on this 4th of July. So grab silver spray paint to coat the cute little mason jar and add in the string lights with white, red and blue hues. The idea is simple and so much fun to be shared with your kids too. Details here!
Tutorial: thesoccermomblog
Best Mason Jar Lights: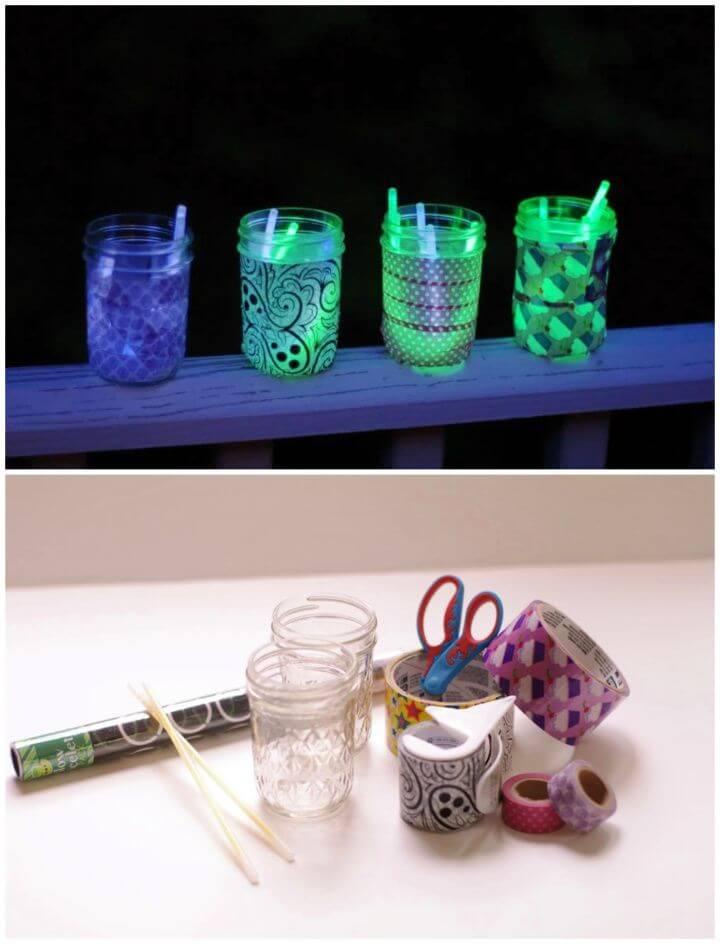 It's time to go crafty and quirky with the mason jars and make these cute and colorful best mason jar lights. Just grab a mason jar and cover them with some designer tape in the multiple colors and patterns. Then wait for the night and add some glow sticks in the jar to view some amazing light display.
Tutorial: kiwico
Make A Mason Jar Vanity Lights: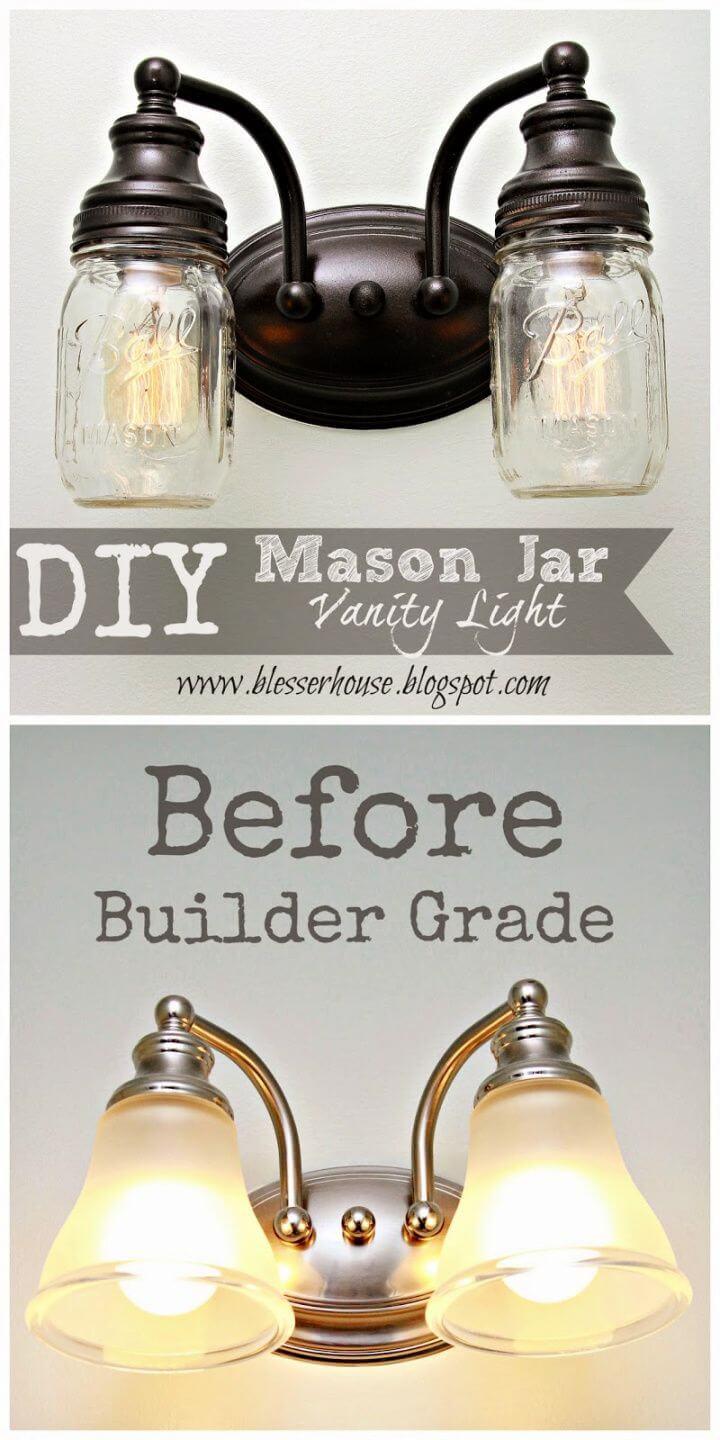 It's time to update your builder-grade light fixture simply and cheaply at home with this idea of Mason jar vanity lights. The lights have been replaced with the mason jars and the scone has been painted in black for an updated look of your light fixture. Get more details here!
Tutorial: blesserhouse
Firefly Mason Jar Lights: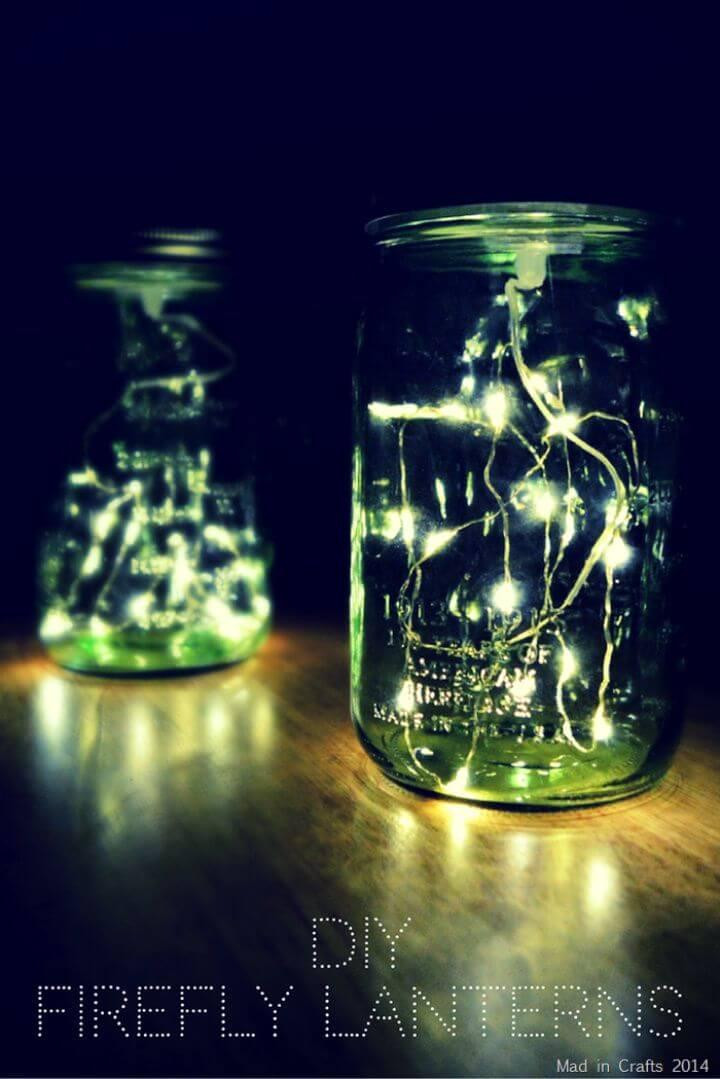 Lights do not add to the décor of your spaces but also impact your mood. Here are these gorgeous and intimate firefly mason jar lights which are surely going to uplift your home beauty and your mood as well. Also, they are super easy to make with things like a green mason jar, firefly lights, and foam mounts.
Tutorial: madincrafts
Wondrous Woodland Mason Jar Light Tutorials: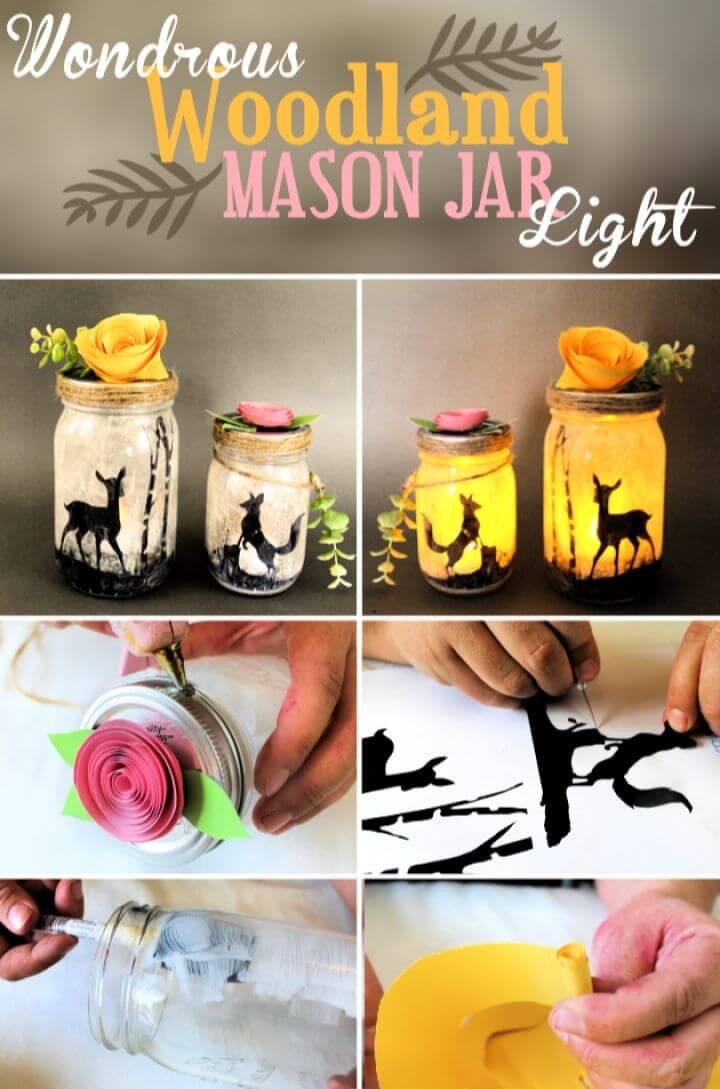 Bring this wondrous beauty of the woodland mason jar lights to your home with these winters. They are super easy to make with the mason jars and multiple silhouettes of the woodland scenery. Added tint on the mason jars and flowers bring more life to the woodland mason jar lights. Here is the tutorial!
Tutorial: craftyourhappiness
Mason Jar Solar Lights: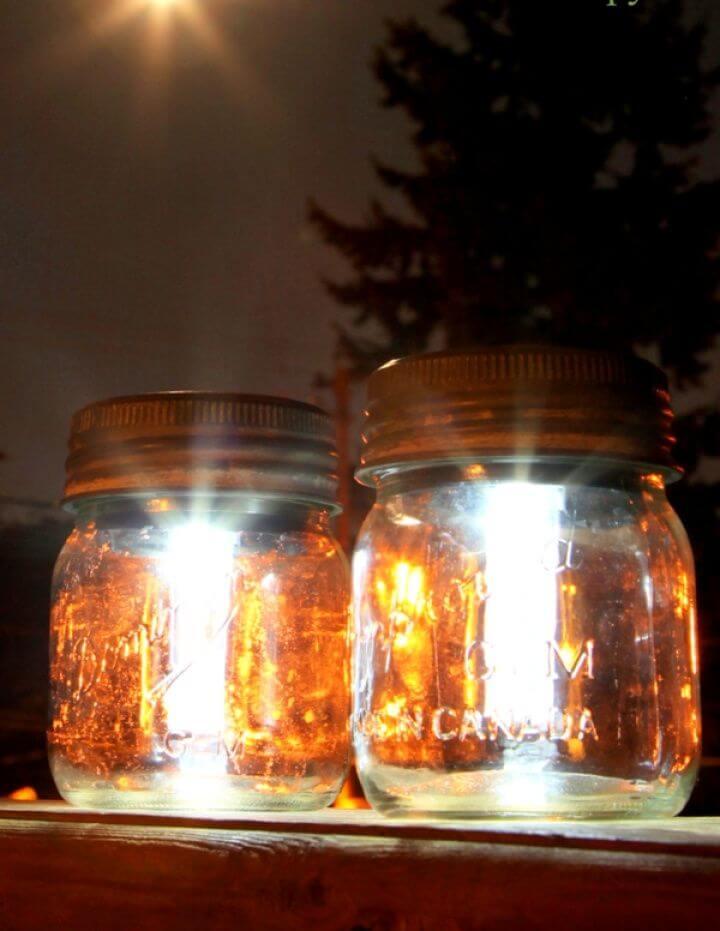 When the sun goes down with its light these mason jar solar lights would come to your rescue. Not only functional and cheap source of lights but also much pretty and decorative these lights are. So grab some mason jars, solar stake lights, and the foam tape to easily get your hands on this project.
Tutorial: gardentherapy
Night Light Mason Jars: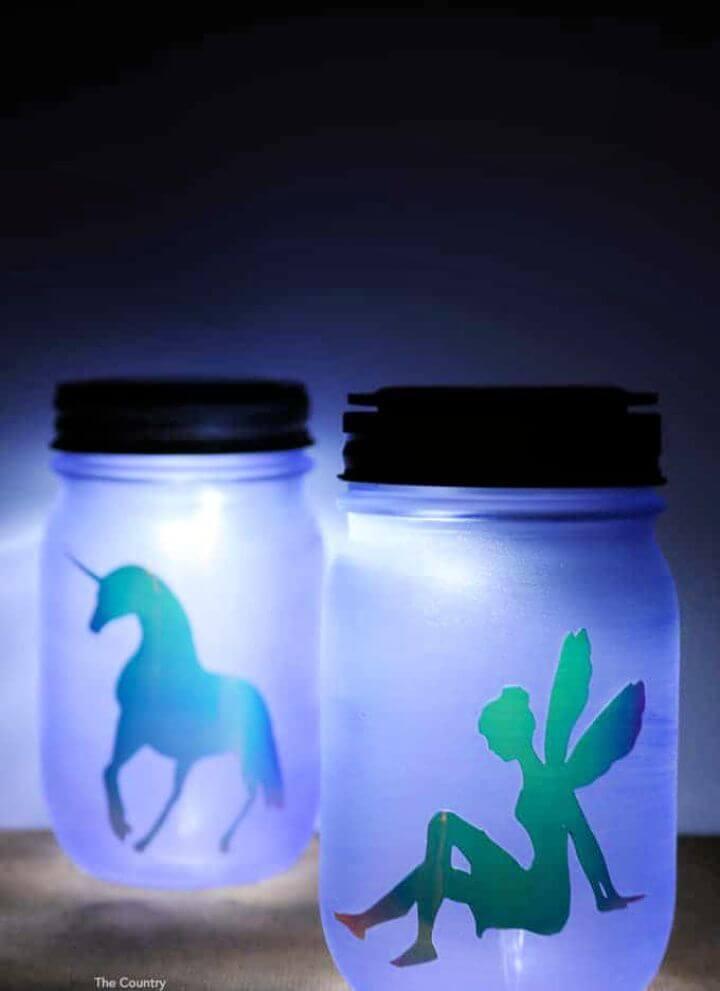 Give some fancy appeal to your handmade mason jar lights with the hand-printed silhouettes of fairies and unicorn. The frosted mason jar looks so gorgeous while glowing with the darn lights and these gorgeous fairy and unicorn images on the outside. These lights are perfect for all rooms. Details here!
Tutorial: craftsbyamanda
New And Easy Hanging Solar Mason Jar Lights: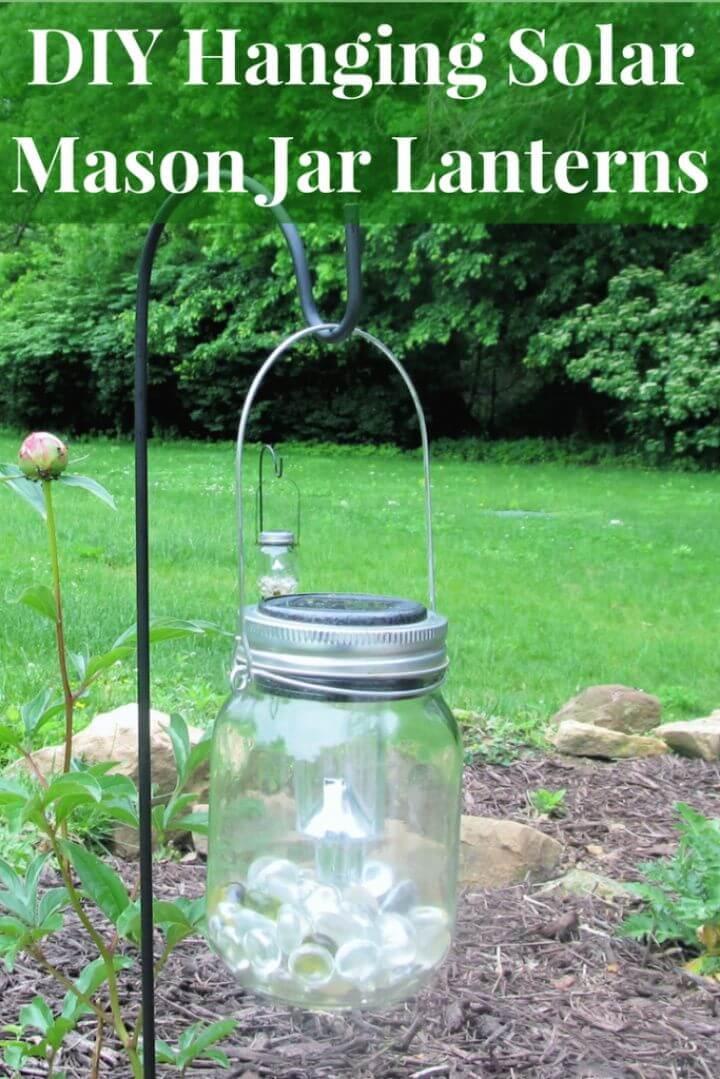 Here is a new and easy hanging solar mason jar light project which is cheap enough to be made from the dollar tree items. So grab a mason jar with handle, lid, solar stake lights, and the silicone to create this lovely and energy-saving light. You can fix it to the garden post for a really fun and functional look.
Tutorial: joyfullytreasured
Colorful Mason Jar Table Lamp Tutorial: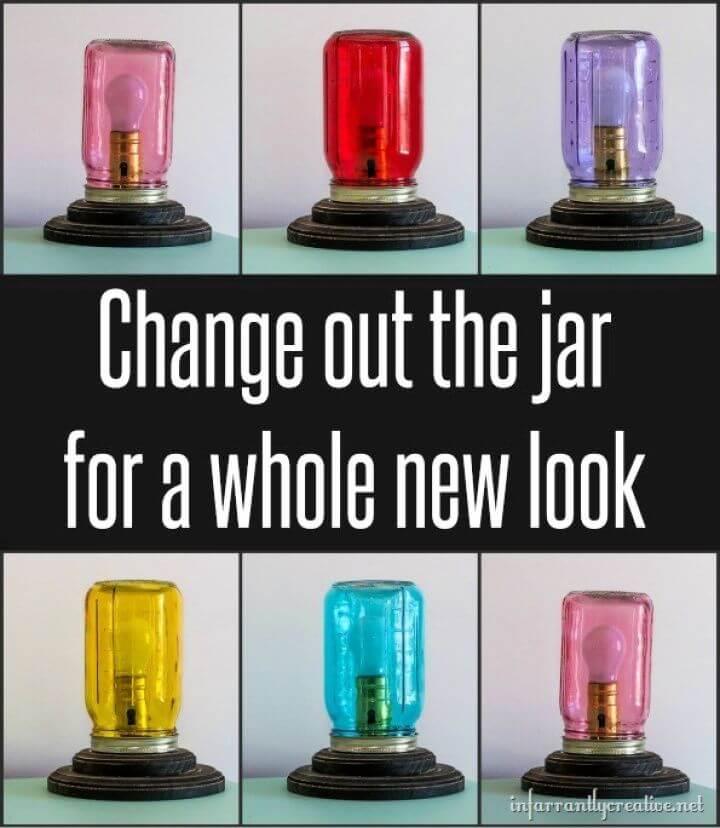 These colorful and cute mason jar table lamps provide such a delight to the eyes and also look refreshing for updated room décor. With a basic bulb kit and colorful mason jars, you can instantly create this chic and adorable looking table lamp at home and also for each room. How to here!
Tutorial: infarrantlycreative
Mason Jar Monogram Light: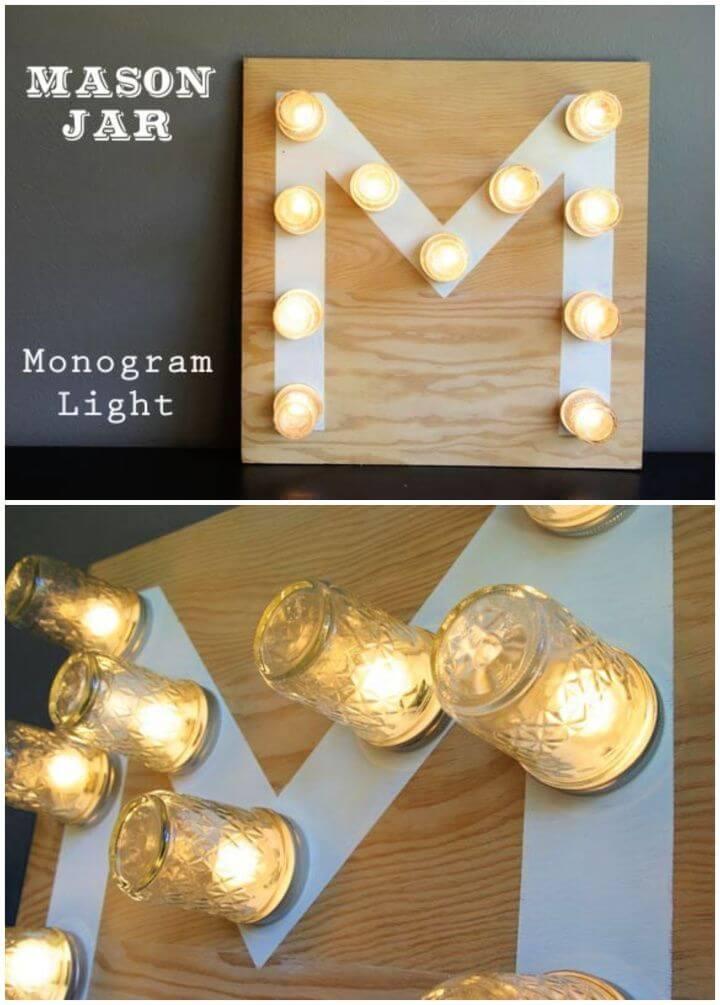 Add a perfect custom appeal to your home beauty and décor with this mason jar monogram light. You can simply make it home with a few supplies and the tools. So get a plywood board and create your monogram in big size. Then add bulbs to the monogram and cover them with our favorite mason jars.
Tutorial: oleanderandpalm
You May Also Like:
Vintage Mason Jar Pendant Light: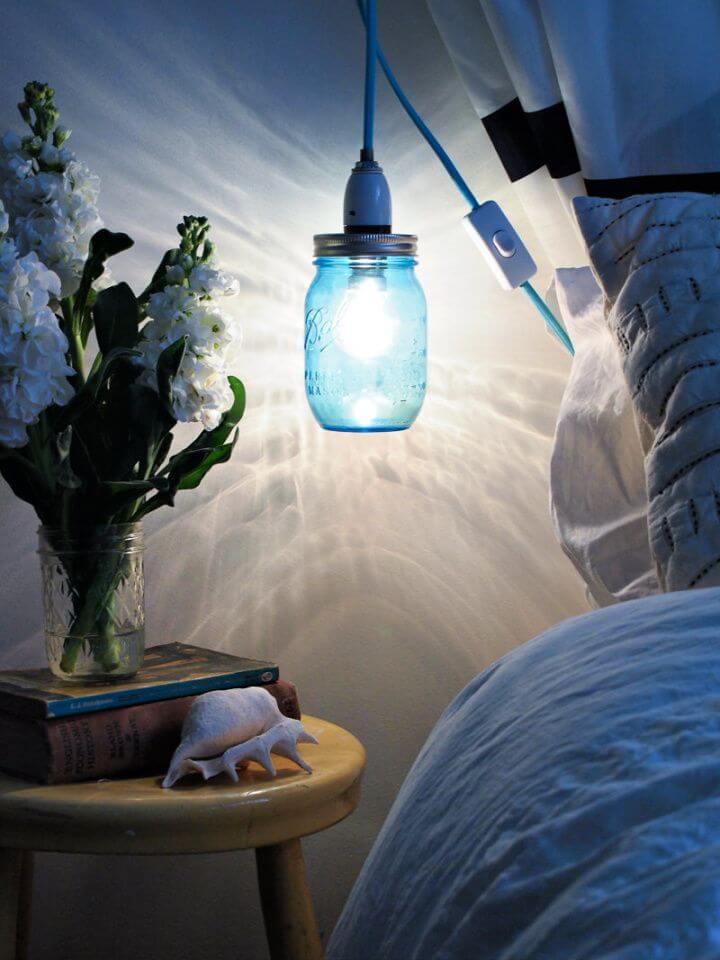 Your perfectly chic and white bedroom décor is going to be instantly jazzed up with this vintage Mason jar pendant light in blue. This combination of white and blue is so darn perfect for a beach cottage room. So grab a blue mason jar, bulb, and the socket kit to create this lovely pendant light in minutes.
Tutorial: abeachcottage
Inexpensive Mason Jar Solar Lights: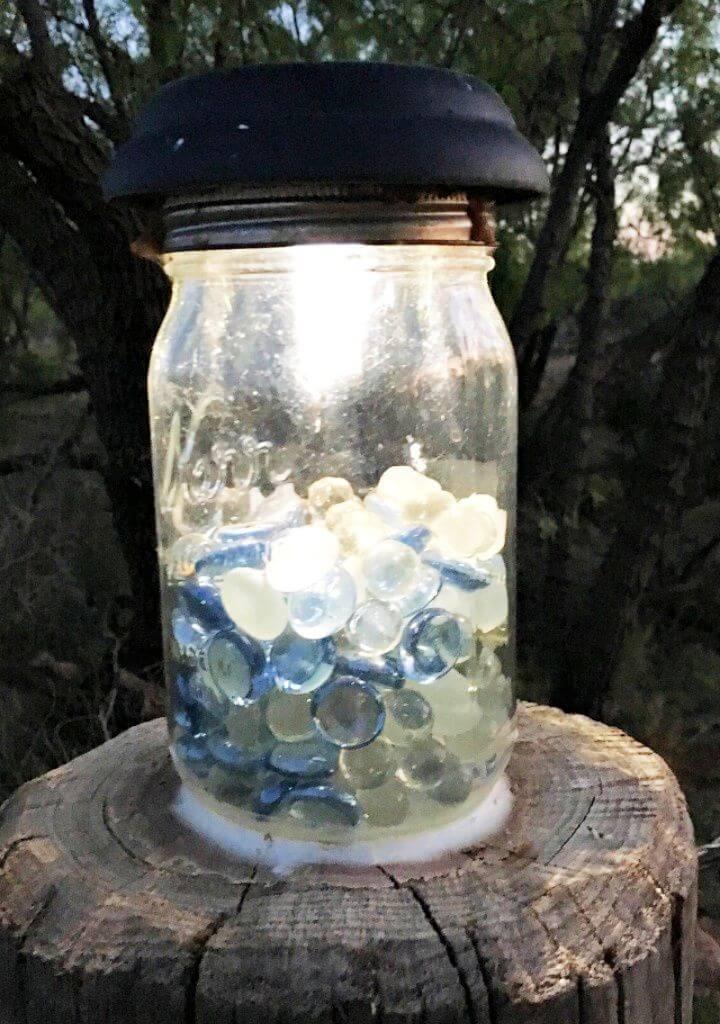 Make your summer evenings more fun by sitting outside under the charming glow of this inexpensive mason jar solar light. The light is super easy to make with a mason jar, a lot of glass rocks and the gorilla glue. Also, the jar is adorned with a yard light top to look more authentic as a light. Details here!
Tutorial: myturnforus
Easy Pendant Light Tutorial:


Give a makeover to your kitchens with this utterly functional project of the easy pendant light tutorial. The mason jar pendant light looks so adorable and elegant hanging over your sink and along with the kitchen window. So grab a mason jar, a bulb and the other light supplies and tools to do this project.
Tutorial: craftaholicsanonymous
Outdoor Mason Jar Chandelier Tutorial: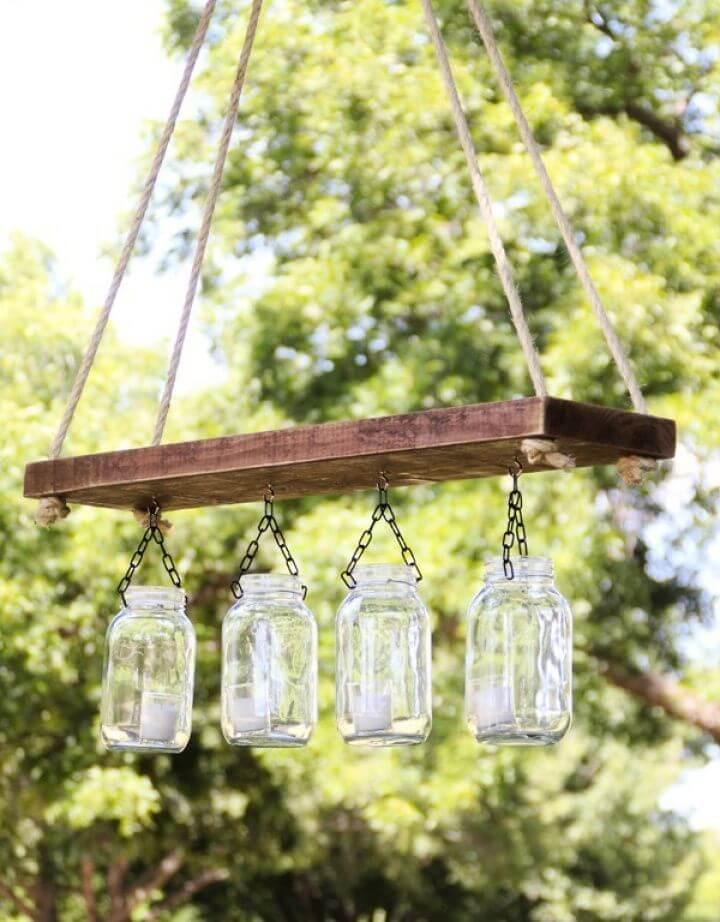 Tutorial: shanty-2-chic
Succulent Chandelier Tutorial: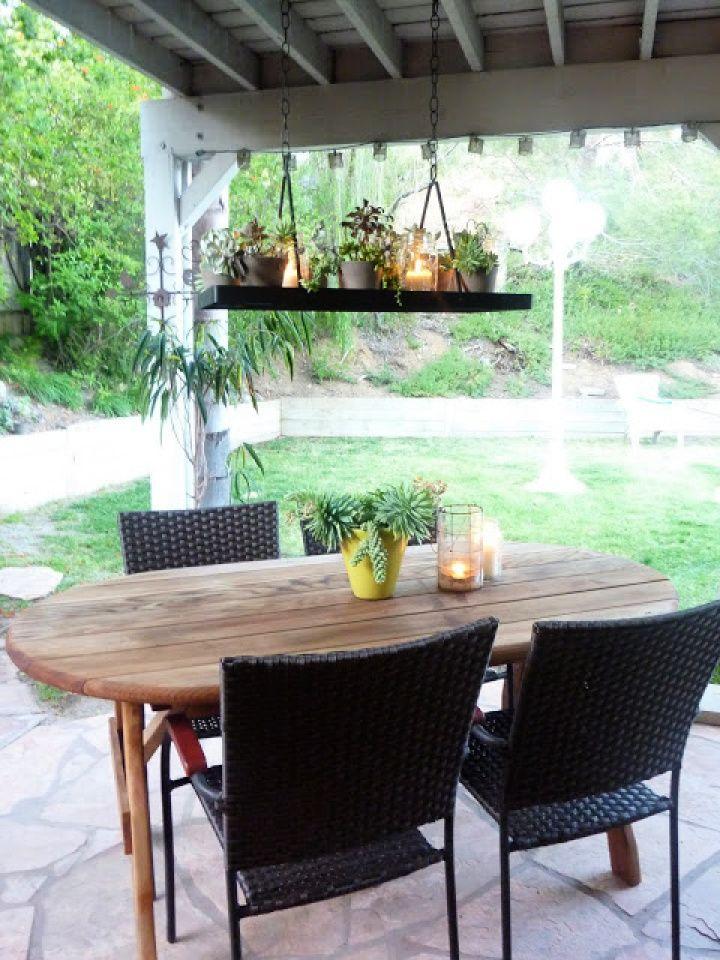 This prettiest outdoor Mason jar chandelier is going to steal the hearts of every summer lover for being so fresh and exotic. You need a bunch of the succulent plants and the pots along with the mason jar candle lights to create this piece of utter beauty and appeal. Check out the tutorial here!
Tutorial: erineverafter
Pottery Barn Inspired Ladder Lantern Hanger: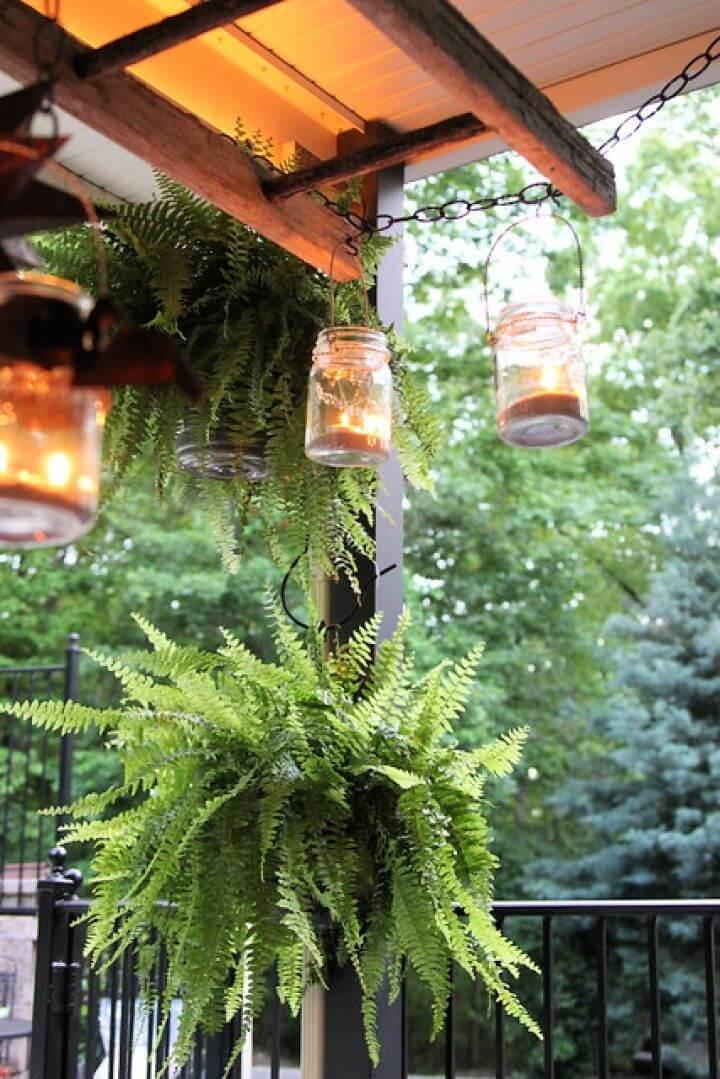 We all love the rich in style pottery barn things but they can be cheaply hacked at home too. Here is this pottery barn inspired ladder lantern hanger to bring so much awesomeness and beauty to the patio spaces. So grab a rustic wooden ladder and a bunch of the mason jars to do this pottery barn lantern hack.
Tutorial: unskinnyboppy
Mason Jar Techno Tiki Torch Tutorial: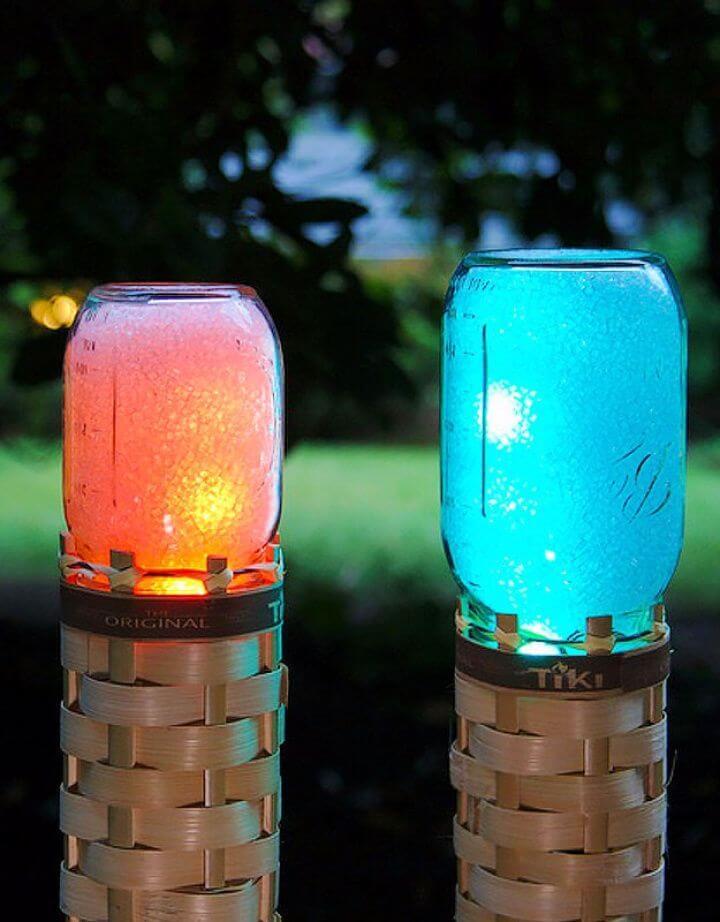 Bring some technical beauty to your spaces with this so cool and funky project of the Mason jar techno TIKI torch light project. These lovely and colorful animated techno lights are surely going to rock your outdoor spaces and are hell easy to make. Grab the complete how-to here!
Tutorial: learn.adafruit
Mason Jar Pendant Light: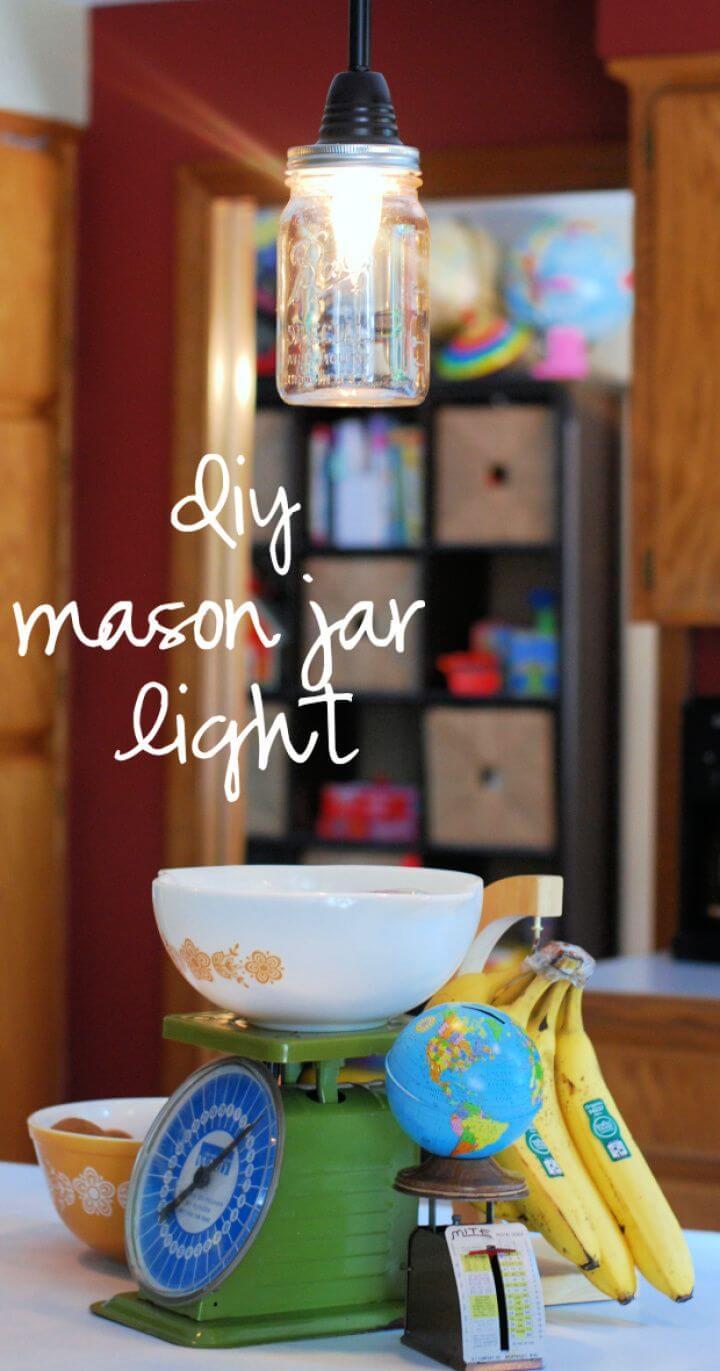 Prepare your dinners with more fun and light with this mason jar pendant light on your kitchen counter. Using a feasible list of the supplies and tools you can easily tackle this pendant light at home. So grab the bulb, socket kit, and the mason jar to create this pendant light right this weekend.
Tutorial: homeiswhatyoumakeit
Rustic Mason Jar Wall Lanterns: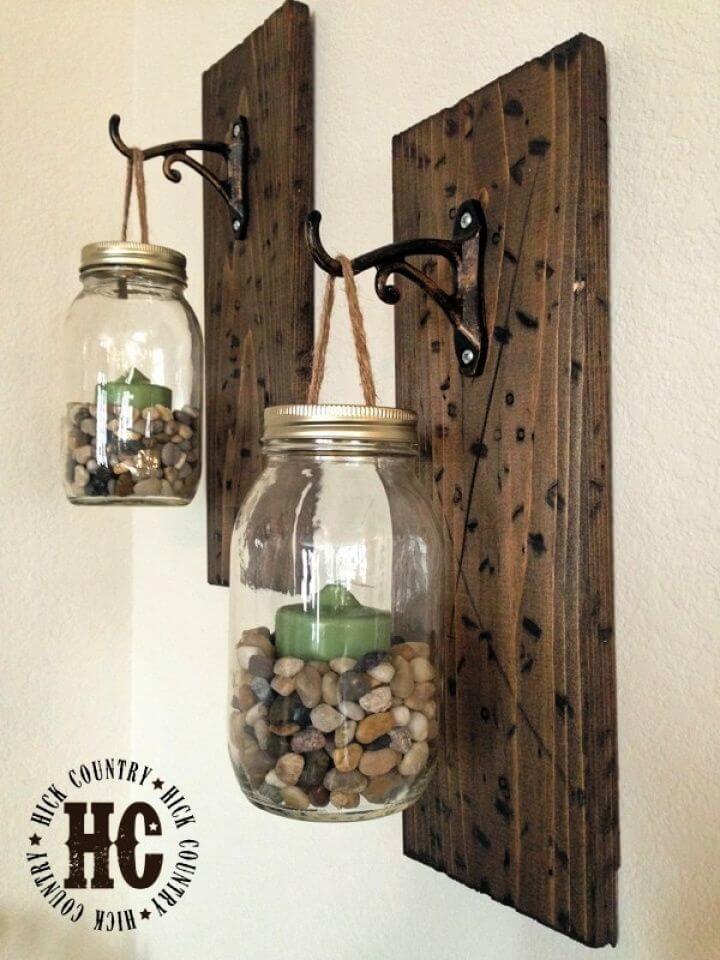 No matter which room of the house needs some new light fixation these rustic mason jar lanterns are so damn perfect for each.  Especially your hall and living room spaces are going to glow up with these lantern beauties. So garb some wooden boards, rustic scones, bulbs, and mason jars to make them.
Tutorial: asouthernfairytale
Patriotic Mason Jar Lanterns: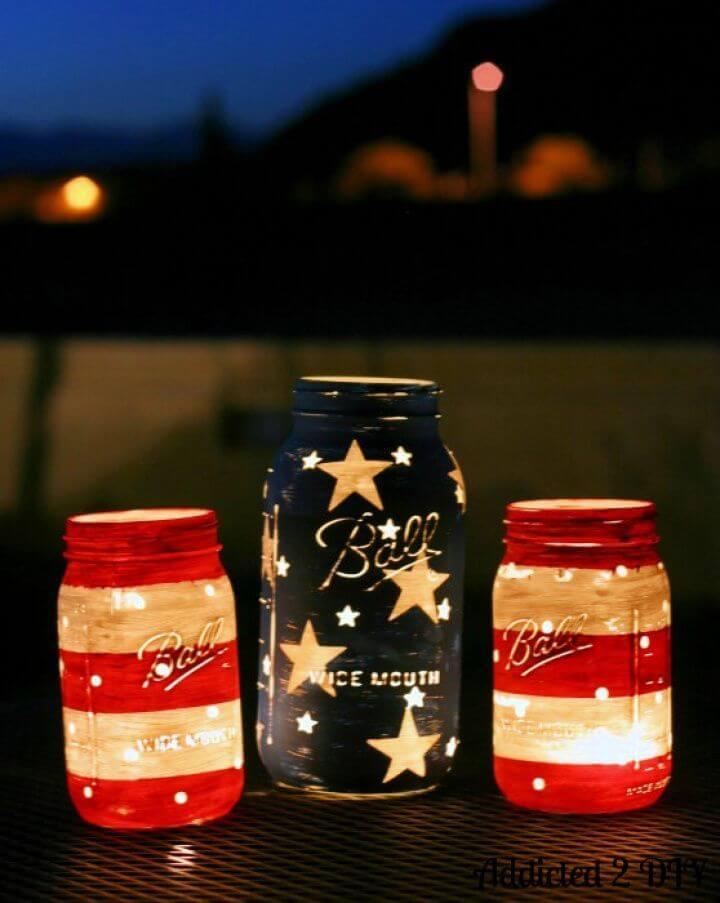 Enjoy the summer night of the Independence day around the romantic glow of these patriotic mason jar lanterns. Just grab the mason jars and paint them in the flag hues. You can either fill the jars with can fix the string lights inside. Follow the tutorial here!
Tutorial: addicted2diy
You May Also Like:
Make Your Own Mason Jar Solar Light: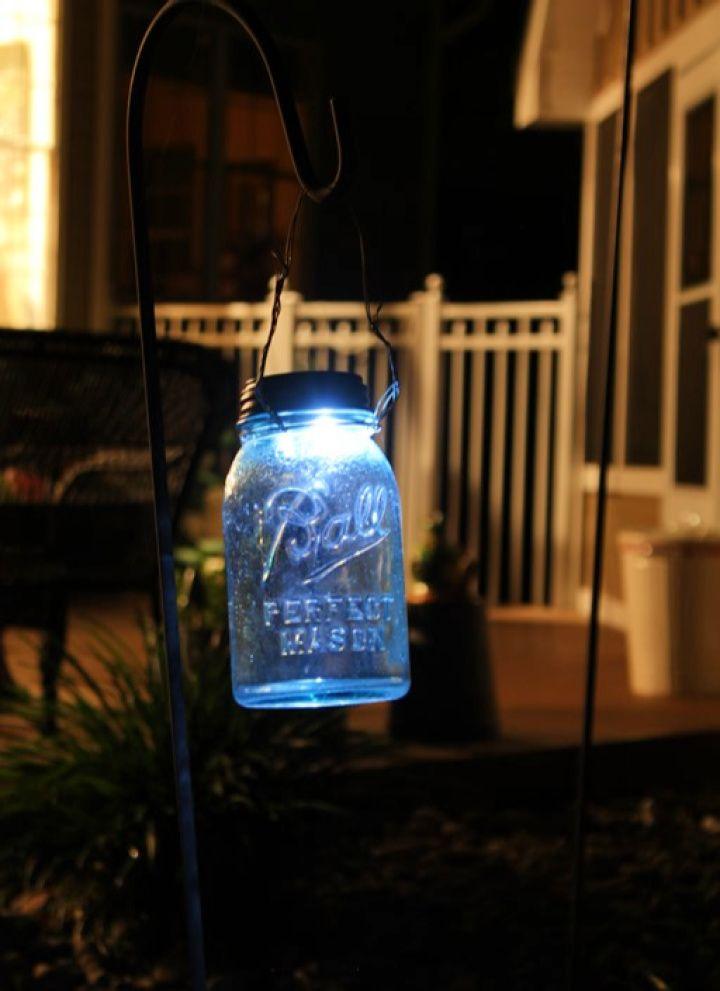 If you have a blue mason jar in your kitchen resting in the cabinet then make this pretty mason jar solar light out of it and make your gardens and yards light up. Just fix a solar stake light inside the mason jar and let it hang over the planter hanger in the garden and enjoy its lovely lights on summer nights.
Tutorial: findinghomefarms
Easy DIY Constellation Jar Tutorial: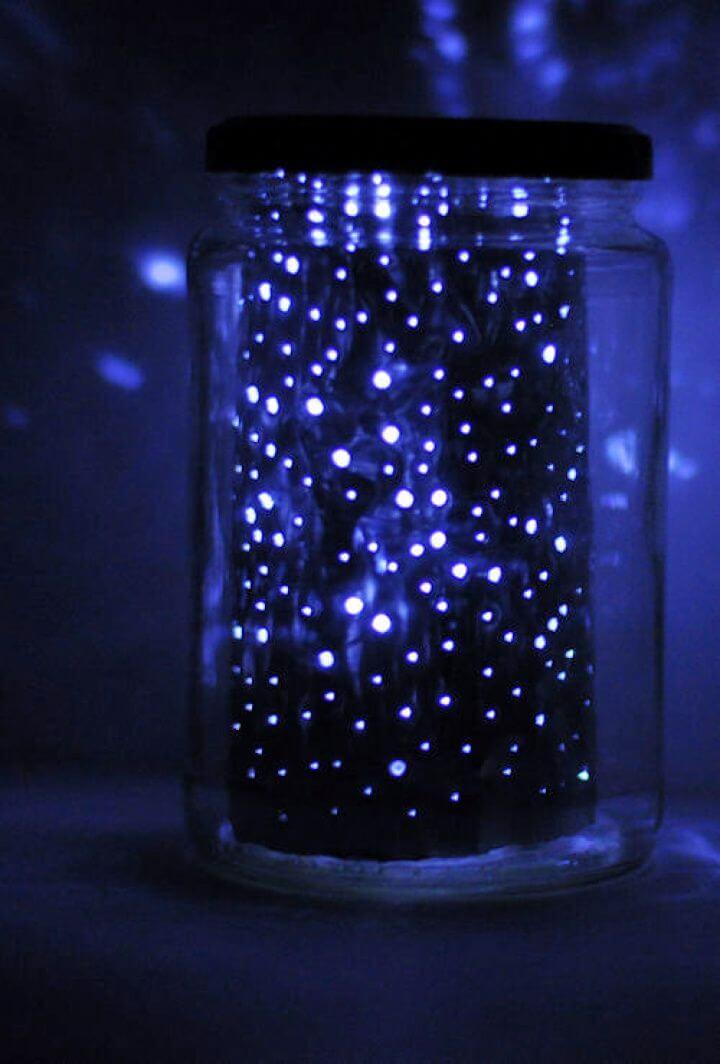 You can make this easy DIY constellation jar for your kid's room and they would love it. This is super simple and easy to make with a few cheap supplies. So grab an aluminum sheet and pierce holes on it all over. Then place this sheet inside a mason jar and add some lights and the constellation jar is ready.
Tutorial: designmom
Mason Jar Lamp with Faux Zinc Shade: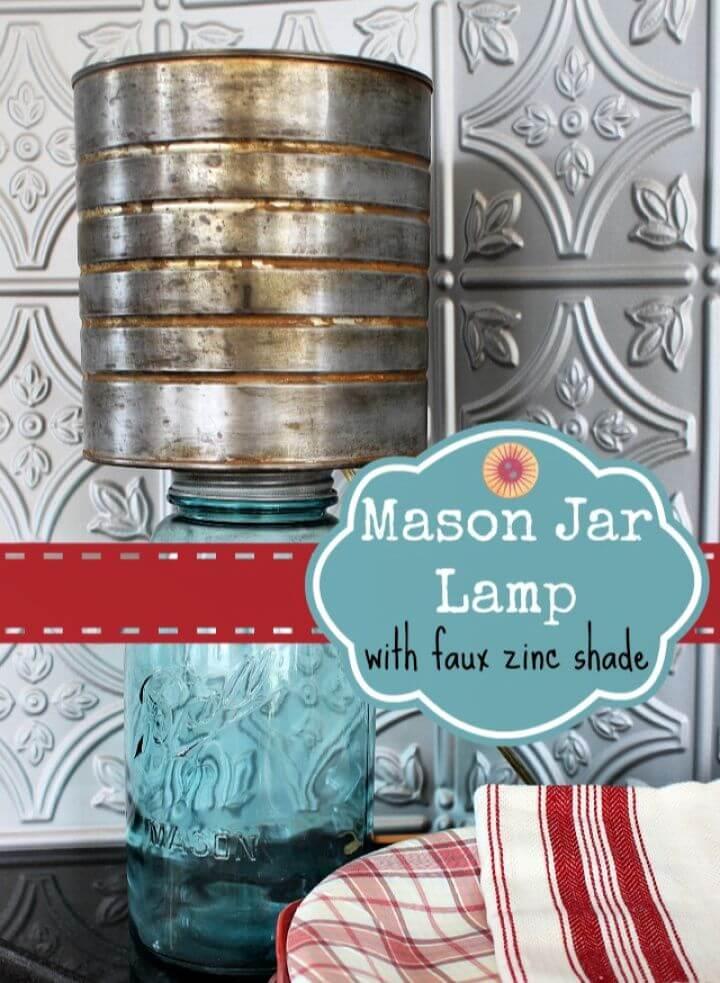 This mason jar lamp with faux zinc shade is quite an interesting project to do this week.  The mason jar makes the post of this handmade lamp and the shade is a metal surface. The rustic look of the metal shade is achiever by dabbing some zinc solution over it all over. How to is here!
Tutorial: attagirlsays
Coffee Bean 5 Minute Mason Jar Lamp: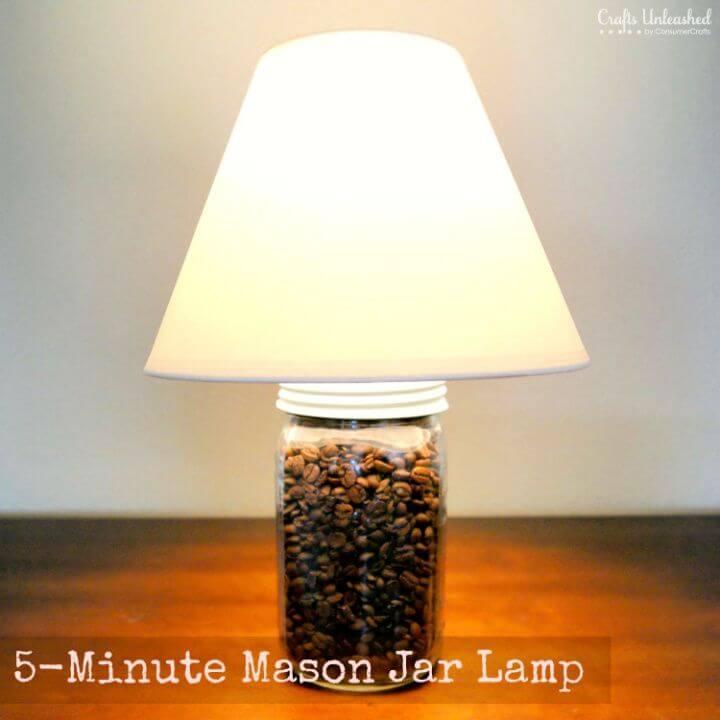 Even if you are a busy person you can still enjoy getting crafty with the favorite jars with projects like this quick 5 minute Mason jar lamp. Yes, the post of the lamp has been replaced with a coffee bean filled mason jar to look just so cute and adorable. Details here!
Tutorial: consumercrafts
Beautiful Mason Jar Desk Lamp: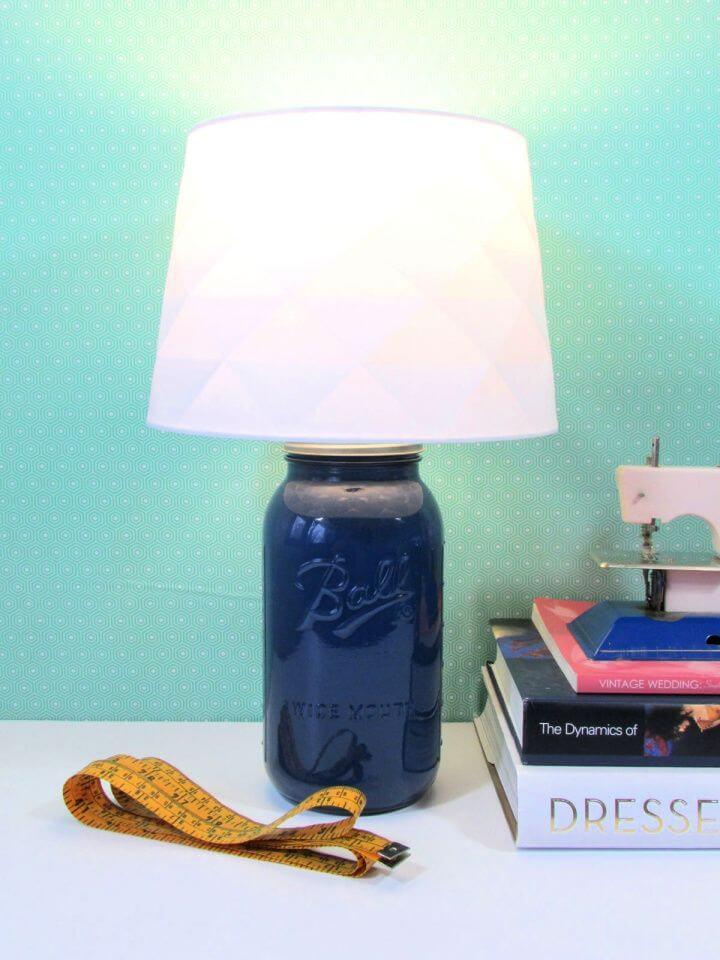 Make your summer desk look prettier and cool with the addition of this beautiful mason jar desk lamp. The dark blue mason jar forms the perfect post for a simple cute and white lamp shade. All you need to do is paint the jar and then fix it under your lampshade. Details here!
Tutorial: homedit
Mason Jar Chandelier Tutorial: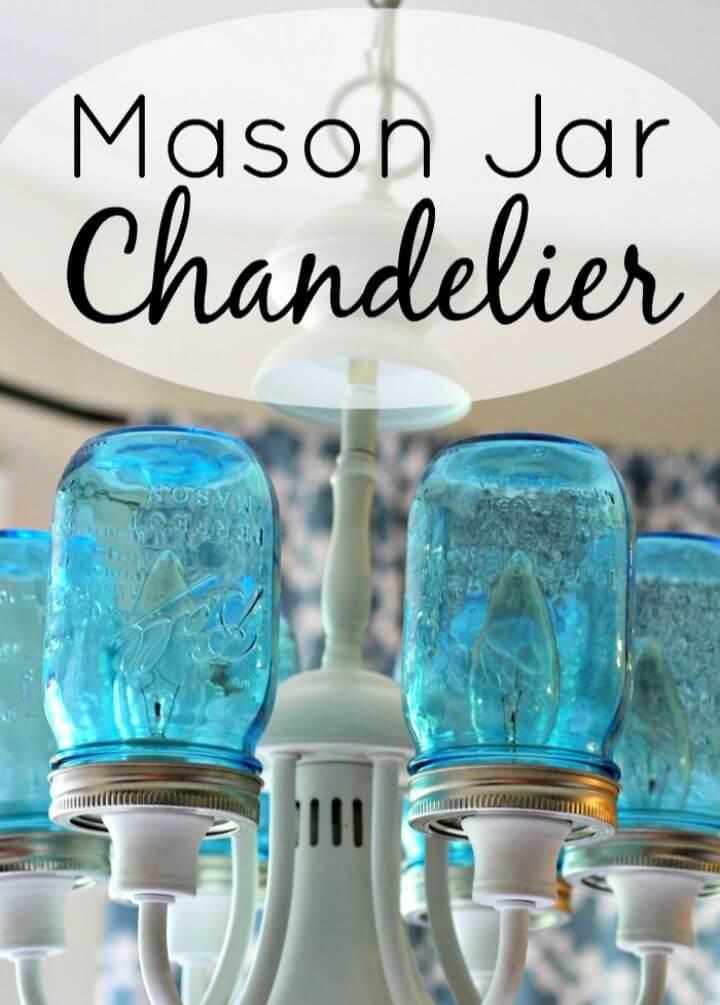 Give your dining room spaces a complete décor revolution with this awesome and gorgeous Mason jar chandelier. A simple white chandelier here has been updated with the blue mason jars to look just so beachy and cool for your spaces. The project is quite cheap and simple to do and here are the details!
Tutorial: kellyleighcreates
How to Build an Outdoor Chandelier: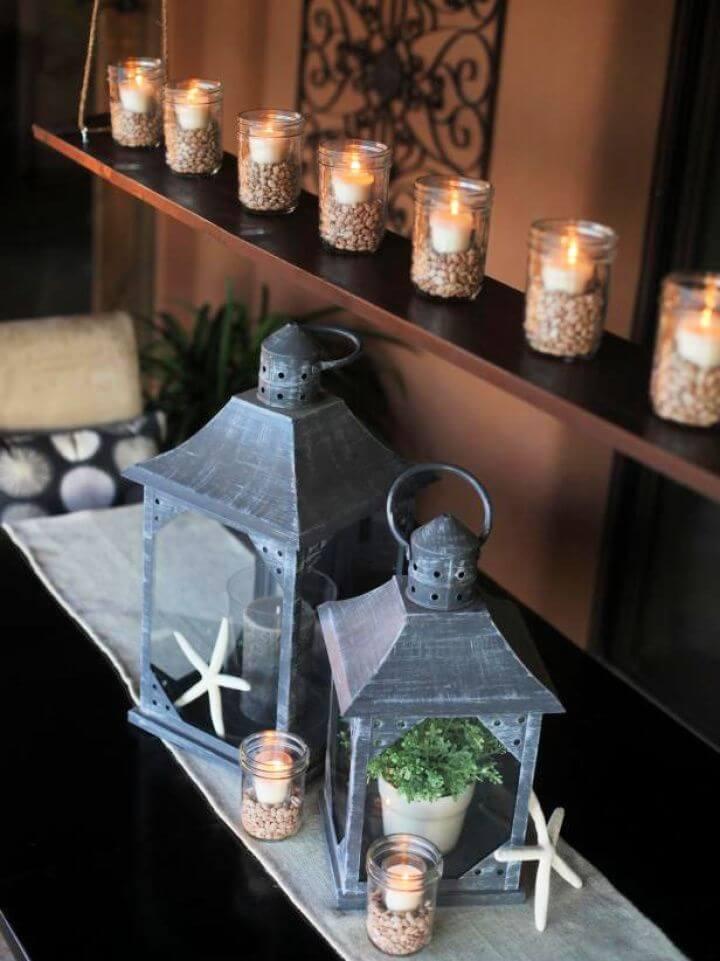 Summers are great to spend fun nights outdoors and with this lovely outdoor chandelier, you can add more to your ambiance. This total summer-inspired chandelier is easy to make with 8masno jars, beans to fill in, candle votive, a wooden board, ropes, and the eyes hooks. Details here!
Tutorial: hgtv
Ball Mason Jar Sconce Light Tutorial: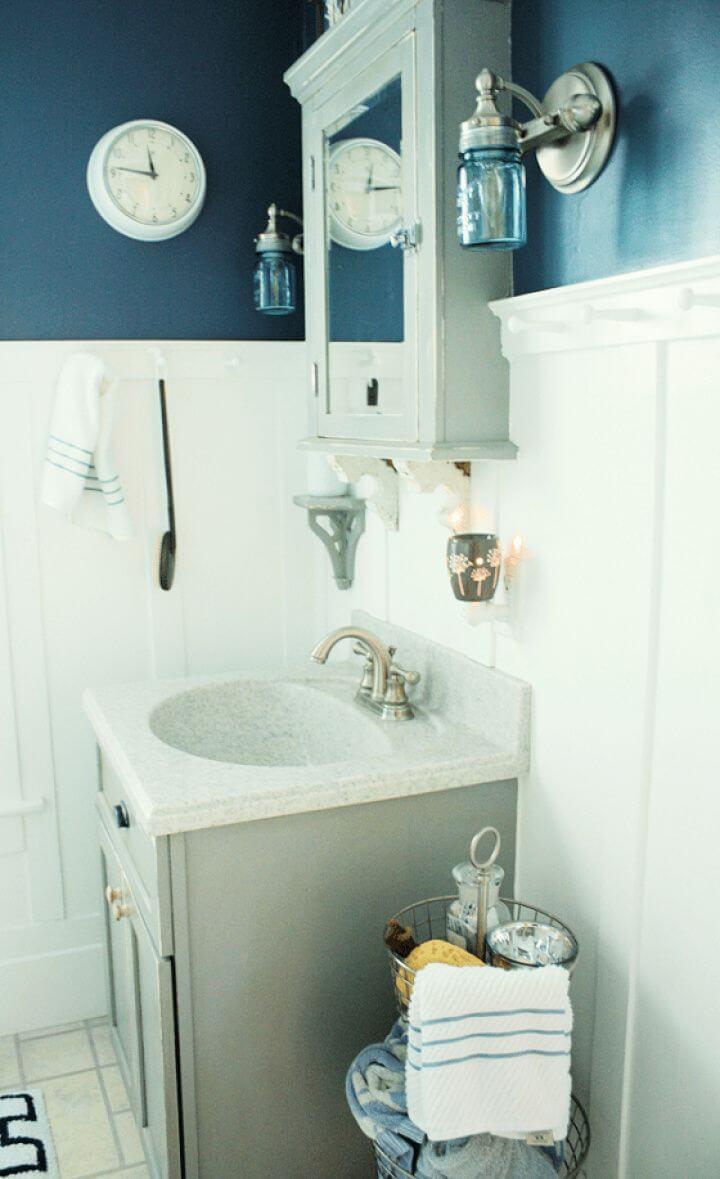 It's time to remodel your bathroom setting and thee mason jar sconce light is the best project to include in the list. Just replace your old lights with these awesome blue tinted mason jars with round scones and your bathroom is surely going to look chic and fun. How to here!
Tutorial: robbrestyle
Make A Rustic Mason Jar Chandelier: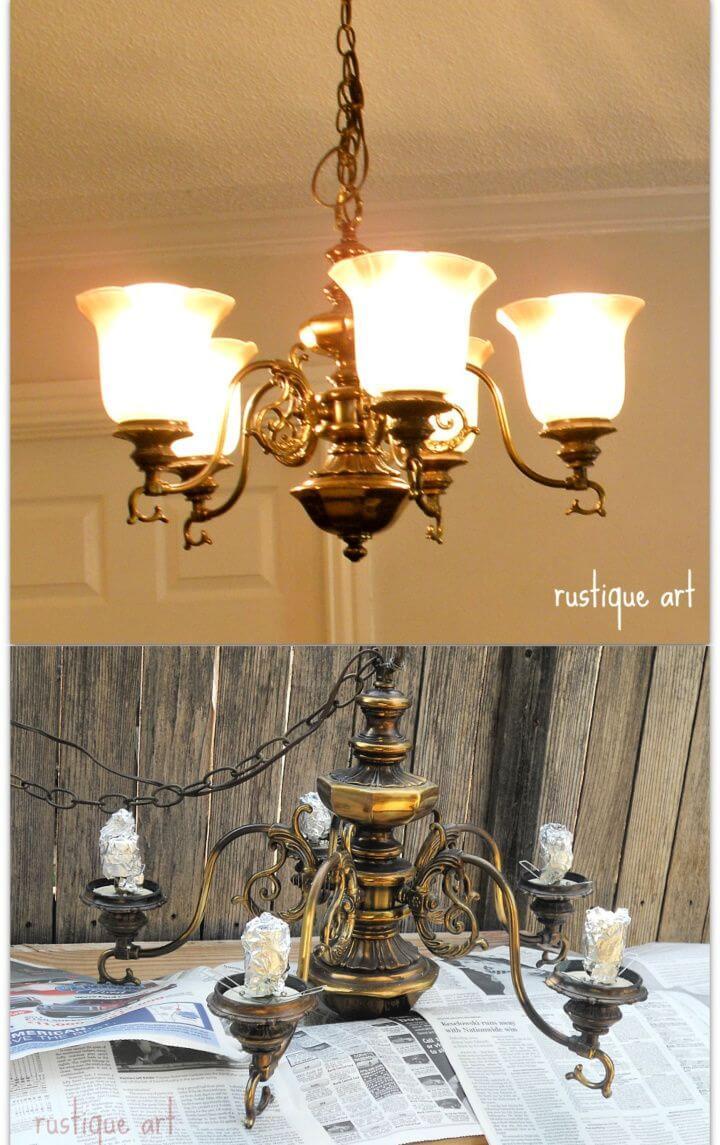 If you have an old antique chandelier lying around then it's time to change it into this rustic mason jar chandelier.  Spray paint the whole metal part of the chandelier with frost and then replace the flute scones with a variety of the mason jar and it's done. Tutorial here!
Tutorial: rustiqueartblog
Fourth of July Star Jars: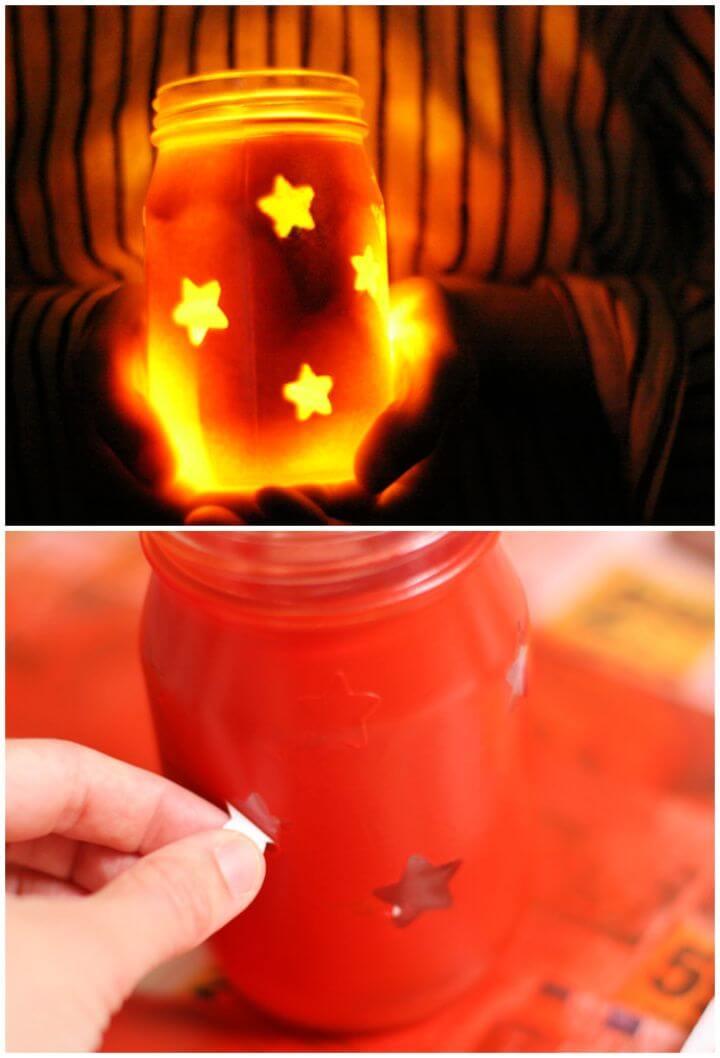 This cute Fourth of July mason jar is super easy and fun to make at home with your kids. Just grab a mason jar, add some star stickers to it, then paint it all over in red and remove the stars. Finally, add in some lights and your patriotic light is ready to glow. Details here!
Tutorial: momtastic
You May Also Like:
Mason Jar Solar Lights: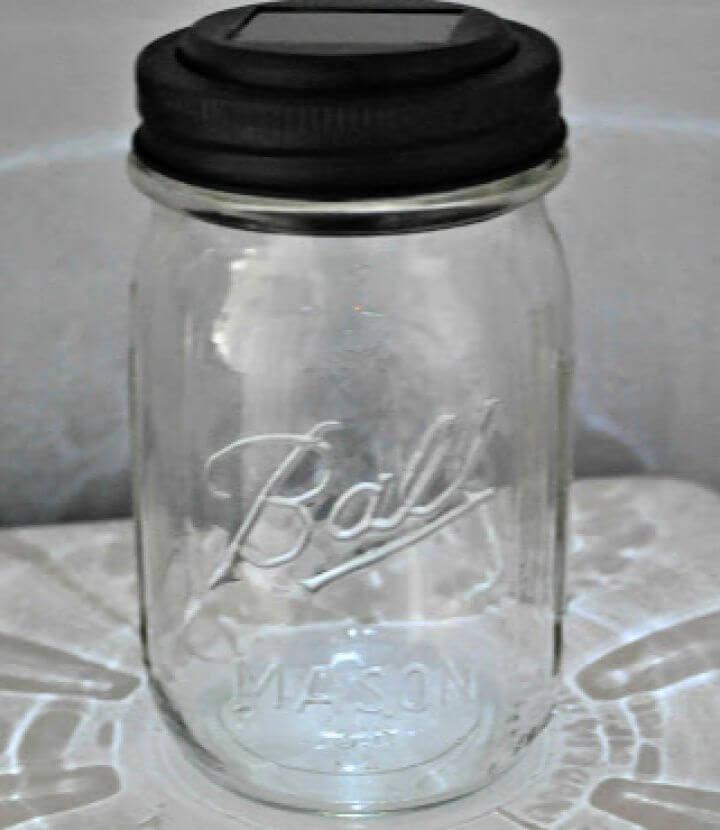 Create these awesome mason jar solar lights to bring some light at the cost of free energy. These solar lights are a perfect way to light up your garden or the yard area. So grab mason jars and the dollar tree solar lights to create this lovely bunch of the solar lights. How to here!
Tutorial: keepcalmanddecorate
Best Mason Jar Light Idea: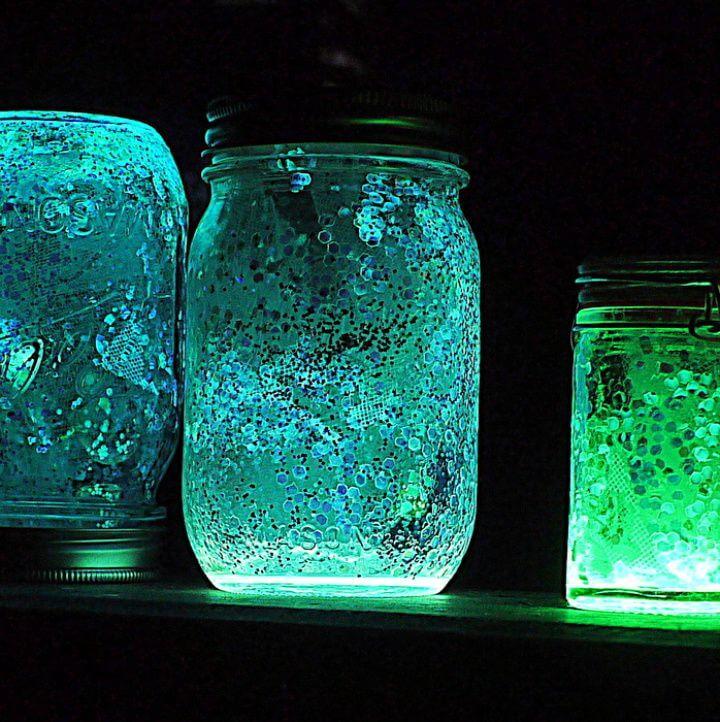 Make your camping much more interesting and fun with these mason jar light idea. These awesome glowing mason jar lights are so easy and fun to make at home. So grab a jar, add some glitter and the tulle to the jars and finally add the glow stick and enjoy some mesmerizing lights around you.
Tutorial: thegoodheartedwoman
Hanging Mason Jar Solar Lights Tutorial: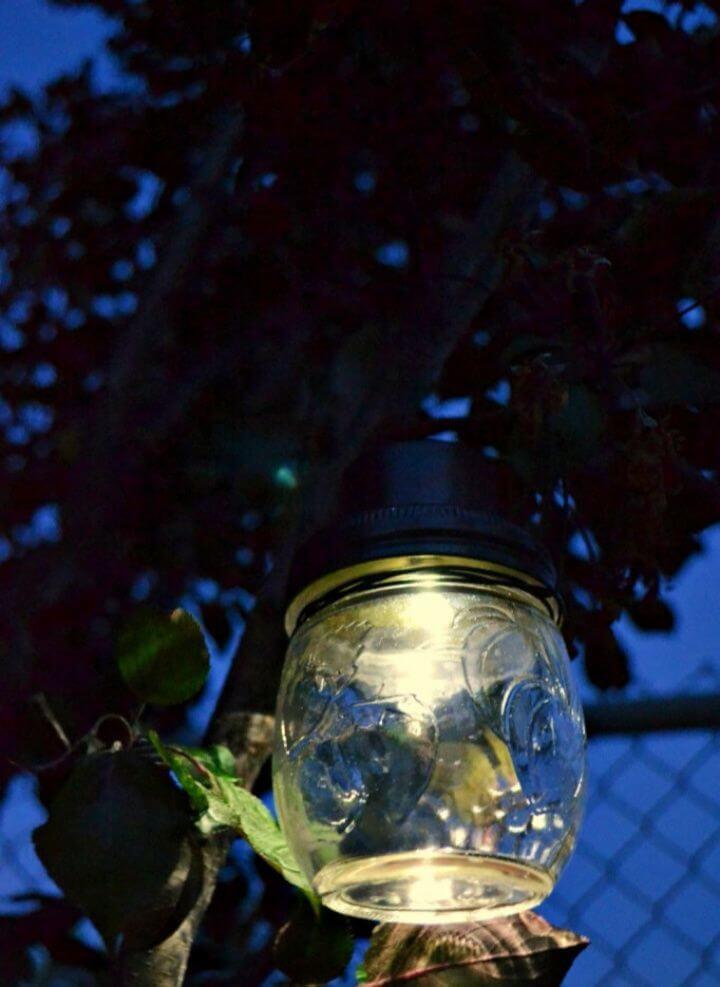 This hanging mason jar solar light is a super interesting and fun idea to charm up your outdoors with. So using the solar lights and the mason jars you can easily create this hanging light for your patio or the yard. You can even hang it over your trees too. Check out details here!
Tutorial: hashtagblessedblog
Hanging Solar Lantern Tutorial: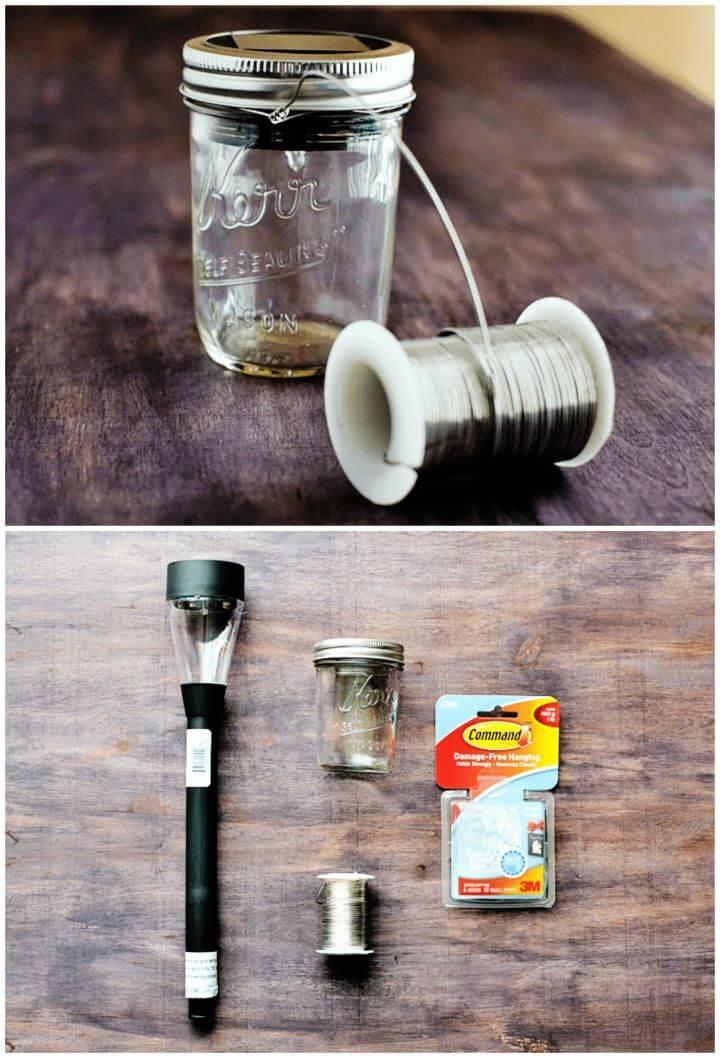 When you have such gorgeous solar lanterns in your spaces hanging you are sure to enjoy your summer nights more there. Also, you can make these hanging solar lanterns easily and cheaply at home. So grab mason jars, solar lights, and spray paint to easily create this lovely bunch of handmade lanterns.
Tutorial: brepea
How to Make a Lighting Fixture Out of Mason Jars: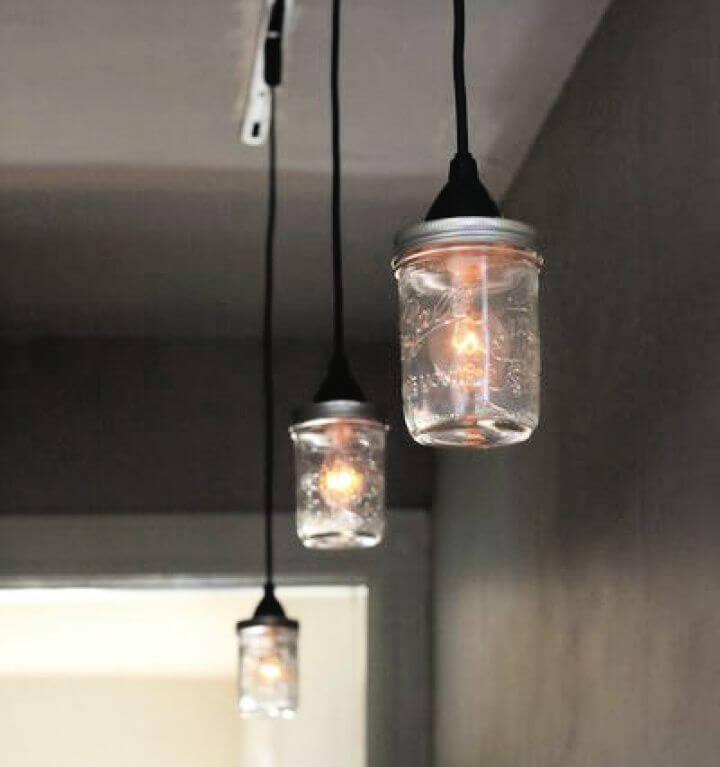 Either for your living or the hall or the kitchens, these lighting fixtures out of the mason jars are perfect to light up all your spaces. With some mason jars and socket and bulb kit, you can easily create these lovely lighting fixtures with pretty hanging. Catch the details here!
Tutorial: ehow
5 Minute Patriotic Centerpiece: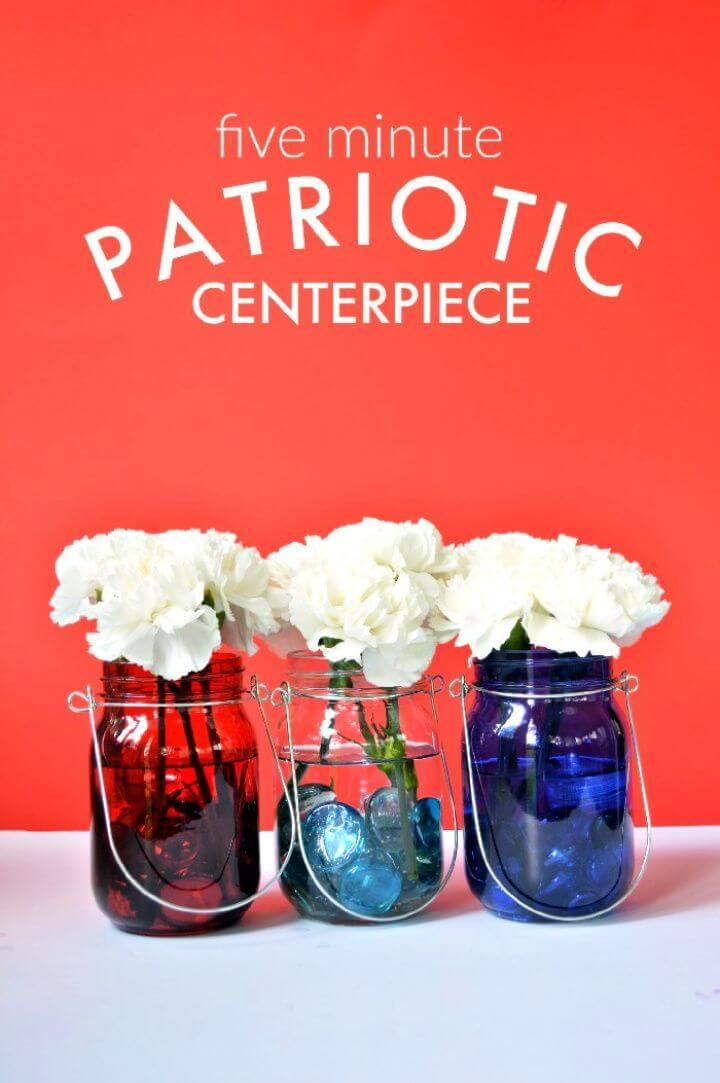 This 5-minute patriotic centerpiece is the best of the crafts to make on Independence Day. The jars are in white, blue, and red tints to perfectly fit the theme of the day. Also, the jars have been loaded with water, flowers, and waterproof lights to be lanterns and vases at the same time. Details here!
Tutorial: madincrafts
Easy Little Mermaid Mason Jar Light: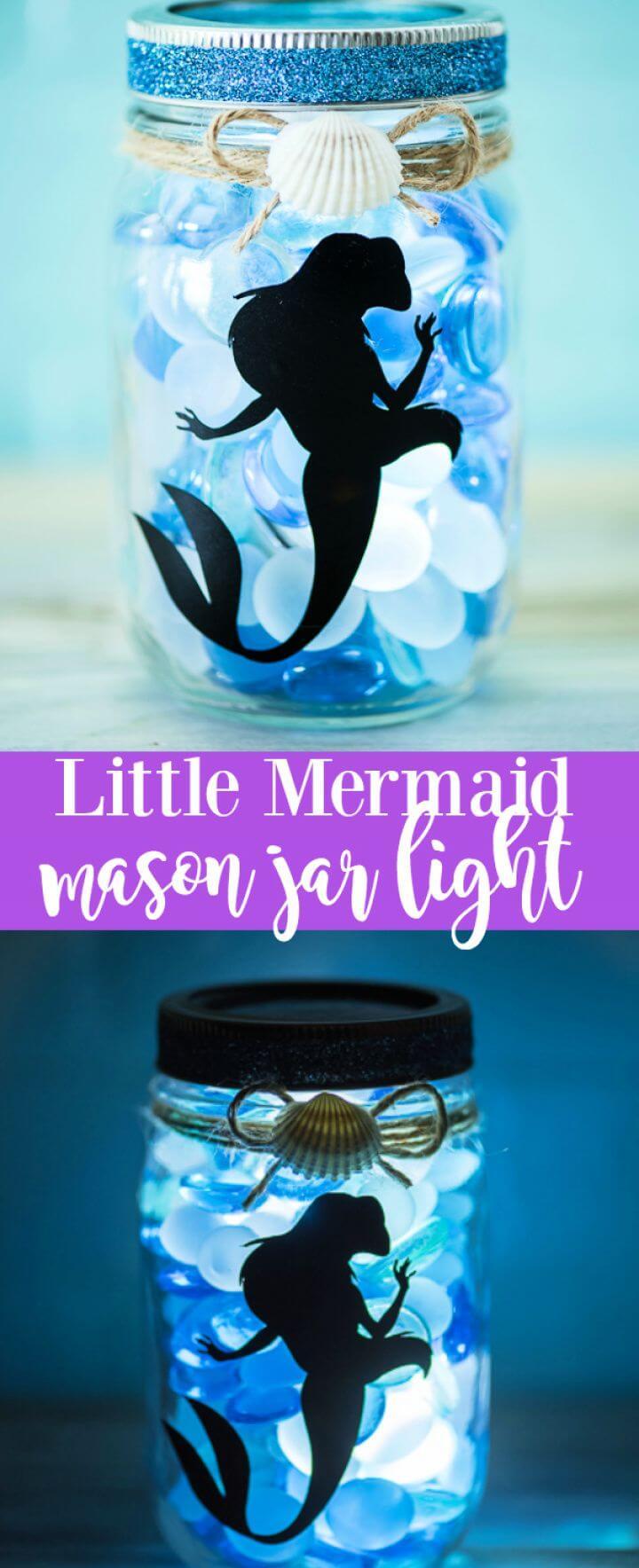 Little girls are so mesmerized by the mermaids and thus this easy little mermaid mason jar light is the perfect plan for their room décor. Cut a black mermaid out of vinyl and fill the jar with blue and white stones. Add a sea shell with twine and some glitter to the lid and it's ready to rock.
Tutorial: apumpkinandaprincess
Mason Jar Floral Sconce Tutorial: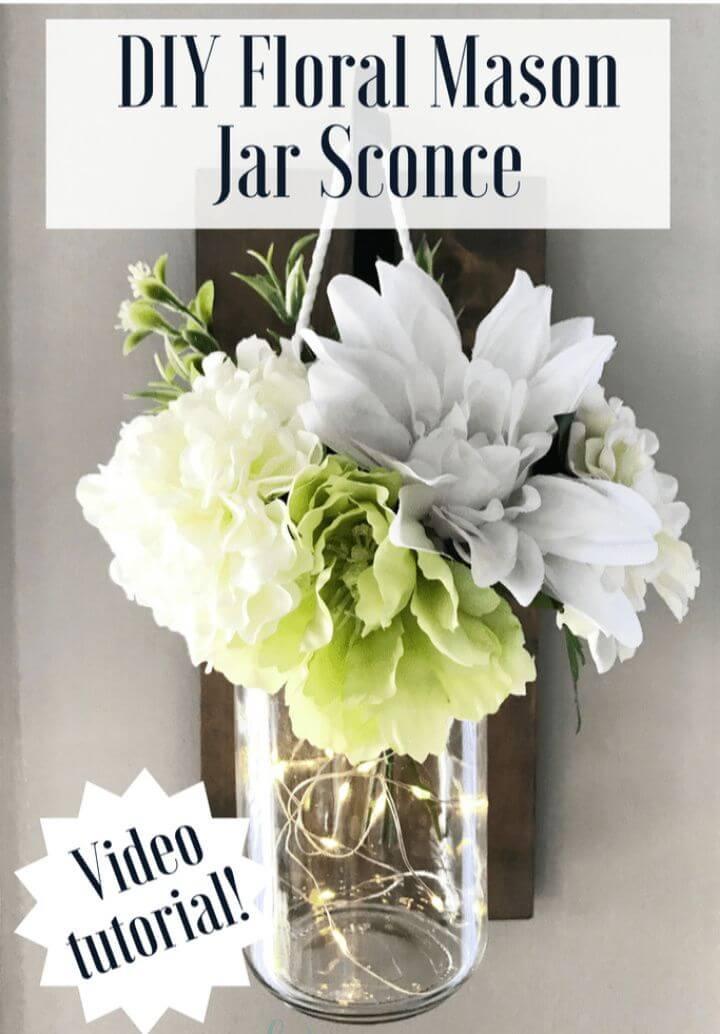 Here is this mason jar with floral sconce to serve your double purposes. In the day this lovely mason jar is going to be your pretty vase with your favorite flowers. In the night the jar is going to glow with the perfect lights inside. So grab a wooden board, jar, and string lights to shape up these two in one.
Tutorial: thelatinanextdoor
July 4th Mason Jar Lights Decorations: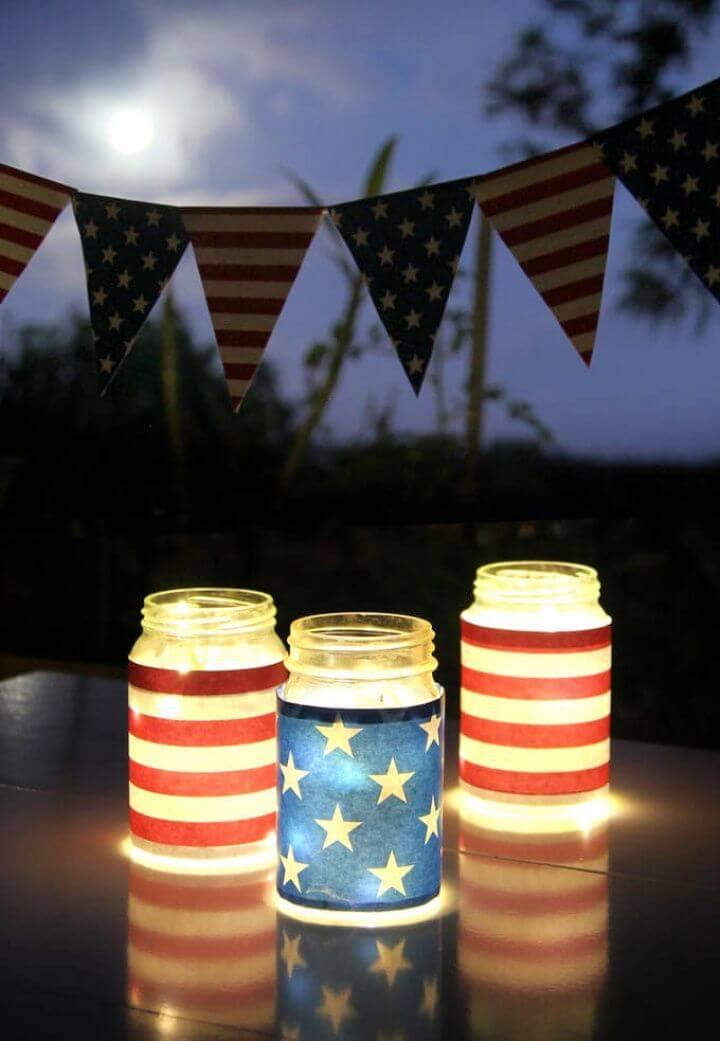 Make these gorgeous centerpieces for your independence day with this 4th of July mason jar light decoration. The mason jars have been decorated with flag papers and the lights and filled in with string lights to look just so perfect and cute. You can use this trio as the perfect centerpiece for your tables. Details here!
Tutorial: apieceofrainbow
Glittery Mason Jar Snow Globe: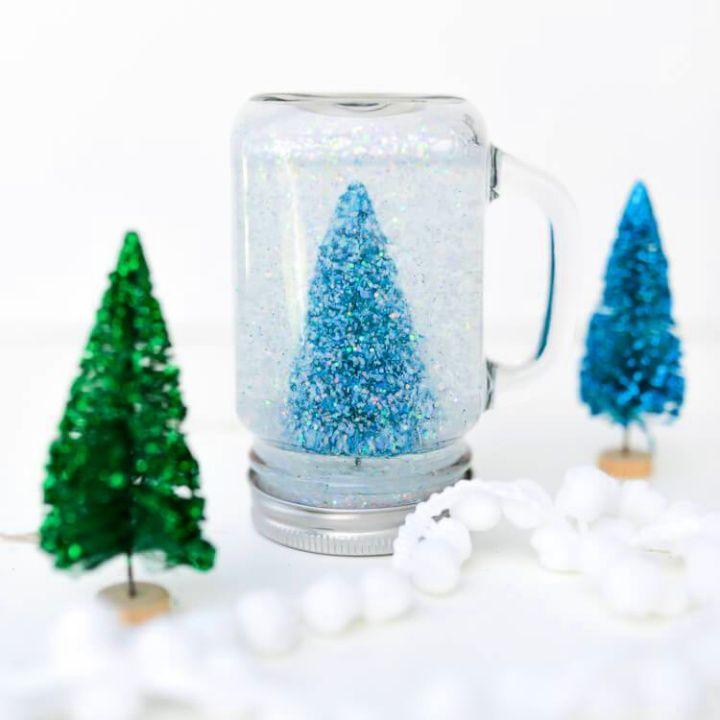 It's time to create some lovely winter décor and these glittery Mason jar snow globes are just perfect for this purpose. The lovely and cute glittery mason needs glue, glitter and the bottle brush tree to go inside. Check out the details here!
Tutorial: heyletsmakestuff
You May Also Like: