Mason jars or any other glass jars are of so much crafting value, and the crafters worldwide have proved this fact by producing lovely jar holders, planters, DIY vases, etc., by recycling them. And with every passing day, something more marvelous from these empty jars is being created to jazz up the home decor in so many fun ways. Another practical application that the DIY mason jars can perform after serving their primary function in the kitchens is their re-use as the adorable lights in a house.
Be it bulbs, wall-mounted lights, table lights, or the large chandeliers, and all can be interestingly crafted from the mason jars yourself at home with some thrifty finds. And to let you all avail the incredible tutorial and pictorial guide in this regard, we have gone through the many famous crafting websites and brought out these 30 DIY Mason jar light ideas to do yourself. Romantic glow in the dining rooms, bright light in the living and colorful light beams spreading on the garden grass can get them all through these cheap yet impressive Mason jar light projects.
These fancy Mason jar lights would add warmth and pleasure in all the homey sections, including the indoor and outdoor sections. So we invite you to take a peek into them all and make the one you liked and admired the most and light up your house in an elegant way and that too spending too less.
1. Mason Jar Night Light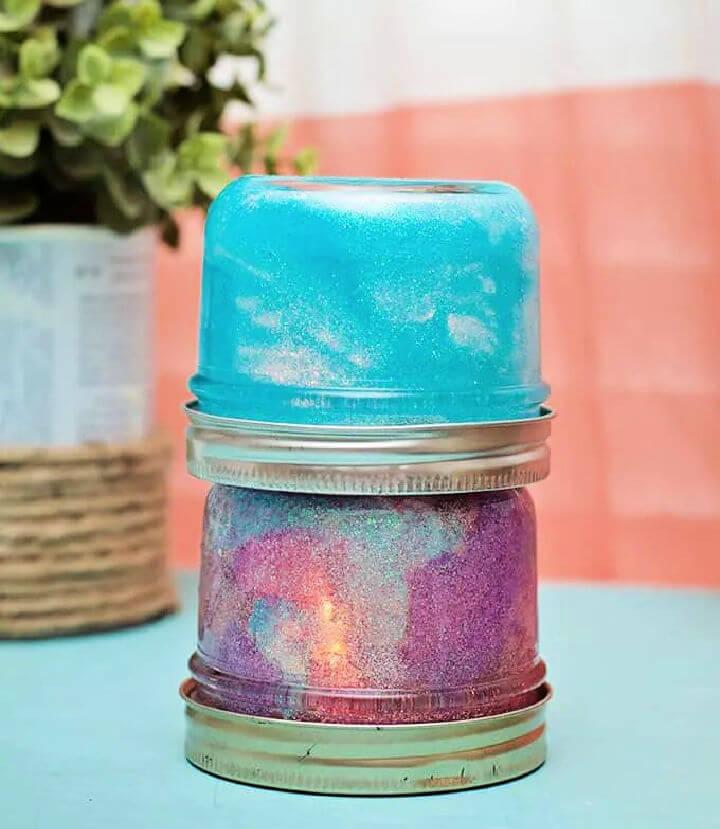 Make these super cute and fun looking Mason jar night lights on your own. You need two small Mason jars to turn them into these cute and colorful night lights for your little boys and girls. The jar is poured with blue glitter for boys, and for girls, it has been kept quirky with multi-colored glitter. More details here! modpodgerocks
2. Mason Jar Outdoor Lights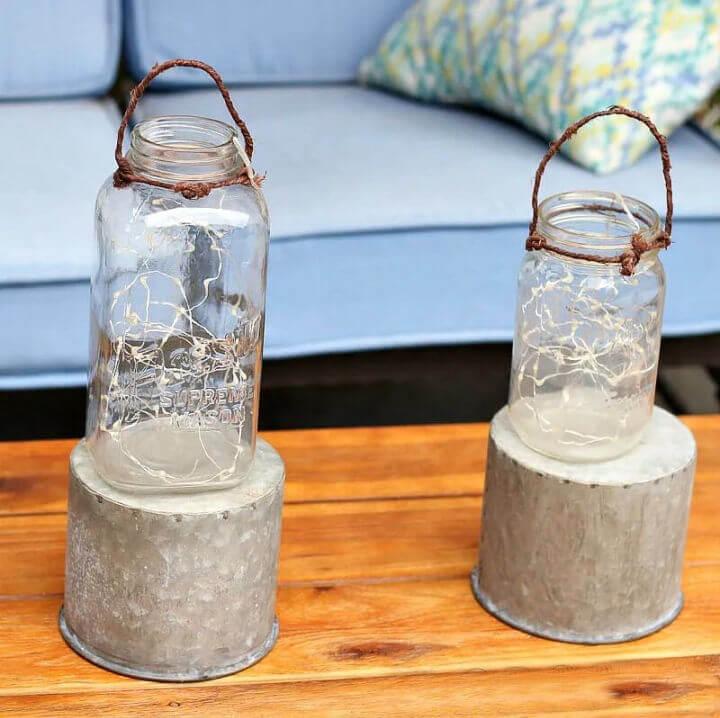 These Mason jar outdoor lights are going to add a whimsy appeal to your backyards this summer. Also, they are super easy and quick to make at home. Grab two big Mason jars with big wire handles and the count lights to lighten them. The batteries used are AA, and they can turn the lights up for up to 6 hours straight. Details here! blueskyathome
3. How to Make a Mason Jar Lantern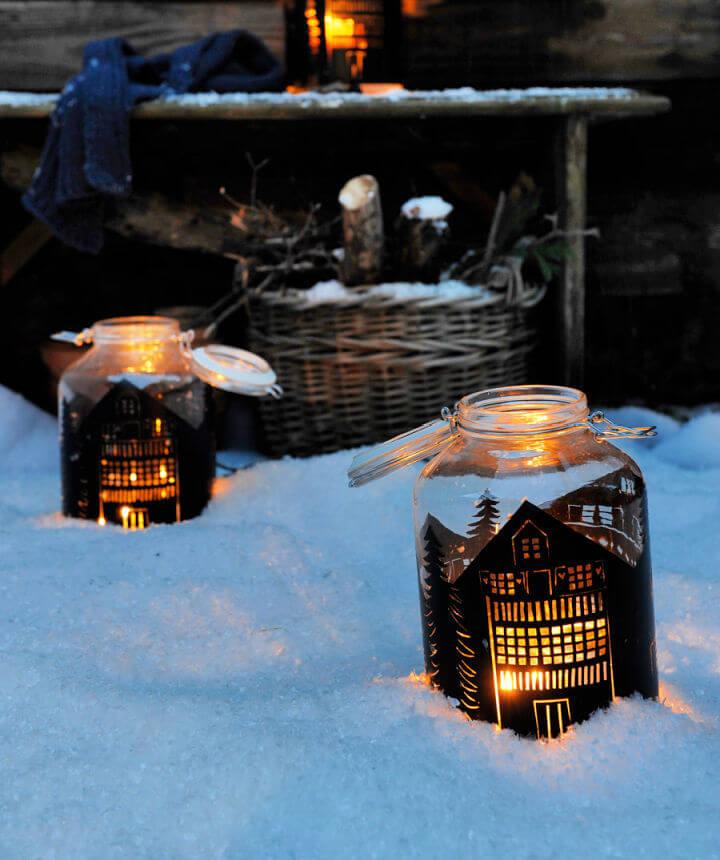 Turn into an artist with your kids this weekend to make these amazing mason jar lanterns. A mason jar has been decorated with a black film adhesive with a fairy home's cutwork design. The light coming out of these cuts is really going to create a mesmerizing scene at night in your room. Details here! look what I made
4. Little Mermaid Mason Jar Light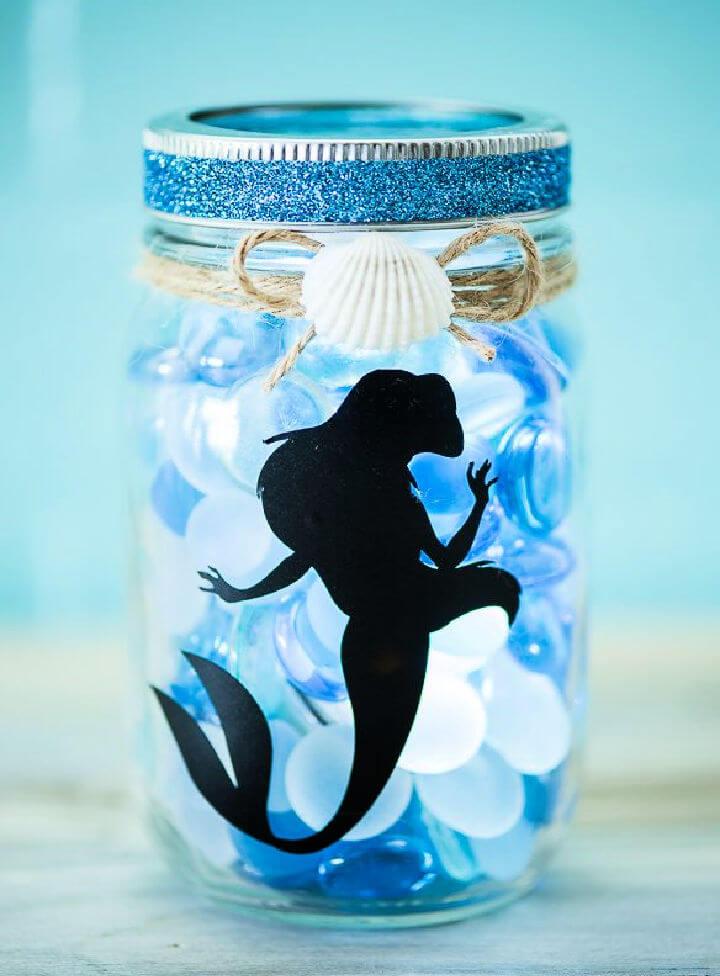 Little girls are super fascinated by the mermaids. So, here is this gorgeous idea of creating this amazing mermaid Mason jar light for her room. This Mason jar light has a mermaid silhouette, seashell embellishing, and pretty blue and white rocks filled inside. This would be a great gift idea for someone who is going to visit Disney soon. apumpkinprincess
5. Glittering Gem Mason Jars Lights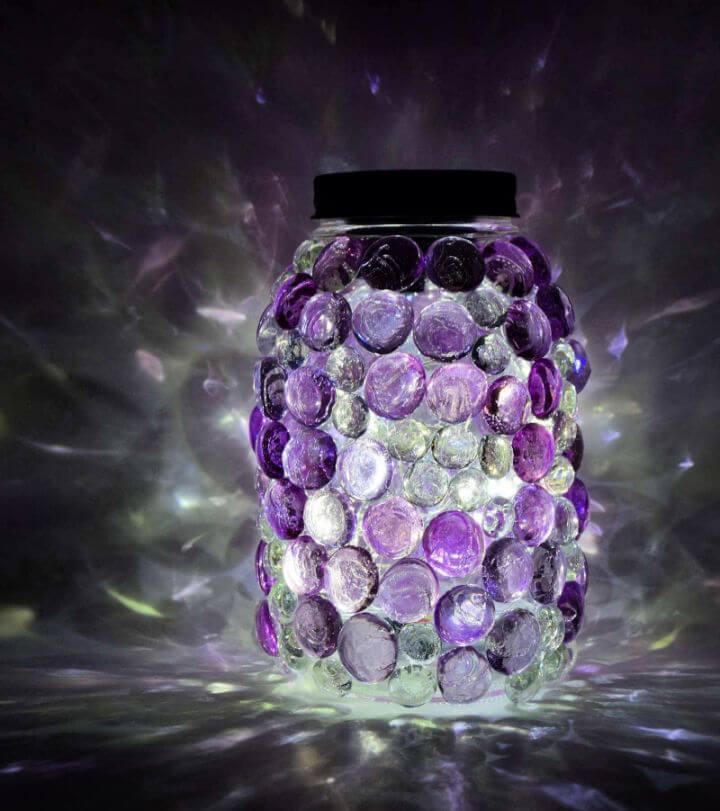 Enjoy disco light effect in your room with this glittering gem Mason jar lights idea. Just grab a mason jar of the desired size and glue some pretty glittering gems all over it. Then adjust the battery lights inside, and your Mason jar lights are ready to rock your places with their gorgeous beaming lights through the gems. Details here! aleenes
Watch This Video: DIY Mason Jar Lamps – DIY Mason Jar Lights (02 Mins 26 Secs)
6. Make Mason Jar Lanterns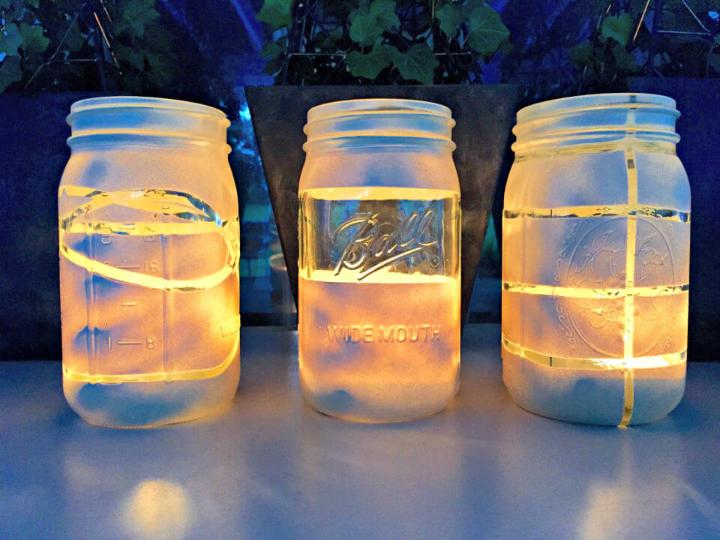 Make these lovely Mason jar lanterns in less than 30 minutes. These lanterns are going to bring a big amount of beauty and charm to your spaces, along with an ample amount of light. Get your mason jar and create your desired design or pattern using ribbons or tape and then spray paint them in ivory or white. Add candles or battery supported tea lights, and it's done. farmhouse1820
7. Firefly Mason Jar Light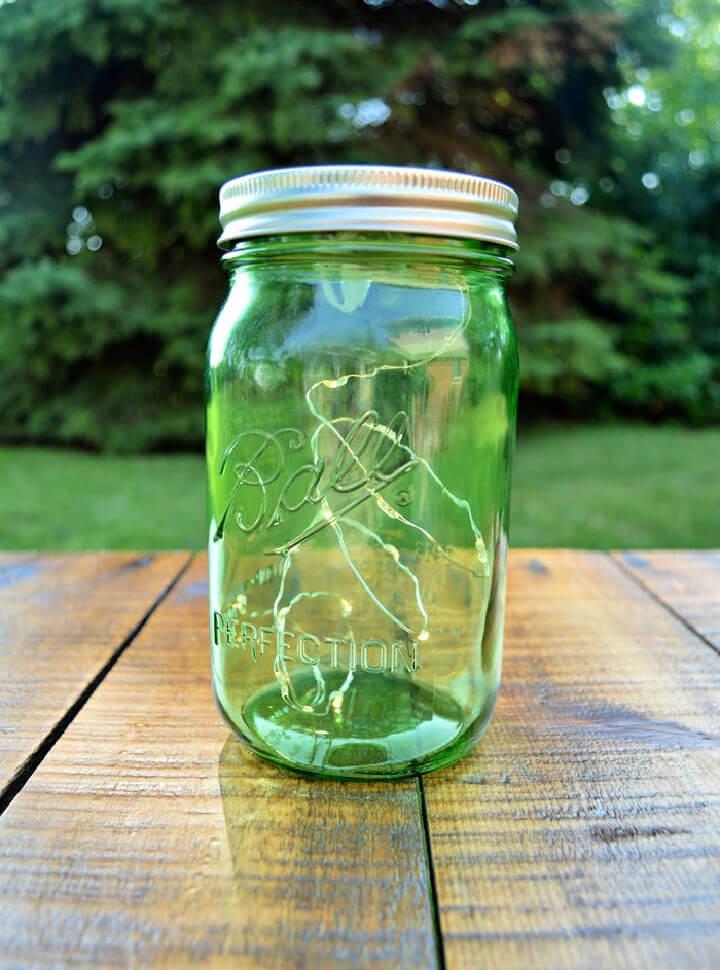 Bring some natural light appeal to your spaces with this firefly Mason jar light idea. This lovely handmade lantern makes you feel like fireflies caught in a jar and lighting up your room so beautifully. The good thing is that you need three things only to make this pretty lantern, which is a green mason jar, led fairy lights, and the foam mounts. madincrafts
8. July 4th Mason Jar Lights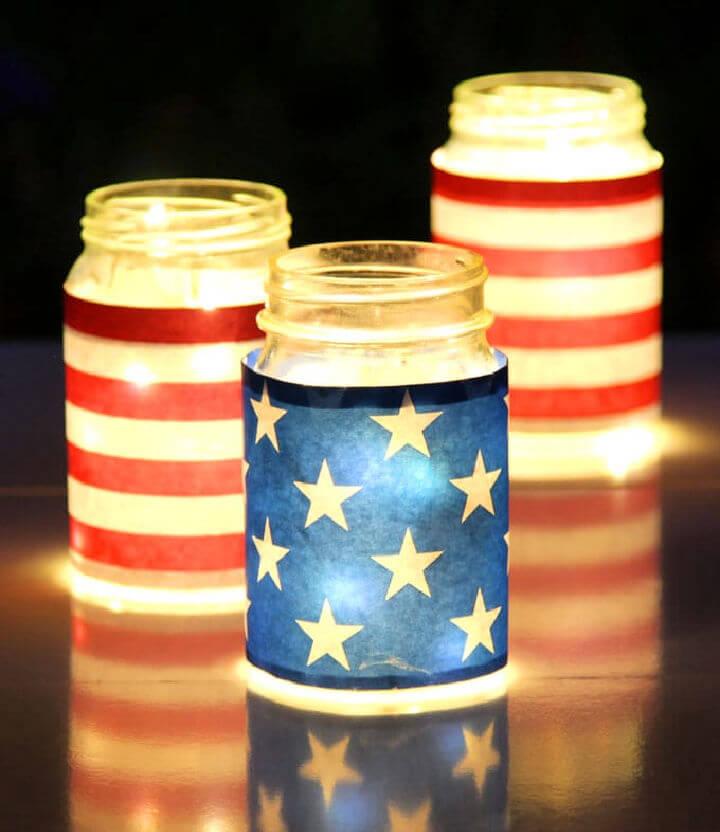 Enjoy Independence Day in your outdoors with these amazing 4th July Mason jar lights being on your tables. You need three Mason jars and then cover them up with flag printed papers. This project needs simple supplies like scissors, scotch tape, and LED fairy lights. Grab complete details right here! apieceofrainbow
9. Mason Jar Fairy Light DIY

This Mason jar fairy light lantern works as a gorgeous vase in the day. So make this double functional Mason jar fairy light DIY and bring some cute charm to your spaces. Grab a mason jar and paint it with milk glass paint all over and add battery operated LED fairy lights. Complete project details here! thecountrychic
10. Mason Jar Solar Lights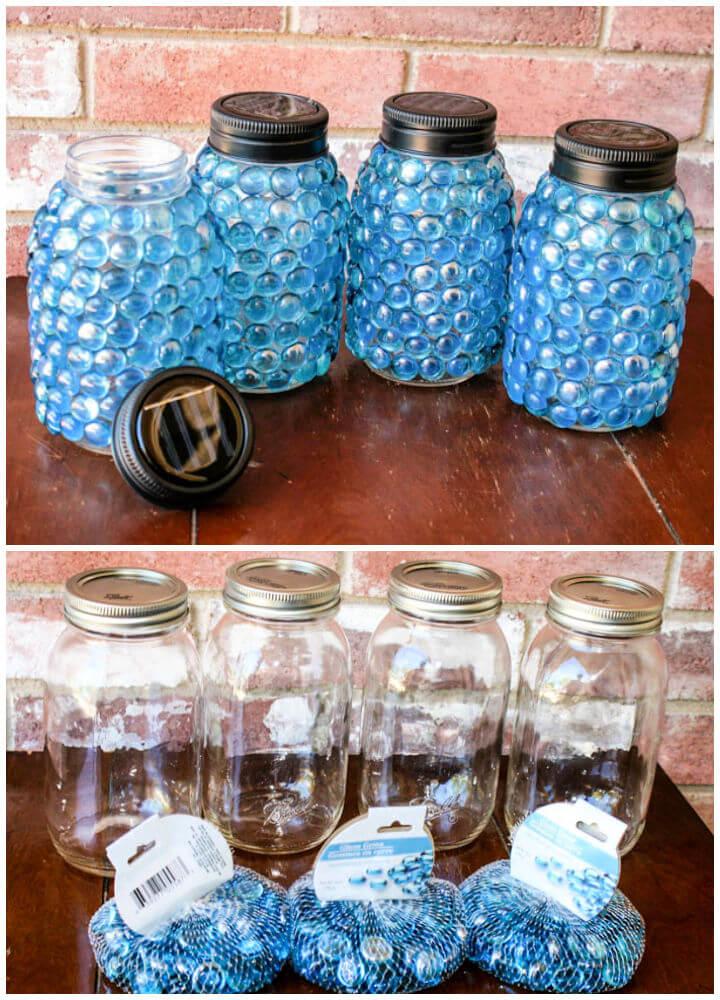 Add a cheap yet gorgeous light source to your outdoors with this idea of the Mason jar solar lights. This solar light set is quite fun and affordable to make on your own with only a few things in hand. So, get yourself six wide mouth mason jars, glass beads for décor, and the adhesive caulk to work up this amazing yet low maintenance solar light project. consumerqueen
11. Painted Mason Jar Lanterns

For the next painting fun for the kids, this painted Mason jar lanterns is a great idea. Just grab some small mason jars, ask your little ones to paint them in any way they want, and use their desired paint hues. Once dry, add some lights to these jars and hang them around using wire handles or twine. suburble
12. DIY Mason Jar Table Lamp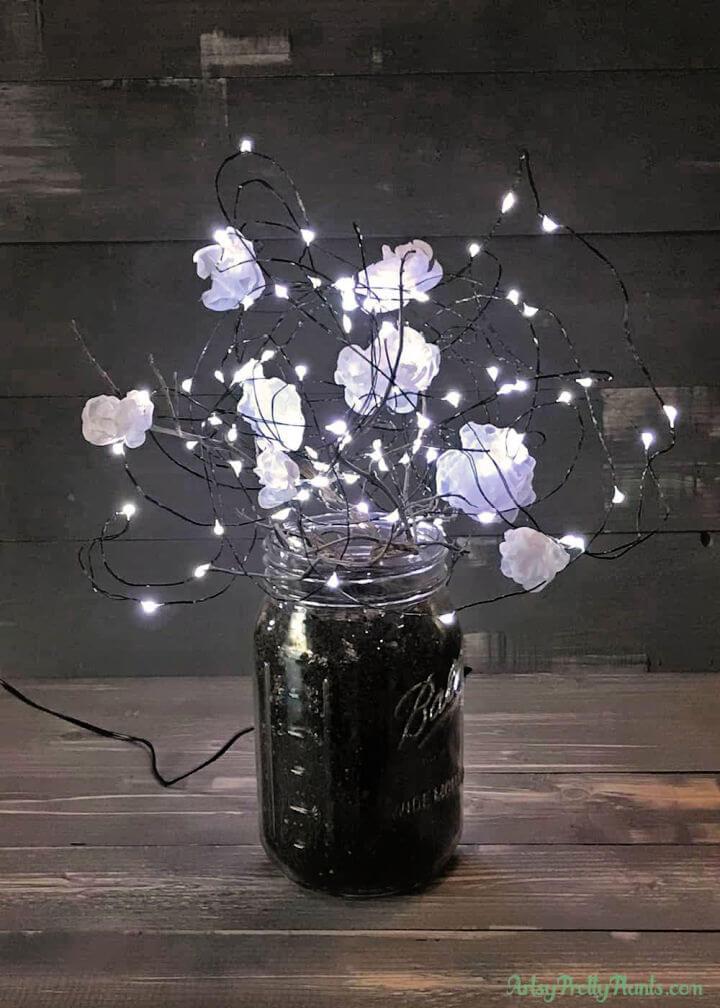 This fascinating DIY Mason jar table lamp is the right thing you need to spice up your décor with. Get a mason jar and fill it with the soil and add some rosemary branches to it. On the other hand, grab some organza fabric in white and make some pretty fabric flowers out of it. Add LED supported lights to the flowers and let them light up at night to look super stunning. Details here! artsyprettyplants
13. Solar Mason Jar Lights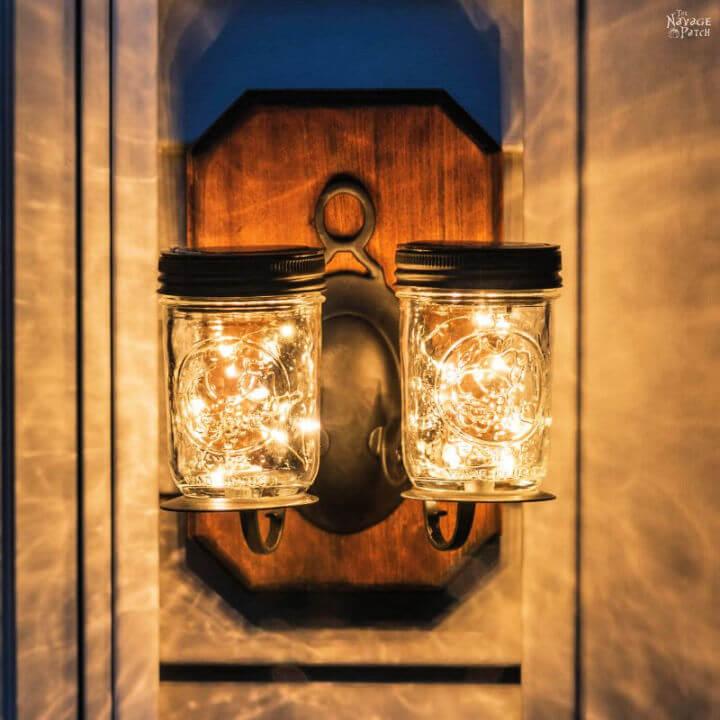 Here are the low-cost solar Mason jar lights, which are gorgeous and efficient looking too. Along with the solar light setting and the mason jars, these lights have the wooden board and gorgeous antique style scones to hold on to. They are best to install in your patio or the backyard. Check out the details here! thenavagepatch
14. Light Up the Night with Firefly Mason Jar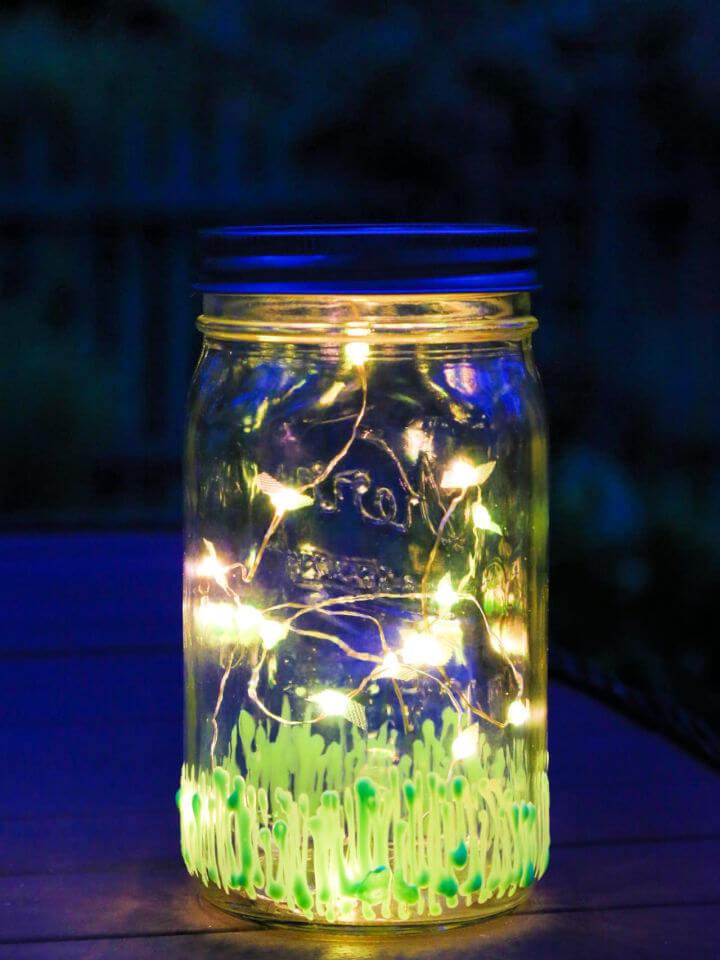 Outdoor parties and cookouts will be more fun when you make this lovely firefly Mason jar light to add to the ambiance. The most mesmerizing feature of this firefly Mason jar is the glow in the dark paint. You can choose any of the designs and colors to paint up your jar with. Details here! diynetwork
15. Mason Jar Fairy Lantern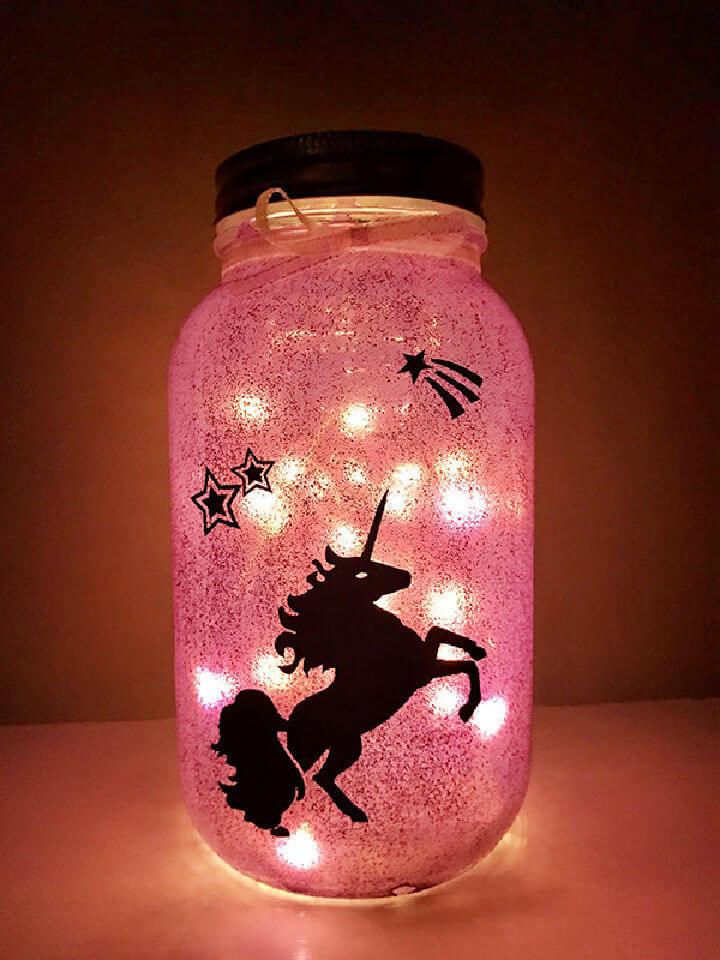 Fairies and unicorns are the favorites of the kids, especially little girls. So here is the idea of creating these pretty Mason jar fairy lanterns on your own. The jars are decorated with the black vinyl unicorn and the fairy silhouette and the pink glitter all over inside. Follow the complete idea here! theinspiredhome
16. DIY Mason Jar Wall Sconces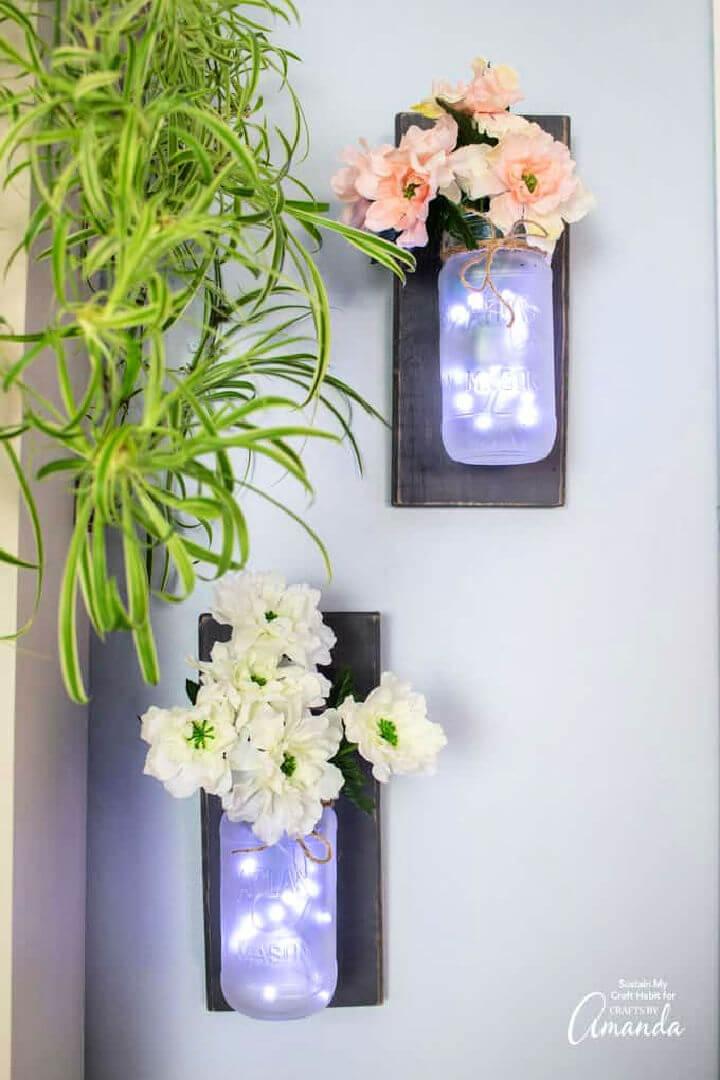 With this DIY Mason jar wall sconce, you are about to charm up your spaces in two ways. The Mason jar is going to hold your flowers as a vase in the day and light up with lights in the night. The wooden sconce with a lovely hook adds more worth and value to this Mason jar lantern beauty. Check out the details here! craftsbyamanda
17. Mason Jar Fairy Lights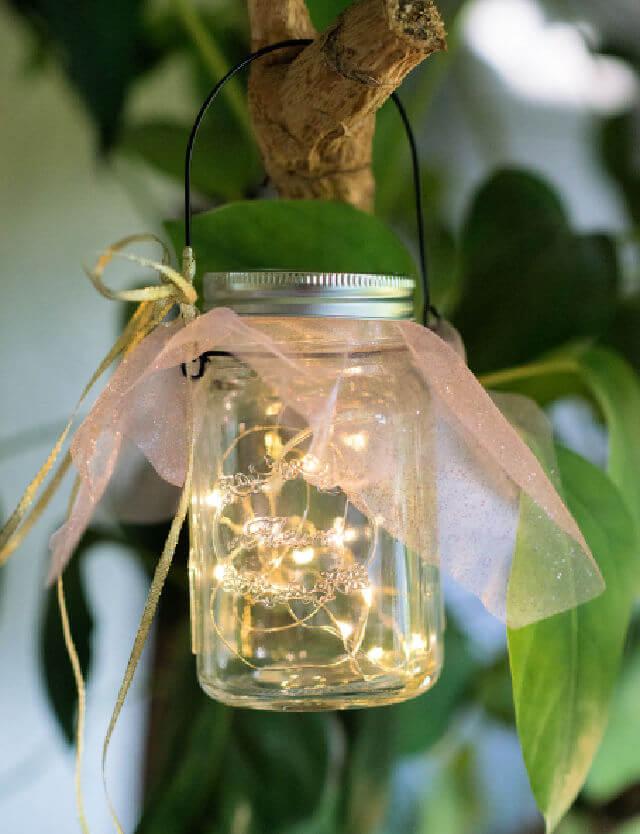 If you have a tree in the outdoors, you ought to make this gorgeous Mason jar fairy light hang it up on the tree. The mason jar light is too easy and fun to make with a few supplies on hand. So grab a mason jar and pour in the battery operated fairy lights and decorate the jar with ribbons and tulle. Details here! masonjarcrafts
18. Hanging Solar Mason Jar Lights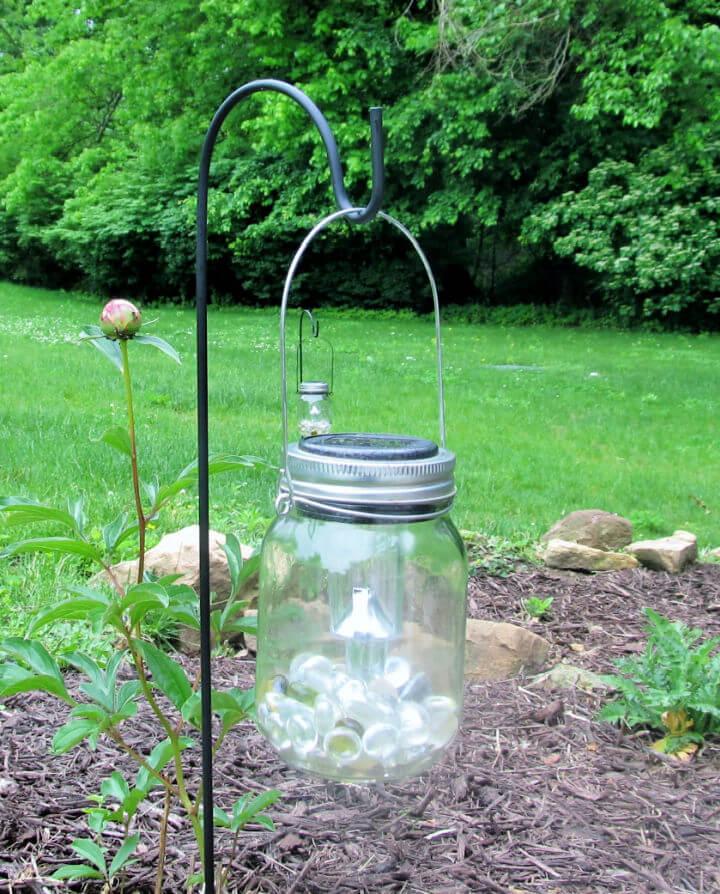 Lighten up your pathways with these low cost and low maintenance hanging solar Mason jar lights. The Mason jar lights are made to hang on the shepherd's hook plant hangers to look just so impressive and cool. The thing you are in need of to make these solar Mason jar lights are jars with lids, solar lights, and silicon adhesive. Details here! joyfullytreasured
19. Mason Jar Pendant Light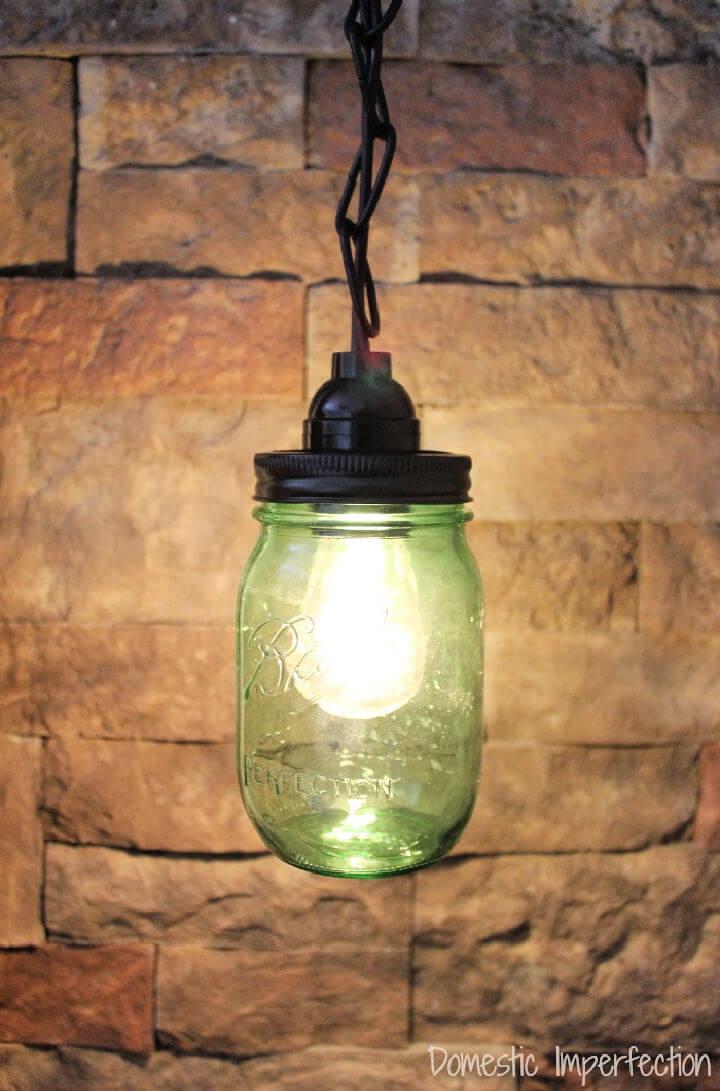 Save your money over your pendant lights' needs with this cheap yet fun idea of Mason jar pendant light. The lovely pendant light is made out of a green-tinted mason jar, which adds more beauty and appeal to this pendant light. Look at the complete tutorial here to install this pendant light on your own. domesticimper
20. Farmhouse Mason Jar Light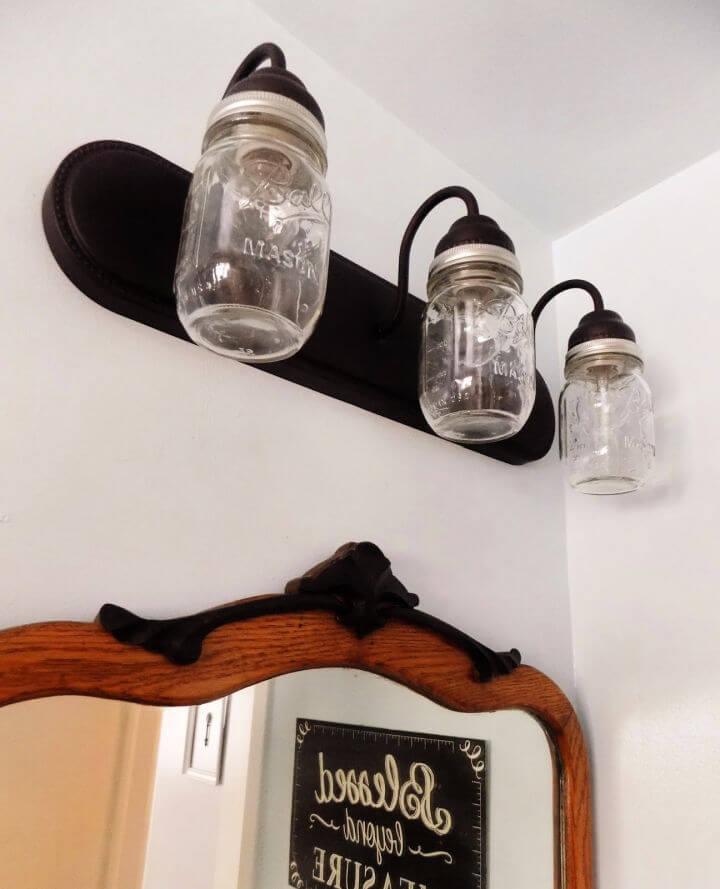 If your home has a theme of farmhouse décor, then add these super cheap farmhouse Mason jar lights to your spaces. The Mason jar lights are hung up on the wooden supported scones to turn out just so classy and cute. You can add these lights anywhere in the house, be it outdoor or indoor as well. Details of the idea here! thequaintsanctuary
21. DIY Mason Jar Chandelier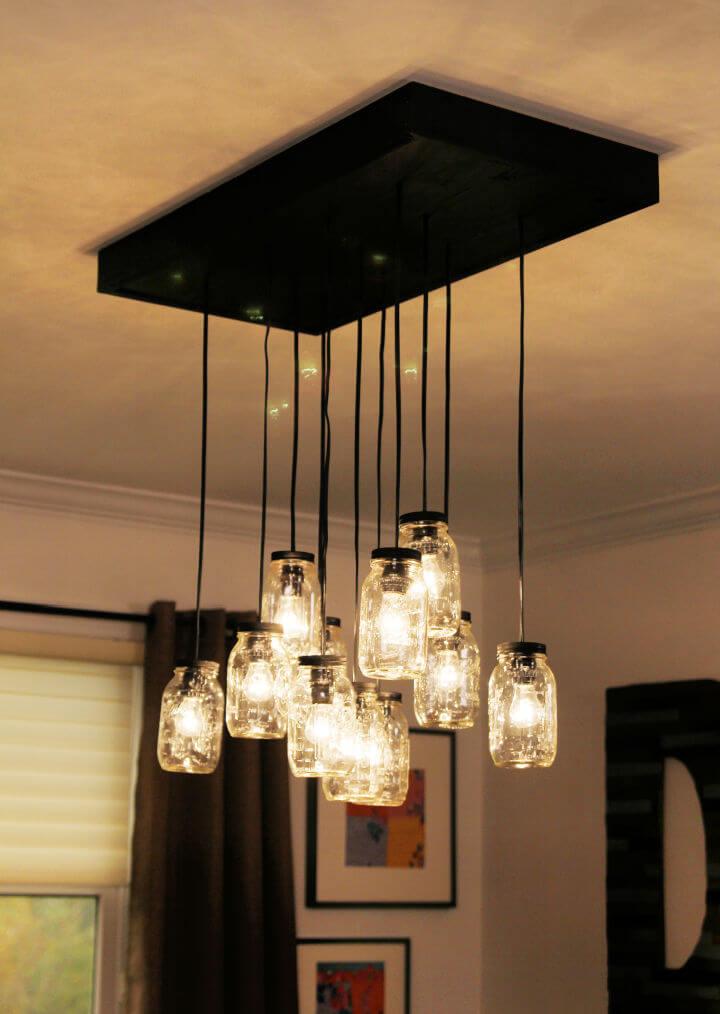 Chandeliers are one of the most expensive things to buy for your home décor. But now, you can make these DIY Mason jar chandeliers to be light on your pocket. This chandelier is going to fit best in a kitchen or a bar area in the house. The details of this massively gorgeous and fun project are given here! eastcoastcreative
22. DIY Mason Jar Night Light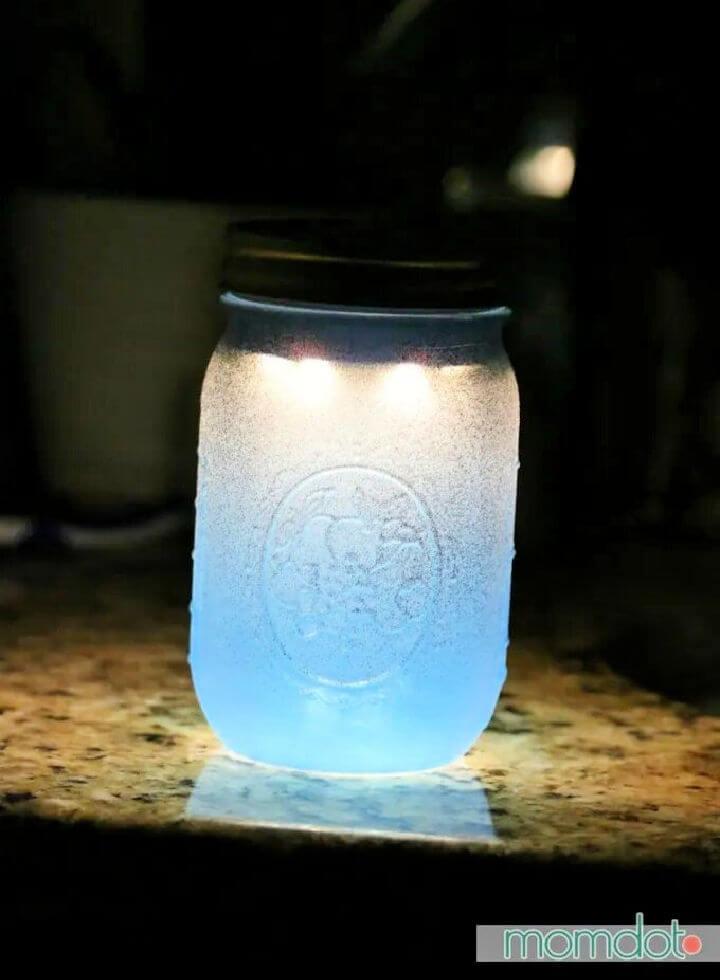 Give your nightstands an enchanting look with this lovely DIY Mason jar night light stand. The gorgeous snowy looking Mason jar night light is super easy and handy to make. Just take a mason jar and paint it up with the sea glass aqua color. Then add battery operated lights to this jar, and it's ready to rest on your nightstand. momdot
23. Homemade Mason Jar Tiki Torches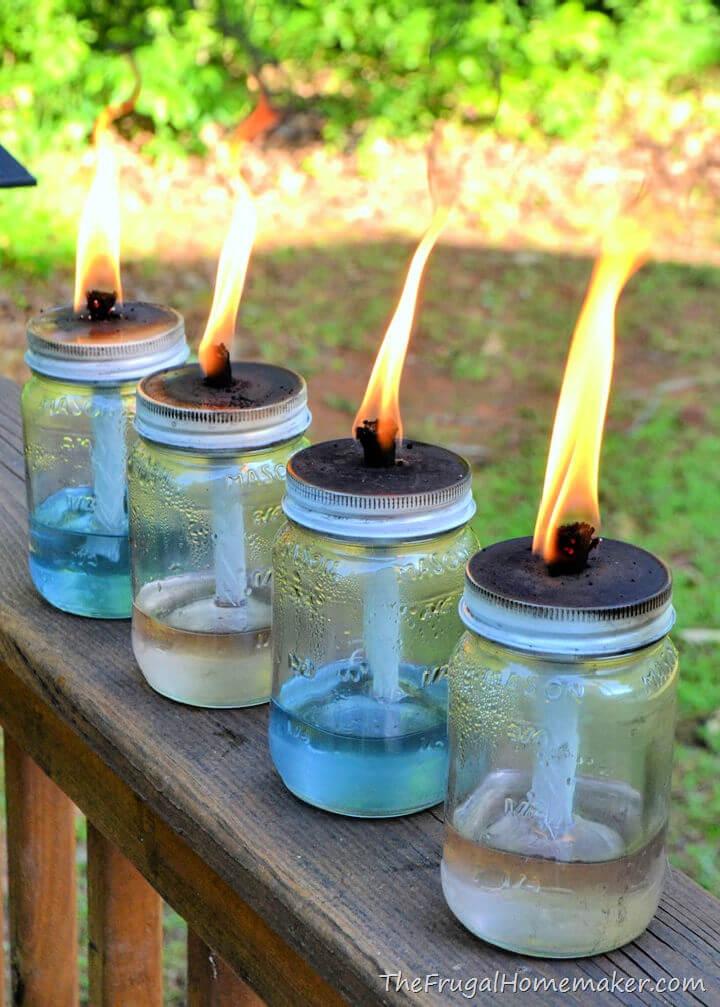 Bring some touch of African décor to your outdoors with this Mason jar with these tiki torches. The good thing is that you need only three things to make these torches and some free time. So, take tiki torches, fuel, wicks, and the mason jars to work up this project for your summer night outs in your backyard or patio. thefrugalhome
24. Unicorn Mason Jar Light

The unicorn fans really deserve to have this pretty unicorn Mason jar light in their rooms. The gorgeous and unicorn lantern is quite easy and fun to make. The jar is adorned with colorful star stickers and filled with fairy lights. The jar is frost painted with a glued toy unicorn on the lid. Catch the step by step details right here! monastic
25. How to Make a Fairy Light

Have fun this weekend with your kids by making these fairy lights. The mesmerizing fairy lights are about to bring magic to your dark rooms. You can easily and cheaply make them using fewer things like glow sticks, mason jars, glitter, and white tulle. Learn the step by step details of this fun idea right here! thegoodhearted
26. Mason Jar Lights with Lace

Bring a rustic appeal to your wedding décor with these Mason jar lights with lace lanterns. The idea is quite fun and cheap to work on, so if you are arranging a wedding on a budget, this project is perfect for you. Just paint the jar and add the lace and the burlap twine for a complete rustic look. Details here! dulynotedink
27. Unicorn Night Light for Unicorn Lovers

This gorgeous unicorn night light is going to be a funky part of your kid's room décor. The mason jars are decorated with rainbow napkins. The lid is adorned with a glued unicorn toy to turn out just so amazing and cool. Add battery operated LED lights or fairy lights to this jar, and you are done with a cute project. Details here! soapdelinews
28. Solar Mason Jar Patio Lights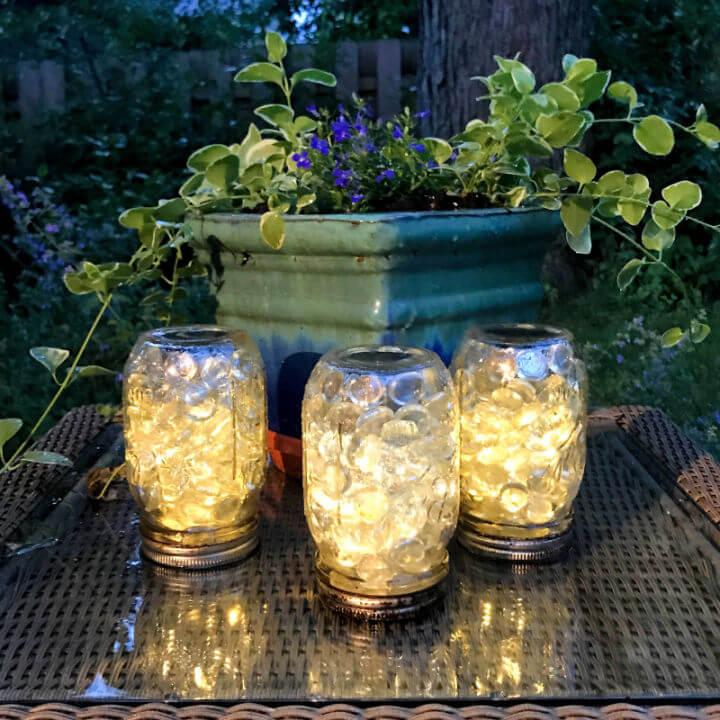 Make your patios romantic with these added solar Mason jar patio lights them. These amazing lights are so damn easy and fun to make on your own. Just get the Mason jar and insert the solar lights in them. Load the mason jars with the glass gems for a fun and decorative look. Check out the fully detailed tutorial here! dousedinpink
29. LED Light Up Mason Jar Center Piece

Image: diyandcraftsideas
Here is this gorgeous centerpiece for your outdoor tables to make this weekend. This LED light-up Mason jar centerpiece is quite affordable and fun to make on your own. The jar has been painted and then installed with the complete solar light stuff to turn this lantern into an amazing night light. Get the details here! instructables
30. DIY Mason Jar String Lights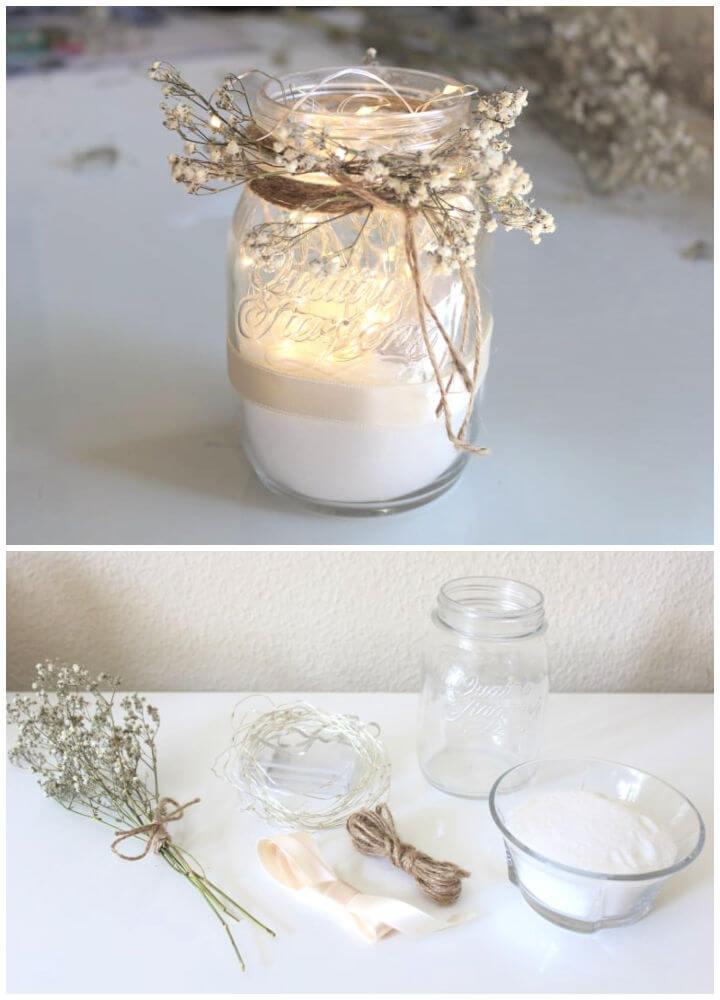 Bring a more warming appeal to your winter spaces with this DIY mason jar strings light project. The gorgeous snow inspired lantern is quite easy to make to look that much cute and whimsy. Things you need for this project are the Mason jar, baby breath flower stems, fairy lights, Epsom salt, and the ribbon. Check out the details here! loveandlavender