In this article, you will enjoy some amazing 14 DIY Reuse Last 5-Minute Mason Jar Candles which are not only easy but less time and money consuming. All these efforts that you will make for making these candles will pay you well in the end.
The first project that we have here is a boho-chic Mason jar candle holder and the tutorial for this is available in the link given below the picture. Lavender Mason jar candles have also been very popular these days so you should try to make these too. Do not ignore this amazing idea to turn the empty mason jars into glittery tea light candles as you can see over here. This next project will help you make some natural and organic candles as this one is citrus-based and have orange slices inside it. Besides this burlap leaf is also an exciting option to create a beautiful and unique candle based on the autumn theme which is super attractive and classy.
The next project we have here is a luminary mason jar that looks so perfect and has some geometrical design painted on the Mason jar with lovely colors. Also, try this book page Mason jar candle which is very classy and contemporary and is a perfect addition to your writing table. We also have another Mason jar candle idea for the upcoming fall which is super cozy for the falls season. Have a look at these pinecone DIY Mason jar candles for this winter, in which you can also add some snowy effects to enhance the beauty. We also have some other Mason jar candles with the wedding flavor perfect for the upcoming wedding season. You can also use your basic crochet skills to wrap your empty mason jars and turn them into candles along with the colorful yarn wrapped over them.
Try these exciting and simple techniques to turn the useless empty mason jars into gorgeous and adorable candles to create a lovely ambiance into your house and also you can use these for the house warming parties for your new home,
 Boho Chic Mason Jar Candle Holders: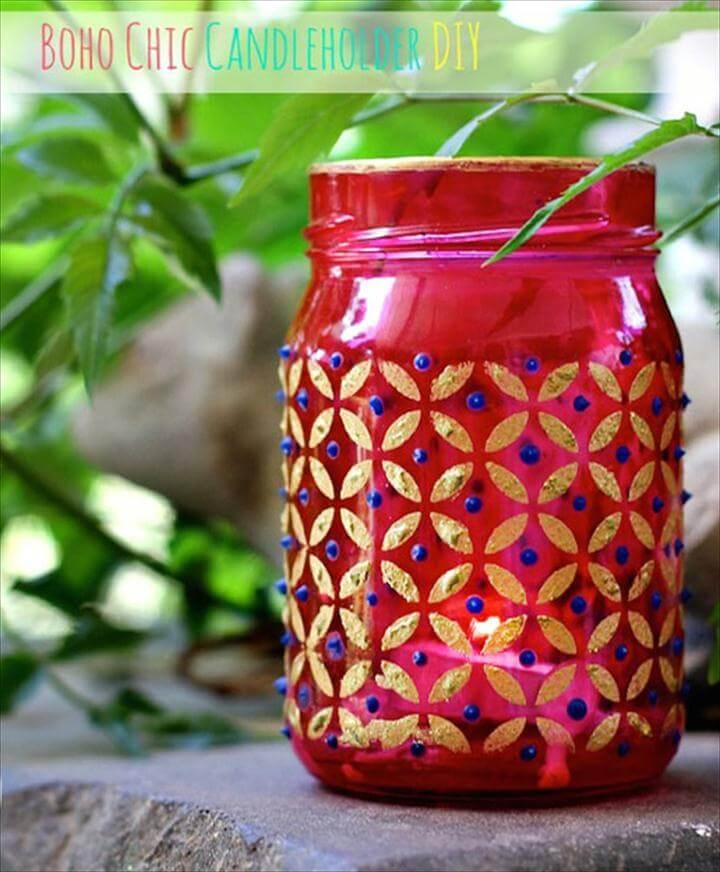 Here we have this boho and chic Mason jar candle holders to let your spice up your summer home décor with. The lovely candle holders are easy to make by first painting the mason jar with glass paint. Then using the mode podge stencil and the glitter you can easily work up to create that fancy design over it.
Image: modpodgerocksblog
Lavender Mason Jar Candles: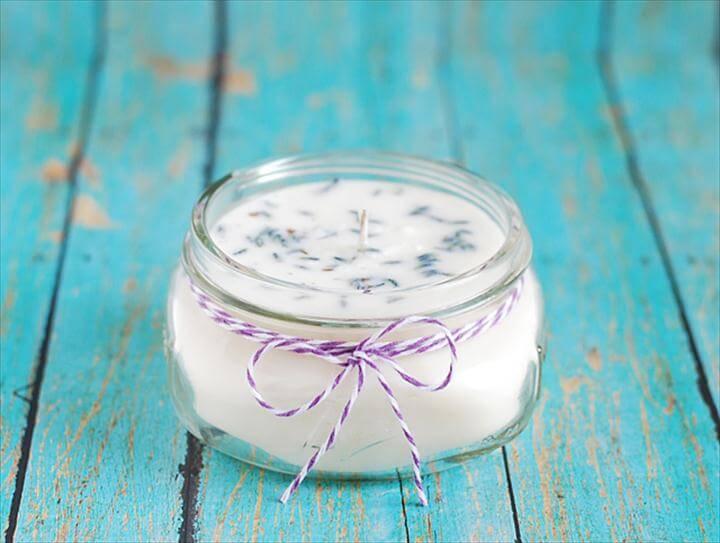 The scented candles can make up the moods in minutes and here are these lavender Mason jar candles to easily make at home. The very first thing you need is the tiny mason jars for the project. Then add a wax, wick and the lavender seeds to get the yummiest scented candles. Check out more details here!
Image: apumpkinandaprincess
Glitter Mason Jar Tutorial: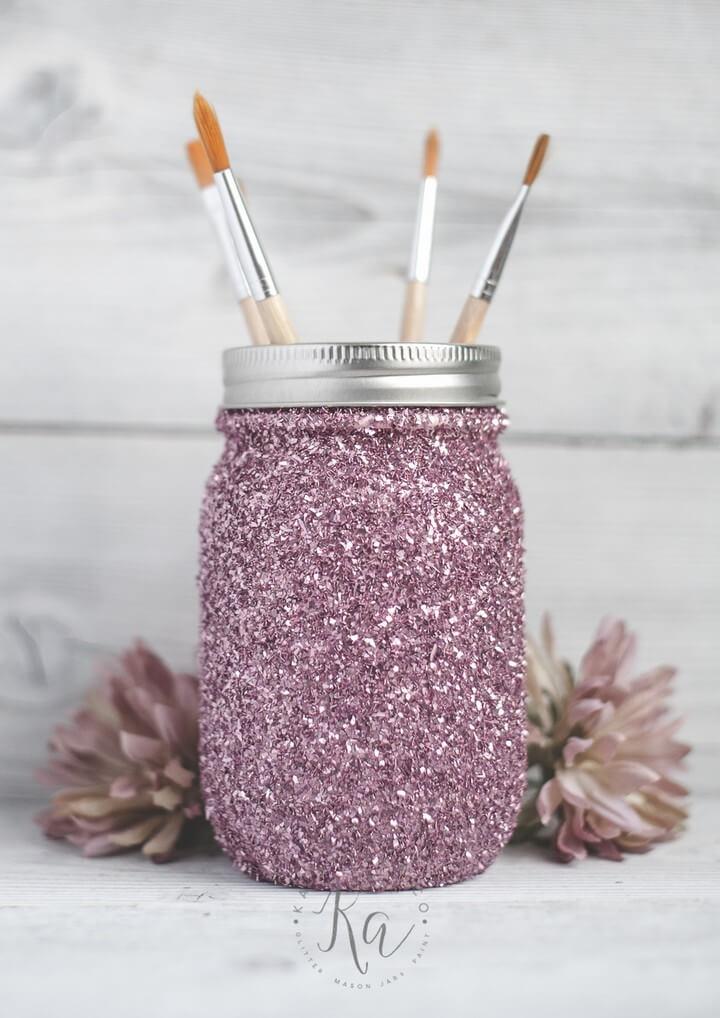 Here is the simplest yet the most enchanting Mason jar idea to grab your attention so quickly.  Just grab a simple and plain mason jar and then apply all over it some mode podge glue with the brush. Then sprinkle your favorite colored glitter on the jar and to hold your make up brushes in style in it.
Image: kastyles.co
5-Minute Mason Jar Candles –
Citrus Mason Jar Candles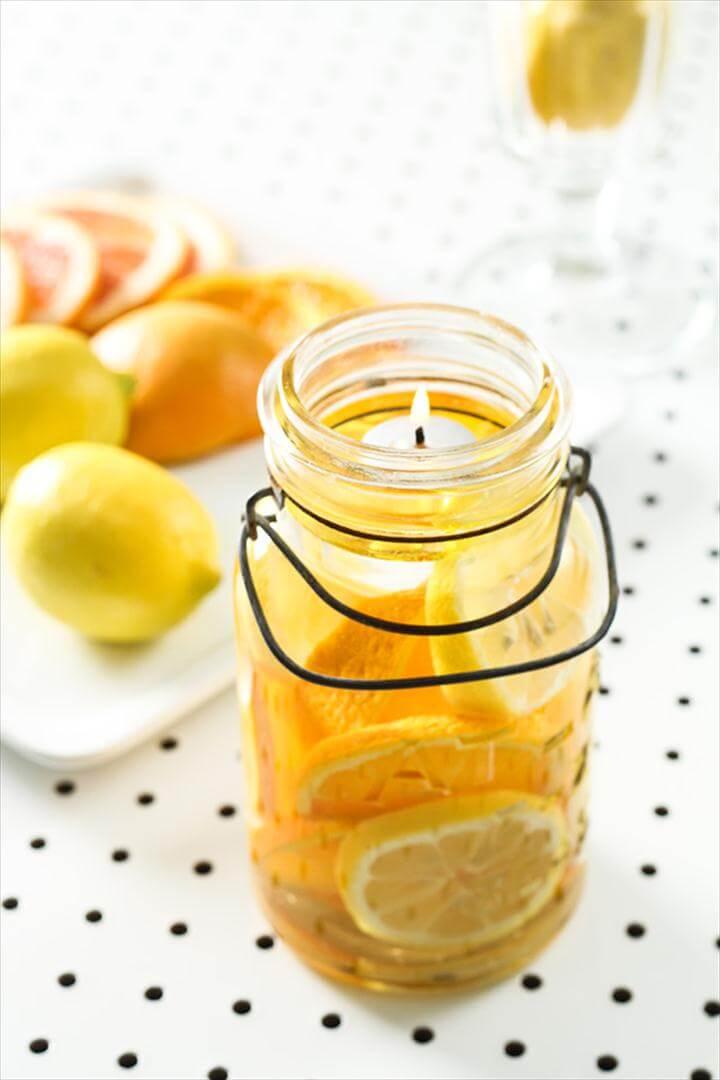 Here is the easy 5 minute Mason jar candle to make for a fun dinner night. These citrus Mason jar candles are so easy and fun to make in just 5 minutes. Just fill the jar with olive oil, add slices of all available citrus fruits and then add the floating candles to make it display over your tables.
Image: helloglow.co
Burlap Leaf Mason Jar Candle: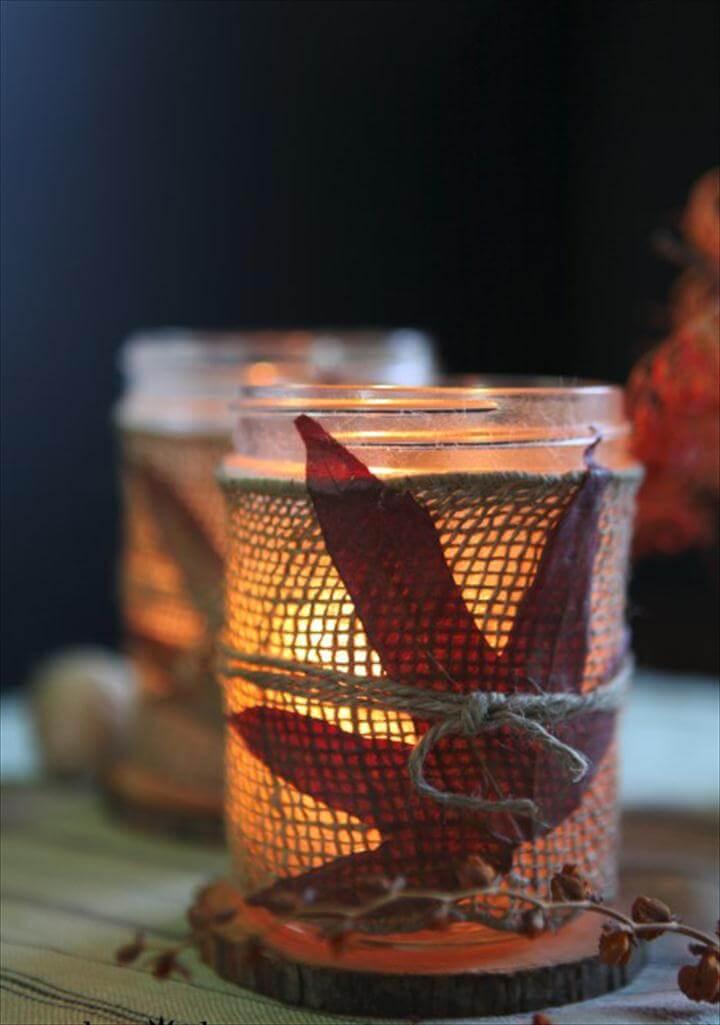 Make your falls more fascinating with these handmade burlap leaf Mason jar candle holders. The gorgeous jars are made easily by just wrapping up the jar with the burlap and the fall leaves. Add inside the tea lights or candles and you have the best mason jar burlap leaf mason jar candles to adore.
Image: gardentherapy.ca
Luminary

Mason Jar – Faux Stain Glass Mason Jar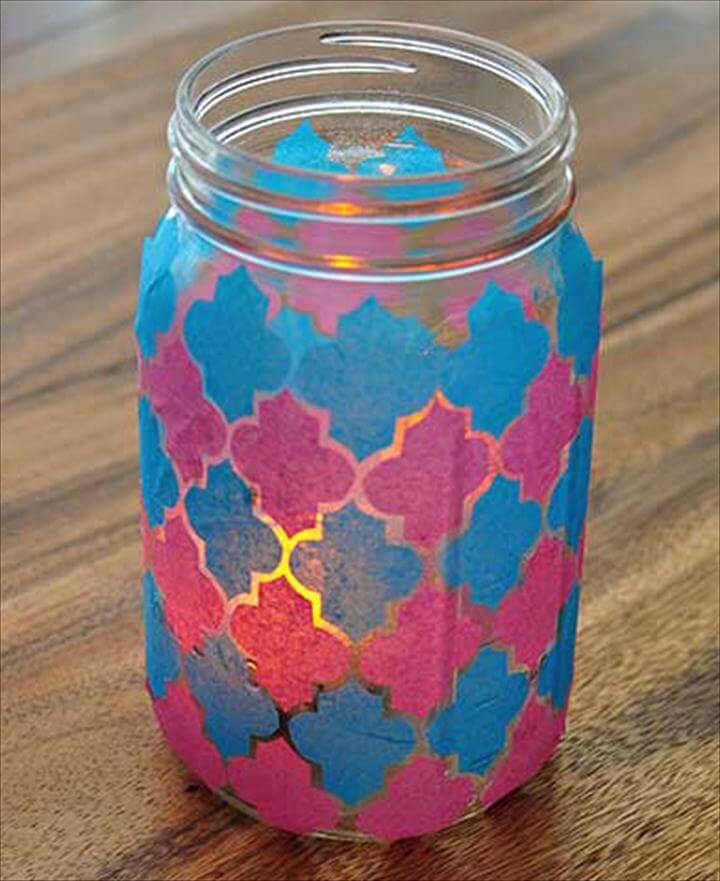 Summer décor is so undone without the fun luminaries to be a part of our summer fun ambiance. To make this exquisite luminary Mason jar you need to print out quarter foil pattern first. Then you need to get your hands on the colorful tissue papers to cut out those quarter foils and glue them on the jars all over. Finally, fill the jar with the candles, and you are done with a lovely luminary mason jar.
Image: consumercrafts
Book Page Mason Jar Candle Holder

: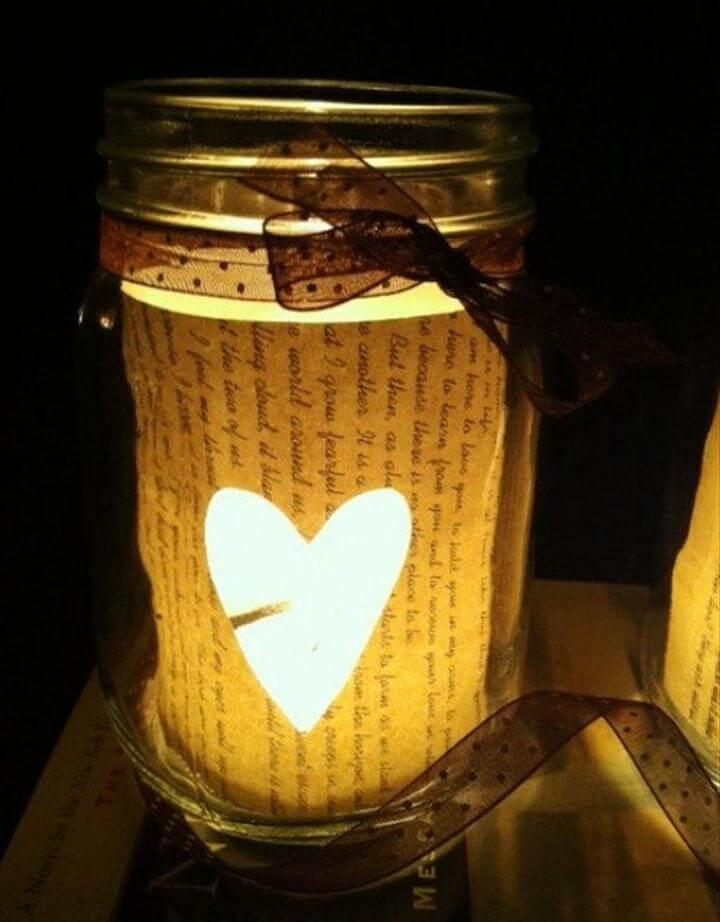 It's time to give your old books the best repurpose with this project of the book page Mason jar candle holder project. The Mason jar is wrapped up with an old book paper with a heart shape inside and looks just so stunning and fun. Fill the mason jars with candles and you have the most heartwarming candle holders ever.
Image: hubpages
Cozy Fall Decorative Candles: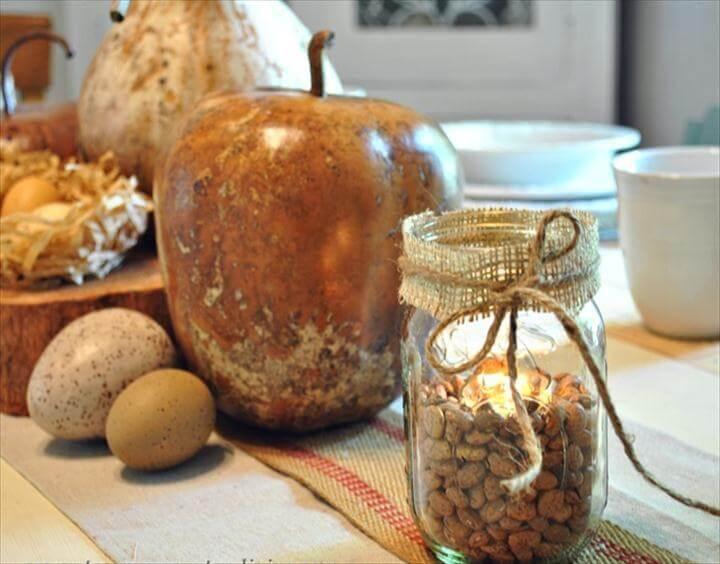 Bring some cozy and cute décor vibes to your home décor with this idea of the cozy fall decorative candles. These decorative candles are super easy and fun to make on your own with a few numbers of supplies. So grab an empty mason jar, some burlap, and the fall cracked corns or nuts to fill up the jar and top it off with the candlelight.
Image: livecreativelyinspired
Snowy Pinecone Candle Jars

– Snowy Winter Luminaries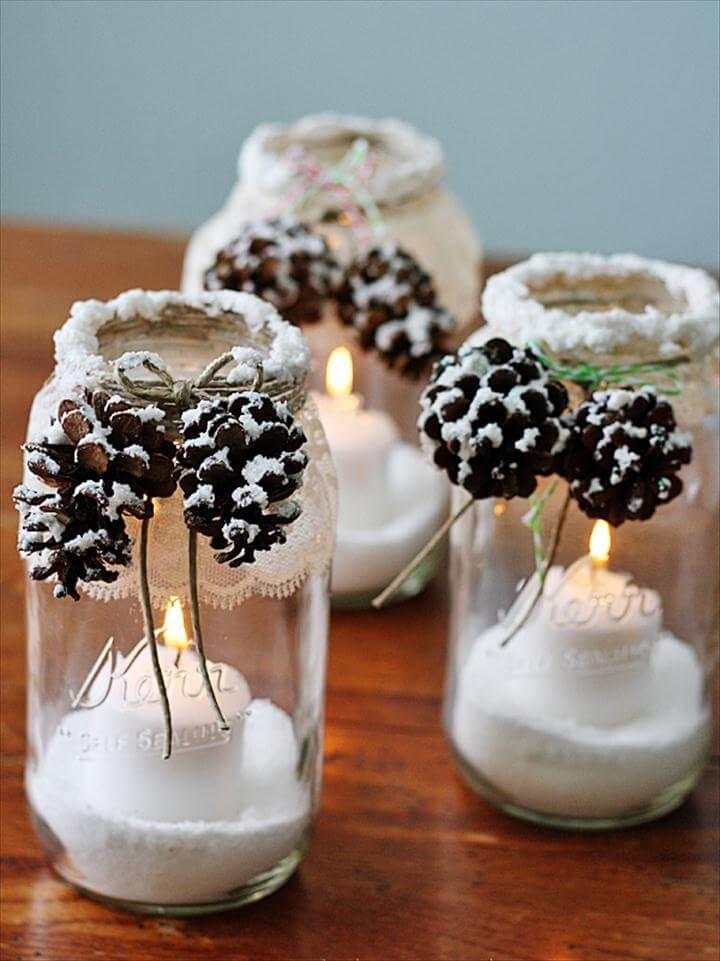 Make your Holiday table look the most enchanting and gorgeous with some of these snowy winter luminaries. So grab the mason jars and fill their bottoms with the salt to hold the candles on. Then get some fax snow, pine cones, and some ribbon to bind up the cones with the jars. Get to know more about it here!
Image: craftsbyamanda
Glitter Mason Jar Luminary: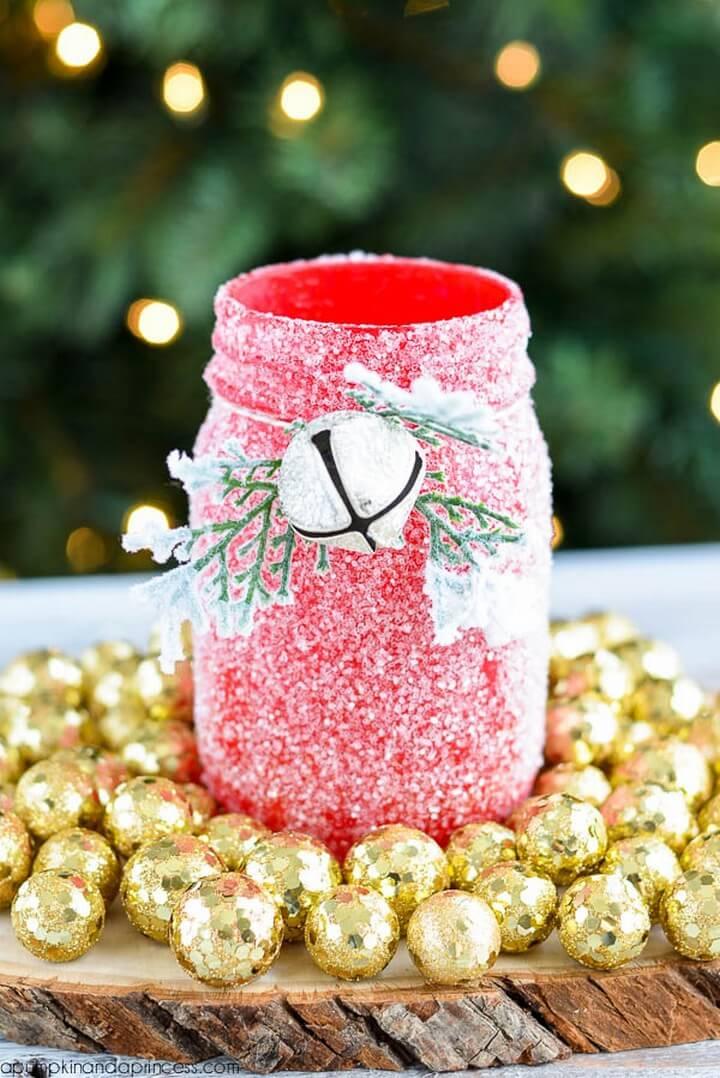 Adorn your Christmas tables more with this handmade glitter mason jar luminary. The lovely Mason jar candle holder is so easy and fun to make. Just grab the jar and give it a chalky paint base. Then finish it off with the white glitter to make it look super snowy and fun. You can add as many decorations and embellishing to the jar as you want.
Image: apumpkinandaprincess
Mason Jar Candle Wedding Favors: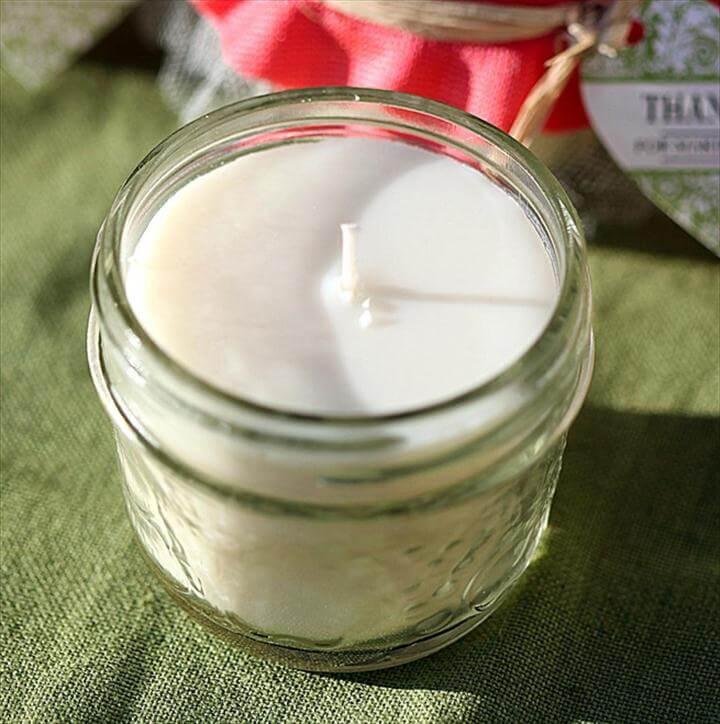 If you are planning a wedding on a budget then make these Mason jar candle wedding favors to save more. They are super easy and fun to make with the soy wax, wicks, and some candle scent in a cute little mason jar. You can decorate these mason jar candle wedding favors per your wedding theme.
Image: evermine
Mason Jar Mug Crisco Candles with Crochet Cozy: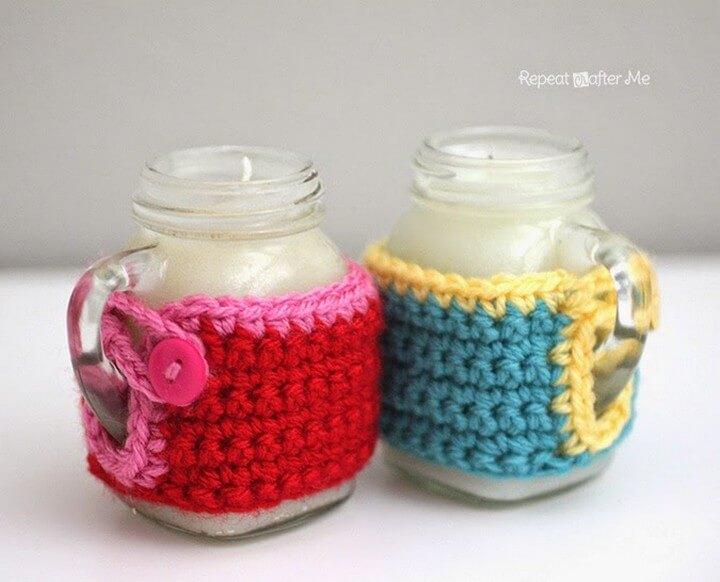 Mason jar candles make the best gifts and now you can make them more heartwarming. Yes, here is the idea of using these adorable Mason jar mugs to hold the Crisco candles inside. Then add the wick and to spice up the fun add crocheted cozies to these mugs. These are the best hostess gifts or party favors.
Image: repeatcrafterme
Candle Pebbles Mason Jar –  Earthy Stone Candle Holders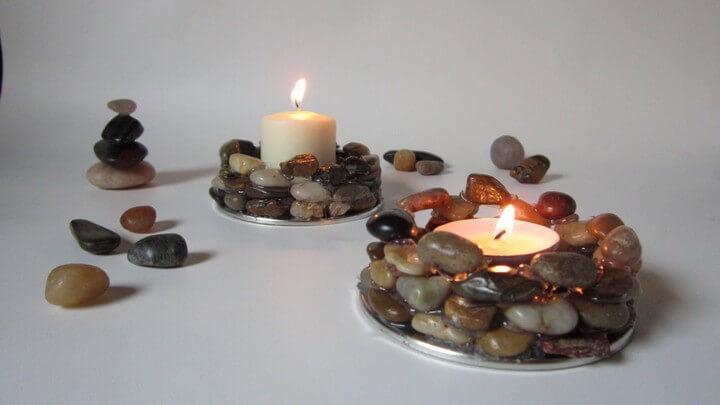 Here is how you can make the most organic kind of candles on your own. These lovely candle pebbles mason jar idea is the best thing to work on for this week. So grab mason jar lids and pile up the pebbles on it in a circle in a way that you have to get a space to put the candlelight on it. Check out details here!
Image: youtube
Stylish Mason Jar Candles: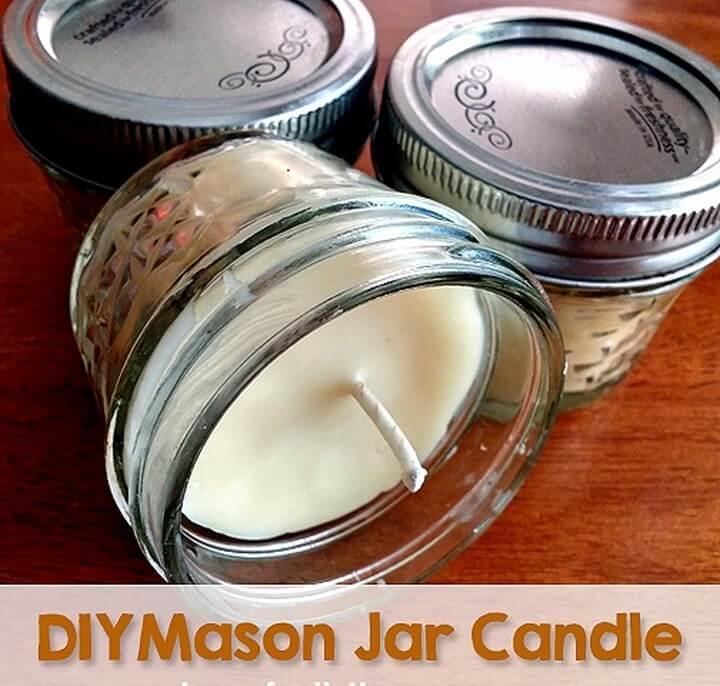 Why one should waste money on the candles when they are super easy and fun to make at home. Just grab a bunch of the little cute Mason jar and make the candles inside them. For the candles, you would need beeswax, coconut oil, and the candlewick. The adorable and stylish Mason jar candles are super pretty and cheap to make.
Image: imperfectlyhappy