We have probably never wondered how mason jars can do wonders when turned into candles. Here you will enjoy a variety of 10 DIY Mason Jar Candles You Must See for making candles out of mason jars. Learn the procedures of these projects and try them out soon this season.
The first one that we have here is a peppermint candle which is so cool and impressive. Try this out this Christmas and enjoy decorating it at the favorite spot of your house. The next project that we have here is of the colored candles inside the DIY Mason jar which looks super romantic and is a perfect piece for your bedroom. Have a look at this Mason jar lantern which is completely urban contemporary and is so classy for house decoration purposes.
You can also make some for the occasions such as the 4th of July in the colors according to the theme. Next are some spray painted mason jars for holding candles. Tutorials are so also available for these projects so that you can make these easily. Have a look at this unique and one of a kind music sheet mason jars with jute string knot at the top of the jar. Next, we share with you this simple yet beautiful soy wax Mason jar project. Have a look at this chic Mason jar lightning idea made out of Mason jar.
Try these different ideas for making candles out of mason jars for your house decoration this season and amaze your friends and family with your creative skills. Watch the details and tutorials by clicking on the links given below the pictures.
You May Also Like:
Peppermint Candles: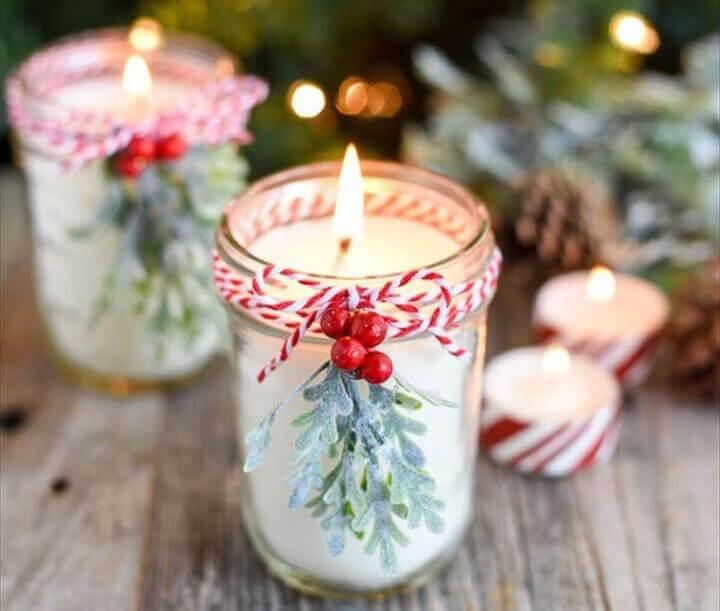 Make these awesome peppermint candles in a bunch to use as perfect holiday gifts for your family and friends. Using peppermint oil, soy beeswax, and the mason jars you can easily create these lovely peppermint candles. A little decoration with the faux leaves, cherries, and the yarn would add icing on the cake to these handmade gifts.
Image: apumpkinandaprincess
Colored Mason Jar Candles: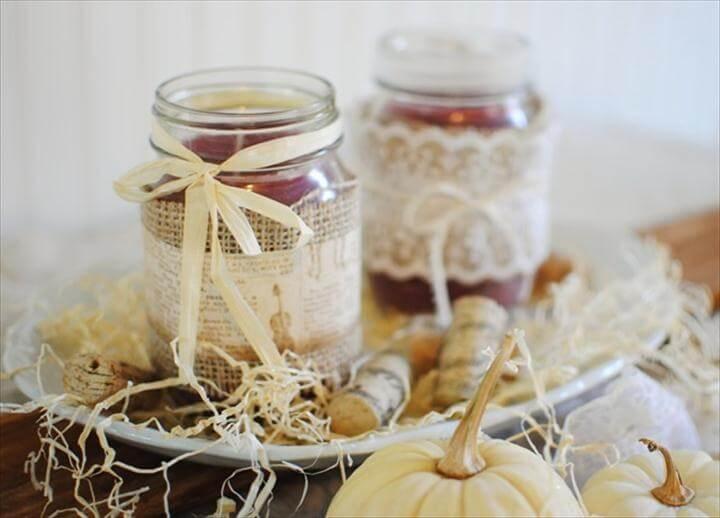 Get your homes to fall ready with these handmade colored Mason jar candles. The lovely candles are made with wax, dye, essential oils, and the mason jars. These Mason jar candles are super easy and quick to make to use as the pretty table decors.  Also, you can use them as gifts by wrapping with some lace, burlap, and raffia.
Image: town-n-country-living
Mason Jar Lanterns: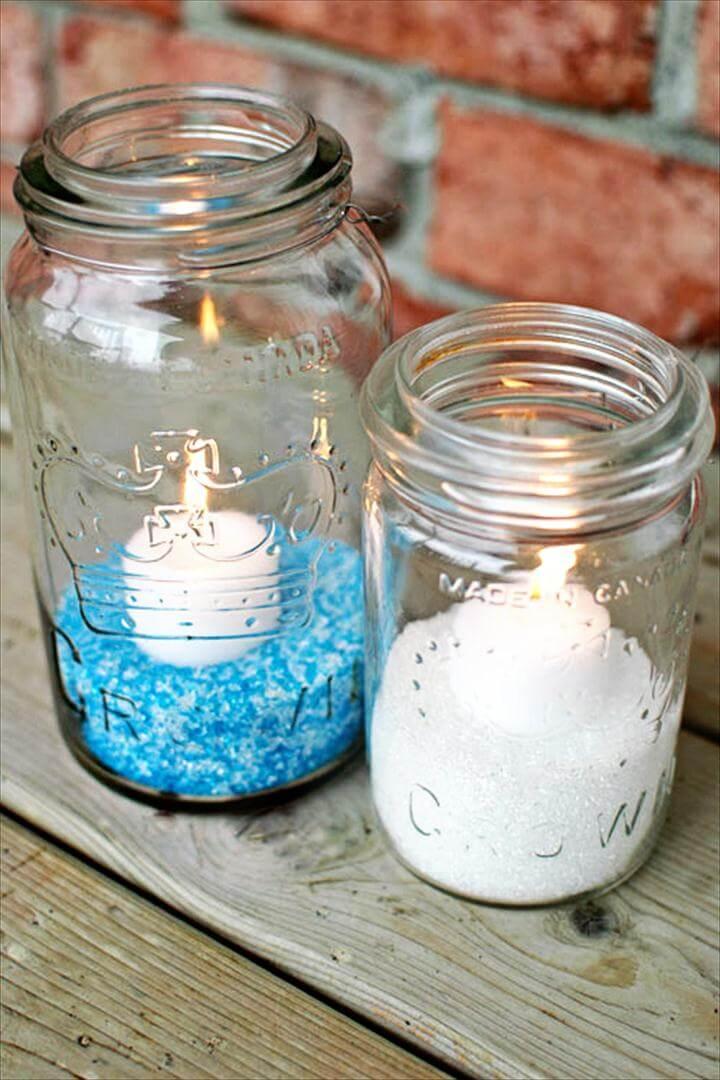 It's time to bring some intimate glow in your homes and that too with your own handmade Mason jar lanterns. You need the easiest and the cheapest of the items to make these lovely Mason jar lanterns. Just fill the bottom of the jars with plain and dyed sugar crystals and then add the candles. Hold them on your walls using wire.
Image: intimateweddings
4th Of July Mason Jar Candles

: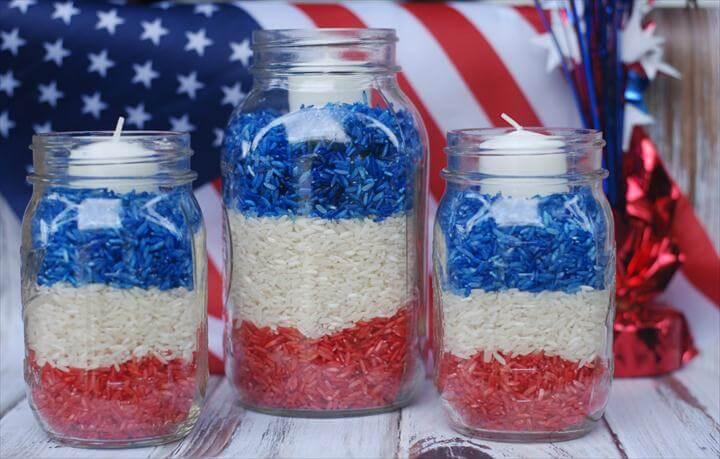 Complete your table décor for the Independence Day with this 4th of July Mason jar candles. The lovely jars have been loaded with the flag colored rice in the layers of red, white, and blue from bottom to top. Finally, top off these jars with candles and they are ready to be the pretty and thematic centerpieces for the day.
Image: thisgrandmaisfun
Mason Jar Candle Holder

: DIY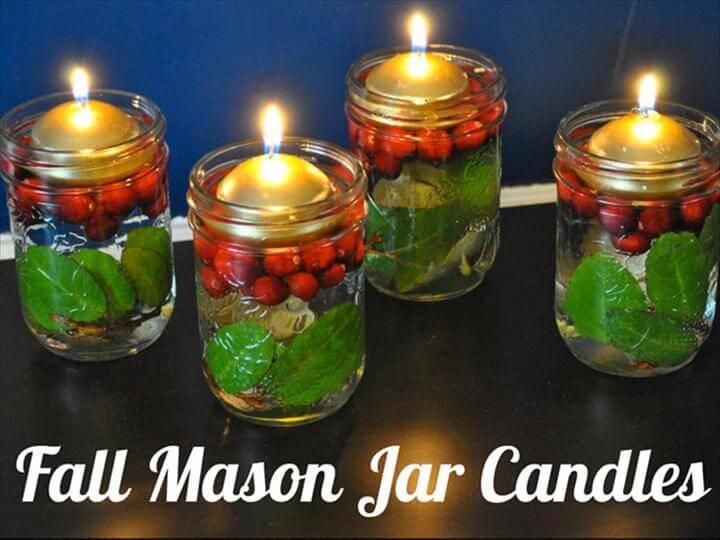 These gorgeous Mason jar candle holders look so pretty and soothing to the eyes. Now you can easily take them home to enjoy some scented glow in the house. The pretty mason jar candle holders need mason jars, fresh leaves, berries and some drops of essential oils to get instantly ready.
Image: brightnest
Canning Jar Candle Tutorial

: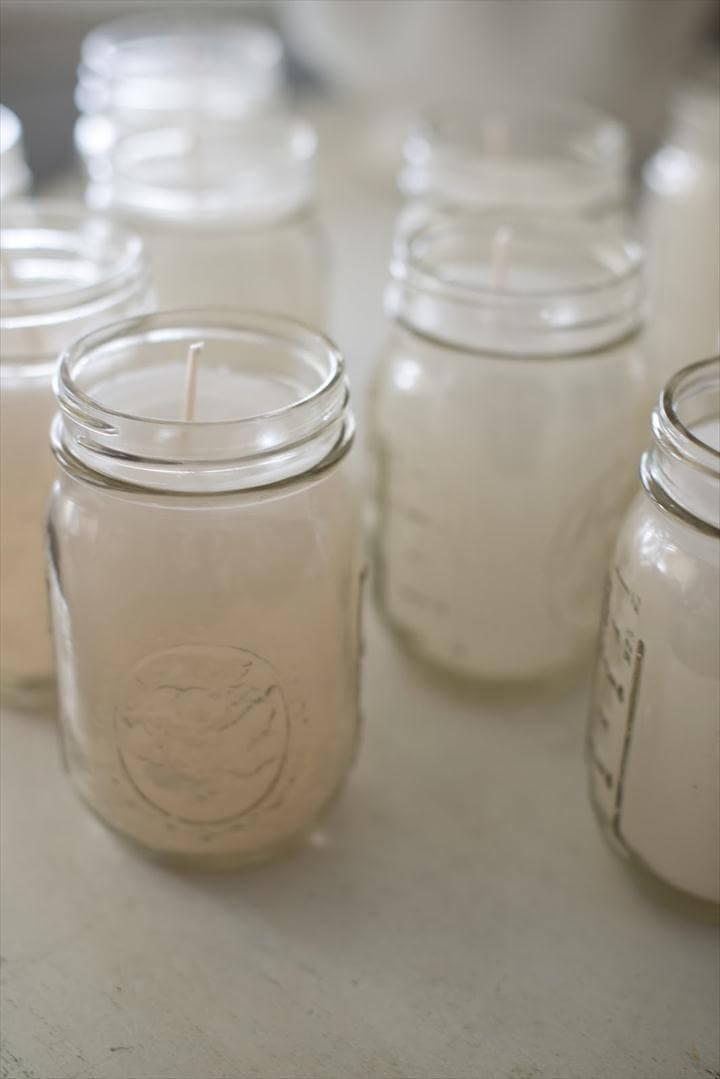 Need some cheap yet heartfelt gift ideas for the Holiday season? If yes then making these canning jar candles is the best thing to make and use for the gifts. You need to pour only three things in the jar to make the candles and those are the candle wax, wick, and the vanilla essence for the nice smell.
Image: domesticfashionista
Sheet Music Mason Jar Candle

: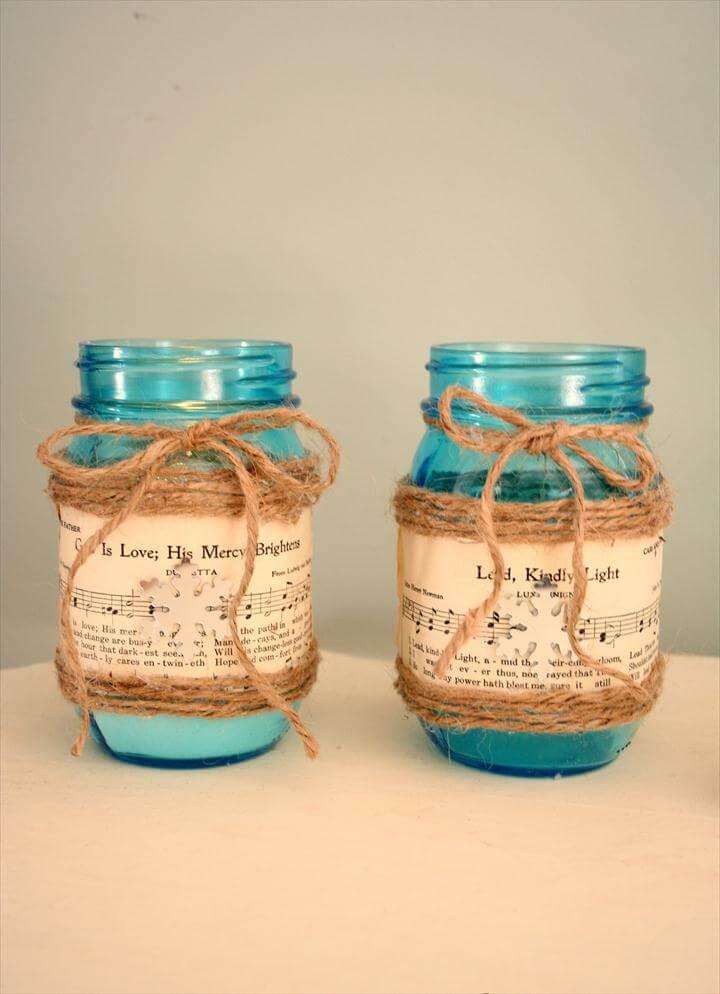 Make your homes festive ready for the Holiday season with some lovely handmade crafts just like these sheet music mason jar candles. The blue-tinted mason jars with gorgeous sheet music wrapped around to look just décor ready. Adorn them more with some jute twine and add the candles to let them light up the décor.
Image: brandisawyer
Burlap Mason Jar Candle Holders: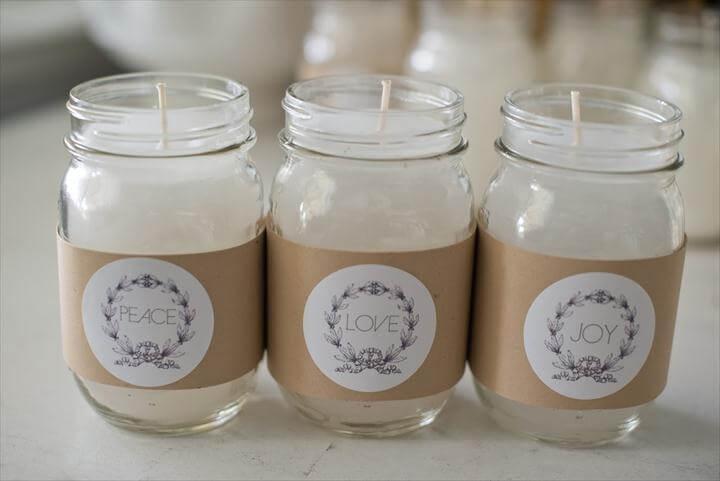 Nothing can beat the handmade gifts for the Holidays and making these burlap mason jar candle holders is the best idea.  The pretty and simple mason jar candle holders have been adorned with gorgeous handmade free printable. The awesome candle holder gifts say words like Peace, Love, and Joy which can be customized too.
Image: town-n-country-living
Soy Wax

Mason Jar Candles: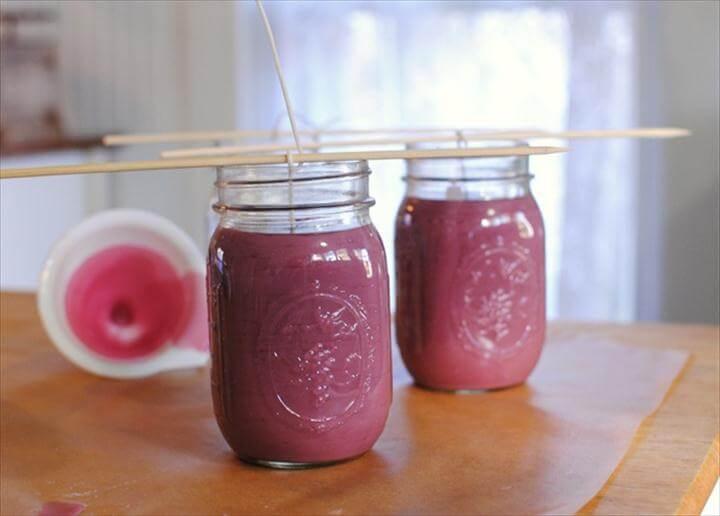 Why one should buy the candles as they can be easily made at home using a few numbers of the thrifty items. Here is the idea of making this soy wax Mason jar candles to not use for your home décor but also use as the loveliest gifts for your dear and near ones around. Also, you can decorate them the way you want.
Image: domesticfashionista
Chic Mason Jar Lighting Idea: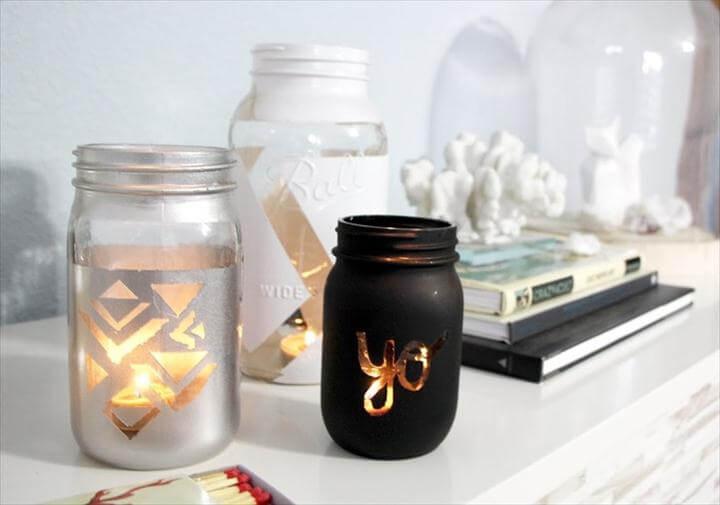 Here are these chic Mason jar lighting ideas which are the quality fun projects for you and your kids. Yes, this festive season you can make these chic Mason jar lightings to brighten up your spaces with. Using the food colors and the paintbrushes you can easily tint your jars and then light them up with the candles.
Image: handsonaswegrow
You May Also Like: