The house walls play an important functional role in highlighting the decor and style of your interiors. That is why we use the best possible art pieces, frames, and any other embellishing that is meant to enhance the charm of the walls. The gorgeous picture frames are the most common and the basic ingredient that we use to add some spark to the walls and the house's overall decor. And buying new frames can empty your pockets, so better turn to some DIY projects so that you can decorate your walls with the useless home lying things giving them a new purpose to live for in the fun avatars of the photo frames.  And here, we have collected thousands of photo frame ideas by spending hours on the internet so that you get the best ones to look at. These simple craft ideas come with step-by-step tutorials.
So have a look at these 30 Custom DIY Picture Frame Ideas To Display Your Pictures and know the stylish and fun ways to preserve your photo memories. Not only would the walls of your house lighten up with these handmade frames, but your best picture would also get cherished in a most delightful and super cool way to be displayed proudly on the walls or the tables and mantles. Wooden branches, rustic pallet wood, bottle caps, cords, corks, old books, magazines, toy cars, wrenches, in short, anything that is in front of you can be used with the fun purpose of shaping up these awesome frames.
1. How to Make a Picture Frame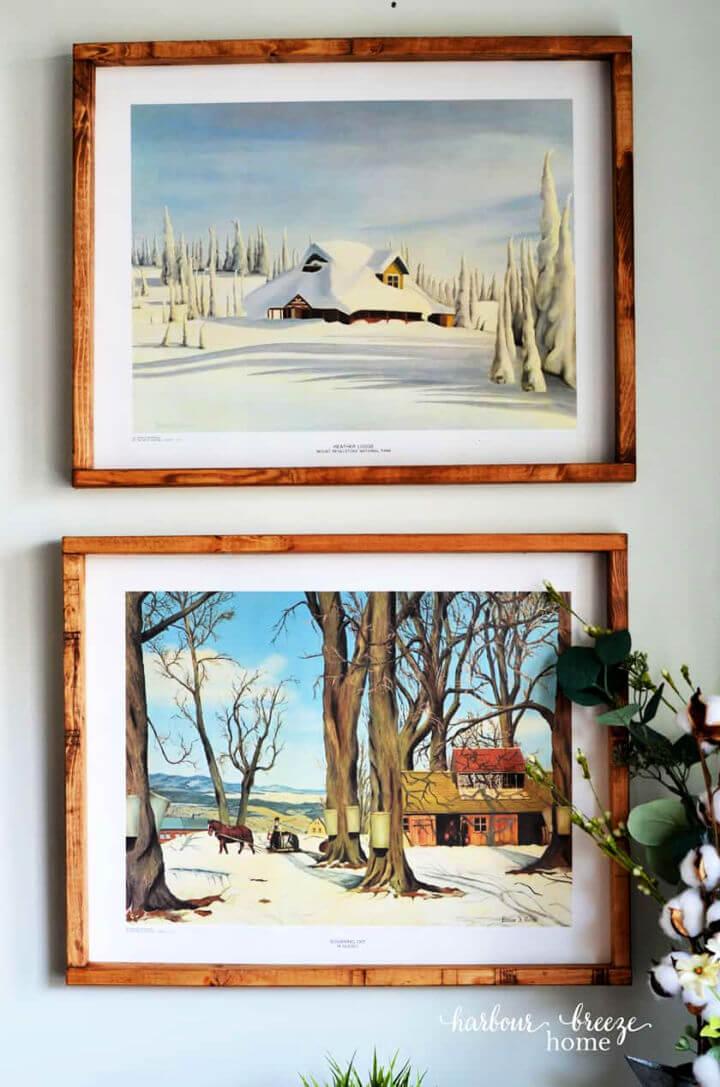 Pictures frames are the greatest source to save precious family moments and lifetime memories. Make a picture frame using natural scenery and portrait. You can get this portrait affordably from a thrift store. Reuse an old canvas frame or a photo frame to display this art photo in your room. Moreover, you can also make a frame using the woodblock from your store. Cover this framed glass or without it. harbourbreezehome
2. Turn an Old Window Into Picture Frame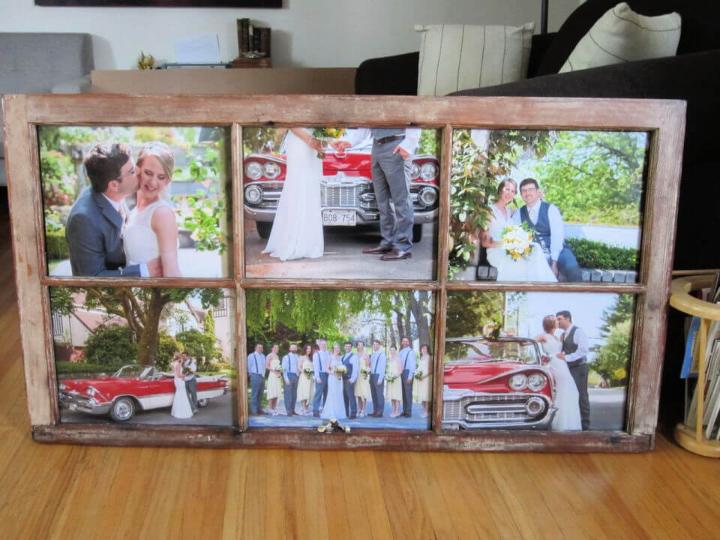 Reuse and recycle an old wooden window as a photo frame to display several family photos in your room. You don't need to frame each photo separately because of this collage frame. Paint this window frame with your favorite color paint spray. Use hard cardboard to cover this frame from the backside. Use hot glue for displaying the photos in this frame on the cardboard! textingthecity
3. Build a Wooden Picture Frame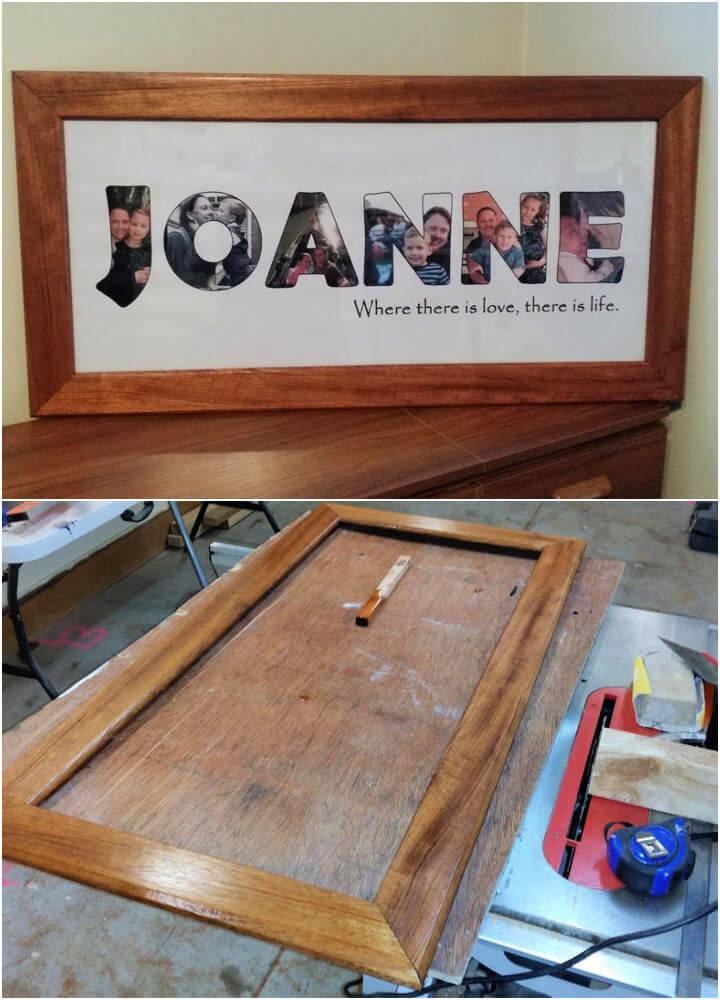 Nothing would give a more realistic look to your room than this wooden photo frame. You can buy this frame from an affordable craft store or make it yourself. Use wood pallets to customize the sides of this frame. Timber is an ideal option for creating this photo frame. Not only for your room, but you can also DIY this frame to gift your friend with his memorable photo. Use wood stain to give this frame a natural and organic overall look. instructables
4. Rolled Paper Picture Frame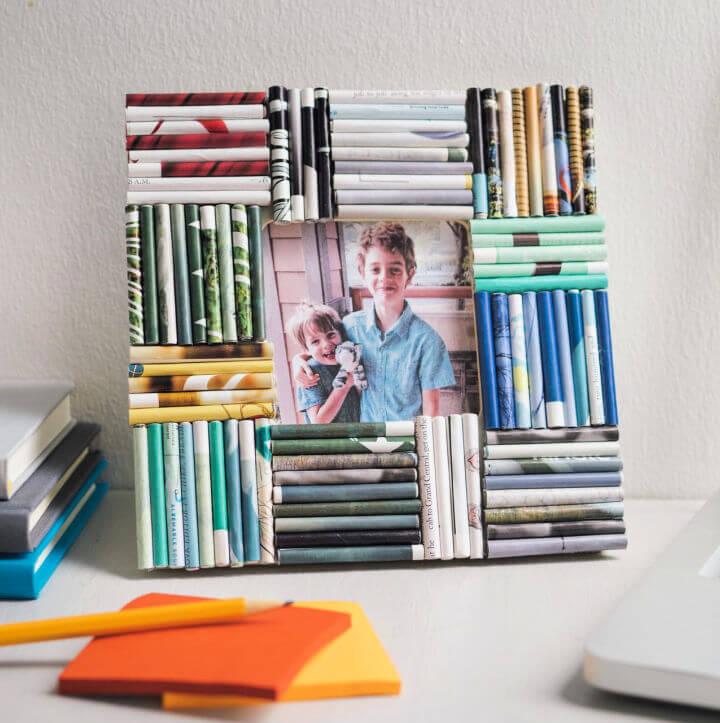 Happy Father's Day! Create a beautiful and precious gift for your dad on this special day. Reuse paper scrap and leftovers from your craft store to make this rolled paper picture frame. Use an old frame to embellish with colorful papers. Use hot glue to join all the folded paper in a pattern. Later, adjust a precious photo of your dad with you in this customized frame. kiwico
5. Large Scale Picture Frame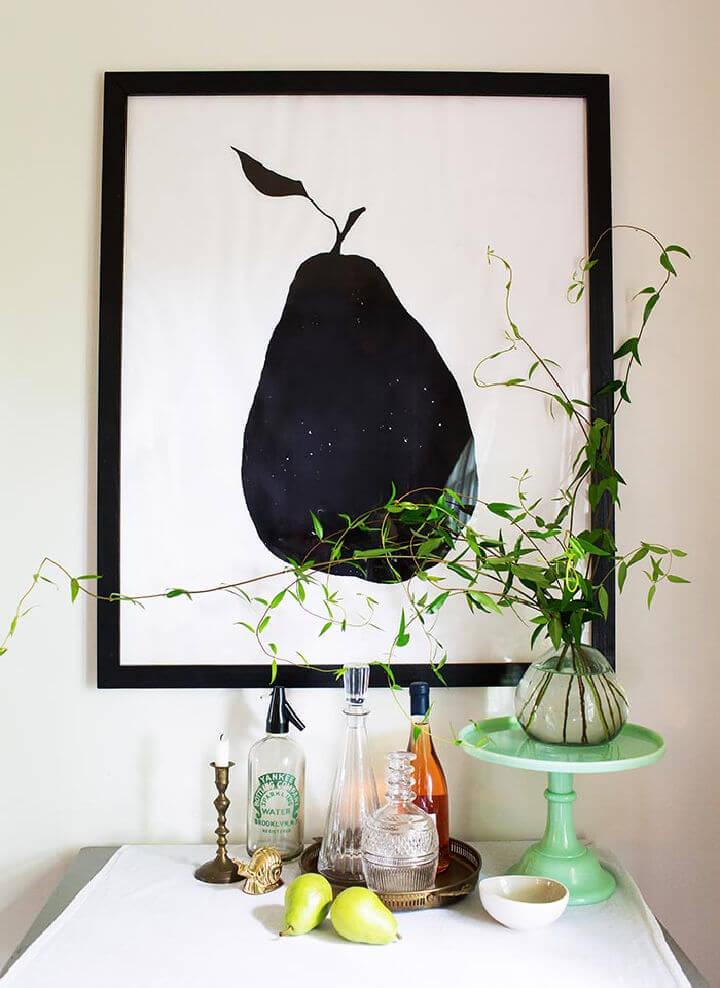 A big picture creates a great and impressive impact on your room décor. You can create a big-scale photo frame with your favorite photo and art by yourself. Use wood boards to make this frame using woodcraft supplies. Before customizing the frame, measure the width and length of the portrait. So, you can get your hands on a specified frame to display this art in your room. designsponge
Watch This Video: How To Create Beautiful Photo Frame Only Using Cardboard – Easy Homemade DIY – DIY Picture Frame (11 Minutes 38 Seconds)
6. DIY Book Picture Frame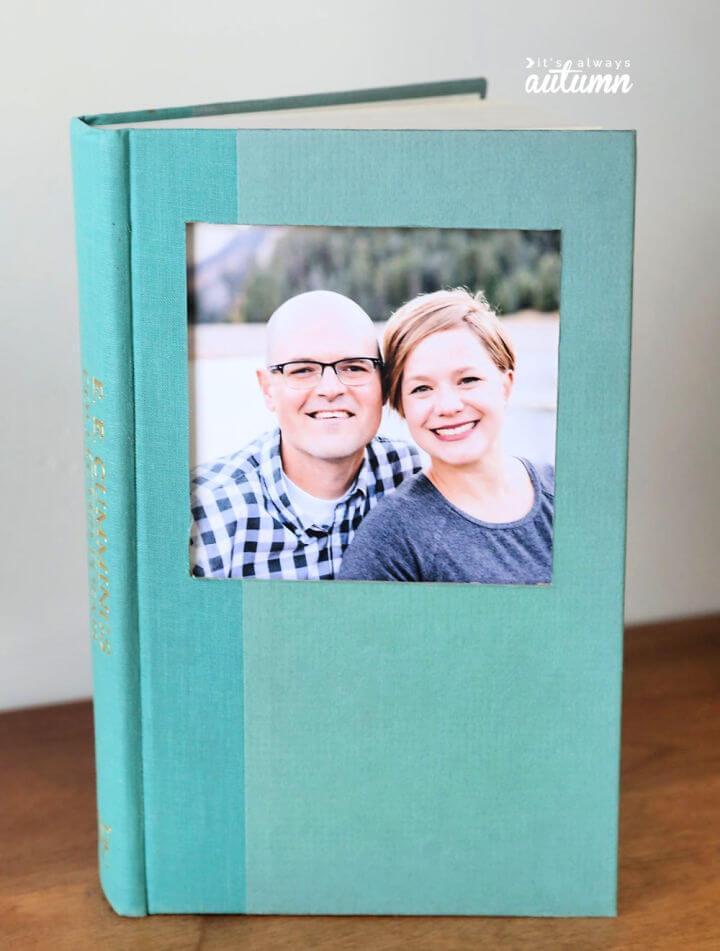 Reuse an old book for having an attractive and long-lasting picture frame for your home. Use denim scrap to cover the board of the book. Cut the book front board in a desirable shape to display your photo. Not only in a square shape, but you can also cut the board in a customized shape. Use tape instead of glue to adjust the picture in a DIY book frame. itsalwaysautumn
7. $3 DIY Bow Picture Frame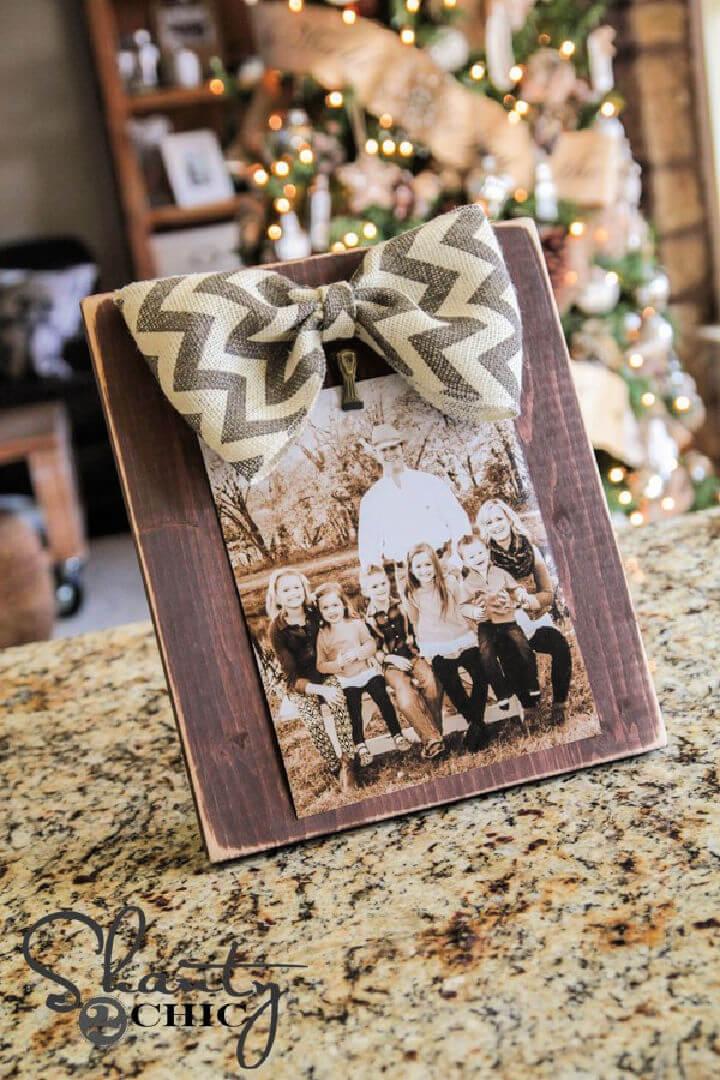 Reuse wood pallets from your craft store to make this $3 photo frame for your room and living area. You can keep the pallets in the same color or paint them with a wood stain. Use a hardboard to cover the backside of this recycled photo frame. It's better to use transparent tape to attach the picture to the frame instead of glue. Embellish this frame with a colorful bow. shanty 2 chic
8. Picture Framing for Beginners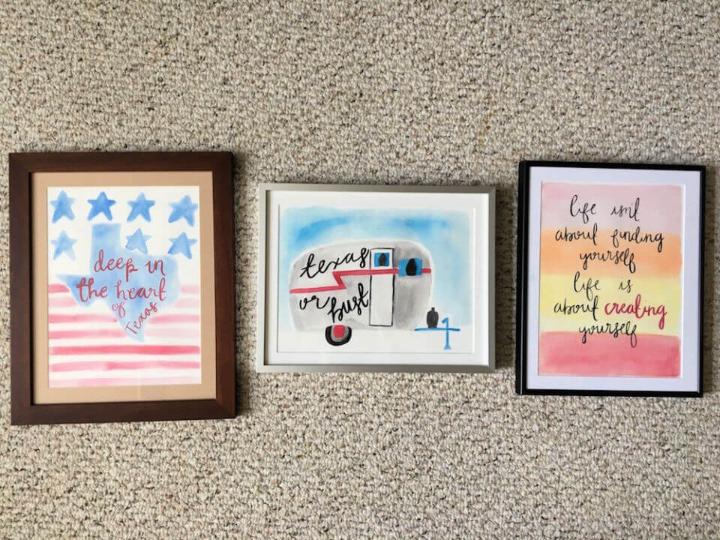 This project is sufficient to showcase your art and skills if you are a newbie to DIY photo frames. Order the customized frames online from a low-cost store. All you need to do is display your artwork and portraits in these frames. You would love to hang your art piece in your room attractively and masterly. framedestination
9. Photobooth Picture Frame Tutorial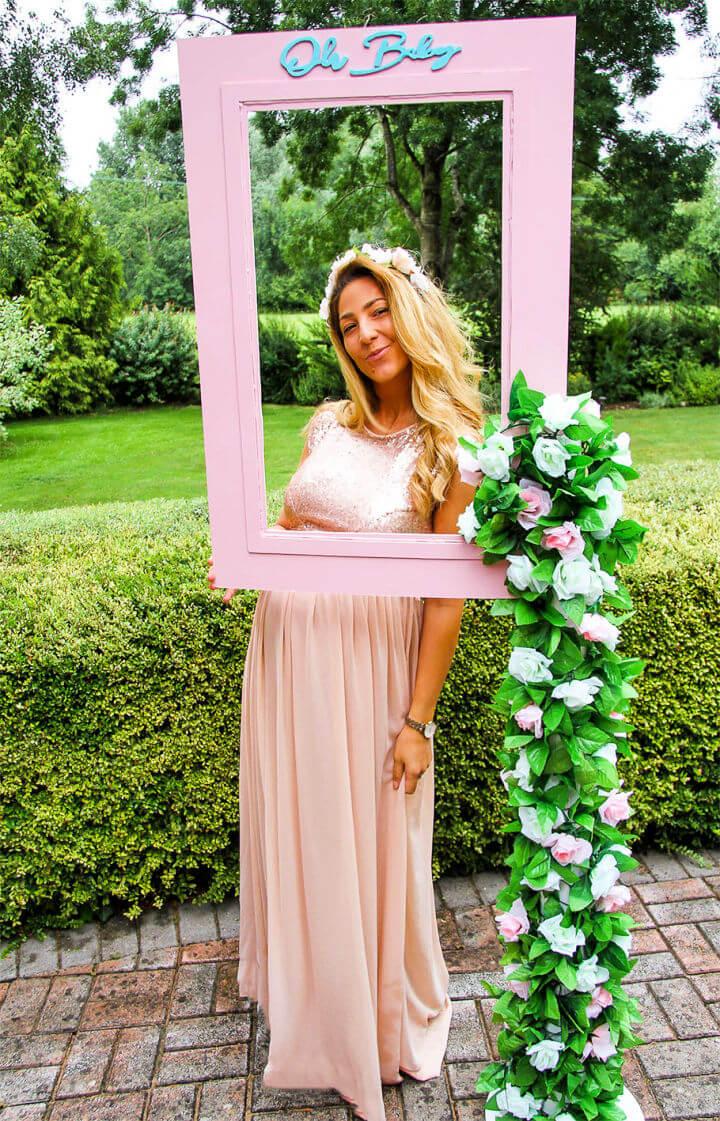 Use formboard to make this multipurpose photo booth picture frame. You can use this frame for décor in bridal showers and birthday parties. Create this art more attractively by embellishing it with faux flowers. Additionally, you can paint the customized frame with the party theme color. The best thing about this phot boundary booth is that you can make it in whatever size you want. nelisoultan
10. Picture Frame Molding on Wall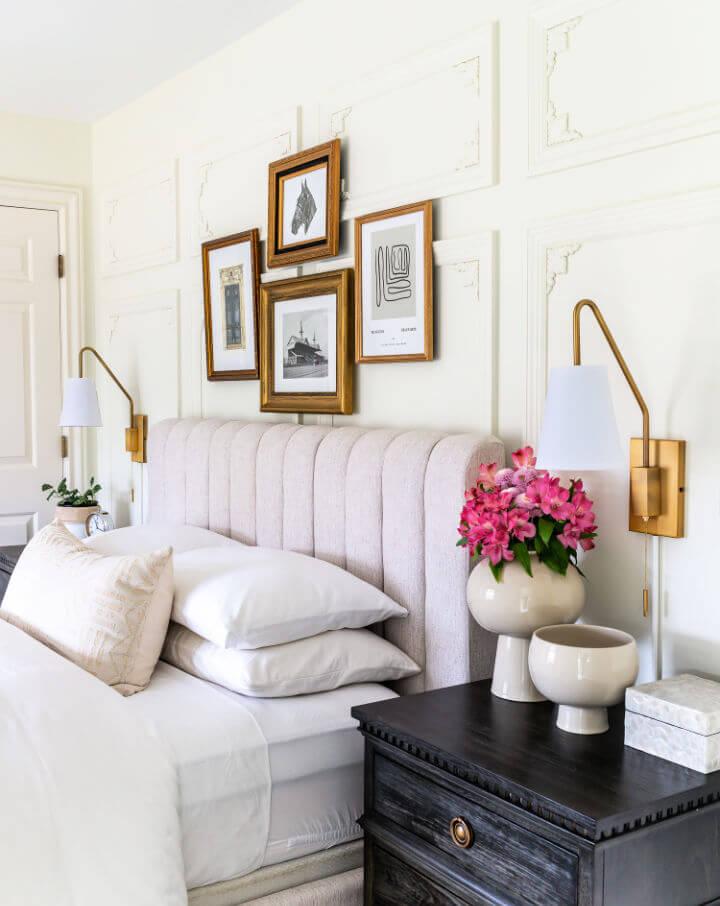 Redo and refresh your room décor with these molding picture frames. Use prime pine casing with ornamental corner molding to create these stylish frames. Plan the layout, draw and start work appropriately to create these chunkier frames to add more glam to your rooms. Use construction adhesive instead of nails on the wall. jenwoodhouse
11. Picture Frame from Pallet Wood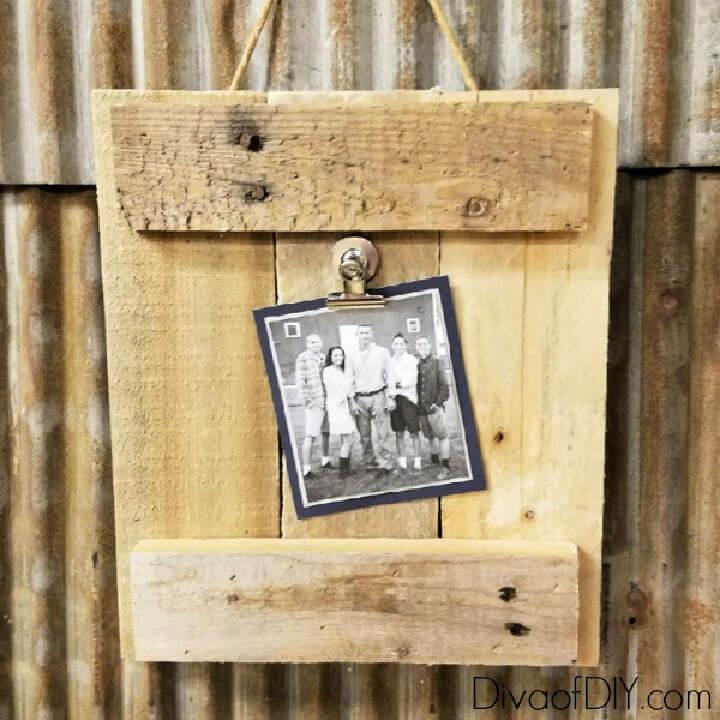 If you are in search of recycling projects and DIY, this photo frame customization is for you. Reuse shipping pallets to make an affordable and environment-friendly photo casing. Use nails and a staple gun to join the pallets in the required length and width. Excitingly! You can display this frame on the wall or hang it on the door. Use wood stain if you would like to use it. Embellish or enhance the look of this frame with your favorite family photo. divaofdiy
12. DIY Rustic Picture Frame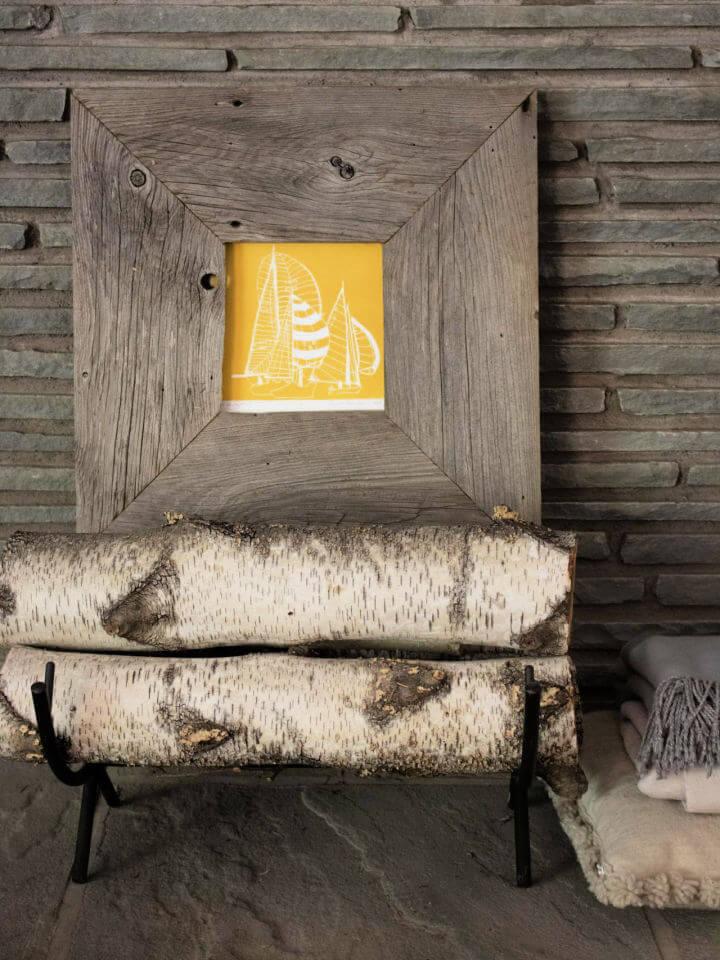 The rustic photo frame is the best option for those who admire nature. If you are also one of them, create this frame using recycled wood pallets. You can style your home with this frame efficiently and effortlessly. Get a farmhouse-style décor for your home with this natural rustic photo casing in no time using craft supplies. Moreover, you can also gift this barn wood frame to your friends and family members on special days. diynetwork
13. Clothespin Picture Frame Tutorial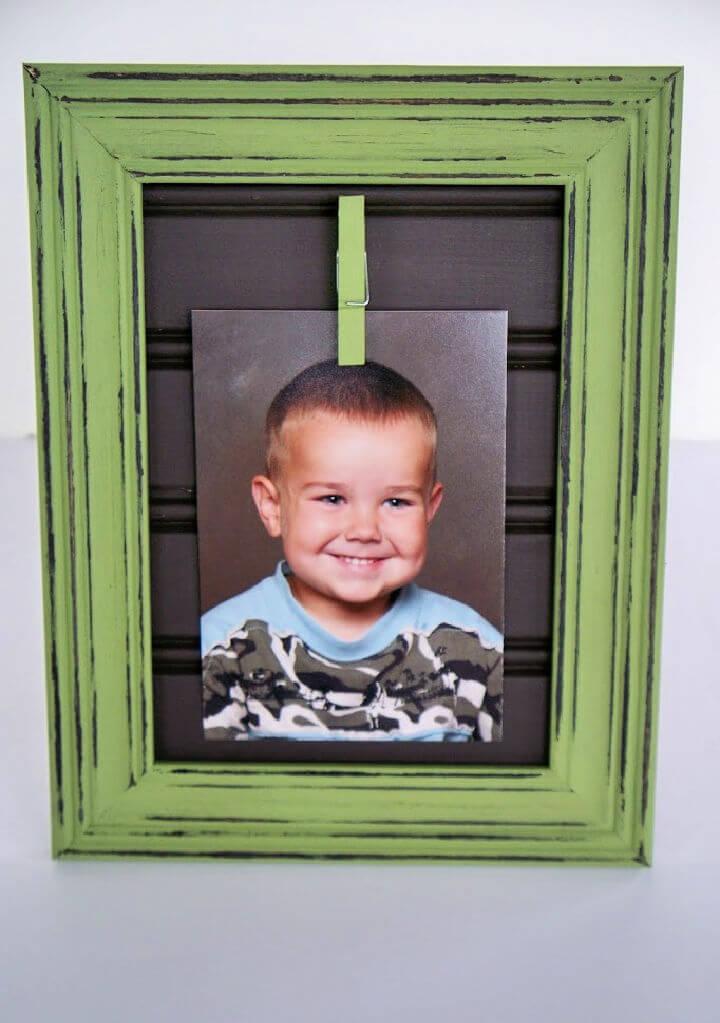 Looking for an excited and thrilled DIY craft project? Create this photo frame for your kid's room by recycling an old frame and clothespin. To make this frame, you don't need to put in extra time and effort. You can craft this casing in less than 30 minutes if you have all supplies. Use a hinged board in this frame to use as a collage or serial frame. Use a wooden clothespin to hang the kid's photo in this frame. u createcrafts
14. Custom Picture Frame from Cardboard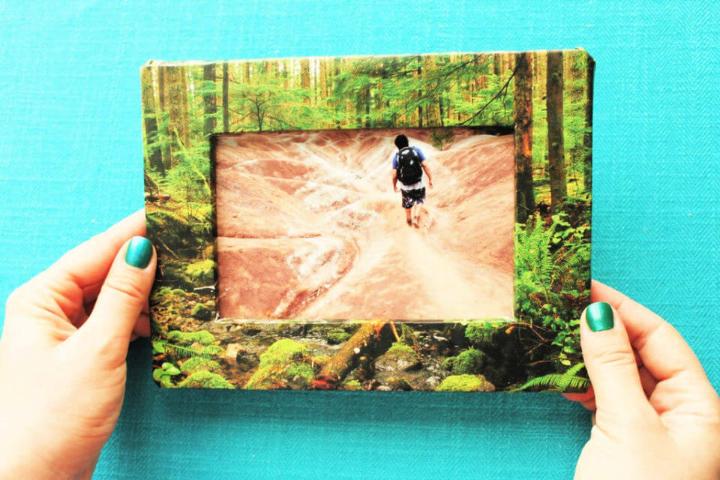 No doubt, we all know about the green benefits of cardboards. You can use this board to customize a decorative photo frame to décor your space. Not only for photo framing, but you can also use this board for different DIY decorative projects. If you are new to DIY framing, use printable stencils to work on this project effortlessly. Decorate the stenciled frame with colorful paper. Cut the stenciled frame and fit a customized size photo in it. instructables
15. Heart Picture Frame Collage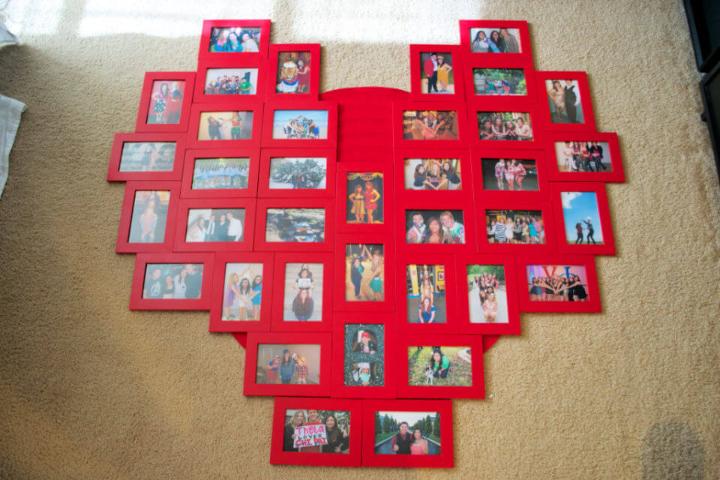 Reuse a heart-shaped wreath wire to make this DIY heart frame photo collage. The heart-shaped wreath wire will help to work in an appropriate pattern. You can order the mini-IKEA frames from an affordable store. Plan the photo's layout on paper before adjusting them on the heart-shaped frame in a collage form. danicat
16. Build a Custom Picture Frame

Display your crochet and stitching art in a frame by building a customized case for it. Use timber wood to customize this photo case to display in your room. Color the frame according to the theme and color combination in your artwork. Hang this DIY art case on the wall. You would love to see your crochet craft daily. makelyhome
17. DIY Wood Picture Frame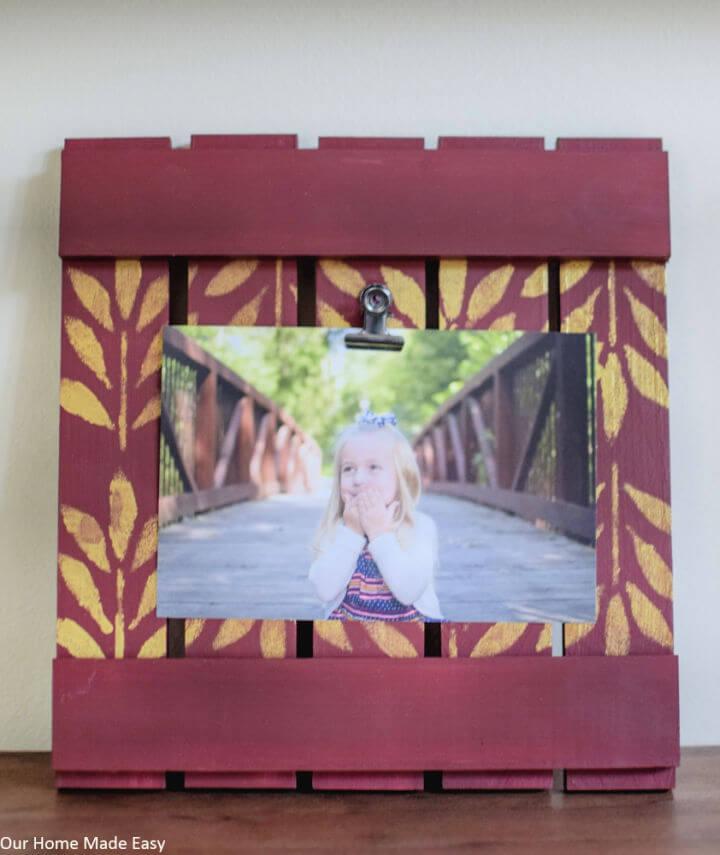 Combine and attach the wood pallets in a frame format to customize a stylish photo case. Make this case more adorable with printing art and colorful painting. Once you have created and painted the frame, display your favorite photo using a steel clip. The main reason for choosing the steel clip is to change the picture whenever you want to do it. ourhomemadeeasy
18. Back to School Custom Photo Frame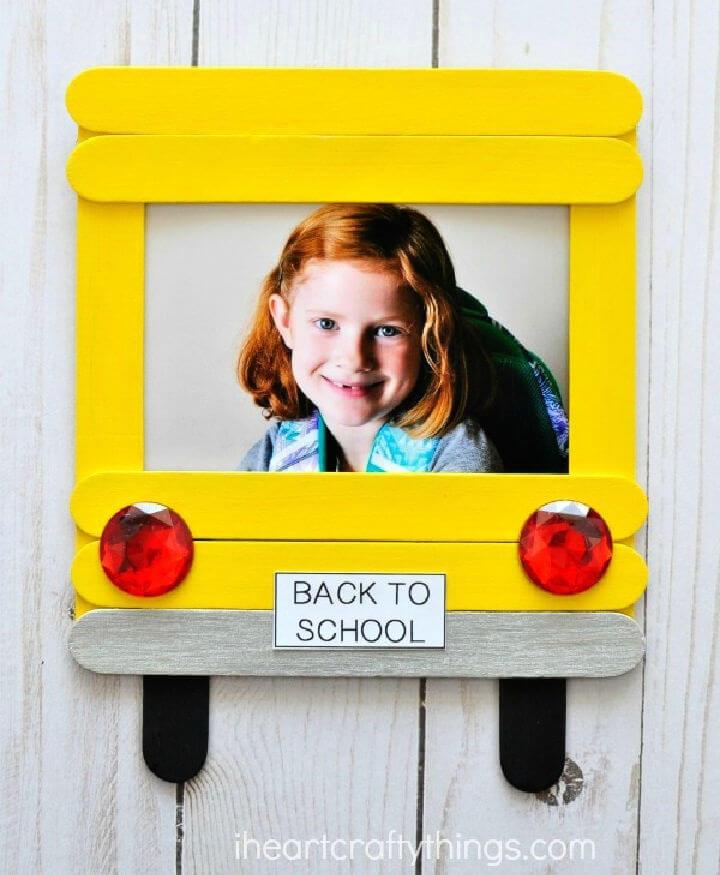 Cherish your kids by displaying their precious back-to-school moments in a customized frame. You can DIY this case effortlessly and within budget by using popsicle sticks. Color these sticks with your kid's favorite color to make the frame more attractive for them. These memories will remain last longer in your home with this super cute frame. iheartcraftythings
19. Key Holder Picture Frame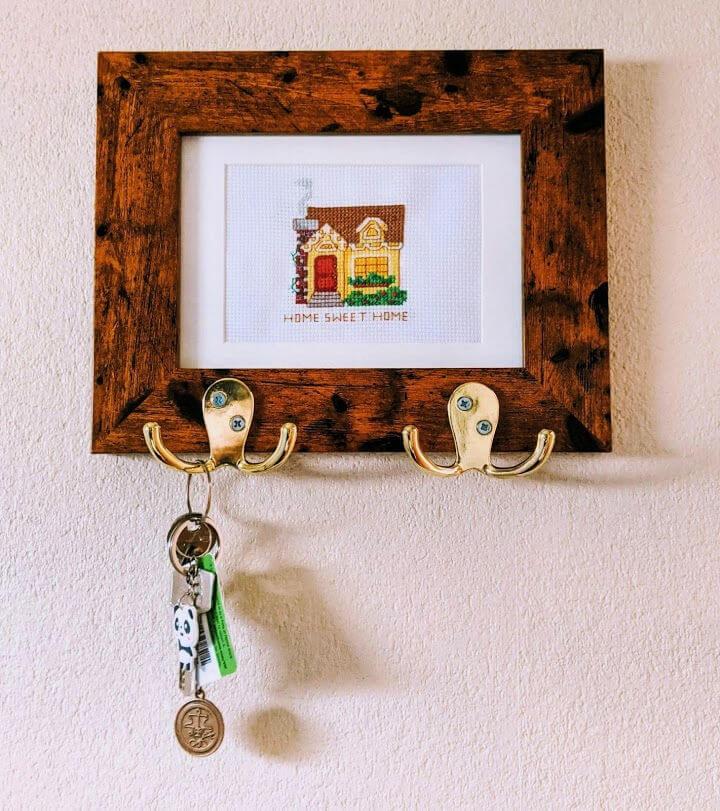 No wonder wood pallets are more magical and useful to recycle in a different craft project. You can also use this recyclable material for creating the frames for your room. Reuse a shipping pallet to make a beautiful photo case with keyholders for your lobby. The customization of this frame is similar to a simple photo case. The only new thing is attaching the keyholders on this frame using nails. Use this frame to showcase your precious moments as well as hanging the keys. houseofmahalo
20. Rainbow Popsicle Stick Picture Frame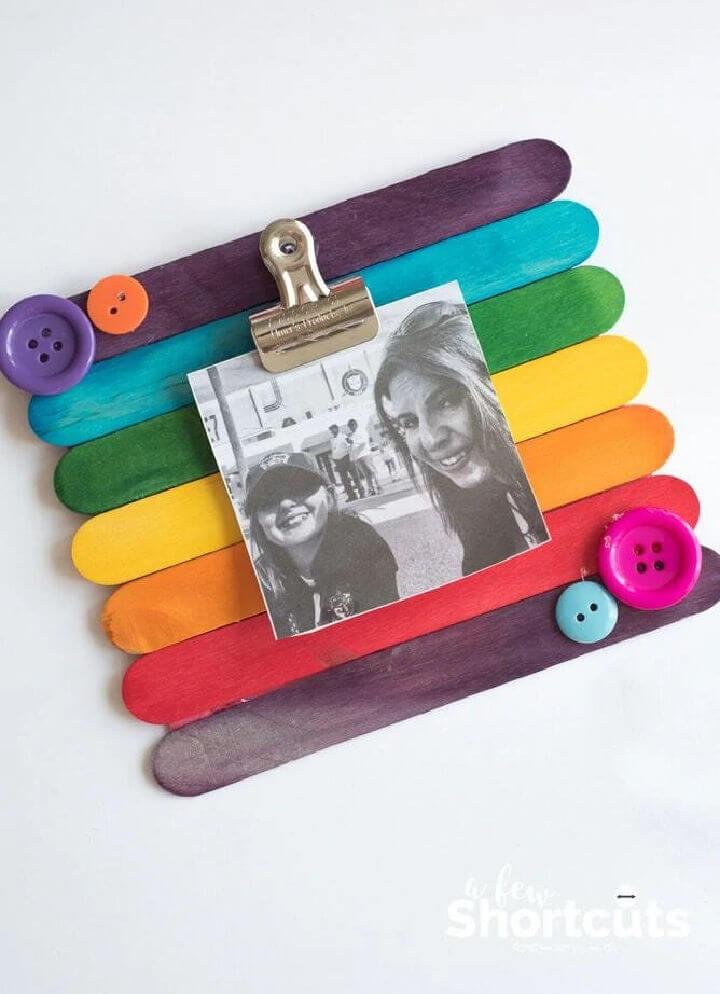 Playing and crafting with popsicle sticks are fun for kids and elders. People of all age groups can use this useful material for DIY idea crafting. In these holidays, involve your kids with yourself and customize this super easy frame using pop sticks. Paint these sticks with all vibrant and rainbow colors. Moreover, use pearls and rhinestones to embellish this charming photo case. afewshortcuts
21. Make a Valentine Picture Frame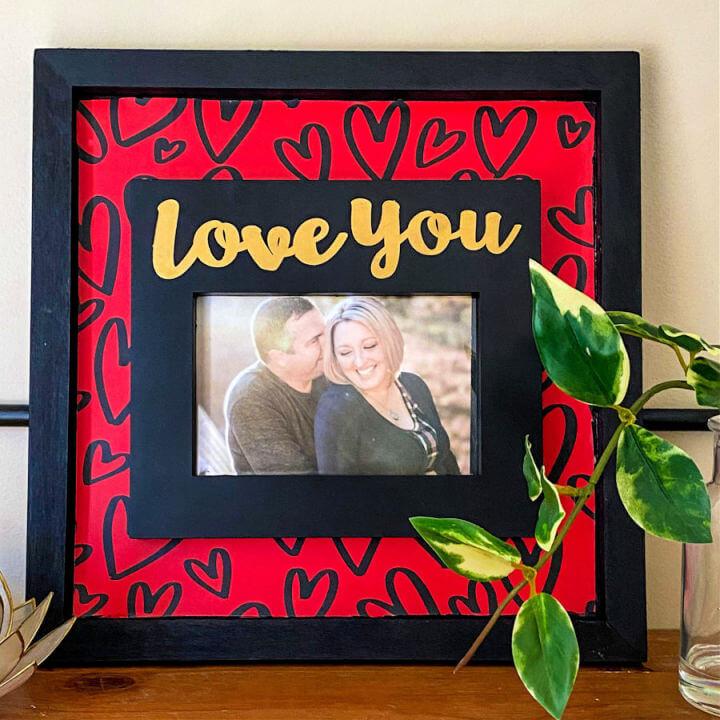 Enjoy this day of love and happiness with your loved one pleasingly with this DIY valentine's day photo frame. Gift this case having a romantic picture of you and your spouse to your partner. He would surely love displaying and owning this art in his room. Use a valentine's day gift back to use as a background of your photo in this customized frame. katiedrane
22. How to Build a Custom Picture Frame

Create this precious and effortless wood photo frame using inexpensive supplies and woodblock. Although this DIY project involves wood, you don't need to do excess wood crafting. You can customize this frame with straight cuts. Measure the size of the picture and cut the casing for displaying this photo. Makeover and uplift your room appearance with this easy-to-make photo frame. sawsonskates
23. Easy to Make Picture Frame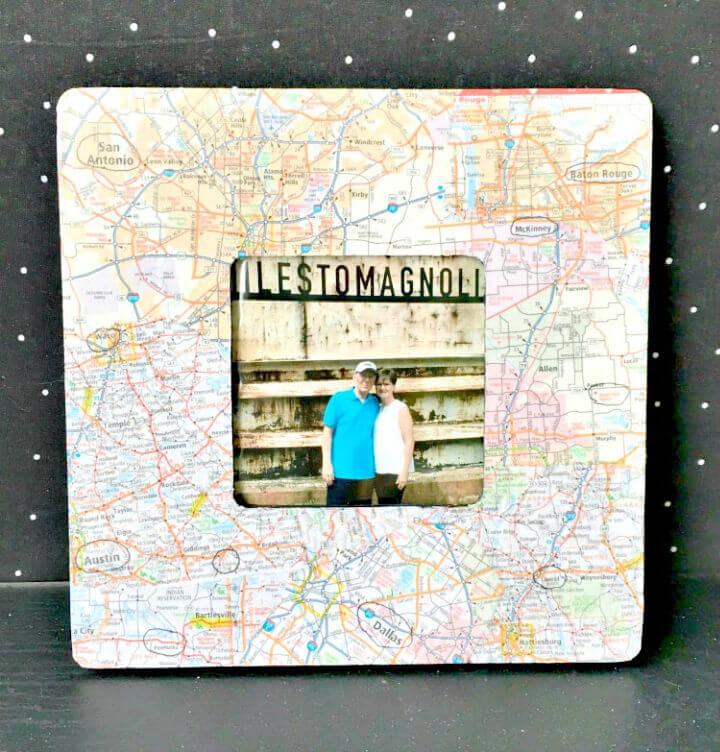 If you are a traveling lover, this photo frame is the best option to showcase your moments. Reuse an old map and cardboard to make the map frame for your pictures. Use the glue or tape to adhesive the map on board. Instead of using cardboard, you can use pine wood for framing. Add your photo to this frame using a cotton rope and clothespin. myhomeandtravels
24. Cardboard Picture Frame – DIY Frame Out Of Cardboard
Nothing would better than considering the picture molding for displaying and framing the photos. You can get the molding almost from all craft stores. Use them to make an affordable and good-looking photo case to hang on your room wall. Reuse an old wood window to make this customized casing efficient and budget-friendly.
25. Cork Board from Picture Frame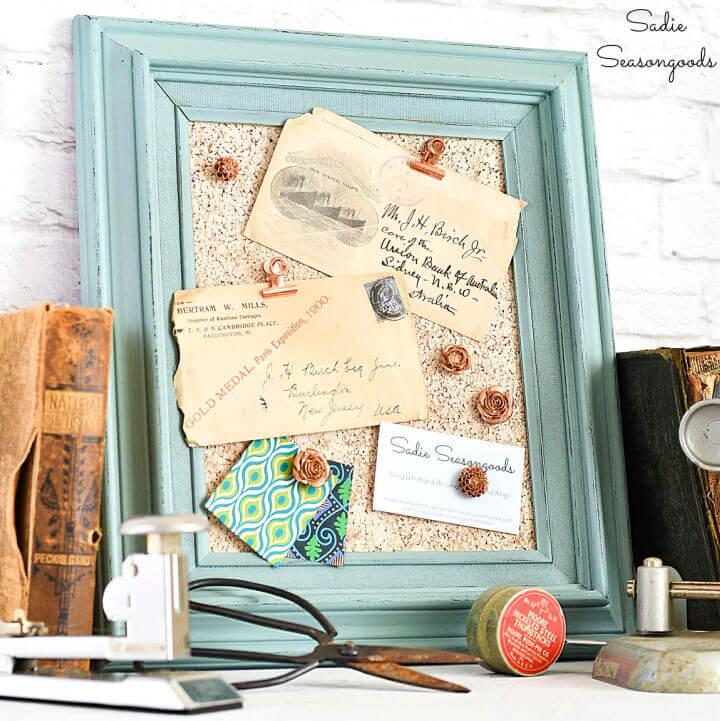 Raid your thrift store and collect all useful supplies to make a photo frame. Use a corkboard and an old casing to reuse as a photo frame to display your kid's captured moments. Not only for displaying the photos, but you can also utilize this casing as a storyboard to get a farmhouse-style décor. Use embellishing and decorative board pins to showcase the traveling tickets or other notes on this frame. sadieseasongoods
26. DIY Paper Photo Frame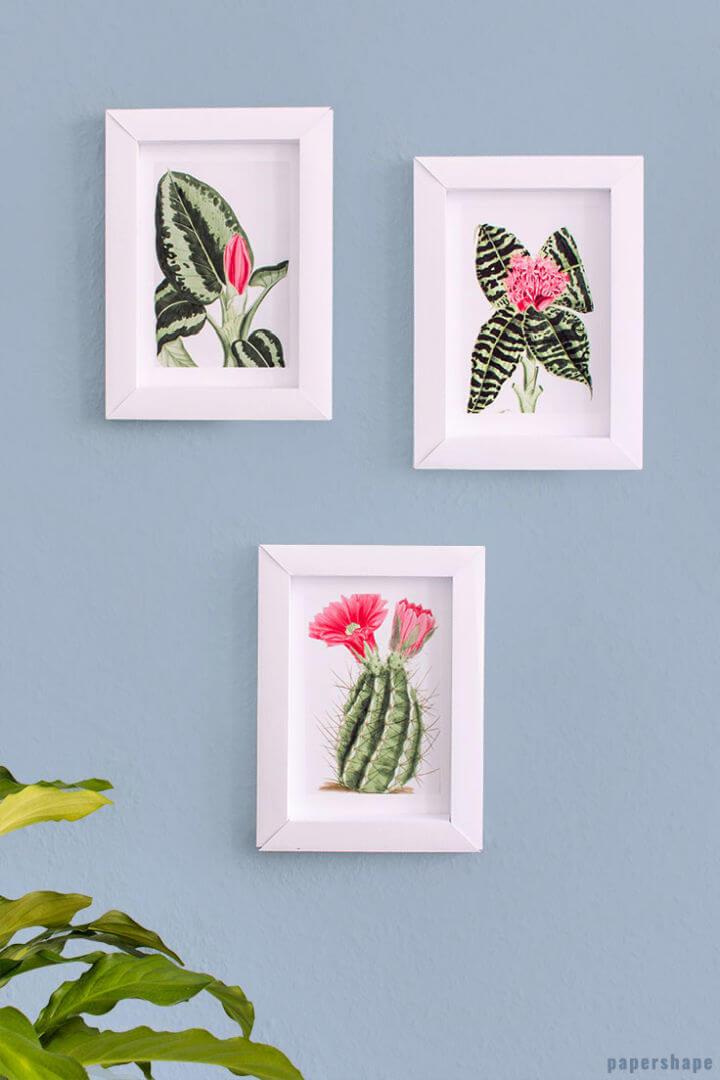 Decorate your room with these easy-to-make picture frames. You can make and customized these cases, even with your kids. Utilize these frames for gifting others or displaying them as décor in your room. You can DIY these frames in different sizes and shapes. Use hard or kraft paper for customizing these photo boundaries. Paint them with desirable colors and enjoy hanging them. paper shape
27. Coco Inspired Picture Frame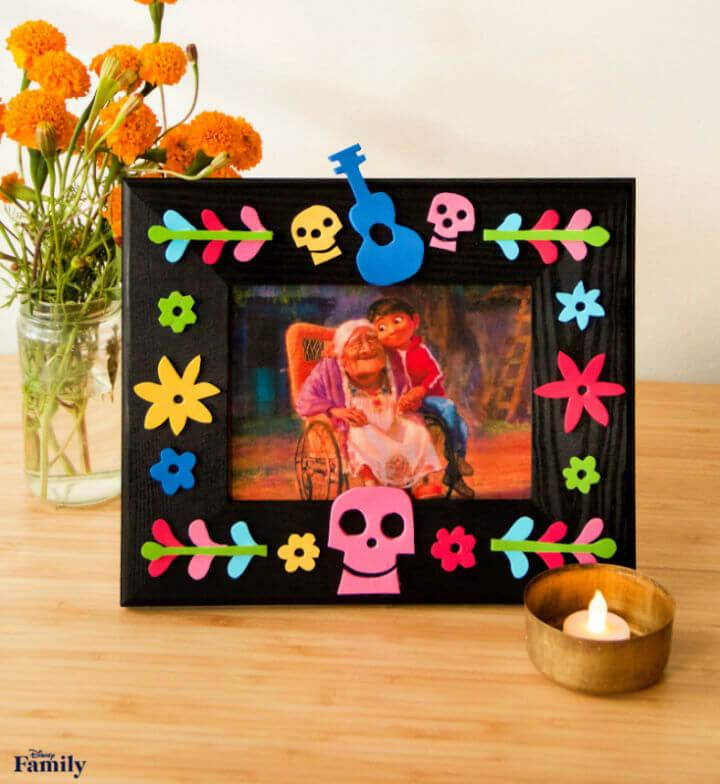 Mother's Day is the perfect time to show your love to your mum and Coco with this DIY Coco frame. Kids can work on this craft project effortlessly and excitingly. This project doesn't include any tools and risky supplies for the kids. That's why they can create this frame independently. Decorate this photo case with glittery felt paper shapes. disney
28. Simple DIY Picture Frame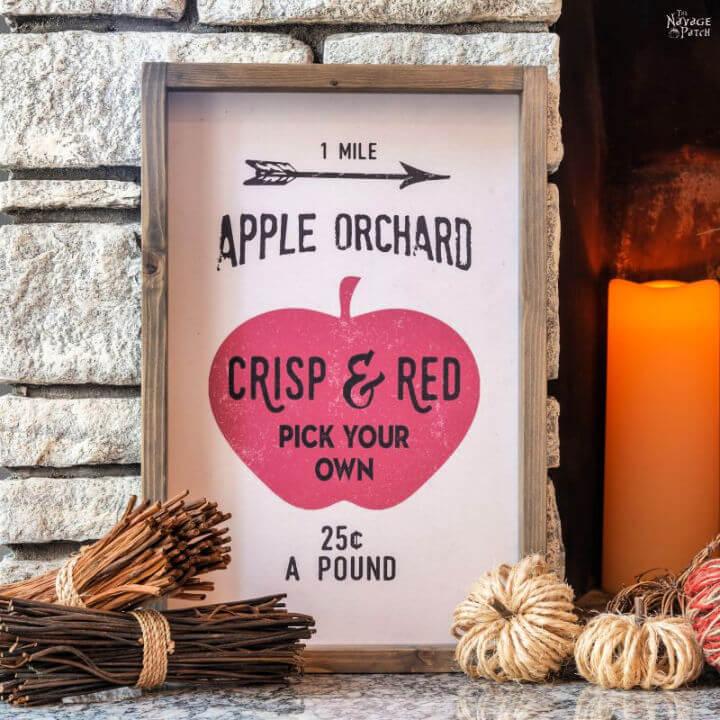 Get inspiration for the fall season and decorate your home with some impressive décor pieces. Create a beautiful and long-lasting photo frame using timber wood and craft supplies. Showcase an inspiring quote and your picture in this customized casing. Enjoy placing this frame on your fall décor table! thenavagepatch
29. DIY Twig Picture Frame Decorate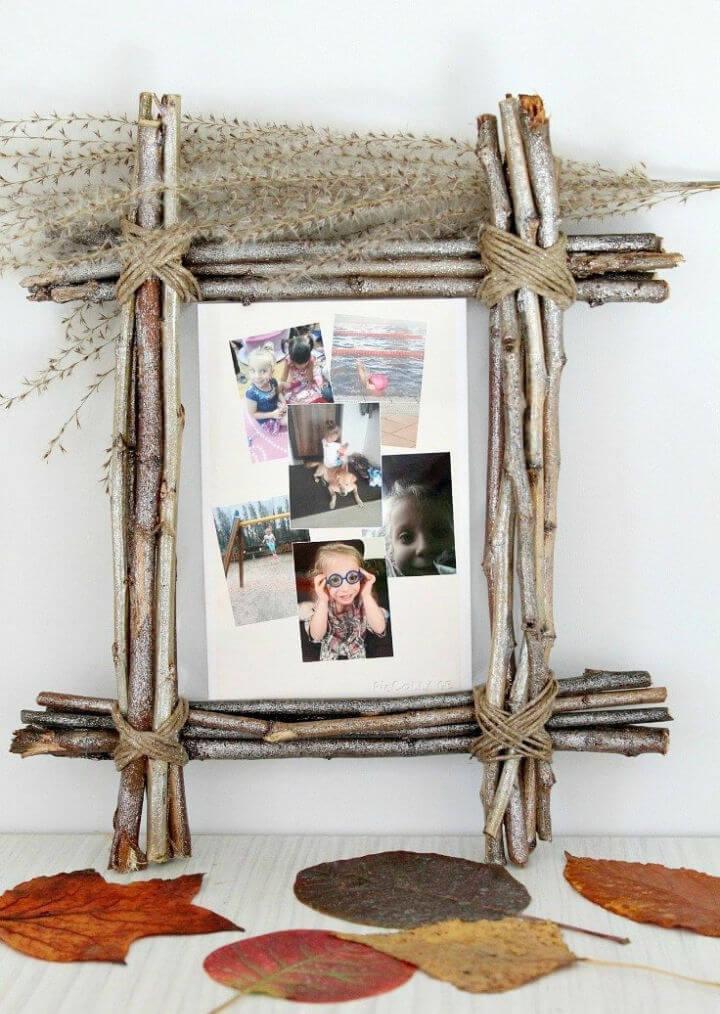 Get a cozier and comfortable feel in your home with this rustic twig frame. Create this easy-to-make case using twigs and twines with affordable supplies. Tie the twigs using colorful threads or ropes in a desirable pattern to make a photo boundary. This customized twig and twine frame will add a farmhouse décor vibe to your place. theseamanmom
30. Watercolor Picture Frames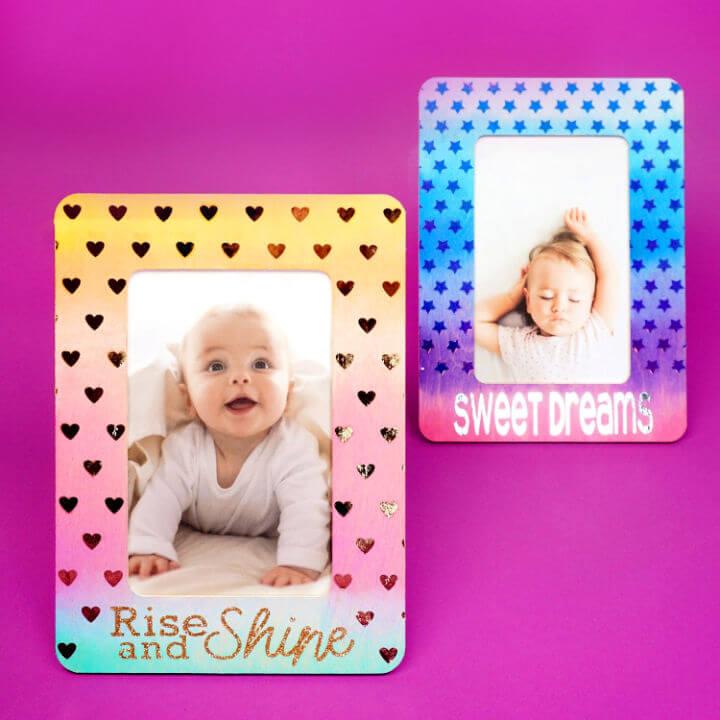 Looking for an affordable and DIY gift idea? This bohemia watercolor photo frame is a worthy option to utilize. Use lumber to make this DIY case and paint it with vibrant watercolors. Use the circuit sheet with desired art like stars or flowers to decorate these painted frames. Make these cases more adorable with sweet notes using letter stencils. Add more spark to these frames with a sprinkle of glitters. happinessishome