When we think of printers, the first thing that comes to mind is a hard copy or printed text on paper. These printed copies can then be utilized in many forms, such as books, magazines, or plain copies. The great thing here is how convenient we can get data one print away. As we all know it, printers have been able to provide us images and texts on paper. However, as technology is improving, more methods are beginning to show up.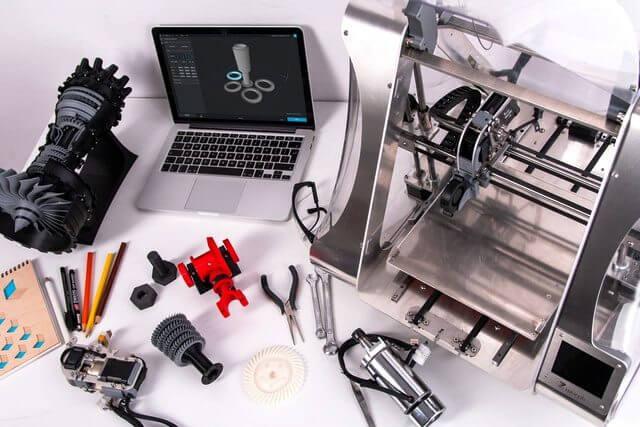 This time 3D printers come into the picture. Instead of printing images and texts on paper, 3D printers can print out real objects. Indeed we can say that this is revolutionary in the world of technology. 3D printers are incredible pieces of hardware as it can produce various kinds of usable, fully-functional objects.
1) Why 3D Printers Are Taking the World by Storm
There are multiple reasons why 3D printers are fascinating. Think of it this way, when we put items in our home, there's always that level of personalization that we're after. We even go as far as reaching out for custom made products.
The downside is the availability of that particular item and the parts required when it breaks down. However, with a 3D printer, you can create that broken part and repair it easily or create a whole new item, for that matter. With that said, here are some ideal fields where 3D printers could come in handy.
2) Prototype
The concept and designs sold and marketed by giant corporations are mass-produced, meaning only one design exists on one product. There's just no room for personalization when it comes to these kinds of items. The downside is how many people still prefer to have everything customized. Despite this preference, large companies don't specialize in creating personalized items due to soaring production costs.
However, when 3D printers were introduced, new doors of opportunity were opened. Some companies adapted and are now accepting customization services. As a result, many small businesses partnered with large companies that offer customization services.
3) Hospital
The 3D printer is a hot topic as a future machine that can potentially save millions of lives. Most medical experts and scientists are looking for the possibility of creating artificial organs like the heart and liver with the help of 3D printers. Though we are not there yet, 3D printers still aid hospitals in other ways.
One good example is the prosthetic creation. There are issues concerning ready-made prosthetics. Where the size of prosthetics does not match the patient using it, prosthetics become expensive and quickly outgrown. With 3D printing, designing a prosthetic can be done with accurate measurement to fit a patient. Unlike traditional creation methods, 3D printing is much faster and is more affordable.
4) Construction
Constructing a building takes time with high labor costs, so the construction industry aims to develop concrete 3D printing. The idea of construction with 3D printing can be traced to the early 1990s, where the main goal is a quicker and less expensive construction of buildings through customization software.
In the year 2017, the world's first 3D residential home was constructed in Yaroslavl, Russia. The walls made for the building are assembled materials printed in a shop. There we can see that the vision of 3D printing in construction has turned into reality.
5) Education
Application of 3D printers on education manifests for better visualization for students. It offers a 3-dimensional perspective by allowing students to explore new designs and apply architectural principles. Most graphic designer courses can now construct complex models to learn better at school. For medical students, they can create artificial organs for research with the human body.
As of the moment, there are multiple 3D printers on the market with different specifications. Two of the best 3D printers that you can get are the reality ender 3 and ender 5. This comparison of the two 3D printers allows you more insight on which is the better purchase. Although 3D printers aren't really affordable, they're also not that expensive. This cost is the reason why you should really research before buying one.
Jewelry
Jewelry makers are among the most excited people upon hearing that 3D printers can make excellent jewelry designs. It also lowers the cost of making jewelry, as 3D printing requires less PLA or polylactic acid filament than the amount of PLA required in making traditional jewelry.
In addition to that, many complex designs are made possible using a 3D printer. The quality, as well, can be astonishing. The finishing touches of 3D printer-based jewelry can produce better-looking qualities than the old traditional way of making jewelry.
Takeaway
3D printers are starting to become common nowadays. Traditional printers that can only print out images and text are no comparisons to 3D printers. 3D printers have the ability to create a fully functional item, complete with user specifications and everything else. Fields such as jewelry making, education, health, and the construction business are just a few applicable fields where 3D printers are expected to make a huge impact.