The first step to remaining healthy is to drink safe and clean water. Installing a water purifier that does the job is not just a luxury anymore, but a need with the increasing cases of water contamination. The Berkey water filter system is one of the best water purifiers by all accounts. It is an exhaustive and exceptionally equipped water filtration system and competent to a great degree.
It is not just the easiest and most efficient water filtration systems, but also the most accessible. Berkey is the water filter you need in any situation to get fresh drinking water as long as a water source is available – pool, river, lake, or stream. It can be used every day or during an emergency since the device needs no power. Berkey water filter is for you whether you are a hiker or a homeowner.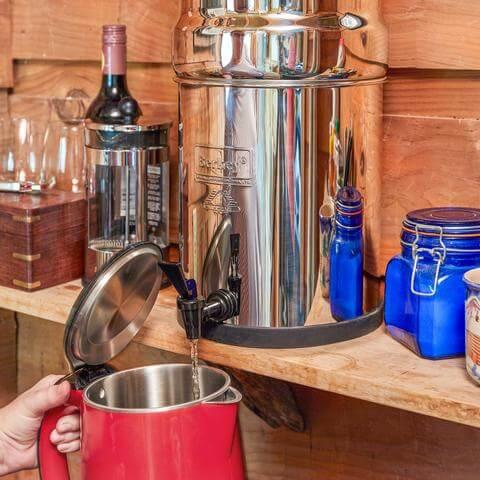 Safe Drinking Water with Berkey Water Filter
It is important to understand that your water is not tainted with just microorganisms. The EPA claimed that over 2,000 toxins were found in water labeled fit for drinking in the US. Unpurified water could expose you to any number of harmful chemicals, protozoa, toxic bacteria, heavy metals, chlorine, and pesticides. You need a water filter that can tackle chemicals along with harmful microorganisms.
The Berkey filter does exactly that. It has an incomparable performance report when it comes to removing pathogenic bacteria, parasites, and cysts. It can bring down levels of E.Coli, Klebsiella, Giardia, and Cryptosporidium to acceptable levels.
Berkey water filters can also remove trihalomethanes, like dibromochloromethane, bromoform, and chloroform and radiological, such as Radon 222. You don't have to worry about chlorine or its residuals or heavy metals, such as lead, mercury, aluminum, cadmium, and chromium with this filter system at your home or on your travels.
Berkey water filter can remove volatile organic compounds or VOCs to below noticeable levels and decrease the levels of any nitrites or nitrates present. This makes it a wide-ranging filter that works for all types of people in all types of situations.
Berkey Water Filter is Easy to Use
You don't need any tools to assemble this water filter. It can be put together in minutes by just about anyone. All you need to do is pour water in the upper chamber and allow the water to start flowing through the filter. In seconds, you will see clear, safe, and spotless drinking water flowing into the lower chamber. Turn on the tap to take in the goodness of health in the form of safe drinking water. This ease of assembly makes Berkey water filters a great purchase for everyone.
In addition, there is a wide array of choices and types. You can take your pick from a 1-quart unit to a 6-gallon unit depending upon your need and family size. There are five other models in between to ensure that everyone gets what they are looking for. A Berkey water filter is what you need whether you are looking for safe water at home, work, or gym.
How Does It Work?
Berkey water filters use purification elements to remove chlorine, lead, and other heavy metals. It can also remove most chemicals, VOCs, and microbes for safe drinking water. The system works on the principle of gravity. When you pour water in the upper tank, it trickles down through the purification elements by gravity. There is no special technology in place to push water through the microfilters.
This heavy-duty system works effortlessly in purifying treated municipal water, which may contain traces of heavy metal, pathogens, chemicals, chlorine, and other harmful additives. You can get clean drinking water from untreated lakes, streams, and ponds as well during emergencies, such as hurricanes.
Water is drawn through the filtration elements with the help of gravity. The purification elements are micro-porous and make sure that all traces and residues of chemicals, pathogens, and other harmful things are brought down to acceptable levels. The Berkey system is lab tested and guaranteed to provide safe and clean drinking water.
Better Than Other Alternatives
There are many water filters in the market. But, Berkey outshines all of them in terms of ease, handling, accessibility, efficiency, and options. You can use this water filter on a daily basis or during emergencies. People prefer Berkey over other brands because they are durable. You don't have to purchase a filter every alternate month. They are also straightforward to arrange and low-tech while offering a similar level of purification.
The environmental impact of these water filters is extremely low with almost negligible wastage. Most options are made from stainless steel which is recyclable and can reduce your carbon footprint. The smallest Berkey water filter of 1 quart can purify 3,000 gallons of water before needing replacement. The water filter does not run on power either. This makes it ideal for emergencies.
The largest Berkey water filter at 6 gallons can be configured to serve up to 300-625 people a day during an emergency. This filter allows for purifying water in a safe, secure, and environmentally friendly way. It is affordable, doesn't take up much space, and is also lightweight.
Experience Water like Never Before
Berkey water filters will give you a taste of water the way it is supposed to be. Free from chemicals, toxins, harmful pathogens, and organic compounds, water can taste delicious and improve your health. These water filters remove awful tastes and odors from the water leaving you with safe and purified drinking water.
There is no cloudiness in the water or any other type of residue and sediment that may make the water unsafe for consumption. Drinking water can taste incredible and Berkey makes it a possibility. The best part about these water filters is that they do not require to be plugged. You can enjoy safe, healthy, and delicious drinking water during an emergency, such as power outage.
The chambers are self-sanitizing. You don't need to worry about any sediment buildup or other residue in the tanks. You don't need to clean it as well. Even if you miss on replacing the filter, you don't have to worry about drinking unpurified water. The water filter is designed in such a way that unfiltered water never reaches the lower chamber.
Use Berkey during Emergencies
Many people swear by Berkey water filters during emergencies since they do not require a power source and can be configured to provide drinking water to a large group of people. You can get safe and clean drinking water as long as there is a freshwater source available. The best part about this filter is that it does not require any tools for assembly.
It is compact enough to fit in the back of your van. You can take it anywhere you go without worrying about being slowed down. The unit is durable and can survive the most terrible conditions. In fact, you can use the filter for emergencies as well and store it effortlessly when not in use.
Berkey Filters are Affordable
Berkey water filters are low cost to purchase and maintain. Each filter element is replaceable and doesn't cost much. In fact, you won't require a replacement for a very long time. All Berkey water filters can give between 4,000 and 6,000 gallons of safe drinking water depending upon the product size.
If you use bottled water in the upper chamber, you can purify as much as 32,000 gallons of water without needing a filter replacement. The products don't require extravagant maintenance and can be easily cleaned at home.
Berkey Water Filters are Lab Certified
All Berkey water filters are laboratory guaranteed for safety, durability, and pure drinking water. The filters in the unit are manufactured according to the standards set by EPA 7 ANS and NSF. The units have been tested by the University of Arizona, Spectrum Labs, and the Department of Toxicology and Environmental Science, Louisiana University.
You can be secure and confident in your purchase with a proven track record of unmatched performance. Thousands of Berkey water filters are being used on a global scale by UNICEF, The Red Cross, The Peace Corps, and other relief, help, and mission organizations. These gravity water filters are relied upon by a large number of families around the world for safe drinking water.
Choose a Model That Works Best For You
Berkey water filters are available in seven different sizes – 1 quart, 1.5 gallons, 2.25 gallons, 2.75gallons, 3.25 gallons, 4.5 gallons, and 6 gallons. Except for the 2.75 gallons model, all filters are made from stainless steel. The 2.75 model, also called the Berkey Light Water Filter is made from non-BPA/BPS co-polyester, which does not retain or leach any foul odors into your water. This is the only model that lets you take a peek into the way the filter works.
With so many sizes to choose from, there is a unit for every person and purpose. You can use Berkey water filters in your sports kit for hydration while working out or use it at home/workplace to never be without clean and safe drinking water.