What do you need to know when you buy a sewing machine for beginners? Sewing by hand can be a real chore; whether the job is being done to mend a pair of socks, alter a dress for size or creating a costume for a child's school play sewing is often harder work and more time consuming than it might appear.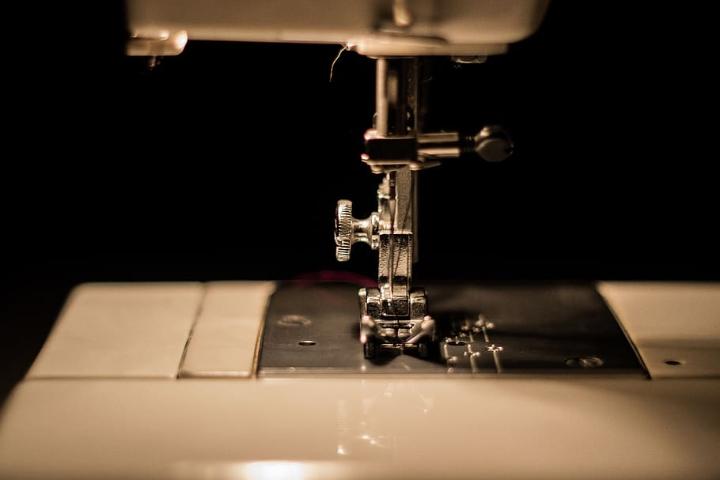 Why buy a sewing machine?
To alleviate the manual processes of sewing, many people choose to invest in a sewing machine to take the strain instead of hands, not only to save time but to make sewing more efficient. For example, sewing a long seam can take several minutes by hand, but with a sewing machine such repairs or alterations can be done in just a few seconds.
How do I choose a sewing machine which suits me?
Like most purchases it can be daunting to decide which sewing machine to purchase; from brand and cost through to functionality and ease of use there's a lot to consider which can make the buying process stressful. What if I buy the wrong one? What if it breaks? Does it have the functions I need?
Do I choose a computerized or mechanical sewing machine?
This consideration could come down to the experience level of the user. A mechanical sewing machine will require the user to make alterations to the stitch pattern by hand by setting switches and dials whereas an electronic machine can make the adjustments without user intervention.
A simple button press is all it takes for a computerized sewing machine to go about its' business. Of course there's a cost implication to also consider, but bear in mind more expensive sewing machines can also work with heavier materials such as leather or denim as well as thinner fabrics.
If you're planning on moving the sewing machine around or storing it away when not in use then also consider the weight of the machine; a mechanical sewing machine is likely to wear much more than its' computerized equivalent due to the propensity of its' metal mechanical parts. It may also be bulkier making it more difficult to store away discreetly.
Computerized models are also likely to have a much quieter operation than a mechanical one; using a mat underneath the machine can also help to muffle the sound of sewing.
How easy is a sewing machine to use for a beginner?
Pay attention to the number and types of stitch available on the sewing machine; cheaper, more basic models may not have the full range of stitches required while setting the stitch dimensions may not be altogether straightforward.
A sewing machine for beginners which have more functions than are likely to be used to begin with may overwhelm and distract; consider whether the extras are needed at the moment or in future as sewing skills develop.
Also look at how the machine is loaded, either from the top or in the front. A sewing machine which is loaded from the top might be easier for a beginner as most allow the user to monitor the bobbin in use while the machine feeds the thread automatically.
Front-loaded machines often obscure the bobbin entirely and there can be a couple of steps required to fill the machine with thread; perhaps it needs to be loaded into a feed cartridge first before being placed into the machine.
Consider budget and place of purchase
Sewing machines can be purchased from many big chain stores as well as smaller independent dealers. While the former may offer bigger discounts, the latter likely has more experience to call upon and can better guide beginners to the right product.
Many chain stores rely on purchasers' ignorance and look to upsell wherever possible; many salespersons may lack the experience required to deliver impartial advice, leading to the purchaser buying a sewing machine which might not suit their needs.
Buying from a dealership however, the salesperson is more likely to have in-depth knowledge of the trade, the trials and tribulations and be able to offer help and advice to guide the buyer to the sewing machine best suited for their needs. Also, if a fault develops with the sewing machine then a dealer may have a better rapport with the manufacturer and be better placed to solve problems.
Dealerships can often provide servicing plans, helping to keep the sewing machine in top condition throughout its life. Sure, there may be an added premium on cost, but in the long term it might be more cost-effective.
Try it out!
If the opportunity presents itself, try out any intended purchases before splashing the cash! Take some material samples and consider how the sewing machine works with the various fabrics.
How does the machine feel in operation? Is it easy to operate? Does it do all it is required to do? Many people won't know the answers to these questions until they have made their purchase, took the sewing machine home, unboxed it and have begun to sew with it. By then it might be too late and the machine purchased might not be entirely suitable.
If you can, try before you buy!
These are just a few of the considerations one might think about before making the leap and buying a machine. It certainly isn't an exhaustive list by any means, but by doing some research on a few key machine specs and things to look for when buying you may want to check out this descriptive sewing machines for beginners compilation to help guide you through the process as well as seek independent expert advice.