Students are always busy and don't have enough time to cook something. If you're in a hurry, bookmark this page and save the top 19 easy recipes for college students.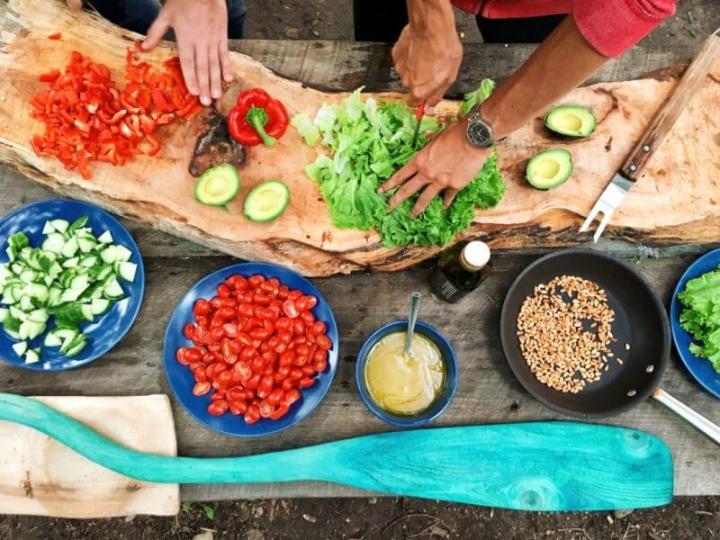 1. Hot Dishes
Explore the best hot dishes recipes that will heat you when it's cold outside. Also, these recipes imply a lot of fried and boiled products.
2. Fried Eggs
Grab some bacon and put it on a heated frying pan. Add sliced potatoes and eggs. Also, add some salt and seasoning.
3. Grilled Toast
For starters, you need to fry some bacon. Then, take sliced bread, add some cheese, bacon, garlic sauce, and grill the toast from both sides.
4. Pasta with Cheese
Boil a pot of water, add a tablespoon of salt, and put your favorite pasta. Boil for 10 minutes. After this, drain the pasta, add grated cheese, seasoning, and mix everything.
5. Noodles
What can be easier than cooking noodles? Take a soup plate, put one or two packs of noodles, supplement it with seasoning, and pour boiled water.
6. Mini Pizzas
Grab a few sticks of french bread and cut them lengthwise. After this, add some sauce, chopped ham, olives tomatoes, grated cheese, and bake them for 20 minutes.
7. Tuna Pasta
Put some mac into boiled water for ten minutes. Then, drain mac, add some tuna, peas, grated cheese, sauce, salt, and seasoning.
8. Salads
Easy-to-cook salads are the best recipes for college students in apartments. It is tasty, healthy, and require minimum effort.
9. Caprese Salad
Slice a few big tomatoes and mozzarella cheese. After this, lay mozzarella slices over tomatoes, pour olive oil, add salt, and seasoning. Also, supplement it with basil leaves.
10. Tomato and Peach Salad
Grab a few tomatoes and peaches, wash and cut them. Also, slice a red onion and put all the ingredients on a plate. Toss them with olive oil, vinegar, salt, and mix all the ingredients.
11. Chicken-Mango Salad
Grill chicken breast and shredded it. After this, dice some mango, one tablespoon of lemon juice, honey, salt, and toss olive oil.
12. Bacon Salad
Cut and fry some bacon. Slice cabbage and sweet pepper. Also, dice a boiled egg and mix all the ingredients. Then, pour olive oil, mustard, and toss some salt.
13. Corn Avocado Salad
Grab some cherry tomatoes, cucumbers, avocado, and chop them. Add some corn, pour olive oil, and toss a teaspoon of salt and seasoning.
14. Greek Salad
Dice some feta, cucumbers, bell peppers, red onion, and tomatoes. Also, add olives herbs, salt, and pour olive oil. Mix everything in a bowl and enjoy a classic salad.
15. Snacks
Do you have five minutes only to take a bite? Examine some basic recipes for college students of tasty snacks.
16. Fruit Toast
Get a toasted bread, put some cottage cheese, add sliced pineapple, and add cashews. A healthy and tasty snack is ready!
17. Sweet Banana Wrap
Take wheat tortillas, bananas, and peanut butter. Spread some Nutella or peanut butter on tortillas, put a banana, and roll it.
18. Hard-Boiled Eggs
Take a few eggs and put them into boiled water for 12 minutes. After this, peel the eggs, slice them and toss some salt.
19. Energy Bar
Get oatmeal, peanuts, and dried fruits. Put all the ingredients in a bowl, add honey and salt, and mix them. Then portion the mass and put the forms into a refrigerator.
20. Smoky Salmond Bruschetta
Grill toasted bread, add some feta, diced avocado, and smoked salmon. Tasty and healthy snacks are ready!
21. Canned Corn
Do you like corn? If so, this recipe is for you! Put canned corn into a cup, add butter, and grated cheese. Then, put the cup into a microwave oven for 3 minutes.
22. Avocado Chips
Peel and mash avocados in a bowl, add salt, pepper, and grated parmesan, and a teaspoon of lemon juice. Put scoops of the mixture on a heated pan and fry for 5 minutes.
Final Words
Healthy nutrition is vital for students. Always try to allocate some time for cooking tasty and healthy meals. If you need to create a research paper about students' nutrition but don't know where to start, reach an online paper writing company to get help with writing a paper.