Whether you want to save a few bucks or crave a new DIY project, building a comfortable mattress is a relatively simple task.
Today, we will look at the components you might need and learn how to turn them into a comfy bed.
So, let's cut to the chase!
DIY Mattress Components and Equipment You Will Need
Before we begin, I have a fair warning for you. Building a DIY mattress is an awesome idea, but no matter how good the components are (and how much effort you put in), a handmade mattress would not be as comfortable as a properly manufactured model.
If you want the most comfortable mattress for your body type that suits all your preferences, you need to buy one from well-known brands. While buying famous mattresses doesn't guarantee you that it will be a comfortable one, you can check out experts' opinions online. There are numerous ratings with the top 10 the most comfortable mattresses on the market like this one written by a certified sleep science coach Alex Savy.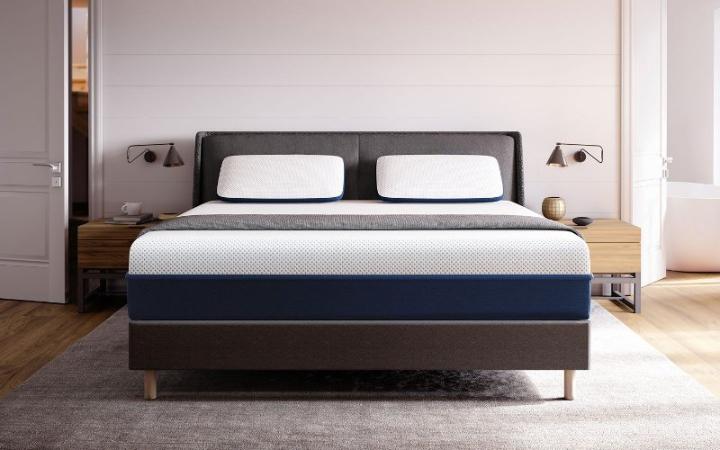 Now, for your new bed, here's the DIY mattress components you may need:
Base layer. If you plan to use foam, make sure it's dense enough to provide sturdy support. You can use cheaper polyfoam for the base, but it has to be more than 1.7 PCF (or more than 5 PCF for memory foam). You can also use latex, but it's more expensive. Dunlop latex is denser than Talalay and would work better for the supportive base.
Transition layer (optional). If you are a petite user, 2 layers of foam or latex would be enough for a DIY mattress. For heavier individuals, it's better to add a transition layer for extra cushion and a more balanced feel.
Comfort layer. For this layer, you can use softer foam or Talalay latex. If you are prone to overheating during the night but want your mattress to be cradling, consider buying gel-infused foam for the comfort layer.
Dry cotton (optional). This component of a DIY mattress can add extra padding and increase the breathability of your sleeping surface. You can substitute it with wool or even polyester fibers to create a Euro-top feeling.
Cover. To hold your DIY mattress together, you need to have a cover. Now, you can either use your old mattress cover (especially if it's zippered) or put a fitted sheet over the layers. However, the fitted sheet has to be deep enough to accommodate all layers and hold them together.
Depending on the mattress type you are planning to build, you may require some extra pieces of equipment:
Tufting needle. If you plan to make a fully cotton (or wool) mattress, you will need a large tufting needle. You will use it to attach the tufts (to secure the material inside the cover), according to the Federal Extension Service.
Measuring tape. Obviously, you will need to measure the materials and the bed frame to make sure everything fits together well.
Sewing machine, scissors, needles, and thread. If you don't have a mattress cover and don't want to use a fitted sheet, you can also sew your own cover. However, more equipment (and skills) is required for that.
How to Make a Comfortable DIY Mattress
Now when you have everything that you need, you can proceed with your DIY project:
If you are making a foam mattress, you first need to prepare all the layers. Unwrap the foam, roll it out and leave it for a few hours in a well-ventilated room. This will allow the material to expand to its normal shape (and may help you get rid of the off-gassing if any is present), says hunker.com.
Prepare the bed frame. Take the measurements and make sure your mattress layers would fit. Foam sometimes comes in larger pieces, but you can cut it to fit the desired size. You can put a layer of plywood between the frame and the mattress to add some extra support and prevent sagging.
Assemble the mattress. Start with thicker, denser layers to create a supportive core. Then add your comfort layers (as many as you need). Keep in mind that side sleepers require softer mattresses. Back sleepers are advised to use medium mattresses. As for the stomach sleepers, they need to sleep on firm beds.
Add your mattress cover. Again, it can be a simple fitted sheet, but make sure it fits tightly and holds all the layers together. A zippered cover would be a more convenient option.
Before zipping your cover, you can add some soft cotton or wool stuffing if needed. If you are using a fitted sheet, you need to do that before covering the mattress.
Add a mattress protector (optional), your favorite bed sheets, and you're all done!