Hats are the compulsory part of our survival kit during the coldest days as they keep our heads all warm and cozy. Many of the people are of the view that hats damage their look and personality for being so plain and dull. These 12 Stylish Crochet Hat Free Pattern are here to change their perception. This small round-up of pretty hats assures you to look super glam and charming while toasting your head at the same time. Each hat pattern has some kind of quirky style quotient in it so you are surely going to fall in love with them.
Also, these stylish hats for everyone in the family so that everyone can look stylish and during the summer while wearing these pretty headpieces. There are Delaney hats for the cute little girls, trapper hats for the little boys and those slouchy hats are unisex in their design and texture. The hats with pom-poms look just so quirky and cute to make your look more than just ordinary for a day out in cold. Even the girls can flaunt their buns with the messy bun hats and look ravishing in the cold too. All the hats have their detailed links attached to let you go through the details.
You May Also Like:
Kid's Star Stitch Hat Crochet Pattern: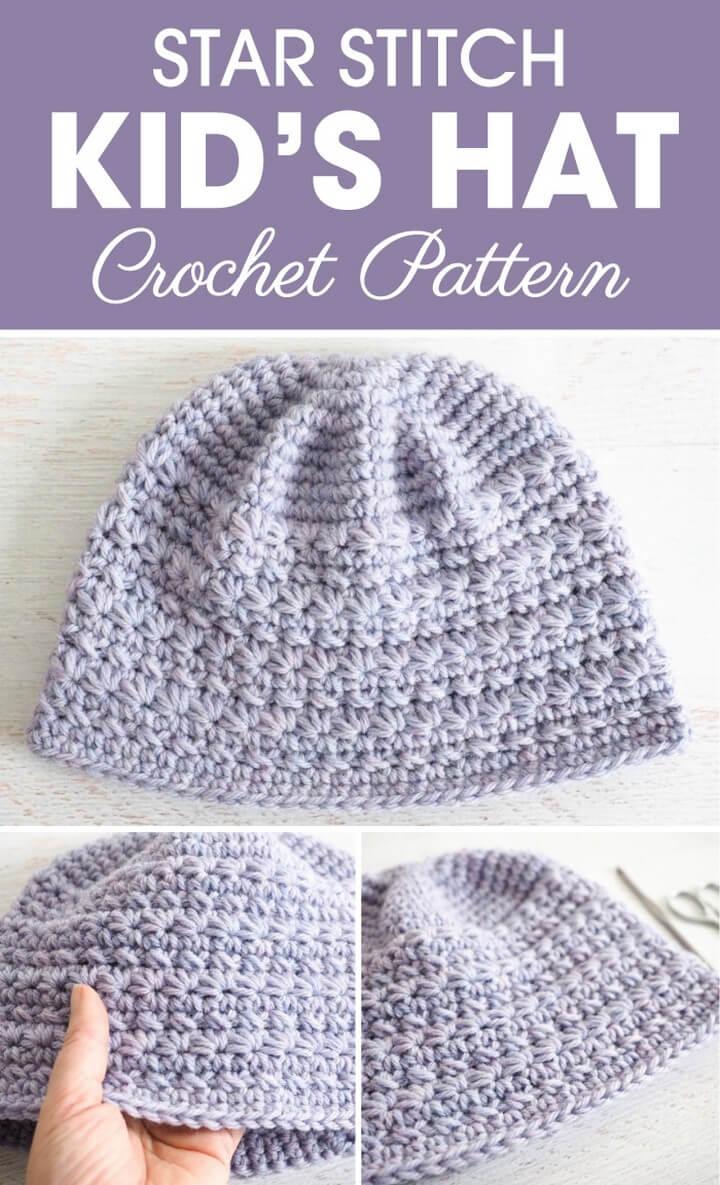 Here is how you can make your kids a lovely hat that cozy and cute at the same time. The whole hat is stitched using the star stitch and it has turned out to be so pretty and cool. Also, the pattern is perfect for both the boys and girls just change the color. Free pattern here
Tutorial: creamofthecropcrochet
Retro Messy Bun Hat: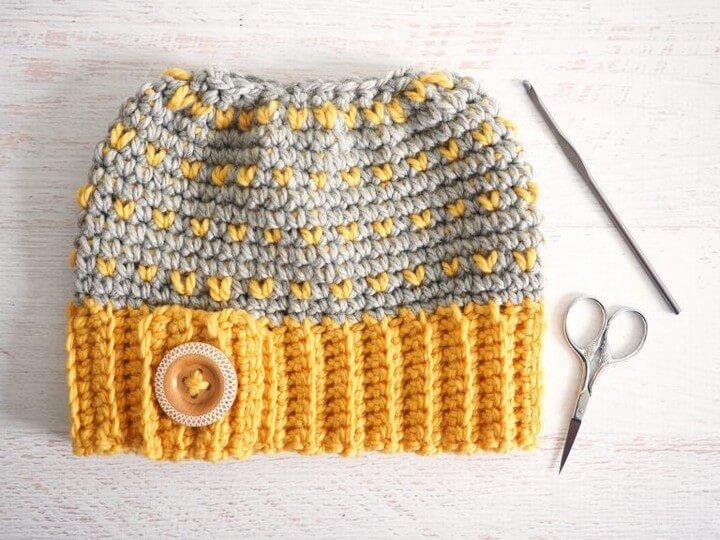 Now you do not have to hide your messy buns during the chilly days with the heavy hats. The solution is this retro messy bun hat looking so gorgeous and bright. The lovely bright yarns hues, buttons and the bun escape really make this hat a stylish headpiece. Details here
Tutorial: stitch11
Crocheted Christmas Gifts Crochet Beanie Pattern: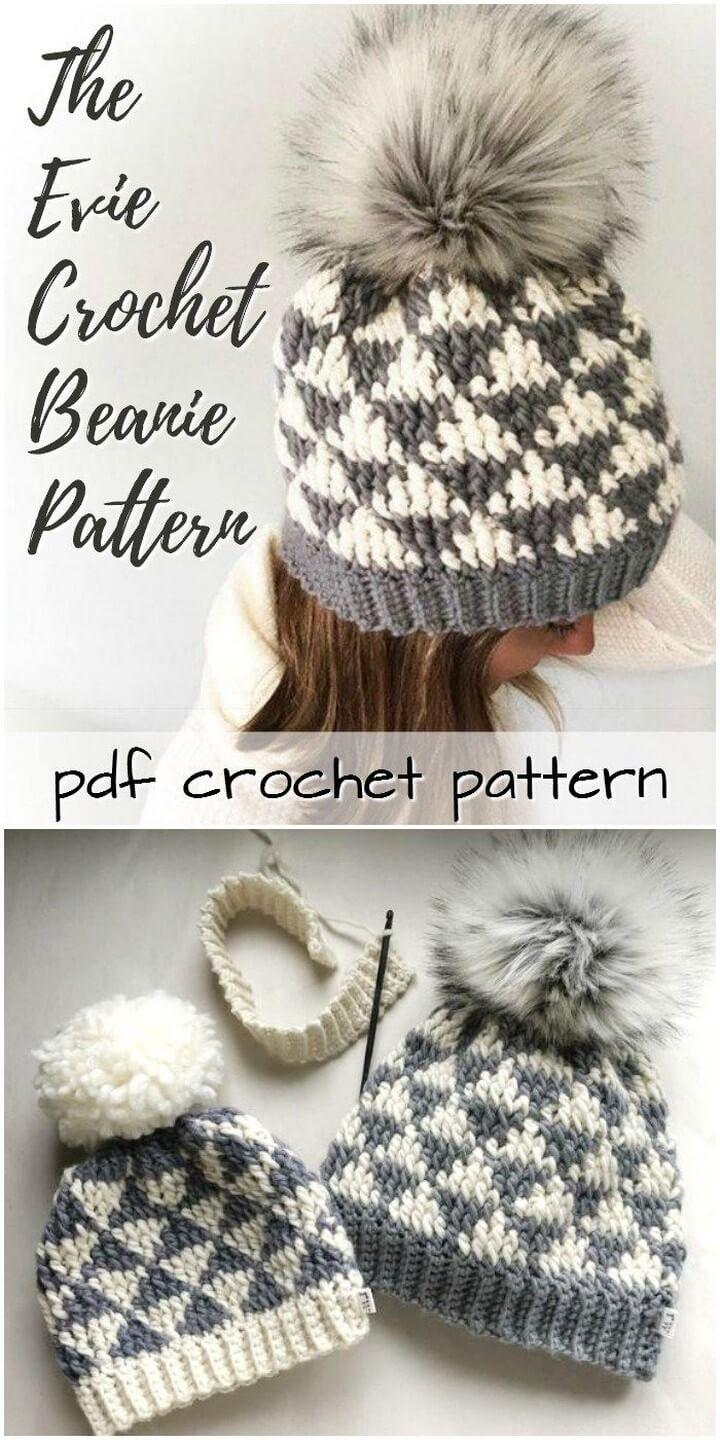 Make a hat that is unusual and cool on its own. This crocheted Christmas gift crochet beanie is the perfect twist to your regular crochet hat game. The pom at the back and the triangle design in the pattern really make the beanie look so elegant and delightful. Follow the pattern here
Tutorial: yarnspirations
Aqua & White Crocheted Baby Beanie With Pompom: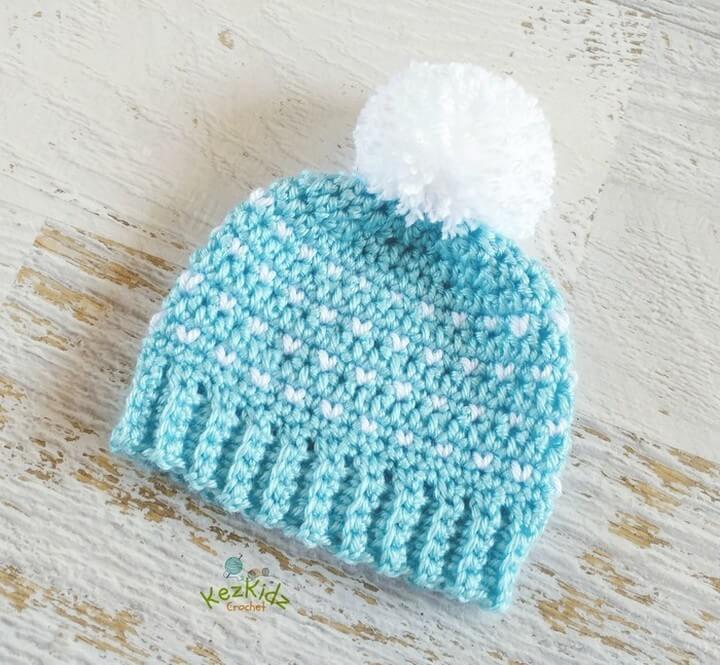 The chilly summer morning or evenings can be warmed up for your kids with these aqua and white crochet beanie hats. The combination of the aqua hat with the white pom looks just so catchy and cool. Also, the tiny heart sin between the pattern is to be smitten by. Details here
Tutorial: hookedonhomemadehappiness
Best Crochet Heart Hat Patterns: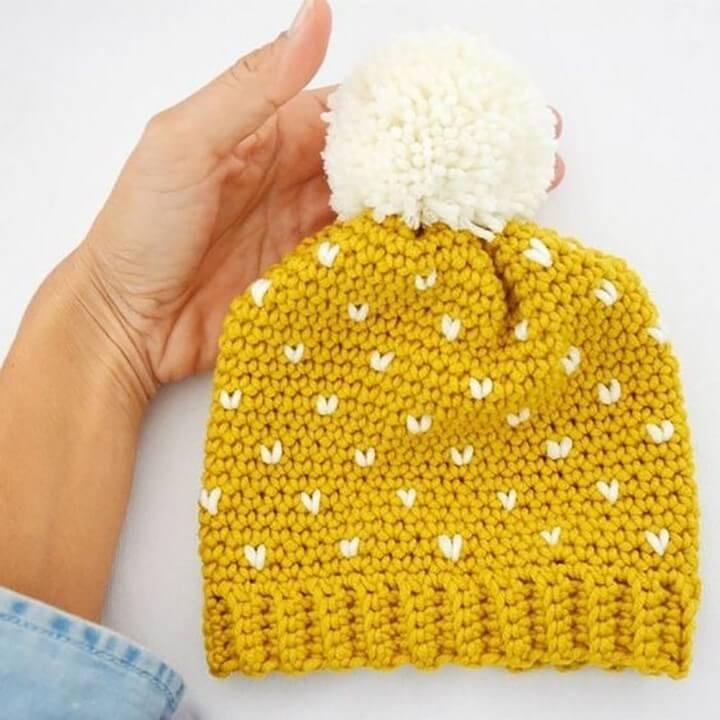 Make your trips and walks to the mountain warm and comfy with this brightly beautiful crochet heart hat. The colors, patterns and the design of the hat are totally girlish and you can make one to gift to your adventure-loving girls. The tiny white hearts add more charm to it. Complete tutorial here!
Tutorial: flaxandtwine
Blaze Orange Hunting Beanie Free Crochet Pattern: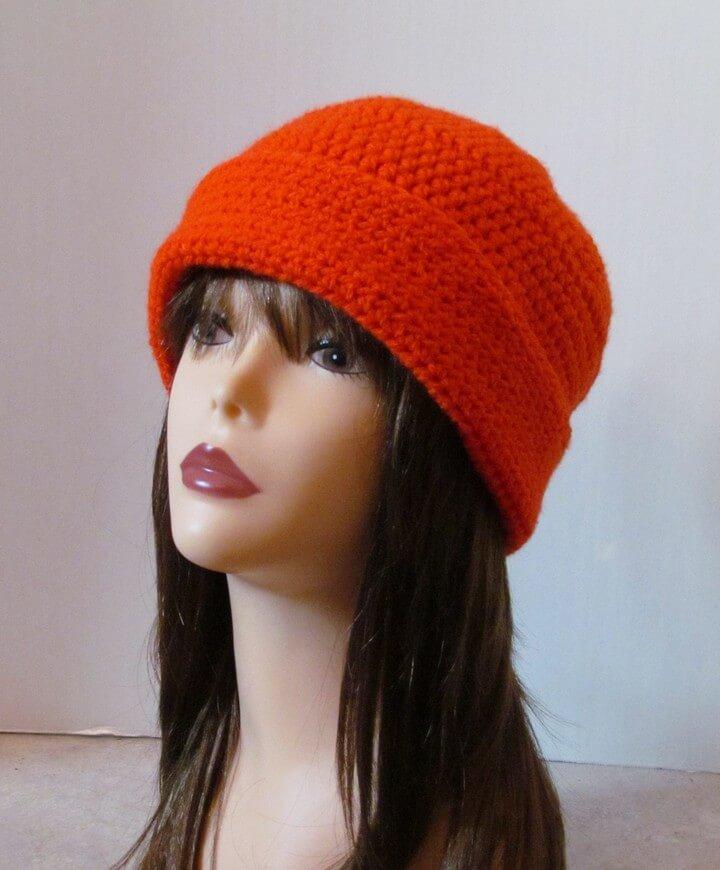 This orange hunting beanie is super stylish to make your look glam and feel warm when the days are chilly. The hat would perfectly fit you for the summer trips and the outdoor fall fun. You can crochet this simple yet quite fashionable hat on your own. Here is the free pattern!
Tutorial: ambassadorcrochet
Toddler Crochet Trapper Hat – Free Crochet Pattern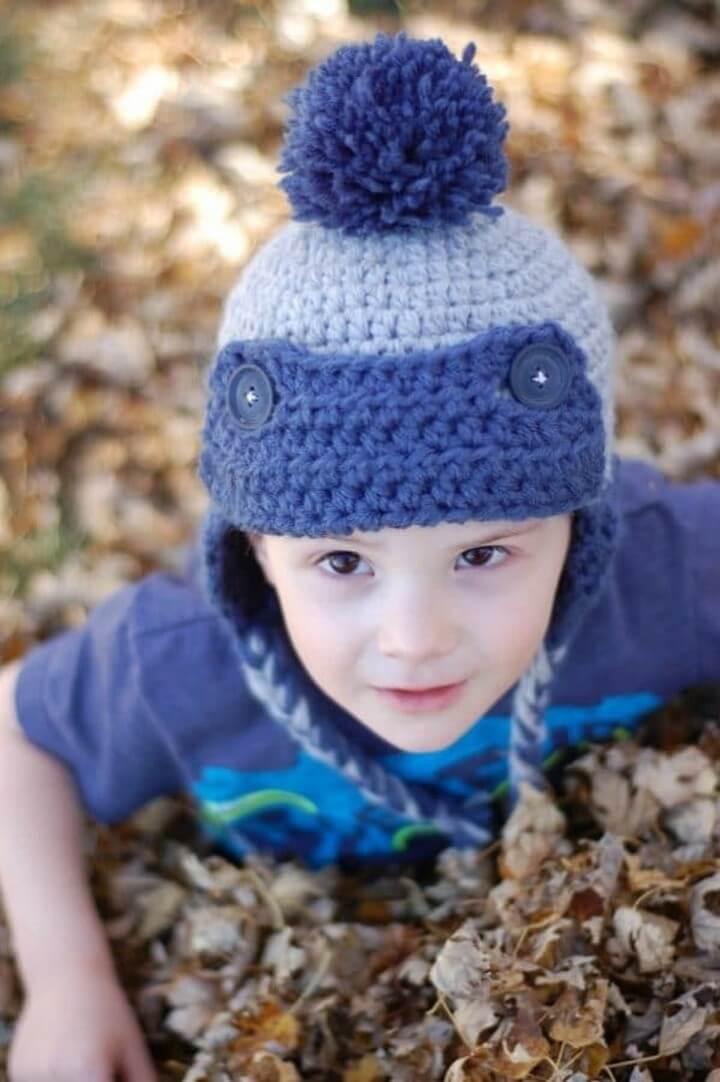 If you have a cute little boy who has an adventurous soul to go out and explore this crochet trapper hat idea is for you. The hat is completely boyish for being trapper, blue in color, having flapping ears and the buttons. You can make to gift to some cute little boy around you too.
Tutorial: whistleandivy
Saratoga Hat Tutorial: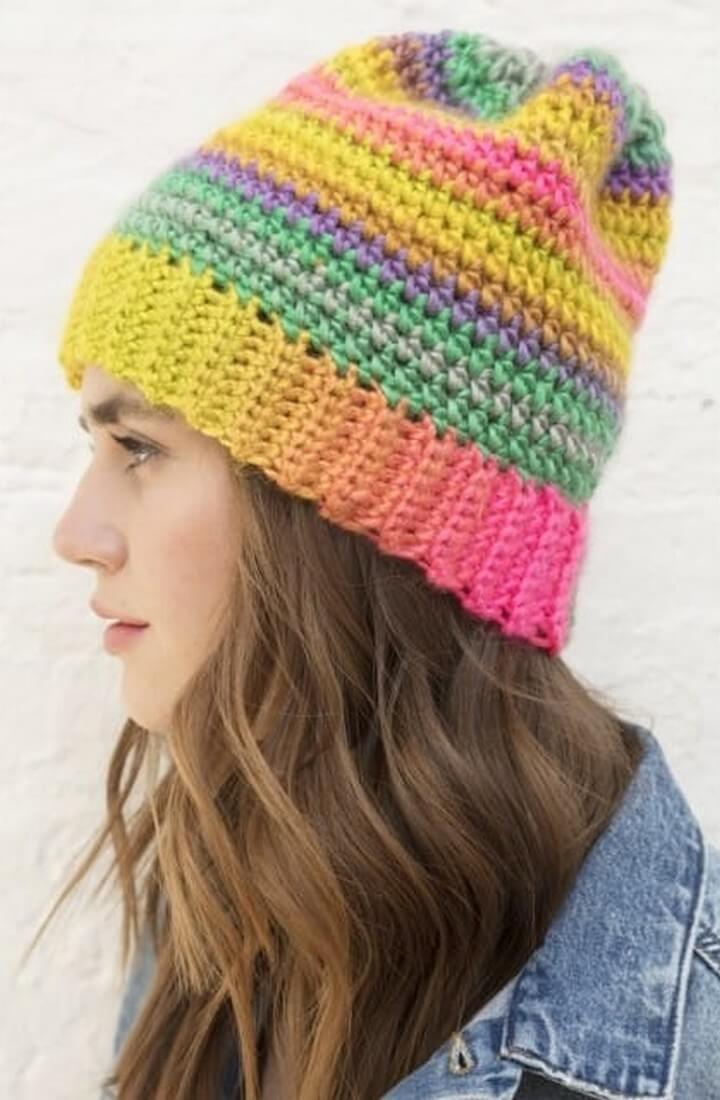 Make your summer adventurous much more fun and comfortable for your body with this lovely Saratoga hat on your head. The infusion of the bright summer yarns really makes this hat the heart-stealing one. This hat would make a lovely and caring gift for the touring girl in the family. Learn to make it here!
Tutorial: theunraveledmitten
Cute Delaney Hat Free Crochet Pattern: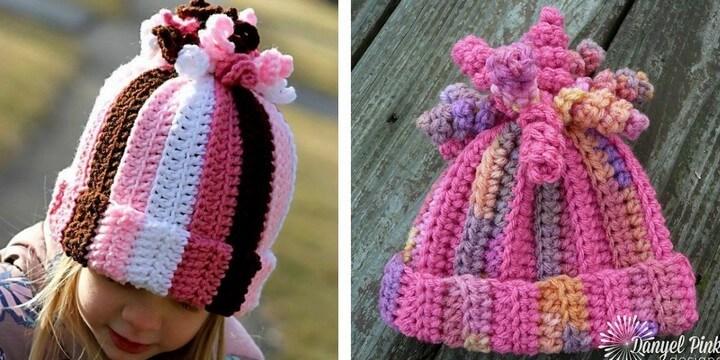 Here is another super funky and stylish hat to make you all go gaga over. Yes, this cute Delaney hat is just so quirky and adorable to be a must part of your kid's wardrobe in the chilly days. The hat has cute and bright colors of pink being paired up with simple white and the dark choco brown. Learn more here!
Tutorial: coolcreativity
Pretty Women's Crochet Hat Pattern: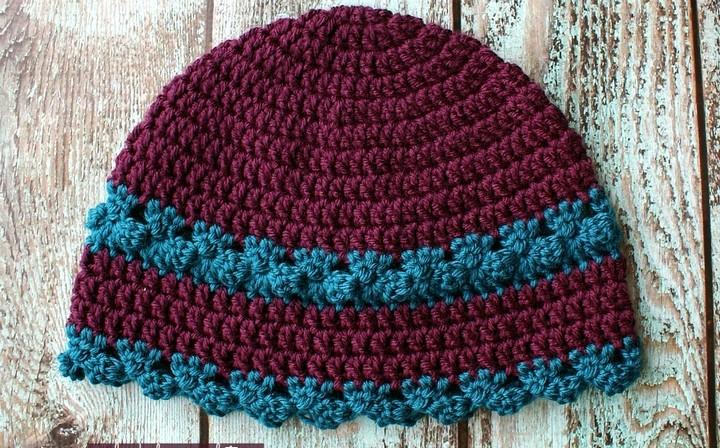 This pretty women's crochet hat gives us instant feels of pure beauty and charm. It has the perfect grace and beauty to allure any body's heart and that is because of the unusual color combination and the pattern arrangement. The Pattern details and list of supplies has been shared all here!
Tutorial: oombawkadesigncrochet
The Best Slouchy Hat Crochet Pattern For Beginners: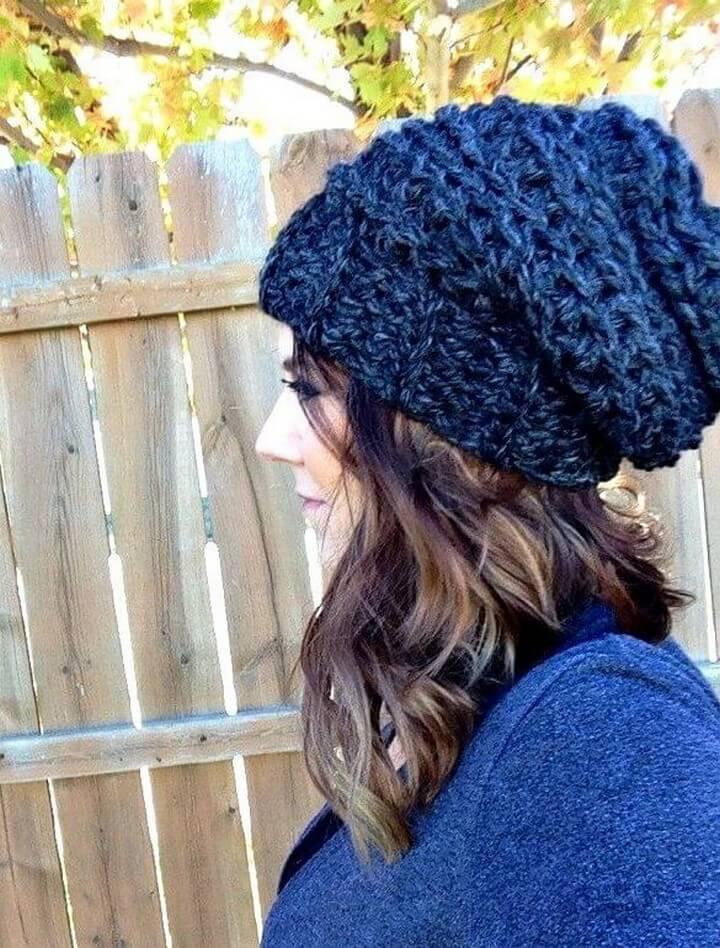 You can wear a crochet hat on your head and still look stylish and cool and this slouchy hat is the proof. The pretty and stylish hat is made out of the velvet yarn and can be adorned both by the boys and girls. So you can make this hat for your college-going boys and girls. Free pattern here!
Tutorial: sweeteverlyb
Basic Striped Crochet Hat Pattern: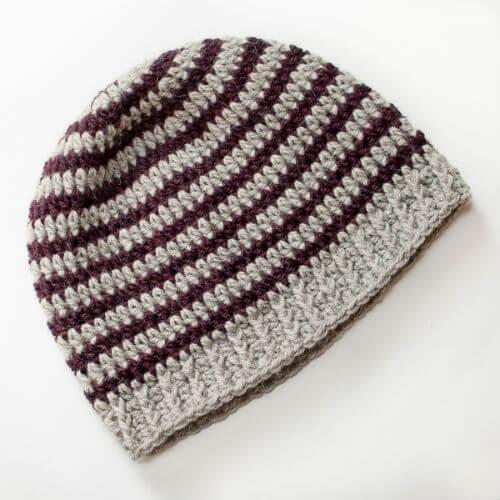 Here is another simple yet pretty kind of hat to make and add in your winter hat collection. The hat has creamy white and brown yarn hues of worsted weight yarn. A 5mm hook is to be in your hands with this yarn to shape p this lovely and cute hat in just a few minutes.
Tutorial: petalstopicots