A bathroom is one of the most essential rooms in every home. Since you seek to spend your precious downtime there, the last thing you want is to see the exposed pipes, defected faucets, and stained tiles.
Having a bathroom with old school fittings and unplanned design can ruin your and your family members' comfort. If you have a big family, the washroom will definitely be used frequently, meaning that it has to be upgraded with their needs and relaxation in mind.
Whether you're designing a new bathroom or planning to update the elements, you need a proper plan that will cover everything from the layout to the style. Besides, you need to collect all the essentials to get your new room right.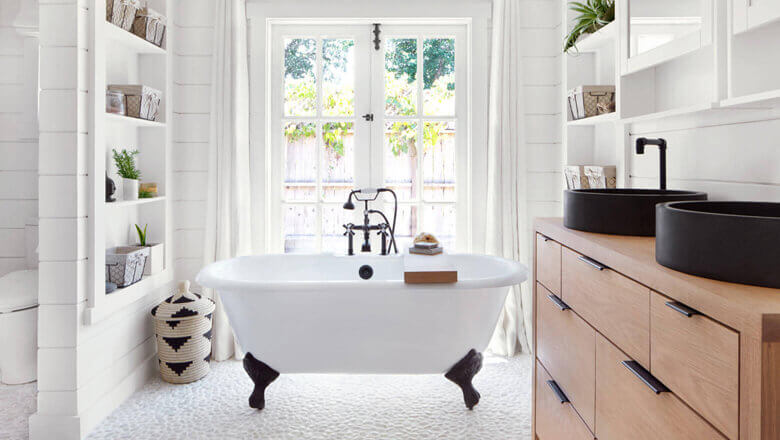 Tips for Designing & Installing a New Washroom
Even a simple renovation requires quite an array of fittings and technical skills, meaning that you need to be very careful while planning. The following tips will help you design the perfect bathroom.
Make A Budget
It's essential to prepare a budget before you start planning and buying things for your washroom. It will help you in determining where to spend more and where to save some money.
How you want to design your bathroom will determine how much you need to spend. For example, if you wish to upgrade the necessary elements, it will be a lot cheaper than changing the whole layout.
If you're on a tight budget, it will be better if you just stick to the practical elements rather than going for something luxurious.
Also, installing the bathroom fittings requires some technical skills, meaning that you need to hire local bathroom fitters for that particular job. Keep that in mind while you're preparing the budget.
Assess Your Priorities
Depending on for whom you're going to design the bathroom, you need to sort out your priorities. Think about what you need the most.
If you are designing a washroom for the whole family, maybe it could include a separate shower, a bath, double basins, whereas a guest bathroom only requires a loo and a shower.
Plan The Layout
You need to plan the layout based on the size of your washroom. Note down the position of the existing pipes, as well as the doors and windows.
Think about where the basin will be best fitted or how can you install a bathtub and still make the room look bigger. Do you have enough space for both shower and a tub?
Draw an outline of your bathroom and create the layout by putting all the things in the correct places. It will help you to maximize your space and prevent costly mistakes.
Be Realistic
While you're planning to install some luxurious and high-end products in your washroom, you may end up cramming in a lot of things and making the room congested and smaller.
It's because the average size of a washroom is typically the same as a king-size bed, meaning that double basins or a statement walk-in shower may not fit in that room.
While designing your next washroom, whether it's for you or for the guest, be realistic, and install only those items that can fit in.
Don't Forget Ventilation
Most people overlook ventilation while designing their bathroom and regret later. Do you know why? Because it makes the room damp and damages the items, especially those made of wood.
Considering how much damage you can face, an open window may not be suitable. That's why you need to consider proper ventilation to maintain your bathroom in the long run.
Ensure There Is Enough Storage
Your restroom can't be a place of relaxation if you have your bottles of body wash and shampoo standing on the shower.
Proper storage is the key to every perfect washroom, so if you have been relying on some simple glass shelves, it's time to rethink the design.
Make sure the bathroom has enough cabinets with doors where you can keep your toiletries. It will keep your products safe and make the room bigger and cleaner.
For example, you can install a mirrored cabinet where you can put your belongings and charge your electronic products, such as your trimmer or toothbrush. It will also save you some space for an extra mirror.
Consider The Lighting
Since a washroom can be used for various reasons, proper lighting is a must to ensure everyone's ease and comfort.
However, don't go for something too bright since most of the bathrooms are often placed next to the bedrooms. You might end up waking up everyone in the middle of the night while taking a trip to that room.
Choose a bulb that is not too bright for everyone but can still provide sufficient lighting so that you don't end up hurting yourself while shaving. You can also use task lighting around the mirror to make your work easier.
Choose The Right Color & Tiles
The tiles you're choosing can literally make or break your dream washroom. Regardless of the high-end tools you're using there, having a discolored wall and worn-out tiles can ruin the vibe.
Choose the design of the tiles based on the size of the washroom. If it's small, don't go for something with very decorative designs. Choosing plain, large, and light-colored tiles can give the impression of more floor space and a cleaner look.
Also, don't go for a darker shade while painting the wall since it will make the room look smaller and congested. Choose a light color such as white or light grey that will make the washroom look bigger and brighter.
Final Thoughts
Having a well-planned bathroom is vital to ensure the comfort and hygiene of a family. However, whether you're planning to renovate it or make a new one, make sure it doesn't go against the building law.
While a new bathroom doesn't need planning permission, installing a new shower or installing a new electric socket near the bath may violate the building regulations.
That's why before you go for such an upgrade, make sure you talk to the building authority and get the permission.