Living in a home with a garden is a special type of privilege because your garden can be your place of peace and safety, that you can design and maintain according to your preferences. You can have flowers, trees, topiaries, bushes, and anything else that makes you feel relaxed and happy. But, some garden accessories can be costly and difficult to transport, due to their size, which is why having DIY containers can be a great alternative. For those who are new to make-your-own projects, here are some garden containers that you can easily make by yourself: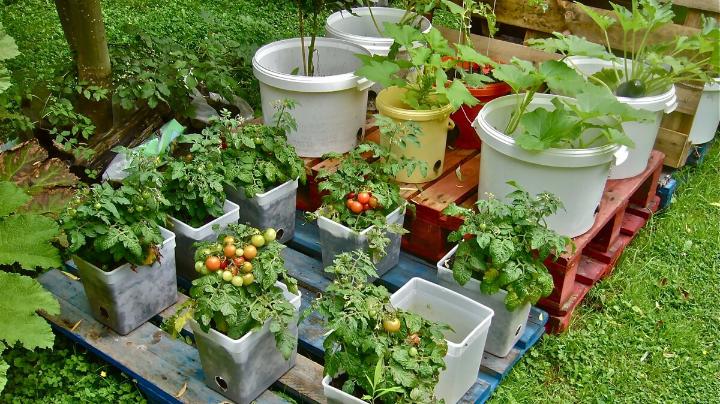 1. Use old jars instead of regular pots
Jars are truly multipurpose objects. They are usually used for storing food, like jams and cookies, but they can also be great cosmetic pads contains, and also garden accessories. You just need to collect them and then find a way to turn them into beautiful flowerpots. The best-known are, of course, Mason jars, so in order to play it safe, you should start with them.
Also, planting a small plant in a mason jar full of soil can be a great way to practice your gardening skills. Keep in mind that you'll need a bit of moss to complete the look of your new flowerpot. Another way is to get a tiny plant in a small pot, and then put that pot on a lid of the jar, then put the jar over the plant and finally, gently screw the jar from the bottom.
2. Use old kids' toys
These days kids tend to grow out of their toys quicker than before, so instead of letting their old toys collect dust, you can creatively use them for your garden. Toy trucks, wagons and any other toy that can hold soil are a perfect choice for this type of gardening project. Besides, your kids will surely love helping you set up and this can be a great way for them to learn some basic gardening skills.
Just remember that more soil means more room for choosing different plants. For example, cacti can be ideal for small toys, the only thing to keep in mind is to add drainage holes for the excess water. Also, growing edible plants isn't recommended, as plastic can be toxic if it ever comes to touch with the soil and plants.
3. Use old cans to create magic
Old soup tin cans can be recycled, but if you love creative tasks, then turning them into flowerpots is an excellent way to have a unique vertical garden. Also, spray painting them with bright colors will surely make them stand out among the samey flowerpots. This is also great for those who plan to create a vertical garden on a balcony, especially since these types of gardens don't require a lot of floor space.
And in order to enjoy your new balcony garden, you just need a moderately-sized wall and a seating arrangement. All your guests and neighbors will surely admire your creative gardening skills, while you'll have a chance to relax in a pleasant and colorful space.
4. Create an indoor herb garden
If you're someone who loves fresh herbs for recipes, then an indoor hanging herb garden is a perfect way to have them available at all times. For this project, you'll need a curtain rod (wood or copper) and curtain rings to hang the herb pots. You can use regular pots or anything else you like, just make sure to create enough space between them, so they won't look too attached since plants need space to grow freely.
Bottom line
Making your own containers can make you express your creativity and save money, but before you start, make sure that you have everything. Fun tasks like these can bring the whole family together and make your home garden a truly special place.