Dog costumes can be a great way to make your puppy look even cuter by dressing them in the spirit of whatever festive season you may be celebrating. They can also be an excellent solution for when your puppy is cold or if you're going to take him on a walk during the colder months of the year. However, dog costumes aren't always cheap and can put a strain on your finances, as they're still more of a niche market, making them sometimes relatively expensive.
It doesn't have to cost you a fortune, though, and we will tell you how to minimize the costs of giving your puppy a little closet makeover.
Always remember to put your dogs' comfort in the foreground, and don't put any clothing on them that may cause any discomfort. Additionally, check out the healthiest dog breeds if you're contemplating buying or adopting a new family member to ensure the dog you're getting is healthy, which will save you any unnecessary stress in the future.
We prepared a list of the 5 best DIY dog costume ideas for all you dog lovers out there!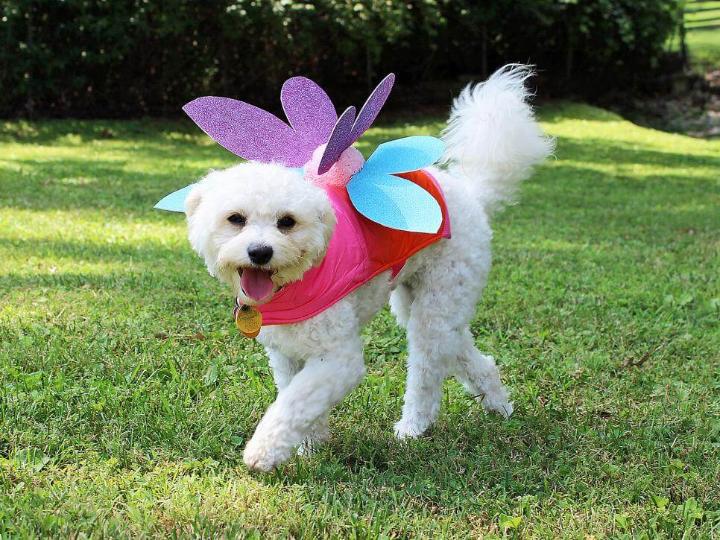 Ribbons
Ribbons are not only a great decoration piece while wrapping gifts, but they can make for a cute decorative piece for your dog's outfit! If you're new to DIY, start by getting some soft (preferably silky feel) ribbons and cutting them into a variety of lengths. You can easily make them into decorative bows, and after making some, gently wrap them around your dog's head! It's a cute look that will undoubtedly add a bit of glam and sparkle to your puppy!
Utilize Old Clothing
One of the best ways you can make dog clothing is from your old clothes. It's simpler than you think, and your dog might give you a little bark bark as an expression of gratitude! You can find various inspirational designs and instructions all over the internet, so feel free for your imagination to inspire you! There's a variety of methods of constructing them, from simple ones requiring not much sewing knowledge, to the intricate designs that may make you want to sign up to a fashion school.
It's not only a great way of recycling old clothing rather than buying new specific ones for your dog but an excellent way to get you practicing with creating and sewing clothes.
Buy Plain Dog Clothing
Buying cheap plain dog clothing is the best way to go if you don't want to spend a lot and ensure that the clothing will fit your puppy. You can find various plain dog clothing online that you can decorate on your own with simple clothing paints, glitter, and other accessories. Always ensure that whatever you're attaching to your dog's garment is connected correctly and will not cause your puppy any harm if it falls off for some reason. In addition to that, purchase non-toxic clothing paints that will not cause any irritation to your puppy and won't be easily washed off while cleaning them.
Festive Fun
Whether It's Halloween, Christmas, or maybe even your dog's birthday, you can make the celebrations more interesting by putting them in a seasonal outfit. If your dog isn't the biggest fan of being dressed from feet upwards, don't worry, we've got some ideas for you that will add the festive touch without making your dog uncomfortable.
Bunny ears for dogs are a great costume addition for the Easter season, and they're also an easy DIY project to indulge in. Depending on your dog's size, a simple, flexible headband should do, with the extra placement of attachments for the ears on them. You can add feathers onto them and paint them with material paints to complete that festive look!
Use Children Clothing
This is probably the closest you'll get to finding the right clothing size if you have a puppy. They may just be laying somewhere in your house, and can be a great way to give your dog a bodysuit! Toddler t-shirts are a perfect option, as they may fit nearly perfectly on your dog, and some extra sparkly decorations will make you unable to get your eyes off your puppy. In addition to that, children's clothing is usually made out of lightweight, soft materials, so you can rest assured that your dog is as comfortable in them, as a baby would be.
Concluding
Puppy costumes can be a great touch to celebrate any of your favorite holidays and make your four-legged friends accompany you. Making DIY costumes for your puppy can not only be a great way to spend some time, and maybe even make it into a family bonding experience, but it will definitely save you some money. It is important to observe your dog after dressing them in the clothes, to make sure that they're fully comfortable with whatever they're wearing. If your puppy behaves the same with clothing on, as they do without it, it means that they're not in any type of discomfort.