If you feel that there is a spark missing from your home décor then know that it's time to add some glitter to your décor and bring back all the charm. There are a lot of fun ways to glitter up your spaces and jazz up the beauty and décor of your house. These 10 DIY Glitter Ornaments Step By Step are going to boost up your imagination for the unlimited use of the glitter in your home décor and more. So whenever you need to spice up the styling game for the decor and for your personal accessories just grab a bottle of glitter and let the magic work.
Pour in some glitter to your bedroom décor with the makeover of your lampshade. Just grab a lampshade and create glitter chevron lines on it. candles play a major role in the home for any of the special days so you can treat your candles and the candle votive with the glitter to make them look fancy enough for the celebrations. Also, a little sprinkle of glitter can make your gifts look more whimsy and cute like a glittery mermaid favor jar, a glittery heart pillow, glitter tattoos and more. You can recycle a lot of your accessories like shoes with glitter to use them again with a cool twist. Each glitter idea has its easy and fun details attached.
Chevron Glitter Lampshade: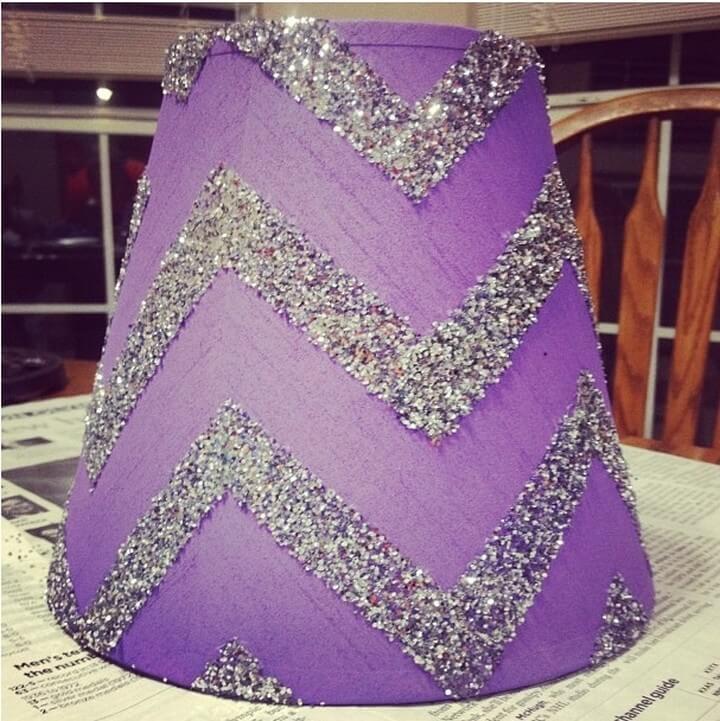 It's time to add some glitter in your bedroom décor and this idea of the chevron glitter lampshade is perfect to do that. A purple lampshade has been adorned with the glittered chevron line pattern to look just so exotic and cool. You can use your favorite hues to award this glittery makeover to your lampshade.
Tutorial: youtube
DIY Glitter Candles: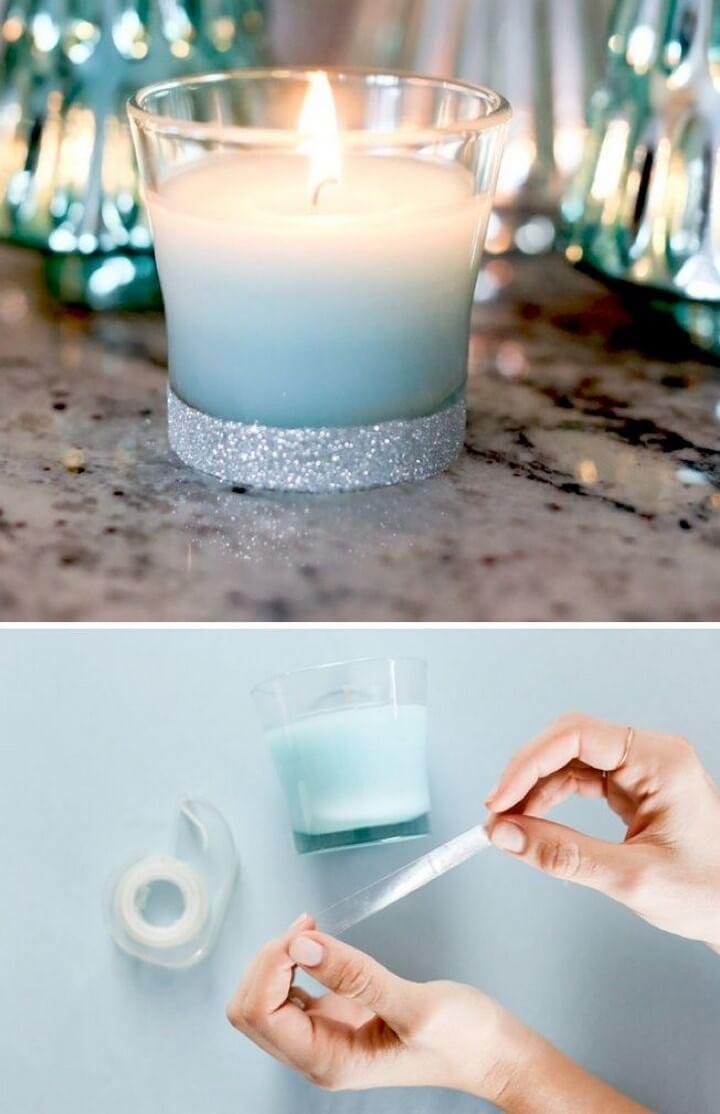 If you think your glass candle votive is too plain and simple and needs to be spiced up a little then use glitter to amp up their beauty. You can use a band of glitter at the bottom of your candle votive and make them pretty in just a few minutes. Check out the details here!
Tutorial: karaspartyideas
DIY Candle Holder Tutorials: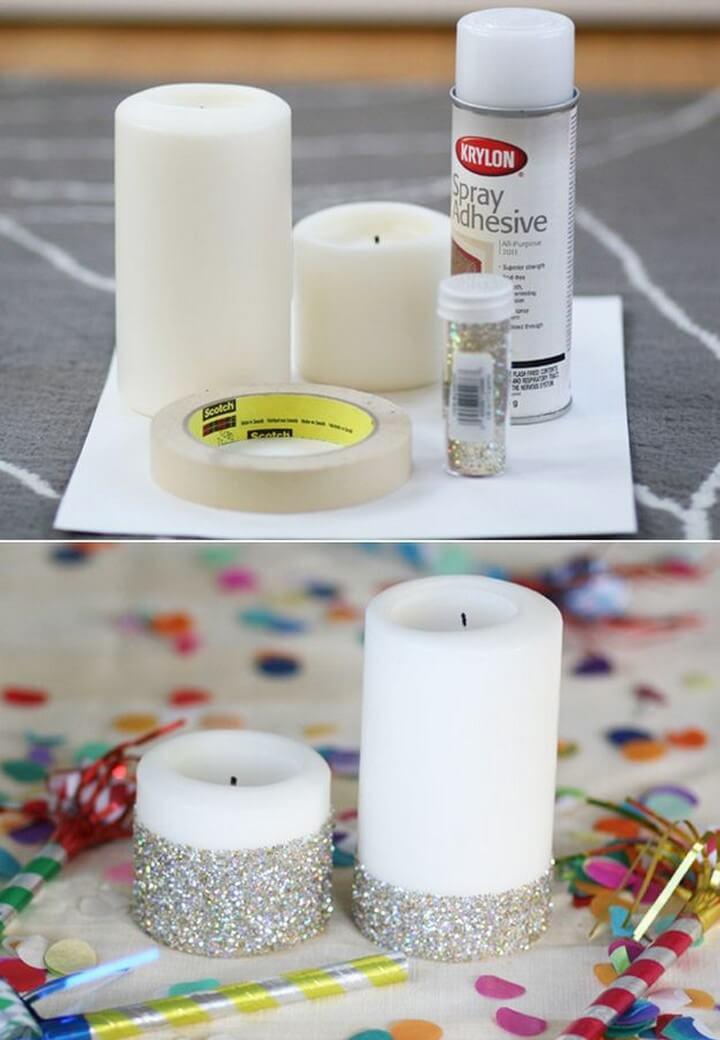 You can instantly jazz up the beauty of your dinner nights with these glittered candles being the part of the dinner décor. Using some scotch tape and some silver glitter you can instantly make your simple and boring candles to look super fun and rocking. Follow the details here!
Tutorial: artesanato
DIY Glitter Votives: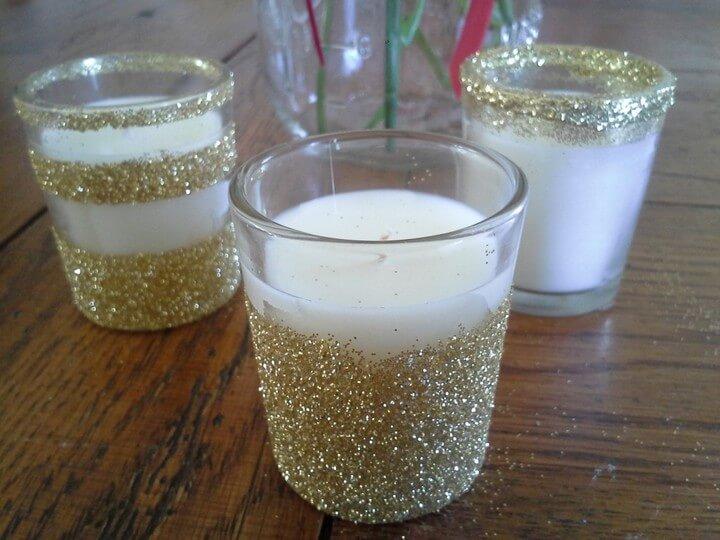 No matter for which festive or event you need candles for the decor, these DIY glitter votives are going to fit each of the décor types. You can add gold glitter to your candle votive and that too in multiple ways. Cover half of the jar with glitter, or just the bottom or use in the form of strips, you are going to love them all.
Tutorial: thebudgetsavvybride
Little Mermaid Party Favors – DIY Glitter Jar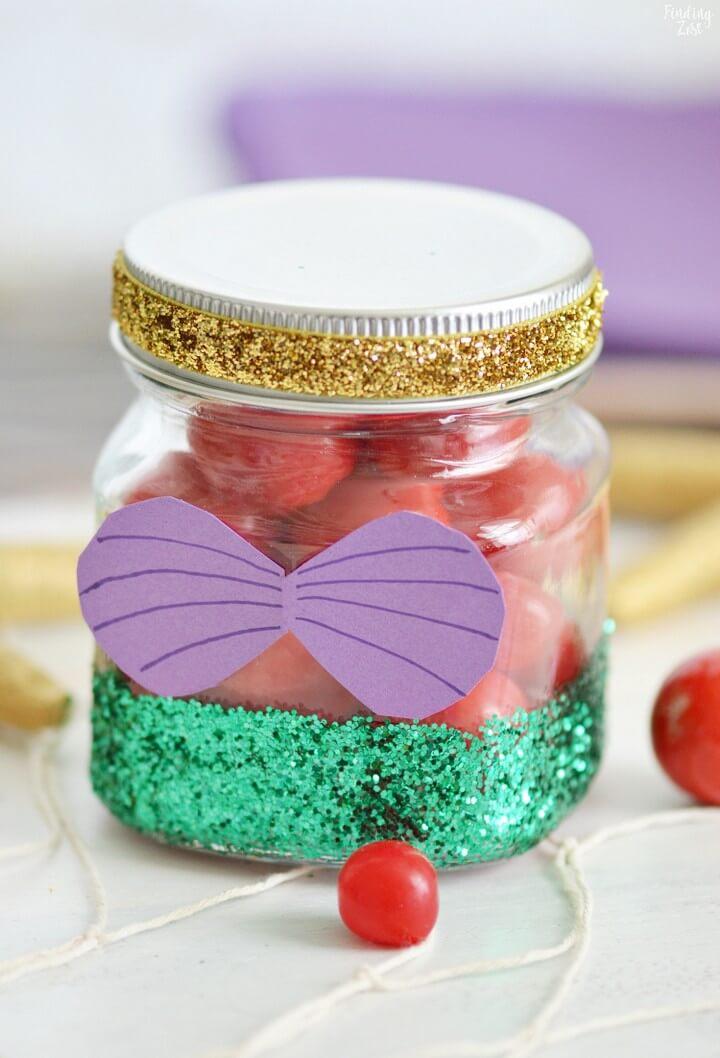 These little mermaid party favors are made to look super interesting and cute for the little girls and glitter is really the highlight of them. The green glitter strip at the bottom of the jar and the yellow one on the lid is really making this mermaid party favor look so catchy and cute. Details here!
Tutorial: findingzest
Glam Wedding Decor Card: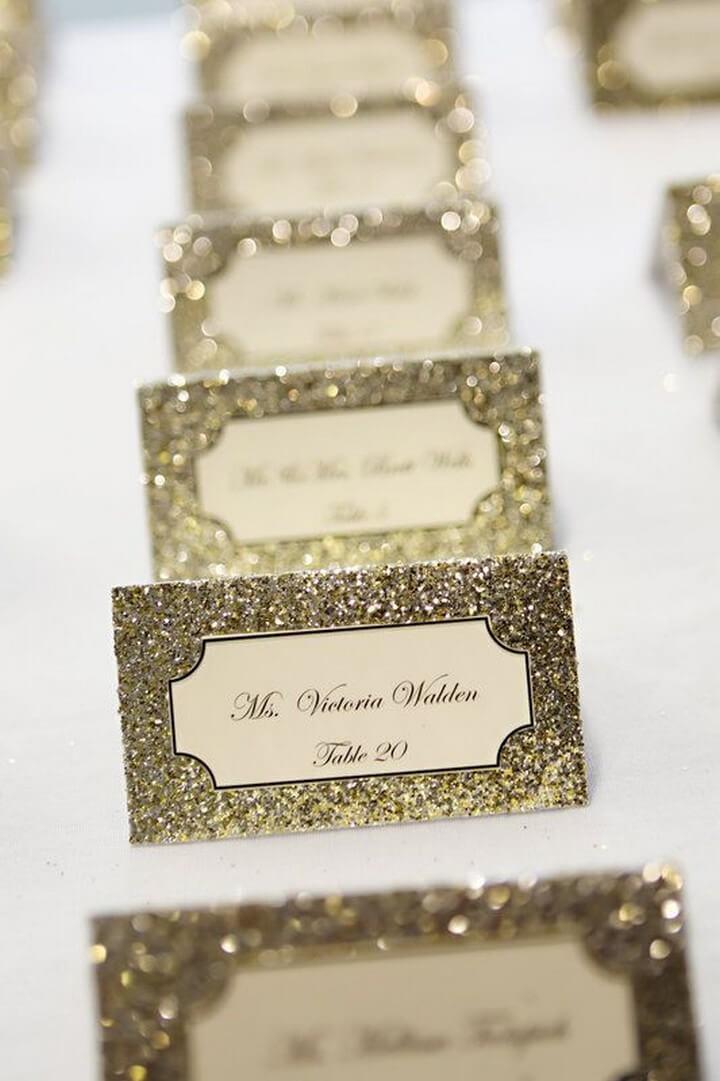 You can make your wedding table décor cards on your own and also decorate them in the fanciest way using the glitter. Here are these cute wedding table cards with the glitter being used at the boundary of all and making them look so rocking and fun. Follow the details right here!
Tutorial: sayyes
Fabulous Glitter Crafts Made With Mod Podge – Glitter Heart Pillow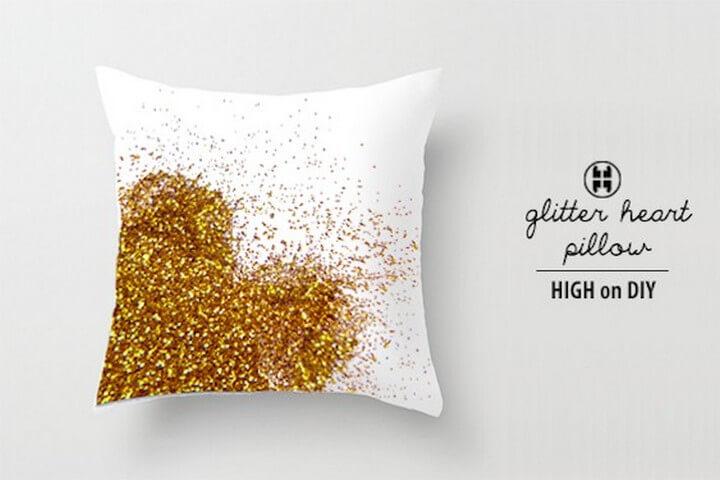 Make your simple and plain pillow covers look super dramatic and fun with these fabulous glitter craft ideas. Just grab some gold glitter and add it to the corner of the pillow in the heart shape and the pillowcase is ready to rock your spaces with. Check out the details here!
Tutorial: highondiy
DIY Glitter Tattoos – Sparkle & Shine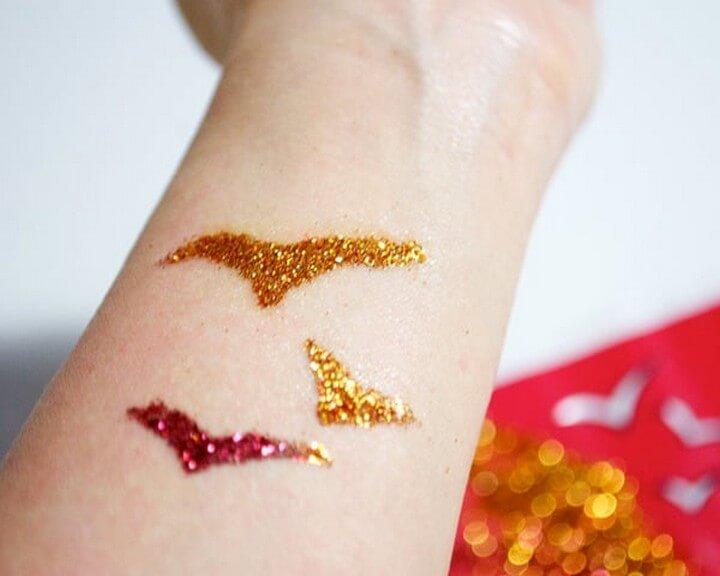 If you love tattoos but are scared to have some then you can make these lovely and sparkly glitter tattoos. Using red and gold glitter or any other color that you like, you can make some pretty and temporary tattoos while heading to a party or just for Halloween too. Details here!
Tutorial: beautylish
Love Letters Decoration With Silver & Pink Color: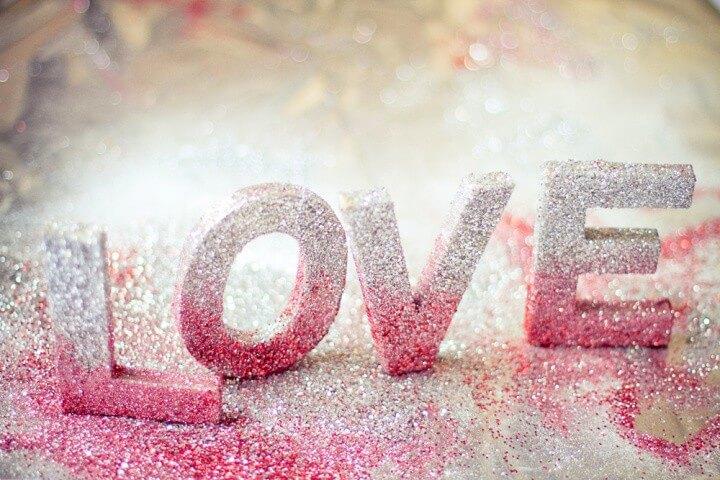 Add some handmade LOVE to your home décor and that too with the magic of the glitter. Yes, these LOVE letters have been styled up with the silver and the pink glitter to look just so elegant and cute. You can use this LOVE decoration idea with glitter for the Valentine or for your anniversary celebrations too.
Tutorial: unbeaujour
Amazing Glitter Boot: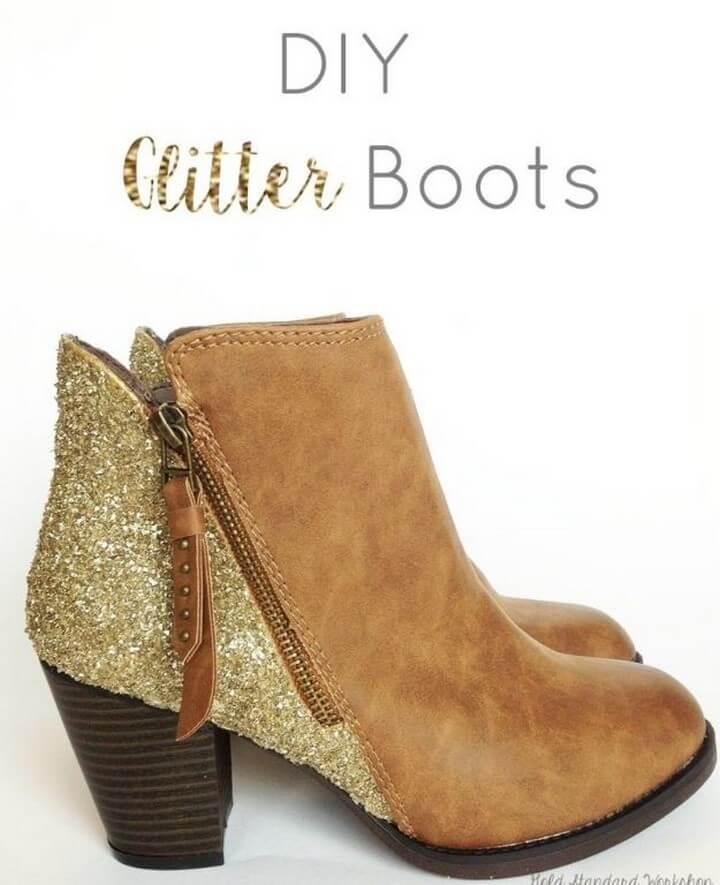 Do not throw away your old boots as you can revamp them to wear for a longer time. Here are the lovely boots getting a makeover with the glitter. Yes, the golden glitter has been glued to the back section of the boots and making them look instantly gorgeous and cute. Details here!
Tutorial: goldstandardworkshop