More than ever, we're seeing homeowners want to take their renovation projects into their own hands.
Whether we're talking about couples, who've recently bought a fixer-upper or homeowners who been in the same place for years but are finally looking for a way to spruce things up, updating your countertops can be one of the simplest renovations you can do that will still make a huge impact on the look of your kitchen!
In fact, nowadays, quartz countertops are being hailed as one of the most popular countertop design choices, and for a few good reasons
For instance, unlike other natural stone types, quartz is a non-porous material, which means that it requires much less maintenance. It's also tough and durable, making it both stain and scratch-resistance. More about quartz countertops you can find here.
And, because of it being a human-made, engineered material, you'll have considerably more options in terms of colors, patterns, and designs.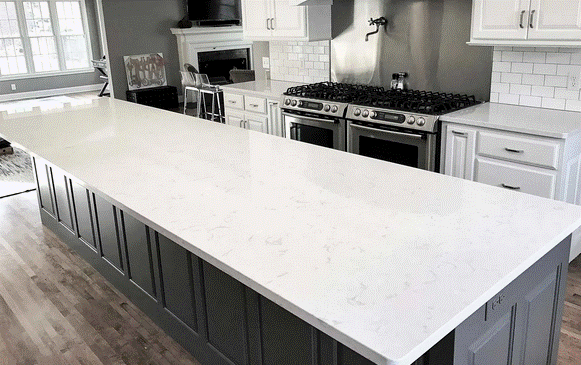 How To Install Quartz Stone Countertops
While some countertops with angular or diagonal cuts can be a bit more complicated to install on your own, square or rectangular counters are quite easy and straightforward to DIY.
Below, we'll take a look at the overall process of installing quartz countertops on your own.
Just keep in mind that if you have any questions or concerns about doing this on your own, it's best to consult with a professional installation contractor who will be able to point you in the right direction.
Step 1 – Removal Of Old Countertops
Unless you're building your kitchen from scratch, the first step will be to remove your existing countertops from your kitchen.
Start by taking a look underneath the counter for any screws, bolts, or brackets that might be holding it securely to your base cabinets. After removing these, the countertop will still likely be glued in place as well, so getting it loose might get a bit tricky.
You'll likely need to use a crowbar to pry the countertop away from the cabinet gently. Just be careful that you've removed any mounting screws or bolts and that you're not damaging the wood frame below, which needs to be kept intact to install your new counters.
Alternately, if you already have stone countertops that you're removing, you'll likely need to break them apart into smaller, more manageable chunks. Professionals will use a crowbar to pry up on the counter gently and then a hammer to break pieces off.
Just make sure that you're wearing all the appropriate PPE when doing this. You might also want to lay down a few drop sheets to protect your floor and make cleanup as easy as possible.
While it's not very complicated to remove your existing countertops, in some cases, it might be easier and faster, not to mention less messy, to contact a countertop contractor for a helping hand.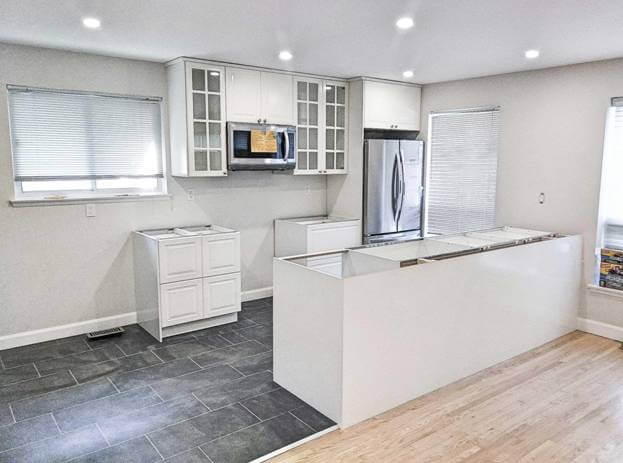 Step 2 – Preparation
After you've successfully removed your existing countertops, you'll then need to take a precise measurement of your cabinets.
Once measured, you'll then need to speak to a quartz countertop manufacturer to have the correct size slabs of quartz cut for you. This can either be done before or after you've removed your existing counter.
Then, once your new stone countertops are on their way, it's time to make sure that everything else is ready for installation.
This means making any minor repairs to your existing cabinets, scrapping and removing any old glue, and making sure that there are no plumbing or electrical fixtures that will be in the way of your new countertop.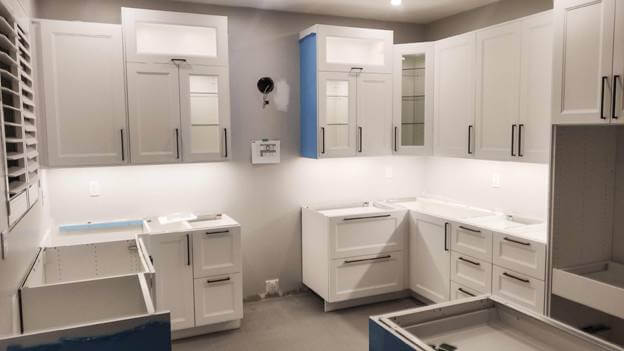 Step 3 – Quartz Countertop Installation
Next up, installation time!
By now, you've had your new countertop slabs delivered, and the only thing left is to have them installed onto your cabinets and to take care of any remaining finishing touches.
As you install your slabs, you'll want to be gluing the countertop pieces down, using a high-strength epoxy, which will help make sure everything is held securely in place.
You'll also need to install several brackets on your cabinets' interior walls, which will screw into the countertop slab and help keep things in place.
If you're unsure what type of epoxy to use or how many brackets to install, don't hesitate to consult with a countertop installation professional before getting started. Regardless, the key here is to make sure that your counters will be solid and that they won't move or shift once installed.
Then, once you're happy with the way your new countertops are looking, the next step is to re-connect and install your plumbing and electrical fixtures.
Lastly, you'll likely need to run a bead of caulking along the edges of the countertop in any areas where the slab meets your wall or backsplash.
Note that installing quartz countertops isn't a very complicated process. However, it does involve a lot of precision measurements and fine details.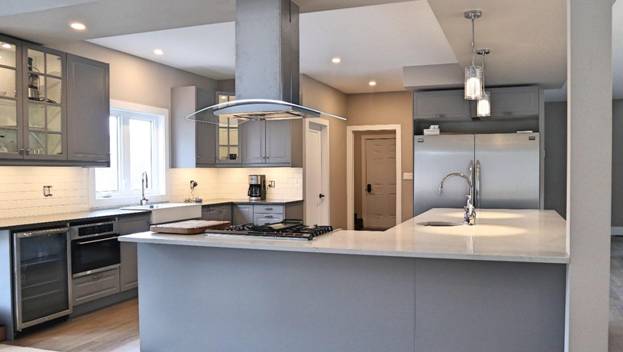 When To Call In The Pros
Although DIY renovations are extremely trendy right now, not to mention that you can save yourself hundreds, if not thousands of dollars, there are some countertop installation scenarios where you might need to call in a pro to help you out.
For instance, while installing either square or rectangular slabs of a quartz countertop will be quite easy and straightforward, installation diagonal or angular shapes may require the finesse of a skilled countertop installation professional.
In fact, special care is often needed to finish angular pieces by filling in the seams and cuts, which involves special filler materials.
So, unless you're experienced at installing these types of countertops, in some cases, it might be best to contact a stone countertop installation specialist to help point you in the right direction.