We all know that decorating your home can be a daunting task. But it doesn't have to be! In this blog post, we will outline 40 easy diy room decor ideas that will help you transform any room in your home without breaking the bank. So read on and get inspired!
From simple bedside tables to rustic wall art, there's something here for everyone. So whether you're looking for a quick fix or something more permanent, we've got you covered.
Find the best diy room decorating ideas for your bedroom, living room, bathroom or any other room in your house. If you're looking for creative ways to decorate your house on a budget, this is the place to be!
So what are you waiting for? Get started on your room makeover today! Find some easy diy room decor ideas below:
Acrylic Wall Calendar: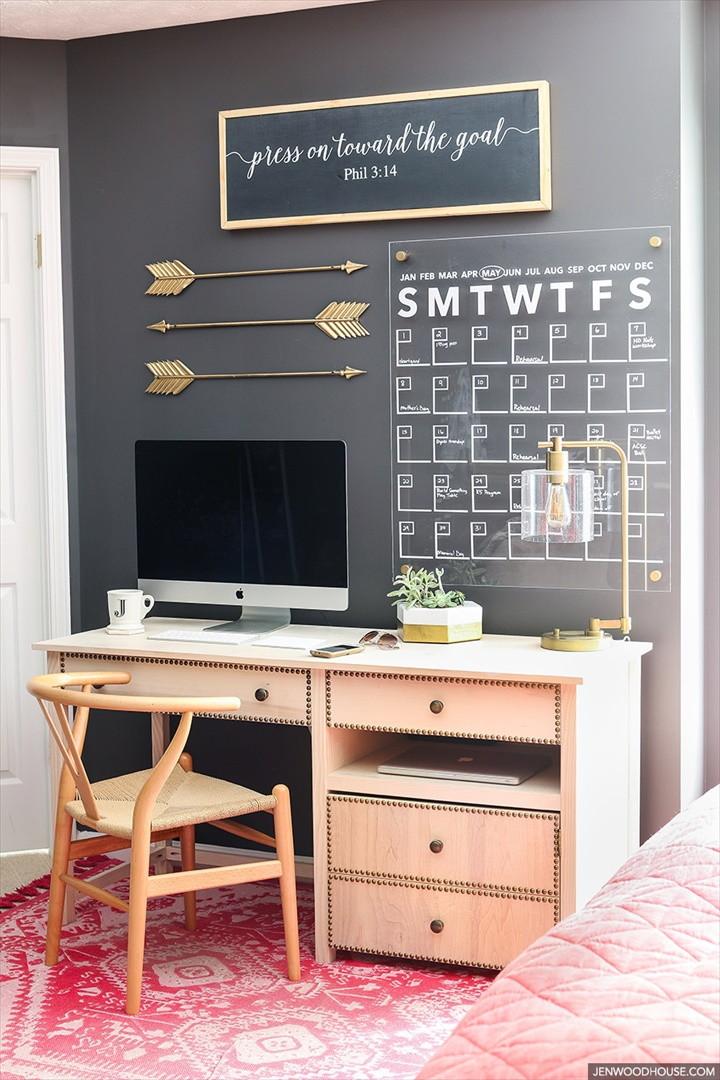 Decorate your home office in the most brilliant way with this acrylic wall calendar. This acrylic wall decor for the home office includes an office wall sign, some gold-painted arrows and an acrylic wall calendar to schedule your work on it with days and date. You can easily install this acrylic wall calendar on your own as the details are shared here!
Tutorial: jenwoodhouse
Chevron Reclaimed Wood Bed: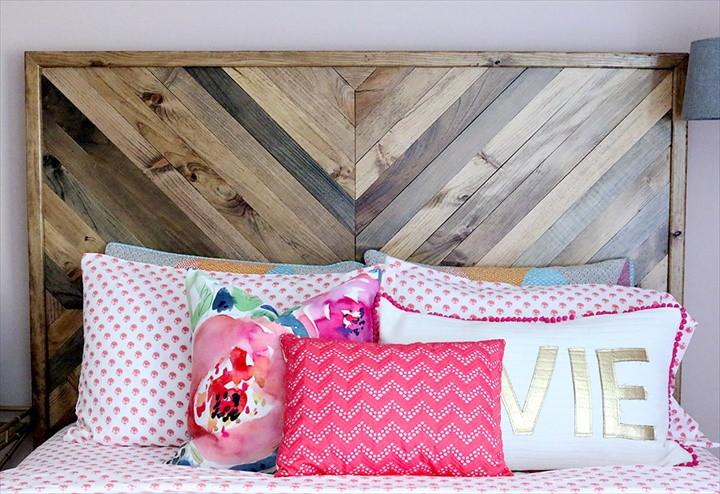 Bring the charm of wood and natural beauty to your bed with this chevron reclaimed wood bed. Using the wooden slats of multiple wooden grain and texture this chevron Wooden bed is easy to make and install on your own. Enjoy rustic beauty in style with this chevron wooden bed to be a part of your personal heaven. Details of the idea here!
Tutorial: jenwoodhouse
Chicken Wire DIY Jewelry Holder: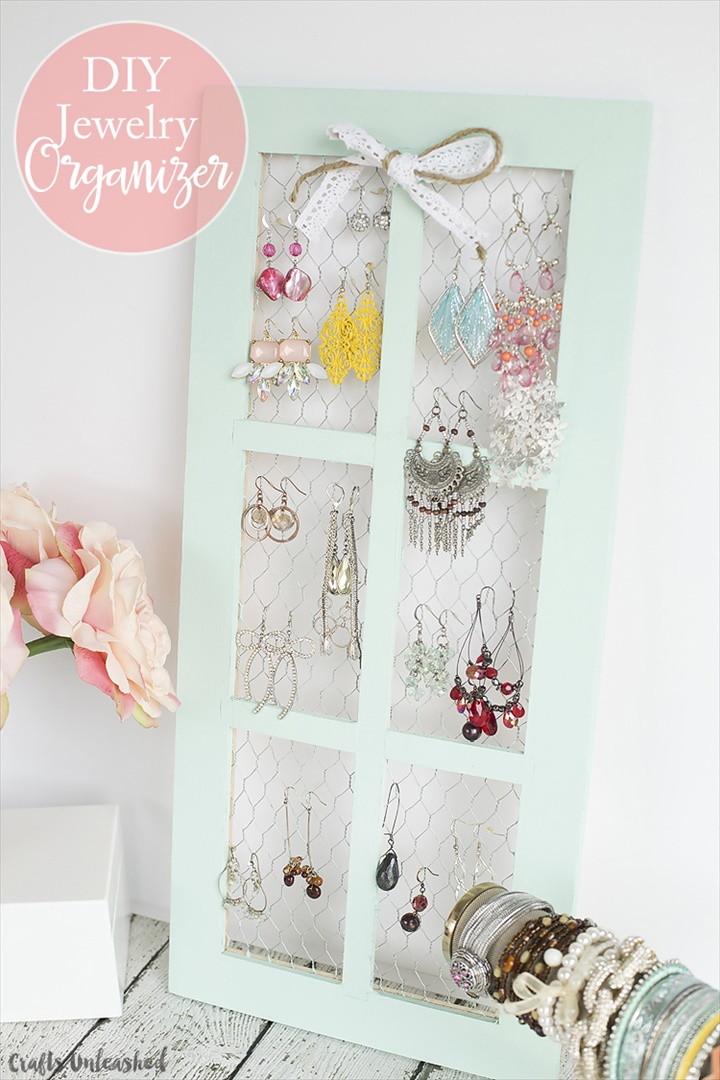 No more jewelry tangling when you have this gorgeous DIY jewelry holder to organize your jewelry in apple-pie order. You would need a wooden stand and the chicken wire to make this pretty DIY jewelry holder. You can paint the jewelry holder the way you want to make it look complimentary for your spaces. Check out the details here!
Tutorial: consumercrafts
Craft Room Organization: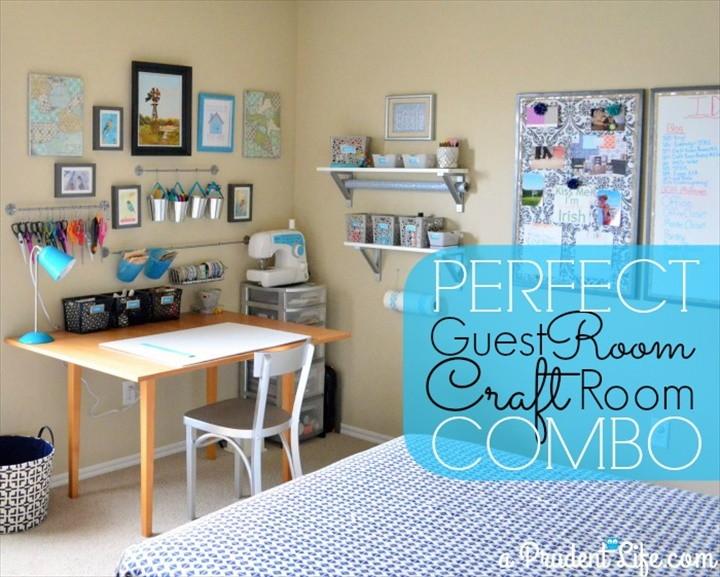 Give your craft room a complete fun look with this idea of the craft room organization. Using things like buckets, bins, and containers you can easily create a complete organization of the crafty supplies and the materials. Most of this organization is done over the walls thus it would not only save your money but space too. Check out the details here!
Tutorial: polishedhabitat
Decorative DIY Nursery Storage Ideas – One Room Challenge Week 3: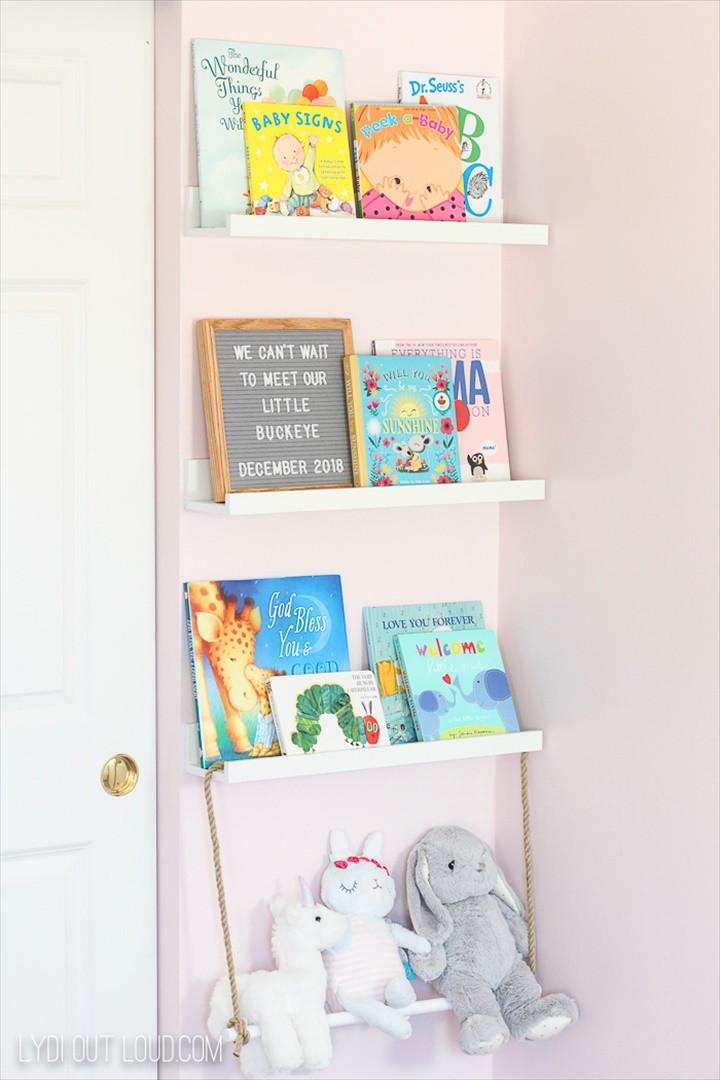 This decorative DIY nursery storage ideas is going to add style and organization to your baby's room. So get your hands on the floating ledges, wall anchors and screws to make this wall organization for the baby stuff toys and the books. Also, add a rope and dowel swing at the last ledge to make it look cuter. Check out the tutorial here!
Tutorial: lydioutloud
DIY Dip Dyed Cricut Pillow: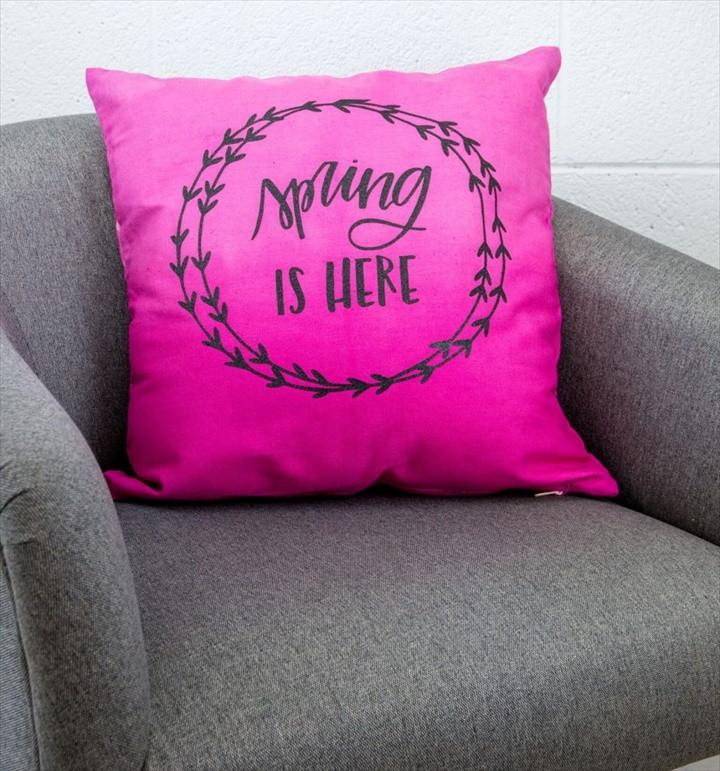 Now you can make yourself some cute and custom pillows at home. Here is this dip-dyed circuit pillow with a pretty spring logo to look just so pretty and fun. You can do this pillow project in winter when the spring is about to arrive. Things needed are the circuit, RIT dye, canvass pillow fabric, and the black glitter iron-on. Details and tutorials here!
Tutorial: alittlecraftinyourday
DIY Framed Dry Erase Board: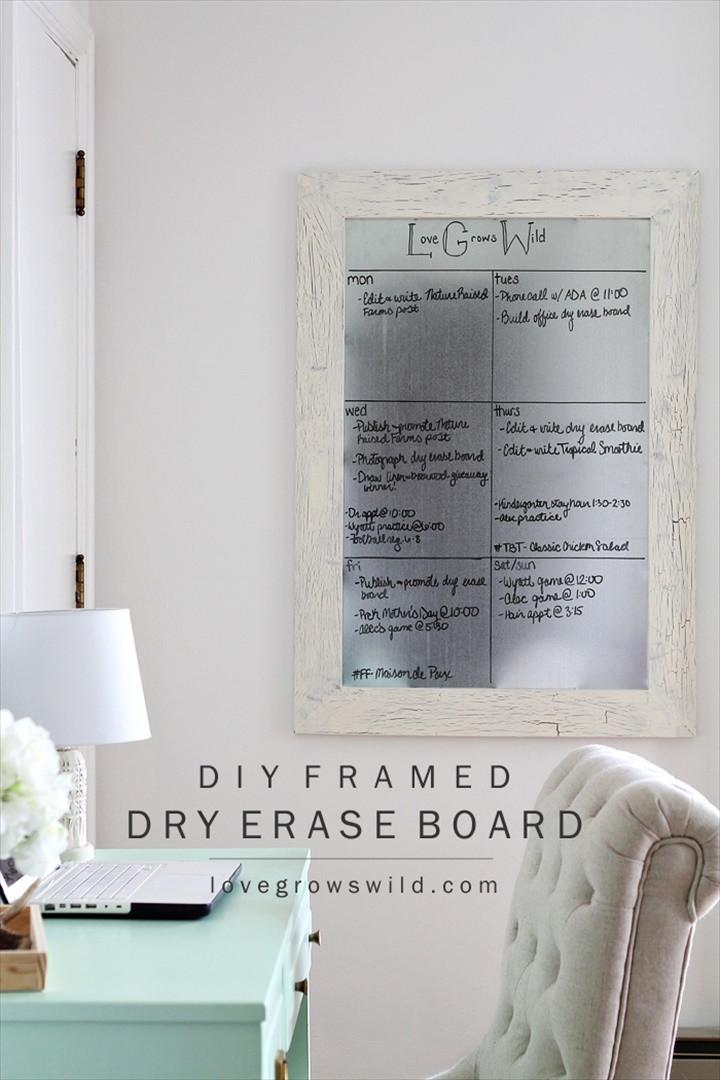 If your life is busy and you are finding it hard to do things at the time then bring this DIY framed dry erase board. Using the metal sheet and the wooden boards you can easily work up this pretty fun and functionally erase board. This board would let you sort out your tasks for the week and be a good reminder. Follow the details here!
Tutorial: lovegrowswild
DIY Fringe Photo Garland: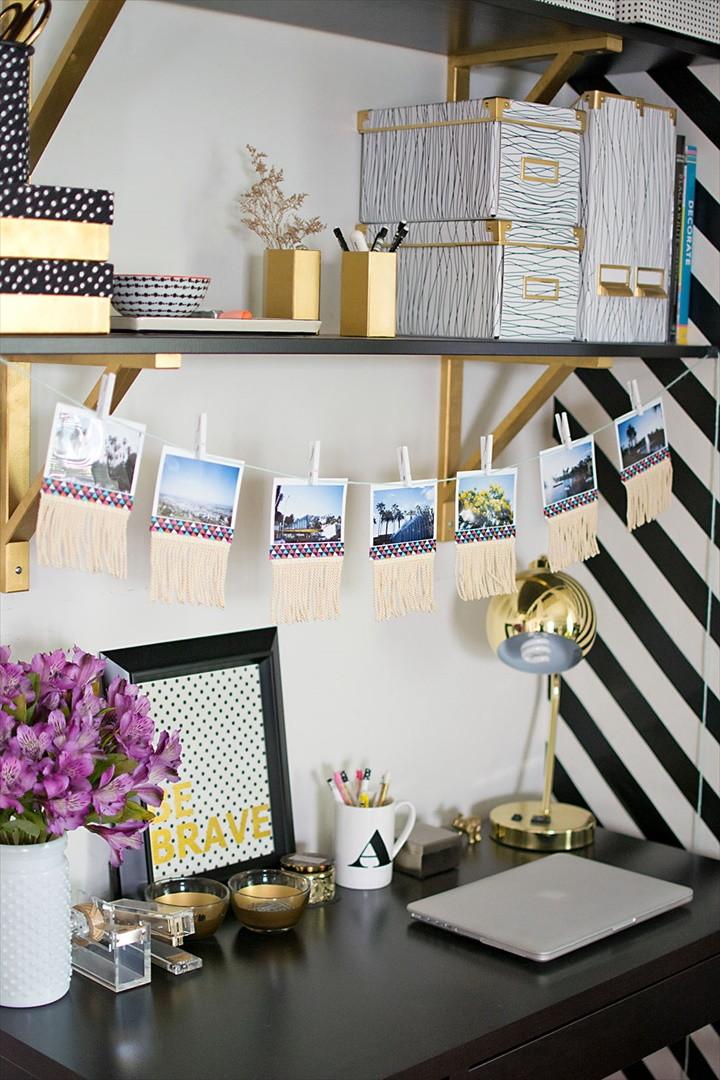 See this one of the cool DIY room decor ideas. Bring some summer fun to your desk decor with this DIY fringe photo garland. So add some pretty fringe trim you can make your beach and sea photos look super cool and funky. Make a garland of these fringed photos and add it to the shelves of your desk and make it look super lively and fun. Details of the idea here!
Tutorial: homeyohmy
DIY Geometric Pinboards: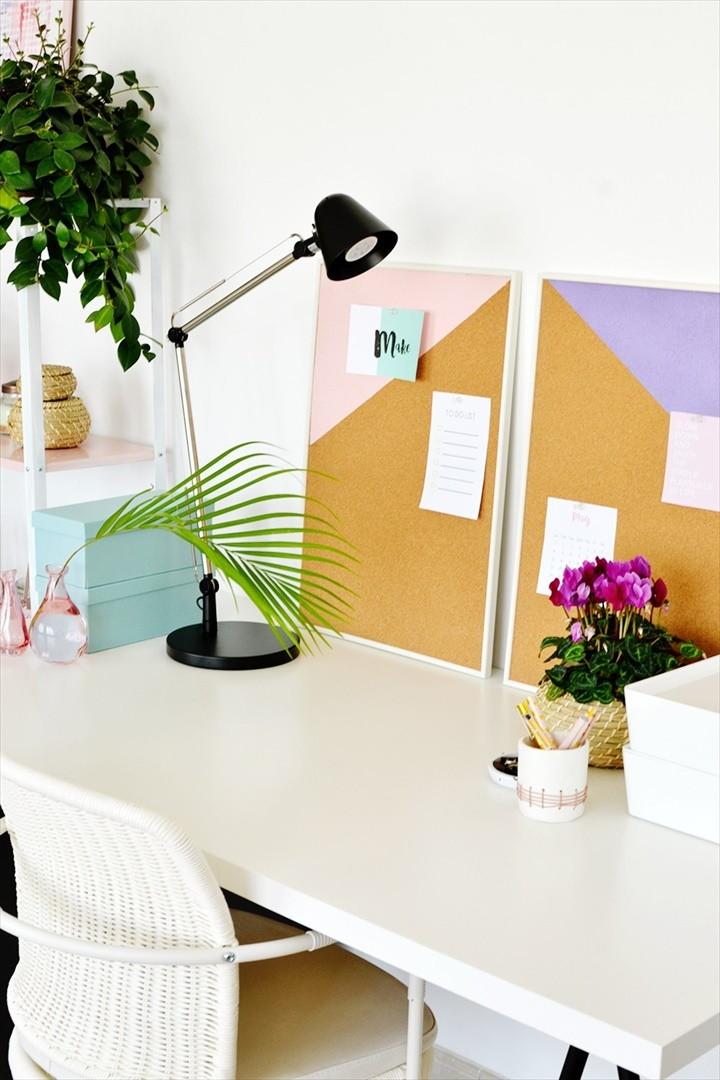 Pinboards are the need of every homey desk and home office. Here are these DIY geometric pinboards to easily make at home and bring some chic beauty to your desk. You need Vaggis notice boards in plain and then pink and lavender paint hues to make these cool geometric pinboards. You can easily trace the shapes with tape and paper and then paint.
Tutorial: enthrallinggumption
DIY Glass Bottles – 3 Ways:

You can make the pretty vases at home using the empty bottles lying around. Here are these DIY glass bottles 3 ways to make and bring shabby chic appeal to your places. In the first way, you can paint the bottles simply white. Secondly, paint the bottle in black chalk paint hues for a really cool and elegant appeal. Lastly, get your glass bottle and cover it with the twine for a rustic beauty look!
Tutorial: purelykatie
DIY Inspiration Board: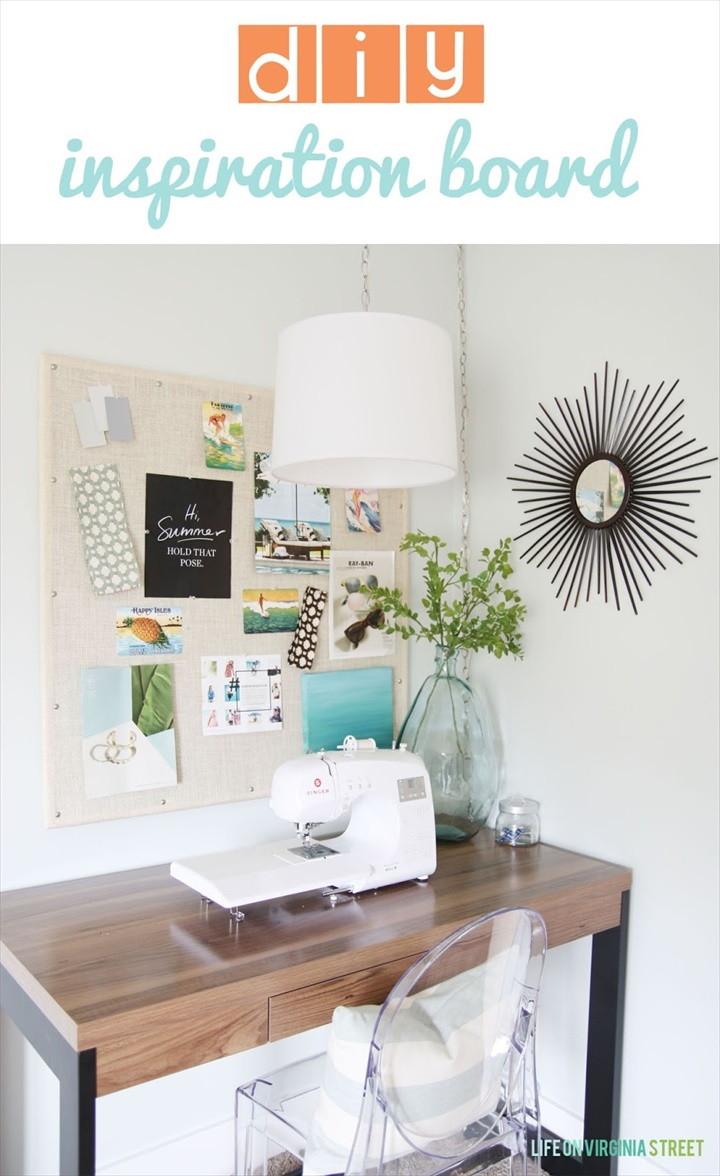 Make your homey desk complete with this DIY inspiration board that is easy and fun enough to make for your room decor. You only need four supplies to make this DIY board and they are the corkboard, burlap, upholstered tacks, and the hammer. This inspiration board is super easy and cheap to make and here are the details!
Tutorial: lifeonvirginiastreet
DIY Kids Seating Using A Tyre: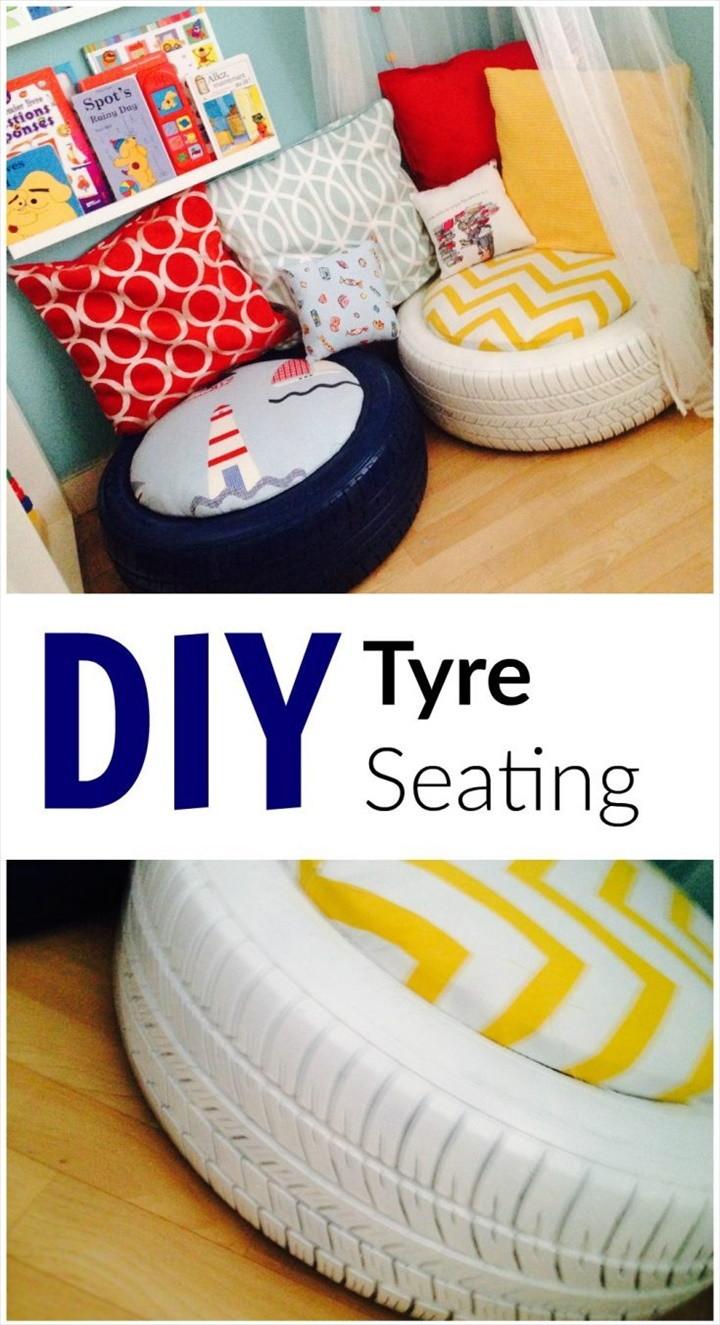 If you have some tires lying around and want to recycle them ten making this DIY kid's seating is the best thing to make. The tires have been painted in pretty and fun colors of blue and white. Then stuff the tires with cushions and pillows to make the perfect seats out of these tires. The kids would love these for sure. Details here!
Tutorial: grillo-designs
DIY Metal Wall Grid: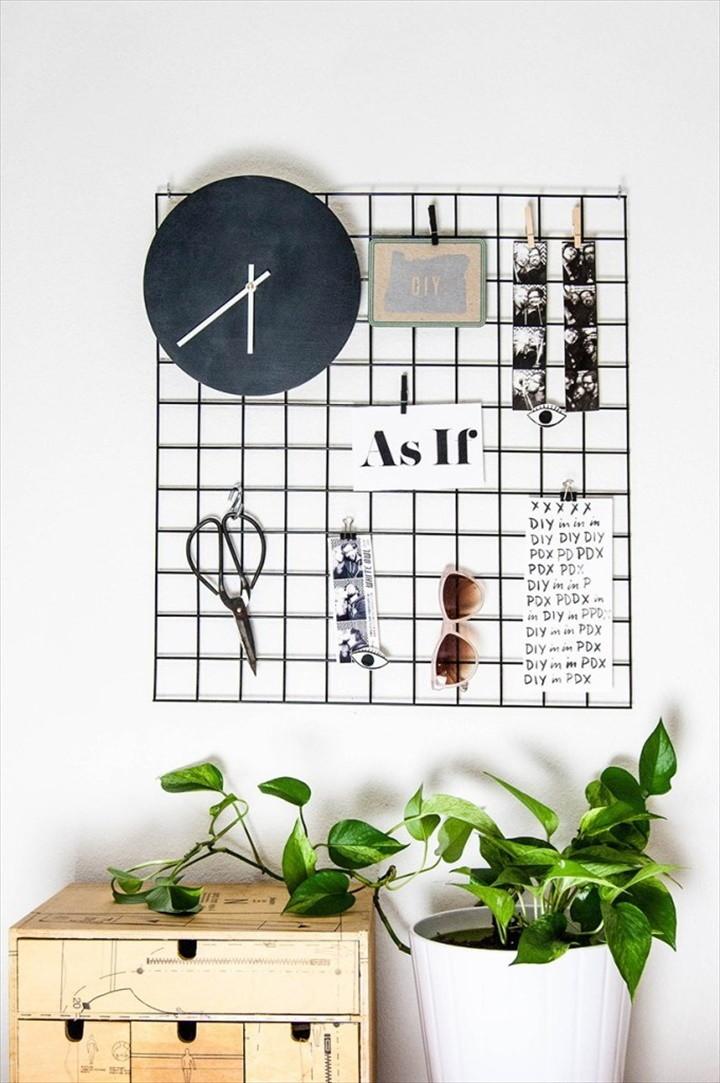 This DIY metal wall grid shows how you can turn a thrift supply into a really chic and fun wall hanging. So grab a metal wall grid and paint it in black to hang over your walls as an organizer. You can hang everything to anything to this metal wall grid-like clock, photos, scissors, glasses and so much more. Details are here!
Tutorial: diyinpdx
DIY Painted Cross Stitch Art for Room Decor: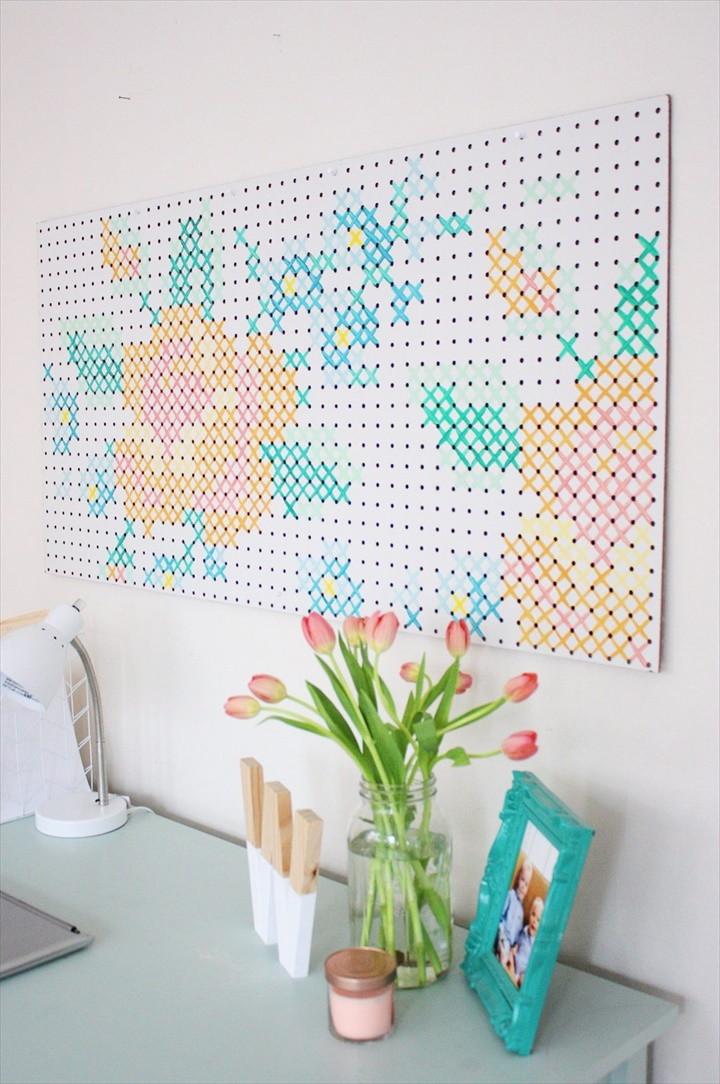 Do not worry if you are not crafty enough to do stitched art because you can perform it with paint quite easily. So get your hands on the pegboards and some lovely pastel paint hues to create the pretty cross stitch pattern on the pegboard using a small paintbrush. This painted cross stitch pegboard can bring oodles of charm to your homey spaces. Details here!
Tutorial: prettylifegirls
DIY Painted Rug Inspired by West Elm: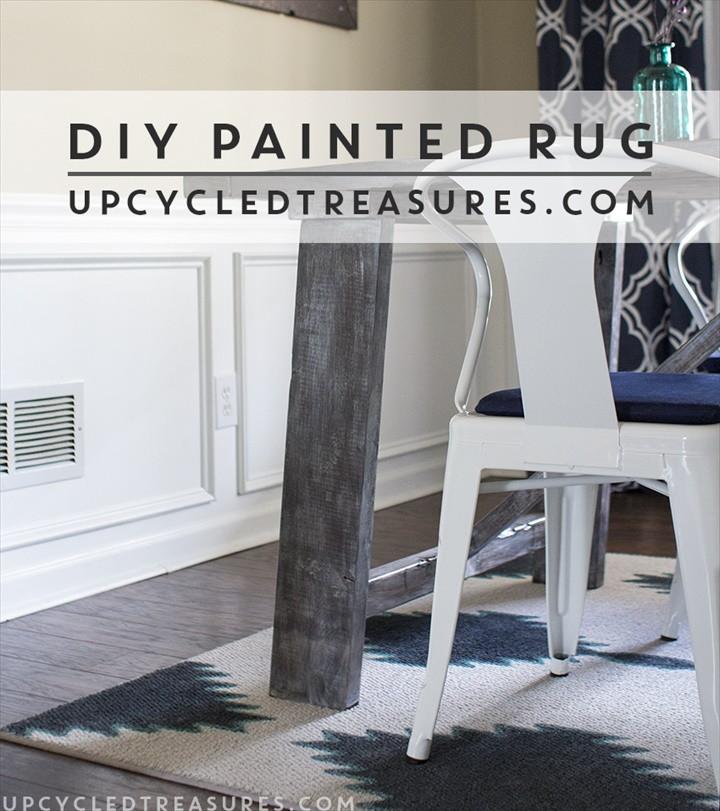 Everybody wants things from the west elm to decorate their spaces. So here is this DIY painted rug inspired by the west elm that you can easily draw out and paint at home for your room decor. This gorgeous rug would bring the perfect elegance and beauty to your spaces. So grab a plain rug, cut your pattern out of paper and draw it over the rug and paint. Details here!
Tutorial: mountainmodernlife
DIY Painted Storage Box:


You can turn simple wooden storage boxes into pretty gifts by painting them in the geometric pattern and design. So get your hands on the lovely acrylic paint hues to paint pretty strips on the storage box and that too in funky geometry pattern. Other things that you would need are the painter's tape, white paint, and pencils. Details here!
Tutorial: tellloveandparty
DIY Personalized Life Preserver: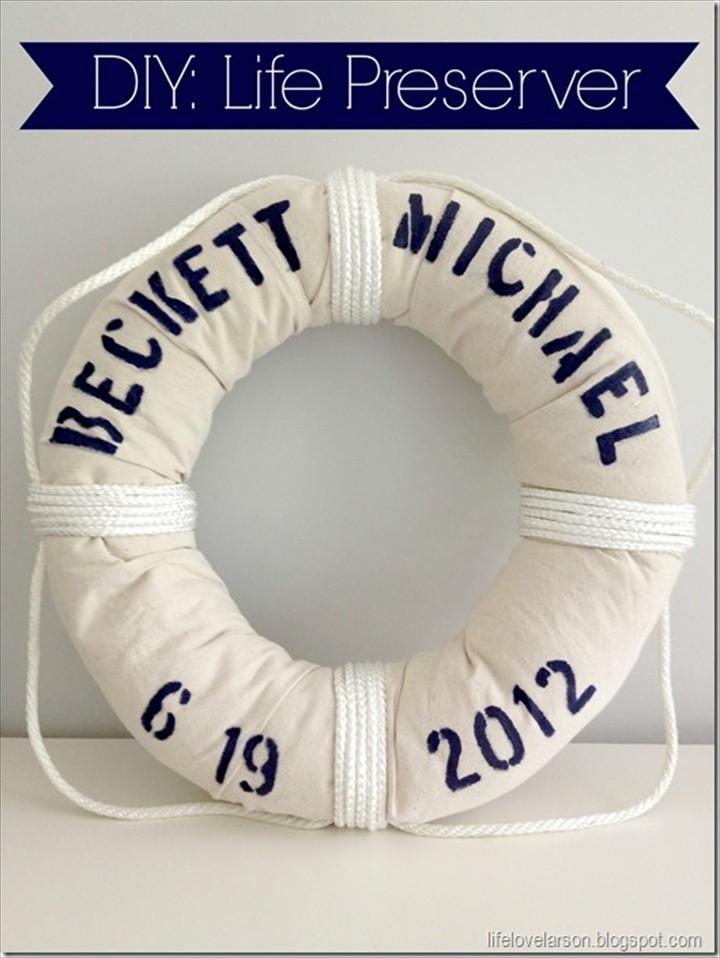 For the next birthday party in your home, you can make this DIY personalized life preserver. The blue and white striped buntings, rope, and round life preserver in the center makes the best wall garland for the party. Things you need are the white canvass cloth, wreath, batting, and the letters and number stamps to write up a birthday person's name and age. Details here!
Tutorial: lifelovelarson
DIY Pillows From Placemats: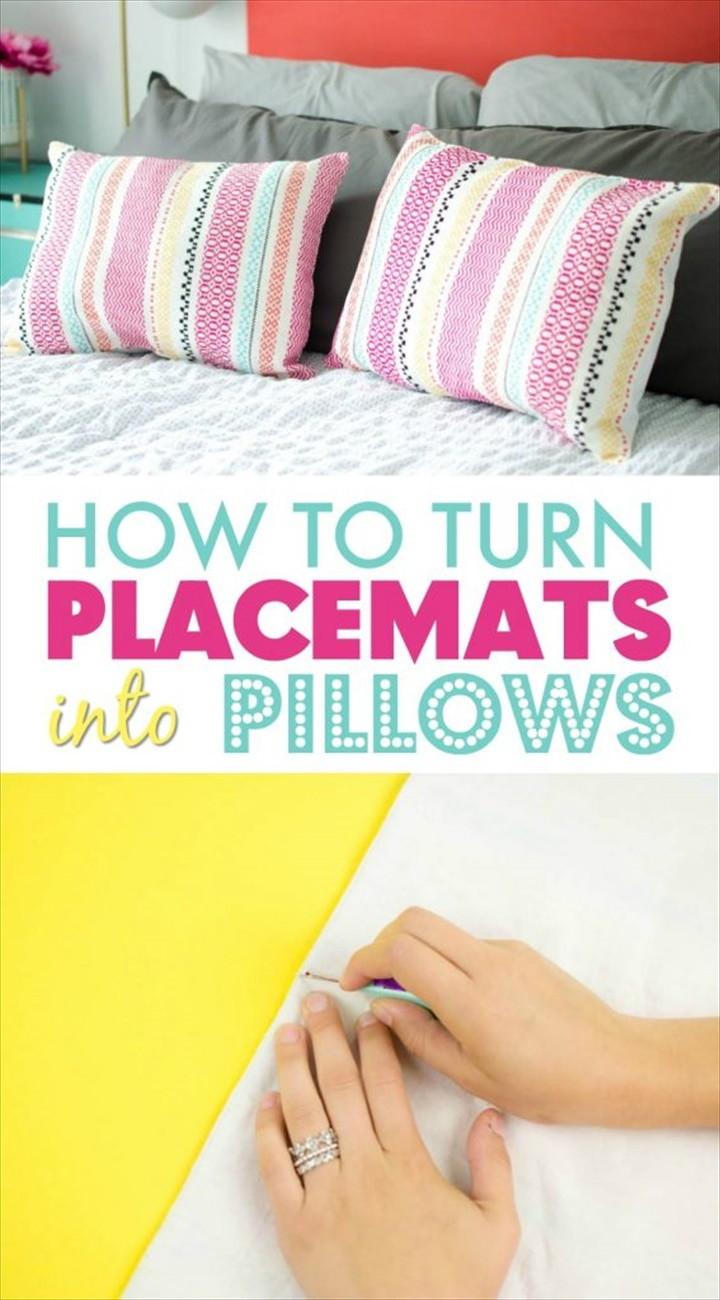 Bring some lively and fun vibes to your spaces with these DIY pillows from placemats and get a fresh look for your spaces. The best thing is you need a few things to make this pair of pretty placemats. So get the placemats, riff them off with a ripper, and then fill them up with soft stuffing and your pretty pillows are ready. Details here!
Tutorial: alittlecraftinyourday
DIY Pouf – Ikea Hack: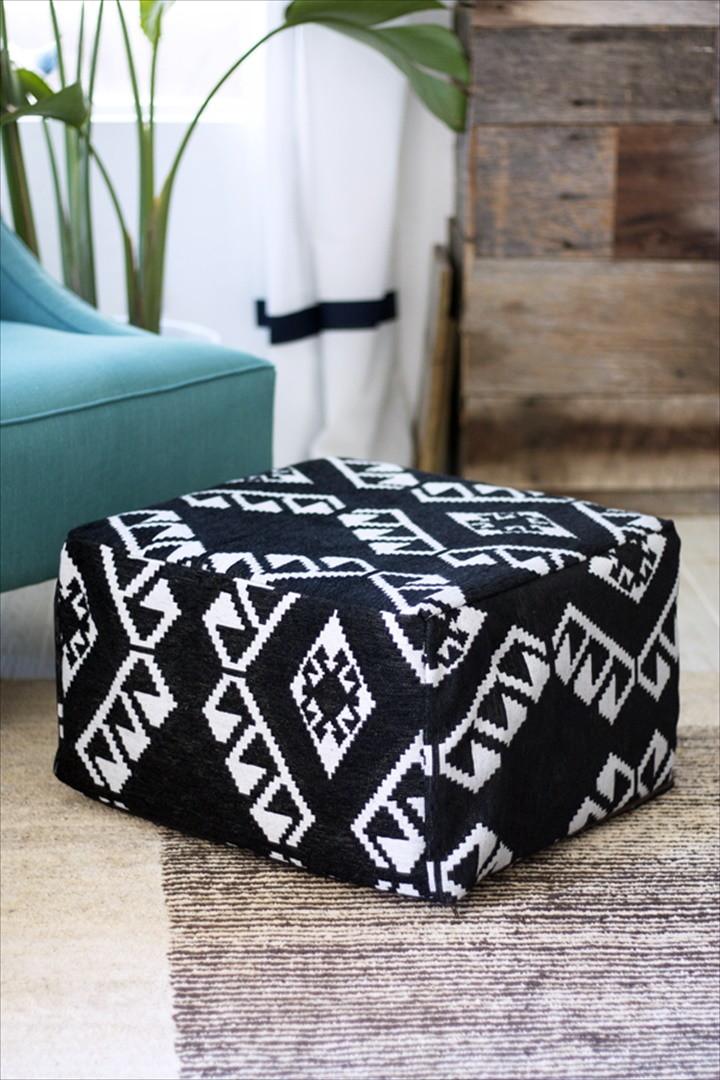 You can make this DIY pouf on your own and bring some elegant white and black beauty to your spaces. Get an IKEA pouf or cube and some yards of the black and white fabric to make this pretty DIY pouf for your living room or the bedroom spaces. You can learn the sewing details of this pretty pouf right on the link here!
Tutorial: kristimurphy
DIY Stamped Pillow: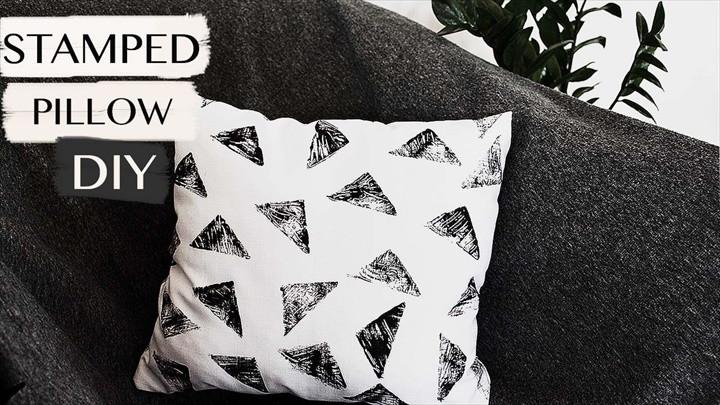 Why would you have a boring and blank pillow when you can funk it up with some stamps and the paint. Here is this DIY stamped pillow that you can easily make with some white fabric, black acrylic paint, and the sponge brush being cut in the triangle shape. Stamp up the pillow all over in black and enjoy this pretty pillow. Details here!
Tutorial: todiyblog.tumblr
DIY Washi Tape Letters: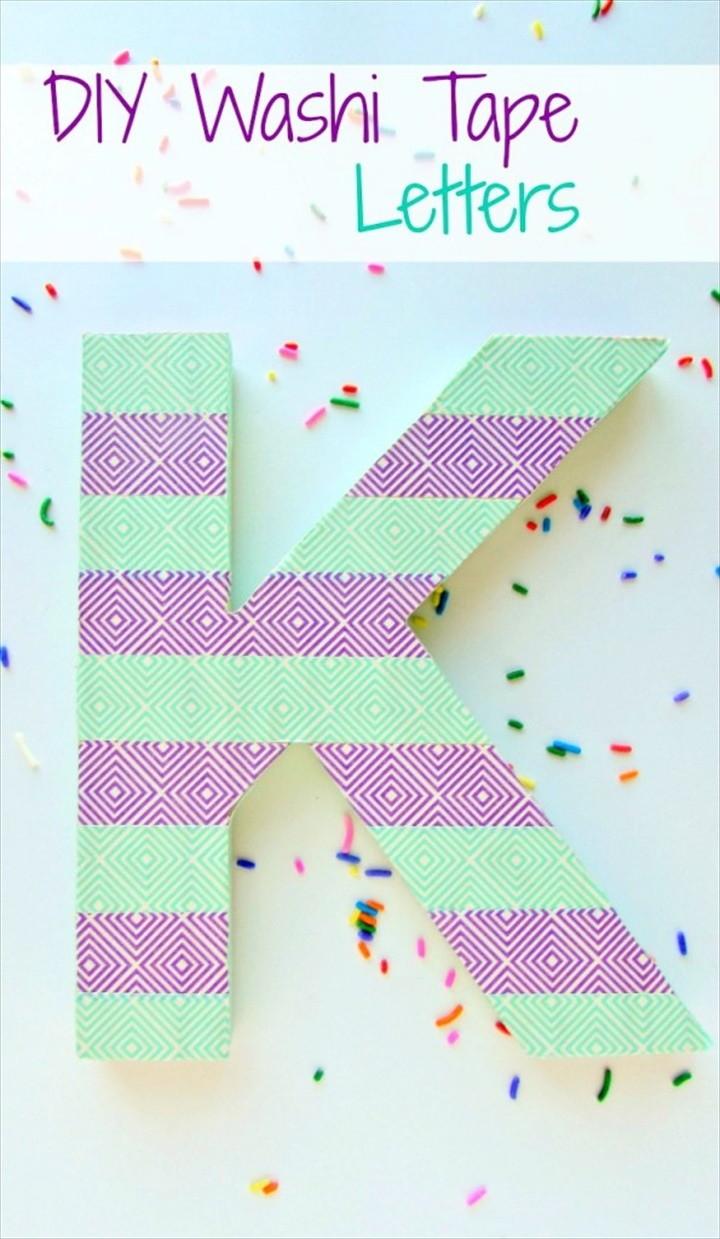 If you intend to customize your home decor especially the foyer space then you can work up this DIY washi tape letters. So grab the wooden letter of your name initial and cover it with the cute and colorful washi tapes all over. Thus so cheaply and easily you can get a perfectly cute and personalized decor object on your own. Details here!
Tutorial: valeventgal
DIY Wire Basket Side Table: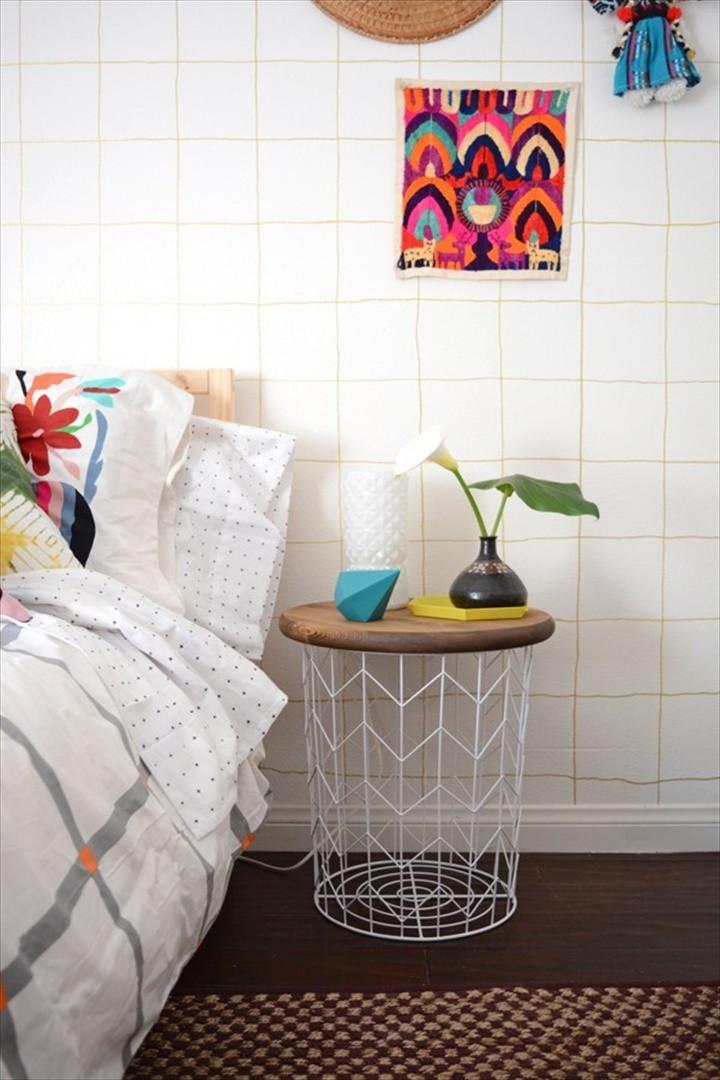 Need a nightstand for your bedroom spaces? Now you can make the quickest and the coolest DIY wire basket side table on your own. Just get a white wire basket and top it off with a solid pine wood round and your side table is ready. This is going to look so cool and chic standing alongside your bed. Follow the details here!
Tutorial: oleanderandpalm
How To Make A Copper Garland With Cricut: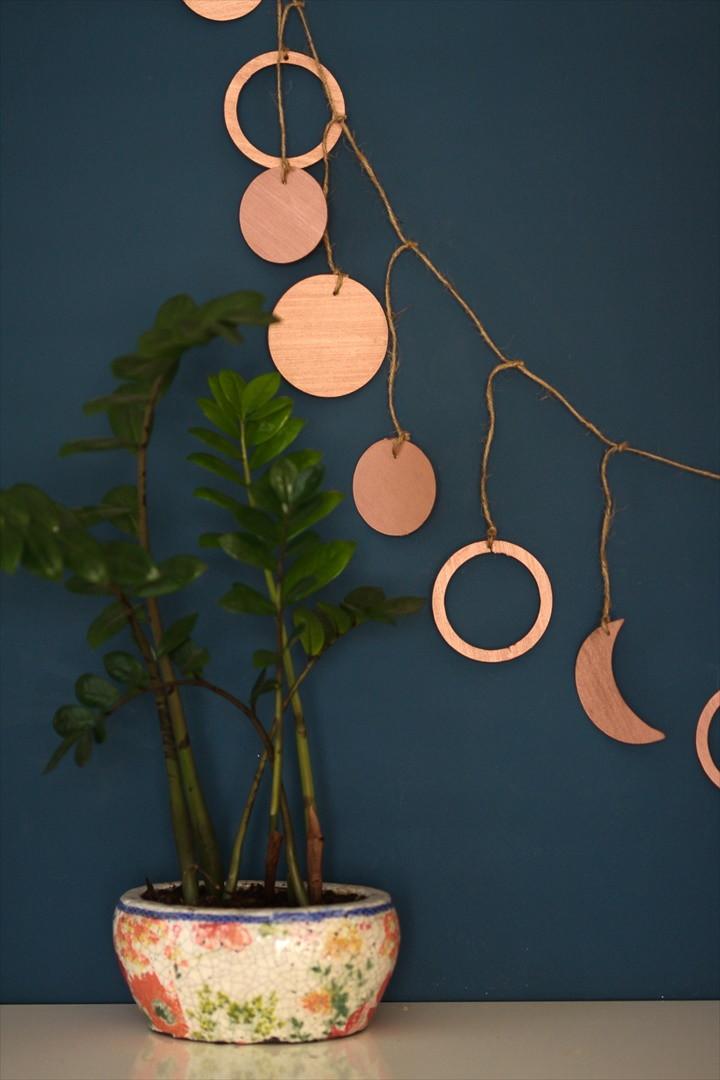 Bring the moon to your home and that too with all its pretty shapes with this pretty idea of the copper garland with the circuit. Using the basswood and the circuit you can cut out all the phases of the moon and hang them via a rope for your pretty homey walls. Not only for a festive or party this garland is perfect for informal home decor too. Details here!
Tutorial: jestcafe
How To Make A DIY Yarn Wall Hanging: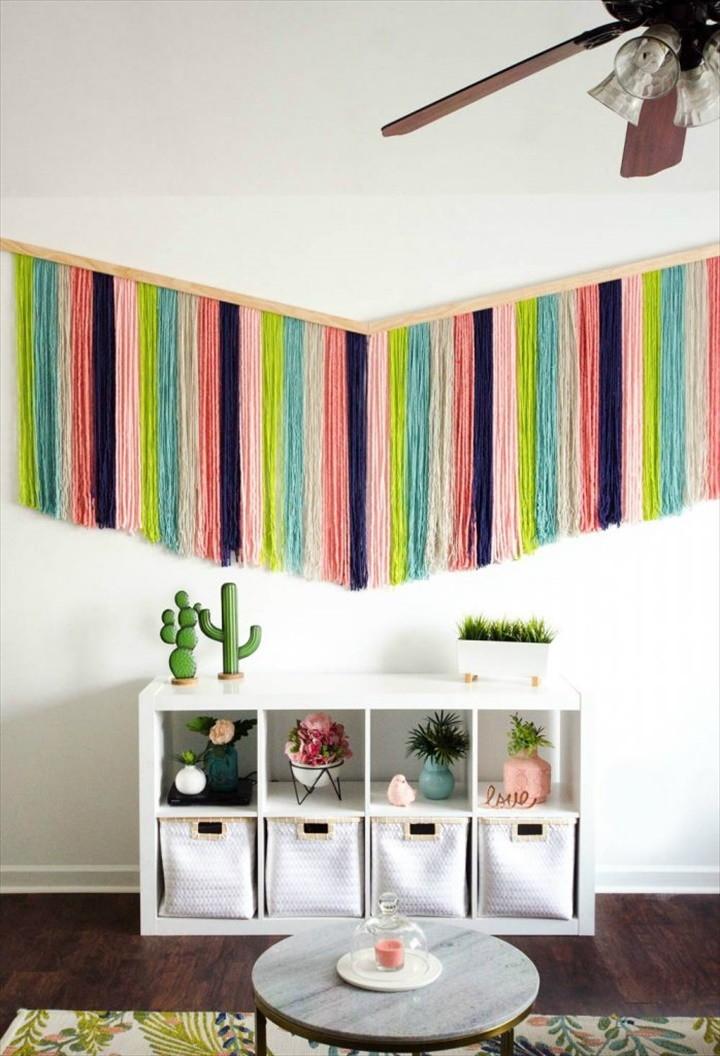 Colors can really change the game of your home decor and so is the case with this DIY wall yarn hanging. Using some pieces of the wood and the colorful yarn threads you can easily shape up this pretty wall hanging for your hall or the living walls. Place it over a table and see the perfect colored magic being brought to your decor. Details here!
Tutorial: alittlecraftinyourday
How To Make Lily Paper Flower From Copier Paper: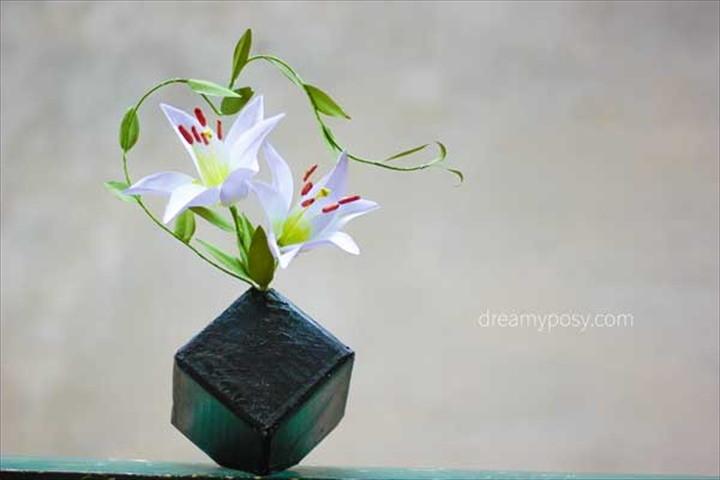 You can make these pretty lily paper flowers from the copier paper and use them as the perfect decor for your wedding tables. They are super easy to make step by step with the petals, stems, and then putting everything together. So get your hands on the printer paper, floral tape, colors, and the basic crafty supplies to work up this project. Details here!
Tutorial: dreamyposy
How to Make Paper Flowers: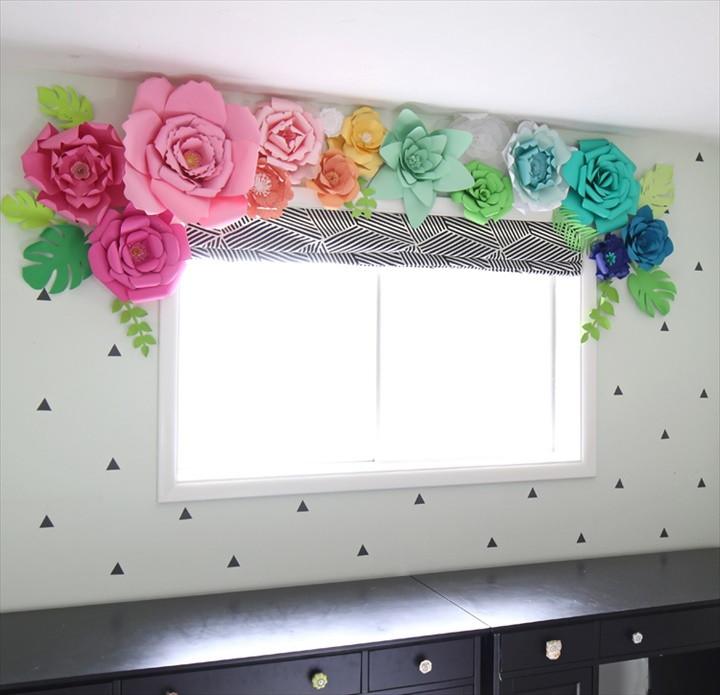 Give your windows a complete dramatic look with this pretty arrangement of the giant and small flowers that you can easily make on your own for your DIY room decor. You need an SVG file for the flowers, colorful cardstock, silhouette cameo, and hot glue gun to make these pretty flowers. The arrangement of these colorful flowers would bring rainbow vibes to your spaces.
Tutorial: thecraftpatchblog
How To Make Pretty Tea Infused Scented Candles In A Tin: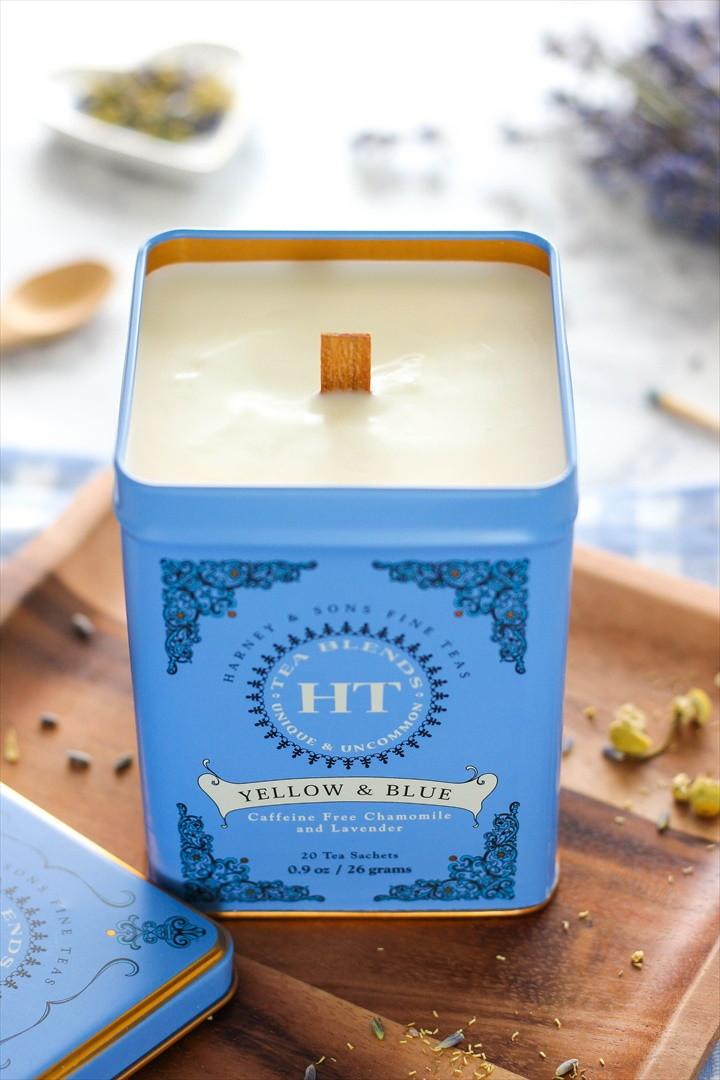 If you have Harney and sons empty tin cans at home then turn them into pretty tea-infused scented candles. Using the soy wax and essential oils you can make the lovely scented candle base and pour it in the tin can with a wooden wick. These candles would make a great house warming gift idea too. Details of the idea here!
Tutorial: purelykatie
How to Style a Cozy Bedroom Nook: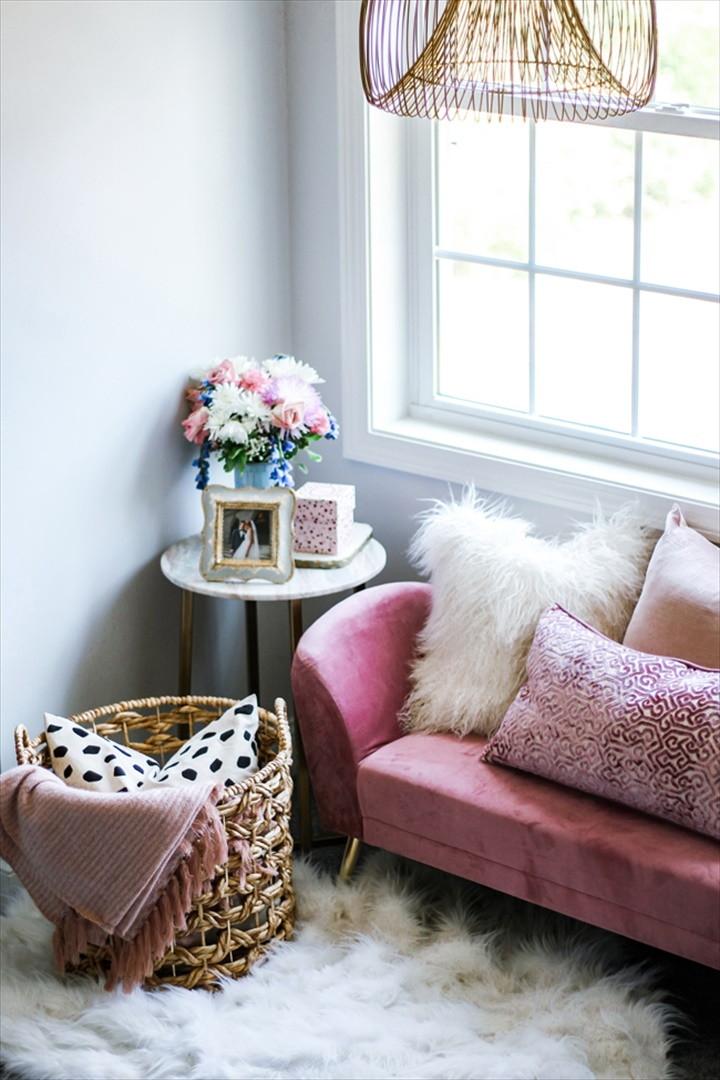 You can turn your bedroom corner into a cozy nook with this complete idea of the decor here! You can add perfect textures and layers to your bedroom nook with a lot of items like a furry rug, a feathery pillow a pretty picture frame, a wicker basket, a metal ringed chandelier and so much more. Check out the details of the idea here!
Tutorial: amixofmin
Ikat Hairpin Leg Nightstand: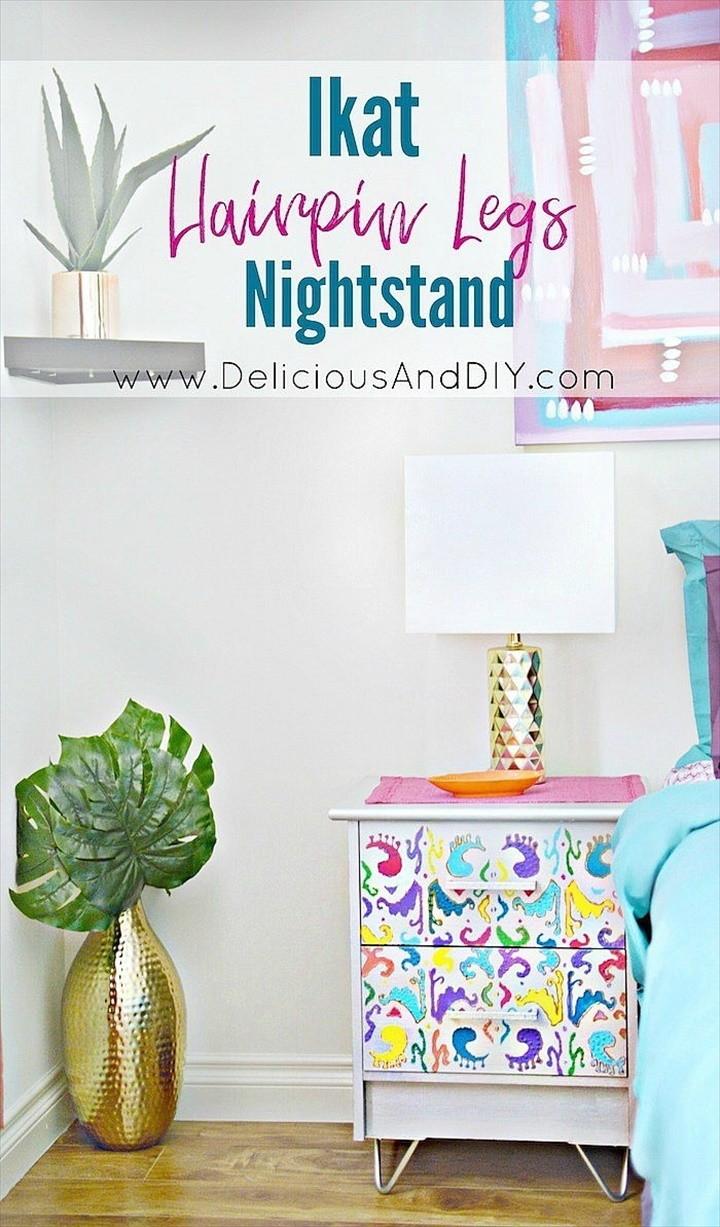 You can turn a simple wooden nightstand into a complete work of art with this Ikat hairpin leg nightstand project. Just grab an Ikat stencil and a lot of pretty paint hues to draw on the white spray-painted nightstand. Then grab the smaller hairpin legs and add them to your nightstand and you are done. Grab the details here!
Tutorial: deliciousanddiy
Ottoman Storage DIY: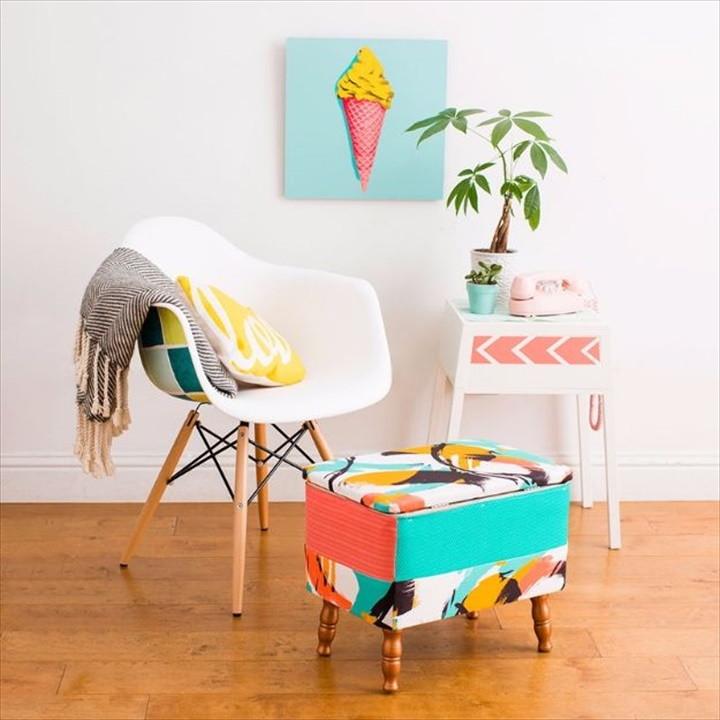 Bring more comfort to your seating with this ottoman storage DIY. The cute little colorful ottoman has the hidden storage place to hide your knick knack stuff and hide it. The things you need are the colorful fabric pieces and the spray paint along with the other supplies to make this pretty storage DIY. So go to a thrift store and grab an old ottoman into this pretty storage DIY. Details here!
Tutorial: brit.co
Painted Rope Votives: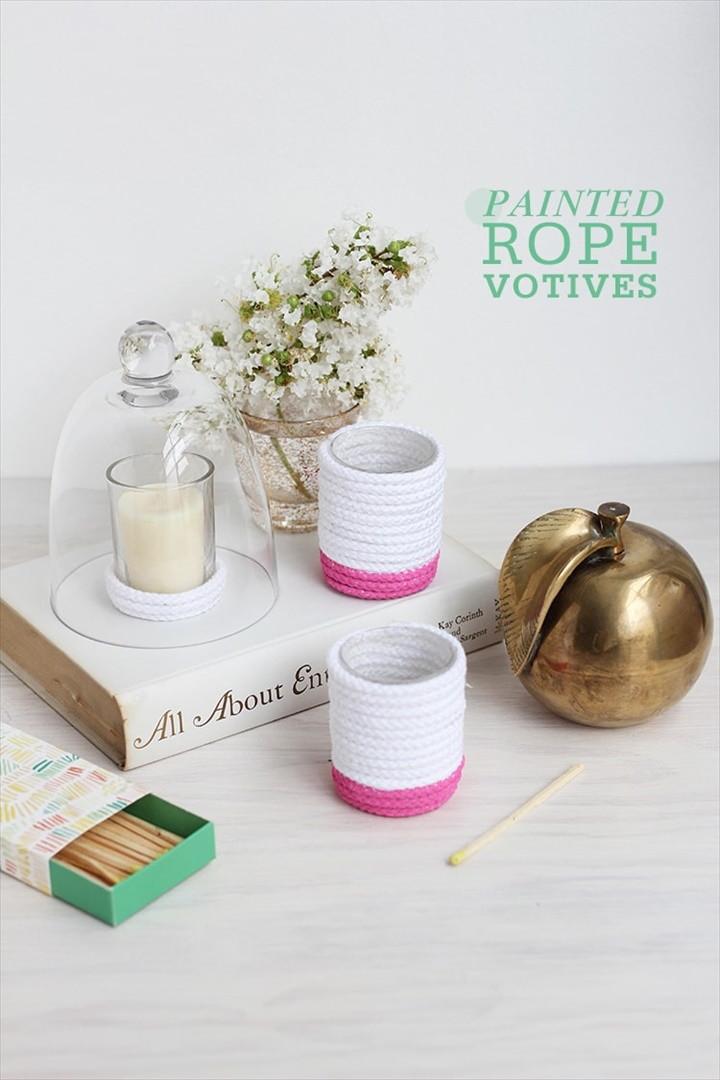 Make yourself these pretty painted rope votives and bring the perfect chic vibes to your spaces. So grab a glass votive and cover it up with the white cotton rope. Then take some pink paint and paint the base of the glass votive and you have your pretty rope votive ready to hold the tea lights and make the pretty table decor. This would make a great gift idea too. Details here!
Tutorial: freutcake
Pom Pom Leather Throw Pillow DIY: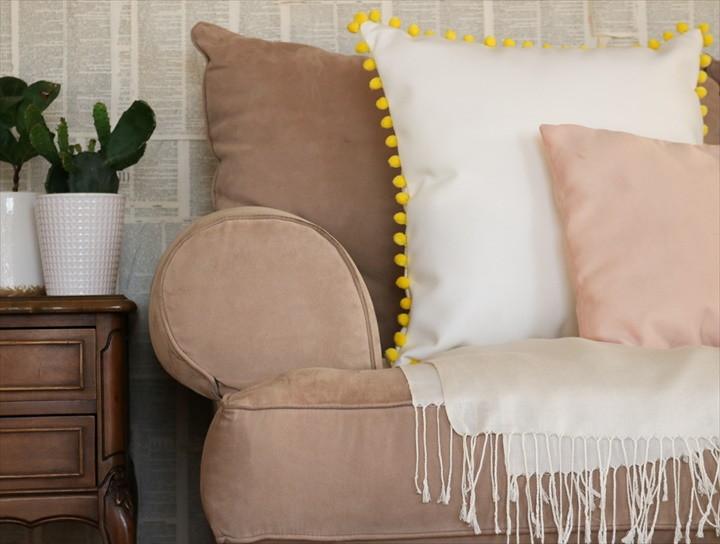 Many of us love white pillowcases as they are quite elegant and cute. You can make these pretty throw pillows the perfectly pretty for your decor by adding the yellow pom pom trims to the sides of the pillowcase. You can choose many other colored hues of the pom pom trims to make these pretty DIY pillows for your summer or spring home. Details here!
Tutorial: lilyardor
Ribbon Organization Cart: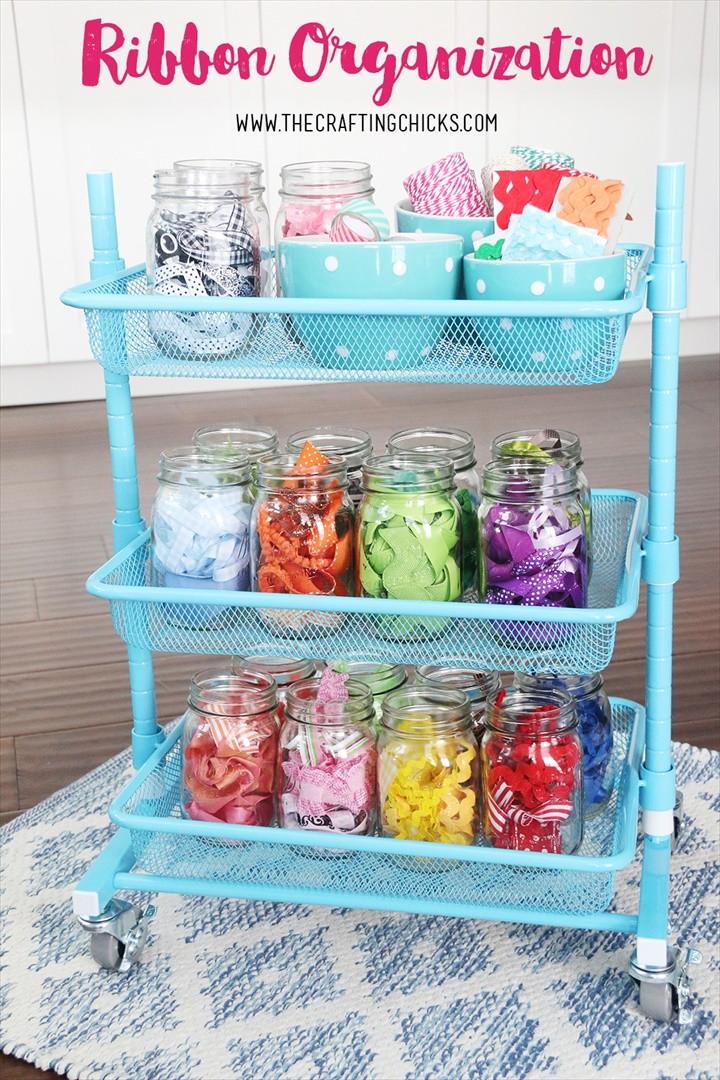 Here is this DIY mesh rolling basket that you can use to organize your art and craft supplies in your craft room. From tapes, paint hues, ribbons, trims, and yarn to your crafty tools you can organize everything in this cart. Just grab a big bunch of the mason jars and the pretty paint to paint up the cart before using it for the storage. Check out the details here!
Tutorial: thecraftingchicks
Silver Washers Nightstand: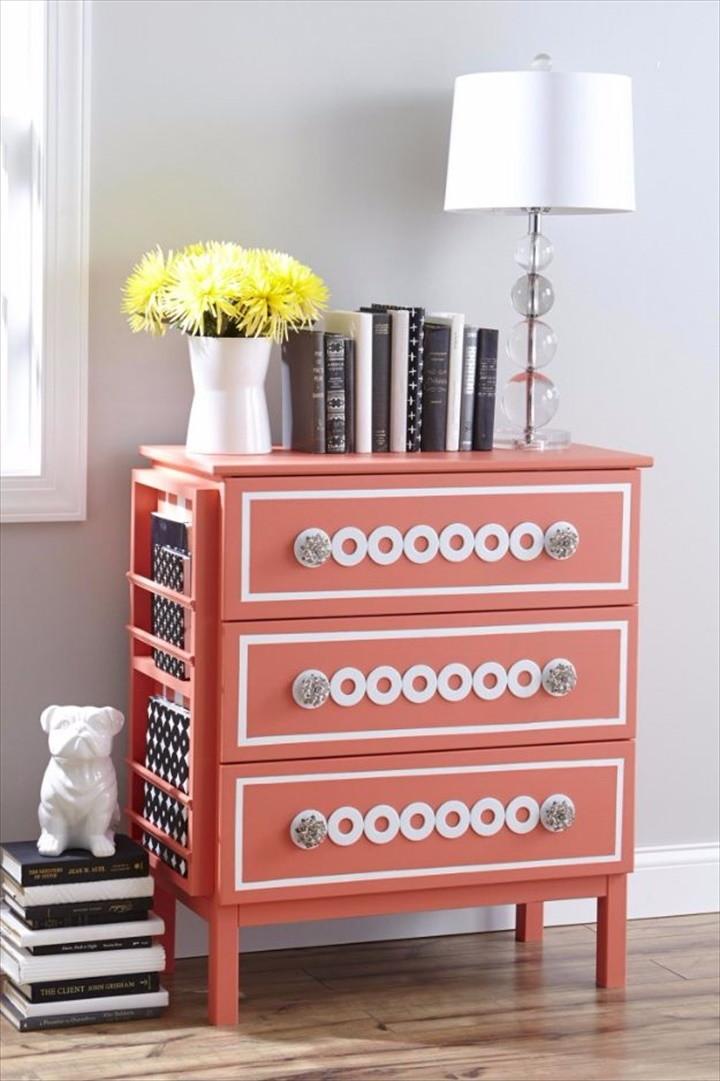 You can make the prettiest nightstand on your own using a simple wooden chest of drawers. The nightstand has been painted in orange colors and adorned with the pretty pair of knobs on each drawer. Then get some white silver-painted washers and put them between the knobs and your nightstand is ready to rock your decor. Details here!
Tutorial: thistlewoodfarms
Southwestern Wall Art: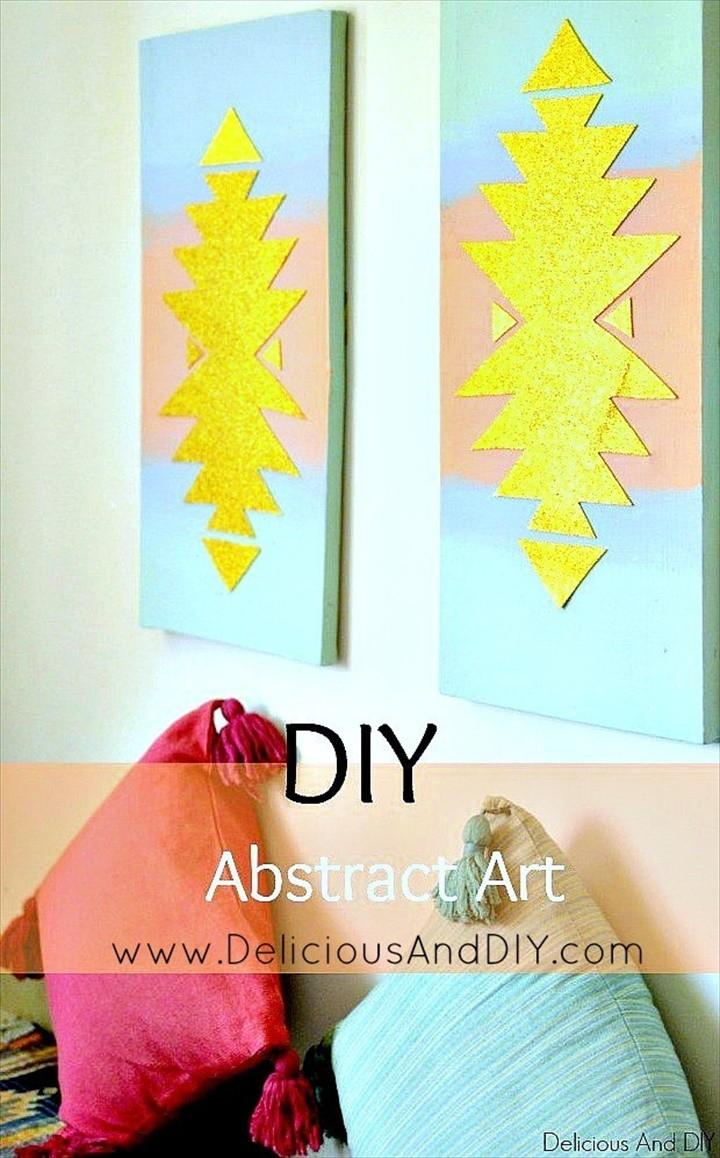 Get your hands on this southwestern wall art to make the pretty possessions for your home beauty. Get your hands on the two blank canvasses and paint them up in desired hues. Then take the glittered cardstock and cut out your southwestern design using the newspaper or paper cutting. Then glue up this cutting to your canvass and you have your pretty wall arts ready.
Tutorial: deliciousanddiy
Trendy Toilet Paper Roll Craft- Toilet Paper Roll Planters: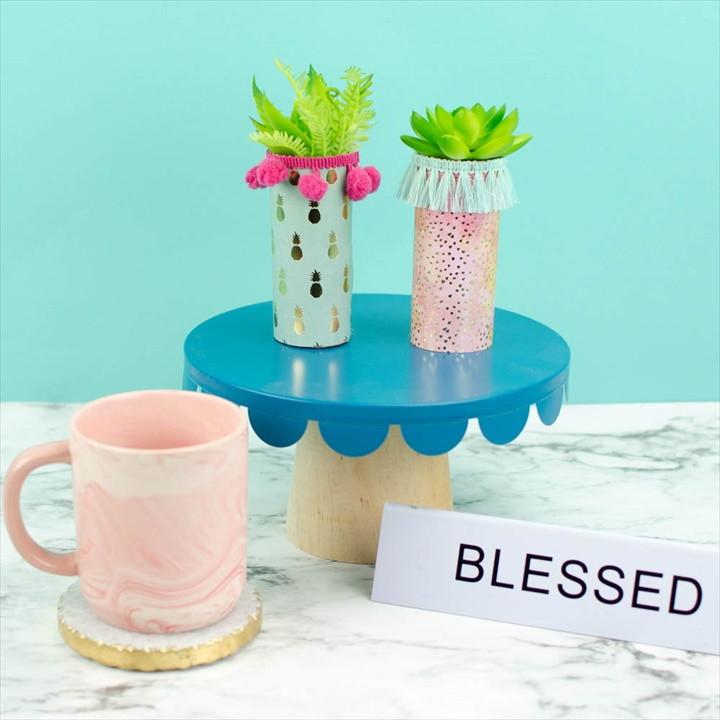 Turn the empty toilet papers into the pretty crafts for your table decor. Get the empty toilet rolls and cover them in pretty duct tape and scrapbook papers. Then add the left out pieces of the pom pom or fringed trims to the top rim of the paper rolls and they are ready. Hold your succulent flowers in these cute handmade planters and decorate your table with them.
Tutorial: alittlecraftinyourday
Tween Girl Beachy Boho Bedroom: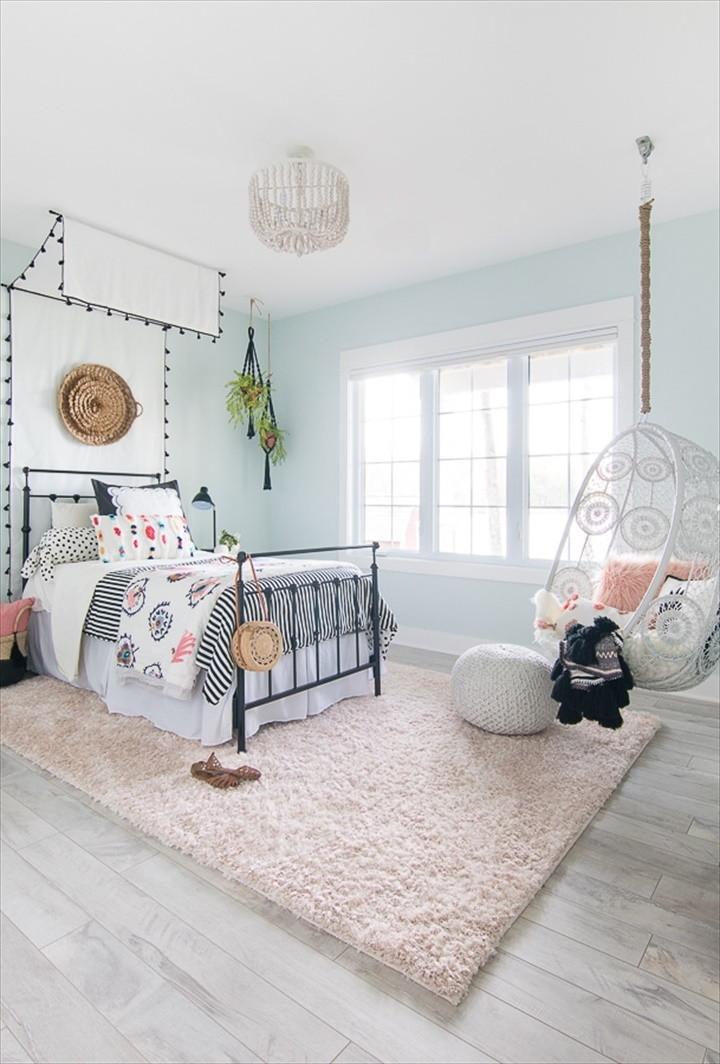 The beach lover girls would love these tween girl's beachy boho bedroom. The black and white colors with a little touch of brown are the best thing to get your hands on. The black tasseled backdrop of the bed headboard, hanging chair, crochet ottoman, hanging planters, rope handles strawflower and so much more to add in your boho bedroom. Follow the details here!
Tutorial: thelilypadcottage
Tween Girls Bedroom Makeover: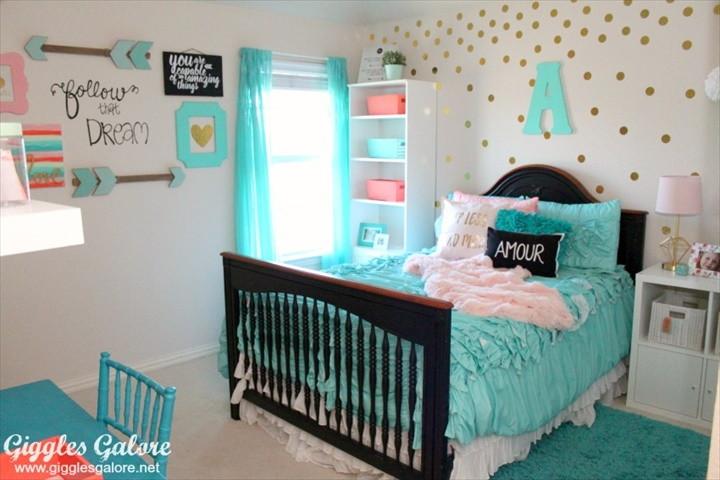 One of the biggest dreams of the tween girls is to have a dreamy bedroom. So it's time to give your girl's bedroom a pretty and chic makeover. Here is this frozen themed girl's bedroom and your girl is going to love it. From adding the custom wooden initial letter, frames, arrows, bedsheet, and the frozen theme painted furniture and there are lots of ways to do that.
Tutorial: gigglesgalore
Vintage Cheese Grater Organizer: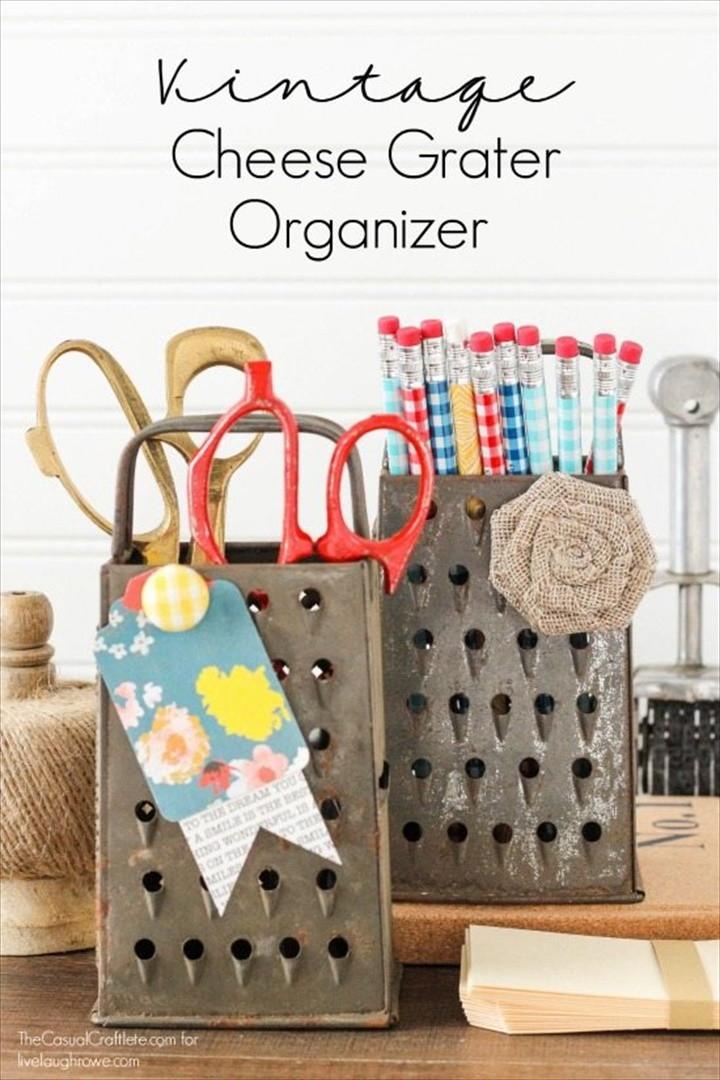 Make the most out of the old graters from your kitchen with this vintage cheese grater organizer project. With a burlap flower, a scrap paper tag you can decorate the graters and use them as the pretty organizers for your pencils, colored markers, and other art and craft supplies and the materials. You can know the complete details of the idea here!
Tutorial: livelaughrowe
Washi Tape Window Valance: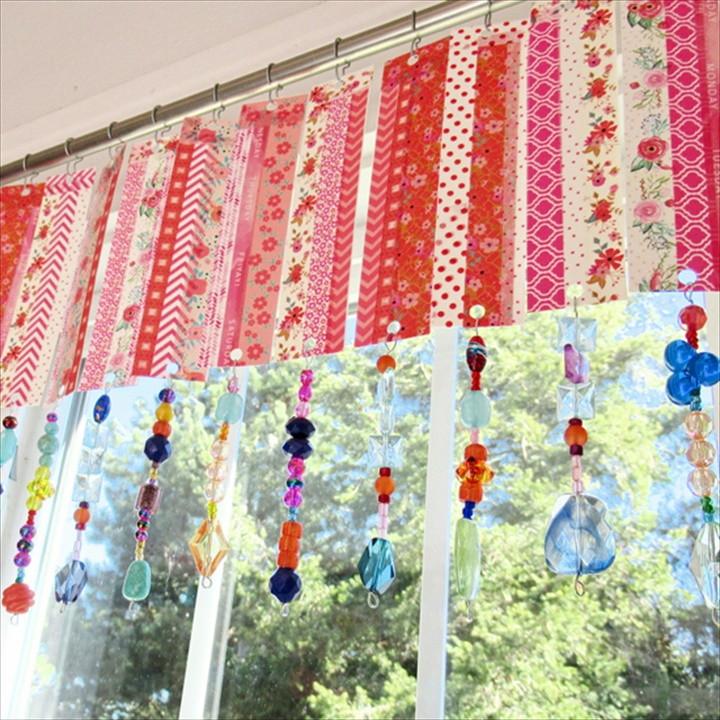 Bring the perfect summer and spring vibes to your spaces with this washi tape window valance. Grab a washi tape in your desired color and the pattern and cut strips out of it. Then add the colorful and pretty gems, stones, and beads to the ends of these washi tape pieces and you have the perfect valance ready for your DIY room decor. Grab the details of the complete idea right here!
Tutorial: whimziville
Conclusion:
If you're looking for some easy and cheap DIY room decor ideas, then you've come to the right place. We've gathered a list of 40+ awesome DIY room decorating ideas that will transform your space without breaking the bank. From wall art to storage solutions, there's something here for everyone. So what are you waiting for? Get started on your DIY room decor today!