So, you're thinking of a new bathroom suite. Do you call in the professionals, or do you take matters into your own hands? Of course, if you use the professionals the job will be done well and most likely faster than you could do it yourself.
However, there is one big factor that could change your mind on calling the pros in when deciding on remodeling your bathroom. Money! And, outside of money, there are further considerations to make. So, let's take a look at the pros and cons of doing it yourself vs. using outsourced workers to remodel your bathroom.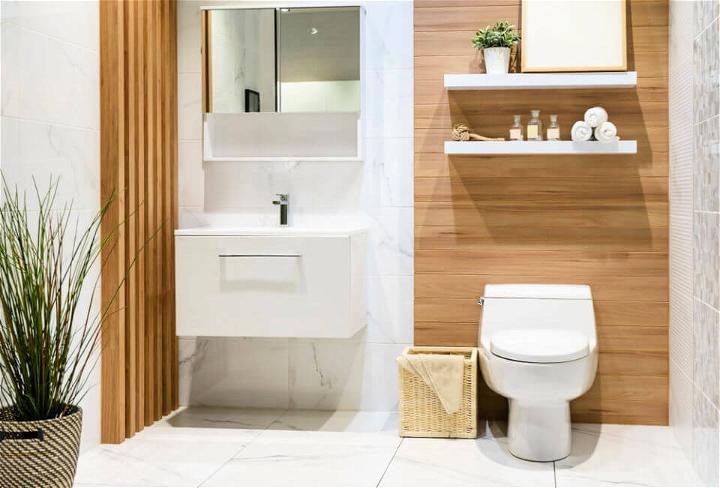 Cost and Time of DIY vs Professional Bathrooms
The main reason for any DIY project is to save time and money. Whether it's saving to go on a splash out holiday, taking the kids to the theme park for the day or something as little as treating yourself to a fancy shampoo, a little extra cash always helps.
With that said, a small bathroom can cost around £2500, with a more luxurious style costing upwards of £7k. Add to this the costs of a general contractor, and its going to cost you a small fortune.
Choosing to tackle this project yourself will probably save you around half, with no labor costs being spent, rather only the price of materials.
With that said not getting your hands dirty, or carrying heavy materials from the hardware shop to the car could be a good thing. Saving time for many is also a luxury. There's also the potential of this project driving you mad if
Bathrooms are essential spaces in any household, so going access to yours for a long period of time as you struggle with the remodel yourself could be an essential factor in deciding which route to use. Trying to prioritize time and allocate it to a bathroom project for many is difficult coupled with a busy work schedule.
Planning
Before you dive in and make a decision, we highly recommend you create a thorough plan for your bathroom. This article will help you consider the different steps but when it comes to materials and styles you're going to have to do some research elsewhere.
Consider the style of bathroom you are going for, will it be a rustic bathroom? Or perhaps you're trying to achieve a modern farmhouse look.
These are just some things you have to consider as each style will vary in price. Let's move onto the different components your bathroom requires.
Framing
The main framing work required in any bathroom is not difficult at all. Basic carpentry skills are all that are needed to complete such tasks. Building a stood wall, installing insulation or boxing in a bath or shower really won't cause too much of a headache, just a little attention to detail and precision in the framing are the main things to consider here. If you know your way around a hammer, a spirit level and tape measure, give it a try to save a chunk of money.
Plumbing and Wiring
Even for the most experienced DIYers, household plumbing and wiring can be a very tricky task. A slight wrong move may result in serious implications that impact the rest of your home. In very worse cases, this could lead to leakages causing floods in the home or damp in the walls or ceilings. Faulty wiring can also cause damage to the rest of the plugs or fittings around your home. In this area, if you do not feel fully confident it is best to hire a professional contractor. They will have a better idea of all risk factors, and any necessary rules and regulations that need to be followed within any home or property as part of the plumbing or electrical fittings.
Flooring
Putting down the usual lino or luxury vinyl flooring most bathrooms have is a task any level of DIY know-how can complete. Using this luxury material is so easy, calling in the professionals is almost pointless. The use of ceramic or porcelain tiles is more often than not left to a hired contractor, but due to the small square meter of the bathroom, it's completely feasible to do yourself with a bit of learning. Mastering the skills it takes does not take long, and this job on a generously sized bathroom could be completed in a single weekend. Best of all, you'll have the pride of knowing you did this yourself every time you step into your new bathroom – a priceless reward.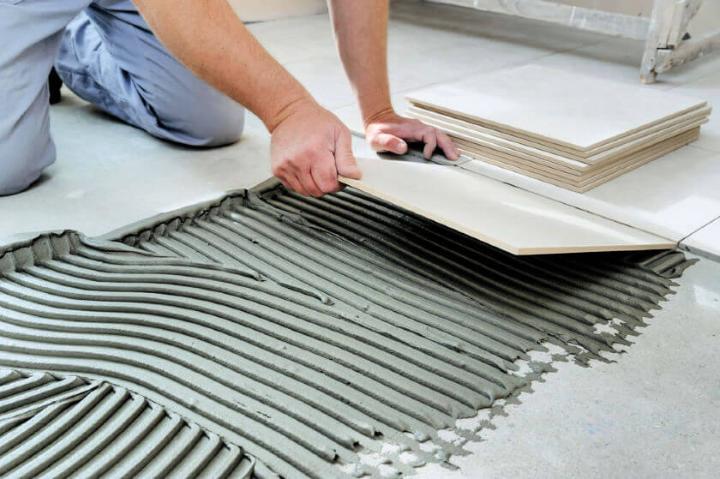 Wall Surfaces
Any reputable hired contractor will nearly almost produce beautiful bathroom walls with no flaws in sight. On the opposite hand, even the most experienced DIYers can create flaws that need to be covered up. Hanging up moisture resistant boards is just as easy as insulated ones with anyone being able to complete, the difference between the home workers and the outsourced workers is in the plastering technique. Hiring a professional could be worth its weight in gold creating that sleek polished finish for your new shower unit or bathroom suite. If you don't mind a few flaws you could complete these jobs yourself.
Shower/Bath Installation
The installation of showers and baths can be a very difficult task, and even the most experienced DIYers generally leave this task to the professionals. It can be tough covering wall tiles when building up your shower pan.
Giving your shower or bathtub a refinish yourself can give acceptable results, but just as the wall finishings, a hired professional dealing with such tasks on a daily basis will produce that flawless finish for a more luxurious look.
When it comes to buying materials you need to find a reputable buyer.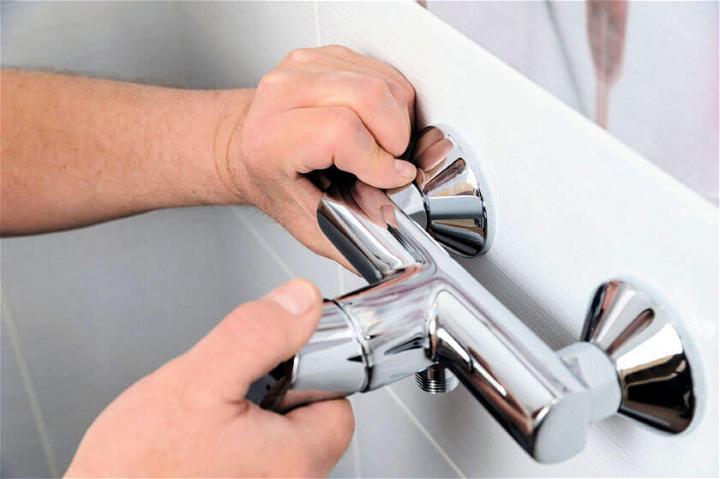 Toilet and sink Installation
Toilets are large heavy awkward things to maneuver to the bathroom, but if the correct plumbing is in place, they are really easy to install. The only real reason to hire a professional for this task is if they are completing other jobs and this installation is part of the package. Sinks can be a tricky one to install, but only if there are plumbing lines needed to be moved. If this is not the case, there is no reason you can't do it yourself.
Painting and Trimmings
Painting is a must-have skill for a wannabe DIYer, so the bathroom should be no exception to this. Why not give the bathroom painting a whirl yourself? While for large spaces, it's certainly more justifiable to pay for a contractor to come in, smaller areas can save you a bit of money and it wouldn't be much of a demanding task. Other bathroom necessities such as hardware, trim and mirrors are also easy to sort out solo, don't be fooled into spending extra cash here for these easy-to-do tasks.
Cost Of Materials
Let's look at the cost of materials now. Tradesman will probably get a trade discount from big retailers. So they will get most materials at a cheaper rate than you. However, most retailers will accept a good haggle if you ask.
A New Bath
A new bath will cost you anywhere between £50-£500+ with the average being around £200.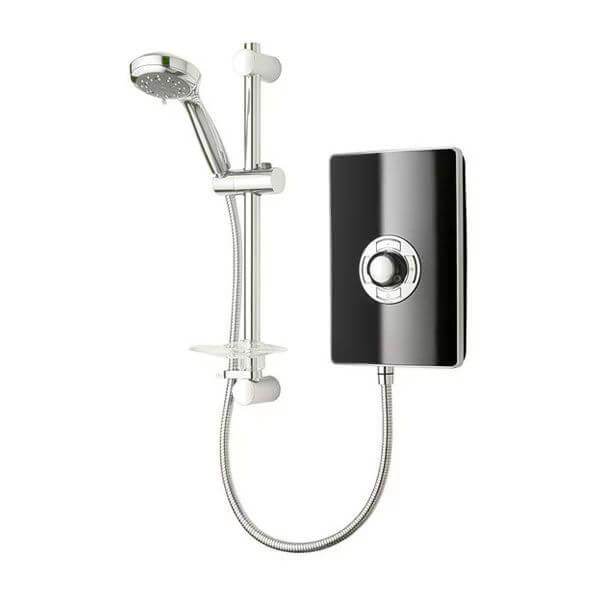 A New Shower
Showers can be a tad bit more expensive. You could pay anywhere between £50 and £2000 for a shower. Yes, some top of the range showers can cost £2000+. This is just for the shower itself, not even the enclosure.
A Shower Enclosure
Shower Enclosures can cost between £100-300. Looking at some of the bathroom shower cubicles on Bella Bathrooms you can get a high-quality shower enclosure for anywhere between £100-300. Wetroom shower enclosures are in the same price bracket too.
With the top of the range items, we highly advise you get a professional to install them otherwise it could be a pretty expensive lesson. If you're a skilled handyman then sure, this job might be right for you but I would hate to buy a £500 bath only to ruin it during the installation part.
If you're choosing the DIY route, make sure you find a reputable manufacturer that will sell you reasonably priced, high quality materials and you're going to be off to a good start. Somebody like Bella Bathrooms offers a one stop shop solution for choosing your bath, shower cubicle and everything else bathroom related.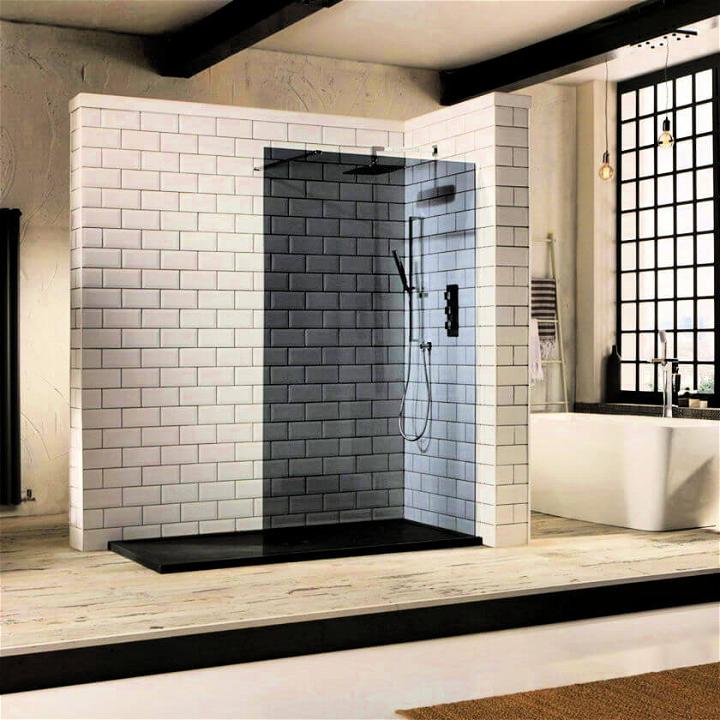 Summary
Overall there are plenty of different reasons to choose to remodel your bathroom yourself or call the professionals. A mixture of both is most likely the best protocol to use, leaving the harder tasks such as the plumbing and wiring to pros. There are a number of areas where tackling things yourself such as the flooring or framing can be extra rewarding, so why not take the plunge? You may surprise yourself with your own handy work, and also save a pretty penny in the process!