If you decide to embark on a complex journey that is remodeling a room in your house, it is of the utmost importance to be as prepared as possible. From starting with a mood board in order to putting all your ideas together to consult with an expert on how to remodel your kitchen better, the entire process is lengthy. Chances are it will take a while until you see the end result and are able to use it. Therefore, it is crucial to embrace yourself and acknowledge the fact that it will take some time from when you decide on the concept until you see it come to life.
Indeed, depending on how many changes you want to do and how complex you want the makeover to be, this doesn't necessarily have to take long. However, regardless of the length and complexity of the project, being as prepared as possible is of the utmost importance. Only this way can you truly prepare for almost anything and be ready to overcome any obstacle that may come your way.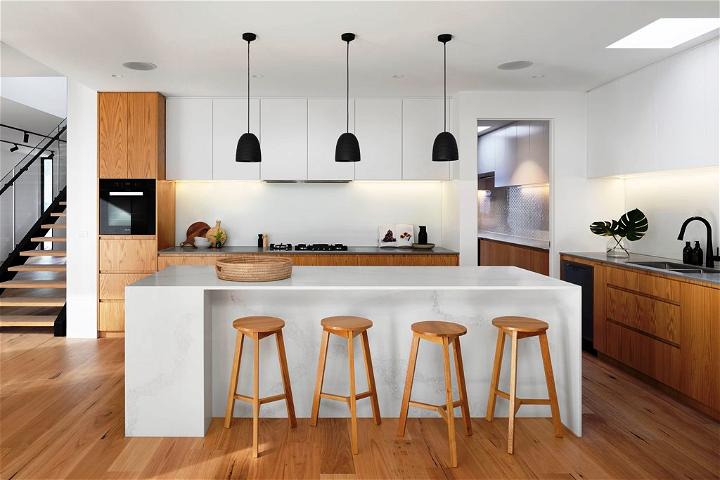 Remodeling, renovation and home projects usually include unforeseeable events, like delayed delivery of furniture, a miscalculated installation of fixtures or appliances, and so on. Don't worry; these are easily fixable in most cases, provided you can adapt and readjust and have prepared in advance. Lack of preparation can lead to many obstacles and difficulties in overcoming them. Therefore, it is vital to gather as much relevant information, have a plan of attack, a plan B, and be ready for this project.
The following kitchen makeover tips are approved by Kitchen Warehouse LTD and may be able to help you stay inspired and get better prepared for this type of remodeling project.
1. Put Functionality and Practicality First
Making something beautiful and stylish is not too difficult. Indeed, you need to have a direction in which to go so that you can create a seamless, pleasing and cohesive aesthetic that fits your style and preferences. However, it is much trickier to make something functional and practical.
For this reason, when it comes to starting a kitchen makeover project, it is crucial to put functionality and practicality first. Once this is established, you can go on to create and design a stylish and beautiful room. Therefore, it is crucial to make sure you have wide walkways, enough storage room, and choose durable materials.
The kitchen is the room that is probably used the most and put under a lot of strain, with spills and splashes happening frequently. This is why you need to make sure it is functional and sturdy.
2. Install A Kitchen Island in The Middle
When talking about functionality in a kitchen, it is almost impossible not to mention the kitchen island. This remains a useful and lasting trend, given that kitchen islands can have many functions. Apart from the fact that it is an ideal area to use for cooking – you can even install your sink here to facilitate this activity – you can also use it as a breakfast bar.
Instead of going to the dining room in the morning when you are probably in a rush the most, you can simply sit down at your kitchen island, drink your coffee and have some breakfast. If you want to host a dinner party in the evenings, this can be a great place to place appetizers and discuss with your guests.
3. Be Wise About the Concept
Another helpful tip that can help you get inspired and make a better-informed decision before starting your kitchen makeover project is to be very wise about the concept. Open space kitchens that connect with the living or dining room seamlessly and create a flow between the two are incredibly loved and one of the preferred concepts.
However, does this fit your space? It is crucial to think well about whether an open space concept suits your house. In some cases, tearing down walls can do more harm than good. Therefore, make sure your room or the house's aesthetic won't be damaged if you want to create an open space. Keeping the kitchen separated can be a good thing.
4. Hire An Interior Design Specialist to Help
Doing everything by yourself can be highly challenging. So, if you need help, it is best to acknowledge it and hire a professional interior designer. Otherwise, you can easily get overwhelmed with the multitude of choices and decisions you need to make all by yourself.
Plus, an interior design specialist can do more than just take the burden off your shoulders when it comes to certain decisions. With their experience and expertise, they can decorate the kitchen in a stylish way while taking into consideration your preferences.
If you want a trendy kitchen, an interior designer with a vast experience can include timeless details that make the aesthetic unaffected by trend changes.
5. Always Be Mindful of The Budget
Creating a realistic budget and trying to stick to it as much as possible, and if exceeding it, trying not to do it by much, is of the utmost importance. This is beneficial for you, as you don't want to realize you have long surpassed your budget halfway through the project for lack of careful planning and preparation.
Therefore, always try to be mindful of your budget and update it accordingly throughout the project's evolution. This way, you know whether more investing is necessary with enough time beforehand.
6. Consider Installing a Backsplash
If you feel a bit stuck when it comes to inspiration or valuable things to include in your kitchen makeover project, you may want to consider installing a backsplash. This is a design tip that can improve the aesthetic in an instant as well as a practical way of dealing with splashes and spills when cooking.
With this, your kitchen will have a focal point, provided you choose a design that both complements the rest of the aesthetic and stands out. What you want from a backsplash is to make a statement. This is a sophisticated way of giving your kitchen more personality while also protecting walls against cooking splashes, so choosing a high-quality and durable material is crucial.