Your guest bedroom should be a tranquil place for your friends and family to relax in when they visit. Whether you are wanting to upgrade the existing decor in your guest room, or start from scratch and completely renovate the space, there are a few must-haves that you can't look past.
Decorators often enjoy guest bedroom decor because there are so many creative ways to add value to the guest experience. What can sometimes make guest bedroom design so tricky is that all people have different needs, so how can you know what will make your guest feel so comfortable?
The three key features that will make your guest experience comfortable include a memory foam mattress, a queen bed frame to accommodate for a couple to sleep over, and a box of accessories and amenities that will ensure all your guests' needs are taken care of.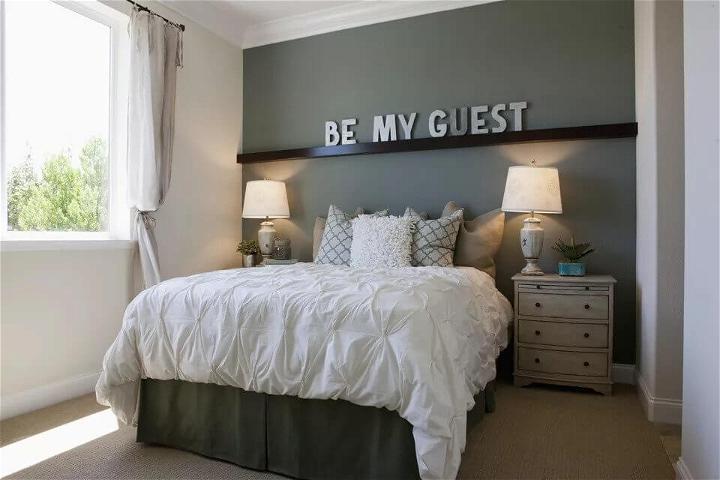 Best Mattress For The Guest Room
There are many mattresses in the market to buy the best option for the guest room is a luxurious memory foam mattress. Memory foam is often reviewed as the most comfortable mattress as it suits all types of sleepers. This is important because your guest bedroom will accommodate side sleepers, back sleepers, stomach sleepers, and more.
The reason why memory foam is often considered the best-rated mattress is that they stay comfortable even after years of use. Longevity is important for your guest bedroom mattress as you don't want to be updating the guest bed more often than what is necessary. Also keep out for a long warranty period, you should be able to find some online mattresses with a lifetime mattress warranty.
Do you sleep hot? Your guests might also sleep hot. Cooling mattresses are made from memory foam and will help to ensure your friends and family sleep cool and comfy when they come to visit.
Some other additional benefits of a memory foam mattress include motion isolation, a washable cover, and hypoallergenic properties. Motion isolation leads to a restful night of sleep as it means your guests won't be disturbed if the person they are sleeping next to moves around in the middle of the night.
The fact that you can wash the cover of most memory foam mattresses is a great benefit. Inevitably, the bed will experience wear and tear over time. If your guest bedroom has a mattress cover that can be unzipped and washed in the washing machine at home, then you can have peace of mind that your guests will always be sleeping on a fresh and clean mattress.
Get a Spacious Bed Frame For The Guest Bedroom
Can you think back to a time where you had an uncomfortable sleepover? Itchy blankets, tiny dusty couches, cold bedrooms, and not enough space can all lead to a poor guest experience.
To guarantee the comfort of your guests, do you best to fit a queen size bed frame into your guest room. If you are worried about space, there are effective ways to incorporate a larger bed frame without overcrowding the bedroom.
A foundation bed frame can provide an excellent base for the memory foam mattress, but it is frameless, saving floor space in the guest bedroom.
While the minimalist design of a foundation metal bed frame is not for everyone, some prefer this option as it serves a dual-purpose. Foundation beds are super-study and can hold more weight than standard bed frames. They also provide storage. The best foundation bed frames allow for ample storage room beneath the bed. You can tuck away bedroom extras and save floor space, so the room feels clean and calm.
Storage bed frames with drawers are also a great guest bedroom solution. These bed frames have traditional frames and headboards, but the base of the frames features between 2 and 4 draws. The draws provide an effective way to store away extra bedding towels and other items that can help make your guests feel as comfortable as possible.
Create A Cute Box Of Accessories
Your guests are guaranteed to forget more than just their toothbrush, and they will undoubtedly need more than only a towel. When decorating your guest bedroom with final touches of personality, think back to your favorite hotel experience. Most of the time, when we stay at a fantastic hotel or villa, it is the really small details that make the experience incredibly memorable.
Maybe you really loved the fact that the hotel had a few hair ties for you or shaving cream for your husband. If you want to create a guest experience, your guests will never forget, focus on the small details that will allow them to feel at home instantly.
Create a box of accessories that includes things like creams, hair ties, toothbrushes, soap, hand towels, tissues, a hairdryer, and maybe even a fragrance. Your guests will feel right at home in no time.
The box or basket can be placed in the guest bathroom if you have one, or even on the ottoman or a small chair in the bedroom.
Style the box or basket, so it looks like a decorative element. Some other required guest room extras include a wastebasket, an iron, a full-length mirror, and a few hooks behind the guest bedroom door.
These extras will keep the room clean and create efficient spaces for your guests to store away their luggage and items.
Your guest bedroom should never become a storage room that needs to be frantically cleaned the night before guests come to visit. Design the guest bedroom so that you can still store away items, but do it in a way that doesn't impact the overall design flow of the room. Using a storage bed frame or mattress foundation bed frame can help you effectively create an inviting place for your guests to sleep.
The hero of your guest bedroom will be the irresistibly comfortable memory foam mattress. Once you spruce up your guest room with a new comfy mattress and some helpful accessories, your guest room will be the most popular getaway in town.