Keeping the interior of our car clean can be difficult, especially if you have children or are a person who uses your car as an office, cafeteria, and breaks room. You can spend hundreds having a professional do it for you or you can get the kids, grab the gloves, roll up your sleeves and get to work.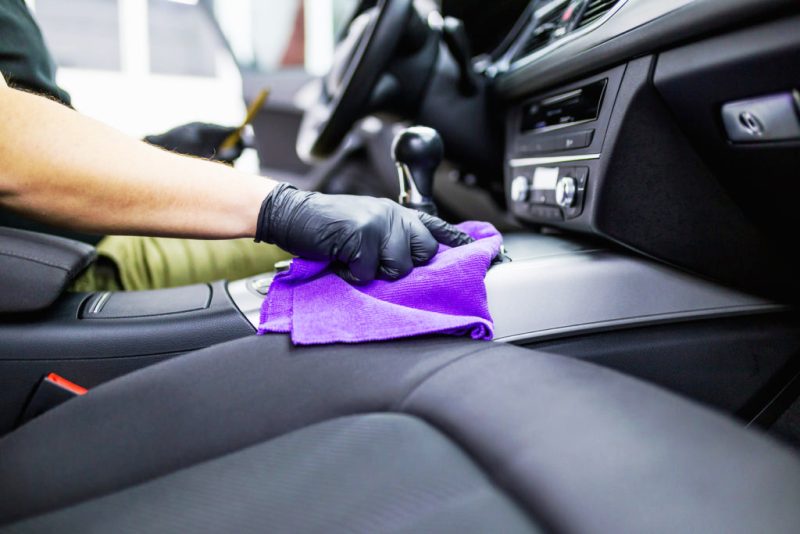 Detailing your own vehicle is not difficult. It's just time-consuming. But if you have an afternoon and the energy to do it this is a step-by-step guide on how to get it done efficiently. Here we go.
Step One: Have The Right Stuff
Before you start you want to make sure you have everything you need to get the job done. This includes the following items.
Bucket(s)
Vacuum with the attachments
Upholstery cleaner (for vinyl, leather, cloth, etc.)
Window cleaner
Cleaner for dashboards or liquid dish soap
Garbage bags
Cleaning brushes and sponges
Empty storage container or a few boxes
A couple of microfiber cloths
Window cleaning solution
Step Two: Purge
Now it's time to get everything out of that vehicle. You can start with the glove compartment and move your way down and then back. Look under the sits and make sure you inspect every nook and cranny. You don't have to go as far as checking the Jeep headlights but you get the idea.
This is where the garbage bags and boxes come in. You have a receptacle for the trash and containers to hold all of the things you plan on returning to your car once your detailing job is complete. Mason jars work well for smaller items.
Step Three: Vacuum Everything
This step is the first thing you want to take care of. It's time to suck up all the crumbs from the snacks that have been eaten in there while you sat in traffic, the debris that comes in from outside like leaves or just plain dirt. I suggest starting at the top and work your way down.
Vacuuming your car doesn't have to be limited to the floorboards. You can hit the seats and everything in between all the little crevices in your vehicle. That's where the attachments come in handy. When you are done put it aside. We aren't finished with the vacuum yet.
Step Four: Clean The Upholstery
Now it's time to get your hands dirty. Depending on the type of seats you have in your vehicle there are specific cleaning instructions. There are several different materials that could be used for a car's interior. So we broke them down with advice on how to clean each appropriately.
Leather
This is a popular seat cover material and for good reason. It's luxurious and feels good against your skin. Leather is sensitive to cleaning methods so it's important to clean it correctly. This type of upholstery can be easily ruined or stained with the wrong cleaners. Get a solution that is made specifically for this material.
Faux Leather
Here we have a leather imposter, which is a fantastic substitute for those that want the luxury but not the real leather. To clean this you need to first dust it for loose debris. To clean it you can purchase a specialized cleaner or a mild detergent. Wipe it down with a clean cloth and dry.
Vinyl
Here we have a popular choice when it comes to interior materials. Keeping it clean is not a problem. All you need to do is wipe it down with a little soap and water and then dry it off. It doesn't stain easily and isn't as sensitive to cleaners as leather or faux leather.
Polyester
We all know what this is because some of our favorite pieces of clothing are made from this material. This type of car upholstery resembles suede and drivers who use it love the comfort it offers. Of course, like suede, it is not that easy to clean. Get a cleaner designed for this material and use their specific instructions.
Nylon
With Nylon, all you need to do is a vacuum to make sure all the dirt is out of the seats and then sponge it down with a mild detergent mixed with water. Spot cleaners can be used to remove any stains.
No matter what material you have in your car be sure to dry it off with a clean cloth once you are done. It's not recommended to let the interior of a car air dry.
Step Five: Time To Do The Windows
While you might be tempted to grab the window cleaner and start spraying there is a bit more to make sure the windshield is sparkling and easy to see through. First, you want to use a microfiber rag to remove the dust. Next, apply some rubbing alcohol to the rag and wipe the window down again. This will remove any grease.
Now, take the microfiber cloth and spray it well with the cleaning solution of your choice and wipe it down a third time.
Step Six: Polish the Hardware
Using another microfiber cloth you want to pick up any dust. This goes for the dashboard, steering wheel, or any other surface that has a hard surface. Don't forget the little floor knobs on the floor that allow you to pop your trunk or open the gas spout. Taking care of small details like this is why it's called "detailing."
Next, you want to wipe everything down with a mild soap or a solution created for this type of job.
Step Seven: Vacuum Again
Now's the time to give it all a once over with the vacuum in case you missed anything the first time around.
Step Eight: Add Your Favorite Scent
At this point, your car should be fresh and ready for you to put all of your items back in it. But, before you do, you can add an air freshener of your choice. If you like the clean smell and don't want to invade it with anything perfumy just yet then you can skip this last step.