The warmer months are the perfect time for an extravagant outdoor party or gathering. Choosing the essentials for your outdoor patio can be easy and enjoyable, but protecting and maintaining your new outdoor set can be more challenging. Don't worry, though, as you can easily shield your stylish new investment from water damage, rising temperatures, and excruciating heat from the sun. This article will provide tips to help you keep your outdoor furniture in pristine condition all year round.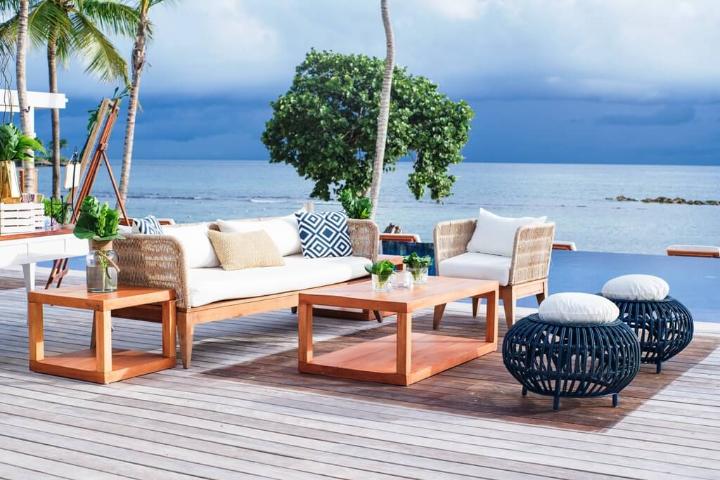 Furniture for the outdoors may be durable, but it's not indestructible. Various factors can damage your investments, including ultraviolet rays, extreme temperatures, and unpredictable climate changes. Patio furniture can be protected in a few simple ways to ensure that it lasts for many seasons.
Here are some tips for protecting your outdoor furniture from harsh weather:
1. Weatherproof Your Furniture
For outdoor furniture to last, it's crucial to protect it from harsh weather. Waterproofing formulas cover patio sets applied directly to cushion or frame surfaces. Although each product varies, be cautious and follow manufacturers' instructions carefully, as these should be used according to intended use. Metal furnishings that are waxed stay rust-free and look polished.
2. Utilize Coverings
Using protective covers for your porch furniture is another way to extend its lifespan. Polyester, vinyl, and canvas are common materials used to make high-quality covers. Select designs and styles that are fit for your specific furniture and are easy to use. When on a budget, you can use vinyl tarps secured with bungee cords, ropes, or cinder blocks. With some creativity and resourcefulness, you can keep your outdoor dining set looking great for many years.
You should also keep in mind that wind can cause damage to your outdoor furniture, causing it to break or tear. Seat cushions can be secured with Velcro or stored in a waterproof storage box if you don't intend to use them yet. Using a bungee cord, lock your umbrella securely. An old sheet or tarp can be used to cover the furniture too. You can keep your furniture protected from dust and moisture when in storage.
Make sure your outdoor pieces are of heavy-duty materials, such as Oxford polyester, that are resistant to wind, rain, and sun, as these materials last for years. Although covering furniture will be a big help, it's also best that you invest in high-quality outdoor furniture pieces like those of Furniture Maxi.
3. Clean Your Furniture Regularly
Your furniture will last longer if you clean it regularly. Consider how you'll keep your furniture clean before you purchase it. You can think of schedules or cleaning methods that are easy to implement and convenient to follow through. Furniture will last a lot longer if correctly maintained. Spending time cleaning these items is an investment toward keeping them in the future, which of course means you can save long-term as you don't need to replace them with new ones.
For the right kind of cleaning supplies, a moderate amount of money is necessary. It would also help if you can secure all your cleaning essentials in one place, stay organized, and have easy access to these. In this way, cleaning supplies will be available regularly.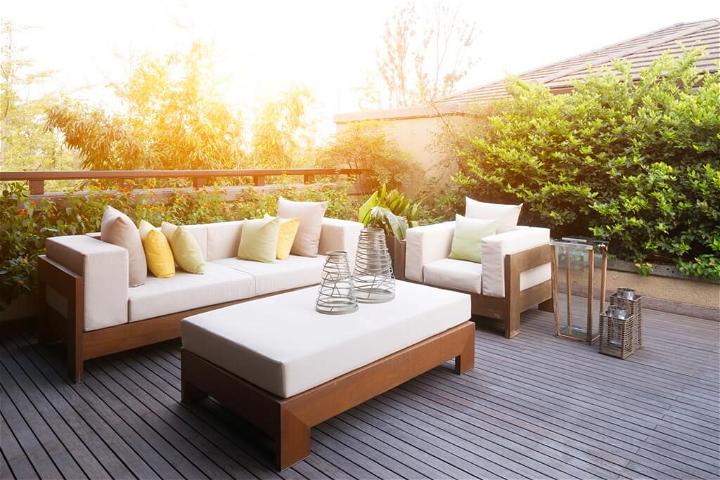 If dirt, mildew, or mold has accumulated on the furniture frames and chair cushions during the off-season, remove it. If you have different types of patio furniture, various cleaning products should be used. The furniture on your patio and garden should still be cleaned even if covered in the winter. Don't forget to clean the covers too.
Outdoor furniture made of cast iron, aluminum, or copper requires a different type of cleaning product compared with outdoor furniture made of wood, wicker, plastic, or aluminum. Cleaning products should be labeled to ensure you won't be confused which one is suitable for a specific piece of furniture.
4. Store Your Furniture
A garage, storage shed, and public storage facility are all excellent options for storing outdoor furniture. Elevate your furniture before you lock it up for the season. This will prevent rusting and corrosion of the furniture's lower portions.
For those in areas with long periods of cold weather or those who don't plan to use their deck furniture for an extended period, consider keeping it in a storage unit. Dry the frames and cushions completely. As cushion covers are particularly prone to mildew when damp, they should not be stored in tight plastic bags. Additionally, the storage area should be cool and dry.
Conclusion
Learn to maintain your outdoor furniture as it's also quite an investment. Your outdoor furniture and other furnishings will stay protected from the elements if you follow these helpful tips. Having an understanding of how factors affect furniture is necessary. Each type of material will be affected differently by different weather elements. Especially if you're new to the region, make sure you know the local weather patterns. This will allow you to make a more informed decision over time.