Bedrooms, above all, have to be a peaceful place to get some good sleep. We spend a lot of time in these rooms, and therefore they should be a reflection of our mindset and space that we love to feel comfortable in. Yet, large rooms often feel empty and uninviting, and it is often a challenge to rectify this issue. With that in mind, this guide covers five DIY ideas that can add a personal touch and make your bedroom feel warm and unique.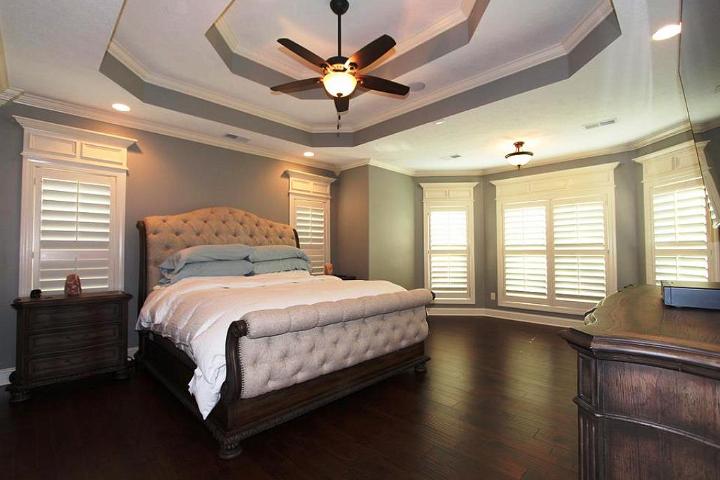 Focus on Your Bed
Beds are evidently the key feature of a bedroom. They are where the sleeping happens and often, they are places to relax too. Larger spaces will benefit from an accent feature like these bed frames double size options which can be customized how you want. A bigger piece of furniture draws the eye and creates a smaller zone within a room to help with the continuity of space and detract from the vastness of it all. Take inspiration from some of these DIY customization cues.
Place LED strip lights or fairy lights around the headboard to create a twinkling, warm effect.
If you have a wooden bed, carve into the frame to make intricate design details.
For fabric beds, consider using a glue gun to add some gems.
Add some tile stickers or wallpaper for a splash of pattern.
Create a Seating Area
Another option to break up a big bedroom is to add a seating area. This can be as simple or as eclectic as you like. For inspiration, try browsing through this range of stand up recliners, which could easily be placed in a bedroom area with a bit of creative thinking. Chairs provide a purpose in that they are not only a statement piece, but they can also bring a decorative theme to completion with the right choice.
Special Feature Pictures
With modern options, photo memories of special times can be printed easily and in a variety of styles. For example, if you want a black and white feature wall with prints of different sizes to create a whole piece, like a word or a shape, this is easily done. Blank walls have a way of projecting desolation into a space, so mixing things up with something personal is a two-pronged inventive resolution.
Create a Mural
A mural is any piece of art painted or drawn onto a wall or similar and is typically found outside. While they look great outside in urban environments, they also have a place in the home. Grand bedrooms are the perfect area to express this style of creativity. Murals differ from more traditional artwork that hangs in a picture frame, for instance, and can depict whatever your theme dictates. They are a solid avenue for channeling bespoke creative intention.
A big bedroom never has to be lacking in warmth. There are countless ways to add genuine warmth and bring it to realize its full potential.