When it's the thought of packing and moving, the kitchen is the most dreaded room of the house with all the dishes, appliances, and bits & pieces stuffed into the shelves. With all its drawers and cupboards filled with small items, it has items of the most dissimilar shapes and sizes in any other room of the house.
It's a job that needs its proper time, attention, and utmost care since there is a risk of broken wine glasses and shattered dishes when you open the boxes in your new place. But heading into your kitchen with a packing plan can help you tackle it like a pro. Here is how to do it without losing your mind: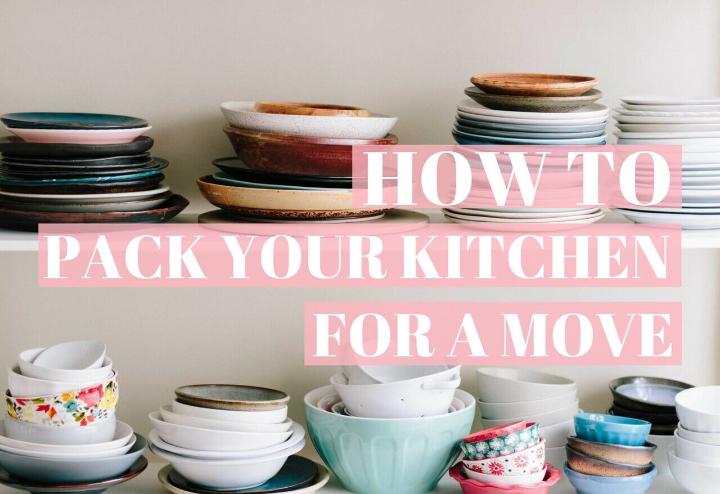 1. Get Organized
Just like you would do for any other room, take out all the items you own and sort through them on the priority of whether you need it or not. Moving is the best time to edit your belongings.
The rule is if you haven't used an item in a year get rid of it. Getting rid of extra stuff and organizing the ones you have will help you organize your new kitchen cabinets better. So, categorize all the utensils, get your labeling game strong and you'll be good to go.
2. Gather Your Items
For packing a kitchen you will need heavy-duty boxes in a variety of sizes, packing paper, packing tape & labeling markers. To make things easier for yourself, you might want to purchase dividers especially designed for packing kitchens. Pick up some plastic wrap too. This will help keep the smaller items stacked and prevent them from shifting in the box.
When it comes to a family-sized kitchen, the rule of thumb is you will always need more boxes than you think. Even after 5 medium, 5 large, and 5 extra large boxes you may have to go back to the store to get some more so think quick on your feet and keep extra boxes at hand.
3. Figure Out The Essentials
You don't want to pack the whole kitchen only to realize you might have to eat with chopsticks for dinner that night. Make a list of things that you will need before and right after you move. E.g A plate, a few sups, spoons, fork, dish soap, dish towel, etc. Don't forget to add your coffee maker to the list if you are a caffeine enthusiast. These items can be packed in a separate box before you leave labeled as kitchen essentials
4. Start Somewhere, Anywhere
Each drawer and cabinet presents a different kind of challenge when it comes to kitchen packing, so just pick one and start from there. Clear off a place on the countertop to spread your packing paper and let's get down to business:
1. Pots and Pans
To pack your pots and pans, use a large or medium box with smaller pans and pots stacked on top of the bigger ones with packing paper placed between them. Stuff dish towels or paper around them, this will keep them from moving around while in transit. Glass lids should be packed separately in another box.
2. Glasses And Stemware
Your best bet is the use of speciality dividers. Your glasses will be safer in them rather than without them. Wrap them in packing paper & place them in the dividers. Don't put anything on top of them even if there is room. Glasses are too fragile to bear any extra weight.
3. Plates And Bowls
Stack them one on top of the other, if they are fragile pack them in wrapping paper beforehand. You can use the additional space to place serving utensils on top of the plates and pots, either loosely wrapped or in a bit of packing paper.
4. Food Items
Tackle the spice cabinet first. Use a small box to place all your spices in there and if the jars are breakable use packing paper around them. Get rid of the expired stuff, if they aren't expired or you haven't opened them stick them in the donation box. Make sure everything else is sealed and packed properly. Use a cooler to move perishables from the fridge or pantry.
5. Appliances
If you have the original boxes then voila but if you don't that's okay too. Small boxes for small ones and vice versa for medium ones. If you are bringing in larger appliances too, make a mental note of preparing them beforehand for the moving company. By unplugging them and tapping all the doors shut.
Packing a kitchen takes time, so give yourself at least a couple of days & do ask for a helping hand if needed. When you are done, pat yourself on the back. For there is only one thing left now, unpacking the kitchen.