You've found a new home and decided to move. First of all, congratulations! Moving is an opportunity for a fresh start—and new home DIY projects—so it always an exciting time. The first DIY that you may be considering is your move itself. If this is the case, here are 7 packing tips that you don't want to miss! These moving tips will make DIY moves both big and small more organized, less stressful, and a whole lot easier.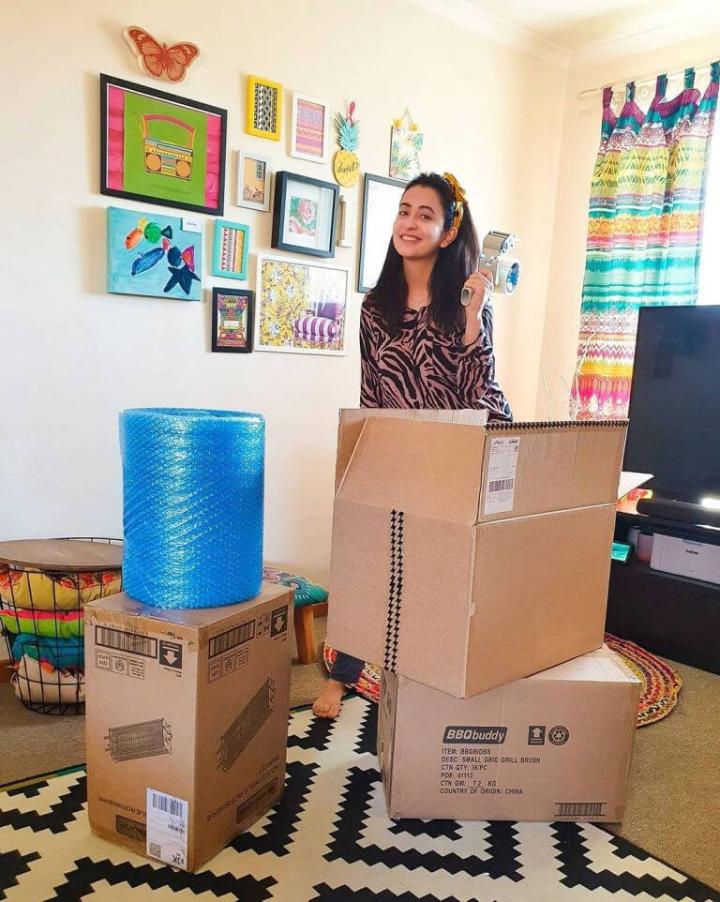 1. Start ASAP
Once you start to pack, you'll probably discover you have a lot more stuff than you think. Therefore, beginning the process early to avoid feeling crunched for time down the line is always a good idea. Begin packing areas and items that get less use, such as storage spaces full of seasonal decor, fine china, the shed, etc. Even if you pack just a couple of boxes here and there, it will add up, making the rest of your move feel less rushed and less stressful!
If you want to be extra organized, try creating a moving schedule. This consists of marking down what moving tasks need to be done on a calendar. You may also want to try making a moving checklist with tasks organized by the week or day they should be completed, such as "2 Weeks to the Move", "Day Before the Move", etc.
2. Use the Right Boxes
A successful DIY move starts with using the right moving boxes. Depending on your needs for your move, you may want to consider new moving boxes, used boxes, rentable totes, or a mix.
New Moving Boxes: These are what you want to use for any heavy or fragile items. Look for double-walled ones for extra heavy loads.
Used Boxes: Whether they are used moving boxes or used boxes from the grocery store, use these for lighter loads. Even after a box has been used once, it doesn't have as much wall strength.
Rentable Totes: These rentable moving boxes are basically large plastic totes that come with a slew of advantages, such as the fact that they are stronger than cardboard boxes, easier to stack, and won't get compromised by wet weather, like rain or snow. Plus, they are an environmentally friendly option that is often cheaper than buying new cardboard boxes.
3. Learn to Pack Properly
Even the best boxes won't fix a bad packing job. You want to make sure that your belongings are well protected and secure. To do so, follow these simple steps.
Cushion the bottom and sides of your box with newspaper, packing paper, fabric, or a similar shock absorber.
Place heavier items on the bottom and lighter ones near the top. Try not to pack boxes heavier than 40 pounds.
Use packing paper to fill any gaps and separate items so they don't rub or clank around.
Place another layer of cushioning on top—your belongings should never directly touch the walls of the box.
Tape the top flaps shut if using cardboard boxes. Try a paper packing tape if you are trying to make your move more eco-friendly.
Label your box.
4. Label Effectively
Speaking of labeling boxes, one easy tip to embrace is to label boxes on their sides instead of the top. This will allow you to see the label when boxes are stacked and can make them easier to sort once you arrive at your new home.
Want to take labeling to the next level? Make a moving inventory list. This involves labeling boxes with not only which room they belong, but also with a number. Your inventory list or master list will then have the numbers with each box's corresponding items listed beside them. This method makes it easy to see if you lost any boxes, saves you a lot of time looking for specific items down the line, and is great for storage. For storage, leave a copy of the list on your phone or in your storage space so you can quickly find what you need without digging in a million boxes.
5. Put Stuffed Animals and Blanket to Good Use
Stuffed animals make great lightweight cushioning. If you have a box that is already close to its max weight but still has a large gap, places a stuffed animal or two inside.
Worried about knicks and scratches on furniture? Cover it with a blanket first, then secure it with a couple of layers of stretch wrap. This gives it some extra cushioning and protection from scratches. Plus, it can help keep cabinets and drawers shut. If you don't have enough blankets, many hardware stores and moving companies rent moving blankets. Alternatively, you can pick up a few at a thrift store and donate them to the homeless shelter when your move is done.
6. Make an Essentials Box
Even if you opt to have an inventory list, packing an essential box or two is the easiest way to keep everything together that you need for the first couple of days in your new home. This box should include changes of clothes, medications, hygiene products, chargers, snacks, cleaning products, etc. Don't forget to include any special items like stuffed animals or comfort blankets for the kids.
7. Pack Your Kitchen with Everyday Items
Skip the fancy packing supplies and try these everyday items to pack your kitchen
Dishes: Coffee filters aren't just great for making your morning brew—they're the perfect shape to slip between plates and bowls so they don't clank around and scratch each other when boxed. Paper plates can also be used for this purpose but tend to take up more room and don't work well for bowls.
Socks: Slip glasses or mugs into clean socks to keep them safe and snug.
Utensils: Place some plastic wrap over your tray of silverware to keep them in place. That way, you can simply unwrap to unpack!
With the packing tips above, you will be packing like a pro in no time. A do-it-yourself move may be the first DIY home project for your new residence, but we bet it won't be the last. Happy moving!